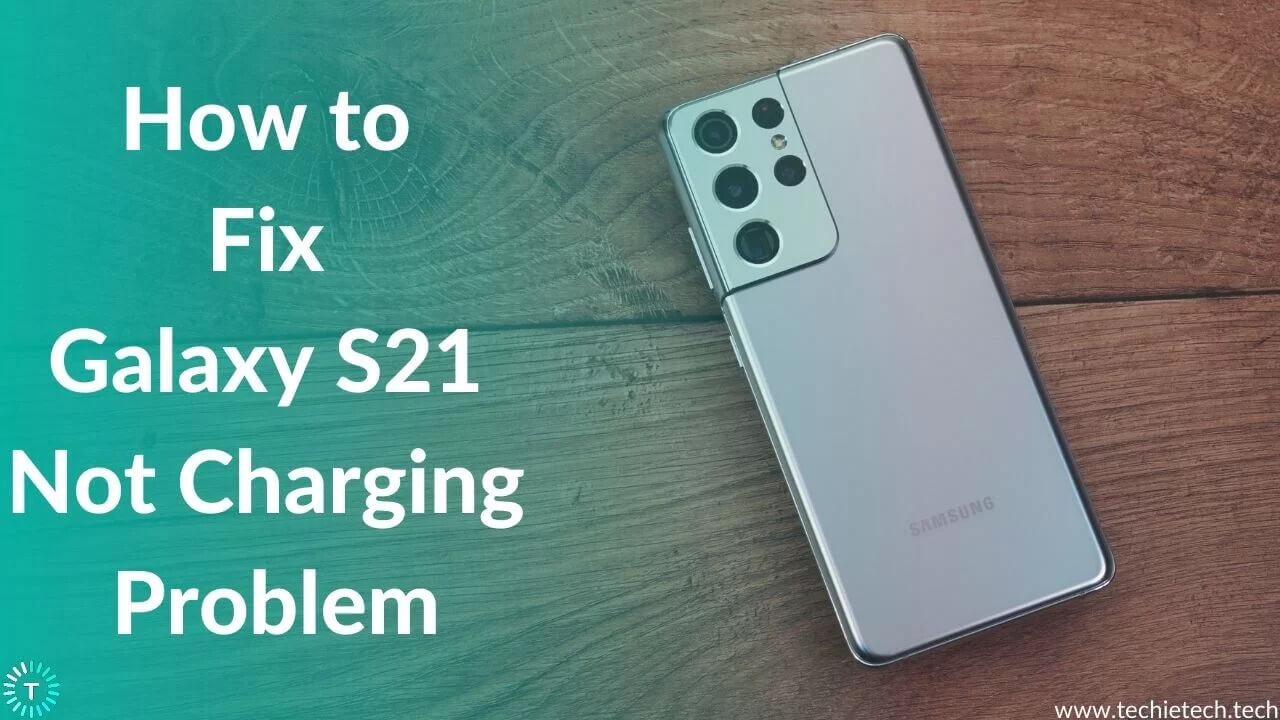 On January 14, 2021, Samsung unveiled the S21 lineup. It included S21, S21 Plus, and the muscular S21 Ultra. These are among the best and most powerful devices ever launched by Samsung. All the smartphones under the S21 lineup are packed with Samsung's in-house Exynos 2100 or Snapdragon 888 processors for better performance and sport an all new design.  
Is your Galaxy S21 series smartphone not charging?
There's nothing new to say that the Galaxy S21 lineup doesn't offer an in-box charger. Therefore, in order to make the most out of it, you'll need the best fast charger for your Galaxy S21 smartphone. However, using an out-of-the-box third-party charger can cause several charging issues like where the Galaxy S21 won't charge at all. Other scenarios include where the Galaxy S21 Plus or S21 Ultra will overheat while charging. 
We know it's frustrating, and decided to come up with our guide on how to fix the Galaxy S21/S21 Plus and S21 Ultra not charging problems. We urge you to try all the methods below to find out whether problems are related to software or hardware. So, let's get going.  
Note: All the listed troubleshooting methods work well with every smartphone under the Galaxy S21 lineup (S21, S21 Plus, and S21 Ultra).
How to Fix Galaxy S21 Not Charging Problem?
1. Force restart the device
Before you move ahead with any method to fix the Galaxy S21 not charging problem, you should remember, sometimes buggy firmware can cause charging problems on the Galaxy S21 phones. To fix this, you can force restart your Galaxy S21/S21 Plus. It is one of the easiest ways of dealing with charging problems on any smartphone. Restarting a device refreshes the whole system and reloads every running app in the memory. 
Here's how to force restart your Galaxy S21:
Press and hold the

Volume Down

and

Power button

at the same time.

Hold it until you see the

logo 
Release the buttons

once the logo appears

Wait until the device reboots
Most of the time, force reboot is effective when the Galaxy S21 Ultra is not charging. Just in case it didn't fix the problem, make sure to try the other methods below. 
2. Turn OFF the phone and charge
Here's another effective way of fixing the S21 not charging problem. It is a simple method where you need to plug in the device to the charger by turning it OFF. This method is also effective in solving any 3rd party app glitches or firmware issues that can hinder the charging process. 
3. Inspect the charging cable and adapter
In case your Galaxy S21/S21 Plus are still not charging after trying out the above methods we recommend you to check the charging peripherals. First, check the compatibility of the power adapter as well as the charging cable. It is best to use the official 25W charger from Samsung or a reliable fast charger. Remember, cheap options are not always good. So, before buying a third-party charger, make sure to read our roundup on the best fast chargers for Galaxy S21,S21 Plus and S21 Ultra. 
Also, you should check for any breakage or exposed wires in the charging cable. It is because internal damage is the potential reason why the S21 is not charging properly. To ensure this, you can charge another Type-C port device with the same cable and power adapter. If the other devices are charging, then there's something wrong with your phone and not the cable. In contrast, if you're looking to change faulty accessories, check our article on the best accessories for Galaxy S21. 
Also read: Galaxy S21 Users Report Overheating Issues on Exynos & Snapdragon Variants
4. Check the charging port of Galaxy S21
Now that you know charging accessories are working fine, it's time to check the charging port of your smartphone. A faulty charging port can cause charging as well as overheating problems on the Galaxy S21 smartphones. First of all, check whether the charging connector connects properly with the port or not. It is possible that dust and debris might block the way of the connector causing the charging issues. You can clean the dirt with the help of a normal old toothbrush. Also, make sure that you don't insert any pointed objects inside the charging port. 
Now, after cleaning the port, check if the Galaxy S21 is charging or not? If it charges, that's good, if not move onto the next steps. This method is also useful for ruling outGalaxy S21/S21 Ultra charging port issues. 
5. Give it a try with a wireless charger
Here's another trick to try when the Galaxy S21 stops charging. Since the S21 series supports wireless charging, you can try charging it via a wireless charger. Even though it is not a permanent fix, you can check if the S21 battery is holding the charge through a wireless charger. If it is charging via a wireless charger and draining at the usual speed, then this means the battery is healthy and can hold a charge. Therefore, if your Galaxy S21 Plus won't charge when plugged in, it could be due to a 3rd party app or problem with the Type-C port. 
Don't worry if your phone is not charging as fast as a wired charger. It is how wireless charging works, slow and steady. Just in case the wireless charger didn't help to charge your phone, switch to the next methods to fix Samsung S21 not charging issues. 
Also read: How to fix battery drain on the Galaxy S21/S21 Plus and S21 Ultra
6. Is your S21 Phone Wet? Try charging after drying
A wet phone could be another reason why your Galaxy S21 charging port is not working. Even though S21 comes with an IP68 waterproof rating, this doesn't mean that the phone is fully waterproof and can cause several Galaxy S21 Ultra charging port issues. When the phone comes in contact with water, you'll see a moisture detected warning on the screen. In that case, you should keep the Galaxy S21 in a cool and dry place for at least a few hours to air dry. Remember, you shouldn't plug in the charger until it's completely dry. 
7. Check for software updates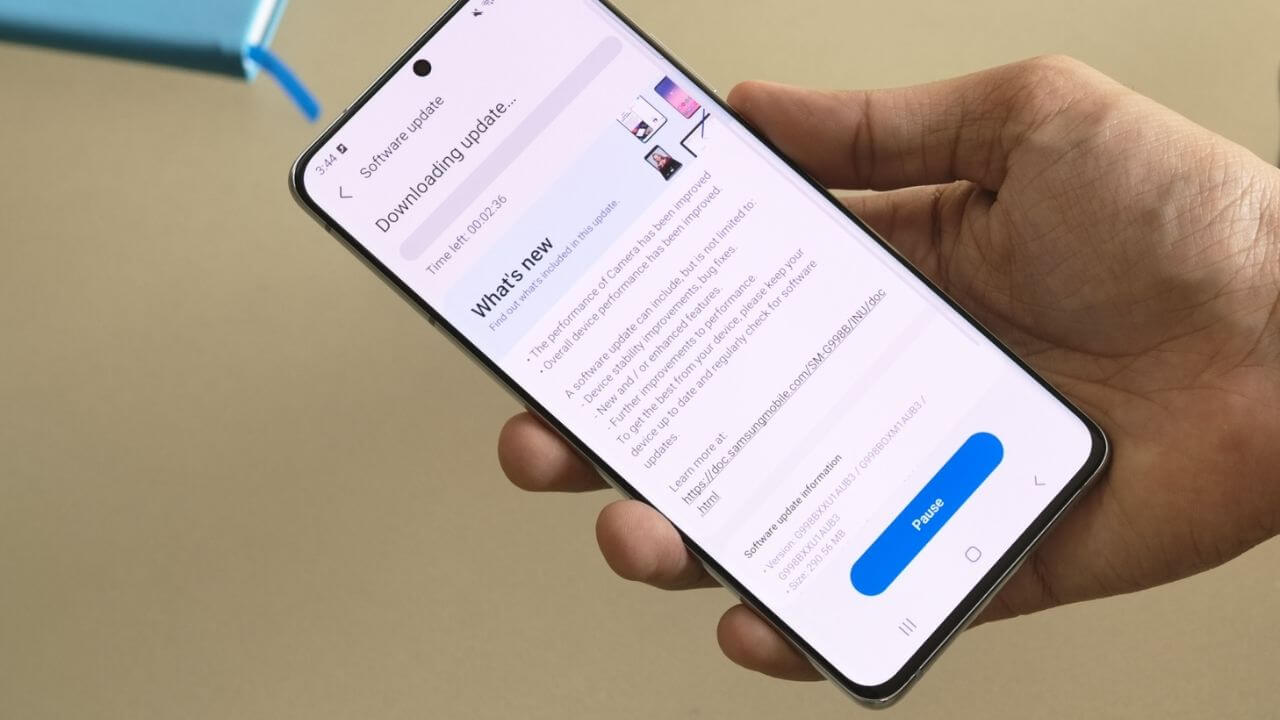 Another thing you can do if your Galaxy S21 won't charge is to check if the software of the phone is up-to-date. You should make sure that S21 is running on the latest software. Now, you may think, how is software update related to the charging issues on S21? Remember, new updates come in handy to fix different bugs including the charging problem on Galaxy S21 series. 
Here's how to update software on Galaxy S21 series:
Head to the

Settings

menu

Go to

Software updates

Tap on

Download and install

Now, your device will automatically start scanning for the new update

If any update pops up, simply tap on

the Download
8. Try charging S21 in safe mode
In most cases, S21 charging problems are related to faulty hardware like chargers or dirty ports, but sometimes third-party apps can also do some real damage. So, in order to fix this you need to charge the Galaxy S21 Plus  in safe mode. When the safe mode is on, the phone runs only with the system-apps. 
Here's how to turn on the safe mode on Galaxy S21:
Turn OFF

the device

Now,

turn it ON
Press and hold the Volume down key

when you see the branding logo of Samsung
Now, you should see Safe mode written at the bottom left corner of the screen. If you see your phone charging in safe mode, it means some third-party app was the troublemaker. If not, we recommend you move ahead with other methods.  
Note: To exit Safe mode, simply restart the device.
9. Clear cache partition
If your Galaxy S21 Ultra still won't charge after trying all the above methods, try wiping the cache partition on your device. A cache is a temporary file stored on your device, while a cache partition is the storage space of cache files. Not to forget, cache files can get corrupted sometimes, resulting in charging and overheating issues. In that case, we recommend you wipe the cache partition from the Android recovery mode. Please note this will not delete your data including photos and videos. 
Here's how to wipe cache partition on Galaxy S21/S21 Plus & S21 Ultra:
Power off

your device

Press and hold the Power and Volume down button

simultaneously

Release the keys when you see the Android logo

Using the

Volume down button

, highlight the

"Wipe cache partition"

option

Select the option by pressing the

Power button

Now,

confirm the selection by pressing the Power button

again
As soon as you press the power button, the cache partition will be cleared. Now, select "Reboot system now."
10. Try Factory data reset on Galaxy S21
From the user's perspective, resetting data is the last resort to fix all the major or unidentified issues related to your Android smartphone. It should be noted that all the pre-existing data will get wiped after you proceed with this method. So, it's best to backup your Samsung Galaxy phone. 
Here's how to factory reset the Samsung Galaxy S21:
Go to

Settings

Navigate to

General Management

Tap on

Reset

On the next screen, tap on

Factory data reset

Now, tap on

Reset

Enter

Password/Pin/Pattern

when prompt

Tap on

Erase everything
11. Head towards Samsung care
If your Galaxy S21 smartphone is still not charging after trying the above methods, you should seek professional help. If there are some hardware issues, then it requires technical expertise. Thus, visiting Samsung care remains the last option to get rid of the charging problems. 
Also, there are two benefits of getting your device fixed at the service center:
Water-resistance is retained 

Warranty is not void
You never know, if the Samsung S21 not charging problem is not fixable from their end as well, you might get a brand new Galaxy S21. How cool is that?
FAQs related to Galaxy S21 not charging issues
Why is my Galaxy S21 not charging when plugged in?
If you already have ensured that there's no obstruction in the charging port such as dirt, lint and debris, it is time for you to check whether the charging accessories are working fine. In most cases, the charging connector i.e. USB-C connector might be damaged or rusty making it impossible to charge your device at all. Remember, an older software version can also cause your device to behave weirdly and it could be another possible reason why your Samsung Galaxy S21 won't charge when plugged in. So, before you try charging your device next time, make sure to tick the following boxes: 
Check all the charging accessories and the charging port of your device thoroughly for any damage or lint.

Always use official or trusted charging accessories

Restart your device after you have ensured that charging accessories are fine.

Update your device to the latest software version
How do I fix my Samsung Galaxy S21 charging port?
Are you frustrated with the Galaxy S21 charging port issues? If yes, you should look for any obstructing materials that are preventing the USB-C cable connector from getting inside the charging port of the phone. If you notice something clogged inside the charging port, try removing it using a soft brush or try using a sim ejector tool, please be cautious while doing this as you may damage the charging pin. Alternatively, you can choose a protective case that comes with a charging port cover, you can find it on cases from some top brands like Spigen, OtterBox and more. The charging port cover blocks dirt and debris from getting inside the port ensuring you never complain about Galaxy S21 Ultra not charging issue or  S21 charging port not working issues.   
That's all for now in this troubleshooting guide to fix various charging problems on Galaxy S21. You can try the above methods to fix issues where your – Galaxy S21 won't charge at all, Galaxy S21 Ultra charging port issues, Galaxy S21 Plus not charging and other similar problems. If you come across any new problems while charging let us know in the comments below.