I was blown away when I first used a touch screen smartphone after years of using regular phones with plastic keyboards. I got that same blown away feeling more than a decade later when I actually used the Samsung Galaxy Z Fold 2. I have always been a skeptic when it comes to the entire foldable smartphone segment but a few months with the Z Fold 2 has converted me. Let's talk more about my long term experience with the incredible Galaxy Z Fold 2. 
Introduction
The biggest metric when reviewing a smartphone is how it stacks up against similarly priced competition. In the case of the Z Fold 2, there is no competition. So I cannot complain about the outer display being 60 Hz only or something about the hinge. Because it's not like someone else is making a better product. What I will be doing instead, is tell you all about the positives and negatives of my entire usage experience. Spoiler alert: The positives far outnumber the negatives!
Build Quality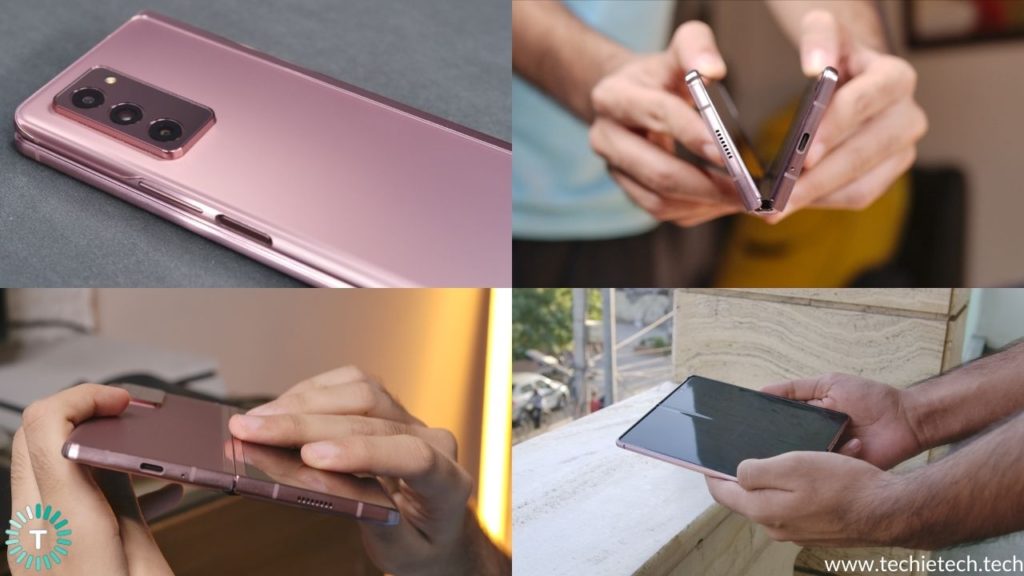 Let's start with the general build quality. It is incredible. The hinge is incredible. It feels incredibly solid and robust compared to the original Fold. I once went hands on with a 6 month old Galaxy Fold and its hinge felt a bit loose and wobbly. The Fold 2 is nothing like that. The hinge is very tight and firmly holds on to whatever position you leave it at. There are these tiny bristles along it and you can actually hear them brushing away the dirt particles when you open and close the hinge. There is a tough sheet of Gorilla Glass Victus on the back and front. My bronze variant has a matte texture on the back along with a huge camera bump. Very similar aesthetic to the bronze Note 20 Ultra.
But you know what the problem is. It's not the phone, it's me. This is a very expensive device based on a very new, sophisticated technology. So even though the Z Fold 2 looks and feels like it can take on my day to day usage, I cannot help being paranoid about damaging it. I cannot just toss it into my car's cup holder when driving. I cannot just leave it to bounce around in my pocket when I am out on a run. The Z Fold 2 probably can take all that usage without breaking but I just cannot allow myself to take that chance. This has been tolerable for me now because I rarely leave the house but I can imagine it being a hurdle whenever I get to go back to the normal daily routine stuff like a gym. God, I cannot imagine taking this phone to a gym. Trust me, it gets on your nerves eventually so if you are getting this phone, either prepare yourself not to be paranoid or maybe carry a secondary phone for the rough activities. 
In-hand Feel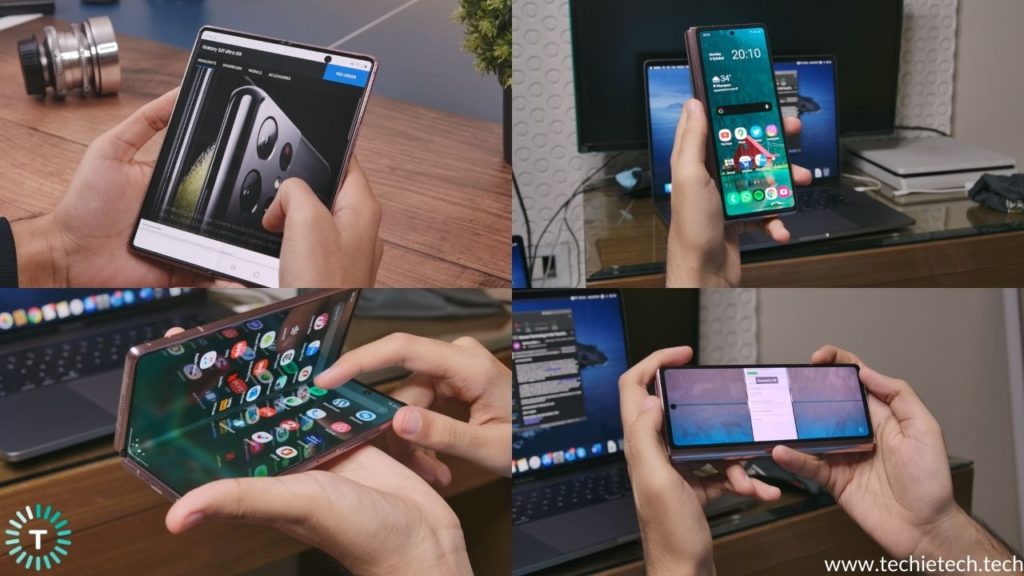 Another thing I would like to talk about is the in-hand feel. It is so, so, so good. It feels incredibly premium in the hand. It's very narrow and as thick as two phones stacked together. I love carrying it around, I love taking phone calls on it. It is incredibly heavy and feels very dense, which I kinda like. The genuine Samsung Leather Case in green that I have here is terrible at protection but looks and feels great. 
Also read: Best Cases for Galaxy Z Fold 2
Inner Display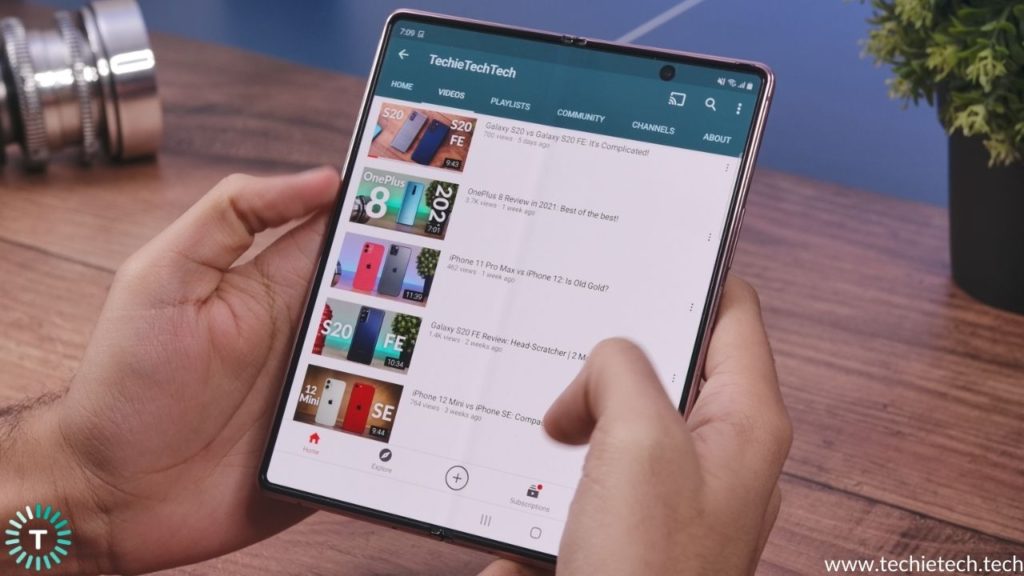 Unfold this phone and you are greeted by a large and beautiful 120 Hz display with a resolution of 1768 x 2208. Obviously, this display is what you pay the money for and it does not disappoint. It is literally perfect. This display will genuinely change the way you use your phone. I view spreadsheets on the Z Fold 2, I watch movies on it, I play more games, I read and write more emails, it is insane. I only do this stuff on a regular smartphone when I do not have access to my laptop. The Z Fold 2 has changed my entire laptop-phone dynamic and this is when I am sitting at home all the time. Imagine how much more profound the impact will be when travel becomes a part of our lives again. Imagine how much better the Z Fold 2 will be on a plane or train ride as compared to a regular phone. The possibilities are endless!
Two things worth noting though. First, it does have a crease along the middle which is very visible when you look for it and very obvious when you run your finger along the touch screen. However, I promise that it did not affect my usage experience at all. In fact, I once handed the phone over to someone and the crease was far more visible when I was looking at it from the side. But look at it head on when you are using it and the crease doesn't pose a problem.

Secondly, the inner screen is still delicate. It does have an ultra thin glass layer under a plastic coating but that does not mean that it is even nearly as rugged as regular phone displays. If you use a sharp object to touch the screen or press it too hard, it could leave permanent marks or even damage the display panel. It comes pre-installed with a screen protector which Samsung recommends to not remove on your own. I have not, but it has gotten really grimey and gross after 3 months of use. Still, as I said, extremely paranoid, so probably won't ever take it off. 
Outer Display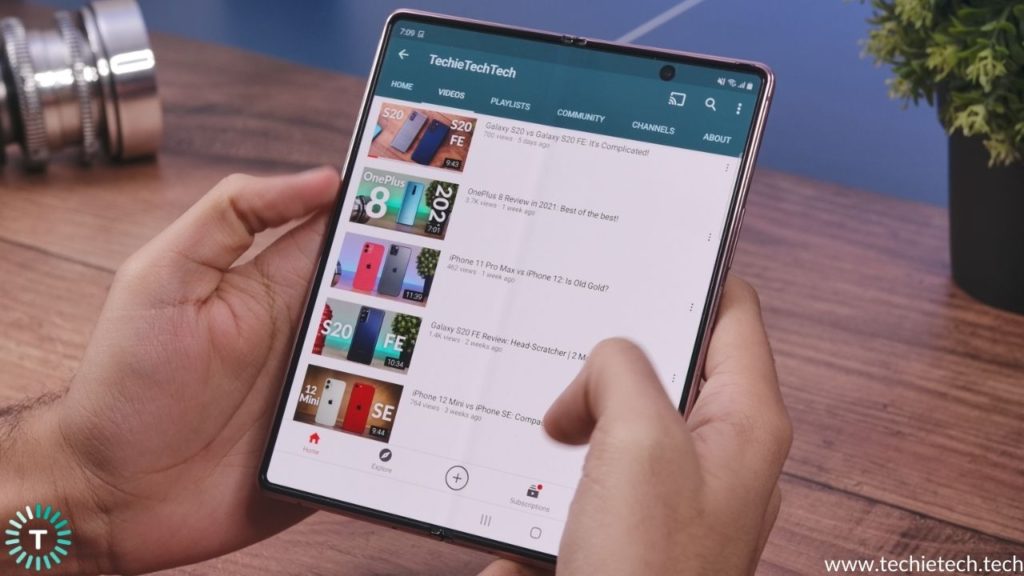 Let's talk about the just as important but often overshadowed outer display now. People often complain that it is too narrow and I agree it is too narrow. However, I don't necessarily complain about it because honestly, I am fine with this display. The way I see it is, for one handed use, the display's narrow width is perfect, especially given how thick the Fold 2 is. So for one handed typing or for scrolling through a timeline, the outer display is great. It is too cramped up for two handed use, but if you have both your hands available, why not unfold it and use the much better, much bigger inner display. The way I see it, the outer display is a fantastic tool for times when you have to quickly reply to a message or preview an email or just peak at your notifications. Frankly, it can do way more but why bother when you have a nice big display tucked in there. Like everyone, I too would have loved a wider display but at the same time, I absolutely cannot complain about the outer display being too narrow. 
Software & User Experience

What I can complain about, is the software. That can get very messy. See, both the outer screen and inner screen have aspect ratios that are very unconventional. When you try to run Apps on these that are originally designed for regular phone displays, there are bound to be some problems. Some problems are tolerable. Like the Twitter and YouTube app just enlarges everything to fit awkwardly on the large inner screen instead of transforming to a more Tablet like UI. My biggest issue, however, has been with Stories- on Instagram, Snapchat, YouTube and what not. To all these App maker's credit, there have been updates and things have gotten better but the experience is still rough. IG stories and photo/video messages are awkwardly cropped to fit the narrow outer display. Same with Snapchat stories. On the inner screen, I have been facing this bug where as soon as I open a story, it forces me to react with an Emoji. There is a quick workaround to it but it gets irritating when you have to do it multiple times a day. There are lots and lots of tiny bugs like these spread throughout the software. For me, they don't necessarily ruin the Fold 2 but they do get in the way of an otherwise refined and polished experience. 
Performance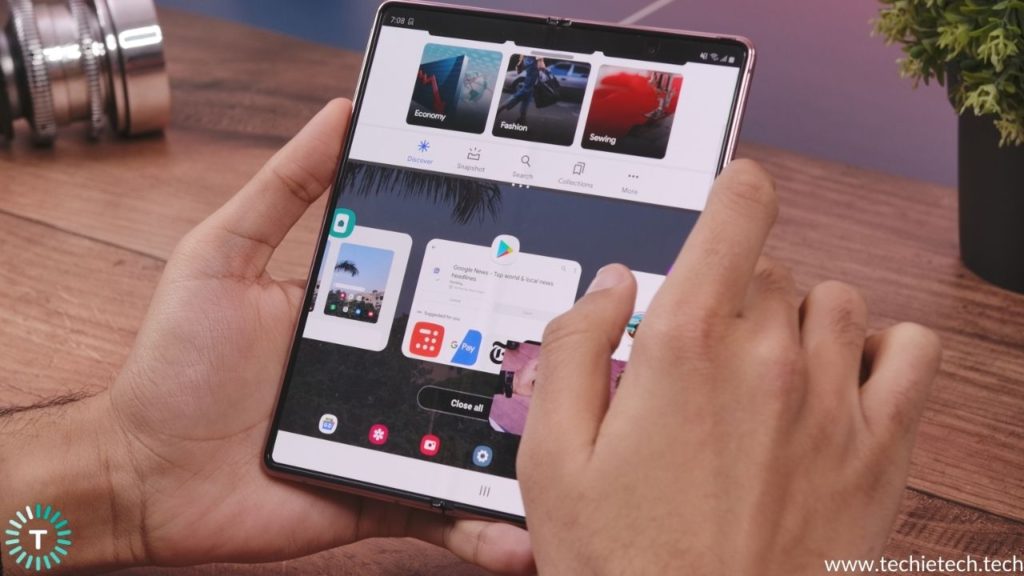 A quick word on the performance. It is great, specs are top notch so lags and stutters or any performance issues are practically non existent. 
Also read: Best Accessories for Galaxy Z Fold 2
Public Reaction
Moving on, I wanted to talk a bit about something that I haven't discussed for any phone yet. Think of it as a new metric maybe. It is the Public Reaction. For the Z Fold 2, the Public Reaction is insane. If you want a phone that seeks attention, no phone is better than this. People come and ask about it, request to hold it, fold it and just take the magic in. It's all good and wholesome until you start worrying that someone might jab the display too hard or unfold it too aggressively. Remember my paranoia? But regardless of that, the Z Fold 2 attracts attention like no other phone and if you carry it outside, do not be surprised when people ask you all about it. 
Cameras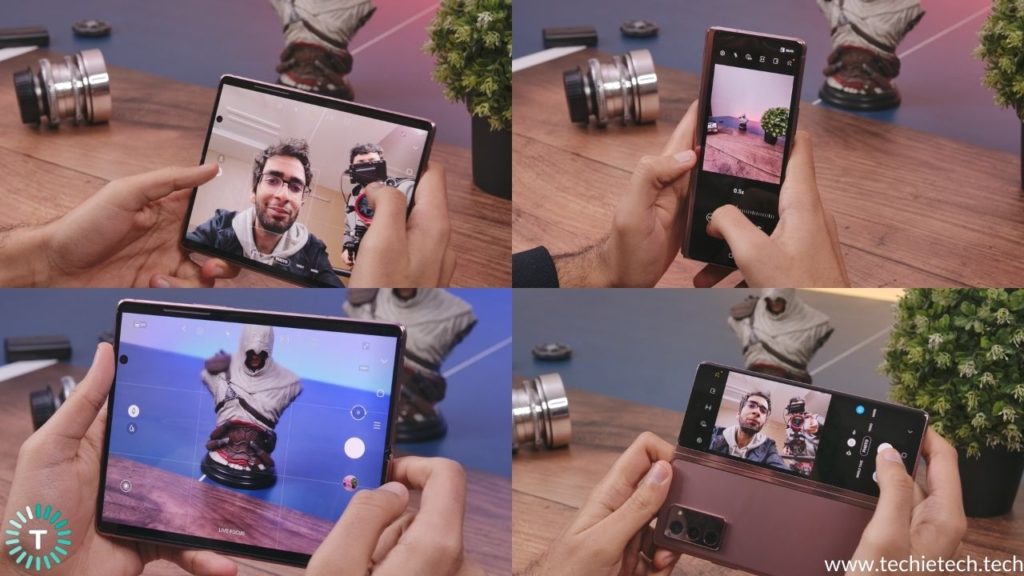 Let's talk about the cameras now. In terms of optics, the Galaxy Z Fold 2 has the commonly found triple camera setup on the rear. It sports an f1.8 primary camera, an f2.4 telephoto camera, and an f2.2 ultrawide camera. All cameras produce 12MP stills. It's basically a flagship camera setup as the primary and ultrawide camera sensors are also present on the Galaxy S20. On the flip side, it has a 10MP f2.2 camera in a punch-hole on both the inner and outer displays. Let's find out how it performs in real life.
Photos:
The primary camera performance is what you expect from a Samsung flagship smartphone camera. The pictures have a high dynamic range with plenty of details and low noise and pleasing color science. 

We see very similar results in pictures shot with the ultra-wide-angle camera. Although the images are somewhat softer and noisier with a decent amount of details and 123 degrees of FOV.

The 12MP telephoto camera has OIS and takes 2x optically zoomed-in stills. The resulting pictures are above average with respectable details.

Portrait mode performance is above par. Subject separation is okay but the Z Fold 2 captures lots of details and does not over-process the image. Like other Galaxy flagships, it saves depth information which allows you to tinker with blur effects after you've shot the image. 

We see a fairly good camera performance from the two 10MP selfie cameras. The only issue is that the Z Fold 2 takes selfies in 6.5MP by default and you have to switch to the wide mode in order to shoot a 10MP picture. Here's where the magic happens. You can use the rear cameras as selfie cameras if you take pictures while the Z Fold 2 is open. It gives you the option to switch when you're taking a selfie with the outer display.

The low light performance of the Z Fold 2 is the same as that on other S20 smartphones. Flagship level noise processing with excellent image stabilization. Also, the night mode works on all 5 cameras. 
Videos:
In terms of resolutions and frame rates, the Z Fold 2 can shoot in 4K at up to 60fps from all cameras except for the ultrawide camera. 

The Fold 2 shoots excellent videos with flagship-level image stabilization and dynamic range with vibrant colors. 

As per Samsung's tradition, the Galaxy Z Fold 2 has the same feature-rich camera app which provides plenty of modes and tricks to get the most out of the foldable's camera setup.
Since it has the S20 series camera hardware, the images and videos shot on the Fold 2 look fabulous. But, the foldable display takes the camera user experience to the next level. The large 6.7" AMOLED display improves the entire pictures and videos taking experience by becoming a large viewfinder. Moreover, the flex mode is a great add-on for people who take a lot of selfies. I love the fact that Samsung went with reliable camera hardware with really good camera software to deliver a very well rounded and flagship level camera experience on the Fold 2. 
Battery Life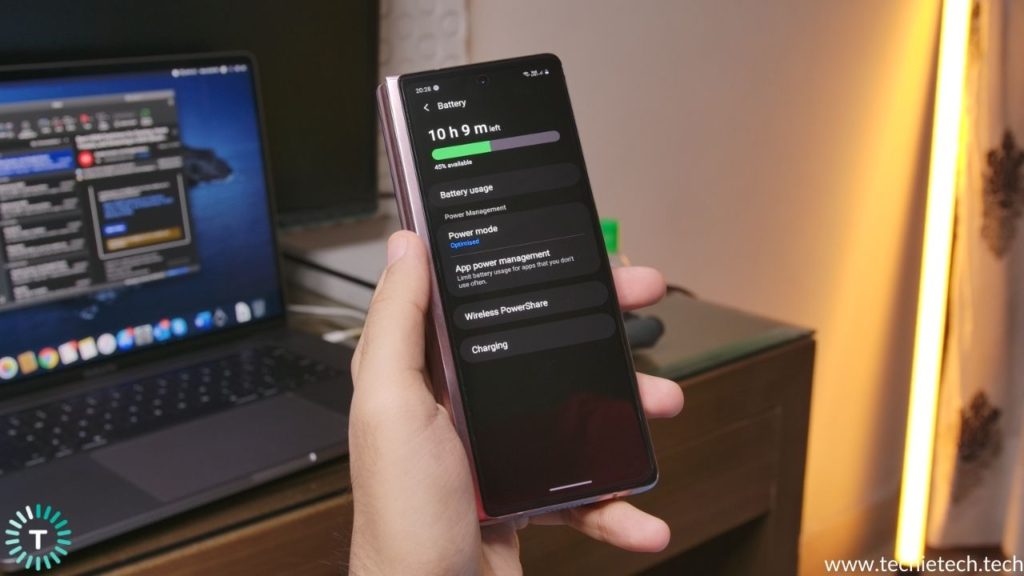 The battery life has been excellent for me. With a distribution of 30-70 between the outer and inner screens, I could manage 5.5 to 6 hours of Screen on Time which is roughly a day's worth of usage for me. With other phones 6 hours of SoT usually translates to 1 and a half or even 2 day's usage but I end up using the Fold 2 more so 6 hours is basically one full day's usage.
Call Quality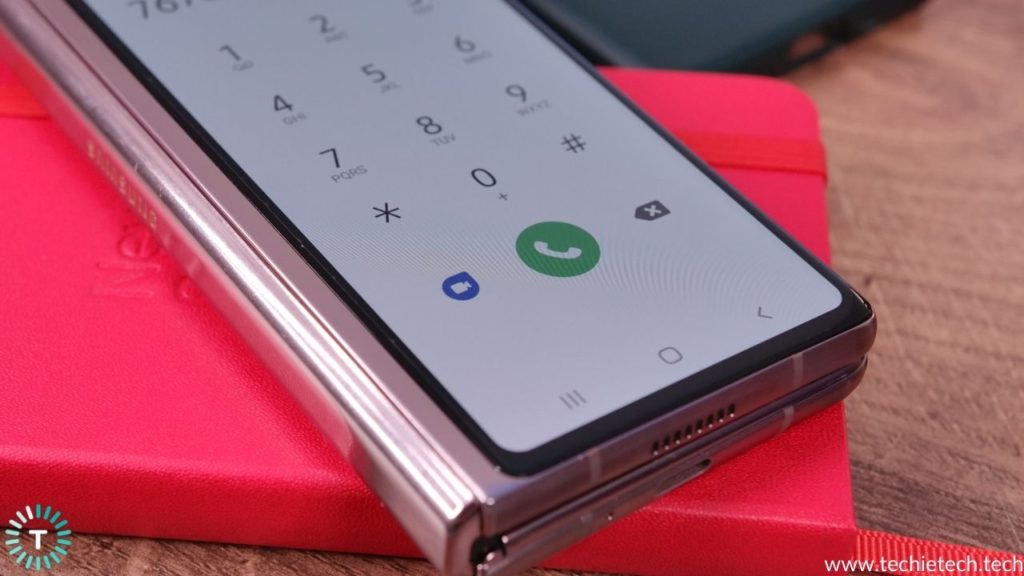 The phone call experience has been great too. There's something about the form factor of this phone, I can't put a finger to it, but there is something that just makes the process of holding it next to your ear very enjoyable. As for the phone calls themselves, the signal reception is great, the Phone App is great and the earpiece and loudspeaker are loud and clear. 
Speakers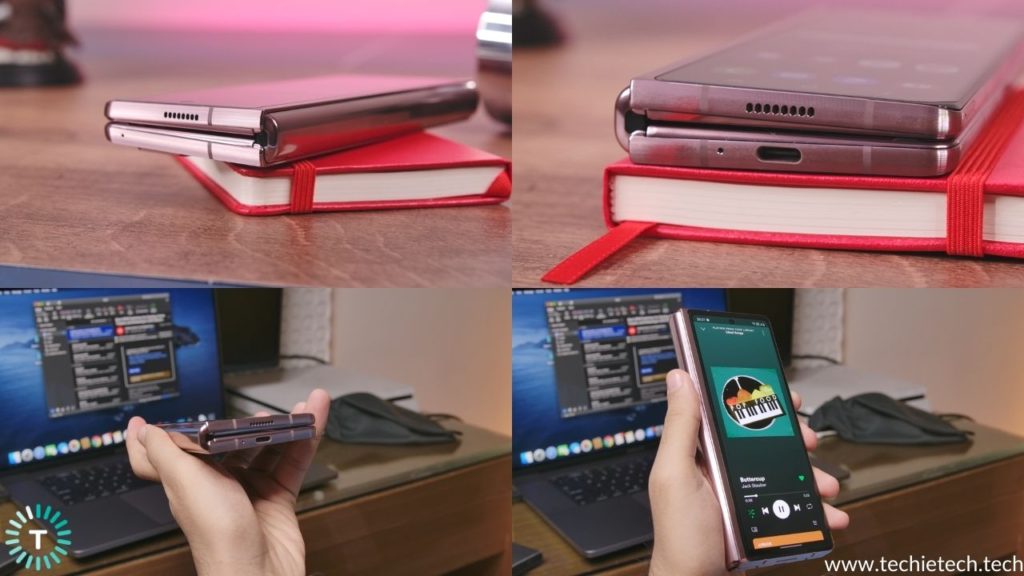 Even the stereo speakers on this phone are next level. They get louder than most smartphones and the sound quality is more roomy and bassy. I am not an expert in these things so I could be wrong but the audio quality did sound better to me compared to say the S20 Ultra. 
Conclusion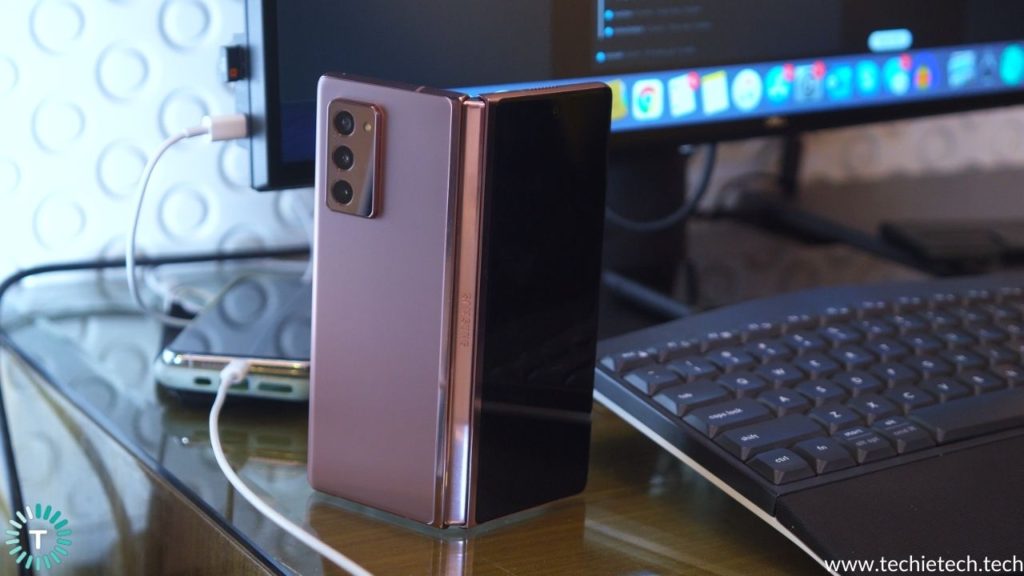 Let's conclude now. $2000 or Rs 1,50,000 is what you pay for the Z Fold 2. It is very hard to justify any smartphone at a price tag like that. Functionally, it does less than a tablet and a phone but costs more than both combined. An iPhone 12 and iPad Air together are cheaper than a Z Fold 2. But that is not what this is about. I think the Z Fold 2 is about getting to play with the future in the present. Of course, there will be some rough spots and of course, there will be the big dent on your wallet, but after all that, what you get is something out of science fiction in real life. A phone which unfolds to become a tablet. It's been 3 months, guys. Still waiting for the magic to wear off.

Check Price on:
Amazon (US): https://amzn.to/30AYCKi 
Amazon (UK): https://amzn.to/2I2abE0 
Amazon (India): https://amzn.to/2SwYUNS