The content creation industry has been blooming for past years as all the major social media apps started supporting video content. Whether you're a professional video editor or a content creator who needs to shoot and edit video daily or just a beginner who wants to upload a dancing TikTok, these 15 best iPad video editing apps will come in handy. The iPad is a very handy gadget that will allow you to do many productive things including video editing on the go. The 2021 12.9-inch iPad Pro with M1 chip is hailed as the fastest iPad and with the listed video editing apps you can use your iPad to its full potential.
For the most part, video editing apps are used for Instagram Reels, TikToks, YouTube Shorts, and more. These video editing apps are not just for influencers and content creators but small business owners also use short videos to reach new audiences and expand their business. You can use the below-mentioned apps on any iPad including the
base model, iPad Pro,iPad Mini, and iPad Air. Furthermore, most of these iPad video editing apps support syncing to your iCloud making it easily accessible across all your devices. We have curated the list of 15 top video editing apps for iPad both free and paid to kickstart your video editing journey today! This list also contains an iPad video editing app that lets you export 4K videos without any watermark.
1. iMovie (Best for Getting Started)
Pricing: Free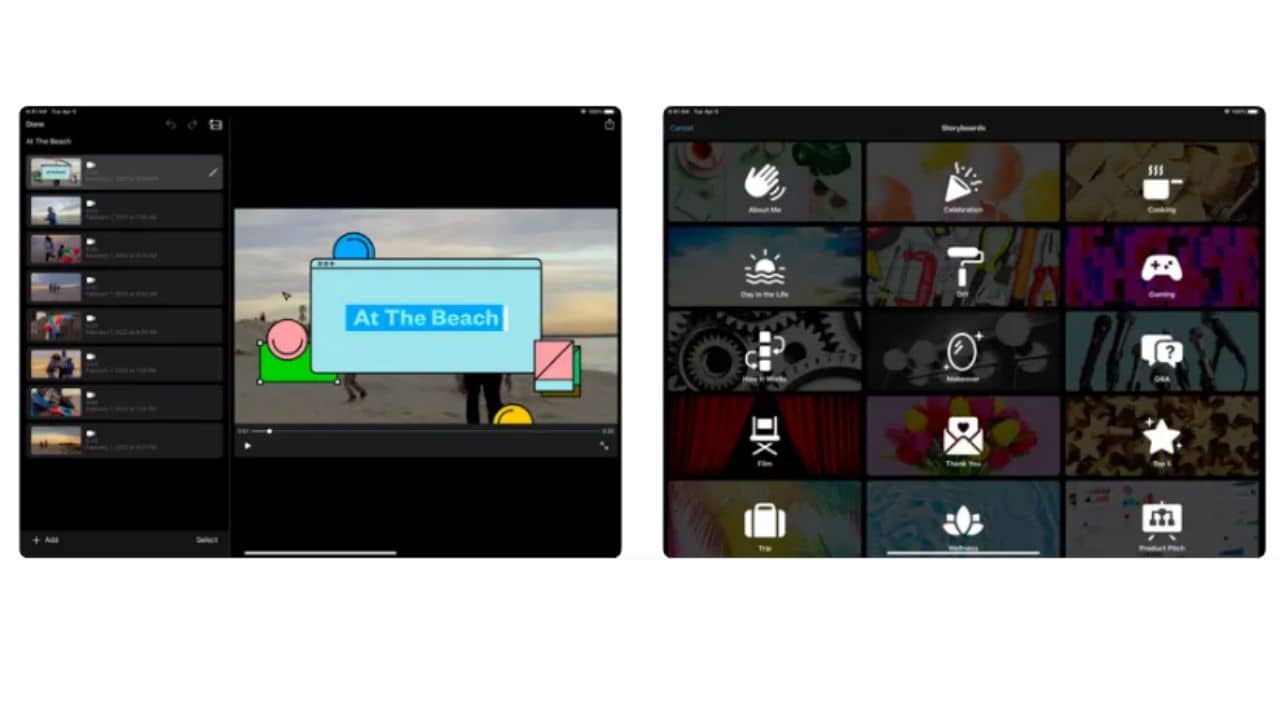 iMovie is a free video editing app that you don't have to download as it is already available on your iPad. This video editing app for iPad mini is designed for beginners who have no prior experience with video editing, therefore it is less advanced than other tools such as KineMaster. It's an excellent choice whether you're new to video editing or simply want to quickly add text, music, voiceovers, and photographs to your videos. 
The app also supports editing 4K videos on iPads & iPhones and works seamlessly with the rest of the Apple ecosystem. Simply drag and drop your video, cut them to size, then add built-in music, effects, and animated titles. Features like split-screen effects, 10 high-fidelity filters, green-screen effects, and the ability to create Hollywood-style trailers are available in this free video editing app for iPad.  iMovie can also import and edit short clips shot in Cinematic mode on
iPhone 13. All of these capabilities combine to make iMovie an excellent free video editing app for both iPadOS and iOS users.
Pros:
Free

Beginner-friendly app with a host of features

Easy to use
Excellent integration with iCloud
Cons:
Not for professional video editors
Also read: Best Note-Taking Apps for iPad with Apple Pencil Support in 2023
2. VN Video Editor (Best Free Video Editing App for iPad with 4K Support)
Pricing: Free
VN Video Editor is designed for folks who desire to improve their social media game. The app is difficult to use at first but once you get the hang of it, using the app is simple. You can also select your favorite aspect ratio, resolution, and even frame rates based on your video's target social sites, such as Instagram, YouTube, TikTok, and others.VN Video Editor like many others of its sort, allows you to create video projects and then edit them later. Despite being free, the software has several features that make editing simple. It does include all of the functions of a standard 2023 video editing app for iPadOS. These include video cutting, trimming, multi-layer editing, and merging.
It also allows you to apply a filter to brighten dark images. While editing a video, you may zoom in on the editing window to more precisely edit a specific portion of it. As a result, you can easily export a professionally edited video with this free iPad video editing app. You can select a video cover from your gallery, add music to it from your local files or iTunes, or paste an iCloud link to music to use in your movie.
The app's capacity for video flipping and mirroring is one of its most appealing features. As a result, the flipping function includes choices for rotating a movie by 360 degrees. You might wish to utilize the mirror option to invert the video view to witness more magic.
Pros:
Free

Feature-packed editor with  zoom-in support

No watermark, even in 4K exports

Support for 4K export with different frame rates
Cons:
The interface is difficult to use initially
Download VN Video Editor for iPad
3. LumaFusion (Recommended for Professionals) 
Pricing: $29.99 with in-app purchases
LumaFusion is one of the best-paid video editing apps for iPad. Since it was designed specifically for the iPad, this 4K video editing app is both powerful and simple to use and optimized for the iPad's big screen. Advanced features like keyframing, chroma-keying, hundreds of effects and filters, masking, and many more functions are offered by this iPad Pro video editing app. Audio and video timeline tracks are included for images, videos, titles, and graphics, as well as support extra audio tracks for narration, music, and sound effects. If you're a YouTuber, journalist, or professional video editor try LumaFusion for a smooth video editing experience on the go. 
If you have the USB-C iPad, you can use this editor with a USB-C or Thunderbolt 4 adapter for connecting accessories like an external mouse, monitor, and even an SSD. This iPad Air video editing app works very smoothly whether you're using your finger, Apple Pencil, or keyboard and mouse, and the magnetic timeline makes connecting and overlaying clips a breeze. The program also has an integrated collaboration feature with Dropbox support to make it simple to share content with others. This powerful video editing app comes at a cost though, with an upfront payment of $30 but the price you'll pay is worth it.
Pros:
The abundance of features & tutorials

Excellent customer support

Export files in multiple formats

No subscription needed

Support for external accessories

Optimized for M1 processors
Cons:
Advance features have to be bought separately.
Also read: Best End-to-End Encrypted Messaging Apps for iPhone and iPad
4. Quik (Best AI-Powered Video Editor for iPad)
Pricing: Free Plan Available; $3-$5 for features
Quik is a video editing app for the iPad designed specifically for beginners and busy people who own a GoPro. Simply import movies or photographs from your phone or GoPro, and it will analyze and generate a video for you. The AI-powered video editing app for iPad immediately imports your videos and photos and allows you to easily sync your clips to music, and add photographs, titles, and timelapse sequences depending on your statistics. You can also change the music or theme manually if you don't like it. It also includes some basic editing tools like color filters, split, crop, and trim, among others. Quik is also one of the few free video editing software for iPad with no watermarks or advertisements. It also can play in reverse, create square videos (1:1) for Instagram, and widescreen (16:9) videos for YouTube.
If you have a GoPro camera and it is not in level the  Horizon Levelling feature will automatically adjust the angle of your scene. When your photographs and videos are finished exporting, you can instantly post them to Instagram, Facebook, YouTube, and other platforms, or share them by iMessage or email without leaving the app. There are not abundant video editing features available but for any beginner social media junkie, Quik is a decent free video editing app for iPad.
This app is free, but you can purchase additional themes and filters through in-app purchases.
Pros:
No watermarks in exported video

Directly exports to social media apps

Automatically edits & joins photos and videos 
Cons:
 Not for professional video editors
5. KineMaster 
Pricing: Free Plan Available; $4.99/month and $39.99/year
KineMaster is one of the most popular video editing apps on iPad and makes video editing as enjoyable and simple as possible. This is the app to use if you want your video to stand out on social media, or for your next YouTube video without having to watch a lot of tutorials. Having said that, it does include some complex capabilities, like multi-layering and multi-track editing features.
KineMaster offers video editing tools for iPad for cutting clips and layers with frame-by-frame precision for smooth and professional-looking videos. Audio clip time can also be altered with sub-frame precision. You are also able to work with many layers of video, photos, text, and multi-track audio (on compatible devices). Instant edit previews, accurate volume envelope control, color LUT filters, speed controls, chroma key compositing, 4K export, as well as 3D transitions, are some of the most used features of this iPad Pro video editing app.
This iPad video editing app is free to download, however, it contains advertisements and watermarks on your films. You'll need KineMaster Premium to get rid of those, as well as access to over 1,000 premium features like royalty-free music.
Pros:
Multi-track editing

Precise keyframe control 

4K video support

Works with Android devices

Support for M1 chip
Cons:
Watermarks exported videos in the free version
Also read: Best Meditation Apps to Help reduce Anxiety
6.Splice
Pricing: Free 
Splice is an iPad video editing app created exclusively for Instagram, Tiktok, Youtube, Facebook, and other social media applications. It is one of the best options for creating a professionally edited video. It includes a tab for keeping track of modifications you've made to a video. This makes it easier to undo and redo edits. This free iPad Pro video editing app, like other apps, allows you to chop, combine, and trim videos. It also has iTunes integration. All of the sound effects in the Splices audio collection are licensed and will not infringe on any intellectual property rights.
You can pre-trim a movie before importing it into the app. This is useful when you need to chunk the video size before merging it with another to speed up the editing process. A video can be quickly captioned, its title changed for easier categorization, and music or a voice-over added within seconds. If you're working on a video, for a specific social media platform, Splice allows you to choose a standard aspect ratio for different social media apps. The free 4K video editing app for iPad is available for free on the App Store but you need some in-app purchases to access premium tools.
Pros:
Different aspect ratios for TikToks, Reels, etc.

iTunes integration for royalty-free music

The free plan doesn't show ads

Support for 4K exports
Cons:
Downloading drafts from iCloud is time-taking

Doesn't have professional features
7. PowerDirector
Pricing: Free Plan Available; $ 5.99/month and $34.99/year
PowerDirector is yet another amazing iPad and iOS video editing app that works smoothly, especially on the large iPad display. This iPad video editing app for vlogging has all of the editing features that you would expect from a full-fledged video editor. The app combines complex professional features with a simple and intuitive interface. This makes it suitable for a broad range of video projects, from short videos, and merging clips to a lengthier videos as well.
This video editing app for iPad Air includes a plethora of filters, effects, and transitions, as well as several pro-level features such as audio mixing, voice changer, slow motion, Pan & Zoom, video stabilizer, and skin smoothening, and more. Some stand-out features include the ability to combine images and video into a single clip, as well as the ability to add different themed text or animated titles to videos.
The free version has restricted features and for professional features, a subscription is required to make the most of the app. This includes 4K video support, customizable font styles, and access to over 3 million videos from Shutterstock and more.
Pros:
Vertical video editing

Stabilizing feature for shaky videos

Easy-to-use interface

Vlog-friendly editing features
Cons:
1080p and 4K export requires a subscription

Watermarks on the free version
Download PowerDirector for iPad
Also read: Best Productivity Apps for iPhone and iPad 
8. Vita 
Pricing: Free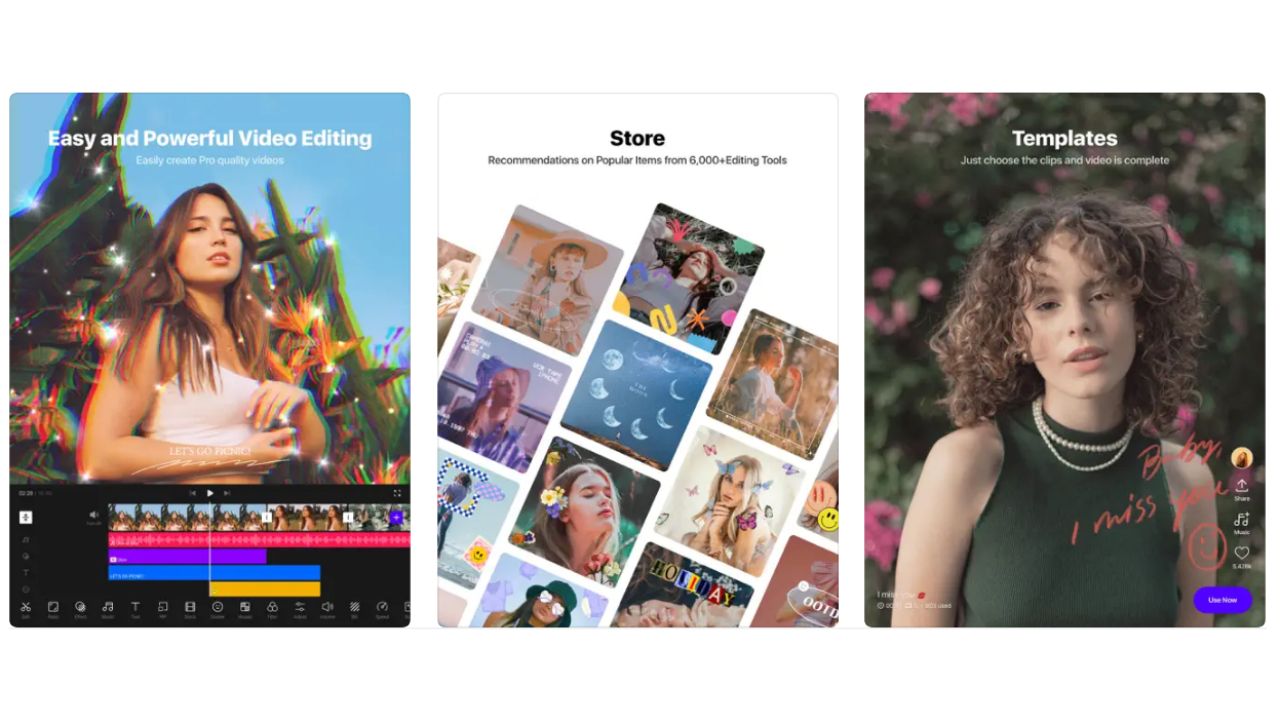 VITA ticks off all the boxes for anyone needing a full-fledged and powerful iPad video editing app without watermarks that have no subscriptions. While you can choose to start a brand-new project, there are also a number of pre-made templates ready to select to help you make viral videos even easier. There is a wide variety of categories to choose from, and you can even see how many other members of the community used these different templates.
Other great features include the ability to speed up and add slow-motion effects to the videos, apply filters for color grading, and collage and overlay videos with picture-in-picture support. And when you're done, export the results in full HD quality without any watermarks.
What's Good:
Free iPad video editor for content creation 

Features video templates for quick and easy editing

Numerous filters for color grading

No watermark
What's Missing:
Some professional editors might not find it suitable for their workflow
Also Read: How to Add Emergency Contact on iPhone and Access It from Lock Screen (Step-by-Step guide)
9. VLLO (Best iPad Air 4K Video Editing App Without Watermark )
Pricing: Free Plan Available; $2.49/month and $12.99/year
VLLO is an iPad video editing app featuring extensive editing features for both beginners and professionals. VLLO offers complex features with a powerful and fast and easy-to-use user interface to make video editing easier, and allow you to be more creative and edit your videos faster. You can apply effects and color grades to an adjustment layer atop your video clips using the adjustment layers tool. This is a very important option that is often found only in professional desktop video editing software. So having this degree of power in an app is fantastic.  The effect will then be applied to any video clips beneath that layer.
The best part is this free iPad video editing app doesn't insert watermarks even if you use the only free version. Beginner video editors will enjoy editing videos with simple features like clip split, text, background music, and transition controls. Premium-priced features for professional editors include Chroma-key, PIP, mosaic, and keyframe animations. There is also a music collection with over 200+ royalty-free songs and 450+ sound effects to complement your videos.
Pros:
No watermarks on the free version.

Access to a huge library of royalty-free music

Professional Adjustment layers tool.
Cons:
Limited exporting options
10. Adobe Premiere Rush
Pricing: Free Plan Available; $9.99/month
If you have a YouTube channel but can't afford a subscription to Adobe Premiere Pro, Adobe Premiere Rush is the best alternative and video editing application for iOS &
iPadOS. To make your videos appear more professional and eye-catching, you may download and alter titles, transitions, and overlays. If you're familiar with Adobe Photoshop, you'll love the easy-to-use video stacking function in the video timeline. Timeline allows you to stack multiple videos and audio clips as well as effects to create professional videos. You can also record many voices and then combine them afterward in the app.
The user interface has huge icons and panels that make common video editing activities like dragging and dropping footage onto the timeline, fixing color, mixing in music or voiceovers, or adding titles and transitions a breeze even for a newbie. This Adobe video editing app for iPads emphasizes workflow speeds, allowing users to edit videos faster for different platforms. It supports exporting your videos, for example, to the exact aspect ratios and quality levels required by each platform. This makes it an ideal 4K video editing app for iPad for YouTubers,
Instagram, and Facebook users as well as anybody interested in experimenting with video editing.
Premiere Rush is available as a standalone with a limited free beginning plan. You can also use it with the bundle of  Adobe Premiere Pro, or as part of the whole Adobe suite. 
Pros:
Timeline support

Works with iOS

Different resolutions and aspect ratios are supported for different platforms like YouTube, TikTok, etc.

Adobe integration support
Cons:
 Most advanced features will be available after the subscription
Download Adobe Premiere Rush for iPad
Also read: Top 25 Apps for M2 MacBook to make the most out of it
11. Filmmaker Pro
Pricing: Free Plan Available; $5.99/month, $35.99/year, or $69.99 one-time purchase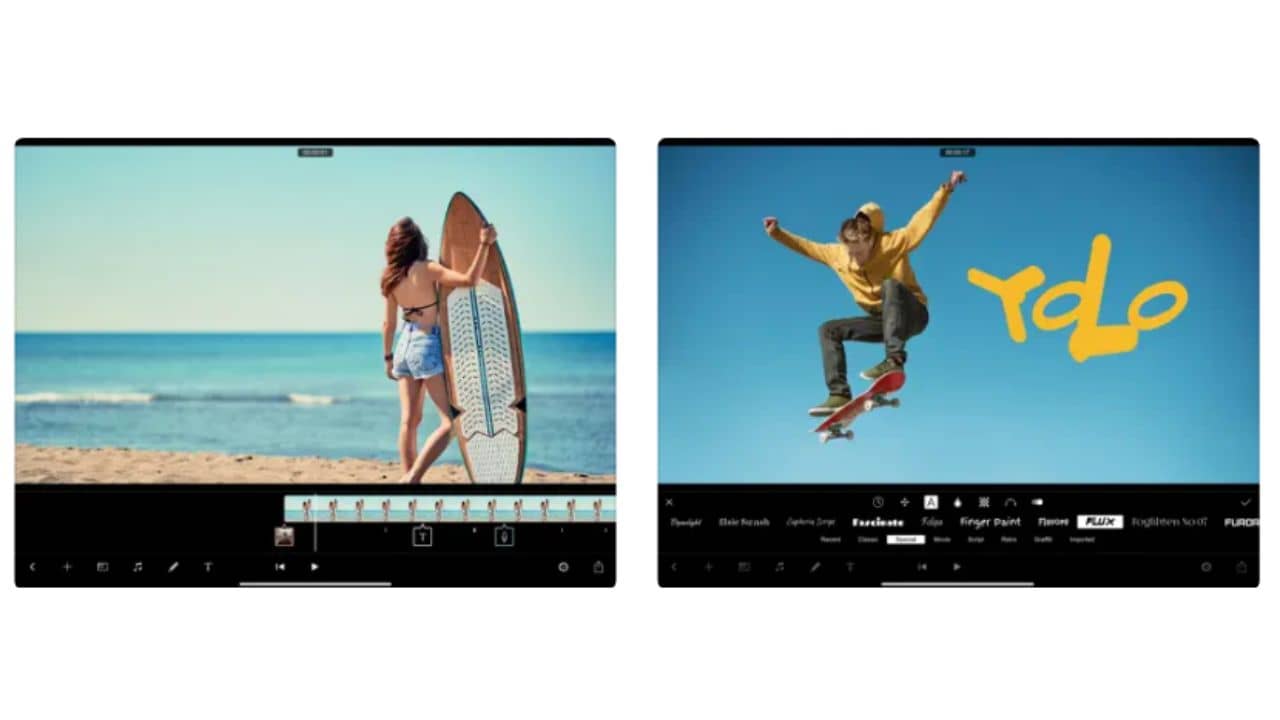 Filmmaker Pro is a video editing app for iPad with a clean user interface. It's one of the most easy-to-use tools for combining images into videos. One of its distinguishing features is the ability to import projects from other editing apps. As a result, if a feature isn't available in one app you can transfer your video project to Filmmaker Pro and keep editing. This free video editing app for iPad Pro also offers features like video audio extraction, audiometer-assisted voice-over, and music insertion. You can even import music from your iTunes purchases into your video.
The app has professional features such as video color grading, excellent green screen keying support, almost 200 distinct fonts for text overlays, 30 filters, and 17 transition effects. This iPadOS video editing application has a subject tracking crop tool that tracks an item in your video and maintains it within the crop frame. The app developers push regular updates to ensure that their users have access to innovative features.
Despite its name, Filmmaker Pro is not only the video editing software of choice for professionals but also it is a user-friendly editing tool that is suitable for Vloggers, TikToks, Reels, and short-form video editing.
Pros:
Add captions using voice-to- text feature

Allows direct import from other apps

The free version doesn't show ads
Cons:
The free version doesn't have the best features.

No multi-tracking editing

Limited devices for 4K video editing
Download Filmmaker Pro for iPad
12. InShot
Pricing: Free Plan Available; $3.99/month and $14.99/year
InShot is a very simple video editor for iPads that focuses on filters, video cutting, and short videos. It offers a simple timeline editor as well as several video and audio channels. You can also use basic tools like cropping, a built-in music library, and several other features like fading in and out video transitions. Its toolset, sticker packs, speed settings, and other features make it ideal for editing videos on an iPad for sites like YouTube, TikTok, Instagram, and more. While saving a video you can choose between 720p and 1080p and 4K resolutions. You can also make a draft and edit a video later if you think it needs more polish.
You are also able to modify the video's aspect ratio to match Instagram, YouTube, or TikTok. The app is not only restricted to video editing; it can also be used to edit images and make photo collages on your iPad. Installing InShot will provide you with a free good video editor, photo editor, and collage builder, all of which will save you a lot of time and
The subscription will give you access to all premium transitions, effects, stickers, and other features. Also, you will be able to export videos without a watermark after subscription. If you don't want a subscription, you can also unlock more filter and effect packs as well as remove the watermark and ads with specific in-app purchases.
Pros:
Ready-made templates for different social media websites

Video editor, photo editor, and Photo Collages in one app

Flexible subscriptions to cater to individual needs
Cons:
The free version has ads

Not the fastest app on this list
Also read: 15 Best Meditation Apps to Help Anxiety [iOS & Android]
13.  Vizmato 
Pricing: Free Plan Available; 11.99/year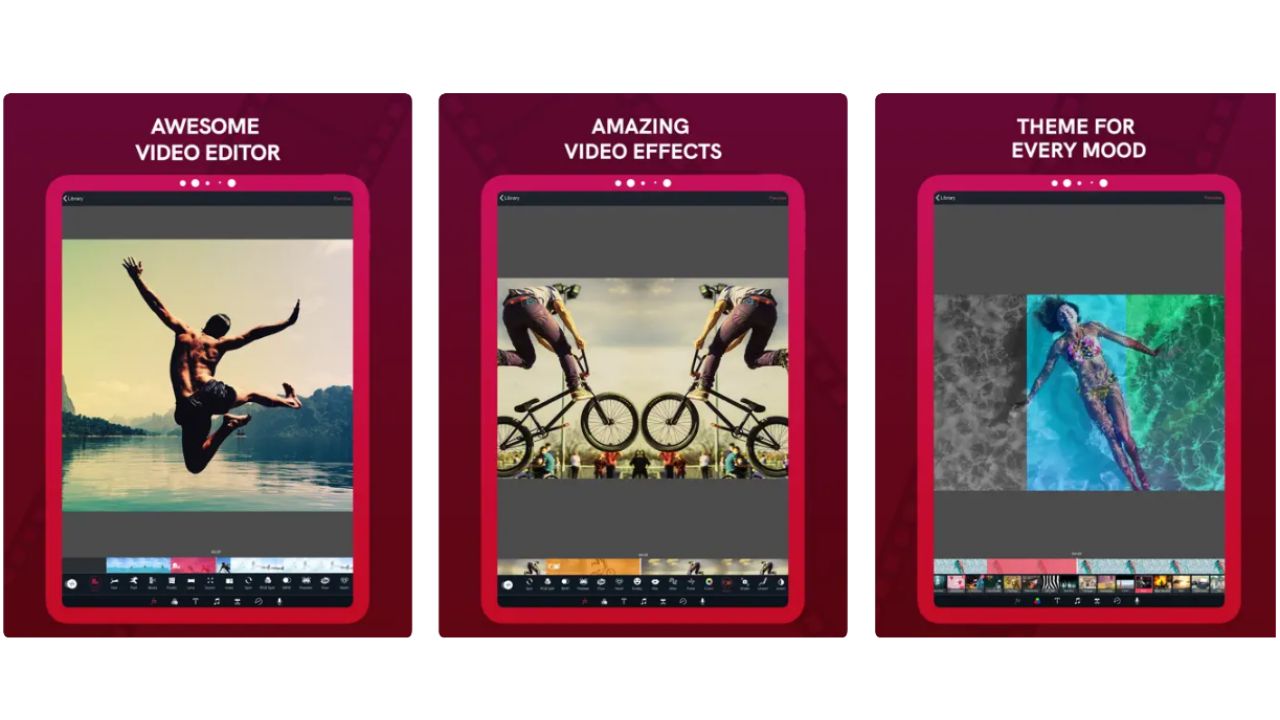 Vizmato is another free video editing app for shooting and editing videos on iPad Pro. It features a streamlined interface that lets you record HD video with live special effects. The latest version also includes a slideshow maker that lets you create movies from photos and/or videos with several built-in themes like Basic, Happy, Romance, Party, and Holiday. Themes offer a combination of visual filters with embedded music to create an exciting, fun experience. There are various themes like— HipHop, Vintage, Chaplin, Sci-Fi, and 8MM — join special effects like Beats, Trail, Mirror, Fluidic, and more to make your videos shine. You can also choose each effect and your own music as well.
By joining up to five separate clips, you can add built-in moods, looks, and tunes to your movie, and capture video using special-effects modes. Or you can just
shoot straight with your iPhone or iPad camera and add effects later. You can share your movie with the Vizmato community or on social networks like Facebook, Instagram, YouTube, Twitter, WhatsApp or even Snapchat. The app is free, but a subscription to Vizmato Pro ($11.99/year) adds a number of features, including removing the watermark, a Visual FX pack, and royalty-free music.
What's Good:
Includes powerful video editing tools

Timeline feature makes it easy to edit

You can create picture-in-picture videos
What's Missing:
Also read: How to Hide Photos on iPhone [Best Practices & Apps]
14. FilmoraGo
Pricing: Free Plan Available; $10/month for Pro and $19 for Premium
FilmoraGo is a great video editing application for on-the-go video editors that works like a charm on iPads. This is the app to use if you're a newbie who wants to edit videos for social media. With FilmoraGo, even first-time users can create high-quality videos. Features like video trimming, editing, adding audio, narration, images, subtitles, transition effects, and so on are all available in this free video editing app for iPadOS. Filmora allows you to utilize its wide choice of royalty-free soundtracks in your videos. You can also speed up and slow down your movies and videos, add text and titles to them, resize or crop them for different uses, and convert a horizontal video to a vertical video without editing it again.
If you're feeling daring, you can use the app to capture video with both the front and back cameras on an iPhone 11 or later. It also has a redesigned user interface, an AR camera, and light and dark settings. In addition, you can also trim and crop clips in the same image and apply masks not only on the main track but also on the picture-in-picture (PIP) track.
To eliminate watermarks, advertisements, time constraints, and track limits, as well as access to premium templates, stickers, and effects, you have to subscribe to their pro plan. You can also choose to buy only a single premium feature as an in-app purchase.
Pros:
Ready-made templates for YouTube, TikTok, Instagram, etc.

Easy to use for beginners
Cons:
4K export and multi-tracking are not available.

Upgrade to premium to remove watermarks and ads
15. Lomotif (Free Automatic Video Editor for iPad)
Pricing: Free!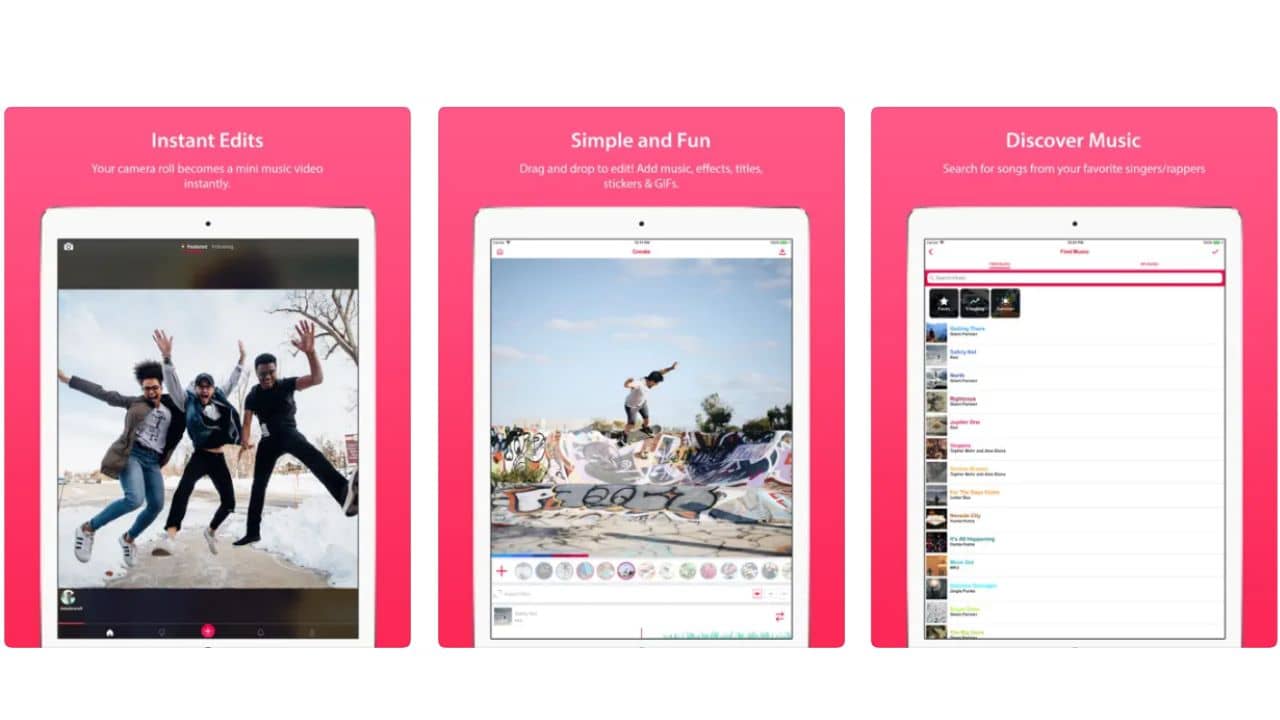 Lomotif is a completely free video editing app for iPad that has tools for basic and quick editing. Aside from video editing, Lomotif has a social media platform where you may join numerous channels. When you do, you can publish videos, modify them, and see those uploaded by other app users. Although Lomotif lacks numerous editing features seen on other applications, still it is a convenient way to share live and edited videos with other app users.
Nonetheless, you can add stickers, use built-in filters, and music to videos right from your iPad Air. It also has a video trimmer and supports up to three different aspect ratios. Finally, you can save an edit to your local camera roll, share it in a channel, or make it private so that others cannot view it. The app does not allow you to share a video with an external source, but you may store and share it later from your camera roll. 
Pros:
Offers a social media platform

Great for quick edits and boomerangs

Built-in automatic video creator
Cons:
Limited editing tools, not for professionals
Don't Miss: Best Productivity Apps for iPhone and iPad
16. Magisto
Pricing: Free Plan Available; $6.99/month
Magisto is one of the easiest video-editing app for iPad that can be used by almost anyone. Magisto use powerful artificial intelligence to identify the best sections of your recorded videos. This iPad Pro video editing app cleverly employs editing methods such as video stabilization, filters, object identification, effects, and auto-crop to produce mind-blowing videos that outperform the usual slideshow or collage.
This app blends clips, pictures, filters, music, text, and effects to let you express your narrative with an easy to get used to the user interface. It will occasionally give you an automatic private surprise movie created by converting photographs and video snippets from your gallery. There are also tools that you can use manually to enhance your video edit.
Pros:
Excellent for quick edits

Blends clips and pictures automatically
Cons:
Doesn't have premium features for professional editing
17. Videoleap (Suitable for Editing Videos with Special Effects)
Pricing: Free Plan Available; $ 7.99/month, $35.99/year, and a one-time purchase of $ 69.99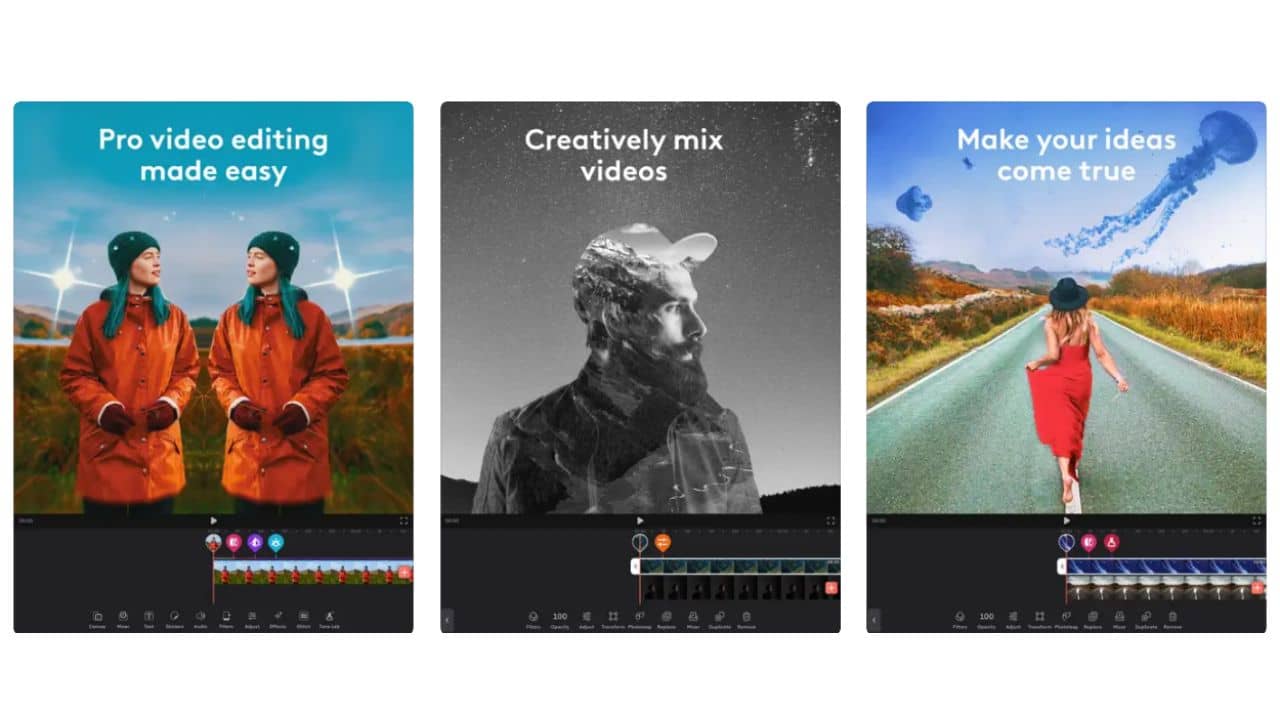 Many of the capabilities available in this iPad video editing app are basic but it lays a far greater emphasis on special effects. The app has some premium features like chroma-keying, keyframing, and other complex effect options. The app can produce some pretty remarkable results. For social media users, this app features trending templates where you can throw in your video and edit it easily.
Videoleap has mini lessons for each tool to assist beginning users, as well as an asset shop with stock video and music for purchase. The is free to download, but the Pro edition includes features like text animation, defocusing, and limitless layers.
Pros:
Supports premium features for professionals.

Features trending templates for social media users
Cons:
 Costly as compared to other options
Also read: Best Stress Relief Apps for iPhone
18. VideoShow 
Pricing: Free Plan Available; $59.99/year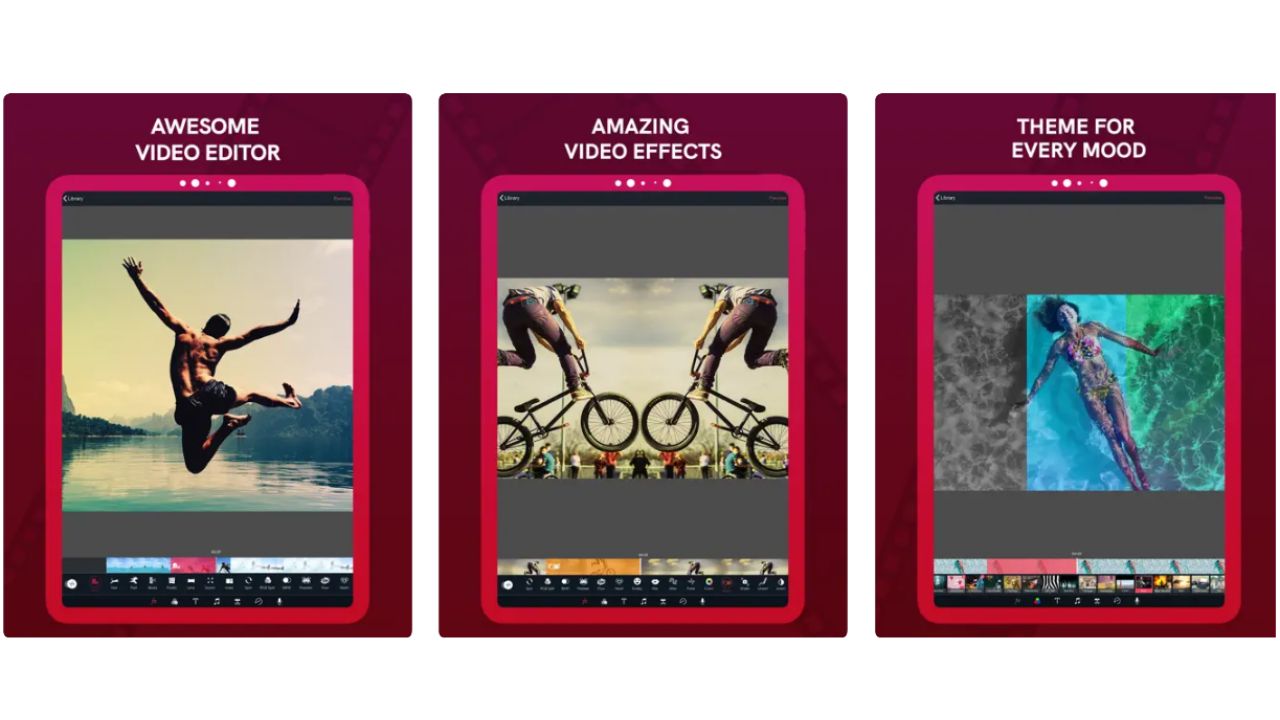 VideoShow is another beginner-friendly iPad video editing app. This app features a broad spectrum of tools, including text overlays, visual effects, GIFs, stickers, multi-track music, photo filters, transitions, sound effects, and even live dubbing. To enhance your movie-making experience, VideoShow has combined more than 50 video themes, more than 30 bespoke filters, and a library containing hundreds of free-to-use, licensed music tracks. This free iPad video editing app offers super useful features like video compression, easy sharing, and square or no crop aspect ratios specifically for short videos like TikToks, Instagram Reels and YouTube Shorts. Some users might like the interrupting ads, but for short edits or for changing the aspect ratio of an existing video, this iPad Pro video editing app might be your cup of tea.
What's Good:
Intuitive and easy to use

Wide range of tools

Ready-made video themes  
What's Missing:
Riddled with ads

Can't edit in 4K in the free version 
Also read: 5 ways to Delete Duplicate Photos from your iPhone easily
Conclusion
That concludes the list of the 15 best iPad applications for video editing in 2023. All of the apps on this list are simple to use and feature a clear user interface. You will discover the ideal app for yourself whether you are searching for a quick and easy video editor or a fully equipped video editing app. We have collated the best free and paid video editing apps for both beginners to advanced professionals. You can use these video editing apps for iPad Air, iPad Pro, and iPad with an M1 chipset. 
Tell us in the comment section which video editing app you are going to install from the list.
Also read: Best Language Learning Apps for iOS
FAQs for Top Video Editing Apps for iPad
1. How to choose the best app for video editing for iPad?
The most important thing you should keep in mind while downloading a video editing app for your iPad is that can you use it easily and it fulfills your requirements. The last thing you want is to download an app and spend weeks learning how to edit your first video. So, pick an app that is user-friendly and matches your level of experience. Some other things you should consider are customer and community support and how many features that app supports.
2. Which are the best video editing apps for iPad without watermark?
iMovie, Splice, Quick, Magisto, and Apple Clips are some of the best video editing apps for iPad without watermark. Most of these apps offer a subscription or a pro version which offers more features.
3. What are the uses of video editing apps for iPad?
Video editing apps are used to edit raw video that you shoot with your cameras. These apps can be used to merge multiple clips, add cuts and visual effects, edit the colors, enhance the overall quality of the video, and much more. With these iPad video editing apps, you can edit your videos on the go without using your laptop or desktop.
Also read: Best Trip Planning apps for a Smooth Journey