The iPad is a very creative gadget by Apple. The device sits between an iPhone and MacBook which has tools for everyday use as well as to nurture the artist in you. The huge display of the iPad increases the scope of productivity and multi-tasking which can be done effortlessly. 
Whether you're a student who wants to take notes in lectures or a working professional who is interested in jotting down notes between meetings, a note-taking app is a must. Not only that, if you're a therapist or a researcher then taking notes is a part of your work ethic. But the old school style can create a mess sometimes with huge stacks of papers and files in your drawers and if anything goes missing, you'll be in trouble. That is why making digital notes is the need of the hour. Not only is this environmentally friendly, but it also declutters your life.
If you're someone who wants to take digital notes but also wants that feeling of writing it down we've got you covered. Here's a list of the 15 best note-taking apps with Apple Pencil & handwriting support where you can
annotate PDFs, create to-do lists, make mind maps, and much more. We have collated the best note-taking apps for iPad with Apple Pencil so you can get the feel of writing it down just like pen & paper without creating a mess. All these apps are functional with 1st and 2nd Gen Apple Pencil as well as iPad, iPad Pro, iPad Mini, and iPad Air.
Which note-taking app for iPad supports Apple Pencil?
| | | | | |
| --- | --- | --- | --- | --- |
| App Name | iCloud Sync | Price | In-app Purchases (USD) | Apple Pencil Support |
| Notability | Available | Free Plan available | $14.99 annual subscription | Yes |
| Good Notes 5 | Available | Free Plan available | $7.99 one-time purchase | Yes |
| Apple Notes | Available | Absolutely Free | | Yes |
| Penultimate | Available | Free Plan available | $34.99 – $69.99 annual subscription | Yes |
| My Script Nebo | Not available | Free Plan available | $2 – $8 annual subscription | Yes |
| One Note | Not available | Absolutely Free | | Yes |
| Noteshelf | Available | | $9.99 One-time purchase | Yes |
| CollaNote | Not available | Absolutely Free | | Yes |
| Zoom Notes | Available | Zoom Notes Lite is free | $10.99 One-time purchase | Yes |
| Beesy | Not available | Absolutely Free | | Yes |
| Liquid Text | Available | Free Plan | | Yes |
| Notepad+  | Not available | Free Plan available | $19.99 for Pro subscription | Yes |
| Bear | Available with pro subscription | Free Plan available | $15 annual subscription | Yes |
| INKredible | Not available | Free Plan available | $0.99 – $2.99 for one-time features | Yes |
| Whink | Available | | $4.99 One-time purchase | Yes |
1. Notability
Pricing: Free Plan Available; $14.99/year
Notability is arguably one of the most feature-packed note-taking apps for students, professionals & almost everybody. It supports a large variety of multimedia like images, GIFs, webpages, scanned textbooks and PDFs, and even audio notes. The feature that makes it stand out is the handwriting-to-text conversion, you can take handwritten notes during lectures and meetings and convert them into your desirable font, later on, digitizing them in the process. Notability provides organizational hierarchy and neatness, you can create dividers, and subdividers to organize your notes.
This note-taking app for iPad Pro supports Apple Pencil and has features like pressure sensitivity, palm rejection, left and right-hand mode, and different shape tools. The stand-out feature of Notability is the Notes Gallery, where you can search other people's notes on the same topic and then download and annotate those notes. You can also browse through various templates for planners and to-do lists as well as inspiration for artists who like to draw. This app also provides a Drag & Drop feature where you can directly drop files, images, GIFs, and webpages in your notes directly from Google.
Notability is compatible with iCloud so that you can sync your notes across all of your iOS, iPadOS, and macOS devices.
Pros:
Multimedia support including audio recording, GIFs, webpages & more

Smooth handwriting to text recognition

Drag & Drop feature for accessibility
Cons:
Limited note edits on the free plan

Less variety of pen width
Also read: iOS 16 vs iOS 15: Should you update?
2. GoodNotes 5
Pricing: Free Plan Available; $7.99 one-time purchase
GoodNotes 5 is one of the top note-taking apps for iPad with Apple Pencil support. If you're on the road often and need to scribble on the go, this app has everything you want for taking notes. Tools like 3 different pens, a lasso tool, a shapes tool, and a highlighter tool, make your note-taking process very easy. The app home page is very simple to use where you can categorize your documents and notebooks.
This is the first note-taking app that adds presentation mode to any notes app. GoodNotes 5 supports 17 different languages and seamless handwriting-to-text recognition. The Zoom feature makes it easy to add notes in smaller areas or between the lines. There are different papers available from blank to the line as well as specialized music papers to write guitar scores for artists. You can use this app not only for writing but also as an
efficient PDF annotator which works with Microsoft Word and PowerPoint.
There are also some stand-out features like inserting flashcards into notes which makes it look professional and aesthetically pleasing. GoodNotes 5 can be synced to iCloud, DropBox, Google Drive, and OneDrive.
Pros:
Highly customizable

Excellent Zoom feature 

Plenty of organization and editing options
Cons:
Audio notes are not available

File sizes are bigger than usual
Also read: 22 Tips to Improve & Maintain the Battery Health of your iPhone
3. Apple Notes
Pricing: Absolutely free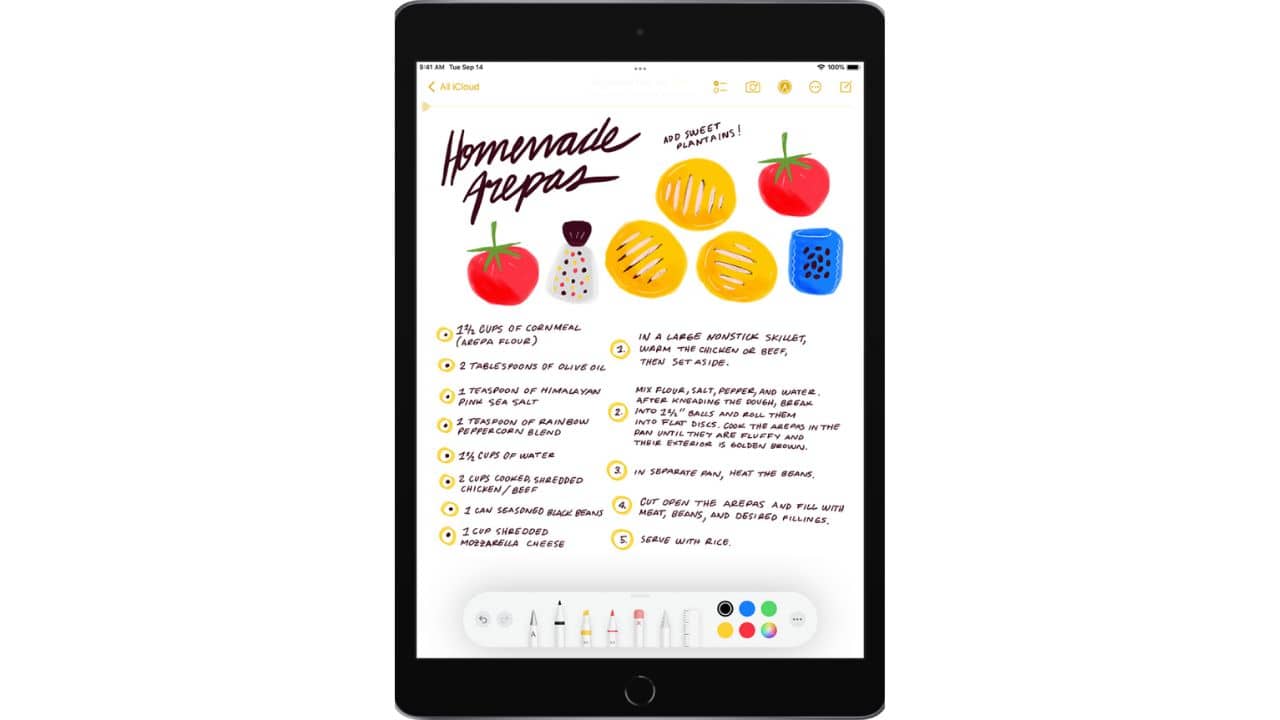 Apple's own note-taking application is simple and free. If you're looking for an easy-to-use note-taking app that's ready to go then Apple Notes is an attractive option. Firstly, it is absolutely free so if you're just starting your digital note-taking journey and not sure whether to purchase a paid app, use this first to develop a habit. Secondly, it is loaded with features. Apple Notes let you capture rich text, scan documents, and mixed media notes. You can add checklists, Apple Maps locations, audio recordings, tables, images, and documents. 
If you're a fan of handwritten notes then you can breathe a sigh of relief as this app supports Apple Pencil. You can write your notes or create your mind maps effortlessly. There are over 120 colors to choose from and the ability to change the stroke weights of highlighters, pens and pencils make it very accessible. The latest version comes with an eraser, dark mode, and the ability to move the writing palette to any edge of the screen. It also has the feature of locking your notes so no one can access them.
If you're just starting and not looking for much more besides a strong writing experience, Notes will serve you well. All of your notes will sync swiftly to your iCloud account.
Pros:
Highly customizable writing experience

Ability to write notes with Siri

Ability to lock the notes with FaceID & Passcode

Works flawlessly with Apple Ecosystem

Free without any in-app purchases
Cons:
Handwritten notes will be hard to search

Rigid note-taking structure
Don't miss: Best Apps for M1 MacBook Air & MacBook Pro
4. Penultimate
Pricing: Free Plan Available; $34.99/month and $69.99/year 
Penultimate is made by Evernote which is a more nuanced note-taking app for iPad with handwriting support. It features a distraction-free interface to create notes easily while you're researching or listening to your patients. The app is optimized for note-taking with Apple Pencil on iPad Pro so you can push harder for thicker strokes and lighter for more faint writing. This feature mimics real-life handwriting experience very well so you don't miss the pen and paper.
This app also supports multi-media formats to insert in the notes like images, webpages, and documents. The drift feature will let you write effortlessly anywhere and keep pace with your writing so there's no fixed canvas to restrict your mind maps and sketches. The app analyzes your Apple Pencil  handwritten notes and allows you to search handwritten texts. It will be easier to organize your notebooks if you sync your Evernote account with Penultimate.
Pros:
Distraction-free experience

Better imitating of real-life note-taking experience
Cons:
Does not sync with iCloud
Also read: Best Accessories for 9th Gen iPad in 2022
5. My Script Nebo
Pricing: Free Plan Available; $8/year
My Script Nebo is a feature-rich note-taking app and perhaps better than Notability and Goodnotes 5 when it comes to Apple Pencil's smooth handwriting user experience. It is claimed by the company to be the world's best handwriting recognition app. Nebo not only supports Apple Pencil but also supports Samsung S-pen for Galaxy Tab users. This must-have iPad Pro-note-taking app easily allows you to convert your handwritten notes into text. Furthermore, you'll also be able to format your notes in bullet points, charts, mathematical annotations, and even annotate pictures.  
The app does what it says- it is able to recognize the tiniest bit of punctuation like colons and commas. Nebo is able to recognize even the worst writing with the innovative "interactive ink". Another appreciable boon to maths and accounts students is to let you solve calculations and copy them into LaTeX or as images. You can convert this afterward into PDF, Word, and HTML.
Pros:
Excellent handwriting recognition

Gesture-Based editing

Multiple notes export options
Cons:
Download MyScript Nebo for iPad
6. OneNote
Pricing: Absolutely free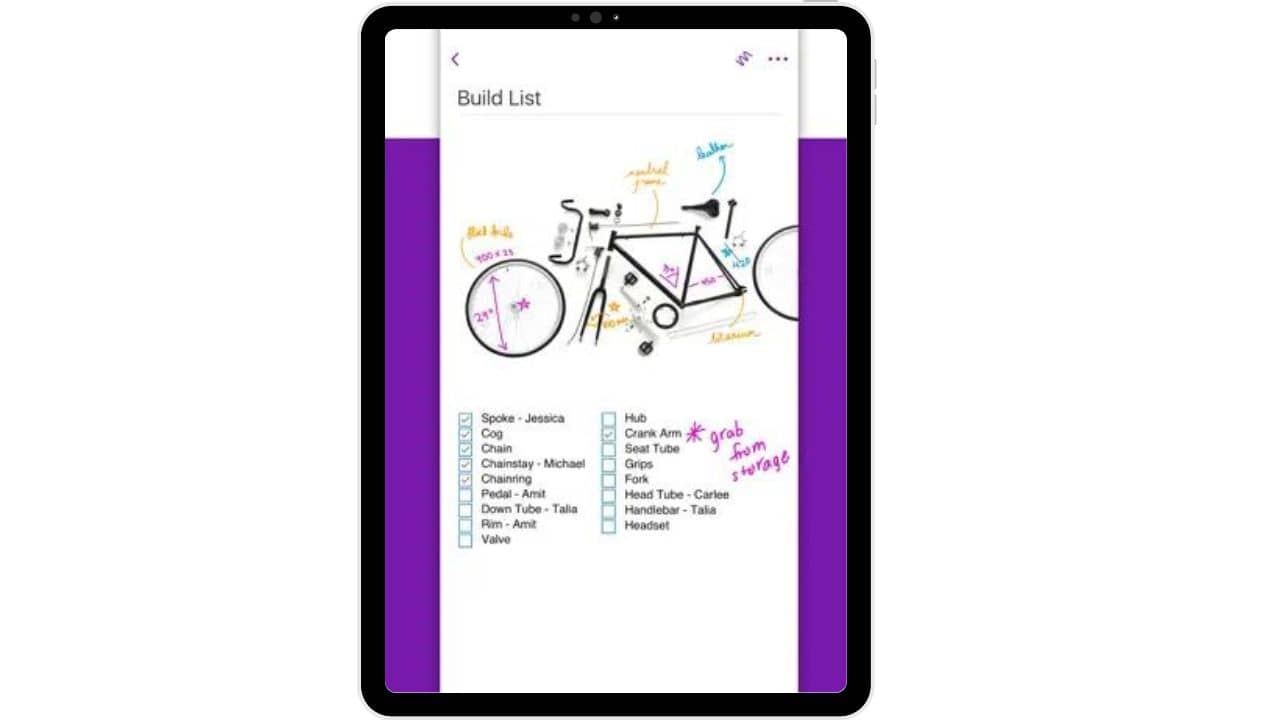 Microsoft's OneNote is another strong option if you're looking for a note-taking app for iPad that integrates seamlessly with MS Office. You can use this app to quickly record lectures/meetings, jot down your ideas and keep your notes fully organized. The OneNote app on iPad also supports Apple Pencil for handwritten notes. 
OneNote for iPad also offers a variety of multimedia features where you can type text, insert voice recordings and even insert graphics. Everything you create in OneNote automatically gets backed up in OneDrive.
You can create a to-do checklist of your daily goals and targets for meetings and class notes. The pinning feature allows you to easily find the frequently used list. OneNote one-ups Apple Notes by allowing variations in stroke width and extra colors to choose from. The size of the canvas it offers allows users for mind map creations and brainstorming sessions. The Microsoft Office integration makes it easy to collaborate on projects with friends and colleagues in the Microsoft ecosystem.
Pros:
Cross-Platform collaboration

Flexible note-taking

Works seamlessly with MS Office
Cons: 
Limited features for a note-taking app
Also read: How to edit sent messages on iPhone and iPad
7. Noteshelf
Pricing: $9.99
Noteshelf has many features including the option to annotate PDFs and multitask with the iPad split-screen. You can also record voice notes to go along with handwritten notes because this iPad note-taking app supports Apple Pencil. The stand-out feature of Noteshelf is it supports 65 different languages which is a boon for multilingual people. This is a very powerful feature if you're taking a language class or learning a language on your own. You can not only type in different languages but it also supports handwriting recognition for 65 languages. This app has the Zoom Box feature makes it easy to write smaller texts or if you want to have a closer look at the existing notes which is useful for power users.
One more unique feature is security and organization. You can set passwords to protect the notes as well as organize them easily. There are different pen styles to work within Noteshelf, including a fountain pain that replicates the smooth writing experience. Not only that,
Apple Watch users will be able to record voice notes directly from Noteshelf Apple Watch app.
With all of this, Noteshelf allows you to export your notes to iCloud, Dropbox, Google Drive, and OneDrive.
Pros:
Advanced customization features

Multi-device compatibility 
Cons:
Paid app

Moving notes isn't easy
8. CollaNote
Pricing: Absolutely Free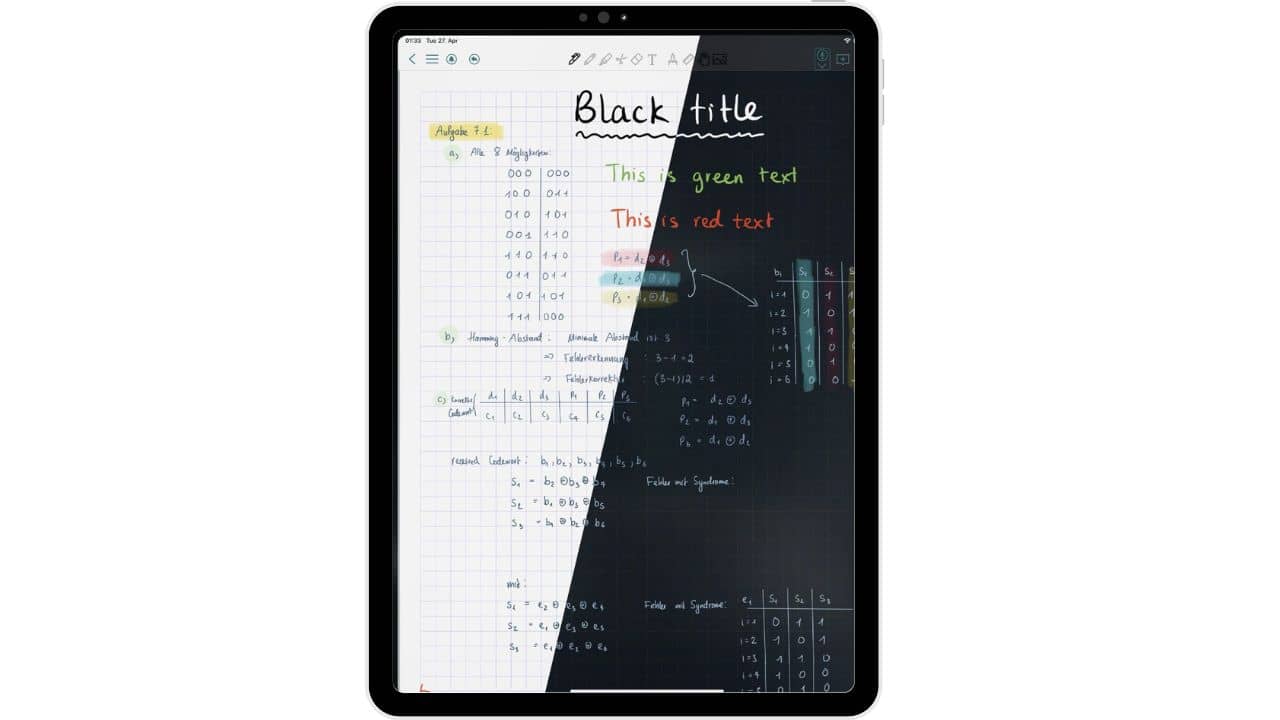 CollaNote is an app that provides a rock-solid note-taking experience with simple and intuitive tools that feel great to use. This app actively distinguishes between pen and pencil, which provides a completely different handwriting experience from one another. You can easily collaborate and work on the same notes with your fellow classmates and teammates. The text box tool will allow you to layer text over any images or text.
The app features Dark Mode which is a life saver if you work in low-light environments. You can take audio notes and the handwriting will sync to the audio which will appear like Karaoke. The app features 150+ ready-to-use design templates which can be used for various purposes. You can back up the files in the app but not on iOS.
Pros:
Easy to use collaborative feature

Importing media is fast and easy
Cons:
Also read: Best Monitors for iPad Pro and iPad Air without any Black Bars
9. Zoom Notes
Pricing: $10.99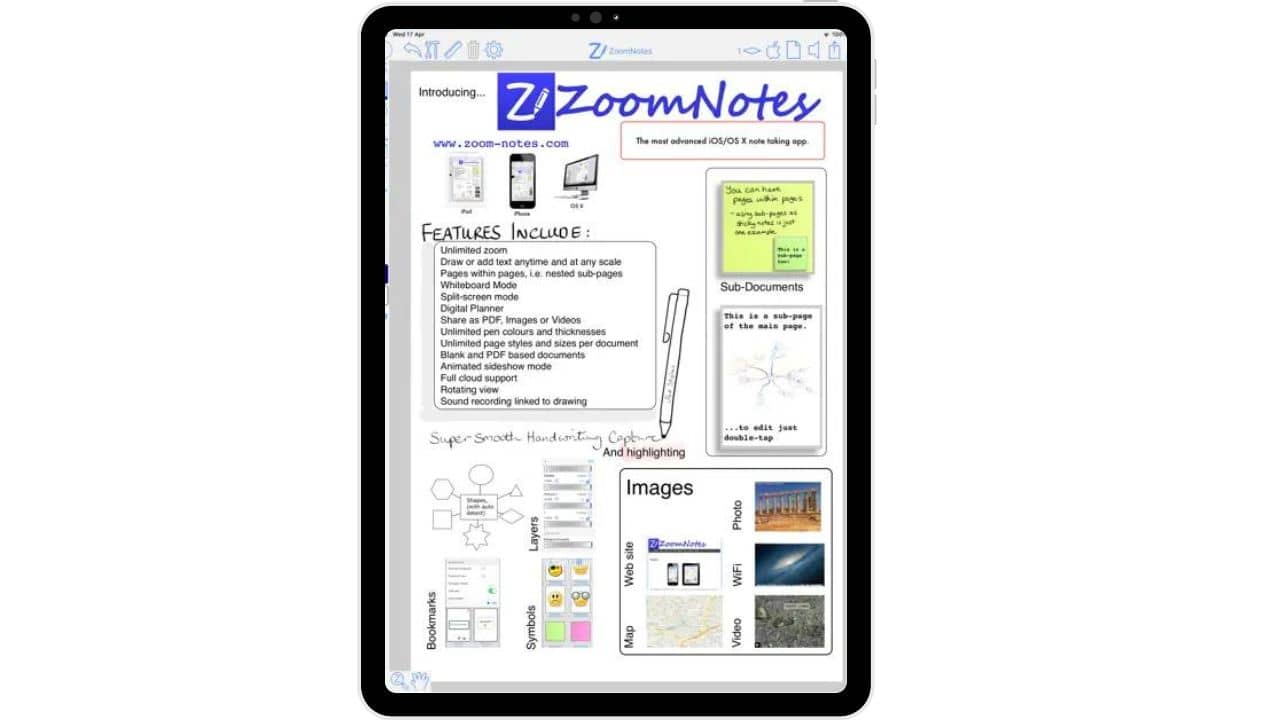 ZoomNotes is an app that especially comes in handy for working professionals in between brainstorming sessions. This app provides an infinite whiteboard which makes it a great option for visual note-takers. As you might guess from the name, ZoomNotes offers an impressive zoom range that is practically endless. This makes it easy for people to sketch out ideas on the whiteboard without worrying about running out of space.
The stand-out feature of this app is pages, with pages that you can add to your notes. These sub-pages can be used as separate notes, sticky notes with key concepts and reminders, or even a full PDF document that relates to your notes. The formatting features offered by ZoomNotes are pretty impressive with 8 different pen types, unlimited paper sizes, templates, digital planners, and much more. 
This iPad Pro note-taking app allows you to sync your notes with iCloud. You can even integrate your Apple Calendar and Apple Reminders so you can schedule and manage your tasks easily. 
Pros:
Infinite canvas with incredible zoom range.

Easy integration with other apps

Support for split-screen, multi-media & more

Offers a ZoomNotes Lite version as well
Cons:
Also read: How to buy Chromebooks for Zoom Calls + Top 10 Recommendations
10. Beesy
Pricing: Absolutely Free!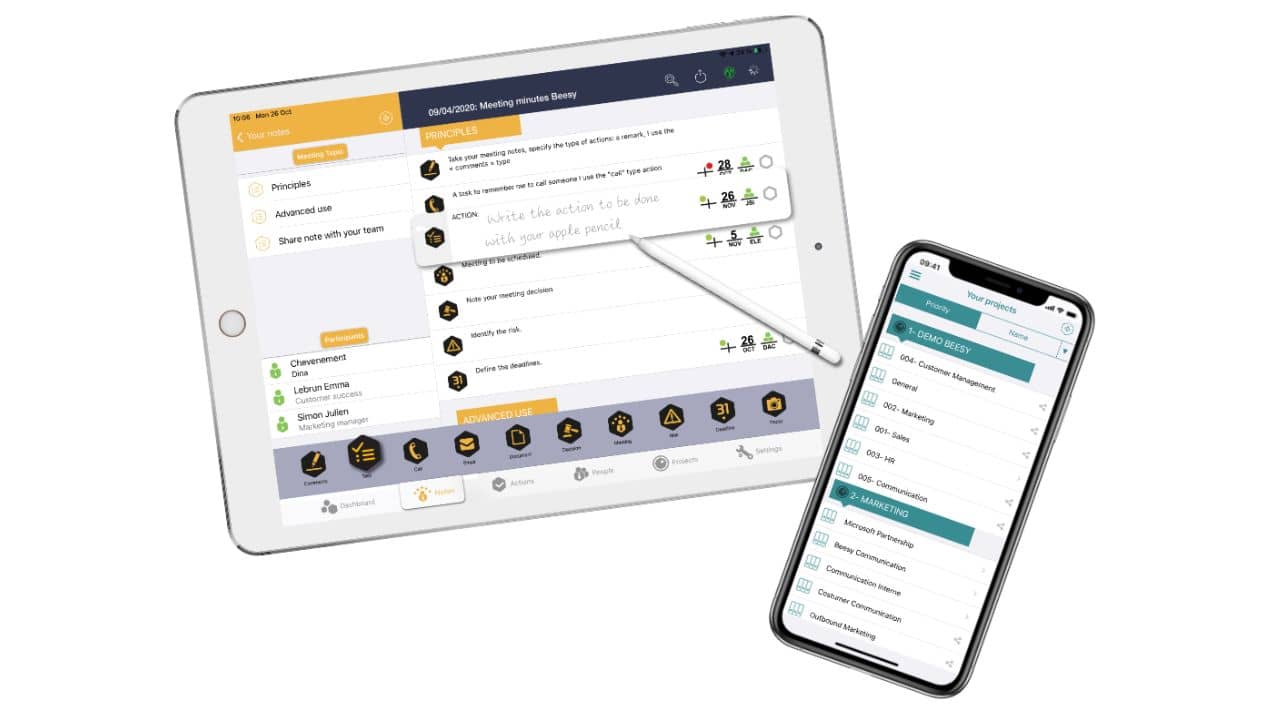 This iPad Air note-taking app is specifically designed for working professionals to manage their meeting schedules, and to-do lists, take notes in meetings, and brainstorm sessions. This app can make things easy for anyone who needs to keep track of their daily tasks with accuracy. The integrated To-Do manager turns your meetings, existing commitments, and notes into lists for you. Beesy supports Apple Pencil so you can draw mind maps, write, annotate PDFs and images, etc.
You can also take audio notes which can be complemented by photos, web pages, and GPS data not just for meetings but for travel planning as well. 
Pros:
Ideal for project management for professionals

Integrated to-do manager
Cons:
Several expensive in-app purchases
Also read: Top Accessories for 5th Gen iPad Air
11. LiquidText
Pricing: Absolutely Free!
LiquidText is a note-taking iPad application with Apple Pencil support specially designed for school/college students and researchers. The app is designed to help you annotate PDFs as well as make notes on them. When you open a PDF on this app it will change into a digital workspace such that half of the screen is taken by the PDF while the other half is your workspace. In this workspace, you can take handwritten notes, make mind maps, grab snippets of texts and pull them into your workspace. These excerpts will transform into small cards or sticky notes which you can move around.
A handy feature is you can manage the bulk of documents with one click whether to highlight, move or copy your files easily. You can also shrink selected pages quickly to compare what's above or below the same document. You can use this note-taking app for iPad Pro to annotate PDFs, Word files, and PowerPoint slides as well which makes it great for students.
All the files are backed up in iCloud so you can use them across multiple devices like MacBooks.
Pros:
Easy screen division feature

Edit PDFs while making notes simultaneously
Cons:
12. NotePad+
Pricing:  Free Plan Available; $19.99/year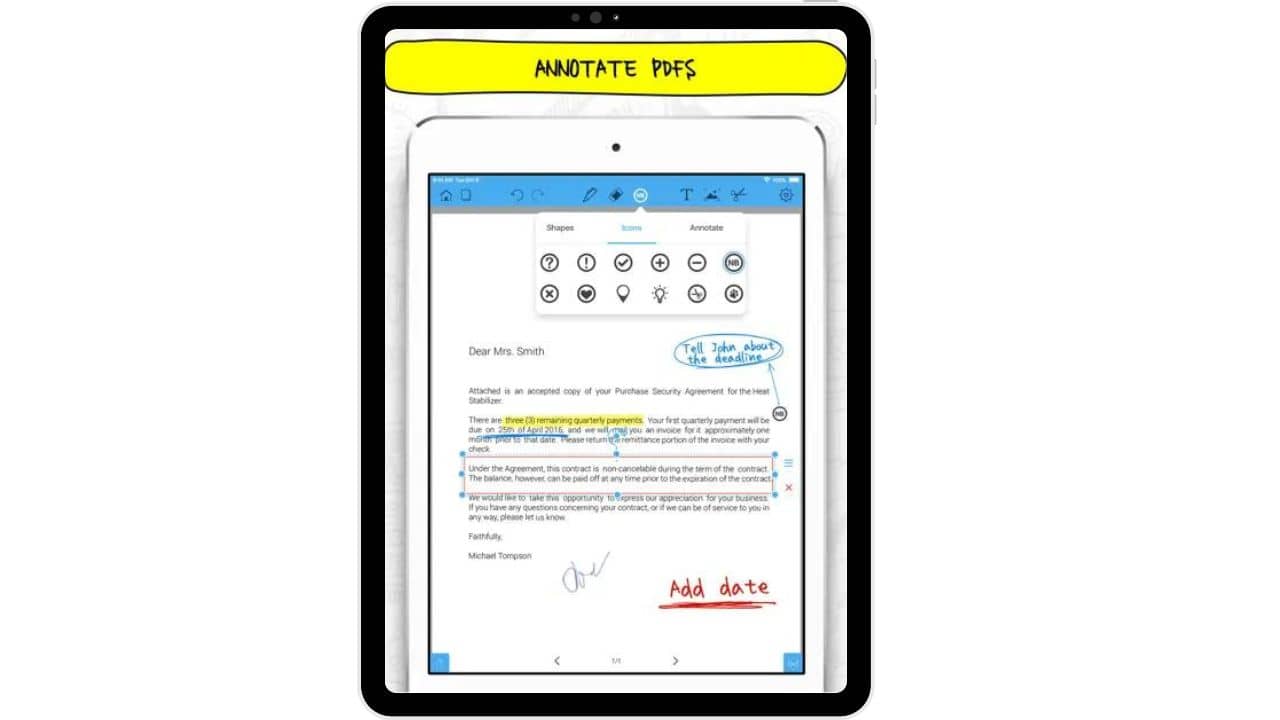 Notepad+ is one of the best-paid note-taking apps for iPad with Apple Pencil for students. This app provides pretty much everything for students whether you're in school, college, or researching for your thesis. This app allows you to type as well as write handwritten notes, add images, sketch, and annotate. The drag and drop feature allows you to copy images into your notes, regardless of the file formats.
You can not only annotate PDF files but Excel sheets, Keynotes, images, and numbers as well. This app provides a wide range of formatting options with the ability to use different fonts, colors, and handwriting pressures. Notepad+ is available in 12 different languages with the additional feature of using emojis and smileys in your notes to make it attractive. There is also a blur tool where you can hide any specific section of your notes before sharing them.
The layout is simple to use and very similar to Apple's Pages, so it won't take long to take a hang of it. This app features many ready-made templates for professional use and school use. You can back up the notes in DropBox and Evernote and share the notes via email as well.
Pros:
Supports Apple Pencil and Finger simultaneously

Emoji annotation support.
Cons:
Limited to iPadOS only

Paid app

Limited tool options with higher cost.
Also read: Best Must have Productivity Apps for iPhone and iPad
13. Bear
Pricing: Free Plan Available; $15/year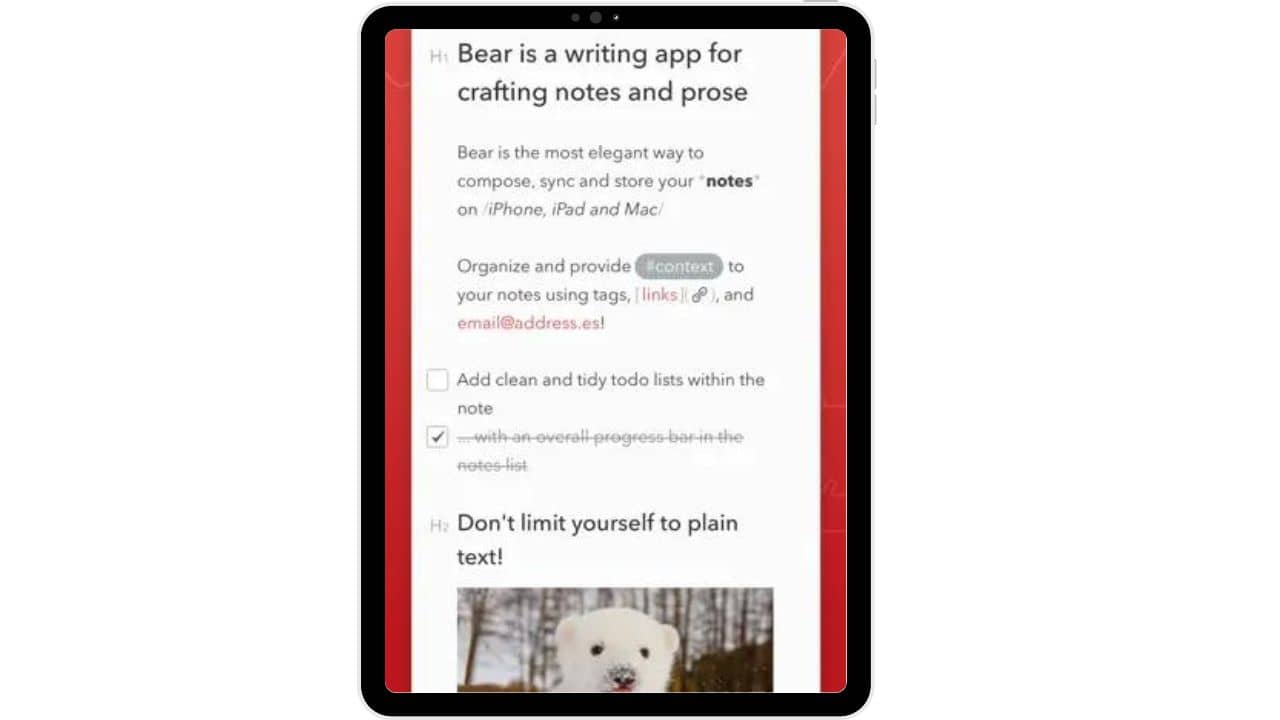 Bear is a flexible and useful note-taking app for iPad, iPhone & Mac that works great for jotting down quick notes, doodles, poetry, and even snippets of code. The user interface is elegant and aesthetically pleasing which allows you to search notes using hashtags. Bear is compatible with Apple Watch so you can dictate notes on the watch or Siri as well. This app features a markup editor which is beneficial for coders as this app supports 20 different programming languages. 
The custom shortcut bar allows you to format texts with ease with a variety of different pens and multimedia support. The app is however more focused on typing, but you can still use handwritten notes in the drawing mode where you can write and annotate. The subscription to BearPro will enable you to sync notes to iCloud so you can use it on all your devices.
Pros:
Simple design with excellent editing features

Support for coding languages
Cons:
 Free version doesn't have iCloud sync
14. INKredible
Pricing: Free Plan Available; $0.99- $2.99 in-app purchases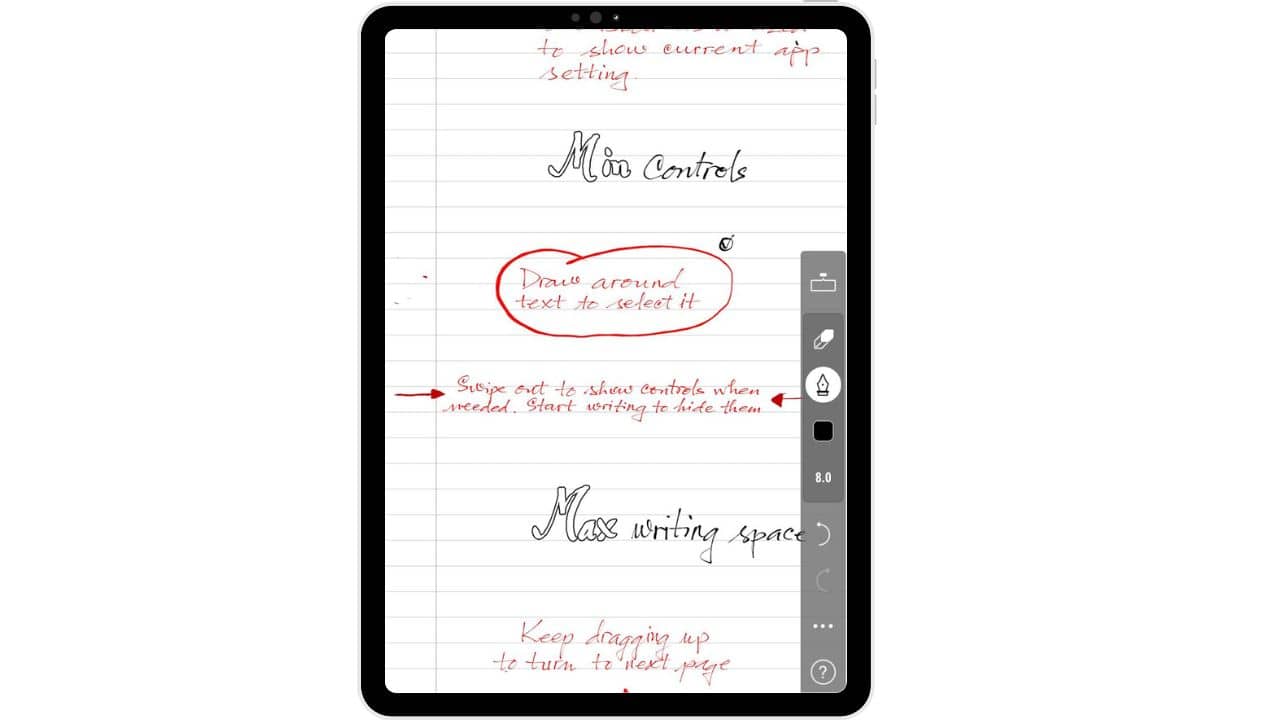 This app is for fans of handwritten notes with minimalist design and amazing features. This note-taking app for iPad Air features a single sheet of paper on which you can take handwritten notes using an Apple Pencil. There is almost no distraction; you just have to open the app and scribble your ideas and notes. This app can recognize even the worst of handwriting and turn it into readable texts. You can use this app for printing your notes as well.
Pros:
Minimalistic notes app for any kind of work.

The tech used here can correct every handwriting
Cons:
Also read: Best iPad Pro Accessories to buy right now
15. Whink
Pricing: $4.99
Whink is a minimalistic note-taking app with an easy-to-use interface that even older people can use for journaling. The app features a sleek interface with basic tools you need for note-taking. Unlike most other apps Whink mimics the gel pen feel when using an Apple Pencil which delivers a smooth handwriting experience.
You can use this app for annotating PDFs and images in a variety of colors. You can also create voice notes using this app as well as multi-task using the split-screen. Whink is a more affordable option as compared to other note-taking apps which makes it worth the price.
Your notes and journals are backed up in iCloud so you can use them on your iPhone and Mac.
Pros:
Effortless multitasking

Simple to use interface
Cons:
iPad Note-taking Tips
Use lined or grid paper for neat notes with better handwriting.

Make use of the Dual Screen feature to take notes easily without switching tabs.

Use digital sticky notes to emphasize important details and make your notes professional.

Use the Night Shift feature when you work at night to decrease the blue light and lessen the strain on your eyes.

Scan documents with your iPad which makes it easier to save and annotate afterward.
Also read: Best multiplayer games for iPad
Conclusion
Well those were our picks for the top 15 note-taking apps for iPad with Apple Pencil support. We have included both free note-taking apps and paid note-taking apps on this list. We have curated this list while keeping in mind the different uses there are note-taking apps for students, note-taking apps for professionals, note-taking apps for doctors and therapists, as well as note-taking apps for elderly people. So that, everyone will be able to find something that caters to their needs. Every app mentioned in this list is compatible with 1st Gen Apple Pencil and 2nd Gen Apple Pencil. You can use these for note-taking on iPad mini, iPad Pro, iPad, and iPad Air. Hope this helps in your digital note-taking journey.
So which iPad note-taking app are you using? Let us know in the comments.
Also read: Best AR Games for iPhone and iPad