When planning your vacation, it can be overwhelming enough to discourage you from enjoying yourself. While searching for amazing destinations and attractions to visit is always exciting, keeping track of all the information regarding your trip isn't the easiest task. While crafting a trip itinerary it is very hectic to keep track of how much time you need to spend at each attraction. Which tourist places should you visit? How can you keep all your ideas and bookings organized? The answer to all these questions is travel planning apps. 
There is a trip planning app for everything – whether you're planning a road trip to the Grand Canyon, a weekend getaway in Vegas, a backpacking trip across Europe, or a hiking trip in the North. With these iOS travel planning apps, a lot of vacation nightmare stories can be avoided. We have picked an excellent package of the best travel planning apps for iPhone to help you plan a vacation effortlessly. These travel planning apps can help you to find the best locations/ attractions, book the perfect room, pack smart, find the best tickets, and optimize your journey based on your trip duration. If you're an iOS user then you must know that you can easily find an abundance of apps. Every traveler is different and so are the travel planning apps and no one has time to download and try all apps on their own. Hence, after hours of testing and researching, we have collated this list of 15 best travel planner apps for iPhone that offer a variety of features to make your travel planning hassle-free. 
1. Wanderlog
Price: Free with in-app purchases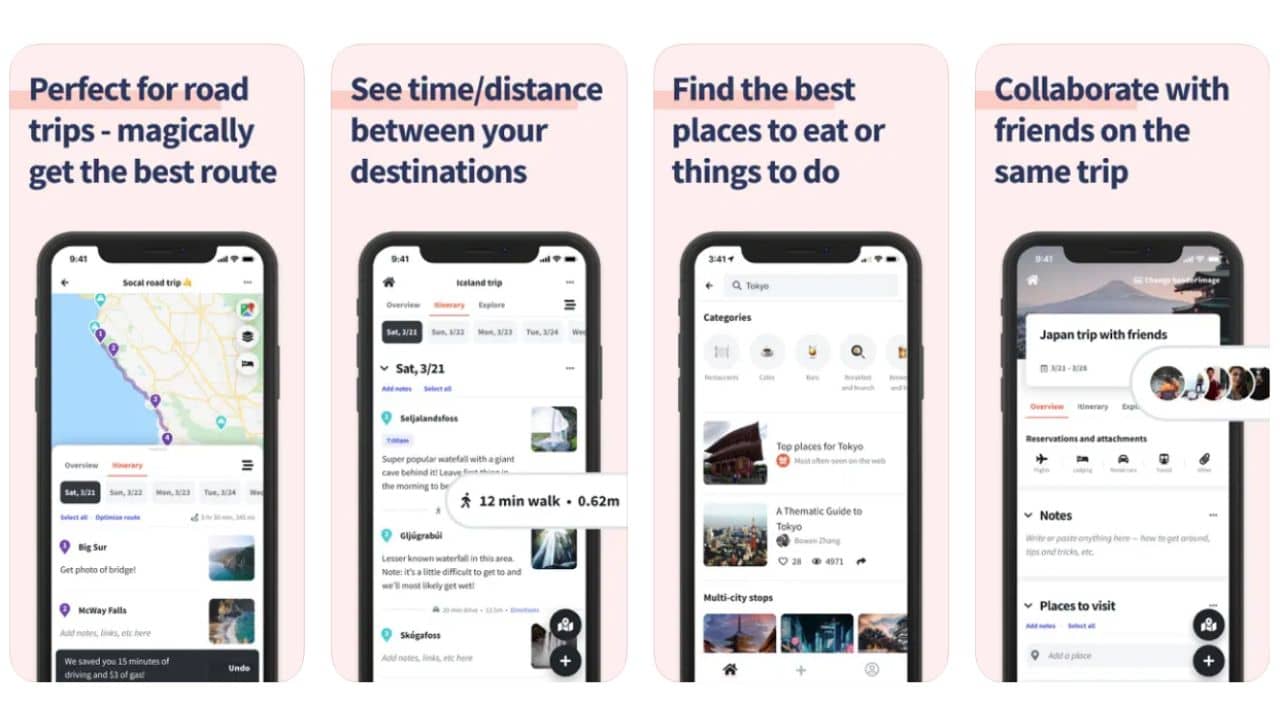 Wanderlog is a user-friendly trip-planning app for iPhone where travelers can build, organize and map their trips accordingly. The app is incredibly flexible and provides all the information needed in one place. It is a feature-rich app that saves all your flights, hotels, tickets, and reservations in one place to create an itinerary for your next trip. You can easily view your destinations and every attraction on a map, which is perfect if you're traveling by road. This saves you the hassle of switching and searching between different apps. You can easily share the itineraries with your friends and fellow travelers who can also update and edit the details. All the plans you add to the app can be viewed offline and it also provides pictures and information as well as links to reviews and guides for each place you're visiting. You can also track your expenses and budget for the tip which makes this the best travel planning app for iPhone.
What's Good:
Collaborate with friends

Users can see both map and list view

Auto-generated and user-created itineraries

Offline availability of all the plans and destinations

Attach documents to the itinerary
What's Missing:
Features like offline access, unlimited attachments, flight deals, export to Google maps, etc require a subscription plan
Also read:  Best Accessories to make the most out of your iPhone 14 Pro
2. TripIt
Price: Free plan available; $50/year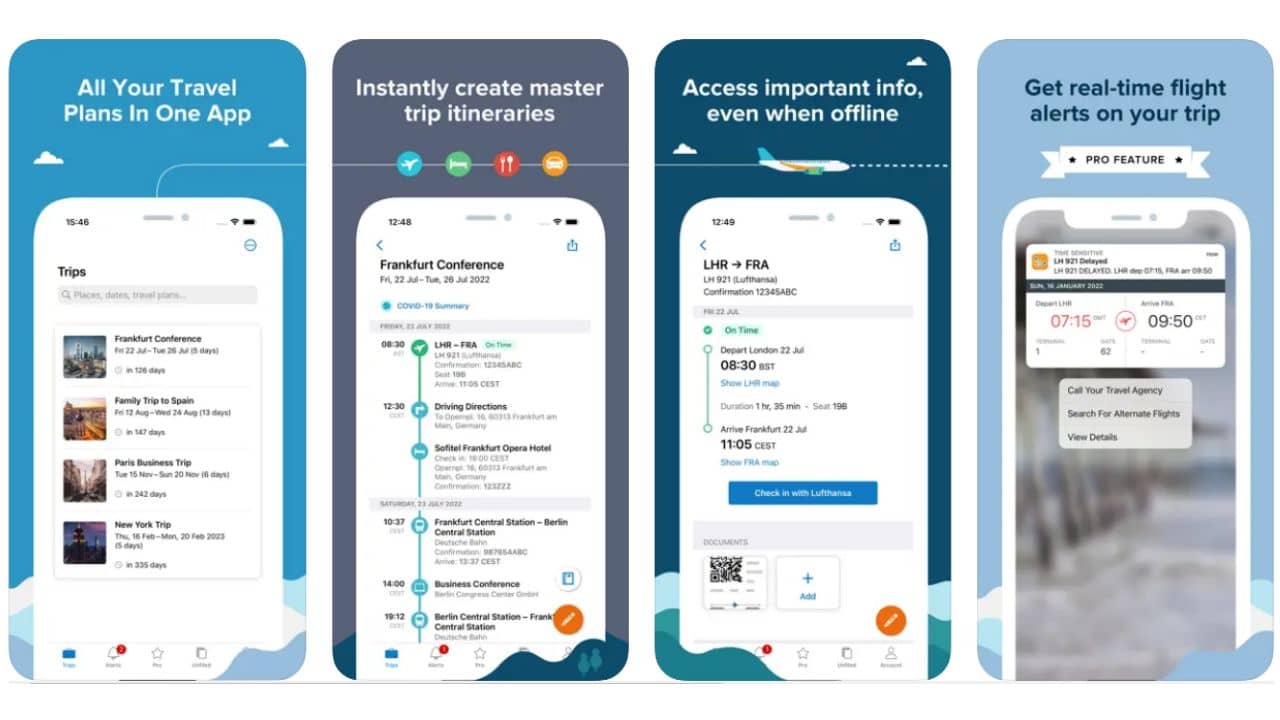 With over 20 million+ users worldwide TripIt is one of the most trusted apps for travel planning. It is a powerful and easy-to-use app that allows you to create itineraries for your trips. You just have to forward all your booking reservations to plans@tripit.com and they will automatically create your itinerary. You can easily access this itinerary offline and this app will also remind you of all your bookings. You can easily share details of your trip with family and friends. Also, this app is optimized for Siri to make it more efficient. You'll also get a 4-month free trial for CLEAR (airport security technology and membership program).
What's Good:
Easy to use

Comprehensive itinerary making

Users have more control 

Free trial for CLEAR

Send reminders and safety scores for the destination

Pro features are useful for frequent flyers
What's Missing:
An annoying number of alerts (by default)
Also read: Best 15 Ways to fix  Charging issues  iPhone 14 series
3. Roadtrippers
Price: Free plan available; $25/year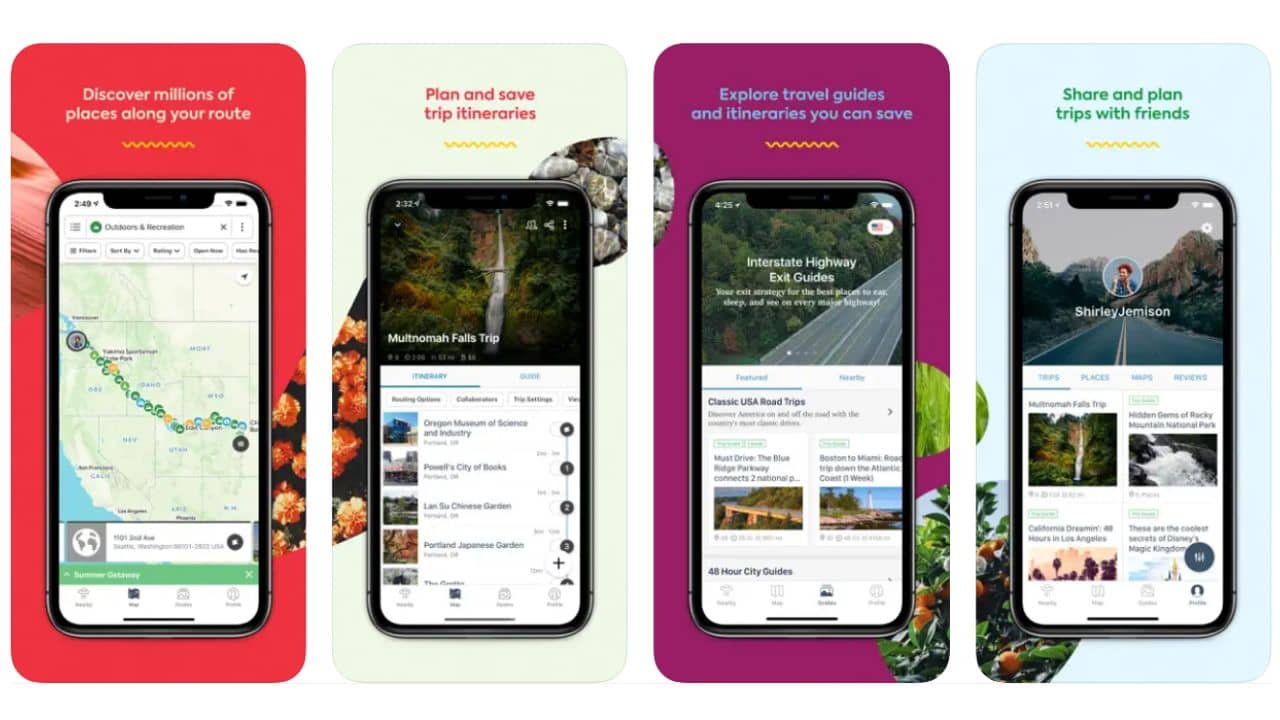 This is an app specifically made for people who like to hit the roads. This app helped make more than 38 million road trips successful in the US and Canada. This travel planning app is optimized for multi-destination trips which makes it easy to keep track of complex routes as well as any spontaneous route changes. You can easily find camping sites, outdoor activities, rest stops, and exciting adventures along the way that didn't know existed. This free trip-planning iOS app will also help you find interesting things to do along your route with their pre-prepared guides or you can add places you want to visit. With the Roadtrippers Plus subscription, you'll get additional benefits like multiple waypoints, collaboration with friends, different map styles, dark mode, traffic updates, and offline support. So, if you're someone who's always on the road this is one of the best travel planning apps for road trips. 
What's Good:
Catering specifically to Roadtrippers

Recommendations for hidden gems and offbeat places

Can easily keep track of complex routes
What's Missing:
Most features are hidden under the subscription
Download Roadtrippers for iPhone
Also read: How to Fix iOS 16 Battery Drain Problem on All Compatible iPhones (Top 15 Ways)
4. Kayak
Price: Free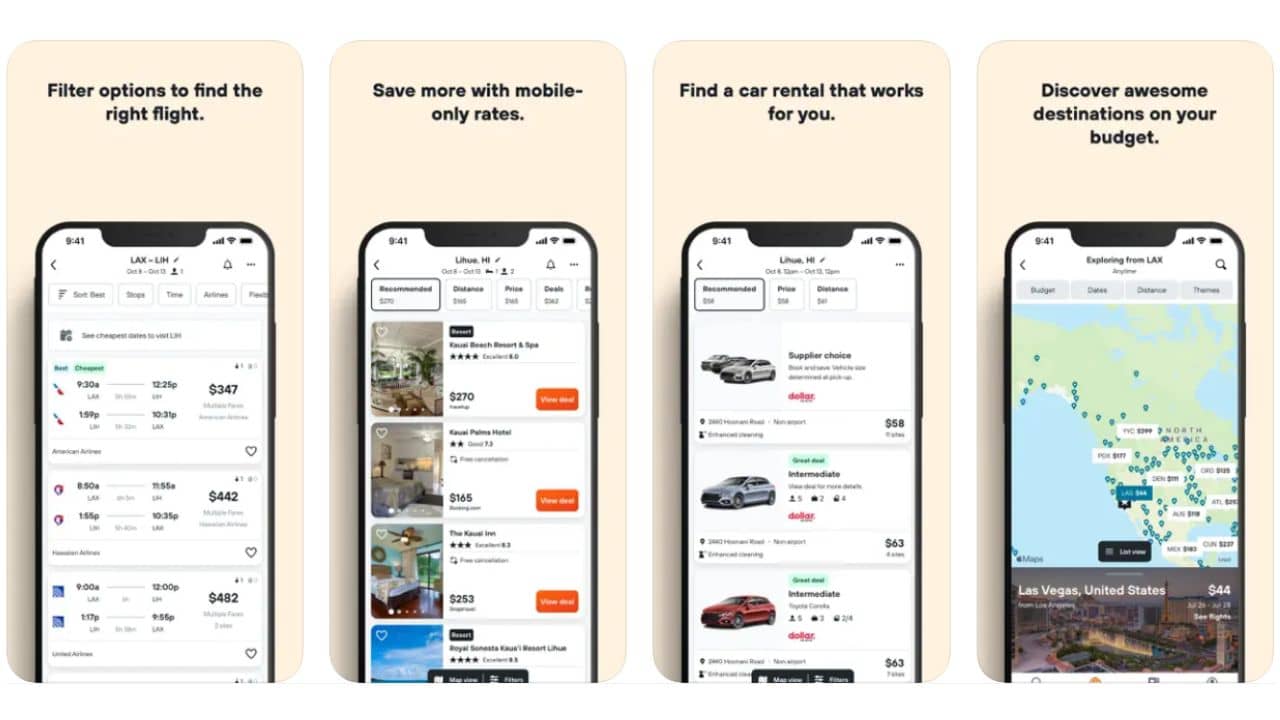 Kayak is another robust free travel planning app for iPhone and iPad that allows you to compile all your bookings into one itinerary and share it with family. In this app, you can easily compare prices for flights, hotels, hostels, and rental cars. When you add the destination and where you are going from, the app smartly suggests the best flights for getting there as well as exclusive hotel rooms and cars. There are some exclusive deals you'll get on all the bookings you do from the app. Once the booking is done, the app saves everything to your itinerary which is a one-stop solution for all your travel needs. The only thing that bothers people is the fluctuating discounts, for that you can freeze an entire set of results for some days by paying nominal charges.
What's Good:
The explore feature helps you decide on a destination based on your budget

Exclusive discounts on  flights, hotels, and car bookings

One-stop shop for all the travel needs

Works with iPad and Apple Watch
What's Missing:
Sometimes the app won't update you about the changes in flight timings and stops
Also read: How to fix Battery Drain issues on iPhone 14 Series 
5. Sygic Travel Maps Offline
Price: Free plan available; $3.99/month or $14.99/year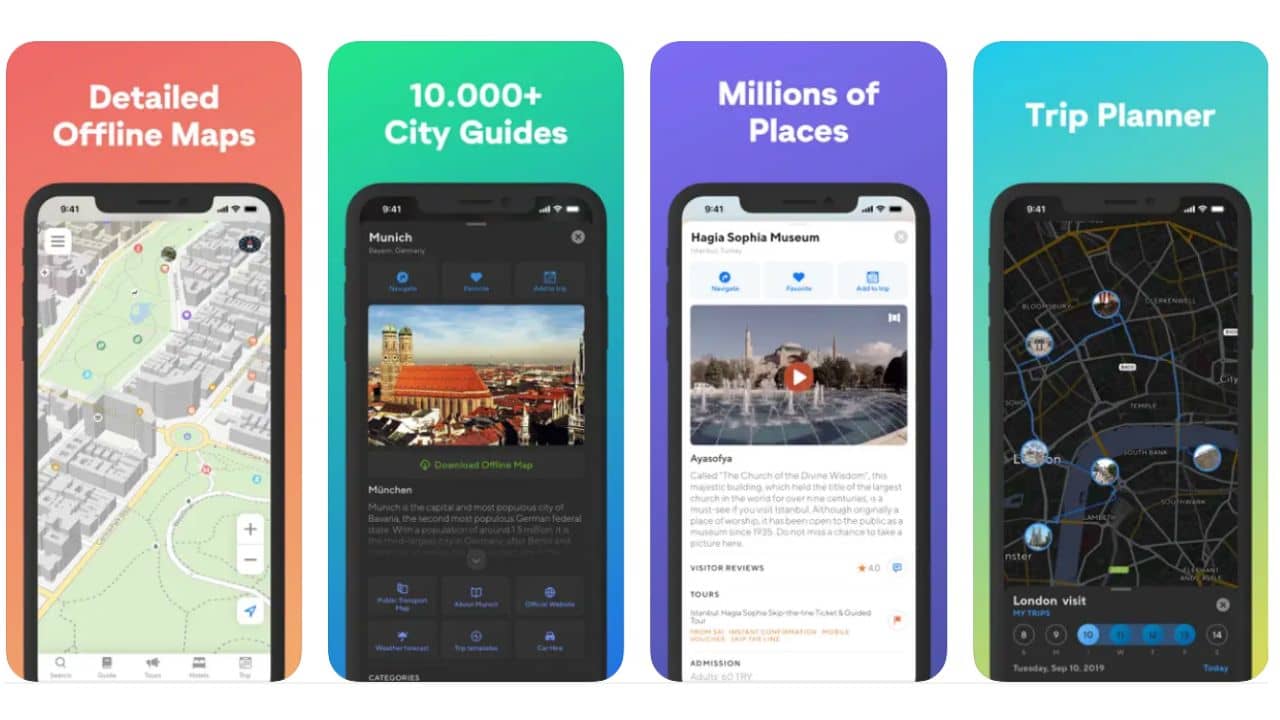 As the name suggests Sygic has worldwide offline maps with details of over 50 million+ locations and their 360-degree videos. You can easily build your itinerary by adding locations and the app offers estimated travel times and walking distances of each stop. This free travel planning app for iPhone boasts large databases of local tourist spots, best hotels, attractions, museums, restaurants, bars, etc wherever you go. Some major cities also feature their dedicated guides which will help you discover offbeat places and provide amazing experiences. You can easily download offline maps and guides which will be helpful when traveling to remote locations with poor or no network connections.
What's Good:
Available in 18 languages

Worldwide offline maps with local tourists spots

Provides 360°  videos of popular places
What's Missing:
Searching and filters don't show accurate results
Download Sygic Travel Maps for iPhone
Also read: How to Fix Wi-Fi Not Working Issues on iPhone 14 Series
6. Hopper
Price: Free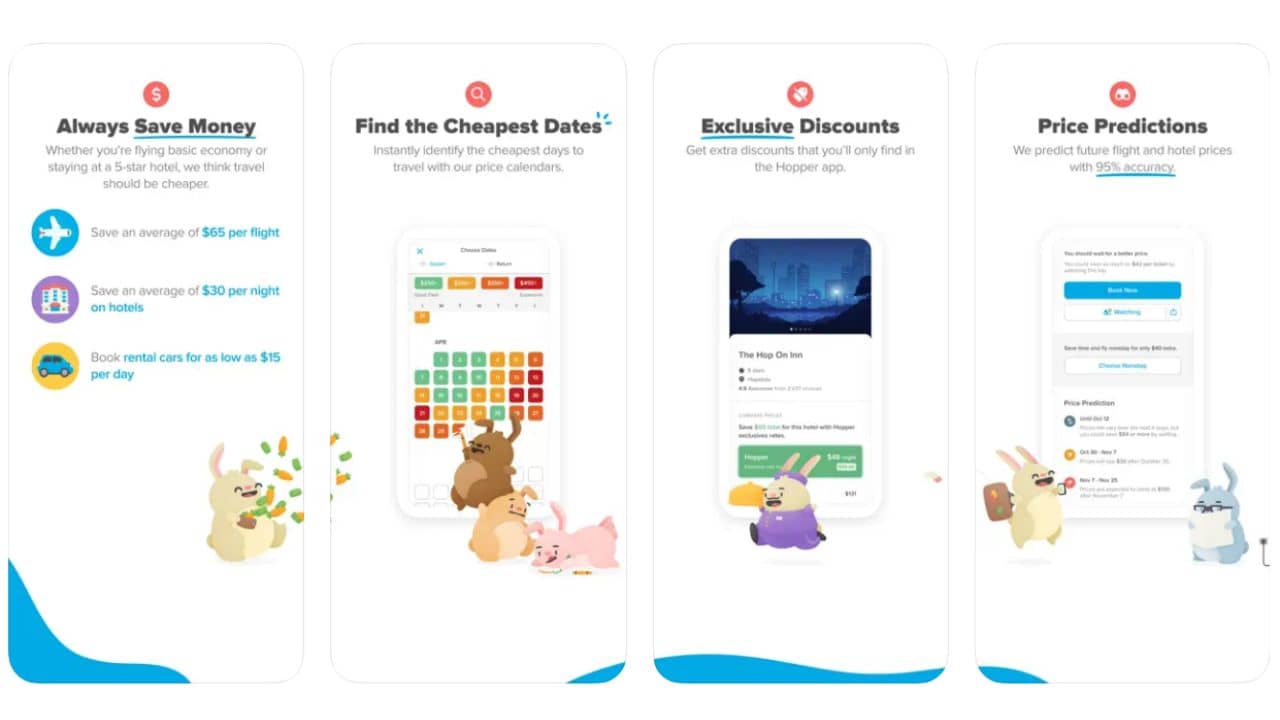 Hopper is a simple and intuitive trip planning app that will help you save money while planning for your next trip. The algorithm used in the app tries to predict where flight and hotel prices will head shortly. The app analyzes billions of prices and predicts what the cheapest one will be with a 95% accuracy rate. In this way, you can stay updated and book your next flight tickets at the cheapest possible price. The iOS trip planning app even predicts the rise and decline in fare for a max of 6 months so you can plan vacation accordingly. This is a free app with no spam and ads so you can easily plan your travel.
What's Good:
Accurate prediction of flight and hotel rates

Help find the cheapest rates and book accordingly

Easily find the best travel dates
What's Missing:
You cannot make itineraries in the app
Also read:  How to set up a Recovery Contact to an iCloud Account on your iPhone/Mac
7. Hostel World
Price: Free
Hostel World is designed specifically for budget travelers that focus on affordable bookings. You can easily book the most affordable hostels in almost any country (except Antarctica) and listings are typically below $100 which means more money to spend on other things while traveling, This is one of the best apps for solo and professional travelers to chat and socialize with the app as soon as you're done booking. While affordable accommodation is the focus, hostel world will help you with managing the car rentals, connections, and book tours and excursions through the experience hub. This is one of the trip planning apps for hostels which will help you in backpacking and making new friends.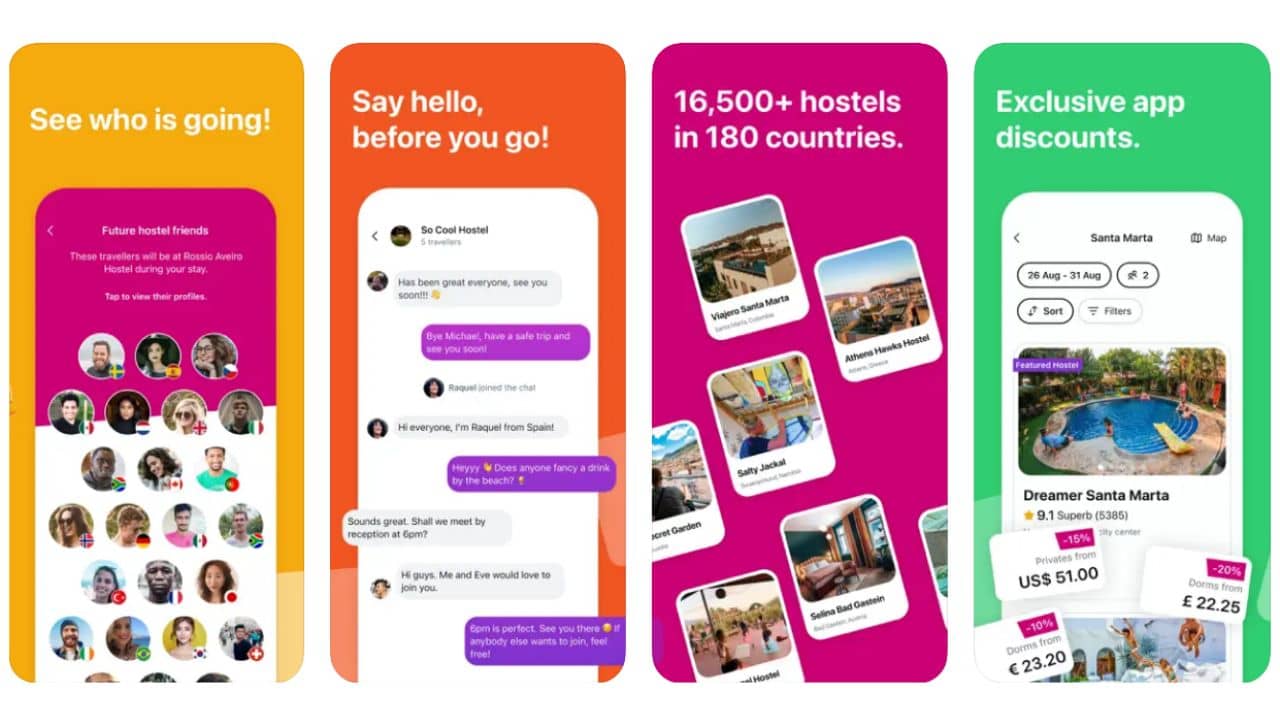 What's Good:
Most affordable hostels in the best locations

Helps connect and socialize with like-minded travelers

Offline access to all your bookings

Get activities suggestions from nearby places

Safe and trusted app with over a 13million+ travelers
What's Missing:
Customer service is not the best out there 
Download Hostel World for iPhone
Also read: Best Accessories for iPhone 14 Series in 2023
8. FLIO
Price: Free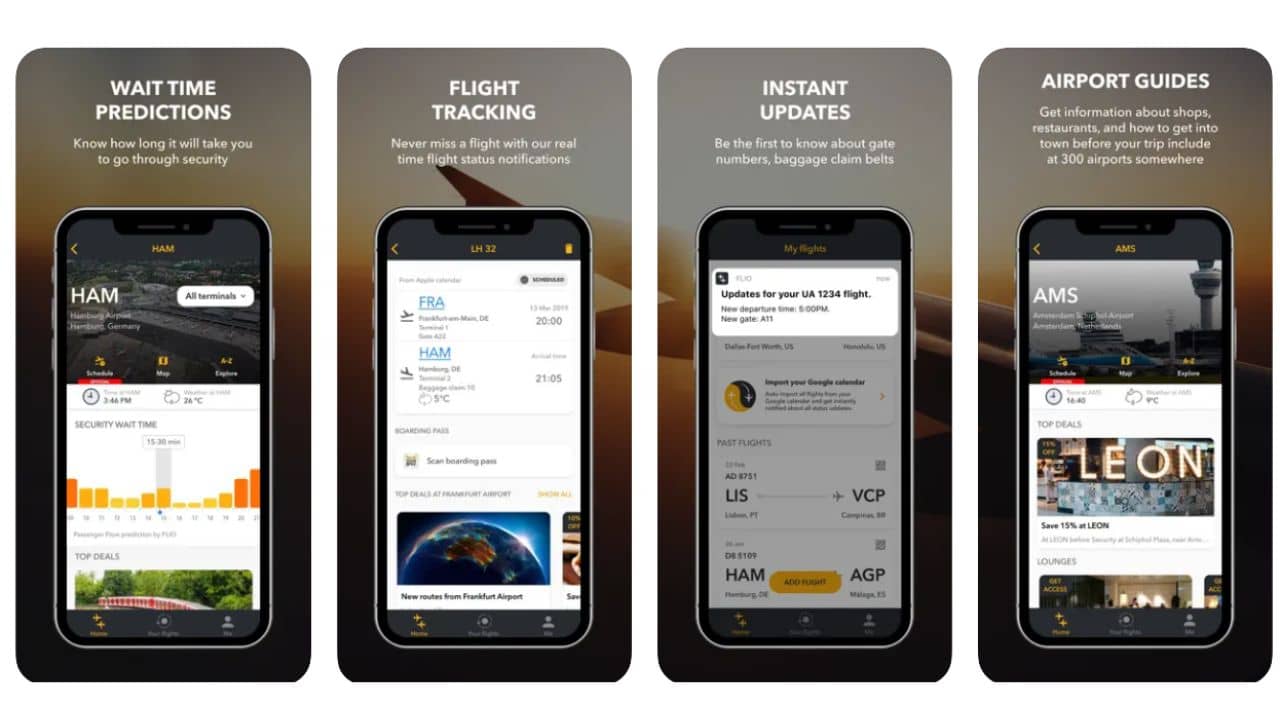 This app is all about the journey- a one-stop shop for people who mostly travel by air. If you've ever caught a flight you'll know how tedious a task it is to catch a flight, most of the time the duration of the flight is even lesser than the time spent onboarding. This app collects all the important information about airport services, Wi-Fi networks, on-site lounges, transit options, wait-time predictions, and the best airport restaurants. After adding your flight timings and dates you'll get real-time updates about delays, gate changes, flight status, etc which will save you from a lot of hassle. 
What's Good:
Discounts and vouchers on airport lounges and restaurants

Advance parking options 

Maps of over 5,800 airports globally
What's Missing:
Also read: Common iPhone 14 Series Problems and Easy Fixes 
9. Visit A City
Price: Free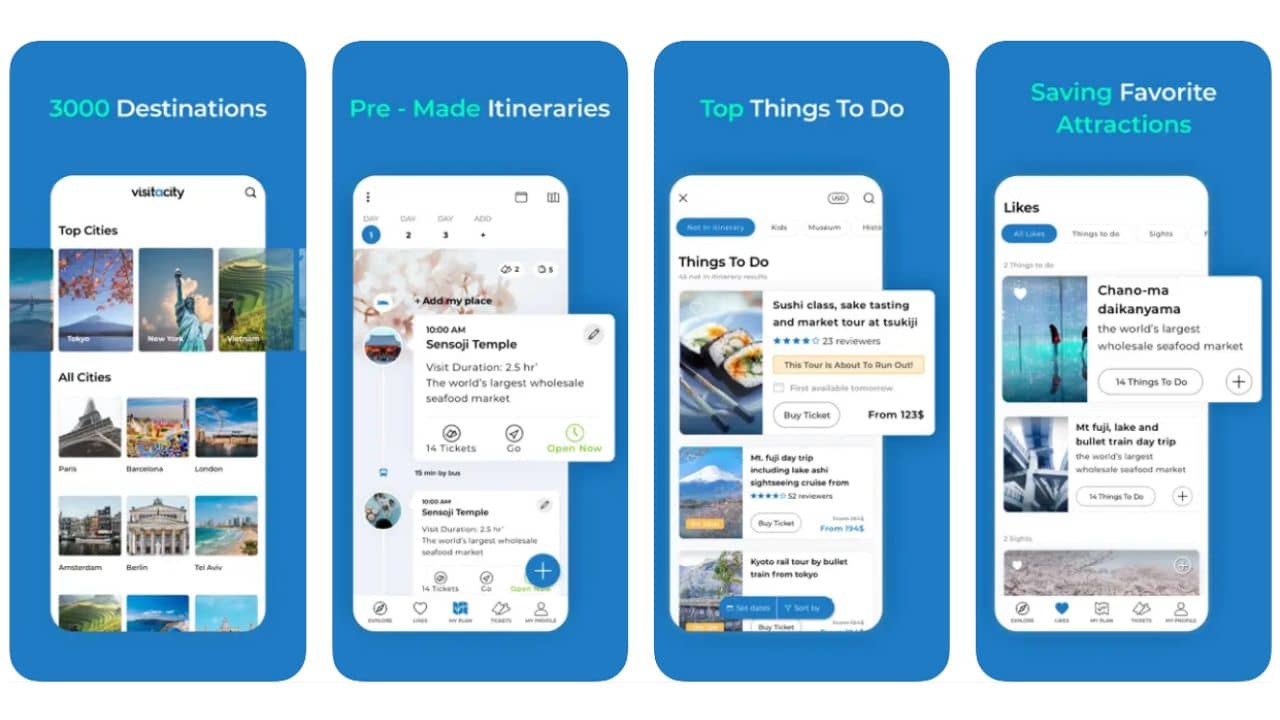 Visit a City focuses on solving the 2 most common challenges with trip planning. One is figuring out how long you need to spend at each place and enhancing your vacation experience by grouping nearby attractions together. After you select a destination, this trip planner iPhone app recommends guides based on the number of days you plan to spend. It will offer you different itineraries options to choose from like Top Attractions, Family Plan, Easy Going, Packed Itinerary, etc. This app also clubs the nearby destinations together and lets you know the distance so you can plan accordingly. You can easily edit these itineraries by changing the dates of your visit, deleting some locations, or revising the time you want to spend at each place. You can also book tours through the app and get general information about the destination which makes this one of the best free trip planning apps for iOS.
What's Good:
Provide ready-made itineraries for a different experience

Estimate the time you should spend at each location

Flexible editing in itineraries

Groups the nearby locations so you won't miss them
What's Missing:
Not suitable for flight bookings
Download Visit A City for iPhone
Also read: How to Add Emergency Contact on iPhone and Access It from Lock Screen (Step-by-Step guide)
10. Pack Point
Price: Free plan available; $2.99 one-time purchase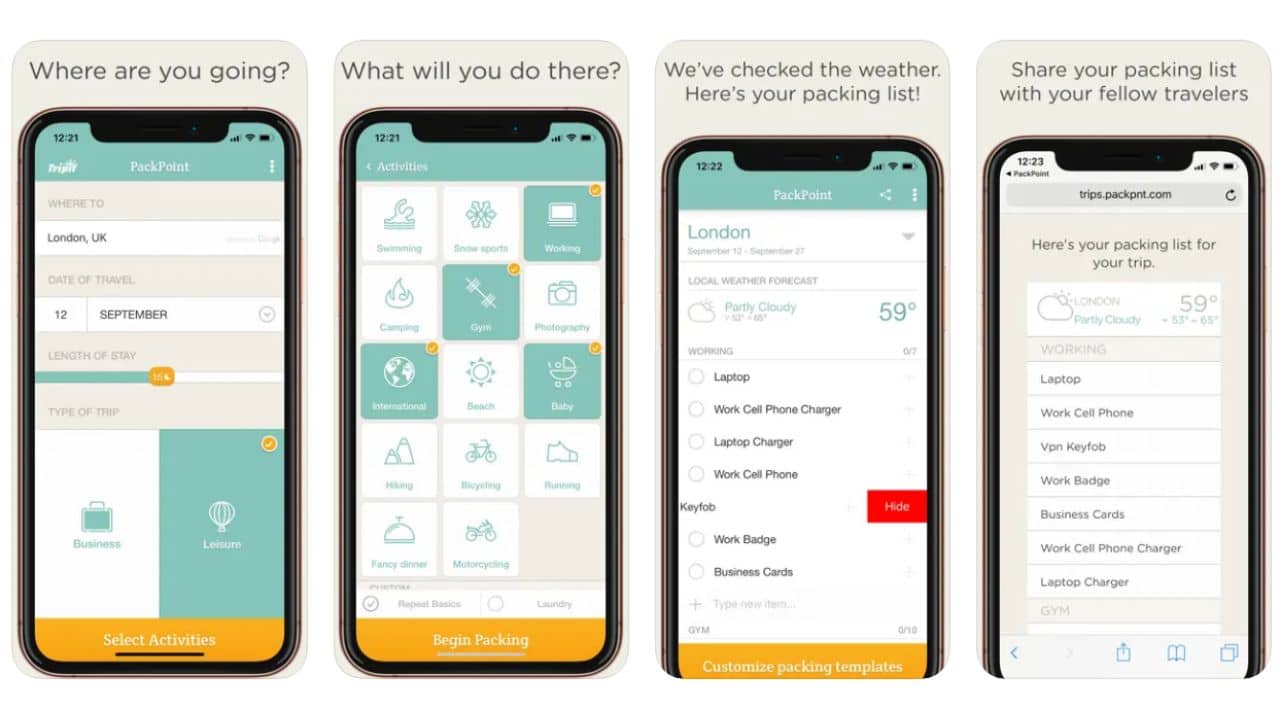 Packing for a trip is undoubtedly one of the most crucial steps for any trip and that is where PackPint will help you. It is one of the best packing list organizer apps that will help you pack essential items based on the nature and destination of your trip. It also helps you to guide through the essentials to carry for any trip based on the weather conditions and activities you plan to enjoy. For example, if you are going to a beachy place but you are also attending any formal event there you just have to tap on that. After adding all the activities and places the app will combine and prepare a list of gadgets, clothes, toiletries, and other things that would be necessary for a smooth vacation. If you add the destination, length, and purpose of your travel Pacpoint will create a personalized packing and luggage checklist, even the amount of clothes, and accessories you should carry based on the weather forecast. If you tend to forget stuff, this iOS trip organizer app is truly a lifesaver. 
What's Good:
Personalized packing checklist

Gives you the exact amount of things you should carry to save you from overpacking

Use the weather forecast to give an accurate packing list 

Easily share lists from AirDrop and iCloud
What's Missing:
Not useful for travel itineraries
Download Pack Point for iPhone
Also read:  Best Meditation Apps to Help Reduce Anxiety [iOS & Android] 
11. Trip Scout
Price: Free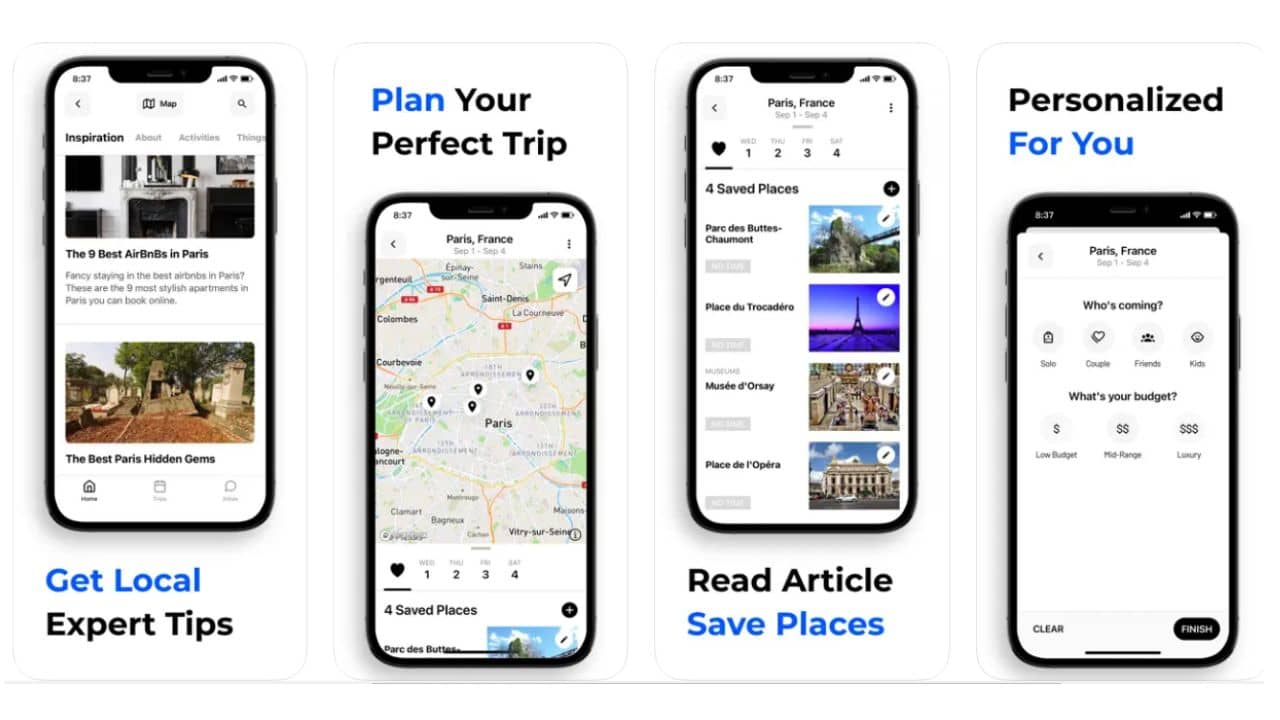 TripScout is for travel enthusiasts, the app combines articles and video content from well-known local experts and travel publishers. This is a  perfect travel planning app for people who like to read/ watch travel content and get inspired to go there. The travel guides in the planning app are very up-to-date and extremely informative for all kinds of travelers. The guides will talk about not only popular tourist spots but offbeat locations where only locals will take you. You can easily personalize your experience by adding your travel dates, interests, budgets, and even the number of people you're traveling with. This will help you easily pinpoint locations on maps, create itineraries and understand the dos and don'ts from the guides. The best part is that TripScout works entirely offline which will potentially save your international data fees.
What's Good:
Guides and video content from experienced travelers and local guides

Personalized recommendations based on your interest

Works offline 
What's Missing:
Focused more on inspiration rather than executing 
Download Trip Scout for iPhone
Also read:  Best Lock Screen Widgets for your iPhone [iOS 16]
12. Peak Finder
Price: $8.99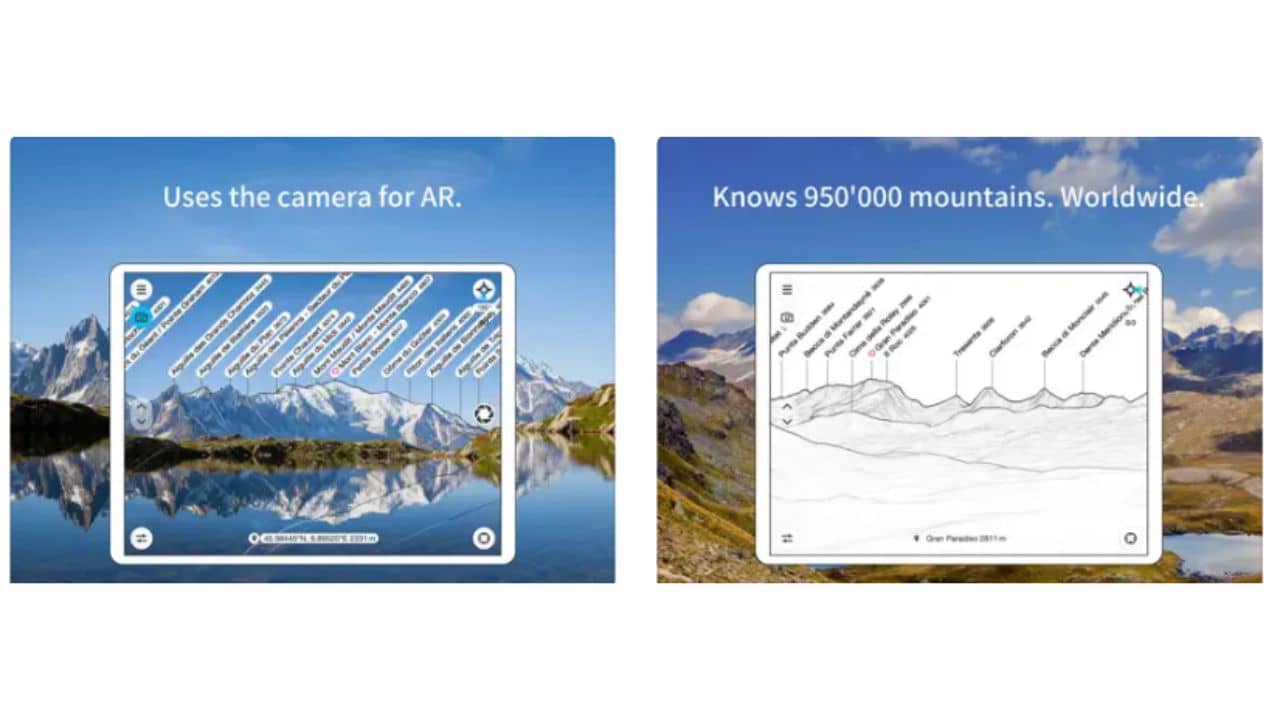 Peak finder is one of the best apps for mountaineers and hikers as it works offline and you can easily find any peak using your iPhone. The app is very simple and the basic function is to make your hiking easy and accessible. You just have to click pictures of the mountain and the AI will recognize it and help you find the peak. You can easily mark mountains and peaks you like and the app will bookmark them. You will also get real-time rendering and surrounding peaks within the range of 300kms which makes sit the best travel planning app for hikers. 
What's Good:
Works offline with over 950,000 peaks worldwide

Find peaks for lesser known mountains

Very user friendly 
What's Missing:
Download Peak Finder for iPhone
Also read:  Best Productivity Apps for iPhone and Android in 2023
13. Skyscanner
Price: Free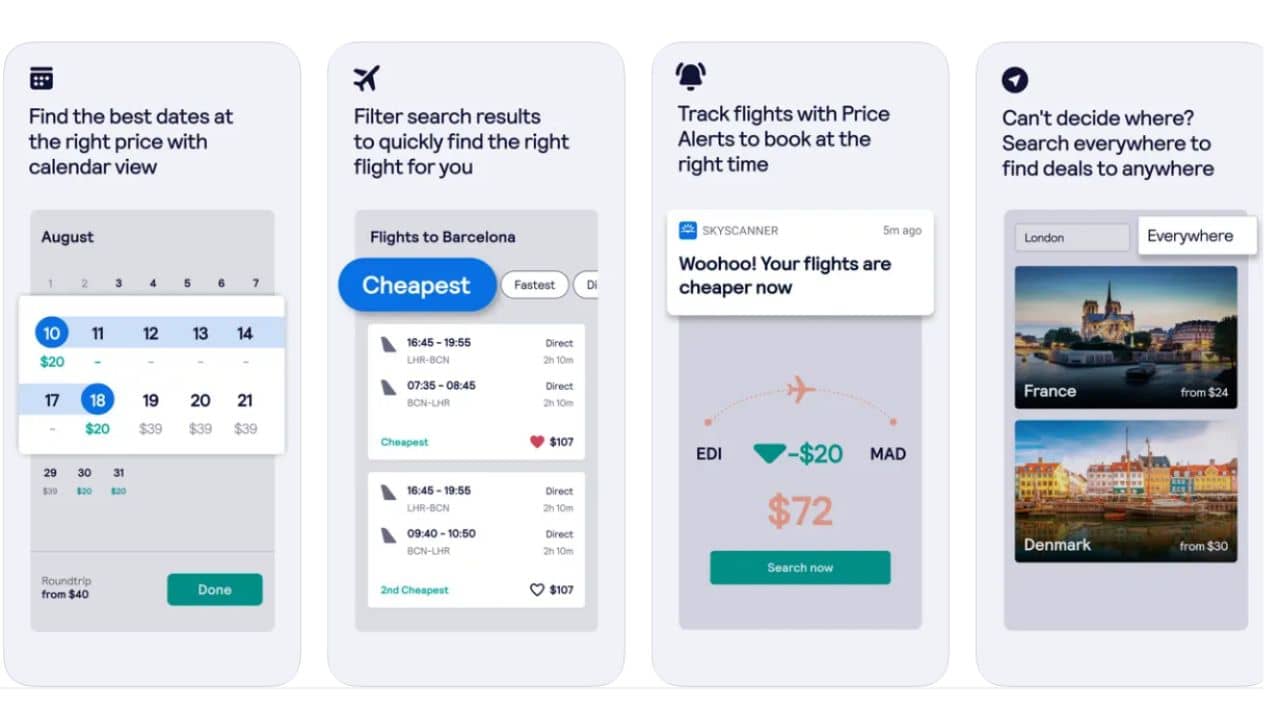 If you're someone who mostly travels by air this trip planning app is a must-have. This is the ultimate flight booking app for iPhones that will consistently deliver the lowest rates of flights by analyzing huge databases of airlines. It is not just for flight bookings you will also get exclusive deals for hotels and car rentals. Even if you don't have a particular destination in mind, Skyscanner will pull the best deals for you to get inspired and book. You can also search by flight length, any particular airline you want to travel with, or even departure and arrival times. The most useful feature is you can compare the best pricing on the list, so you can find the best deal for your next trip. There are no hidden fees and extra charges that you will find in some other apps. 
What's Good:
Easy flight search and filters

Comparison of the best deals

Green search option for environment-friendly bookings

Instant notifications about any delays and changes
What's Missing:
Only suitable for monitoring and booking flights
Download Skyscanner for iPhone
Also read:  Best Note-taking Apps for iPad with Apple Pencil Support for Students & Professionals 
14. Culture Trip
Price: Free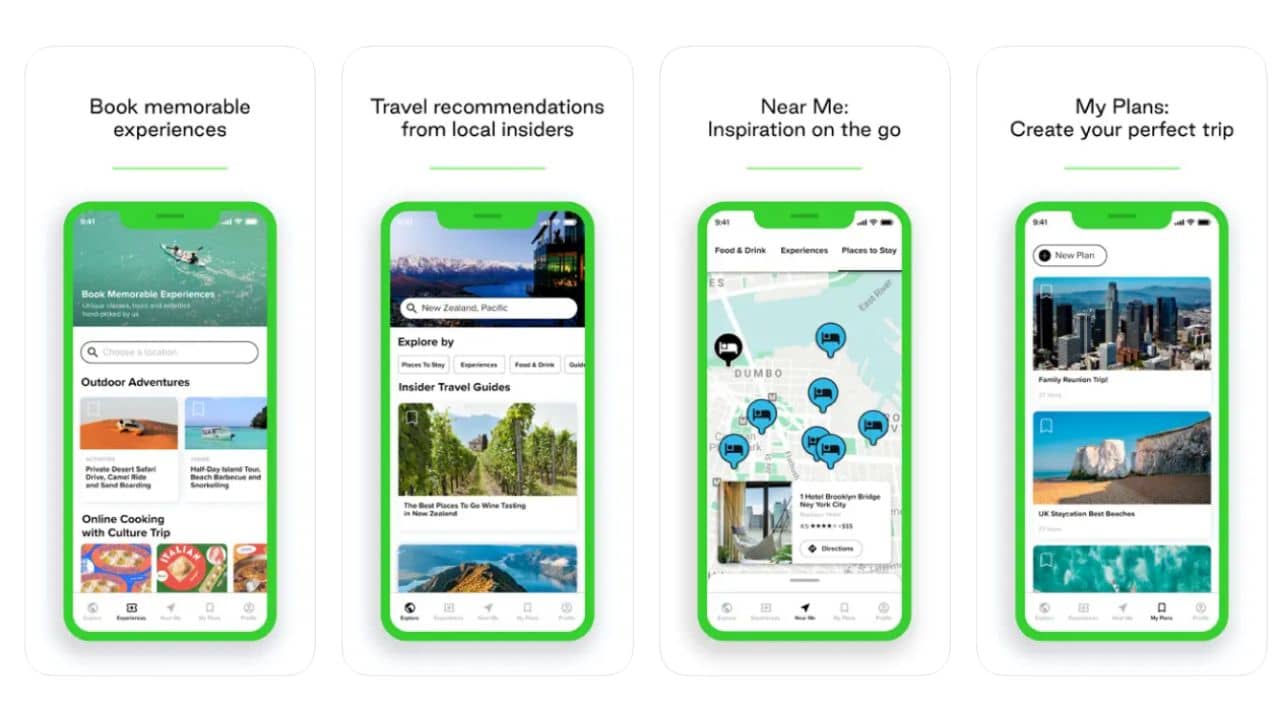 You're someone who doesn't like to go to overcrowded popular places? The aim of traveling for you is to understand the different cuisines, life, and culture of a place then this app is for you. Culture Trip brings travelers a little bit of mainstream by highlighting unique, off-beat routes and attractions. With recommendations for more than 200 destinations around the world, it's a great tool to add a more locals-like experience to your tour. This app is for curious minds and the guides and tips available on the app are curated by experienced travel junkies. This free iOS trip planning app uses the content and guides as a starting point and while reading you can easily bookmark places and create wishlists. You can easily see these places on a map and create itineraries according to your preference. 
What's Good:
Offbeat recommendations for a local-like experience

Easily search guides and tips and create itineraries

Search attractions and things to do near you
What's Missing:
Few guides and attractions when compared to other apps

Not all languages are available
Download Culture Trip for iPhone
Also read: How to Translate in iPhone Camera [Language, Currency & More]
15. Trail Wallet
Price: Free plan available; $4.25 for a one-time purchase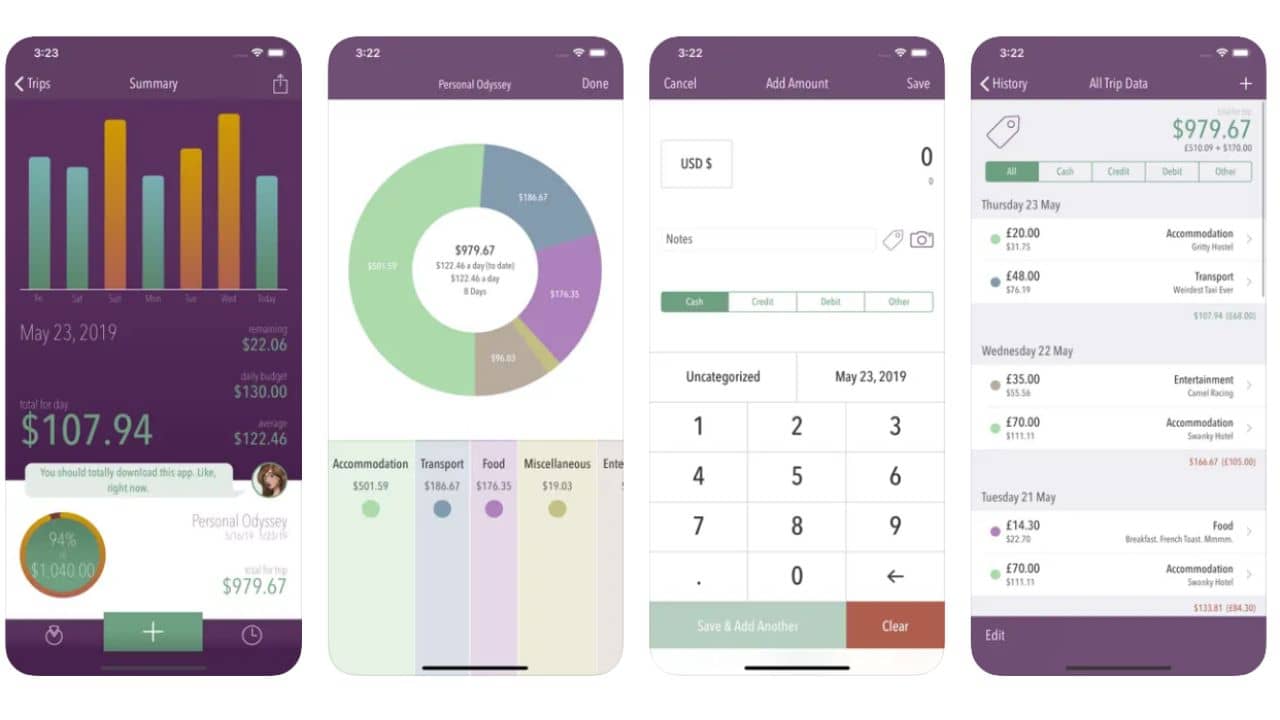 Travel budgeting is a very crucial part of any trip planning. The expenses of flight tickets, hotels, tickets for popular locations, rental cars, food, shopping, etc are some things that you want to keep track of. This app becomes more relevant when you're traveling in groups and want to split the money between friends and family. Trail Wallet will help you to keep track of your expenses based on different categories and the app will show it to you in easy data structures. You can add your categories and plan the expenses of each category before leaving for the place to keep estimated data on how much you should spend. You can easily check the trip budget spent and trip budget remaining by accessing the budget summaries in interactive bar charts. You can easily export this data in CSV format and analyze the data in Google Sheets which makes this app the best travel budgeting app for iOS.
What's Good:
Easily accessible data 

Completely customizable categories for expenses

Choose from 218 local currencies and get instant exchange rates

Add pictures of your receipts and bills
What's Missing:
Only free for the first 25 entries
Download Trail Wallet for iPhone
Also read: How to Hide Photos on iPhone [Best Practices & Apps]
16. Hotel Tonight 
Price:  Free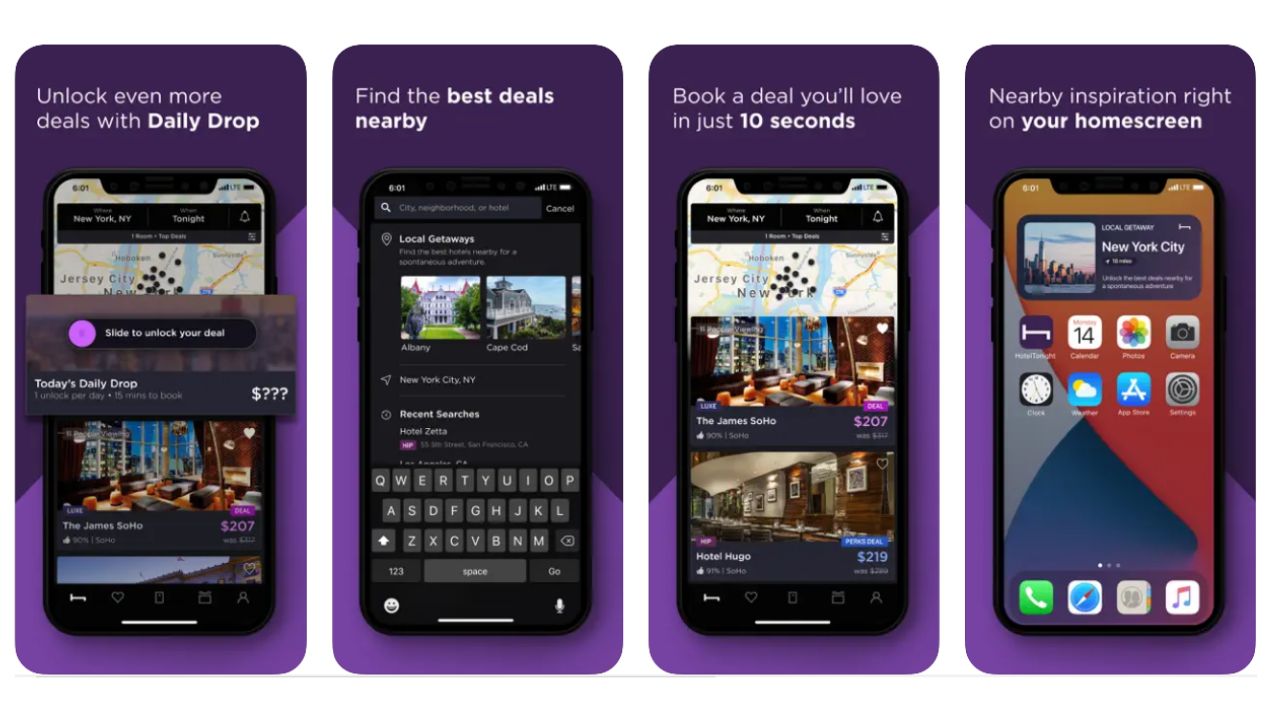 Hotel Tonight rates as one of our best free hotel booking apps for iOS. When you don't have the opportunity to book in advance, HotelTonight makes it easy to get a last-minute reservation. If you are organized, you can book up to 100 days in advance. Either way, this travel planning app enables gives you to book luxury hotels as well as boutiques, giving you a wide variety of properties to choose from. There are three categories that you can use to search: Basic, Hip, and Luxe which makes it easy to search the right hotel. You also can search by city or attraction, or you can perform a search for pet-friendly spots. HotelTonight is available throughout the world, including Europe, Latin America, and Asia, with available ratings and reviews from real guests. Check out the Daily Drop Deals for special offers and extra discounts. 
What's Good:
Amazing deals 

Wide availability of hotels
What's Missing:
Download Hotel Tonight for iPhone
Also read: How to shoot 48MP ProRAW and HEIC Photos on iPhone 14 Pro and iPhone 14 Pro Max (Step-by-step Guide)
17. Moovit 
Price: Free with in-app purchases
If you're anxious about finding your way around an unfamiliar city, Moovit will guide you from point A to B in the most convenient way. This trip-planning app for iOS is very convenient and user-friendly whenever you're feeling lost in a new city. It features train and bus times, maps, and real-time instructions that will guide you to move around with confidence. Not only that, you get all local transit options in one place: buses, scooters, trains, and even ride-sharing apps like Uber and Lyft. This trip planner app currently supports over 3400 cities around the world with over 930 million users. It's almost like a personal transit assistant that gives you step-by-step directions for your chosen mode of transport or even a combination of different transports.
What's Good:
A cross-platform mass transit app 

Helps you navigate through a city easily 

Easy-to-use interface 

The geolocation tracking is very detailed
What's Missing:
Cannot download maps offline 
Also read: Best Apps for M2 MacBook Air and M2 MacBook Pro in 2023 
Some Honourable Mentions:
Google Translate:

This is a free and must-have app if you are traveling to non-native countries. You can easily translate from any language in the world by typing or even voice translation. You can also take photos of billboards, menus and even road names and the app translates them for you.

XE Currency Exchange:

This is a very simple but crucial app for any trip planning. You can easily calculate the exchange rates of any currency in the world and the best part is it is completely offline. 
Important update: With iOS 16, both language translation and currency conversion can be done right from the camera app on your iPhone. Read our step-by-step tutorial on how to use currency conversion and translation features in the camera app.
Weather Underground

: When planning your trip you will require an app to easily check the weather. Some Asian countries like India, have very different climatic conditions in different cities throughout the year and this app comes in handy while traveling to such locations. It features beautiful weather forecasts as well as air quality index, sunrise-sunset timings, local flu outbreaks, etc.

Duolingo:

Understanding the language before traveling to a non-native-speaking country can save you from many vacation nightmare stories. Sure it is some extra effort but with this app, you can easily learn the basics of 40+ languages with bite-sized lessons. This app will prove to be a great time-killer on the flight/ road and help you to communicate with locals very easily.

Waze:

If you usually go on road trips and a stubborn friend of yours is exceeding the speed limit- this is the app you should look for. With over 3M ratings on the app store, this is one of the best travel apps for road trips. Users here are encouraged to post about the road conditions around them so you'll be notified when there is any obstacle on the road or a traffic slowdown.
Tips to keep in mind while Traveling
Vacations often start as a wonderful idea and eventually end up being a nightmare because of a lack of preparation. Here are some tips that you should keep in mind while planning your trip that will keep you prepared for the proverbial rainy day.
What kind of experience do you want?
Before selecting a destination, think about why you want to go there and with whom you're going, and plan according to everyone's convenience. Check out the best time to visit that place and the kind of experience you want e.g luxury or budget, road trips or hiking, summers or winter, etc.
Get Travel Insurance
If you're someone who usually goes on longer vacations and backpacking trips, buying travel insurance is one of the most important things. Travel insurance will not cover your medical expenses during the trips, but any equipment damage like cameras, cancellation of flights, or something gets stolen, etc. This will come in handy during your trip.
Know the Visa Requirements
Make sure you fulfill the visa requirements for your destination because each country and nationality will be different. You can learn more about tourist visas for all countries at Project Visa and then double-check with the specific embassy's website.
Make copies of important documents and digitize them
While planning for a trip or if you're already traveling, important documents can get misplaced. So always ensure to make copies of your passports, visas, flight tickets, hotel/car reservations, driver's licenses, itineraries, and anything else you booked for the trip. We recommend scanning them and keeping copies of important documents both on your device and on the cloud. Lots of the above-mentioned iOS trip-planning apps support storing important documents. 
Keep Buffer days
Keep extra 1-2 buffer days in case any natural calamity happens or you took more time than expected to reach that place and pack accordingly. Also, keep in extra cash in case your cards stop working or you couldn't find an ATM in case of emergencies.
Also read: Best Language Learning Apps for iOS and Android