The iPhone 13 Series is here, and so is the polished, public version of iOS 15 that was initially announced at the Apple WWDC event on June 7, 2021. All the models of the iPhone 13 lineup- iPhone 13, 13 Mini, 13 Pro, and 13 Pro Max will ship with this latest version of iOS. It's worth mentioning that for the first time, Apple is allowing its iPhone users to continue using the previous version, iOS 14, even after the public launch of iOS 15. If your iPhone is running on iOS 14, there's an option in the Software Update section of the Settings menu to update to iOS 15 or continue using iOS 14, until you're ready. 
If you're confused about whether you should update to iOS 15 on your iPhone 12, iPhone 11, or other models, you've landed at the right place.
In this article, we've compared iOS 15 and iOS 14. This will give you an exact idea of what you'll get on updating to the latest version of iOS on your iPhones. Also, we've summed up the comparison with our advice on if you should update your iOS 14-powered iPhones like iPhone 11 or iPhone 12 to the latest iOS 15.
So, let's get started.
iOS 15 vs iOS 14
iOS 15 Release Date
Apple announced iOS 15 at its annual Worldwide Developers Conference(WWDC) on June 7, 2021. This latest version is now available for public download.
iOS 15 vs iOS 14: Compatibility
You must be thinking if I can get iOS 15 on my iPhone? Isn't it? Talking about the list of the iOS 15 supported devices, it includes all the devices that are compatible with iOS 14. That means, if you're using iOS 14 on your iPhone, you'll get to use iOS 15 too. In addition, the latest iPhone 13 Series is shipped with iOS 15. 
Here's the list of iOS 15 supported devices:
iPhone 6s and 6s Plus

iPod Touch (seventh-generation)

iPhone SE (original model)

iPhone 7 and 7 Plus

iPhone 8 and 8 Plus

iPhone X

iPhone 11 Pro and 11 Pro Max
iOS 15 vs iOS 14: Design and Interface
We've seen some of the biggest changes in the user interface of the iPhone with iOS 14, launched last year. The changes were reflected across the entire interface with the App Library, Widgets, smaller design for Siri and Calls, Picture-in-Picture support, and more. 
This year, Apple has kept the overall design pretty much the same and has made some major improvements and additions to the iPhone apps. The list includes FaceTime, Messages, Safari, Maps, and more. 
iOS 15 vs iOS 14: FaceTime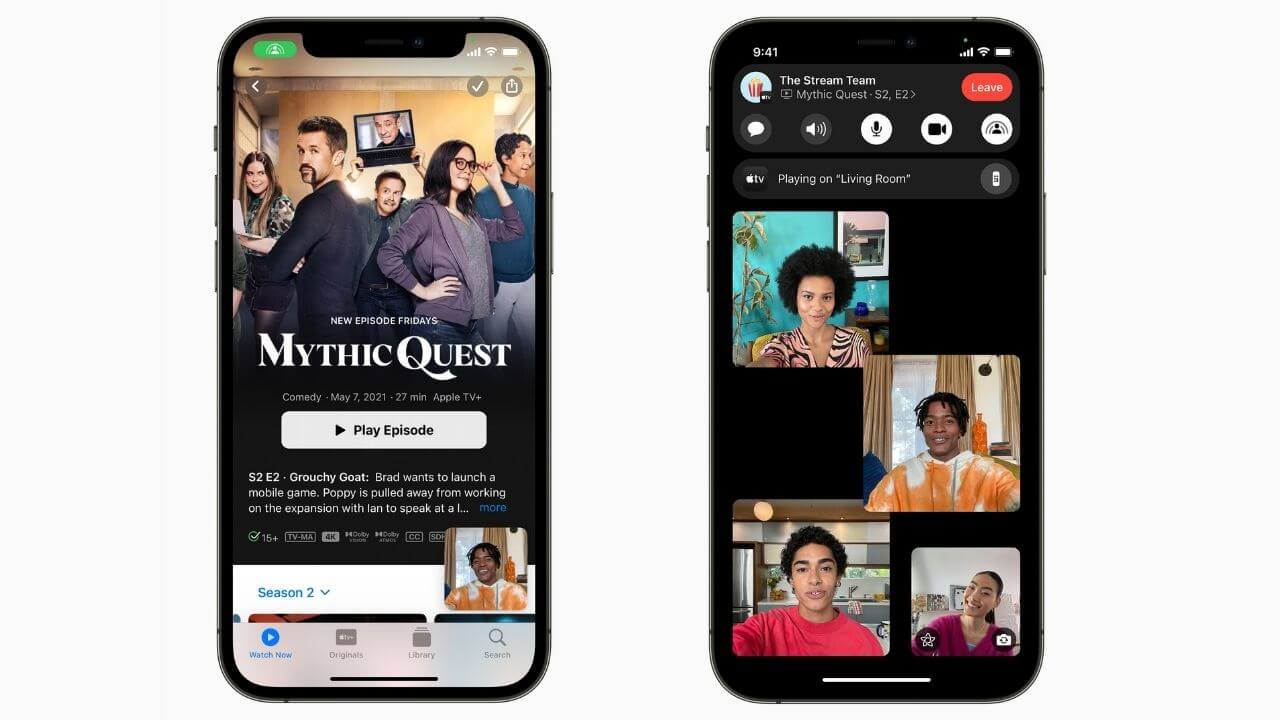 Apple has added a host of new features to make FaceTime on iOS 15 more comfortable and natural, as compared to iOS 14. Firstly, the sound quality has been improved with the Spatial Audio support. This will make you feel as if the sound is coming from where the person is positioned on the screen. Also, iOS 15 adds a Voice Isolation feature that focuses on your voice and blocks out any other ambient noise. On the other hand, you can also opt for the wide spectrum mode that brings the focus on you as well as the ambient sound around you. Also, there are Mute Alerts that will show you when you're talking while muted. You can tap the alert to unmute yourself.
Next, like the Zoom app, iOS 15 brings the grid view layout for group FaceTime video calls. Moving further, just like the Portrait mode in the camera app on iPhone, there's a Portrait mode on FaceTime in iOS 15 too. This mode will bring the entire focus on you and blurs the background.
What's more? iOS 15 allows you to generate FaceTime Links to invite your friends to FaceTime calls. Impressively, even Android or Windows users can join FaceTime calls by opening the web link in the browser. This is one of the biggest upgrades in the FaceTime app. 
All these additions make FaceTime on iOS 15 a lot more interesting than iOS 14. 
iOS 15 also brings a brand new feature, SharePlay on FaceTime. We've mentioned this in the below section. 
iOS 15 vs iOS 14: Notifications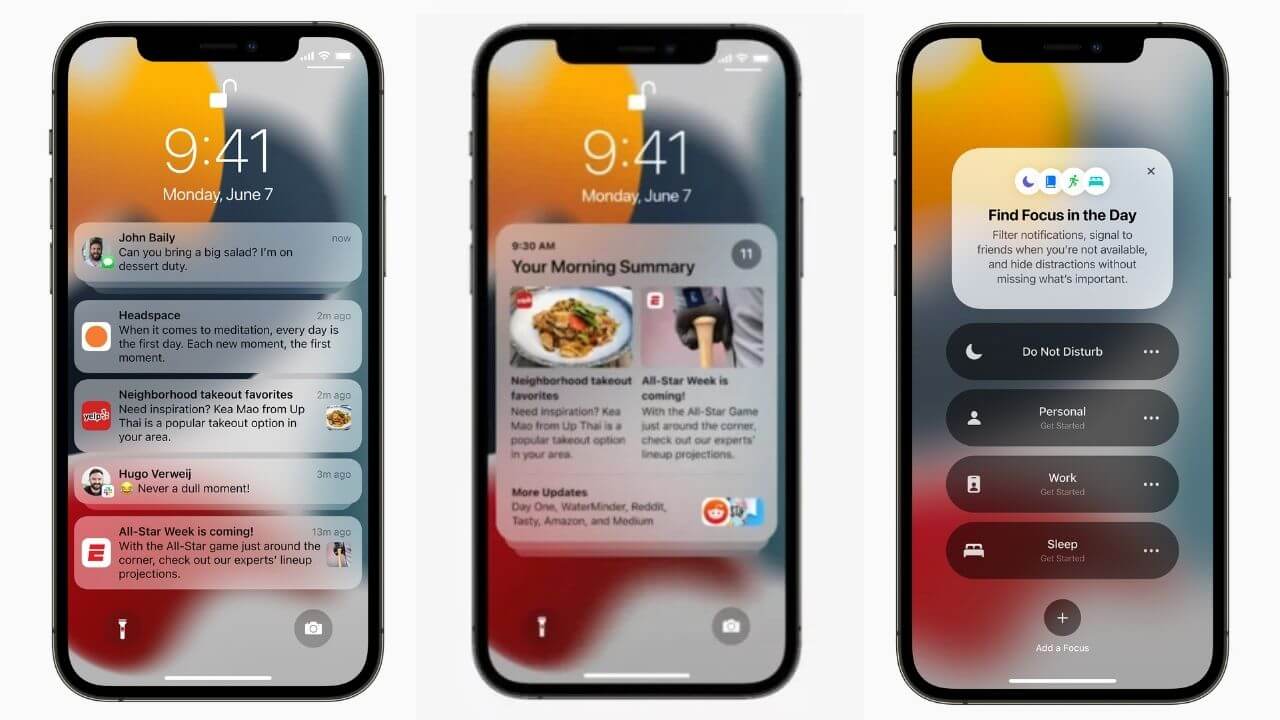 Notifications on iOS 15 are a lot more different than iOS 14. Apple has smartly redesigned Notifications with the latest iOS 15. You'll now see a refreshed look of Notifications with larger app icons and contact photos of people, making it easier to identify the sender. Besides, there's a new iOS 15 feature called Notification Summary that will give you a helpful collection of the notifications received daily. There's an option to schedule your Notifications Summary in the morning, evening, or at a specific time that you prefer. Impressively, time-sensitive notifications will be delivered immediately so that you don't miss out on any important alerts.
Also, in case you're not engaging with an app or messaging thread, there's an option to temporarily mute them (for the next hour or the day).
iOS 15 vs iOS 14: Messages
We'll have been using the Messages app on our iPhones, and things have gotten a lot better with iOS 15. A new feature, Photos Collections, is added to the Messages app. When your iPhone receives multiple images from a sender, iOS 15 will display them as a glanceable collage. You can easily swipe through the images or tap to view them in the Photo app. 
In addition, there's a new 'Shared with You' section that will automatically store the content sent to you over Messages in the corresponding app. For example, Music sent over Message will appear in the Shared with You section (it will also indicate the name of the sender) of Listen Now in the Apple Music app. Therefore, no more scrolling to old message threads, just head to the Shared with Section of a particular app and easily find your stuff. 
The Shared with You feature is extended over Photos, News, Safari, Apple Music, Apple News, Apple Podcasts, and Apple TV app.
iOS 15 vs iOS 14: Photos 
There's quite a lot of difference between the Photos app on iOS 15 vs iOS 14. First, iOS 15 lets you see the finer details about a photo that you were sent or captured yourself. Unlike iOS 14, there's no need for any third-party app, just head to the Photos app, and open the photo for which you want to see the details. Now, swipe it up. 
Your iPhone will show you the information view that enlists all the details like where did you save this photo from (for example, Instagram, Facebook, or others) or who sent it to you. In addition, you can see the EXIF information like the location, camera used, shutter speed, and so on.
Next, in iOS 14, when you import a photo to your iPhone, your device will treat that photo as new. As a result, your iPhone will show the import date, time, and location. This can be quite confusing. iOS 15 fixes this by allowing its users to change the date, time, and location of the photos on their iPhones. 
Not to forget, with iOS 15, you can scan and interact with the text inside a photo. We've mentioned this in detail in the below section.  
iOS 15 vs iOS 14: Maps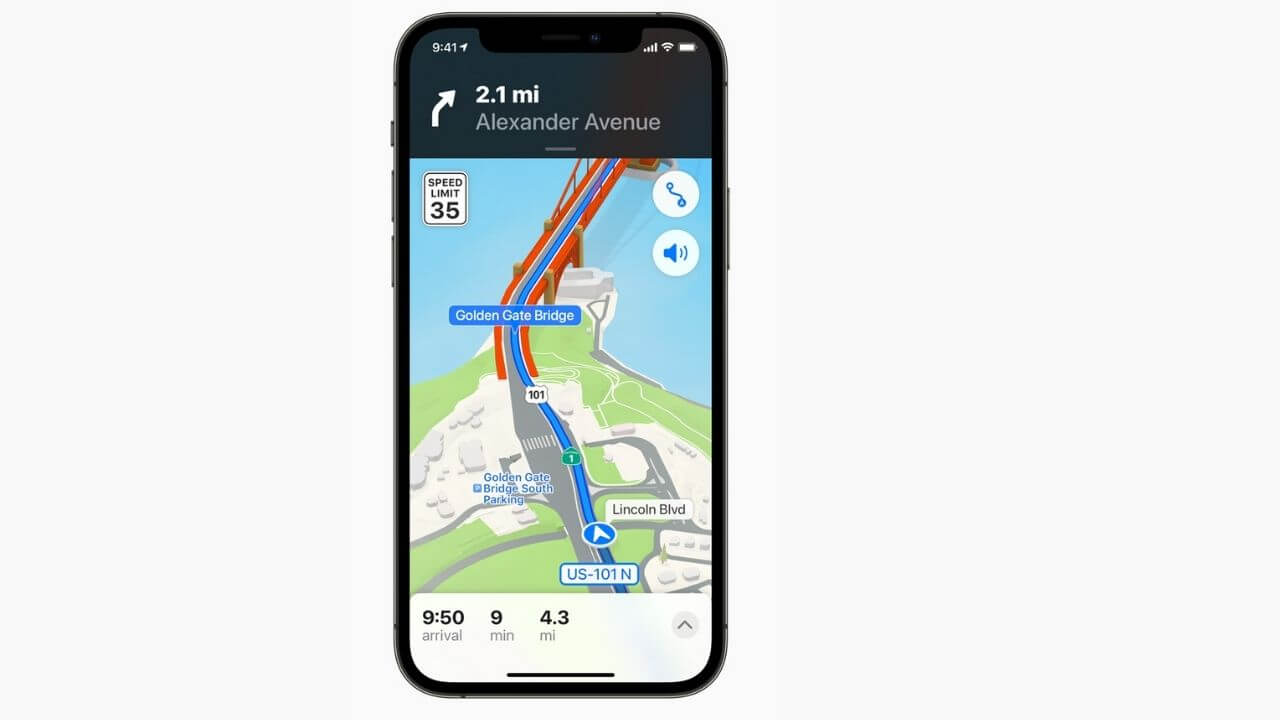 iOS 15 brings several upgrades and improvements to the Maps that offer brand-new ways to navigate and explore. Apple Maps now has an interactive 3D globe with enhanced details like new road colors, commercial districts, 3D landmarks, elevation data, and more. In addition, iOS 15 introduces a new night-time mode with a moonlit glow. 
Also, when you're using CarPlay, Maps will offer a 3D city-driving experience with new road details like turn bike lanes, crosswalks, and more. Impressively, you can also pin your favorite/nearby public transit stops and station information to the iPhone and
Apple Watch.  You'll also get immersive step-by-step directions in Augmented Reality. Not to forget, it's a lot faster and easier to report issues in Apple Maps with iOS 15.
iOS 15 vs iOS 14: Apps
One of the major differences between iOS 15 and iOS 14 is the way you can interact with the apps on your iPhone. iOS 14 users only have an option to change the system-wide font size. Fortunately, with iOS 15, users can now change the text size for even an individual app on their iPhones. Putting it simply, iOS 15 allows you to have different text sizes for, Notes, WhatsApp, and the Facebook app. 
In addition, iOS 15 allows you to drag and drop files between apps. You can drag files, text, and photos from one app and move them to another app. For example, you can drag photos from the Photos app to drop them to the Messages App. This is a super-handy feature that chops down the hassle to jump back and forth between the two apps. 
These impressive additions make it worth upgrading to iOS 15, isn't it?
To know how to drag and drop files between apps and change the font size of a particular app, head to our roundup on the Best iOS 15 Tips and Tricks. 
iOS 15 vs iOS 14: Spotlight
Apple has added some clever stuff to the Spotlight tool with the latest iOS 15. As compared to iOS 14, Spotlight searches are better with iOS 15. First, if you're using the latest iOS, there's no need to unlock your iPhone to use Spotlight. You can use it even from the Lock Screen on your iPhone. For this simply swipe down from the Lock screen and you'll see the Spotlight search bar, with an array of suggested apps. Super-handy, right!
Next, iOS 15 also allows you to search for photos using the Spotlight tool. It's worth mentioning that if you don't use Face ID to unlock your iPhone or your device is in someone else's hands, Spotlight searches from the lock screen are restricted to the web. This is done to ensure that messages, apps, and photos remain for your eyes only.
iOS 15 vs iOS 14: Safari
iOS 15 has revamped Safari with a new Tab bar design and Tab Groups. You'll see a minimized tab bar on the bottom which brings the controls right at your fingertips. You can easily type and swipe between the opened tabs. In addition, Safari on iOS 15 allows you to create Tab Groups, where you can organize tabs and put them into a folder for later use. Therefore, there's no need to open multiple tabs at once and switch between them when you're searching for something on the web. Just put them all into a Tab Group and access them with ease. Impressively, Tab Groups works across iPadOS and macOS too.
Not to forget, you can also install Safari extensions on your iPhone running iOS 15.
This is one of the most useful additions to iOS 15. 
iOS 15 vs iOS 14: Apple Wallet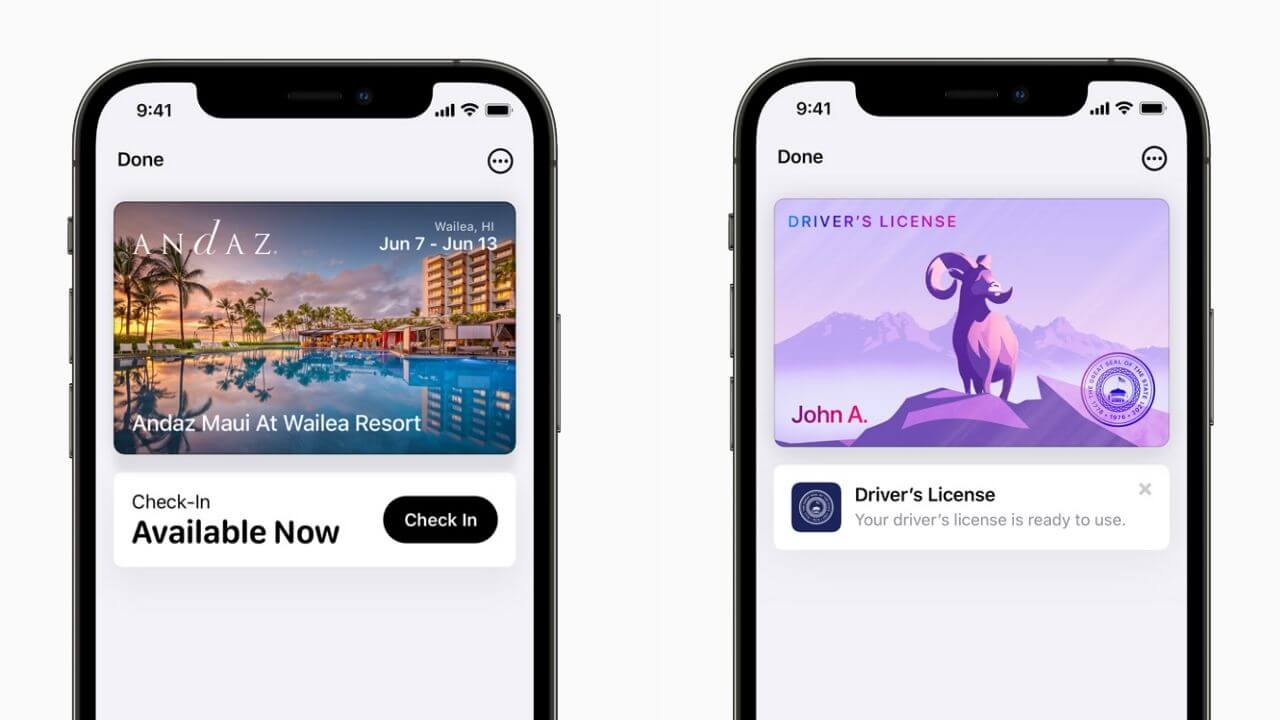 Apple introduced digital car keys in iOS 14, and with the latest iOS 15, things have been taken to a whole new level. With the support for Ultra-Wideband technology, iOS 15 users can securely unlock, lock, and start their cars (of course from supported car manufactures) without having to remove their iPhone from their pocket or bag. It's quite similar to the Car Key feature that's been introduced recently in Android 12. That's not all. You can now add hotel keys and passes, and easily access them with a simple tap on your iPhone.
Furthermore, Apple is also partnering with specific states to allow you to scan and add your Driving License into the Wallet. Just scan your DL using your iPhone's camera. Apple will then store your ID details in the same way as it does with other sensitive information. 
iOS 15 vs iOS 14: Find My app
The Find My is a useful app that allows you to locate your Apple devices. The latest version of iOS brings a host of additions to this app.
iOS 15 allows you to locate your devices for up to 24 hours even when they're turned OFF. That means if your device has
run out of battery or it has been stolen and turned OFF by a thief, you'll still be able to locate it. This feature is surely gonna be a savior in such situations. 
Furthermore, iOS 15 also allows the Find My app to locate devices even after they've been erased. This will prevent the resale of stolen Apple devices. The Hello screen will clearly show that the device is locked and locatable.
Undoubtedly, this is one of the most useful features that make it worth upgrading from iOS 14 to iOS 15. 
iOS 15 vs iOS 14: iCloud
iOS 15 offers a supremely useful feature that offers great help when you want to set up a new iPhone. Although the non-paying Apple users are stuck at the same 5GB storage, with iOS 15, iCloud grants free temporary storage (as much as you need) to complete a temporary backup. That means you can use your iCloud backup to transfer your data to your new device, even if you're low on storage. This temporary storage will last up to three weeks.
In short, iOS 15 offers a nice setup experience as compared to iOS 14. 
Also Read: How to backup any iPhone (Step by Step guide)
iOS 15: Additional features
1. SharePlay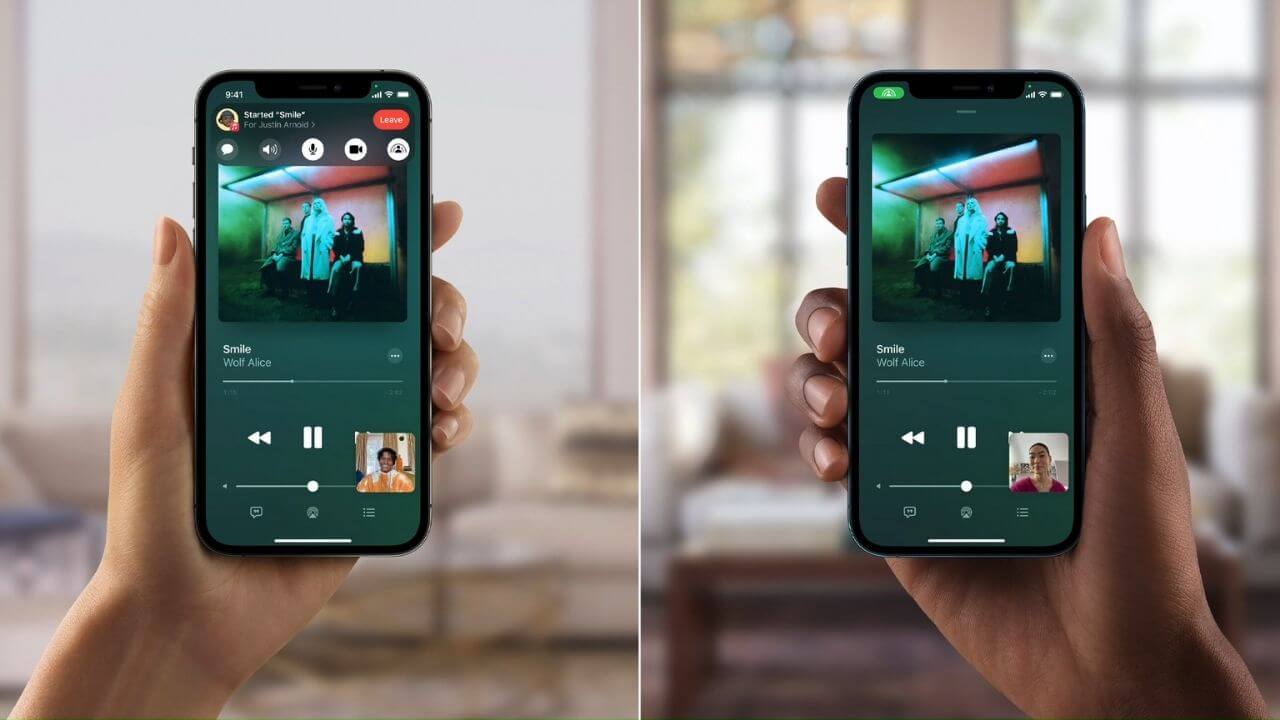 One of the most exciting features of iOS 15 is SharePlay. It allows you to listen to songs in sync via
Apple Music, watch movies and TV shows together when you're on a FaceTime call. You and everyone else who's on that FaceTime call will get control of what's playing. Anyone can hit the play, pause, or skip options. In addition, you can always share your iPhone, iPad, or Mac screen during a FaceTime Video Call. That means rather than taking video calls, you can now host presentations using FaceTime on iOS 15. This is one of the major differences between FaceTime on iOS 15 and iOS 14. Also, this puts FaceTime on par with other popular video-conferencing apps like Zoom and Microsoft Teams. 
It's worth mentioning that FaceTime's SharePlay works across iOS 15, iPadOS 15, and macOS Monterey. 
2. Focus Mode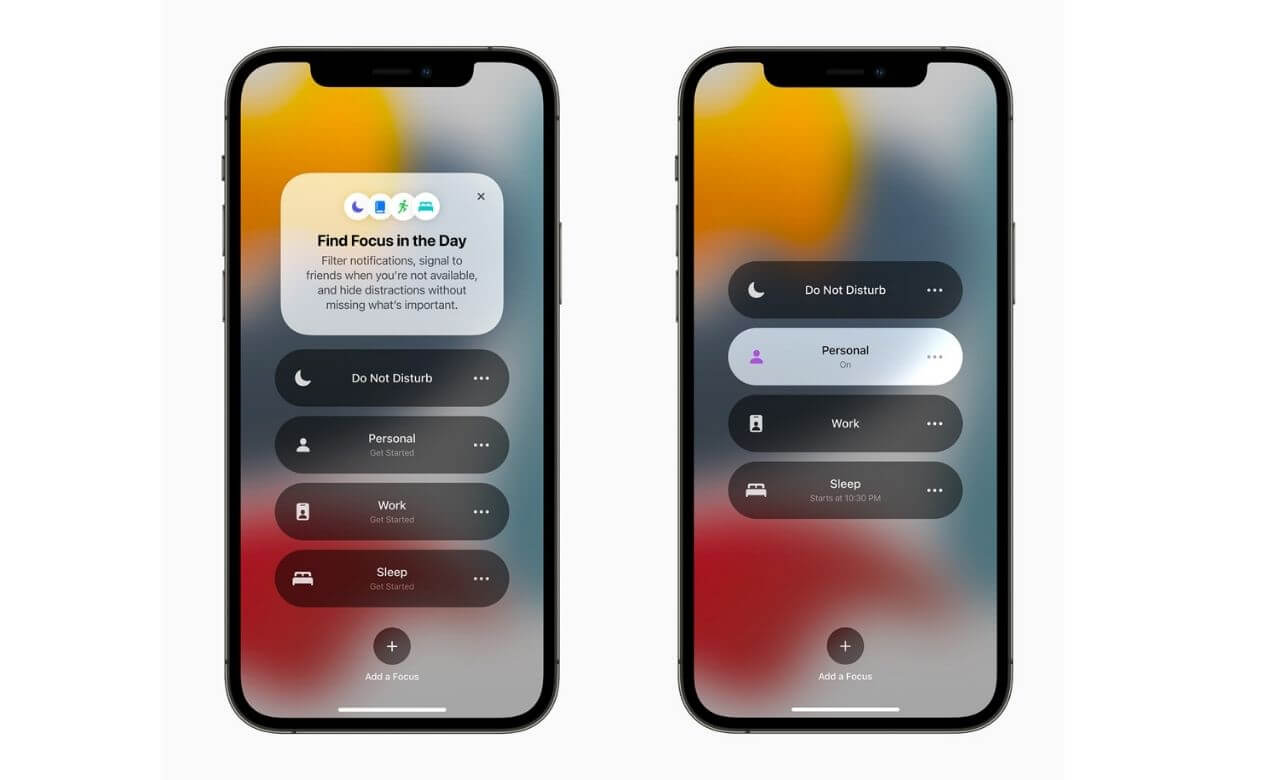 One of the newest additions to iOS is the Focus Mode. It's a supremely useful feature that allows you to specify which apps and contacts can reach you. You get to choose between four modes- DND, Work, Personal, and Sleep. The DND mode will show your status to your contacts in the Messages app. This way, you can focus more on your work and reduce distractions. However, if your contact has got an urgent message, they can also opt to override your DND request. Talking about the Personal mode, it will cut all work-related emails and messages for the specified period. 
Therefore, unlike iOS 14, the latest iOS 15 allows you to filter notifications based on what you're doing. 
3. Live Text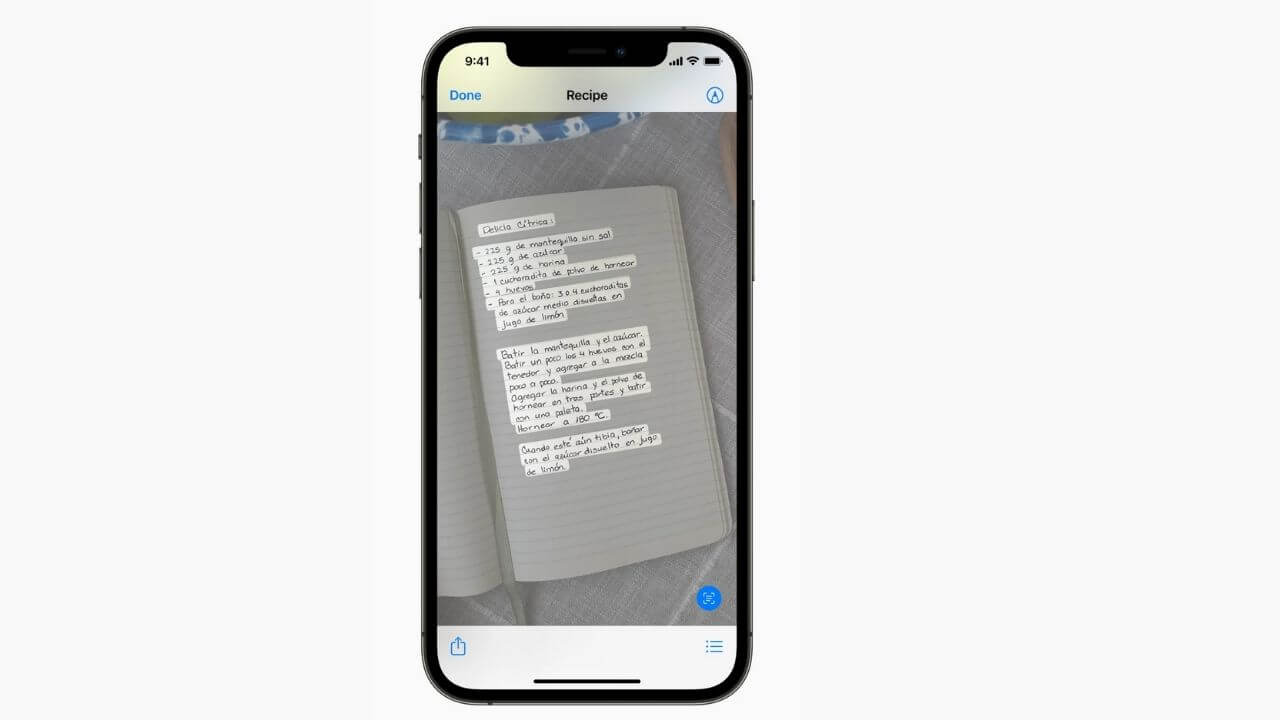 iOS 15 brings new features and tools to the camera app on the iPhone. There's a new rather much-awaited addition, Live Text, that uses on-device intelligence to recognize text inside a photo. This allows you to scan text inside a photo, screenshot, or web image and interact with it. You can pull email addresses, phone numbers, and more from a photo. For example, you can select a phone number inside an image, rather than noting it down somewhere else. When you do this, you'll get options to make a call on that number, Send a message, Add to Contacts, or Copy it. That's not all. You can digitize handwritten notes or capture your favorite recipes and share them with a friend. Live Text supports English, French, Chinese, Portuguese, German, Spanish, and Italian languages as well.
Also Read: How to copy and paste text from Live Text on iPhone or iPad. 
4. iCloud+ and Disposable Email IDs
Apple has introduced iCloud+, an all-new subscription that helps to keep your data safe, up to date, and accessible across all your Apple devices.
iCloud+ has a super handy feature, Hide My email, that gives you control of incoming emails. You can generate random email addresses and use them as disposable email ids where you don't want to share your id. In addition, you can add a label, deactivate, re-activate, and delete those temporary email addresses at any time. 
When you enable the Hide My email feature and send an email from the Mail app on your iPhone, a new email address will be generated. The receiver won't see your real email id. This is an amazing privacy feature that will prevent spam emails from stuffing your inbox. The Hide My email feature works across Safari, Mail, and more.
Besides Hide My Email, there are other features like iCloud Private Relay and expanded HomeKit Secure Video support.
Also Read: How to fix Mail app not working on iPhone
5. Apple Recovery Contact 
One of the prime differences between iOS 15 and iOS 14 is the Apple ID recovery process. Until iOS 14, it was very difficult to recover your
Apple ID in case you forgot your password. Fortunately, Apple has made things easier with the latest iOS version. iOS 15 gives you an option to set recovery contacts. You can designate your friends or family who can help you out in case you lose access to your account. 
To know how to set Apple Recovery Contact, head to our roundup on the Best iOS 15 Tips and Tricks.
6. Others
Besides the iOS 15 features mentioned above, Apple has added several other new features and improvements too. This list includes upgrades in apps like Weather, Health, Notes, and others. You can use tags in the Notes app and search for specific notes, share things with Siri, see real-time snow and rain alerts in the Weather app, and do a lot more with your iPhone running iOS 15.
Should you upgrade to iOS 15?
Here comes the most important question- Should you update to iOS 15? 
See, there's no doubt that iOS 15 brings a raft of improvements and additions for iPhone users. Right from the
FaceTime and Maps additions to the introduction of exclusive features like Live Text and SharePlay, iOS 15 is just incredible, and therefore, it's worth upgrading. Besides, if you're an early adopter or a tech-savvy person who wants to play around with the amazing features of iOS 15, just go for it. 
On the flip side, some features like SharePlay are delayed and will be added to the later versions of iOS 15. Also, the initial versions of iOS 15 might cause some performance issues on older devices like the iPhone 11. Therefore, you can also wait for some time till Apple fixes bugs and refine its features for iOS 15. 
If you're using iOS 14, you'll see that iOS 15 is shown as optional in the Settings > General > Software Update section on your iPhone. In case you're planning to stay on iOS 14 right now, make sure that your iPhone isn't set to install iOS Updates automatically and keep your device on the latest version of iOS 14 as it's released.  
Eventually, Apple will drop support for iOS 14 and you'll have to update to the latest version. 
Are you planning to update your iPhone to iOS 15? Or you'll be staying with iOS 14 for now? Share your thoughts with us, in the comments section below.