Apple had announced iOS 14 with a host of exciting features at its WWDC 2020 event. The first developer beta was launched right after the event. So, if you're an app developer, you can join Apple's beta program to give a shot to this latest iOS update. Also, the public beta will be available for the iOS users in July at beta.apple.com. So, all the eager Apple fans can give a try to iOS 14 before the full version rolls out later this year. Also, it's worth mentioning that as it will be the Beta release and not the stable version, expect some bugs and issues while you get on board early. In this article, we've compared the recently announced iOS 14 with the current iOS 13, based on Apple's announcements at the WWDC event.
iOS 13 vs iOS 14
iOS 13 vs iOS 14: Availability
iOS 14 is available in developer beta right now, with the public beta coming in the month of July. The final, stable public version is expected to land in some time in September 2020. On the other hand, iOS 13 was released on September 19, 2019, just before the launch of the
iPhone 11, iPhone 11 Pro, and iPhone 11 Pro Max. iOS 13 is already available in a stable version. Therefore, if you have an iPhone, expect it to be running on some version of iOS 13. 
iOS 13 vs iOS 14: Compatibility
Now, you would be thinking if I can get iOS 14 on my iPhone? The answer is short and clear- if your iPhone is running on iOS 13, you can surely install iOS 14 on it. So, here's the full list of the devices that will be available to install iOS 14.
iPhone 6S and 6S Plus

iPhone SE first-gen 

iPhone 11

, 11 Pro, and

11 Pro Max

iPod Touch (7th generation)
iOS 13 vs iOS 14: Widgets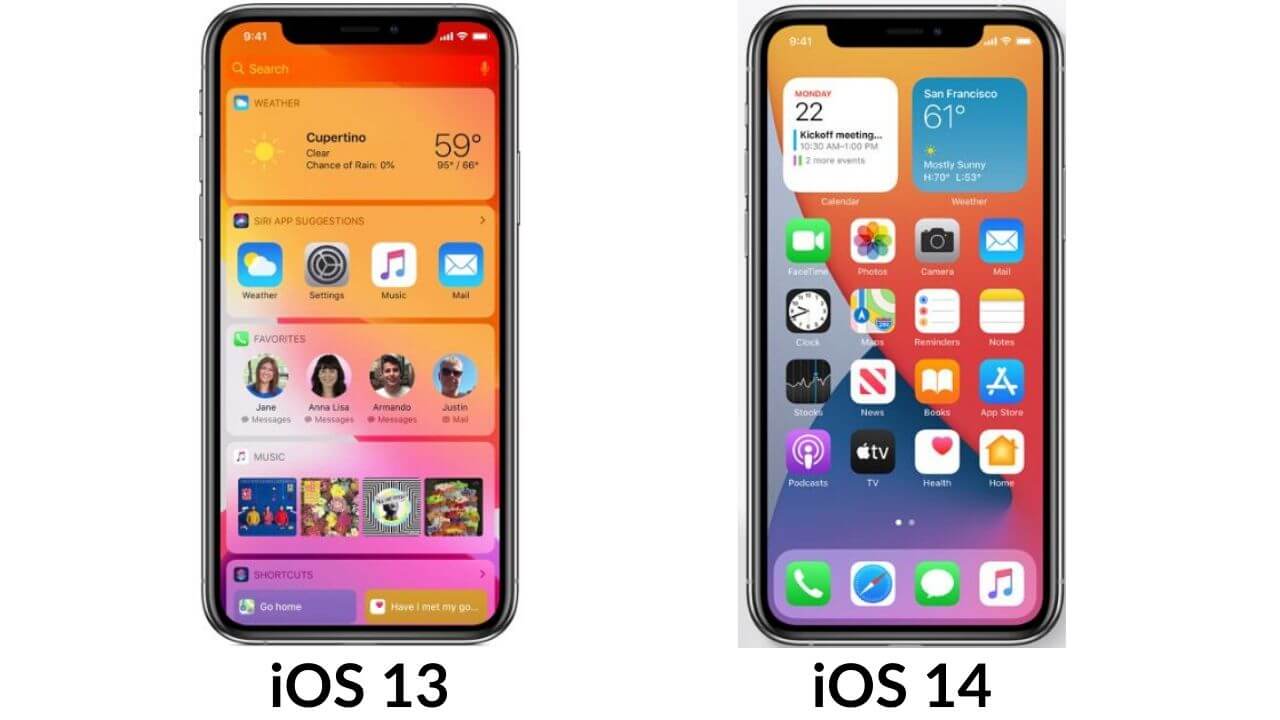 Apple has made some of the biggest changes in the user interface of iPhones with iOS 14. Widgets are a great way to have information at a glance on your device. We already have Widgets as a simple vertical list on iOS 13, but they are restricted to the Today View. When you swipe right on your device running iOS 13, you'll see summaries of Weather, Stocks, News, your Calender, and so on. If you want to add new widgets, just scroll down to the bottom and tap edit. This is how we've been using widgets on iOS 13. 
With iOS 14, Apple has decided to completely revamp the widget's experience by making them more data-rich. Now, widgets will be available in different sizes and show different levels of information on iPhones. That's not all. With iOS 14, you'll be able to add widgets right on your home screen, alongside other apps. Just hold and drag the widget out to the home screen and it will automatically make its way. Plus, there's a Smart Stack widget that uses on-device intelligence to find the right widget on the basis of your activity, location, and time. 
iOS 13 vs iOS 14: App Library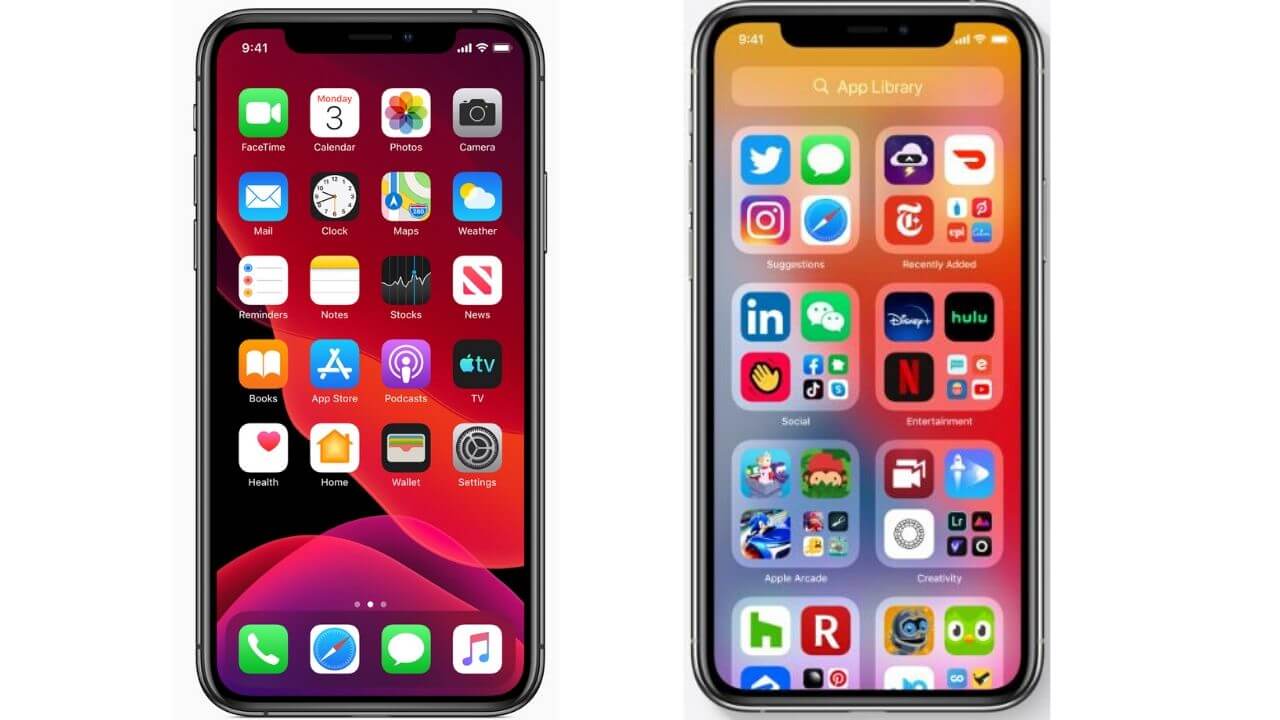 iOS 13 allows you to keep related apps in a folder and iOS 14 will do this for you automatically. Apple has introduced a new feature in iOS 14, called App Library, which is available at the end of the Home Screen pages. It offers you a new and better way to view, organize, and navigate apps on your home screen. This will prove useful for users who tend to keep so many apps that they just split across multiple pages. The folders will be automatically organized by categories like Social, Entertainment, Health, Creativity, etc. The app icons will vary inside a folder. iOS will make an icon bigger if you've used that app more often than others in the same category. 
You can easily find a particular app by typing its name in the Search box at the top, see the recently added apps in the upper-right box, and the suggestions in the upper-left box. This will also offer users an easy way to
hide apps on iPhone. If you don't want an app to show up on your home screen, just move them to the App Library instead. In short, with App Library, users will be able to clean up and organize their home screen in a better way. 
iOS 13 vs iOS 14: Watching Videos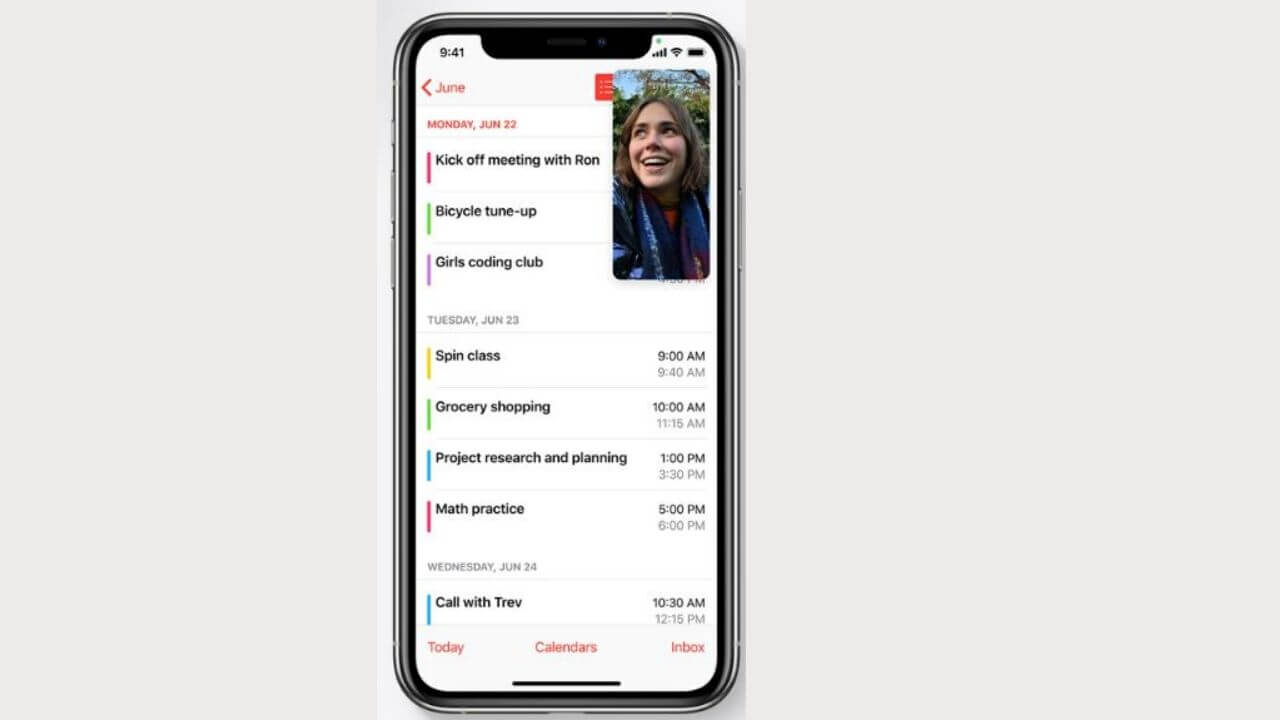 What happens when you're watching a video or attending an online lecture on your iPhone, and swipe back on the home screen to jot down some important pointers in the Notes app? The video stops playing, right? You can say goodbye to those frustrating moments with iOS 14. 
Apple has finally brought the much-awaited picture-in-picture support to the iPhones, with its iOS 14. Now, you'll be able to access apps while
streaming videos or making video calls. You can swipe back on the home screen and the video will still continue to play in a little box. You can easily drag, move, and resize this box to keep using your iPhone for other things simultaneously. Moreover, you can just swipe the video off to the side and it becomes a little tab, with the audio continuing to play. This is one of the most awaited accessibility features for iOS. 
iOS 13 vs iOS 14: App Store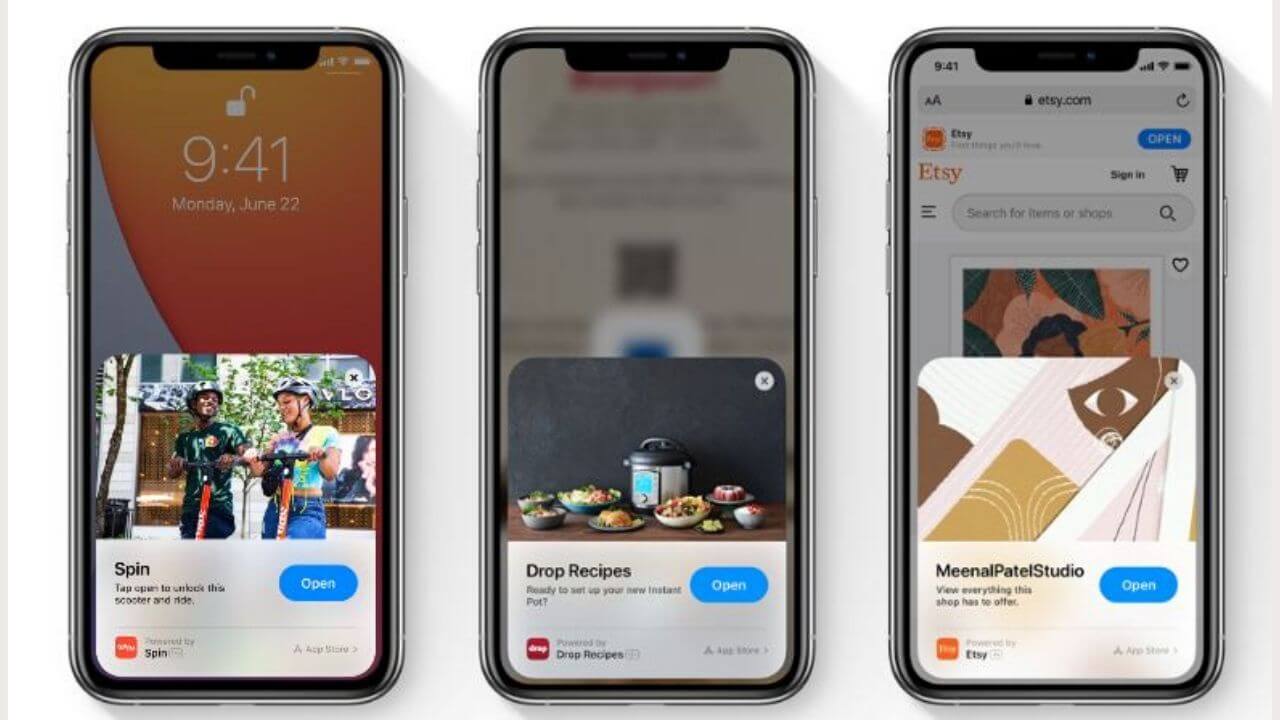 On iOS 13, if you want to access a certain feature like use the rewards program from a coffee shop's app, you'll have to download an entire app to access a single feature.  Apple has introduced an amazing addition to iOS 14 that offers a new way of using apps on your devices, called App Clips. It is introduced with an aim to allow you to use certain features of an app without the need to download a large app to do one simple thing. App clips are micro parts of apps that are focused on a specific task. They are super-light and launch quickly, and you can access them via a card that pops up at the bottom of your screen. For example, you can access a parking app via an NFC tag. The best part is you can access app clips via Sign in with Apple and Apple Pay, without the need to log in or create accounts. 
iOS 13 vs iOS 14: Siri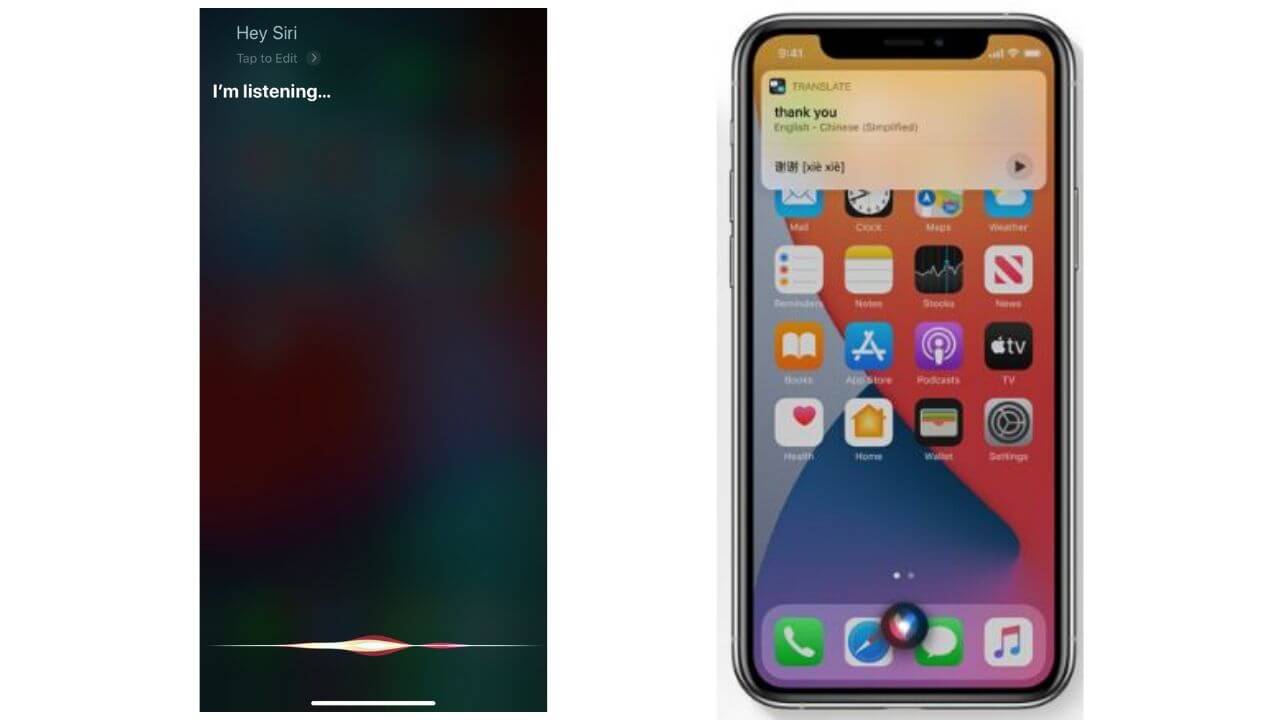 When we invoke Siri on iOS 13, it takes up the entire screen and hides everything else. With iOS 14, Apple has introduced a new Siri design for its users. Now, invoking Siri won't take up the entire screen, rather, it will simply show a Siri blob at the bottom of your screen. In addition to the all-new interface, Siri can now send audio messages, can translate more languages, and help you find answers to more complex questions by using information across the web. Apple has also introduced cycling directions in Apple Maps, and with iOS 14, you can ask Siri for cycling directions. Plus, if you're navigating through Apple Maps, you can also ask Siri to share your ETA (Estimated Time of Arrival) with a contact. 
iOS 13 vs iOS 14: UI for Calls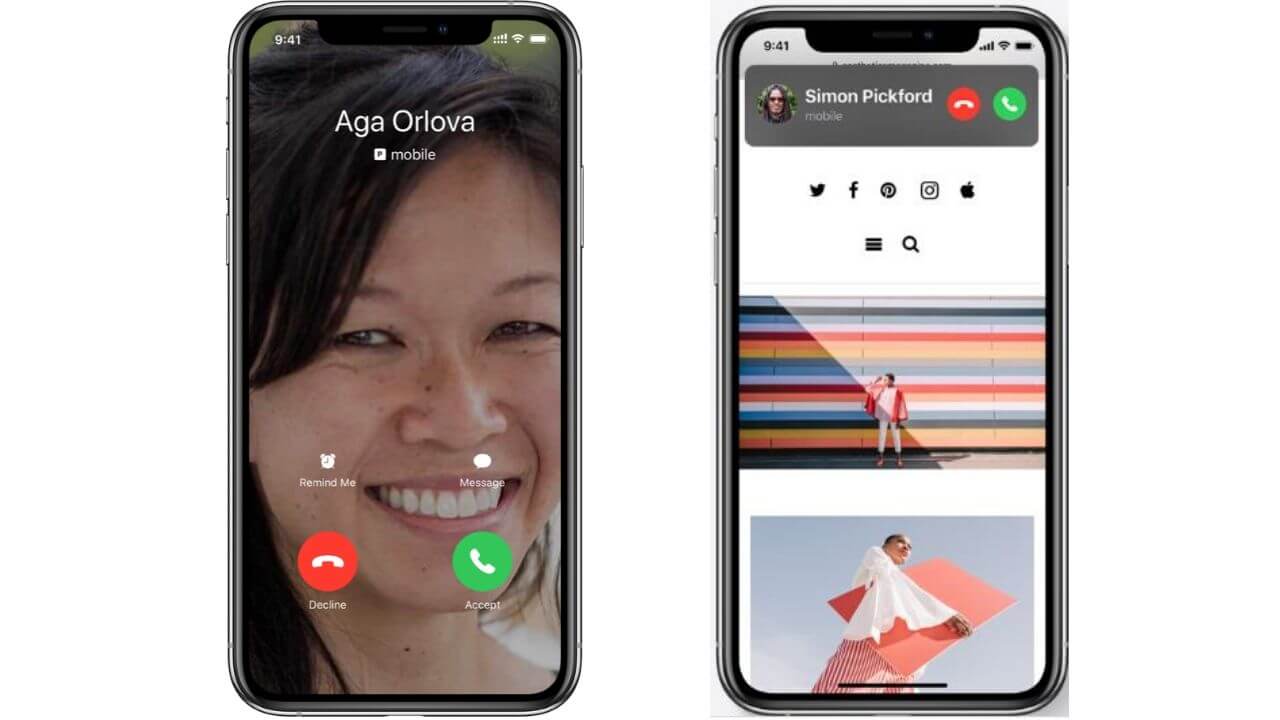 Just as Siri got smaller with iOS 14, so has the interface for calls. With iOS 13, when we get phone calls or FaceTime calls on our iPhone, it takes up the entire screen and we lose access to other things that we were doing. But, the interface has been redesigned for both phone and FaceTime calls with the latest iOS update. If you get any call on your device running iOS 14, it will appear as a banner on the top of your screen, instead of taking up the entire screen. You could swipe up on the banner to dismiss it or swipe down to access extended features. 
iOS 13 vs iOS 14: Default Apps
On any device running on iOS 13 or earlier, Safari is your default web browser and Mail is your default Mail app. That means if you click on a web link or email address, you'll be directed to Safari and Mail respectively. With iOS 14, Apple is giving liberty to its users to set a third-party app as the default web browser or mail app systemwide. For example, you'll now be able to set Gmail as your default mail app or Google Chrome as your default web browser. This has been a hugely demanded feature by iOS users. 
iOS 13 vs iOS 14: Messages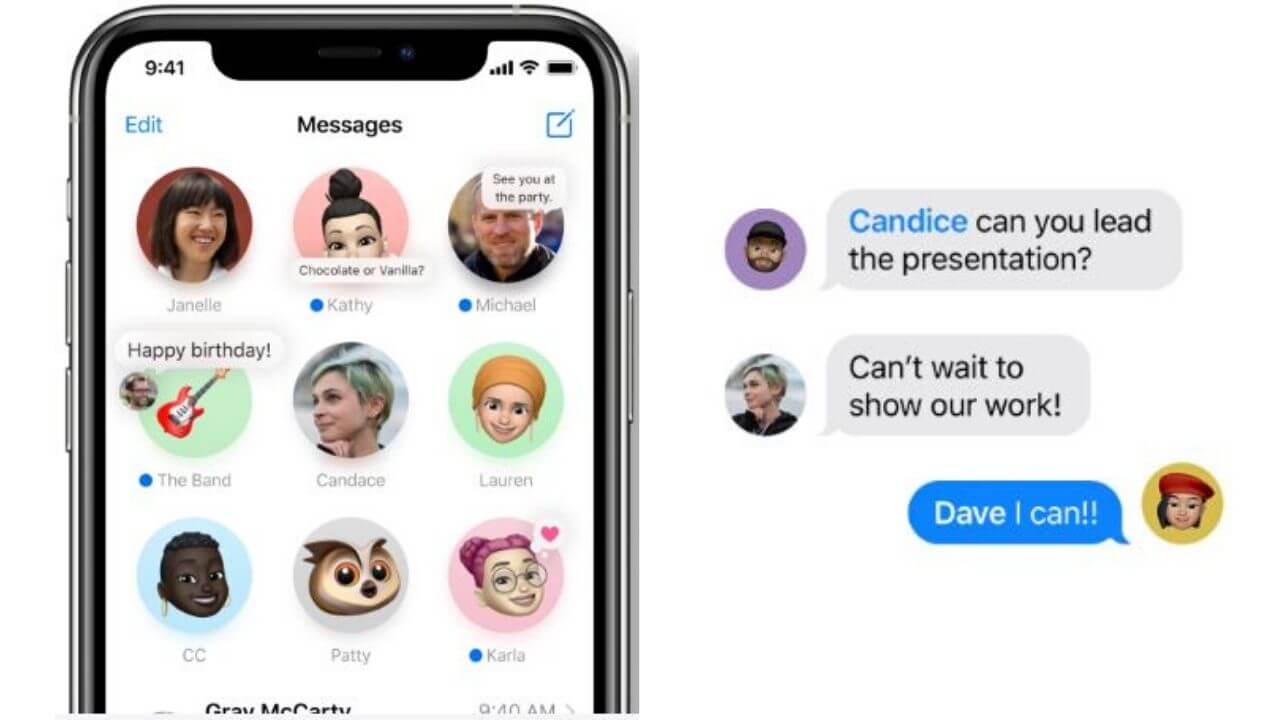 Apple aims to make communication in groups a lot easier and interactive with its iOS 14.  The users will now be able to pin up to 9 important conversations, keeping them at the top of their Message list. This feature is particularly useful when you've got a lot of conversations going on and want to quickly reach a particular frequent contact. Users will now be able to name a group and even set a group icon (image or emoji). The images for the group participants will appear around the group icon, showing the most recent people first. 
iOS 14 also includes inline replies for specific messages and the ability to direct a message to a single person by using mentions, just like you can do in other messaging apps like WhatsApp. Also, rather than showing up all notifications for a particular group chat, you can even set Messages to show notifications only when your name is mentioned. These features are not available in Messages on iOS 13. Apple has also introduced 20 new hair and headwear styles and three new Memoji stickers- Hug, Blush, and First Bump
.
iOS 13 vs iOS 14: Maps
We already have realistic and detailed maps in iOS 13, that allows us to set up navigation, explore cities, and access our favorite locations. And, with iOS 14, Apple has introduced a variety of new improvements, especially for fitness enthusiasts. Cycling directions, EV routing, and curated guides are the three major updates that Apple has added to Maps in iOS 14. Cyclists can now search how busy a street is, see steep passages, and choose to avoid stairs completely. If you have an electric vehicle, you can search for the specific routes that have charging stations on their way. Also, the Guides feature will provide you a curated list of interesting places to visit in a city, including new restaurants, popular attractions, shopping, sight-seeing, and other activities.
iOS 13 vs iOS 14: AirPods and AirPods Pro
iOS 13 had already given its users a handful of useful features while using AirPods, including the ability to announce messages with Siri and Audio sharing. With iOS 14, AirPods have now given the ability to automatically switch between Apple devices. AirPods can seamlessly switch between devices running iOS 14, iPadOS 14, watchOS 7, and macOS Big Sur. Moreover, if you're rocking the AirPods Pro, you'll get to experience spatial audio for any source encoded in 5.1, 7.1, or Dolby Atmos. AirPods Pro will offer a movie-theatre experience with its immersive surround sound. Also, Apple now uses motion detection to monitor the movement of your head to ensure that your ears get the proper surround sounds. In short, iOS 14 is bound to deliver incredible performance on your AirPods and AirPods Pro. 
iOS 13 vs iOS 14: Privacy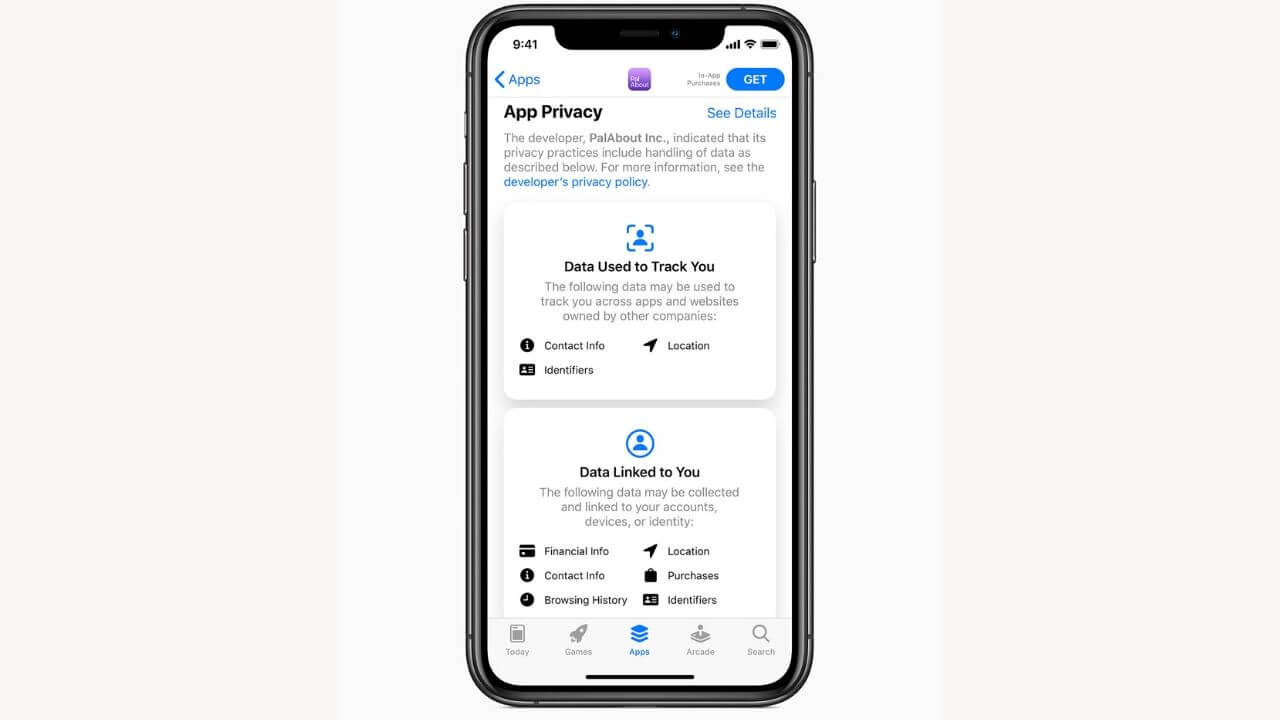 One of the most appreciated features of iOS 13 is the Sign-in with Apple feature that lets you create accounts for apps and websites using your Apple ID, without giving your personal information. With iOS 14, Apple has planned to take a step further to ensure the privacy of its users. Apps will now have to take user permission before they start tracking them. App Store will now have a new section on each app page, that will display a summary of the developer's privacy practices in a clear, simple, and easy to understand format. That's not all. iOS 14 will allow the users to share their approximate locations, rather than the exact locations with the apps.
Additional Features of iOS 14
Digital Car Keys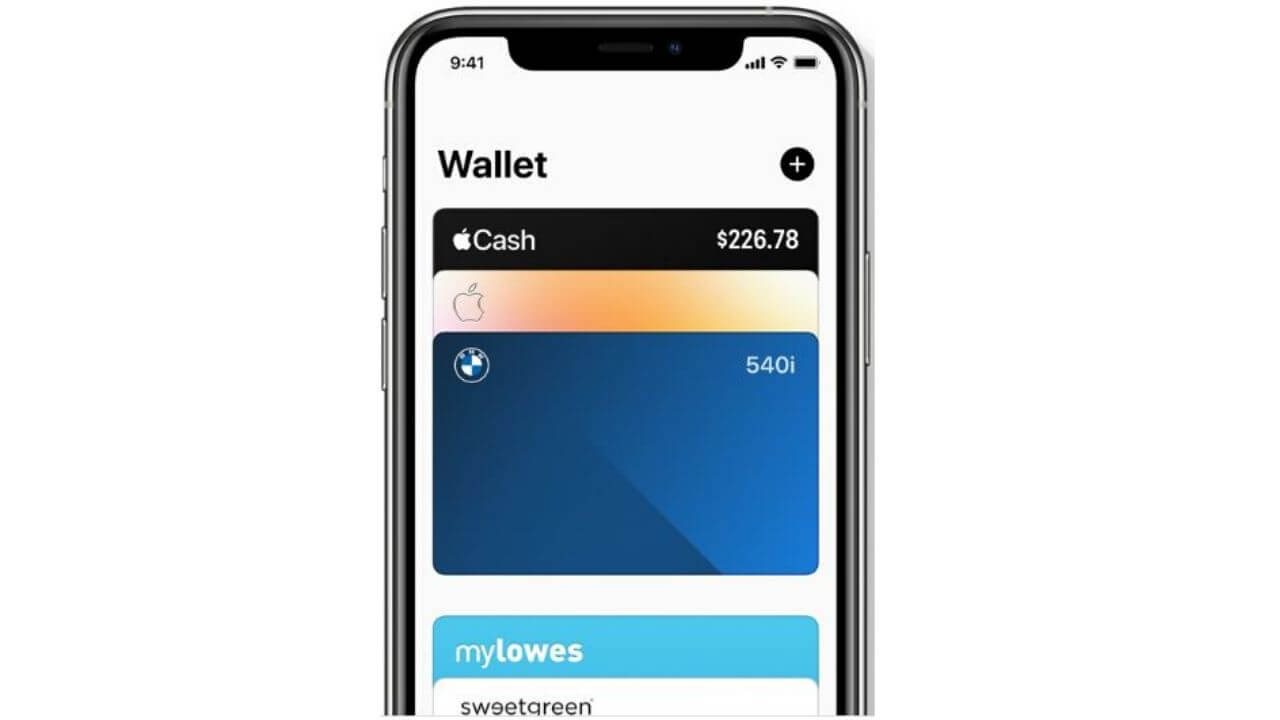 Apple has introduced a standardized version of digital car keys. There's support for NFC car keys in iOS 14 and the BMW 2021 5 Series is the first one to get this feature. Digital car Keys will allow users to securely unlock and start their cars using an iPhone or Apple Watch. Your Digital car key will be stored in the Wallet app and can be easily shared via Messages and you can disable them through iCloud if a device is lost. Apple has also mentioned that the next-gen version of the digital car keys will be based on Ultra-Wideband tech in the U1 chip present in the latest iPhones, which will allow users to unlock future car models without removing their iPhones from their pockets or bag. They will be available next year
.
Translate App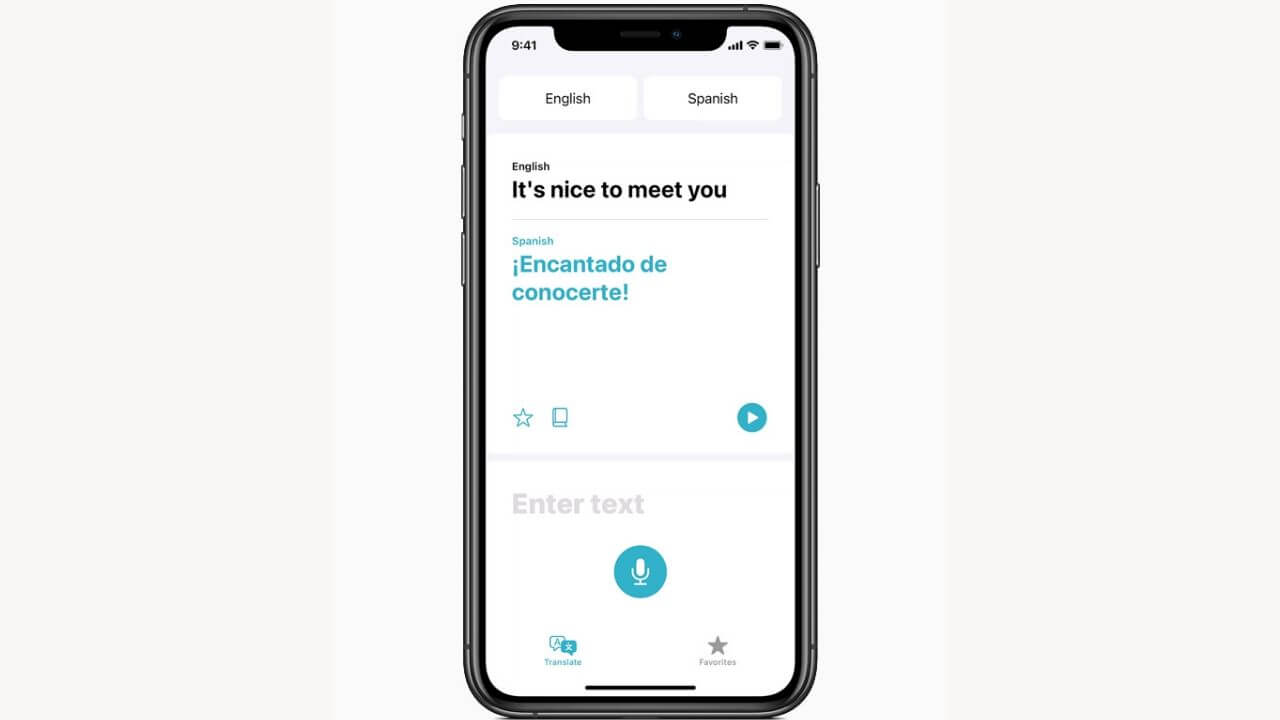 With iOS 14, Apple has introduced a new first-party app called Translate that's designed for translating conversations. This app can easily translate written and spoken foreign languages in real-time. The best part is all the translations are done using Apple's Neural Engine, which means the app will work entirely offline and your privacy is protected. The app has a conversation mode, which can be accessed by rotating your iPhone into the landscape. Just pick two languages, hit the microphone button, speak up the sentence, and the app will provide text and voice translations. Translate app aims to make communication between languages easier and has support for 11 different languages. 
There are also some other additions and updates in iOS 14, including improvements in Home, Health, and Weather apps. Plus, the ability to choose a custom wallpaper to your CarPlay interface, better AR experiences, filter and sort photos and videos, and much more. 
Should you upgrade your iPhone to iOS 14?
By now, you all must be thinking that you should upgrade your iPhone to iOS 14, right? Firstly, let's make it very clear that the public beta version will be released in July 2020, which will be an unfinished version, so it will have a few bugs. We recommend you to wait until the full and stable version, which lands in September 2020. But, if you're one of those curious and adventurous users who want to experience the features of iOS 14 right after the release of the first public beta version, you can go for that, but again, expect a few bugs and issues. Moreover, we suggest you download and install iOS 14 on a secondary device, like an old iPhone lying in your cabinet. In short, for now, you must not give it a try on your primary, daily driver as it can mess with your
important daily tasks.