Apple has done everything it can to corner every market niche from putting out game changing iPhones to bringing out an advent in the streaming field with the Apple TV 4K. Apart from the many perks of owning an Apple TV, the games available for download from the App Store are one of the many perks of owning an Apple TV. 
The pandemic has brought about its own share of problems but it has also left us with upgraded home theatres and better TV's. But look, we understand it is difficult to choose when you have an entire silver platter of amazing games to choose from, which is why we are bringing you a list of the Best Apple TV 4K Games. Some of these games also support PS5 and Xbox Bluetooth controllers so you can actively pair these with your Apple TV and make the most out of your gaming experience. What's better is that most of these games are arcade based which means that these games are suitable and exciting enough to be a part of your next family gathering or bonding activity. So, without any further adieu, let's get started!
Best Multiplayer games for Apple TV 4K
1. Just Dance Now
Normally, you'd use your controller to dance along to the choreographed dancers on-screen in console versions of Just Dance, but with Just Dance Now, all you have to do is download the app. Anyone who wants to join in can do so by downloading this multiplayer Apple TV game and then enter a code obtained from the app's official website. What follows is a surprisingly comprehensive experience, with an impressive collection of pop songs. While many of the free songs are behind a paywall in the form of a VIP Pass, many of the free songs are refreshed daily, giving you at least some variety. Songs by some of the biggest names in the industry, including Beyonce and Ariana Grande are available, as well as a fun selection of free songs to keep you from spending money. When compared to the console version, Just Dance Now is a much more streamlined experience, but that's what makes it such a great piece of work. It's simple, free, and allows you to perform choreographed dances almost anywhere, at any time. And if you're itching to show off your moves at your next get-together with your pals, you know where to go!
2. Spaceteam
SPACETEAM is a game that takes you and up to seven friends into space on a spaceship. It is your responsibility to pilot the craft and keep it safe by following the instructions. Each player logs in to the game on their own device (a mix of phones, tablets, and platforms is acceptable) and then joins the game as a group. Wi-iFi is the most convenient mode, but players can also start a private game using Bluetooth (all players must be on the same platform) or the Bunch app to video chat from afar. Each player has a control panel with a variety of labelled toggle switches, buttons, dials, and selector switches once the game starts. They'll also get a timed command like "Unbind Vaportool" or "Set Technovortext to 2." Does it sound like nonsense? Well, that's because it is. However, the commands correspond to one of the control panels' buttons and dials. Occasionally, a player will receive an instruction for their own panel, but more often than not, it will be for someone else's. As a result, all of the players are requesting (or, more commonly, shouting) that the command be completed. If the appropriate action is taken, the command will be removed and replaced with a new one. If not, players' controls will begin to suffer damage in the form of oozing slime, smoke, and falling panels. If the player has the time, some of these can be fixed. The instructions are given in rounds, and the goal is to make it through each one. Players are given a new control panel at the start of each round, but there may be anomalies, but we'll leave that for you to figure out once you start playing this multiplayer Apple TV game. If your friends and family don't mind being shouted at, because we guarantee you there will be loads of it in this game, in the name of fun then we think that this is the best multiplayer Apple TV 4K game. It is equal parts laughter, shouting and fun which takes you and your closed ones on a chaotic ride without any technical or special knowledge!
3. Drawful 2
Drawful 2 largely follows in the footsteps of its predecessor. When it comes down to it, it's essentially a drunken, ribald game of Pictionary. Each player is given a drawing prompt, which can range from the extremely literal arrows pointing at food going into a mouth" to the more esoteric "RoboCop's birthday." You have 60 seconds to create your masterpiece using only your fingertip and whatever comes to mind. If you want to get fancy, you can now use a second (randomly assigned) colour in the sequel. Drawful 2 has no erasers, no take-backs, and no do-overs, which is part of the appeal. 
The goal isn't to create some mind-blowing pixel art, but to humiliate yourself in front of your friends while they do the same. It's all about working within the bare-bones constraints you're given in order to communicate an absurd idea in a short amount of time. While playing Drawful, you're probably learning a lot about signs and signifiers, as well as the economy of communication (though you'll probably be laughing too hard to notice). Believe us, your next party will be a hit amongst the masses once you get one of the Best multiplayer Apple TV 4K games on your Apple TV. Excited? Well, try it!
4. Fibbage XL
FIBBAGE XL is unlike any other traditional trivia game you've ever seen or played. Instead of using the Nintendo Switch as the game's emcee, players will use their computer, phone, or tablet as controllers. Cookie Masterson, the snarky host of Fibbage XL, asks players to choose a topic before asking you and up to seven other players a question. Instead of competing to see who can get the correct answer first, your goal is to concoct a lie that appears to be the correct answer in order to confuse your opponents. If you can't think of anything, don't worry; the game will offer to make a suggested falsehood in exchange for a percentage of the total points for that round. After everyone has entered their "suggestion," the game moves on to the next phase, in which everyone attempts to choose the correct answer. If you choose a lie, the person who wrote it receives points, but the correct answer earns more. Players are given the opportunity to select their favourite answers at the end of each question. Players will compete in three rounds before the final winner is determined, but even if you don't win first place, you can still win the Thumbs Up Cup for accumulating the most likes throughout the game. Are you the best liar in town? Take a look with your friends and family to find out in this multiplayer game for Apple TV 4k.
Best Controller Games for Apple TV 4k
1. Alto's Adventure
The desire to survive as long as possible is at the heart of every endless runner, and Alto's Adventure is no exception. But it's what happens along the way that makes the journey so exhilarating. As you snowboard down the mountain, you take on the role of Alto, who is a young shepherd boy trying to return escaped llamas. On your journey, you'll also have to grind down roofs, avoid rocks, perform backflips, collect coins, and jump over dangerous chasms. You'll have to start over if you make a mistake, but like most games, you'll figure out what works as you go along and find yourself going farther and farther with each run. But don't let that deter you, this Bluetooth controller compatible Apple TV game follows a reward system wherein essentially you'll be shown the current three achievements you can complete to level up at the start of each run. Performing a backflip or jumping off a ramp before a grind are examples of these. Because the levels are mostly random, it may take a few runs to unlock certain achievements; however, you'll level up as you complete these three sets of achievements, allowing you to unlock new snowboarders. However, the best part isn't this, it is the gorgeous visuals that greet you the moment you start the game. 
The creators of the game have taken full advantage of the fantastic visuals since the environment changes over time as you play. For instance, you'll begin in daylight, but as you race down the mountain, the sun will gradually fade into a sunset, then a moonlit night. When night falls, you'll have to be extra cautious because some obstacles only appear as silhouettes against the backdrop which could make you start over but the lighting effects and scenery are what make this game so unique with one of the best concepts available in the market today, Alto's adventure is truly one of the best controller games for Apple TV 4k. The fact that it also supports 120Hz Pro Motion display on the
iPhone 13 series & iPad Pro, makes it one of the best games available for Apple TV 4K. 
2. Zen Pinball
Zen Pinball is a simple recreation of the glitzy modern game found in arcades across the country. The flippers are controlled with the shoulder buttons, and the table is pushed into extended bumper action with the left stick. Because the physics are so realistic, it truly feels like you're playing pinball. V12, El Dorado, Shaman, and Tesla are the only four tables included but you can always upgrade your tables. Each table is jam-packed with creativity and gimmicks that can take hours to figure out. Beautiful graphics, great cheesy voices shouting out bonuses and warnings, and tons of special effects on the playfield are all part of the table's themes. Pair that with the best TVs for Apple TV and you can make the most out of your family/friends gatherings. The tables also have a good range of difficulty. V12, for example, is incredibly fast, with close-in targets on the lower board capable of causing catastrophic returns down the central drain and outlanes. (Don't worry, there are cheat sheets available). Believe us when we tell you that the satisfying click of frantically jamming a paddle button isn't replicated by swiping the Siri Remote's touchpad. Using the triggers on a controller, you can bat the digital ball around the dozens of available boards. Download it on your Apple TV 4k and get lost in the world of pinball.
3. Rush Rally 3
Rush Rally 3's main 'campaign' is Career Mode, which includes dozens of different tracks to race on, as well as weather effects and a day/night cycle. You'll begin by buying your first car, then work your way up the ranks, earning prize money along the way to buy more cars. If the Career Mode isn't for you, you can go straight to Single Rallys or RallyCross to compete against AI opponents on this controller compatible Apple TV 4K game. Off the track, there's a lot to tinker with as well. In an effort to be as authentic as possible, your cars may suffer irreversible damage that necessitates repairs in order to function properly. If this sounds a little too serious for some players, the game includes a handy 'auto repair' option that takes care of most of the work. Cars have a very realistic feel to them and react exactly as you would expect them to on a
console or a PC game. So, if you're a true car or rally racing fan, you'll be right at home here!
4. Chameleon Run
Chameleon Run is an autorunner created by indie developer Hyperbolic Magnetism that was first released on smartphones in 2016. It won a number of awards and received a lot of positive feedback. On the surface, Chameleon Run appears to be a simple game, and in some ways it is, but it is a deceptively difficult little game. Each level features a multi-colored obstacle course with a variety of platforms, gaps, and orbs to collect, and your only goal is to make it to the other side on your Apple TV. As an autorunner, your little blocky character will always move forward without your input, forcing you to deal with some fast-paced, ninja-style jumping while attempting to keep him under control. Despite the fact that you only have one button to press, your jump can accomplish a lot. There's a standard jump, a long jump, and you can even do double jumps and smaller jumps in mid-air, which can both be used to fall underneath platforms and safely rise up on the other side. Later on, other more advanced techniques are introduced, resulting in a surprisingly complex list of skills to master that should satisfy even the most seasoned platforming geniuses making it one of the best controller games for Apple TV 4K on our list. Believe us, Chameleon Run Deluxe is a challenging autorunner game that will keep you hooked while also making you curse. Whizzing through each level is fun thanks to the combination of slick jumping and colour swapping.
5. Sonic the Hedgehog 2
You can play some of gaming's greatest retro gems the way they were meant to be played with a gamepad in hand, and Sega's Sonic the Hedgehog 2 (Free) is a true classic. With fast side-scrolling action, many iconic levels to zip through, and the addition of Sonic's sidekick Tails, this throwback is considered the series' brightest moment.
Because of widescreen support and a remastered soundtrack, the Apple TV version not only outperforms the Sega Genesis original, but it also plays just as well—again, when using a proper gamepad instead of the Siri Remote. It's a free download with ads, but you can get rid of them permanently with a $2 in-app purchase.  
Best Free games for Apple TV 4k
1. Crossy Road
Crossy Road is a lovely unlimited arcade hopper that is mostly free and enjoyable for players of all ages. The purpose in this free Apple TV 4K game is straightforward: hop across obstacles without being hit, sunk, or swept off-screen. While the fundamental obstacles include automobiles, trains, lily pads, and logs, the concept is kept interesting by the addition of new objects. When traversing rivers in "Australia" mode, you can hop on crocodiles, but if you land on their mouths, they will eat you. Police cars and food trucks can speed by in the "Normal," "Korean," and "British" modes, squashing you in an instant. Other hurdles may emerge, some of which can lead to the unlocking of bonus characters. Jumping onto the side of a missile truck, which is occasionally encountered on roadways, unlocks "Michael Boom," a guy brandishing a bazooka and shooting with no control. Crossy Road is definitely good at passing the time, yet it also manages to keep itself interesting. It capitalises on the insatiable need to beat the top score, and thanks to its simple, pleasant nature, it encourages multiple attempts. Even after several days of play, the game's simple design and true free-to-play vibe keep it enjoyable. Here's why Crossy Road is one of the best apps for Apple TVs; it is a game that will not only entertain you for a short time, but will also keep you entertained for a long time.
2. Modern Combat 5
Modern Combat 5 is the next instalment in Gameloft's long line of high-quality first-person shooter mobile games. Modern Combat 5 is, for the most part, a carbon copy of Modern Combat 4. It has industry-leading graphics, robust multiplayer, a familiar gameplay and achievement progression, a bevy of weapon customization options, and top-notch voice acting. That's fine and all, but Modern Combat 5 offers one significant advantage that could easily be its main selling point: there are no in-app purchases. That's right, you read that correctly. Between single-player and multiplayer missions, your progress in terms of levelling up and unlocking weaponry is carried over. This Free Apple TV game is divided into six chapters, each including story missions, spec ops single-player challenges, and online multiplayer combat. All of those missions are graded using a three-star system, with one star awarded for achieving the main objective and the other two for completing secondary objectives. You can always go back and try again at any level that you haven't completed yet. To unlock additional chapters, you must complete the story missions as well as either the multiplayer or spec operations missions. Despite the fact that Modern Combat 5 clearly uses a known game engine, the level of refinement on every effect is outstanding. Water effects, bloom, depth of focus, and smoke effects are beautifully complemented by powerful, bassy explosions, superb voice acting, and visceral, genuine weapon noises. In a nutshell, Modern Combat 5 is unrivalled in terms of gameplay and graphics all while being a free game for your Apple TV.
3. Hit Tennis 3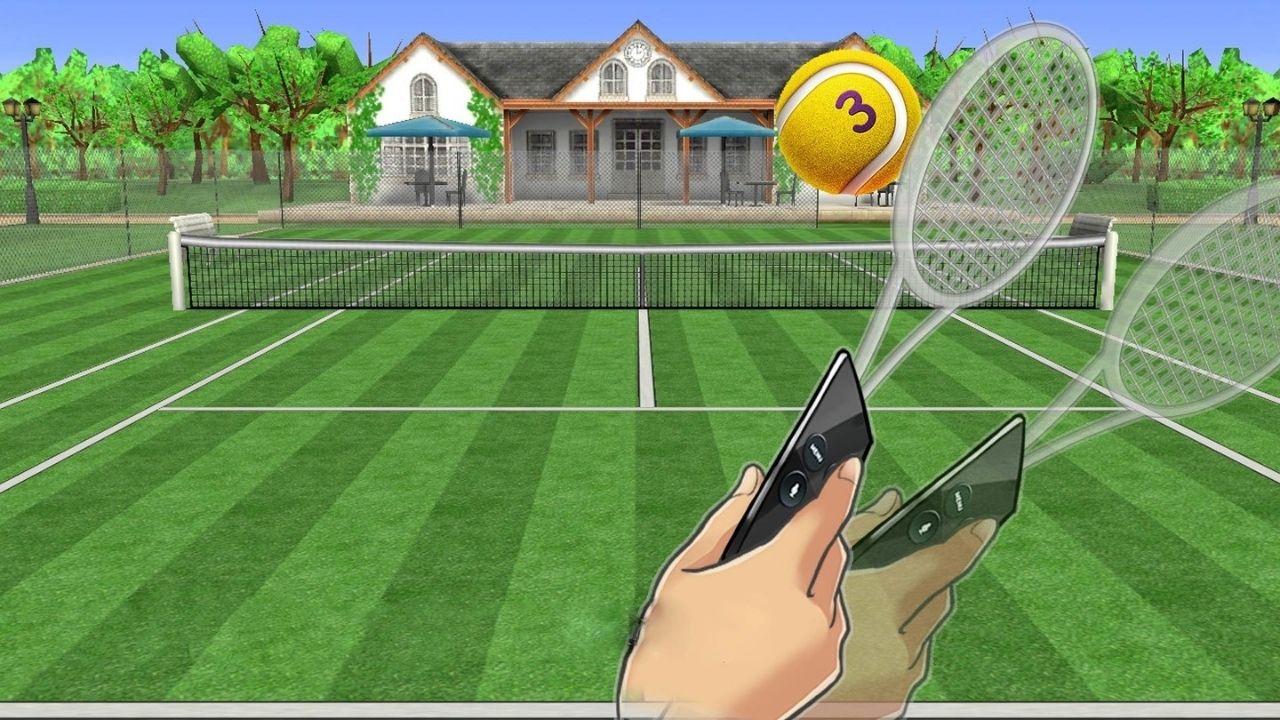 With some of the best reviews on the App Store, it would be a crime if we didn't tell you about Hit Tennis 3.  Hit Tennis 3, the sequel to Hit Tennis 2, has the same feel as the original. All of the rules that apply to the actual game of tennis apply here as well. To hit the ball at the desired area, simply swipe or flick your finger. Swiping quickly hits the ball harder, whereas wiping slowly hits it softer. To fool your opponent into missing the ball, hit the ball in the opposite direction of your opponent, much like in real tennis. In Hit Tennis, you must win two games to win the match and gain 100 percent experience points to advance a level. Use the level metre at the bottom of your screen to see what levels you've reached and how many points you need to advance to the next one. The best part about this free arcade Apple TV game is the realistic experience it follows, so the next time you wish to play Tennis from the comfort of your home, we recommend you try Hit Tennis 3.
4. Rayman's Adventures
The most impressive aspect of Rayman Legends is how frequently it presents new and unanticipated concepts throughout its almost 12-hour runtime. This wonderfully rendered co-op game puts dozens of unique ideas into the mix, demonstrating that the platforming genre still has room for fascinating inventiveness. Rayman starts out basic, with only running, leaping, and punching, but before you know it, you're slipping through dozens of deadly traps, battling massive bosses, and playing through incredible challenge levels. Rayman Legends' boss fights are among the game's highlights. These encounters don't alter the platforming boss fight, but they do showcase some of the best visual gimmicks, putting on a magnificent display. The Luchador, for example, is a towering mass of strength who swings a massive hand and flings his small opponents into the air on a regular basis. When it comes to levels, they're fantastic. The world construction in the game is great, as is the aesthetic. The level design is fantastic, with each level being uniformly well-rendered, well-imagined, and loaded with interesting gaming elements, hidden bonuses, and so on. There's a reason why Rayman's Adventure is one of the best arcade apps for iOS devices and hence, the Apple TV variant is no exception. The difficulty level is also fairly high, and the goal of collecting everything every time is nearly impossible to achieve. Rayman's Adventures is a feat in its own which makes it one of the best free apps for Apple TV which should be on your must-have apps for Apple TV 4K!
5. Dan the Man
Punching, kicking, and throwing are all part of Dan the Man's gameplay. It's a leaping game in which you try to avoid being shot in the face by goons wielding massive guns. And, to be honest, it's ridiculously good. You take on the role of Dan, the titular character. You can also take on the role of Josie. There are also additional characters to unlock, as well as a customisation option that allows you to play as whoever you want. You're thrown into a world in chaos once you've made your choice. It's a beautiful blue-skyed world with lots of trees, but it's still in chaos. You must kick, punch, shoot, and throw anything that gets in your way in order to right a variety of wrongs. The game mixes some challenging platforming sections with large-scale brawls, and it gets almost everything right. The fights are difficult; you must think quickly, avoid blows, and position yourself in the best possible way. And the platforming sections are tight and, while formulaic, will keep your digits occupied and your eyes squinted and focused. There's plenty to do in this game, which moves along at a nice, quick pace. As you progress through the story, you'll unlock a variety of different modes, so there's always a reason to return and take on the challenges, tests, and regularly updated content. This is one of those rare games that gets almost everything right, and you'd be remiss if you didn't give it a shot to one of the best Apple TV 4K apps.
Best Arcade games for Apple TV 4k
1. Pac-Man Party Royale
Muncher of yellow dots Pac-Man has a long history and is said to be the only videogame character that is more well-known than Mario. The fact that he ended up on Apple Arcade is quite a triumph. Thankfully, this combat mode reimagining of an arcade classic is fantastic. The fundamentals of the game remain the same: zooming through a maze, eating dots, and avoiding ghosts. This time, however, you're up against friends or AI 'Pac-Bots,' You speed up as you eat dots, boosting your chances of catching a marching Super Pellet, which converts you into an unstoppable foe-devouring chomping machine for a limited time. You must be the last Pac-Man standing to win this Apple TV arcade game. And if you're gobbled, you won't have to sit there twiddling your thumbs for long: you'll return as a colourful ghost to torment and hunt everyone left in the game.
2. Alba: A Wildlife Adventure
Alba is a sweet little girl who is looking forward to spending her holiday with her grandparents on a beautiful Mediterranean island. However, things go from bad to worse when the mayor of a tiny town teams up with an unscrupulous real estate developer to build a large resort on the site of a renowned nature preserve. Alba sets out on an altruistic mission to photograph the island's fauna in order to remind inhabitants of what's really at risk and gain enough support to stop the resort's expansion. Alba: A Wildlife Adventure is a delightfully charming Apple TV arcade game by Ustwo Games, the creators of the Monument Valley franchise. Rather than pushing players with puzzles, it soothes them with a soothing, feel-good experience that promotes conservation in a fun way. With the situation of the world as it is, we all need a small reminder of life outside our immediate surroundings. Alba is a fantastic reminder of how fortunate we are to live in such a wonderful world.
3. The Last Campfire
We can all relate to finding light in the dark, whether it's as basic as solving a minor puzzle or as vast as seeking for one's life's purpose. The Last Campfire deftly navigates both extremities of the spectrum, doing so with elegance, wit, and grace. With intelligently constructed puzzles, eye-catching style, and a heartwarming plot, Hello Games' short-ish adventure strikes the mark. In this universe, forlorns are lost souls spread around the colourful region of The Last Campfire; they've seemingly given up hope and feel purposeless. This is in direct contrast to our protagonist, Ember, whose mission appears to be more predetermined; Ember travels through forests, marshes, and tunnels, attempting to assist as many lost souls as possible while also contemplating their own existence. You're assisting the Forlorns on their journey by lighting campfires along the path, allowing them to follow in your footsteps. Granted, you never know where those footsteps may lead, but by demonstrating their existence to the Forlorns, you remind them that there is always light worth seeking in the darkness. Progress is made through completing continuously pleasant puzzles that almost always strike that sweet spot of not being too basic to be dull, but tough enough to gratify upon completion without getting too complicated to elicit groans. Special items and innovative mechanics are presented throughout to keep the puzzles from becoming too repetitive, and while there isn't exactly the level of variation you'd anticipate over the course of the game's six or seven hours, it never fails to provide something new right before it becomes tiresome. One of the most significant enhancements of this Arcade game for Apple TV 4K is a delightful telekinetic-like power that appears approximately halfway through the story and is cleverly utilised in several of the subsequent puzzles. The Last Campfire is a terrific blend of clever puzzles, stunning graphic design, and a brilliantly written story that makes Ember's journey a joy.
Best Racing games for Apple TV 4k
1. Asphalt 8: Airborne
Asphalt 8: Airborne is a one-of-a-kind racing game. You won't just be racing on a flat track; you'll be flying over ramps while performing 360-degree loops as well. The game's new physics engine will allow you to push each of the performance cars to their limits, competing not only against your opponents but also against your own nerves as you pull off stunts and manoeuvre through the air. It's certainly everyone's desire to own a stunning, fast car capable of going extremely fast and racing others while also performing some crazy tricks. While this might not be the best option in real life, Asphalt 8 allows you to forget about reality and race and perform stunts to your heart's content! Asphalt 8 features a variety of ramps that allow you to get airborne and perform insane acrobatics while racing other players on the circuit. This is a high-speed, full-on extreme racing joy experience. You'll gain confidence in your racing abilities and feel the thrill of nearly converting a car into an acrobatic plane with each stunt you complete. The game has stunning graphics, wonderful sound effects, and a fantastic soundtrack that will keep your heart pounding whenever you play one of the best racing games on your Apple TV.
2. Riptide GP2
Riptide GP2 does almost everything correctly. The worlds and circuits are incredibly realistic, with various themes that include racing on a suspended track high in the air in some rounds and racing through cold landscapes of ice and waterfalls in others. There are eight worlds in all, each with multiple races in which you must beat the AI racers or race against the clock to earn a three-star rating. As you progress through Career Mode, you'll encounter a variety of race types, including standard races against AI opponents, Hot Lap, in which you compete for the fastest time, Elimination, in which the player in last place is eliminated at 10-second intervals, and Freestyle events, in which your goal is to perform the most and best tricks possible to earn the highest score. You'll uncover ramps and massive waves as you race around the racetrack, allowing you to perform stunts and raise your speed. In the beginning, you use a range of fundamental tricks. However, when you gain money from winning races, you may purchase more advanced stunts, such as fancy handstands and ridiculous end-over-end spinning spins that would be impossible in real life. In total, there are 25 tricks that may be unlocked. The more difficult the trick, the more boost power you gain; but, if you land the trick incorrectly and wipe out, you'll lose time and likely lose the race. Riptide GP2 is a fantastic water racing game for Apple TV that
looks as amazing as it performs. It has a lot of replay value because of online multiplayer, improvements, and multiple tracks on different worlds.
3. Real Racing 3
Real Racing 3 is one of the best racing games from Electronic Arts, in which you can choose your own automobile, hit the actual pro streets across the world, and race others to see who is the best driver. The game includes accurate replicas of real-life automobiles, allowing you to feel what it's like to drive your dream car. The races are hard, and the landscapes are all modelled after real-world sites. Earn money to improve your car and compete against pals for ultimate bragging rights. Real Racing 3 is visually stunning and allows us to live out our racing fantasies without fear of real-world repercussions. Because we all have a sluggish foot, it's best to satisfy our demand for speed in a video game rather than in real life. It is hands down one of the best Formula 1 racing games for Apple TV, iPhone and iPad.
4. Impulse GP
Impulse GP is a racing game where success is determined on the player's skill and precision. The game is set in a near-futuristic setting with super-fast motorcycles and hard courses with other racers. To win the competition and shave seconds off your prior times, you'll need to be precise and timely. If you enjoy racing games, you will enjoy this one. This game is all on racing and skill, unlike other games that focus on action and power-ups. It's a game that's both tough and entertaining to play which makes it one of the best arcade racing games for Apple TV 4K.
5. Offroad Legends 2
The goal of this game is to race a monster truck across a difficult track. There are over 64 courses to complete, 16 cars to unlock, and Game Center integration. Bluetooth controllers are also supported for a more console-like experience. Monster Truck Flips, for example, allows you to acquire some air with your monster truck and then tap and hold to rotate it in mid-air. Maintain Momentum: Most levels feature a race against the time, and you must keep your momentum going. To do so, you must adjust the angle of the monster truck landing so that it lands on the correct slope, as well as Balance Offroad, where some stages need you to maintain your cargo intact. That means you'll need to keep your off road vehicle's force under check so it doesn't get out of hand. Offroad Legends 2 is a one-of-a-kind monster truck racing game. It has realistic dynamics, incredible detail in the 16 cars you can unlock, and over 64 tracks to master. You'll manoeuvre your monster truck across 360-degree loop-the-loops, over challenging terrain, and past hazards on this must-have games for Apple TV!
Well folks, this marks the end of our roundup on the Best Apple TV 4K games. We hope that these apps help you beat the boredom at home and bring out the best on your Apple TV 4K! While you are here also check out our guide on Best Soundbars for Bedrooms in 2022 [Buying Guide].