Apple has unveiled the most anticipated Apple Watch Series 7 at a virtual event held on September 4, 2021. Apple claims the Watch Series 7 is 'the most durable Apple Watch ever.' It has a brand new look that differs from its predecessor, the Watch Series 6. As claimed by the company, the latest Apple watch uses a 100 percent recycled aluminum case that comes with rounded corners and a bigger screen area with a mere bezel of 1.7mm. Please note that Apple also introduced its next-generation iPhone 13 series; iPhone 13, 13 Mini, 13 Pro, and 13 Pro Max. That's not all, the new iPad, and iPad Mini also got announced in the first half of the event. 
As of now, let me walk you through the details of the most durable Apple Watch Series 7. 
Apple Watch Series 7 Specifications
The Apple Watch Series 7 will give you a larger screen area as it comes with a mere 1.7mm thin bezels. At first glance, it almost looks like an infinite display. Apple claims that you can fit in 50 percent more text than you used to in its predecessor, Watch Series 6. That's not all, you'll be able to use a full-screen keyboard with swipe support to type whatever you'd like.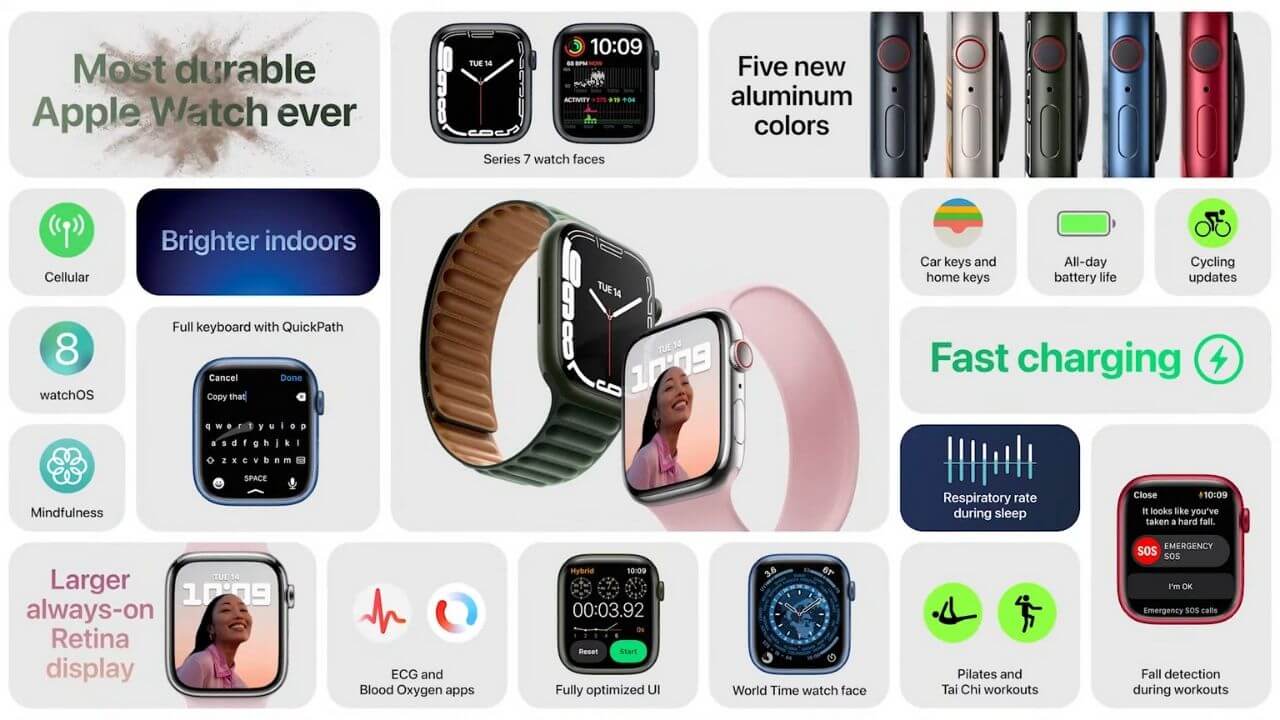 The all-new Apple Watch Series 7 will run on Watch OS 8 that adds on plenty of interesting features. With Apple Watch Series 7, outdoor cycling will have better support, and the workout automatically gets halted if you catch a break. The all-new fall support also appears in the workouts: just in case you have a bad fall from your bike, the watch will be able to contact the emergency services without any hassle. 
As per the claims made by Apple, the display on the Watch Series 7 is crack resistant and now has an IP6X rating, which suggests it is pretty safe around dust and sand. Let's not forget, it also comes with WR50 water-resistant rating which ensures you can take a swim without any effect on the watch. 
Apple Watch Series 7 Battery Life
Similar to Series 6, the Apple Watch Series 7 will offer 18 hours of battery life, with a full charge time of mere 45 minutes. Apple suggests that this is 35 percent faster charging in comparison to the Watch Series 6. Also, the company suggests that 8 minutes of charging can offer sleep tracking for 8 long hours.
You will also get a charger that charges via USB-C instead of USB-A. 
Apple Watch Series 7 Price and Availability
The aluminum variation on the Apple Watch Series 6 will be available in five different colors; the usual black, gold, blue and red, plus a dark green that goes well with the new rugged look. As far as price is concerned, the new Series 7 will start at $399 and will be available later this fall. 
Also read: iPhone 14 leaked a week before Apple's iPhone 13 launch
That's all for now, let us know if the features and design worked out for you or not. Please feel free to use our comment section to put in your opinions.