If you have been longing for a decent compact iPhone, the Tech Gods have been extra gracious to you because you actually get two iPhones to choose from. It's either the excellent value iPhone SE or the tiny technological marvel that is the iPhone 12 Mini. Well, I have been using them both for quite some time now so allow me to help you decide. 
iPhone 12 Mini vs iPhone SE: Design Comparison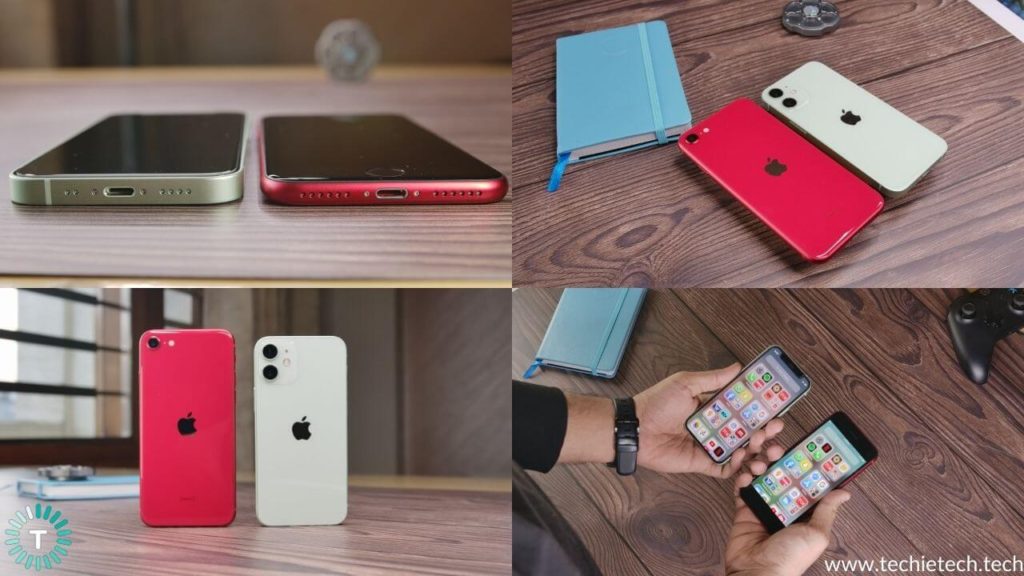 Designwise, both the iPhone 12 Mini and iPhone SE are inspired from former iPhones. While the iPhone 12 Mini, with it's gorgeous flat edges is inspired from the iPhone 4 and 5, the iPhone SE is exactly the same design as the iPhone 8. Both these phones have a glass front and back with an aluminium frame in the middle, but that's as far as the similarities go. The iPhone 12 Mini has a gorgeous edge to edge display, flat edges and a dual camera module on the back which makes it look like a modern 2020 flagship. 
On the other hand, the iPhone SE with its ancient relic of a home button and large bezels on the top and bottom looks exactly like the 2014 iPhone 6 from the front. The iPhone SE is a bit taller and wider but they're both very similar sizewise. Even though the rounded sides of the iPhone SE are more ergonomic, the iPhone 12 Mini manages to give a more classy in-hand feel. In terms of looks alone, the iPhone 12 Mini is so much better and more modern looking that even making this comparison seems weird. So why bother?

Because here's the thing. A large majority of the people apparently don't care how their phone looks. The iPhone SE, despite the old design, is an insanely popular phone which goes on to show that a lot of users just want a familiar, reliable smartphone that just works. If you are one of those, the iPhone SE would work for you. Conversely if you want your new phone to look well, new, the iPhone 12 Mini should definitely be your pick. 
Also read: Best Fast Chargers for iPhone 12 Mini
iPhone 12 Mini vs iPhone SE: Display Comparison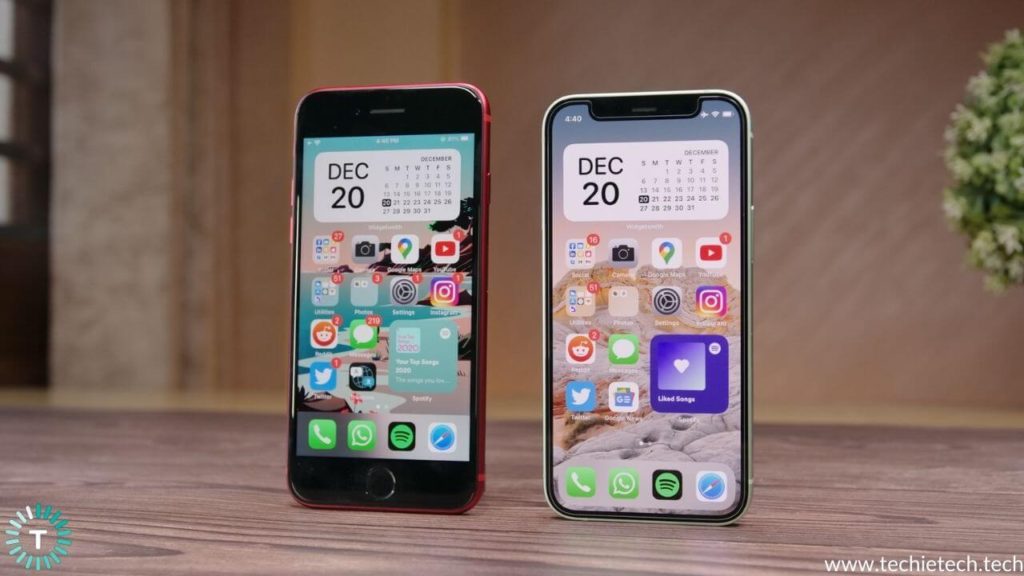 Moving from the design to the display, the iPhone 12 Mini, has a 5.4" edge to edge display,  which is actually larger than the 4.7" panel on the iPhone SE, even though the footprint of the 12 Mini is smaller. It is just one of those things that makes you appreciate just how much cutting edge technology is crammed up in that tiny body. 
Talking about the actual display quality, the iPhone 12 Mini's 476 PPI Super Retina XDR panel just crushes the iPhone SE''s 326 PPI LCD panel. It is just better in every metric, be it colour science, saturation, vibrance or even the sharpness of graphics and text. For me personally, even moving back to the bezel-y, 16:9 aspect ratio display on the iPhone SE felt like a huge downgrade after getting used to the taller and more modern 19.5:9 ratio of the iPhone 12 Mini or basically any modern phone. But I do understand that this is extremely subjective, since you might or might not be used to the taller aspect ratio that's more common these days.
Also read: Best MagSafe Accessories for iPhone 12 Mini
iPhone 12 Mini vs iPhone SE: Performance Comparison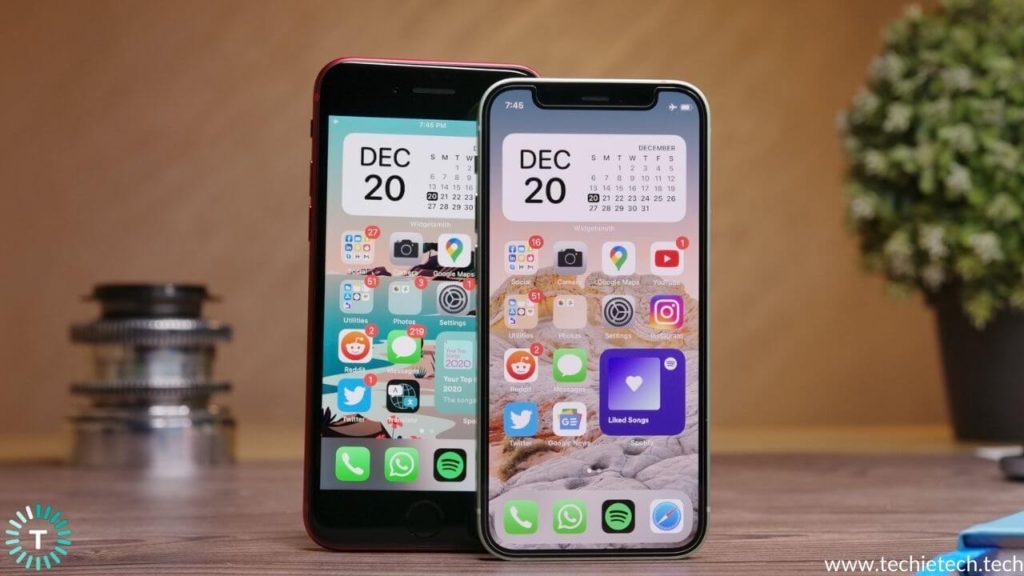 See, while the differences in design and display were massive, the difference in performance is not. In fact, it is non existent. Even though the iPhone 12 Mini has the newer A14 chip compared to the A13 Chip on the iPhone SE, there is no noticeable difference in real world usage. Even when you talk about the more power hungry tasks like gaming or video conferencing, both these phones stand toe to toe with each other. 
But here's the thing, every phone will lag sooner or later and when that time comes for these phones a few years down the line, the iPhone SE will start to show it's age sooner. It will also get one less software update since it has already received the first major software update of its life cycle in iOS 14. Having said that, if you plan to use your phone for 2 or even 3 years, I'm sure that both these phones will easily last you that long without any problems in performance. There are many reasons to pick the iPhone 12 Mini over the iPhone SE but performance isn't one of them. 
Also read: iPhone 12 vs iPhone 12 Mini: A Sizeable Difference
Software Experience
Talking about the software experience, this is again, a largely similar experience on both devices since they both run on iOS 14. The only 2 differences in software that I noticed after using both these phones back and forth is that first, the gestures based navigation on the 12 Mini feel way more intuitive and natural compared to the Home Button navigation on the iPhone SE. Secondly, with iOS 14 finally supporting different sized Widgets, I feel that the taller and larger display on the iPhone 12 Mini feels more suitable and spacious for using widgets. The iPhone SE's home screen feels a little cramped up in comparison. In a vacuum though, both these phones offer the same excellent and polished software experience with iOS 14.
Also read: iPhone SE vs OnePlus Nord: World's Apart
iPhone 12 Mini vs iPhone SE: Camera Comparison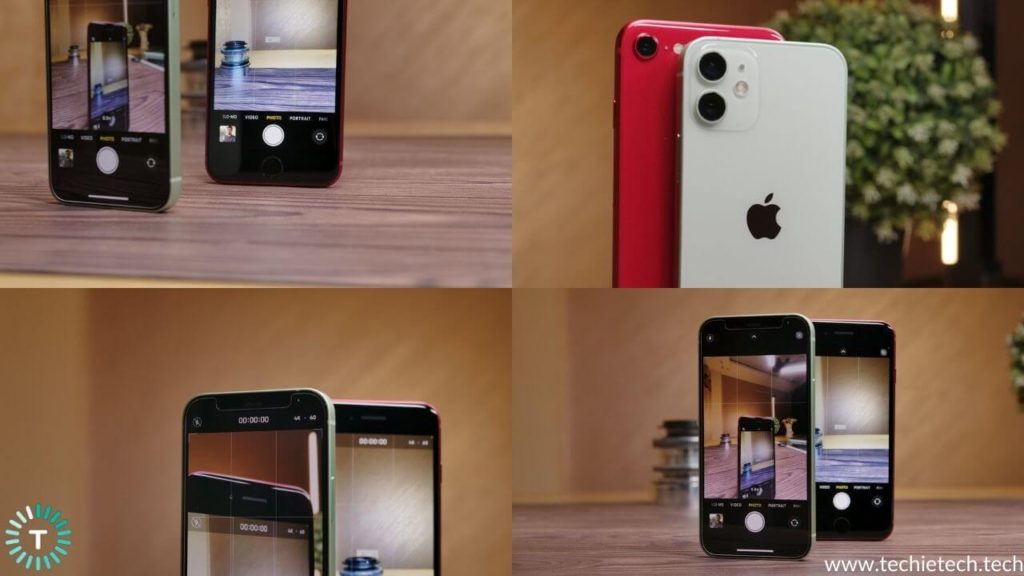 Let's talk about the cameras now. The iPhone 12 Mini sports a dual camera setup on the rear with a 12MP primary and a 12MP ultra-wide camera. On the front, it has a 12MP selfie snapper which uses FaceID's depth sensor. On the other hand, the iPhone SE has a 12MP f1.8 primary camera on the rear and a 7MP front camera. Since the SE does not have an ultra-wide camera and digital zoom support, we'll only compare the primary and front cameras of these smartphones.
Photos:
Both iPhones take high quality pictures especially outdoors. Even though both devices shoot 12MP stills, the iPhone 12 Mini is better when it comes to capturing details with low noise and high dynamic range. Also, it has a wider field of view than iPhone SE's camera.

The iPhone 12 Mini takes better portraits with more accurate subject separation and depth perception. It also has support for capturing object portraits while the iPhone SE can only take portraits of people.

Thanks to the newer hardware, selfie camera performance is also better on the iPhone 12 Mini with more accurate and consistent skin tones. 

Low light performance is where the iPhone SE does not stand a chance. The iPhone 12 Mini takes brighter pictures and supports night mode on all cameras including the front camera.
Videos:
In terms of video resolutions and frame rates, the iPhone SE's rear camera is at par with the iPhone 12 Mini's rear camera. But the front camera of the SE can only shoot videos in FullHD@30fps while the iPhone 12 Mini's front camera can shoot videos in 4K@60fps.

In terms of video quality, the iPhone 12 Mini shoots videos with better colors with high dynamic range in all lighting conditions.

Furthermore, the iPhone 12 Mini can also shoot, playback and edit Dolby Vision HDR videos in 4K@30fps which is a game changer if you own an HDR TV or display. 
In short, the iPhone 12 Mini certainly has a better camera system which produces noticeably superior results in all shooting environments. The iPhone SE is fine if you just need a no nonsense camera experience for your Social Media or something but if you care about the picture and video quality, the iPhone 12 Mini should be your pick. 
iPhone 12 Mini vs iPhone SE: Battery Life Comparison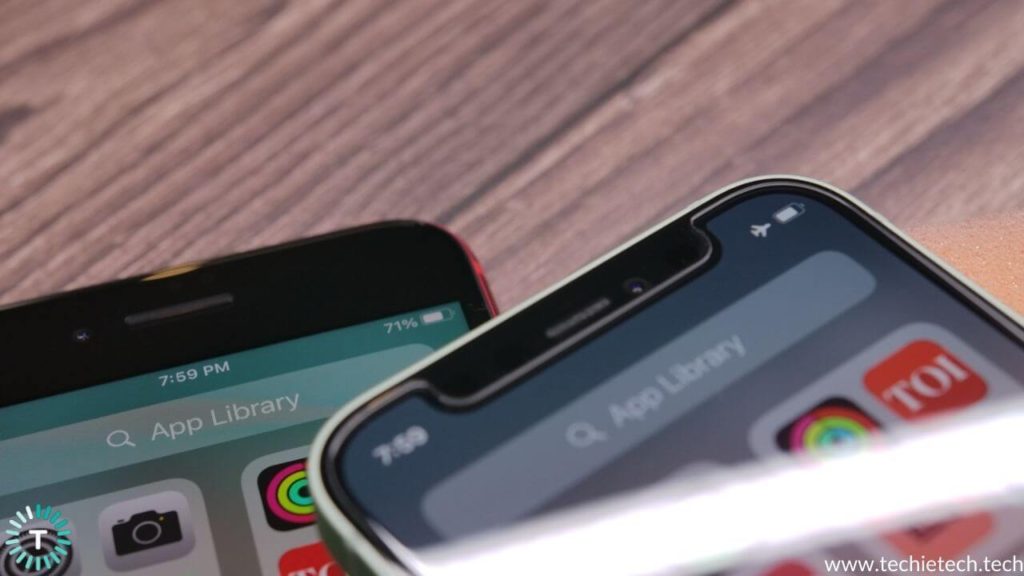 Moving on to battery life. Look, these are both tiny phones which means that the battery life is not going to be their strong suit. While both these phones are far from Endurance Champs, I find that the iPhone SE is farther away than the 12 Mini. The iPhone SE actually had decent battery life when I first got it, but with iOS 14.2, I find the iPhone SE at around 80% by lunch time with my real life usage. That doesn't sound bad until you realise that I wake up at 12 PM. Making it through a day on a single charge has been a daunting task for me after the iOS 14 update. 
Things are somewhat better with the iPhone 12 Mini. While the battery life is slightly less than the average 2020 flagship, it is noticeably better than the iPhone SE. I can easily make it to the end of the day with 10-20% which is honestly more than my expectations for a phone this tiny. What makes me mad is that I got similar battery life with the iPhone SE before I updated it to iOS 14. Maybe there is a chance Apple fixes something in future software updates which will improve things for the iPhone SE. But until that happens, the iPhone 12 Mini is significantly better in terms of endurance.
Also read: Best Cases for iPhone SE
iPhone 12 Mini vs iPhone SE: Call Quality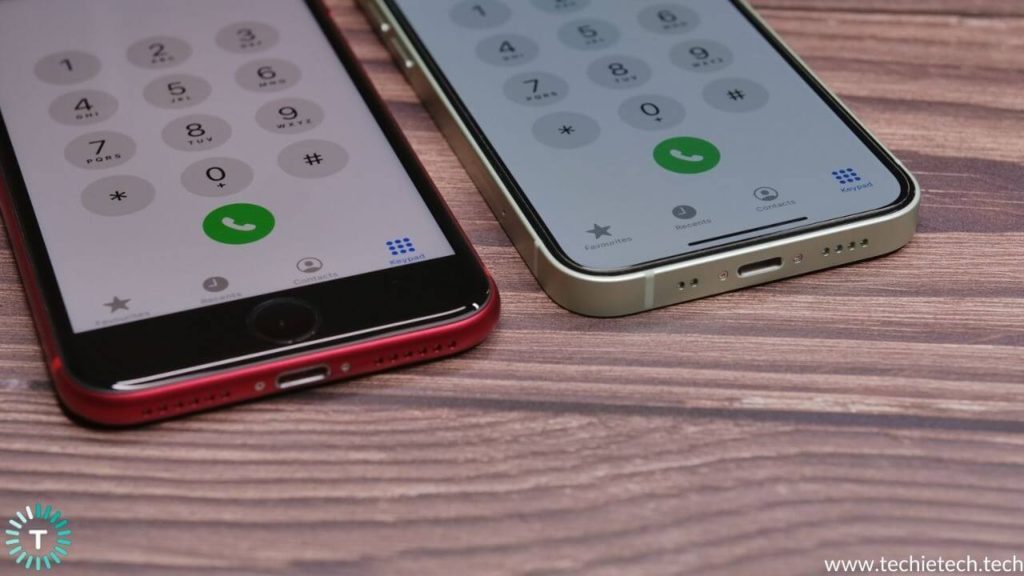 Call quality on both phones has been pretty similar actually. Both are good but not great at finding and holding on to a signal. The earpiece quality is great too. I did have some issues on the iPhone SE where there was some lag before it switched from VoLTE to VoWiFi but a Restart fixed that so I wouldn't really worry about it. 
Also read: iPhone SE vs iPhone XR: So Close!
Conclusion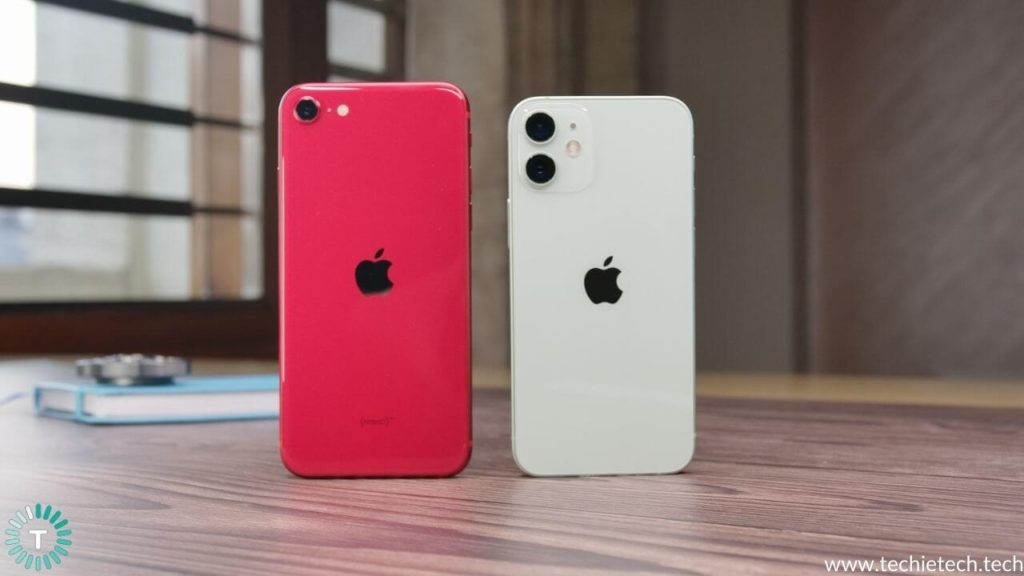 To conclude, you don't need me to tell you that the iPhone 12 MIni is a hugely more advanced smartphone than the iPhone SE. While the iPhone 12 Mini is essentially a smaller version of the most cutting edge technology that Apple has to offer, the iPhone SE is essentially a new life in a very old design, meant for the more budget conscious buyer.

So when you are choosing between the two phones, it all comes down to the money. The iPhone 12 Mini brings a lot more to the table starting from a much better design to a better display and better cameras. If you don't mind spending the extra money, you get a lot over the iPhone SE.

However, if you don't care for these enhancements and just want a compact iPhone which is reliable and gets the job done, you cannot go wrong with the iPhone SE. Get it and enjoy, what is probably the best value today in the smartphone market. 
Check iPhone 12 Mini price:
Amazon (US): https://amzn.to/375K8o8 
Amazon (India): https://amzn.to/3nVBWhj 
Amazon (UK): https://amzn.to/2J1BLSg 
Check iPhone SE price :
Amazon (US): https://amzn.to/3lPV7Zv 
Amazon (India): https://amzn.to/2ETI20O 
Amazon (UK): https://amzn.to/2Z9Qi3p