Announced back in September 2020, the iPad Air 4 (4th Gen) was finally released on 23rd October 2020. It is a brilliantly designed iPad with a glass front, aluminum frame, and back. iPad Air 4 features a 10.9″ Liquid Retina IPS LCD that comes with a resolution of 1640 x 2360 pixels. Apple has incorporated the A14 bionic chipset in this iPad so that it can offer better performance. As far as software is concerned, the iPad Air (4th Gen) runs on iPadOS 14.1. There are two different variants available for purchase with a common 4GB RAM and choice between 64GB and 256GB storage. 
Now that you have this brilliant piece by your side, it's time to get some compatible accessories for it. We understand it can be quite confusing for people to buy such accessories. That's why we are here with this roundup on some of the best accessories for 4th Gen iPad Air that you can buy in 2022. Let's not waste further time and dig right into it. 
Note: We update our article from time to time to cover the latest products available in the market.
List of Best Must-Have iPad Air (4th Gen) Accessories 
Best cases for iPad Air (4th Gen)
1. TiMOVO Slim Protective Case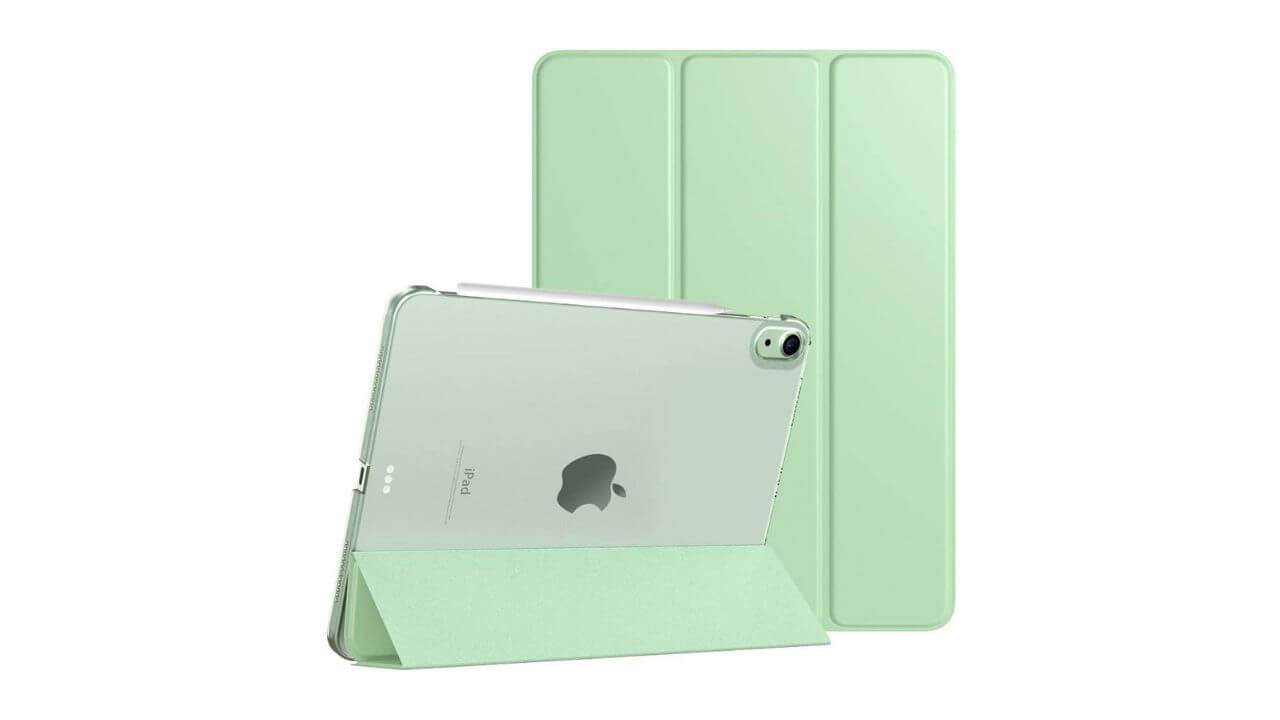 If you are in search of an aesthetically pleasant case for your iPad Air 4, we suggest you go with this from TiMOVO. It is an affordable option and is available in various colors to match your choice. 
This case is made from front PU leather and hard PC back to offer

overall protection to your iPad from scratches, drops, bumps, and heavy shocks

.

The

translucent back design

does not hide the Apple logo. 

The

slim and lightweight profile

of this case adds no bulk to your device, you can carry it anywhere you'd like.

The

automatic auto wake and sleep feature

ensures that your iPad screen wakes as soon as the lid of the case is opened and vice versa.

Precise cutouts around the ports and buttons

ensure better accessibility and functionality.  
2. MoKo Protective Translucent Case (Best Value for money)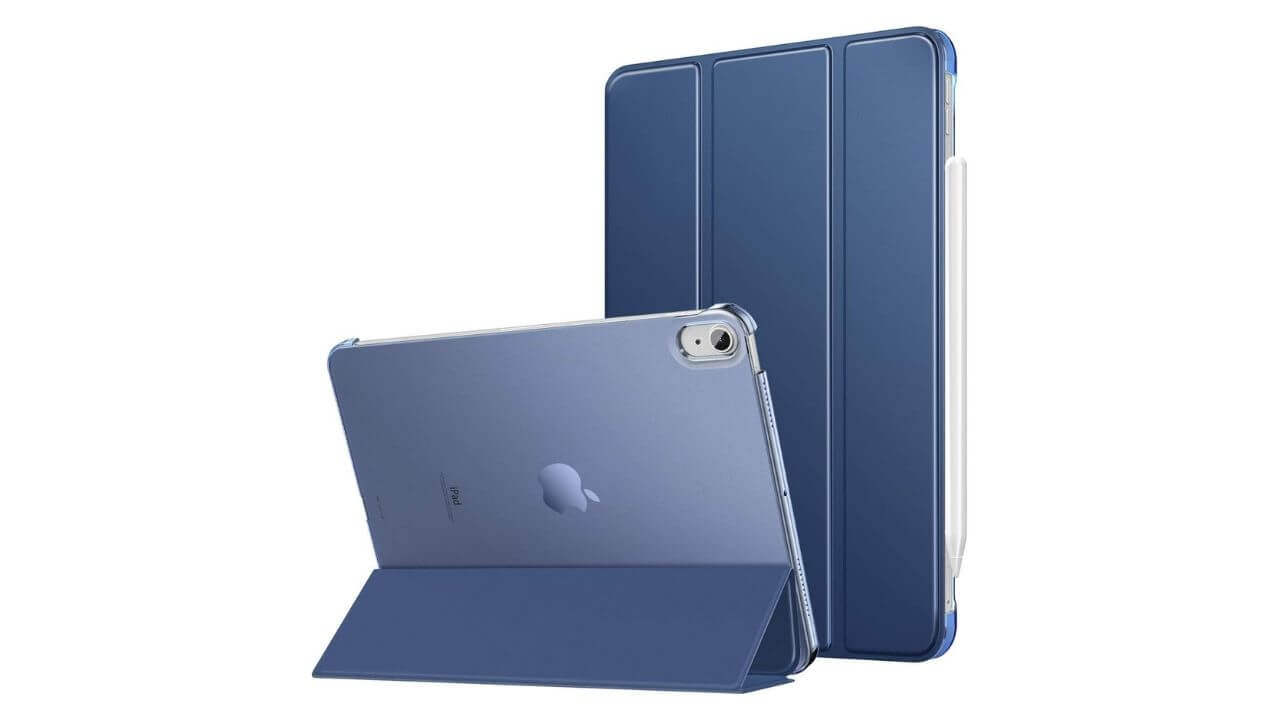 Are you looking for a slim lightweight case to protect your iPad? The MoKo protective translucent case is all you need to have. Made from PU leather and polycarbonate material, this case offers a decent amount of protection to the iPad Air 4.
 This case

can be used as a stable viewing stand

that offers different viewing angles to consume media content on iPad Air 2020.

As with the other cases, this one also has an

automatic wake-up and sleep

feature. 

The hard PC shell offers

protection to the iPad from drops

, shocks, and bumps.

That's not all, the

minimalist and slim design

allow you to

carry your iPad without any sense of bulk

. 

It is worth mentioning that this case is

affordable and is available in fifteen different colors and designs

.

The frosted translucent back allows showcasing the branded Apple logo.
3. LovRug Case with Pencil Holder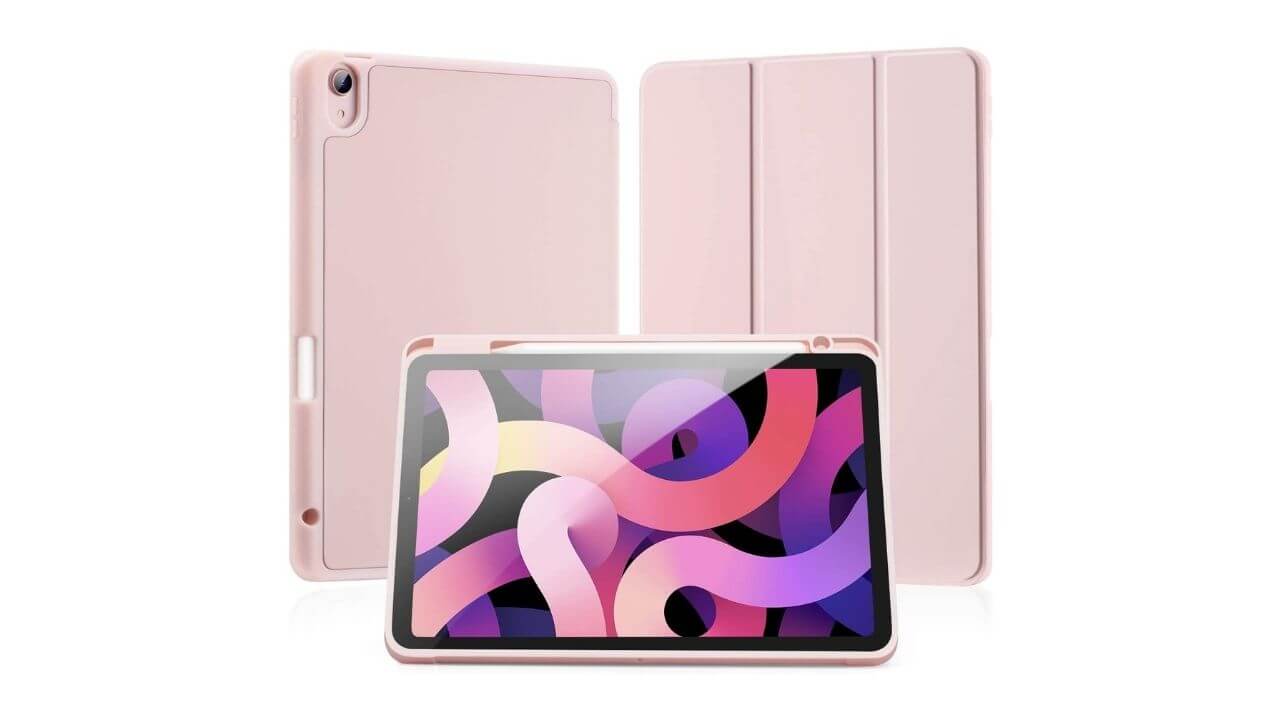 The LovRug case is the perfect option for all those looking to secure Apple Pencil as well as their iPad Air 4. Yes, you can find a separate compartment attached to this case to keep digital pencils.
The front flap of the case acts as a viewing stand with three different angles. It

eases the way you watch movies, make video calls, or read

on your iPad.

The LovRug case features a soft TPU back shell that safeguards your iPad Air 4th Generation from any sort of accidental damage. 

Not to forget, this case

works perfectly with the Touch ID

, however, it is advised to register your fingerprint before putting on the case.

In case you are fond of colors, there are

eight different colors options

available for this case. Make sure to check it from the link below.
4. ZtotopCase Leather Folio Stand Case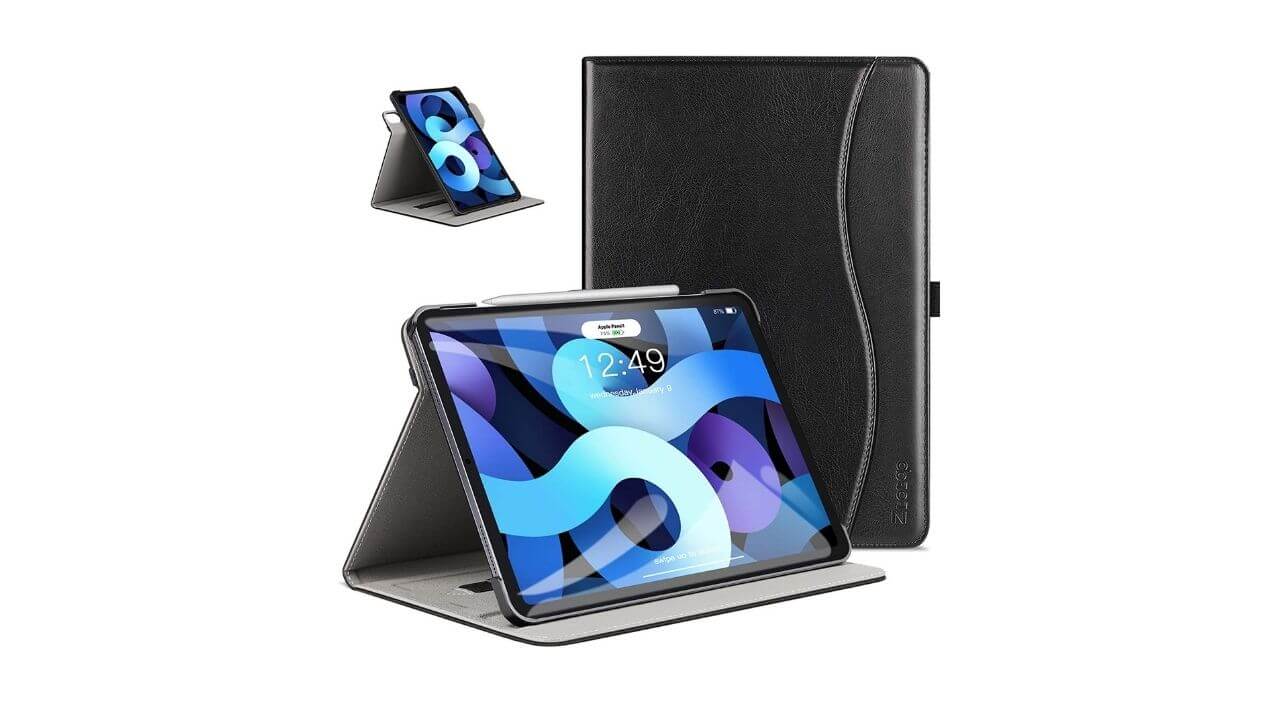 For all the corporate professionals, here we have for you the ZtotopCase folio stand that surely goes with your office look. This case is made from an exterior PU layer and a non-slip interior to keep your iPad secure. 
The material used in the manufacturing of this case is perfect to keep the iPad Air 4 safe from drops, bumps, and shocks. 

There are

two different slots to fit in your iPad to keep it standing at an angle

. This tends to enhance video calling as well as movies watching experience. 

You will find a

built-in digital pencil holder

, hands strap, elastic band, and front document pocket.

Despite being slim and lightweight in design, this leather folio case from ZtotopCase offers good protection to your device without adding much bulk to it.

Precise cutouts and accessible buttons

are other highlights that simply ease the way you work around your iPad Air 4. 
5. Akkerds iPad Air 4th Generation Case with Apple Pencil Holder (Affordable Pick)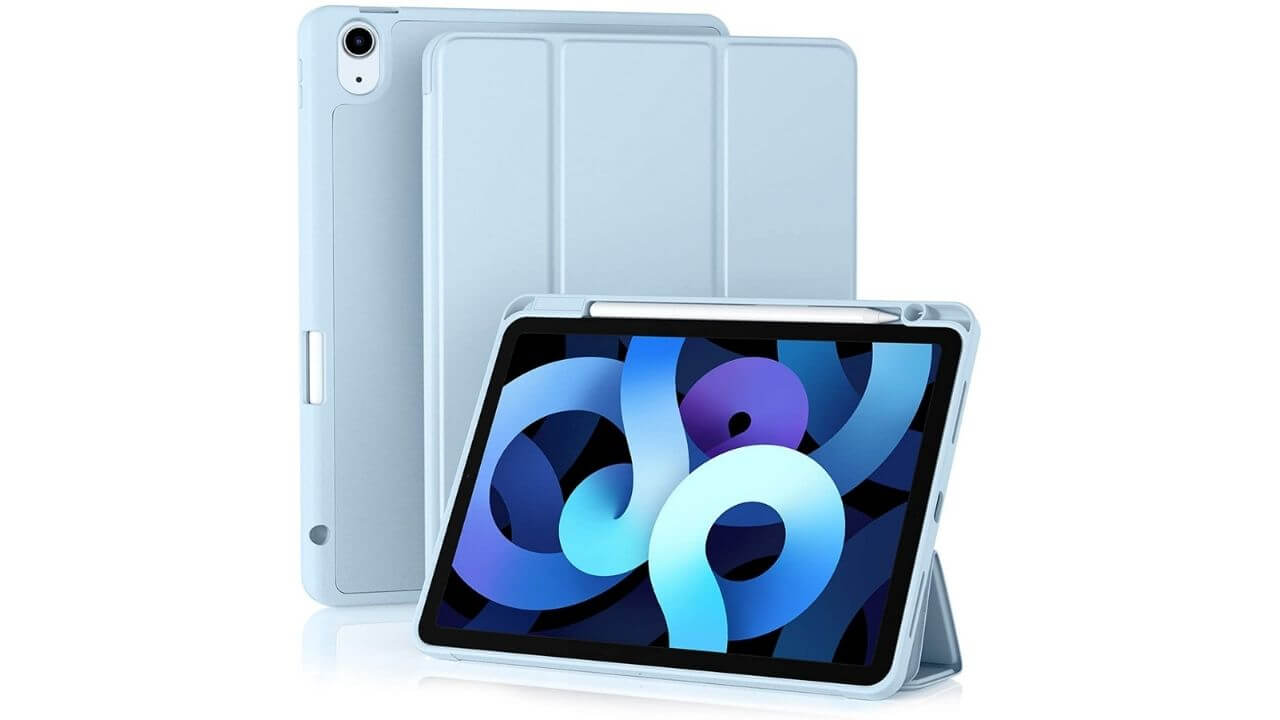 If you are looking for a budget-friendly iPad Air 4 case that offers good protection without compromising the safety of the 2020 iPad Air. 
This hybrid case for iPad Air 4 is designed with PU leather and TPU material for a

decent amount of protection from any kind of accidental damages

. 

The Akkerds case features a

front flap that offers scratch-proof protection

to the iPad's 10.9" display. Also, its

trifold design acts as a stand that can be adjusted in two different viewing angles

.

Thanks to the

built-in Apple Pencil holder

, you can simply place the Apple Pencil 2 and charge it without any fear of dropping or damaging it.

The

automatic wake and sleep features

work perfectly to save the battery when you open and close the front flap of this case. 

Moreover, this protective iPad Air 4 case is available in

eleven amazing colors

to match your vibe.
Looking for more durable and protective iPad Air cases? Make sure to read our complete roundup of the Best Cases for iPad Air 4th Gen
Best Screen Protectors for iPad Air 4th Gen
1. ESR 2-pack Screen Protector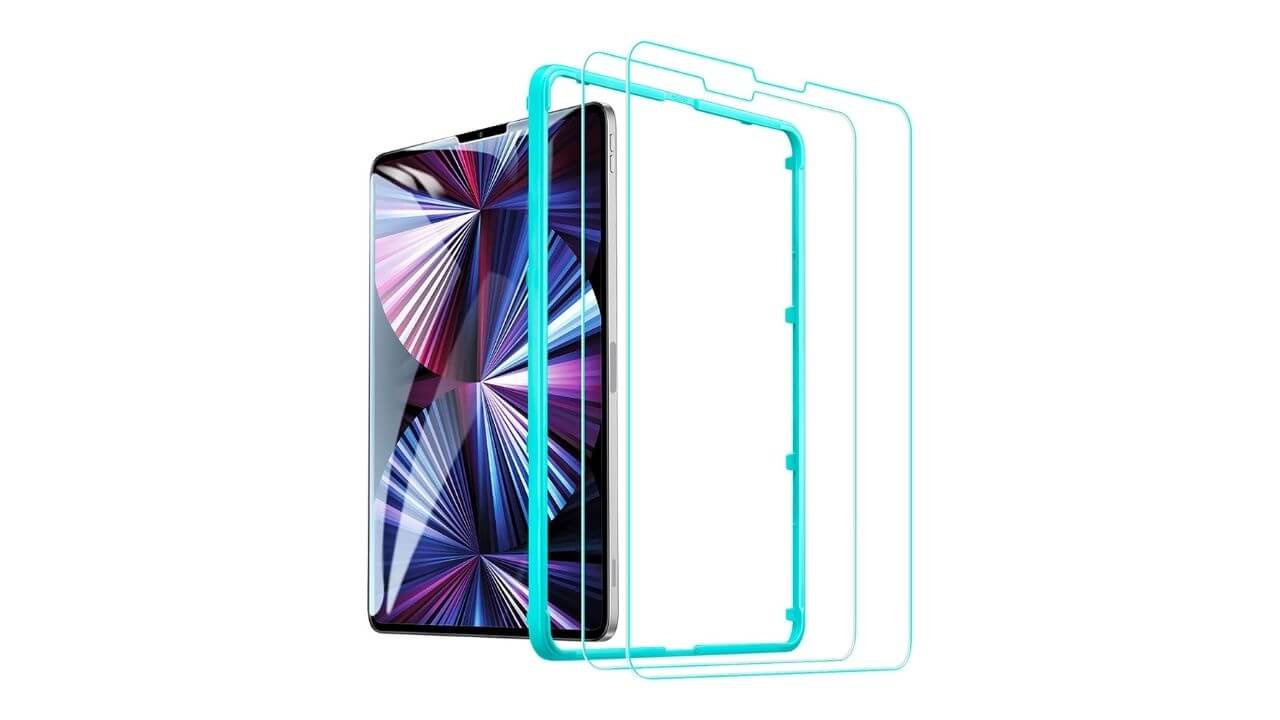 ESR is one of the biggest accessory brands available at this point after Spigen and OtterBox. The screen protector we have mentioned here is among some of the best available for iPad Air (4th Generation).
This screen protector comes with a

blue light filtering

feature to protect your eyes from harmful UV rays.

The

triple-reinforced screen protector

offers the best possible protection to the iPad screen against heavy scratches and drops.

The ESR screen protector is thin enough to offer

better touch sensitivity and responsiveness

. 

You will get an

alignment frame to make the installation of this screen protector easy

.

The screen protector comes with a

9H hardness property

which ensures it can take some heavy blows and still be able to safeguard the screen. 
2. OMOTON Screen Protectors (2-pack)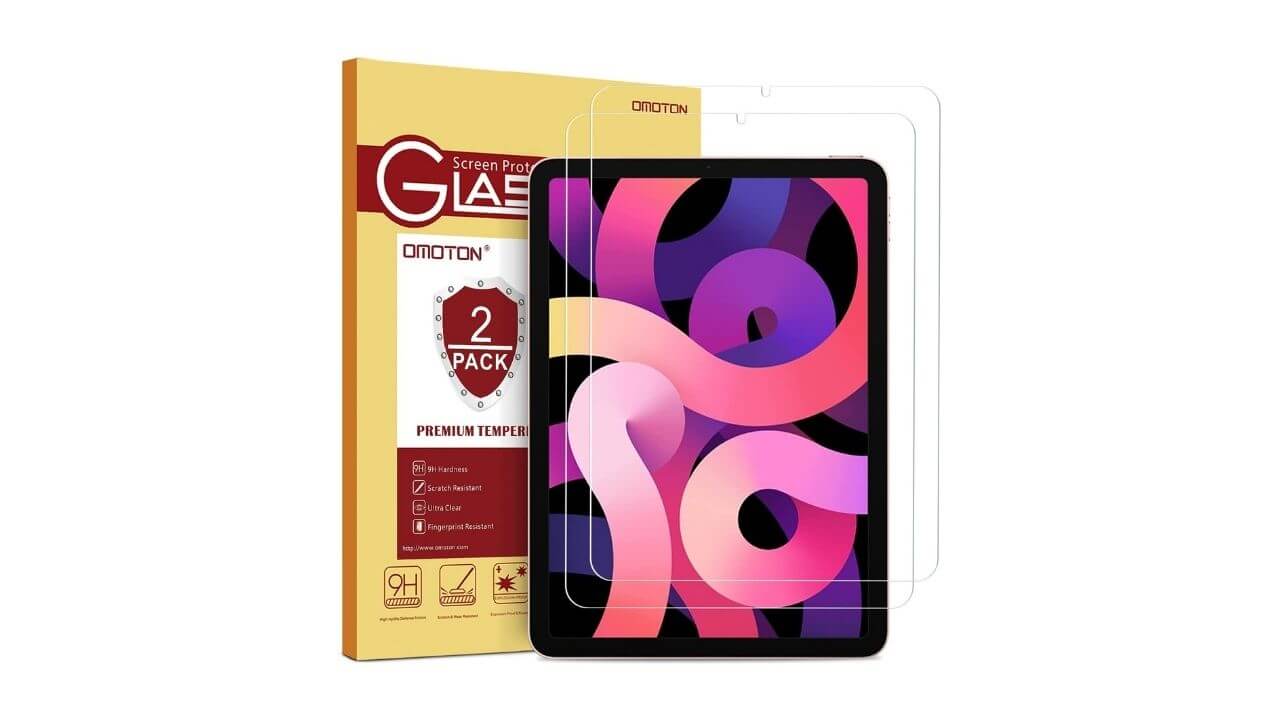 If you are looking to protect your iPad Air 4 at an affordable price, we recommend buying the 2-pack screen protectors from OMOTON. You will get everything you're looking for in a screen protector to secure the display of the iPad Air 4th Generation. 
There's a

precise cutout hole for the front camera

, adding more safety to the IPS LCD.

The thickness of this screen protector is enough to support the Apple Pencil.  

All thanks to the

bubble-free adhesive

, the installation of the OMOTON screen protector is quite easier than you think. 

The slim profile of this tempered glass brings in

higher transparency

to offer an

original viewing experience

.
3. JETech Tempered Glass Screen Protector
JETech tempered glass is not the most affordable but surely is the most effective one when it comes to protecting the screen of the iPad Air 4. 
The JETech tempered glass is made from high-quality material that is

scratch-resistant

.

The ultra-thin design of this screen protector allows you to

enjoy original clarity and quality

.

It offers

solid protection

to your screen from getting damaged due to drops, bumps, and heavy shocks.

The

installation tool pack in the box

eases the whole installation process.  
4. SPARIN iPad Air 4 Screen Protector [3 Pack]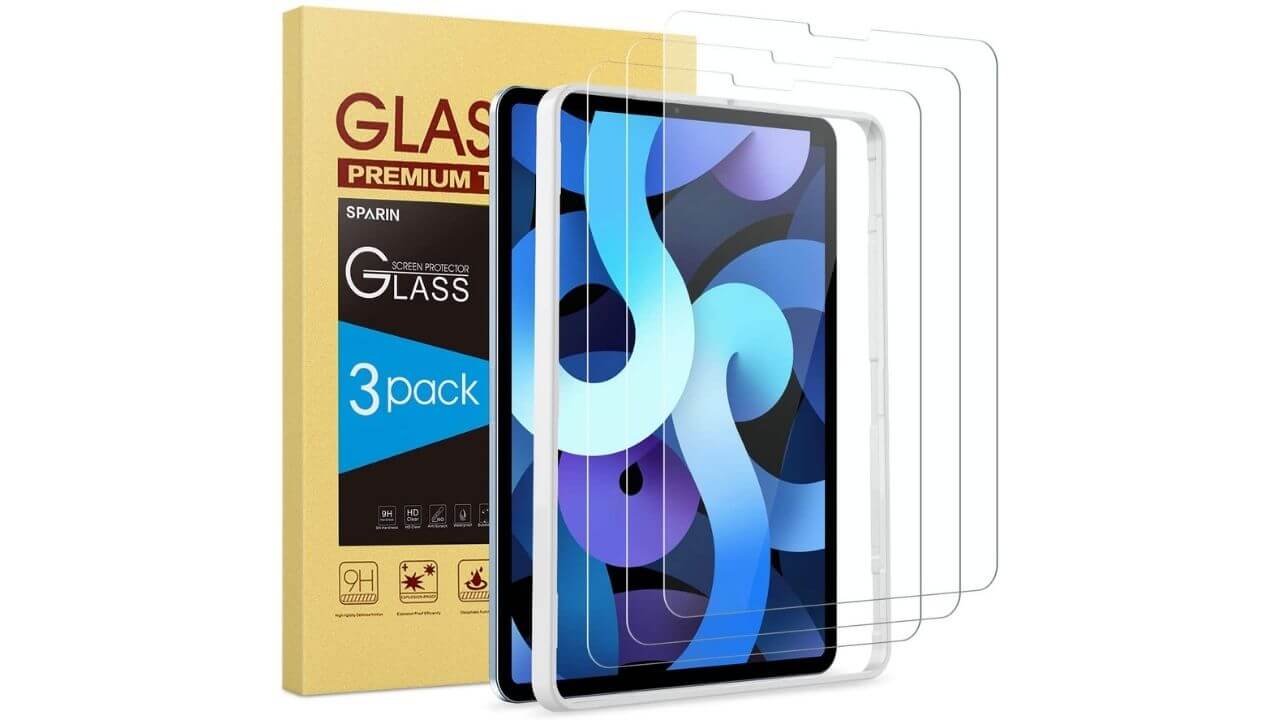 Are you looking for an affordable yet reliable screen protector for iPad Air 4th Generation? We recommend grabbing the Sparin 3-pack screen protector right now.
This tempered screen protector glass comes with

9H hardness property

which ensures solid protection to the iPad's display from scratches, drops, and scuffs.  

Let's not forget, this screen protector glass for iPad Air 4

works perfectly with the 2nd generation Apple Pencil

.

You'll also get an

alignment frame with this iPad Air screen protector pack for easy installation

of this screen protector on the iPad Air 4 display.

Also, the

ultra-slim design

of 0.29mm thickness offers 99% transparency which offers the

best clarity and true colors

when you're watching anything on the iPad Air 4th Generation.

Best of all, you will get

three screen protectors for under $11

. 
Also read: Best accessories for M1 iPad Pro 5th Gen
Best iPad Air 4th Generation Fast Charger
1. Anker Nano USB-C Fast Charger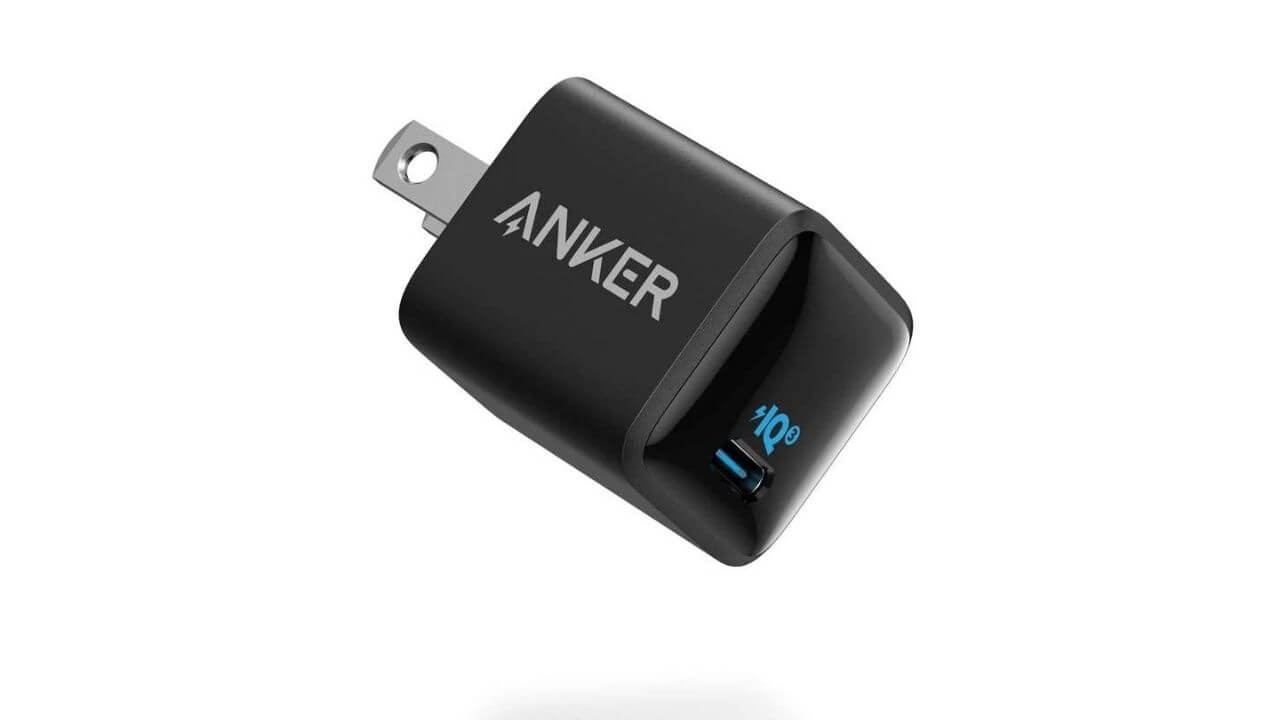 If you're looking for a powerful yet compact fast charger for your iPad Air 4, we recommend you go with this one from Anker. The Anker nano USB-C charger is way more affordable than other alternatives available in the market. 
Even though it is designed to power the iPhone, it can effectively charge the iPad Air 4th Generation

All thanks to the compact design,

this charger can be carried in your pocket

too.

The universal compatibility ensures that this charger offers

high-speed charging for most of the flagship phones

across different brands. 

Anker backs this nano charger with an

18-month warranty and friendly customer service

. 

It should be noted that there are

four different colors

available for this charger. 
If you're looking for a single fast charger for your iPhone, iPad and MacBook, then the Powerport Duo III is the right choice for you.
2. iPremium 18W USB-C Fast Charger (Budget-friendly)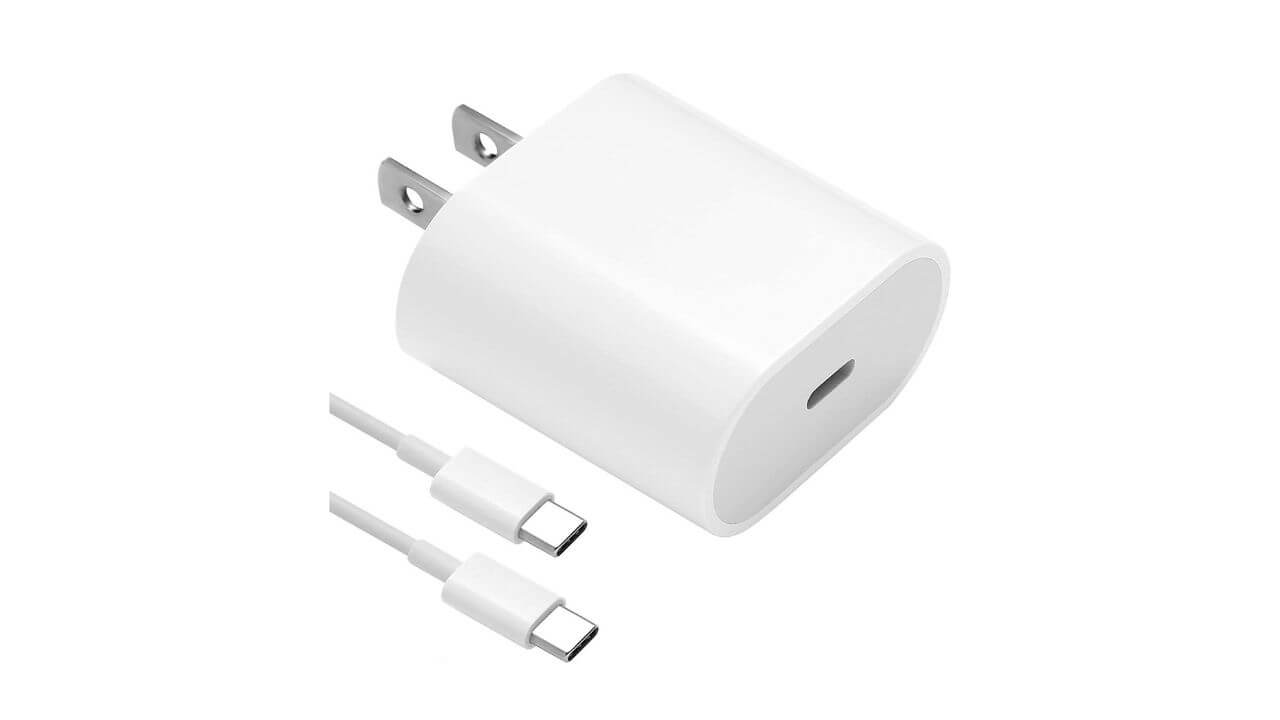 Here we have another option to charge your iPad Air 4 efficiently. The iPremium 18W fast charger efficiently charges your iPad as well as iPhone. Please have a look at the notable features of this charger listed below. 
This fast charger from iPremium comes with

power delivery 3.0

for high-speed charging.

The iPremium fast charger for iPad Air 4th Generation is incorporated with various

safety features

to

protect the device and charger from overcurrent, over-voltage, short-circuit, and overheating

problems.

You can charge various devices under the Apple ecosystem with the help of this USB-C fast charger. 

The

company offers a 6.6ft. USB-C to USB-C charging cord

to ease the overall charging process,

The

charging cord

can be also used to

transfer data at a speed of 480Mb/s

.
Best Keyboards for iPad Air (4th Generation)
1. Logitech Multi-device Bluetooth Keyboard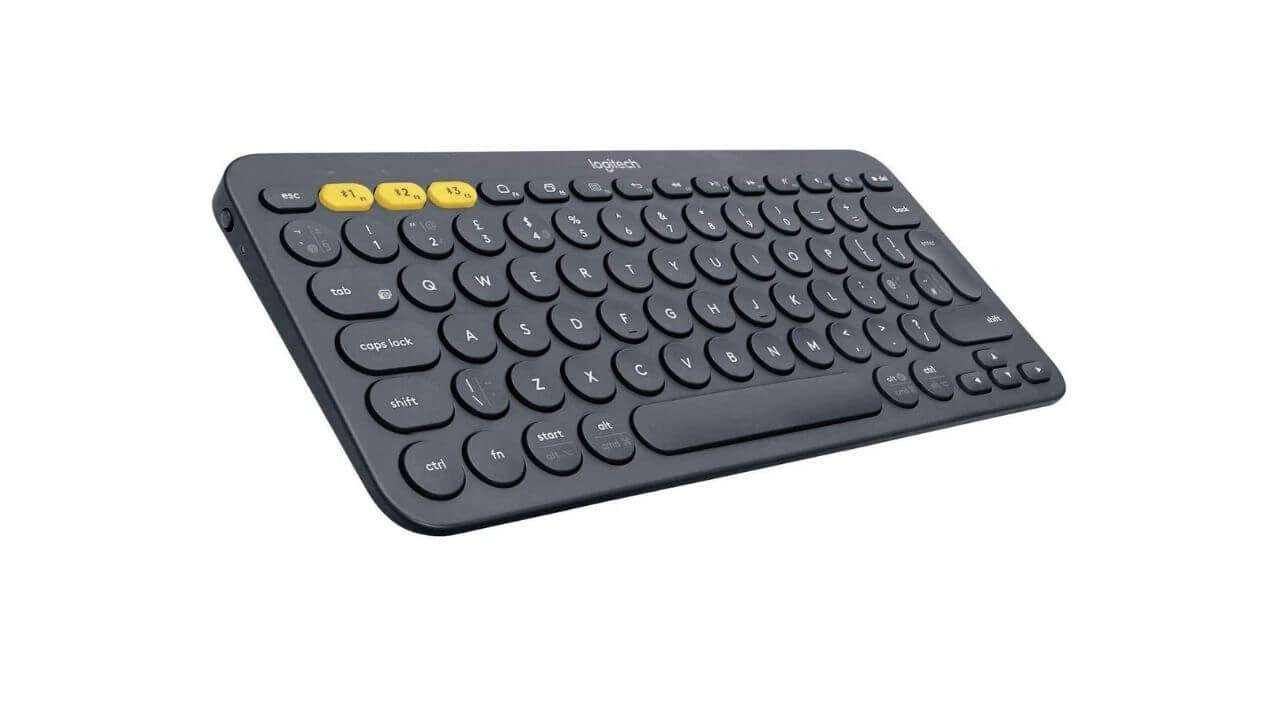 This aesthetically brilliant piece for iPad Air 4 from Logitech is a multi-device Bluetooth-enabled keyboard that works flawlessly with iPad OS. We have listed some notable features of this beauty, have a look!
The

easy-switch button

acts as a timesaver for all the multi-taskers out there. It allows switching between devices.

The Logitech keyboard sports

rounded keys

that are easy to type for a long time and are

suitable for professional coders and writers

.

The compact and

sleek design allows carrying it anywhere

as you travel.

It comes with AAA batteries that can be easily bought from the market to never let yourself run out of juice. 

Best of all, it is fully compatible with iPad Air 4 and other generation iPads.

Not to forget, this multi-device Bluetooth keyboard is

backed by a year warranty

.
2. Apple Magic Keyboard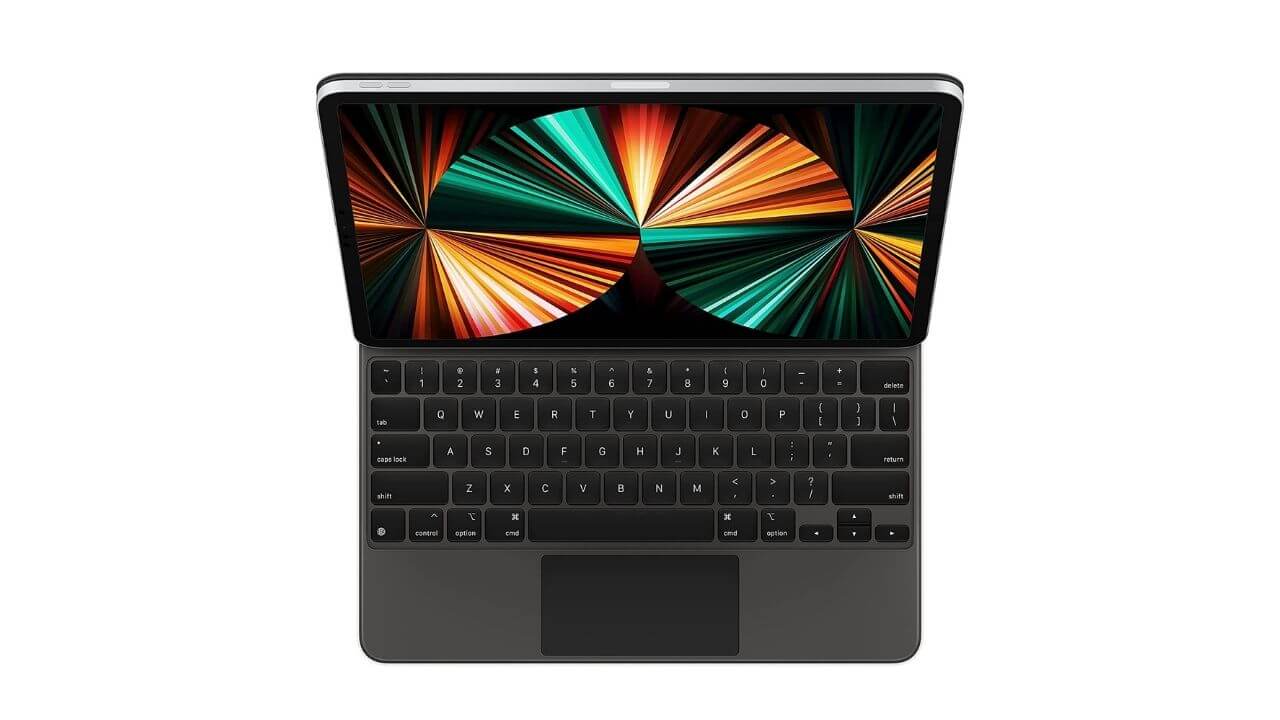 This official Apple keyboard is fully compatible with the iPad Air 4th Generation. The Apple Magic keyboard comes in a sleek and unique tilt hold design to offer the best possible grip to the iPad Air 4. The fact that it is an official piece, it remains at the top of our list of iPad Air 4 keyboards.  
The sharp-looking design of this keyboard goes perfectly with the iPad Air 4th Gen. 

This keyboard comes with a

trackpad/touchpad

which is compatible with iPadOS functionality.

This keyboard offers a

better and responsive typing experience

as compared to other iPad Air keyboards.  

You will get a

smart connector

that helps in

hassle-free pairing

with the iPad Air 4.

Even though the product page includes a single black color,

you can buy it in white color

as well.
With that all being said, it should be also mentioned that this keyboard lacks function and shortcut keys. Also, the availability of limited angles might not be suitable for most users. 
3. Arteck Keyboard (Best Thin & Light iPad Air 4 Keyboard)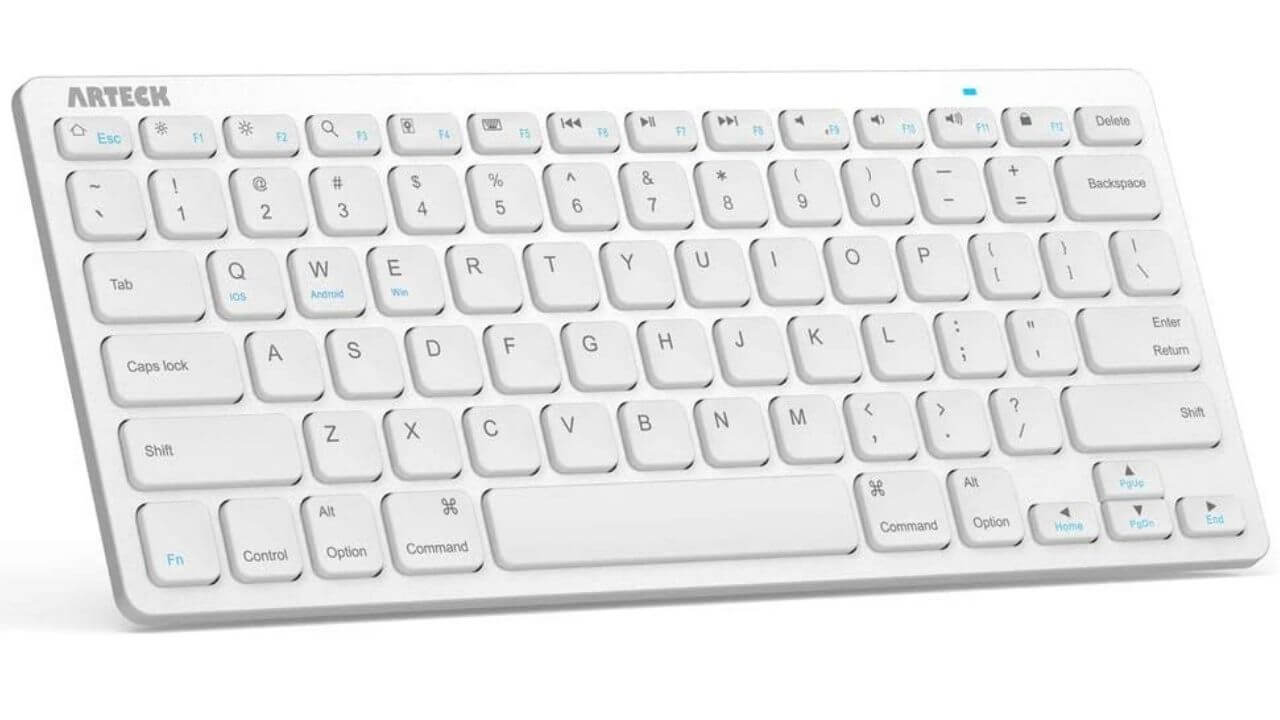 If you're looking for a slim-looking and affordable iPad Air 4 keyboard in 2022, we recommend choosing this wireless Bluetooth keyboard from Arteck. This Bluetooth keyboard is compatible with different generations of iPads as well as the latest iPhones including the iPhone 13 series.
Talking about the build and design, the Arteck keyboard houses a

plastic body and weighs around 7.65 ounces/216gms

which ensures

maximum portability for anyone who is always on the go

. 

Thanks to the

dedicated switch mode

, you

can seamlessly juggle between iOS, Android, and Windows devices

at your convenience.

The quiet keys included in this keyboard offer a

noise-free typing experience

which is suitable for users who like to spend time at the library or work from a shared working table in an office.

Besides, this iPad Air 4 keyboard is shipped with

two AAA batteries and a worry-free 24-month post-purchase warranty

.
Having said all that, this iPad Air 4th gen keyboard offers a medium-grade plastic build and some flex. So, please choose accordingly. 
Best iPad Air 4th Gen Accessories for Designers/Artists 
1. Apple Pencil (2nd Generation)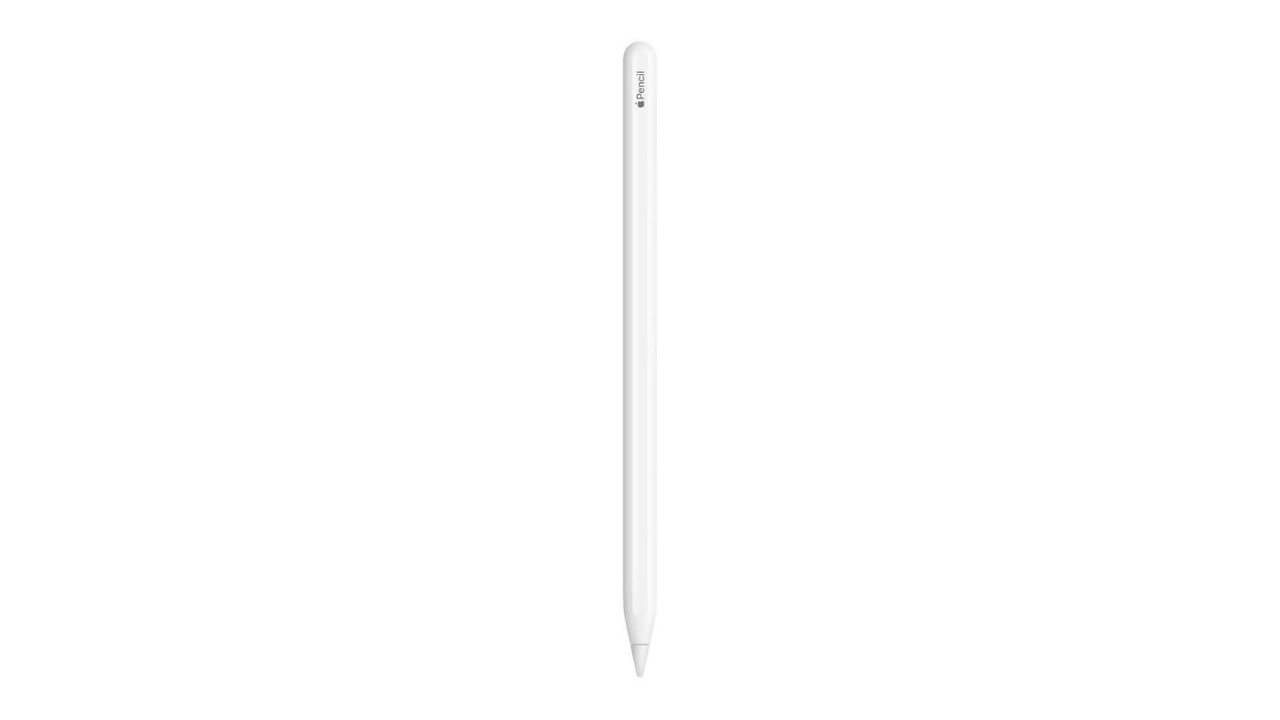 Are you looking for a digital pencil to enhance your digital art? If so, here's Apple Pencil 2nd Generation that works flawlessly on the iPad Air 4. 
The 2nd Generation Apple Pencil is fully compatible with the iPad Air 4 and other generation iPads such as

M1 iPad Pro 5th Gen

, iPad Pro 3rd & 4th Generation, etc.

With the Apple Pencil, you can expect

better responsiveness, precision, and fluidity

while working on your art.

Apple Pencil allows you to

turn your iPad into a digital canvas or notepad

where you can demonstrate your imagination through some artwork.

This digital pencil

easily gets attached to the 4th Generation iPad

and pairs easily. 
2. KECOW Active Stylus Pen (Best alternative to Apple Pencil)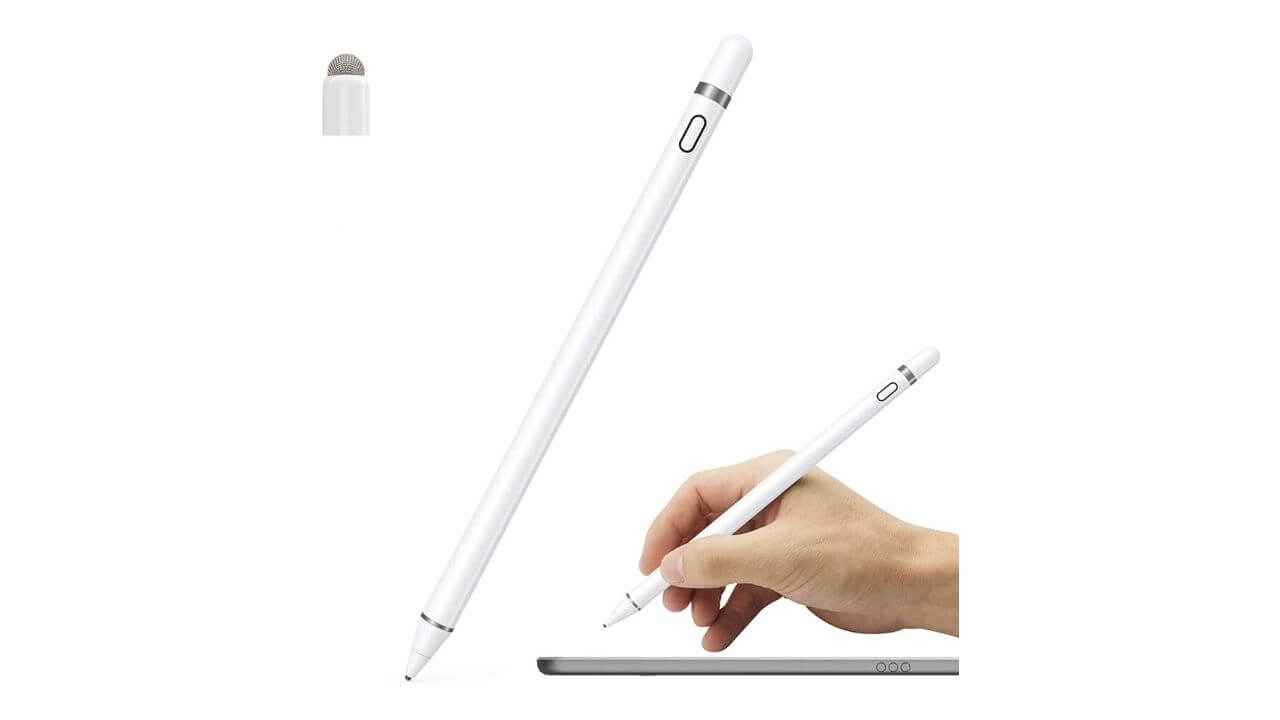 Here we have for you the third-party digital pen from KECOW. It is sleek and looks brilliant, especially the rounded cylindrical design that gives a look and feel of a writing pen. 
The

slim and lightweight

design of the Active Stylus Pen allows you to work smoothly around it. 

As claimed by the brand, you can use this digital pen on the iPhone, iPad, and tablets of different brands. 

If you're a digital artist or a graphic designer, this piece

adds more productivity to your work

.

The KECOW stylus pen has a charging port which when charged full

works for almost 8 to 10 hours

. 

The company is backing this pen with a

12-month quality guarantee

. 

Moreover, you will get a USB cable, a replacement cap inside the box. 
3. Parblo Drawing Stand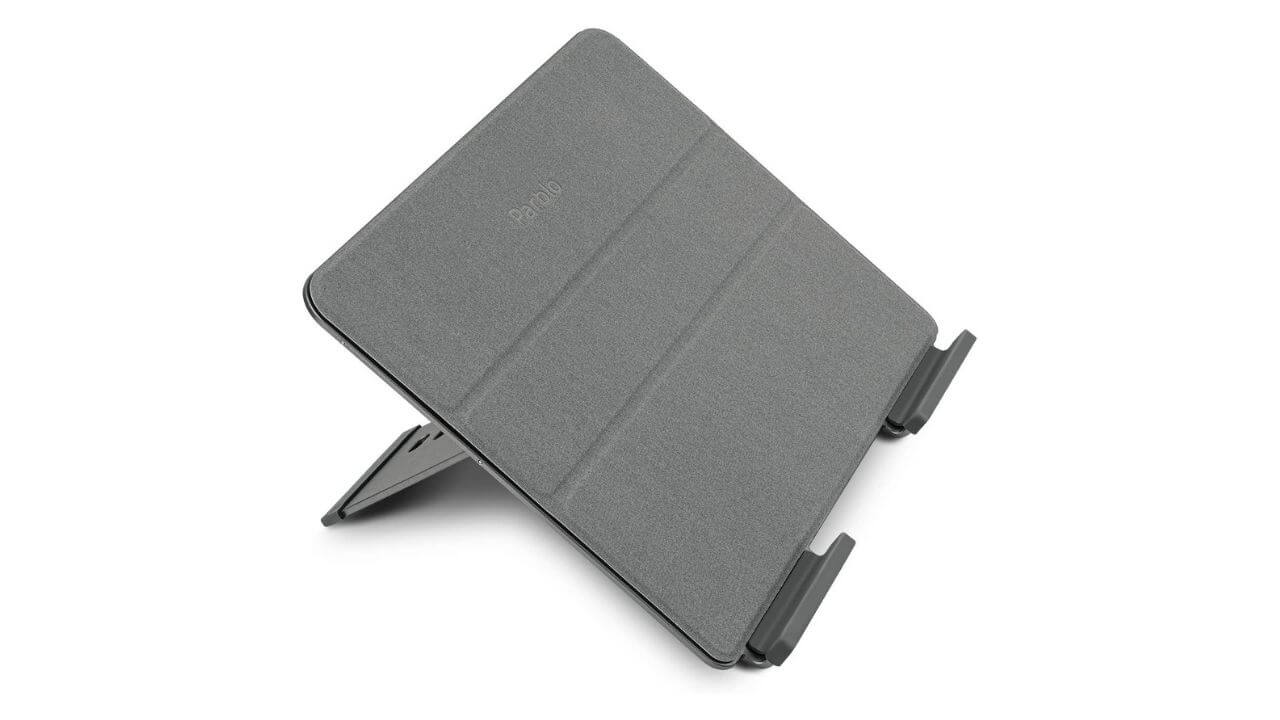 If you are in search of a drawing stand, here we have one from Parblo. This drawing pad can seriously come in handy for all the digital artists out there who pour their imagination while drawing on the iPad Air 4. 
It is made from

high-quality aluminum alloy

and durable material so that your iPad sits perfectly on the stand.

This drawing stand comes with a superb fiber pad that prevents it from slipping off a surface.

It should be mentioned that the

brand claims that this stand is enough to support a weight of up to 20kg

.

There are four suitable angles to help you carve the best art possible. Not only that, it helps ease the stress on your neck and wrist. 

All thanks to the

portable and folding design

, you can easily carry this drawing stand anywhere you go. 
Also read: Best iPad Pro Accessories you didn't know you needed
Best iPad Air 4th Gen Accessories for Music-lovers
1. Apple AirPods Max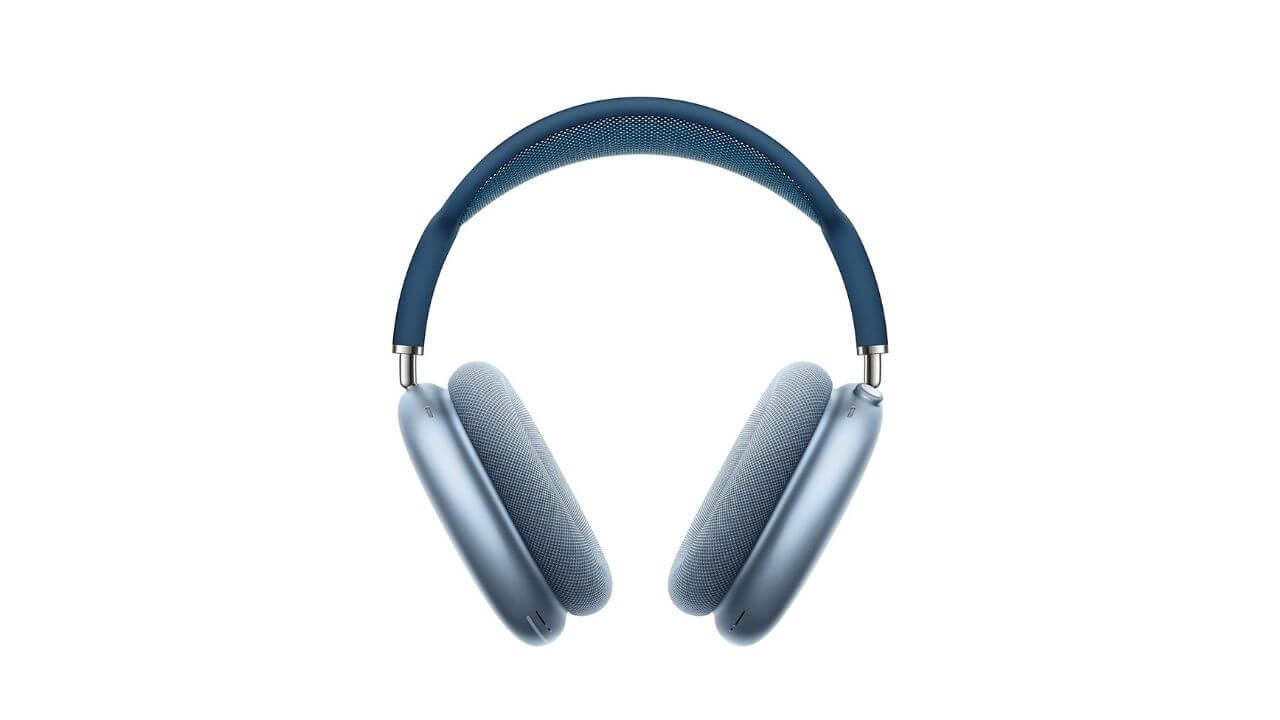 For all the loyal Apple fans, we have for you here the AirPods Max to elevate the music experience. This AirPod is fully compatible with the different generations of iPad.
Apple has integrated an

active noise cancellation

feature to block the outside noise and give you an

immersive listening experience

. 

There's an in-house driver to offer

high-fidelity audio

. 

Transparency mode

in the AirPods Max keeps you aware of what's happening in your surroundings.

With the AirPods Max, you can

enjoy theatre-like sound

while listening to your songs playing on your iPad Air 4 

Apple has integrated an in-house H1 chipset for a groundbreaking listening experience for its users and it also

supports Dolby Atmos

as well.

As far as build is concerned, the Apple AirPods Max is designed with a

knit-mesh canopy that fits perfectly around your ears

.

That's not all, it comes with

on-head detection and seamless switching features

.

It offers you an approximate

20 hours of listening, talk time, and movie-watching experience

. 

It should be also noted that

this AirPod comes in a slim and smart case

to keep it protected. 
If you're looking for a more portable and budget friendly audio accessory then the AirPods and AirPods Pro are always the best alternatives.
2. OontZ Angle 3 Bluetooth Portable Speaker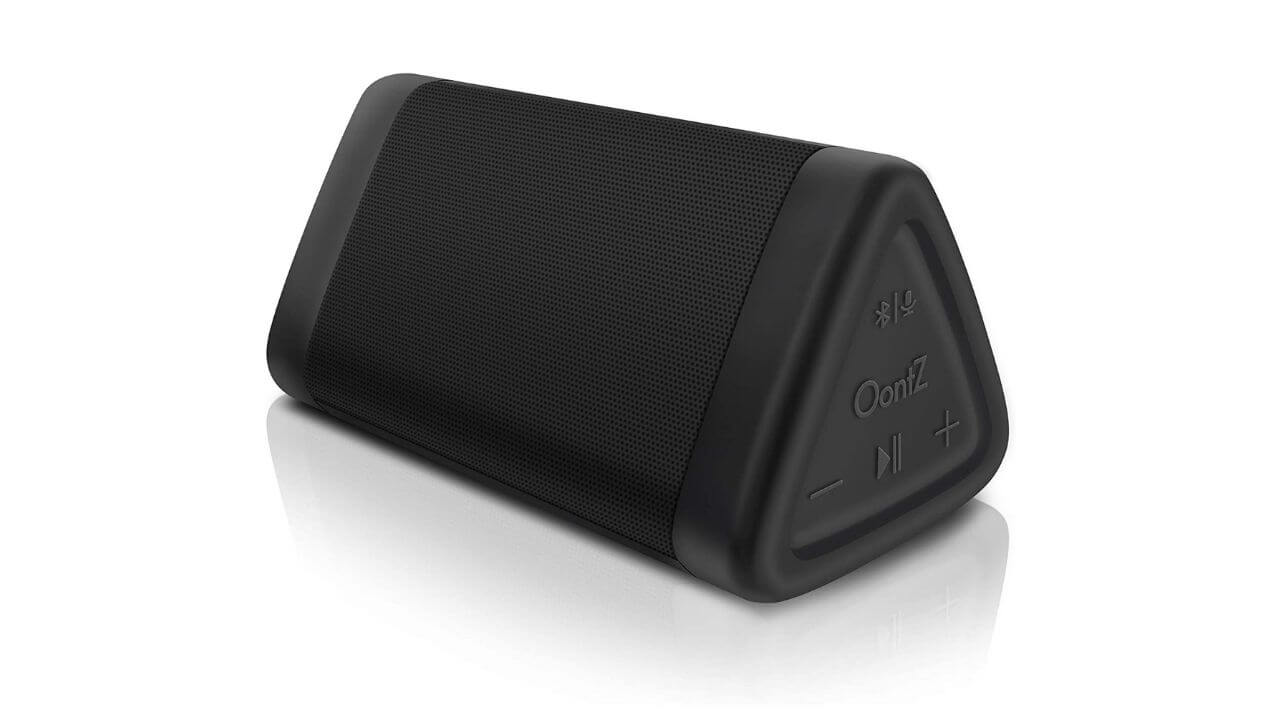 OontZ Bluetooth speaker is for all those looking to satisfy loud music lovers at a house party. As you know, iPad Air 4th Gen sports a Bluetooth connection; you can easily pair the speaker and enjoy some good loud music.
The OontZ Bluetooth speaker delivers

amazing louder audio

as compared to other Bluetooth speakers in the market.

You can command this Bluetooth speaker from within a range of 100 feet, you can play, pause, or change the music according to your taste. 

The OontZ wireless speaker comes with

IPX5 water-resistant rating

which ensures that it remains safe from water droplets and splashes. At this point, it remains a feasible option for people looking for the best shower speakers in the market.

The

2500mAh battery

is enough to power it for

14 hours of non-stop playtime

(when it's fully charged)

The built-in microphone is quite handy for

a hands-free video calling

experience. 

Given the price and features, the OontZ Bluetooth speakers are one of the

best yet affordable options

at this point. 
Also read: Best Bluetooth Speakers for iPhone 
3. COOYA USB-C to Audio Jack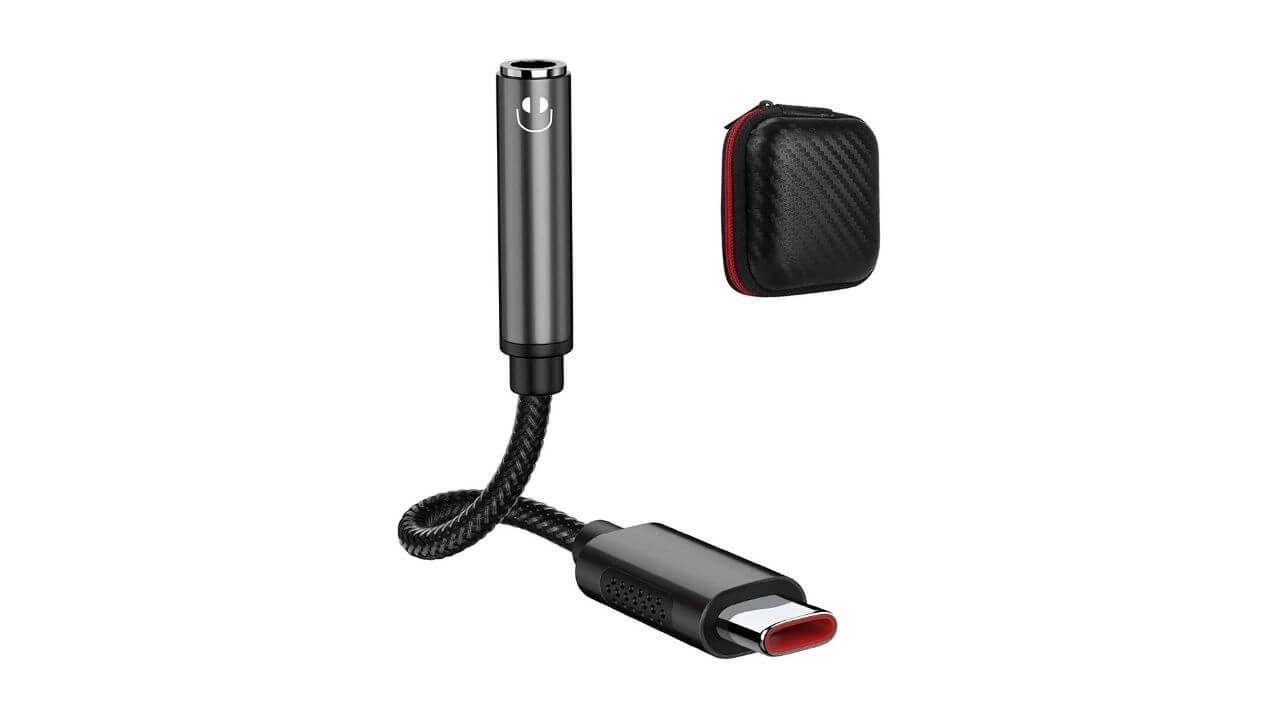 If you love using wired professional headphones or want to connect more accessories to your iPad Air then we have for you a useful gadget that allows enjoying music with normal 3.5mm earphones on any of the iOS devices.
The

minimalist design

of this audio jack lets you carry it anywhere in your pocket to enjoy music.

The

multi-function USB-C to headphone jack

allows you to play/pause/change the volume of the music. You can also end and reject calls with this audio jack. 

This audio jack from COOYA features

braided cable

which is quite

durable and ever-lasting

.

The premium hardshell connector is

scratch-proof and rust-free

. 

COOYA is backing this useful gadget with a

30-days worry-free satisfaction solution

for all the users.
Best iPad Air 4th Gen Accessories for Photographers
1. Lusweimi 60-inch Camera Tripod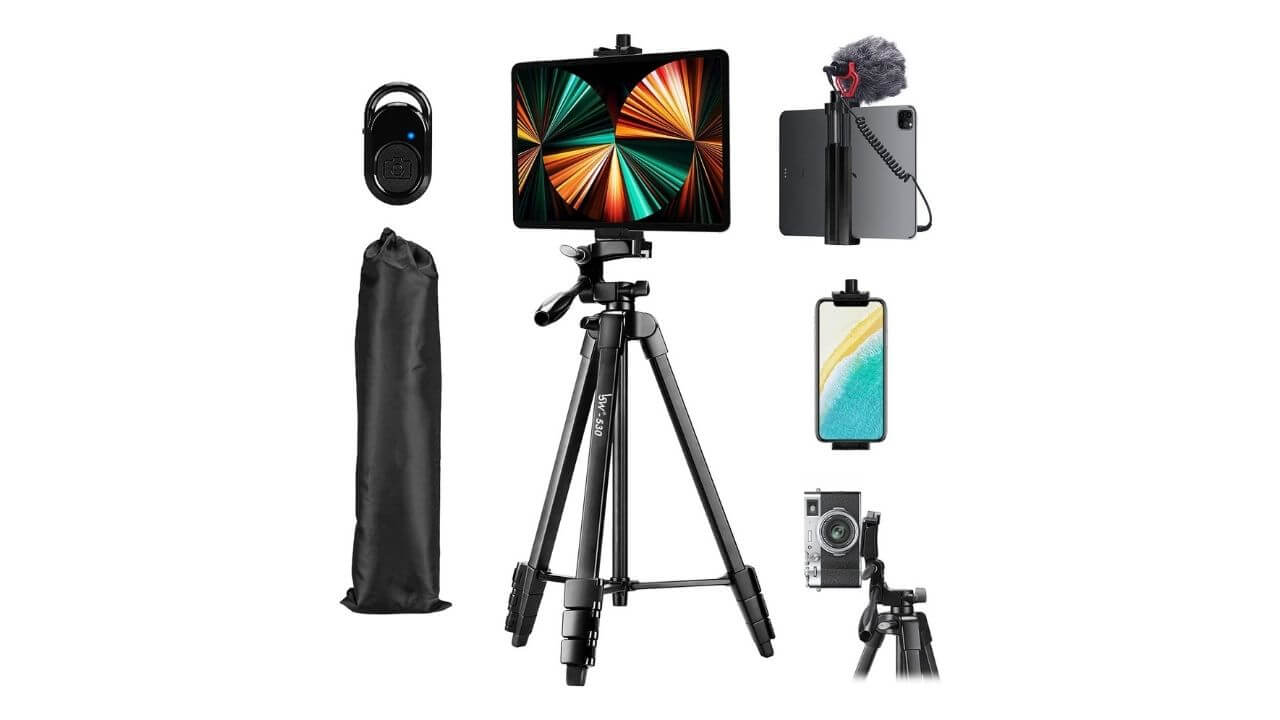 Whether you're a professional or amateur photographer, this tripod stand from Aureday will surely help you in many ways. It is one of the most popular gadgets you can find in the online marketplace. 
The Lusweimi tripod stand is known for its universal compatibility, it

allows attaching devices of different sizes

(iPhone, iPad, etc.) without any hassle. 

The

lightweight and portable

design of this tripod offers maximum portability, especially when you are shooting outdoors. 

It is

made from durable aluminum material

and is

freely adjustable

with a 360-degree rotation feature to shoot any kind of panoramic photos/videos.

The

non-slipping silica gel pads

prevent the tripod from getting any scratches.

Let's not forget, this

thicken trapezoidal pipe ensures greater stability

and allows withstanding 8 pound pressure. 
2. STARWARE USB C to SD/MicroSD Card Reader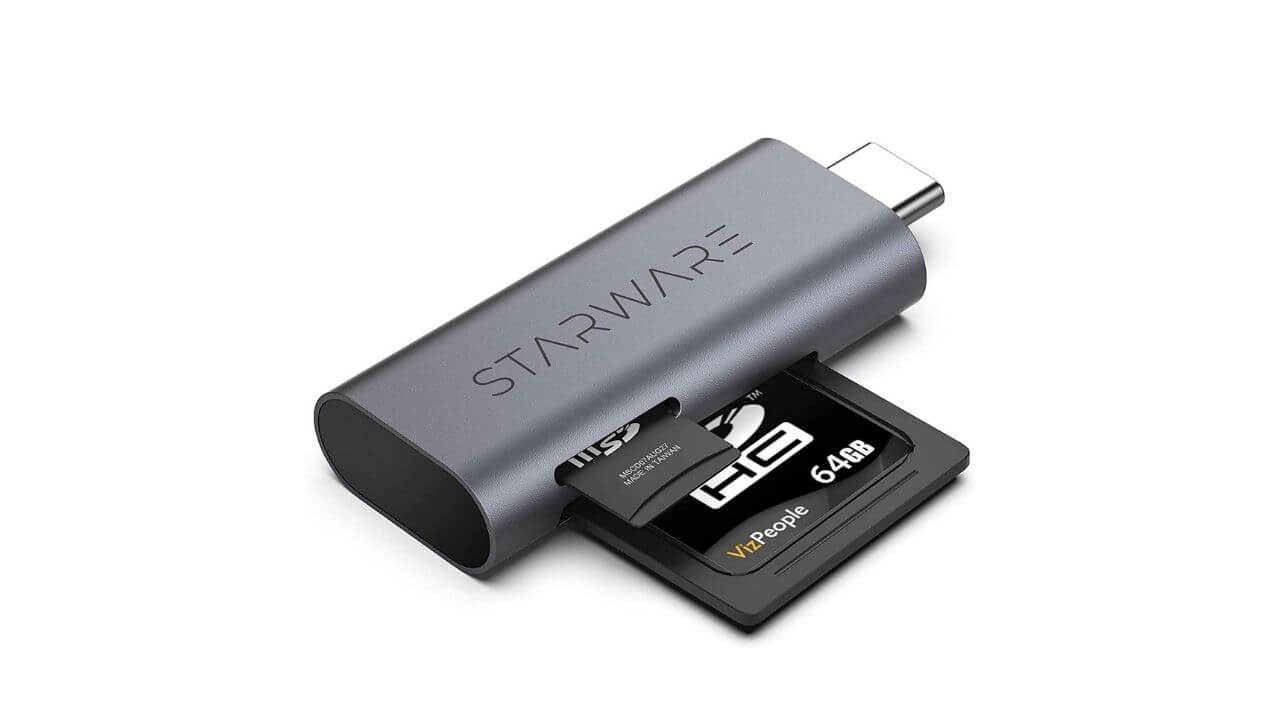 The STARWARE card reader is one of the most affordable and useful accessories for photographers with the iPad Air 4. 
It is a tiny little gadget that looks like a simple pen drive and has

two different card slots

on the right side. 

The STARWARE card reader

can read almost every type of memory card

without any loss in the transfer speed.

It allows simultaneous read and write features to

prevent the hassle of unnecessary unplugging and replugging of the cards

. 

The

minimalist and sleek design

allows it to carry anywhere by keeping it in your pocket. 

The

aluminum build

looks attractive and unique at the same time.

It is

backward compatible with USB 2.0

and has a

data transfer speed of 5Gbps with USB 3.0

.
Overall, at this price STARWARE is offering something good on the plate, have a look at it once.
3. Mosiso Camera Backpack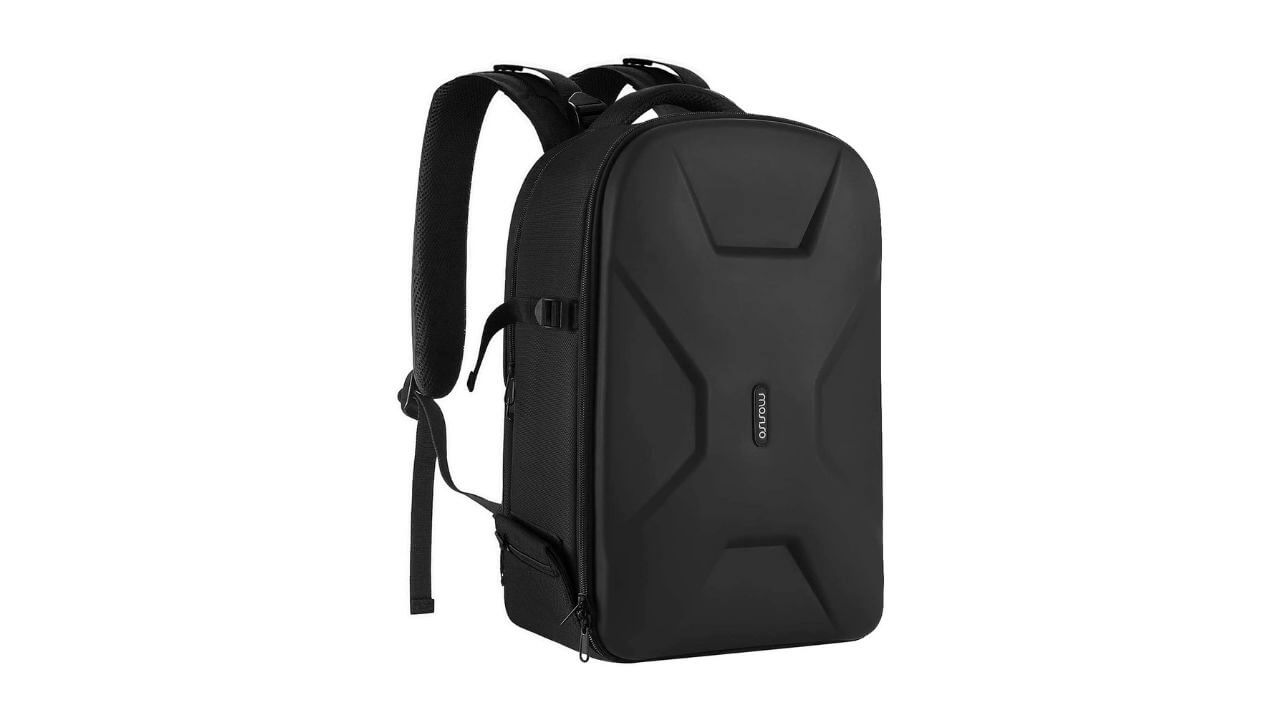 If you have been looking for a camera backpack bag for a long time, here we have one of the best and durable ones from Mosiso.  
There are two different compartments available in this backpack to safely store your gadgets. 

Removable padded modular

allows keeping all the gadgets at a safe distance and prevents them from getting knocked off in case of accidental damages. 

There are

two different accessory pockets

,

mesh pockets are there to store small items

and the other can store your iPad Air /(4th Gen) too.

The outer covering of the backpack features a

waterproof hardshell to prevent the entry of water inside your bag

. 

The

padded durable handle and adjustable shoulder strap

are helpful to carry it according to your personal preferences. 

It is worth mentioning that this multifunctional camera backpack is specially designed to carry DSLR/SLR/Mirrorless cameras along with accessories. 

Let's not forget, these camera backpacks are offered in seven different colors and are backed by the company's

1-year post-sales warranty

. 
Also read: Best iPhone Camera Accessories
Must-have accessories for iPad Air 4th Gen 
1. SteelSeries Nimbus Gaming Controller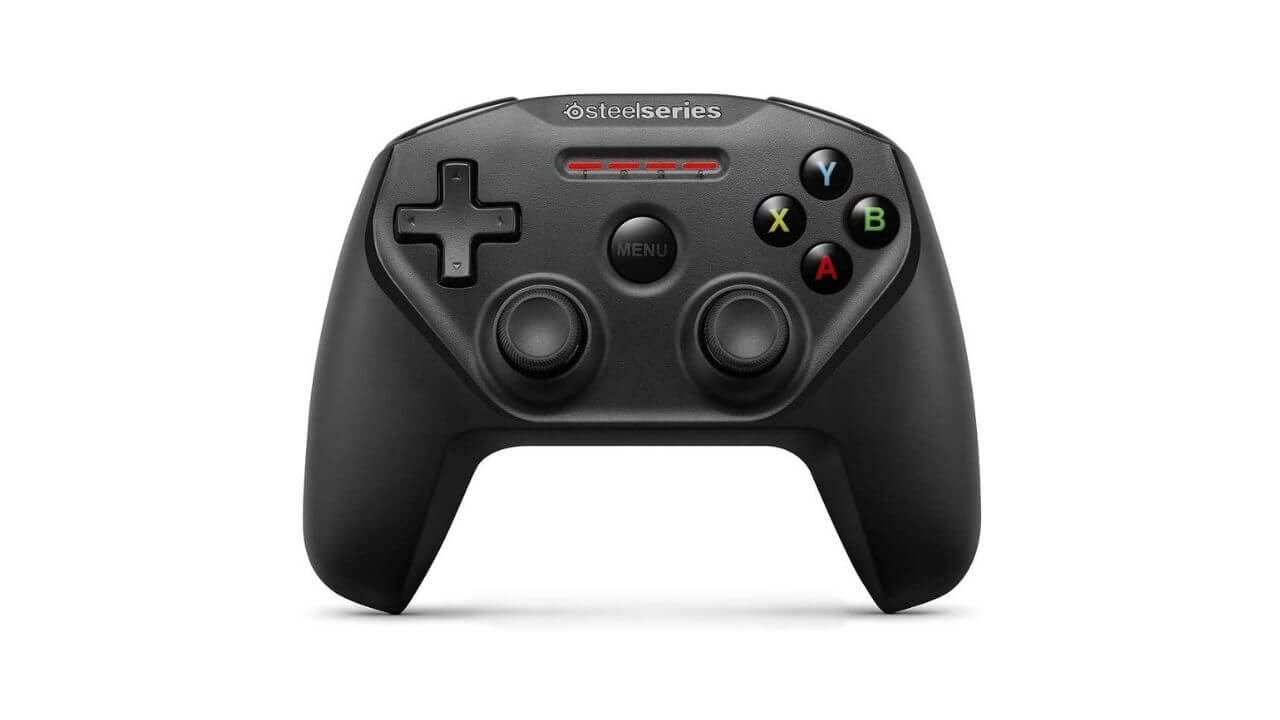 For all the gaming enthusiasts, we have for you here the SteelSeries Nimbus Gaming Controller. It is among some popular gaming controllers for iPad Air 4th Gen and other iOS products. 
The SteelSeries gaming controller features an

ergonomic and beautiful design

that sticks well in the hand.

There are

easy-to-click manual joysticks

that ease handling intense gaming sessions.

Its

universal compatibility

allows it to work with different models of iPhone, iPad, and Apple TV. 

You can recharge this gaming controller with the help of

lighting cables

.

Lightning cable and enjoy almost

40 hours of non-stop gaming

. 

There are

4 different LEDs

in this gaming controller that showcases the

status of multiplayer during the gameplay

. 
2. Hiearcool USB-C Adapter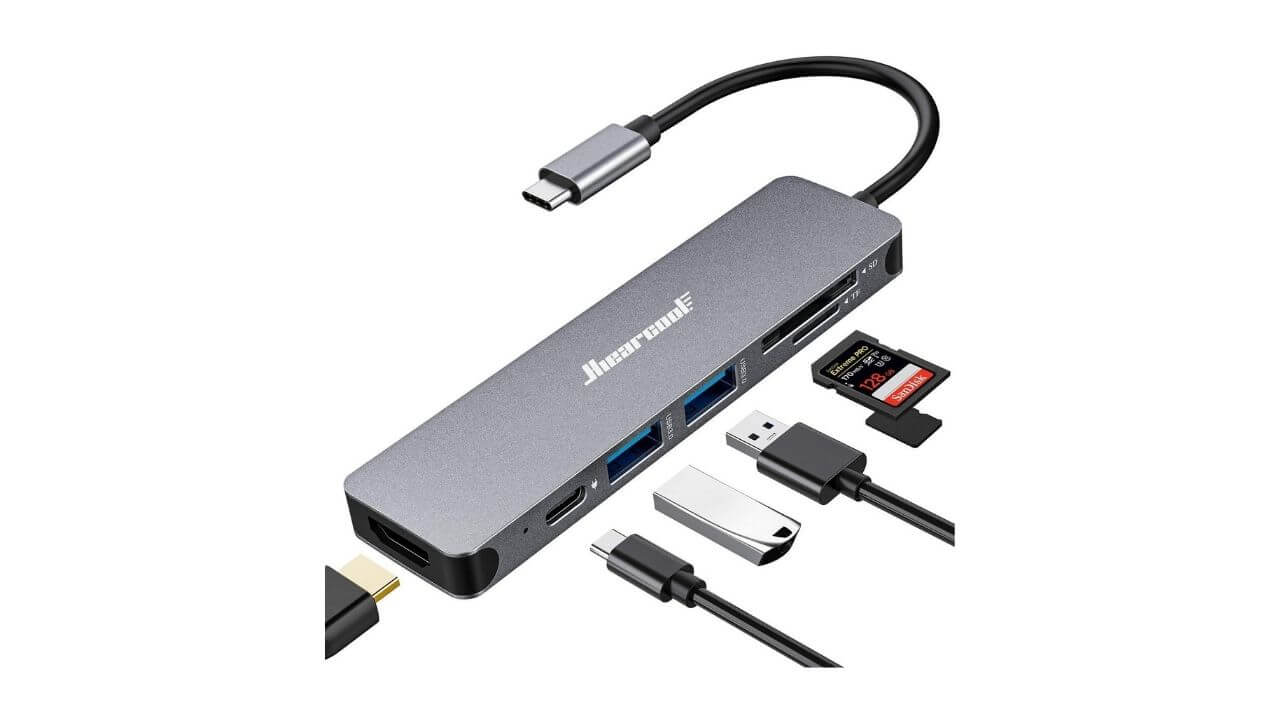 Hiearcool USB-C hub is a must-have accessory for people with USB-C devices. It is a multiport adapter with various ports to help you connect seven different services at one go. Please have a look at some notable features mentioned below. 
This multi-adapter

supports 100W pass-through charging

output that offers efficient charging for MacBook Pro and MacBook Air. 

With the help of a 4K HDMI port available in this adapter, you can enjoy images with a resolution of 3840×[email protected]

You'll find

two high-speed USB-A 3.0 ports

that are capable of transferring data at 5Gb/s.

The

plug-and-play feature

ensures that you don't face any hassle while consuming media content.

If you're a traveler, this USB-C hub will come in handy for you in many ways while traveling, make sure to get one.
Also read: Best Accessories for iPad 9th Gen
With that, we have come to the end of this roundup on the best accessories for iPad Air (4th Gen) that you can buy in 2022. Also, make sure to check our roundup on the best accessories for the M1 iPad Pro 5th Gen.