After the recent announcement of the most powerful iPad: the M1-powered iPad Pro, Apple has now announced iPadOS 15 along with iOS 15, and macOS Monterey in the WWDC21 held on 7th June 2021. The company has announced a lot of features that are centered around multitasking. Don't worry if you missed any of the announcements, we are here to back you up. Let's understand everything in detail.
iPadOS 15 Features
It won't be fair if I say features announced for iPadOS 15 are brand new, rather these all are revamped ones that earlier featured in iPadOS 14. I would call it rebranding with some major improvement. Below are some major changes you'll see in the iPadOS 15.
iPadOS 15 Widgets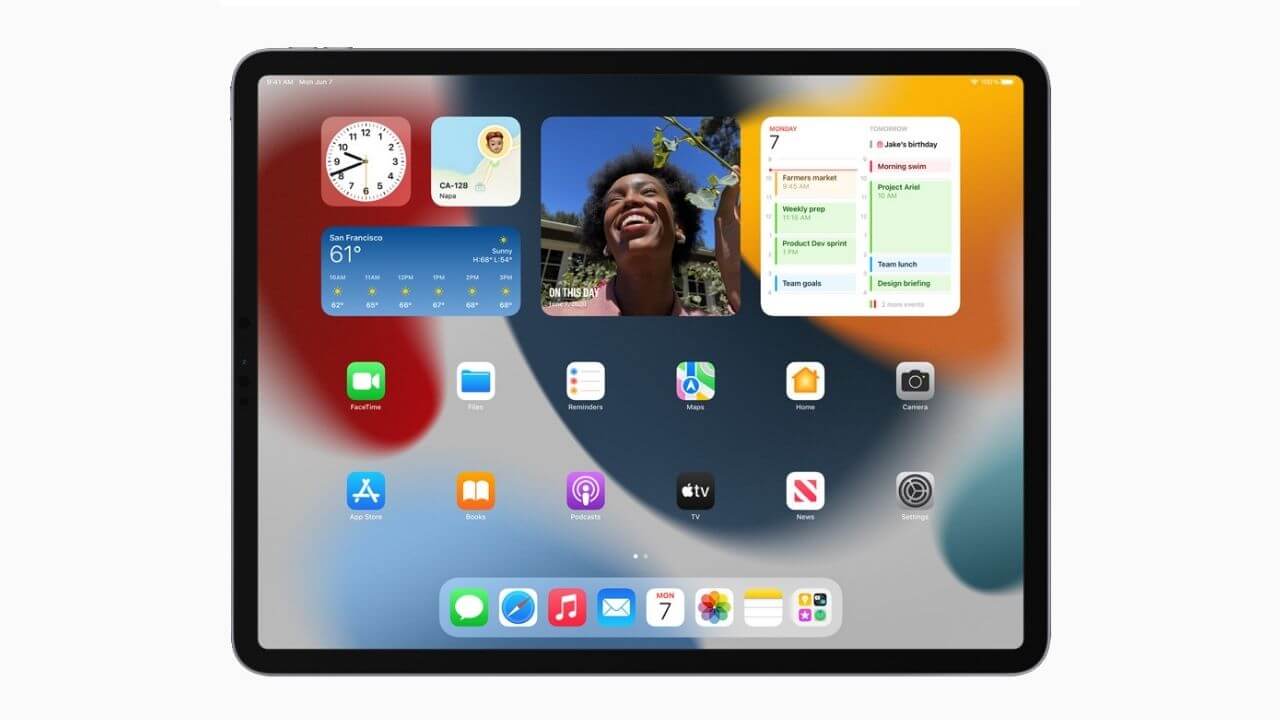 Earlier in iPadOS 14, the use of widgets was limited as they were locked to the Today view on the left of the home screen. We still don't know why it was kept that way. As announced in WWDC21, iPad OS 15 will let you place widgets wherever you'd like to. As compared to the previous OS, iPadOS 15 sports widgets for plenty of apps. 
Multitasking on iPadOS 15
Multitasking is another revamped feature that you'd see on the iPadOS 15. With this, you can easily switch to dual-screen apps and keep them off whenever you're not using them at all. We are not yet clear about the difference it brings as compared to the split-screening feature present on the previous iPadOS. But, one thing has surely changed and it is how you enable the split-screen. Previously, you'd enable it by dragging and dropping apps, but it's changed now, you'll be getting a separate dock that allows performing these functions just by a simple tap. You can also keep multitasking windows on shelves to access them faster.
Revamped Notes App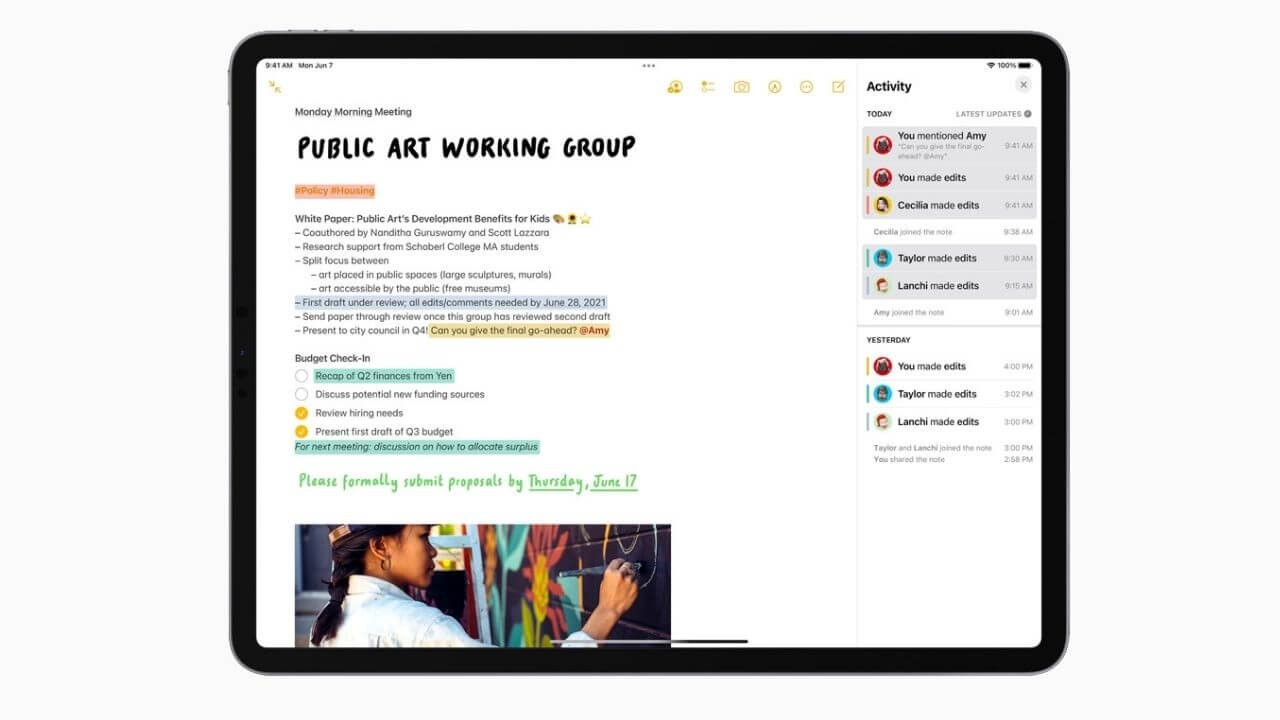 It is fair enough to say that the Notes app has turned into some kind of Google Docs. I'm saying this because the updated Notes app will sport tagging, allow you to see the revision history, and many more features that we already have on the Google Docs app. 
However, you'd see some new improvements where you'll be able to bring up the Quick Note from any page just by swiping up with the help of an Apple Pencil from the corner of your iPad. All this can be done when you're using some random apps on your iPad.
SharePlay Feature on FaceTime
Do you remember the "Watch Together" feature on the Facebook Messenger app? It is a similar kind of stuff. SharePlay feature on FaceTime enables users to enjoy music, movies, TV shows, and offers screen sharing options to all the users participating in the call. Also, you can extend the playback screen to the Apple TV while staying connected on the call. Apple has also announced support for playback on different apps like Twitch, Hulu & more. 
iPadOS 15 App Library 
App library is not an all-new feature that is getting on the iPadOS 15, it is available in iOS 14 too. App library is a kind of menu that lists all your apps on a separate screen (similar to App drawers you find on Android smartphones). 
If you're an unorganized individual, then the app sorting feature is going to help organize various apps based on your usage frequency. You can access the App Library on your iPad from any of the pages. 
iPadOS 15 Universal Control Feature
Did you ever wish to drag your work or some elements from the small screen to bigger ones as shown in some sci-fi movie? Your wish just got fulfilled with the new universal control feature introduced with iPadOS 15. This feature allows drag and drop features from one Apple device to another. 
Let's assume you are working on some content on your iPad but somehow you need that content on your Mac. For this to happen, you just need to drag the document to the side of the screen and pull it to the screen of your Mac, it's that easy. We are not yet aware of how to set things up for this to happen but certainly sounds magical to me, personally. You can also use iMac or MacBook's cursor with the iPad.
Additional iPadOS 15 Features
Apart from the ones mentioned above, there were other announcements made as well. To give an idea of what they are, we have summed up all other features in the below listing, give it a read.
A new set of keyboard shortcuts

were announced that will help operate your iPad without having to touch the iPad screen. 
The translate app is making its debut to iPad with iPadOS 15

where you can practice languages with your handwriting through an Apple Pencil. Also, you can translate the foreign language present on the document by opening the app on the split-view. 
With Swift Playgrounds, you can build iOS apps right from your iPad

. 
iPadOS 15 Compatible Devices
Apple confirmed that it will roll out iPadOS 15 to the listed iPads over time: 
iPadOS 15 Release Date
Apple confirmed that the stable version of iPadOS 15 will be released to all the compatible iPads listed above in "Fall" 2021, which's somewhere around September/October. 
Looking at the features of the iPadOS 15, it seems Apple has tried to tweak pre-existing features for better user experience. It will be interesting to check out the stable version. If you've any thoughts on this, feel free to comment down below.