After the much-awaited launch of the iPhone 13 series, the iPhone 13 Pro series has been announced. In the truest sense, The iPhone Pro pushes the limit, so without any further ado let's take a look at what it has to offer!
Design and Build
The iPhone 13 Pro features surgical grade stainless steel bands which creates an Apple custom finish that is resistant to corrosion and abrasion. It comes in four striking finishes- Graphite, Gold, Silver, and all-new Sierra Blue. The iPhone 13 Pro also has a brand new designed front with a compact TrueDepth camera system that results in a 20% smaller notch. The rear camera also comes with three new lenses along with a beautiful textured matte glass. 
The front boasts of Apple's ceramic shield which is tougher than 'any smartphone glass'. It also comes with industry-leading IP68 water resistance. The series has also been completely redesigned from the inside to support the all-new camera system, display, and a bigger battery that's accompanied by MagSafe support.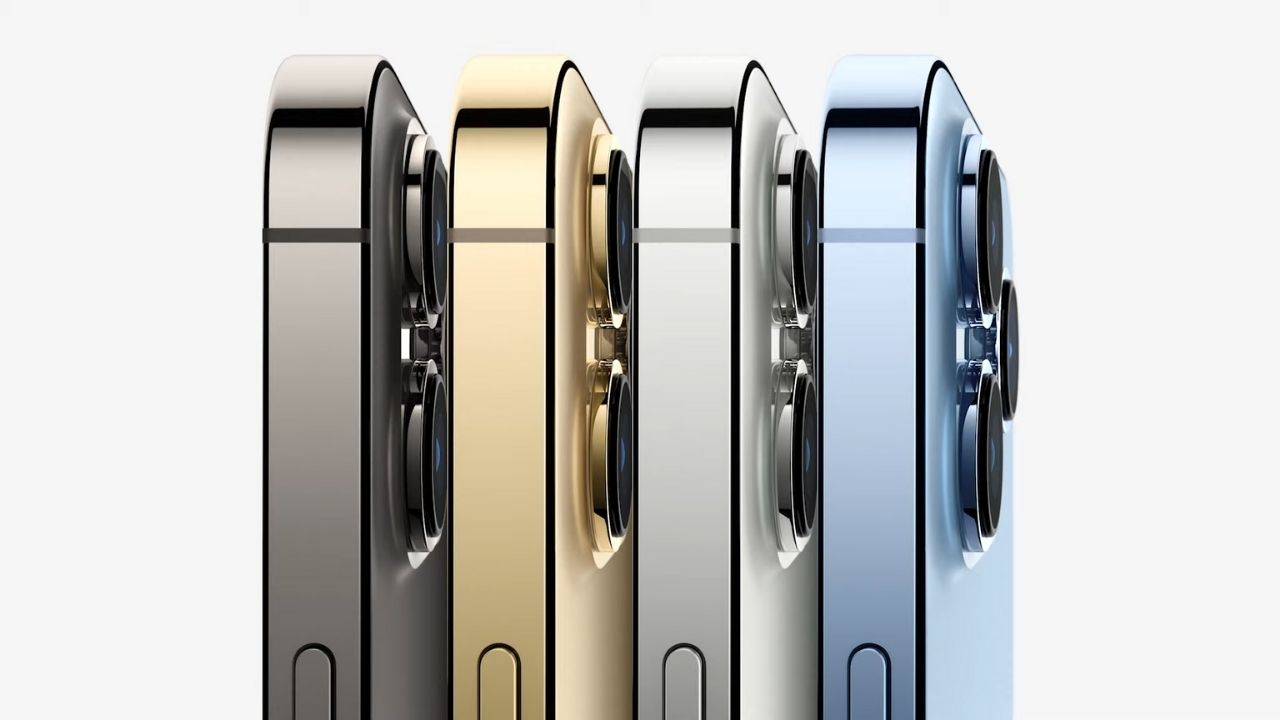 Better Performance 
The iPhone 13 Pro series is powered by the A15 Bionic chip which features two new high-performance cores and four new high-efficiency cores with a faster Neural Engine. For the Pro models, the A15 Bionic will include the most powerful graphics ever in the guise of a new 5 core GPU as compared to the regular iPhone 13 which features a 4 core GPU. This provides up to 50% better graphic performance. Moreover, the iPhone 13 Pro has the fastest graphics performance in any smartphone ever! This makes it a great fit for high-performance gaming!
Also read: Best iOS 15 Tips & Tricks
Revolutionized Display
The A15 Bionic chip and the new 5 core GPU display engine features the Super Retina XDR Display, which is better than the regular iPhone 13 series. The Pro series also comes with a display that supports up to 1000 nits peak outdoor brightness– that is 25% higher than last year. 
For the first time, ProMotion will be paired with iPhone, which will take the refresh rate from as low as 10 Hz to as high as 120 Hz. Thanks to ProMotion, when scrolling, the frame rate is dynamically adjusted to match the speed of the user's finger!
Biggest Camera Advancement
The iPhone 13 Pro series introduces an all-new camera system. It features a new 77 mm telephoto camera with 3x optical zoom and an Ultra-Wide camera with auto-focus and a larger f/1.8 aperture with a major 92% improvement in low light and a new Wide-Camera that includes a larger f/1.5 aperture and 1.9-micron pixels– for the largest sensors ever with up to 2.2 times improvement in low light!
The new Pro series also features Macro photography that enables you to focus at close distances through a special lens. The new Pro series allows the users to magnify subjects with a minimum distance of 2 cm which provides for beautiful close-ups. Another feature is Photographic Styles that allow you to customize photos in real-time while incorporating your personal preferences. Before shooting, there are four basic styles to choose from, which can be applied to a variety of scenarios and subject categories, and you don't have to define them every time!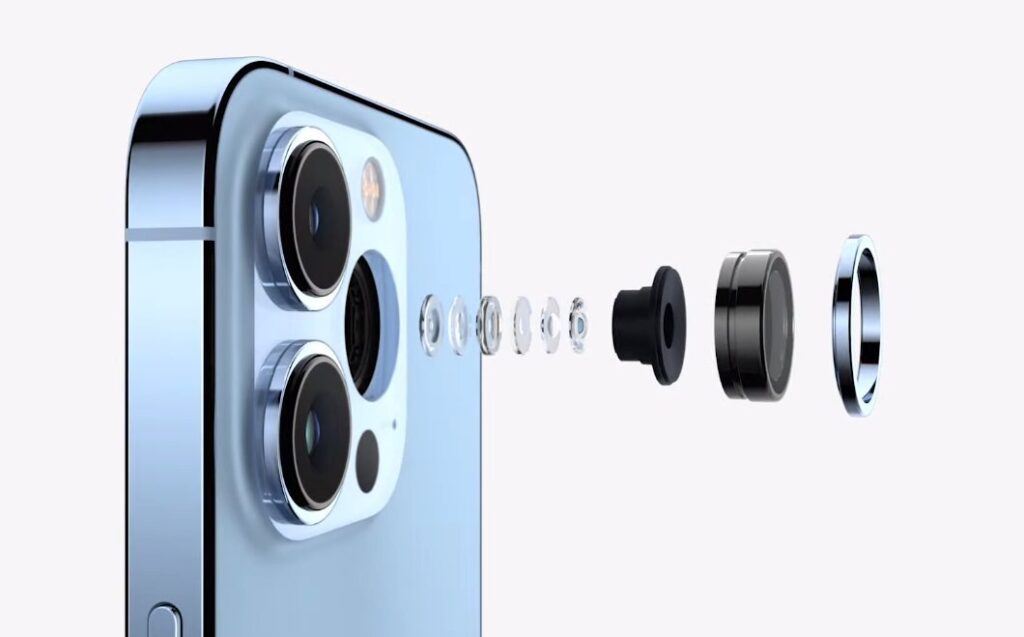 Another advancement is the ProRes which will be available later, with ProRes, you can record up to 4K at 30fps straight in the camera app. The iPhone 13 Pro is the only smartphone to provide an end to end pro workflow allowing you to record and edit in ProRes or Dolby Vision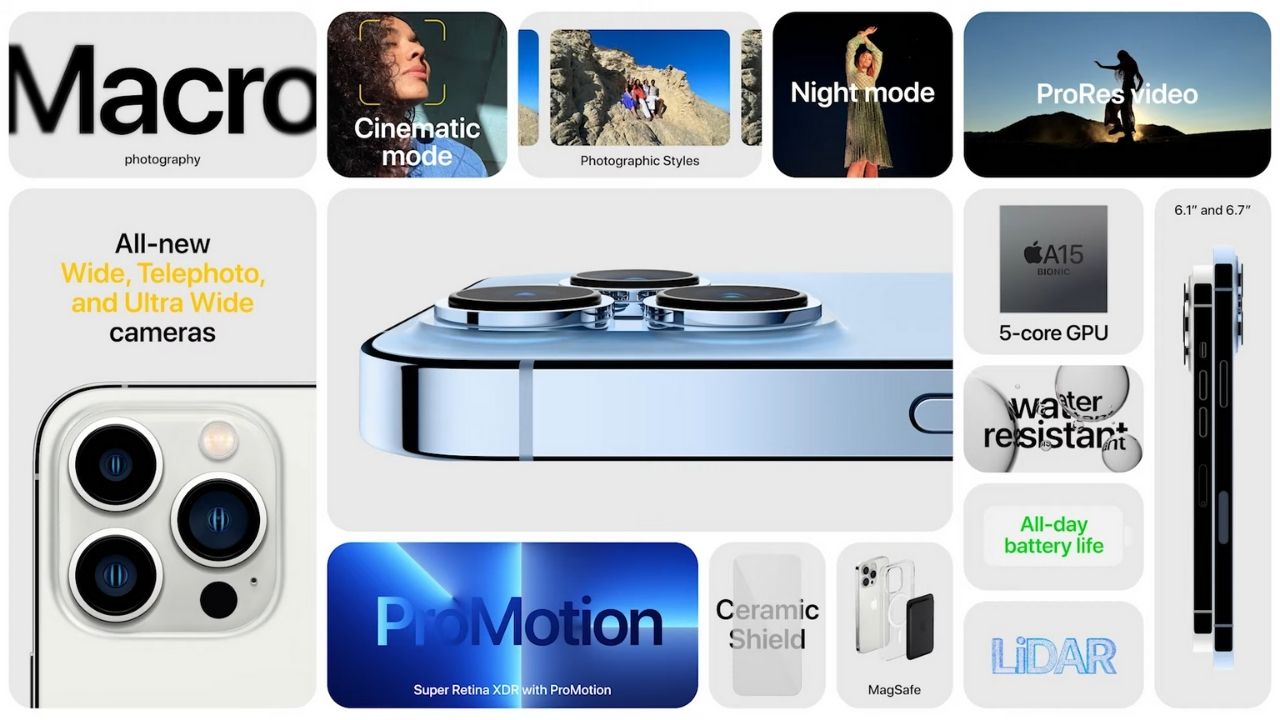 Also read: All you need to know about the 2021 Apple Watch Series 7
Efficient Battery Life
Due to the efficiency of the A15 Bionic chip and iOS 15 along with a larger battery, the iPhone 13 Pro series delivers an incredible battery life. The iPhone 13 Pro lasts 1.5 hours longer than iPhone 12 Pro whereas the iPhone 13 Pro Max lasts 2.5 hours longer than the iPhone 12 Pro Max. This makes it the longest battery life ever in an iPhone.
The iPhone 13 Pro starts at $999 and iPhone 13 Pro Max starts at $1,099. This year, a new 1TB storage option has also been introduced for Pro users which joins the 128, 256, and 512 GB storage options.
Along with the iPhone 13 series, Apple also refreshed the iPad Mini with an all new design and processor. Learn more about it here.