It is that time of the year again. The classic battle. iOS vs Android boiled down to the 2 high end smartphones of each segment- the iPhone 12 vs Samsung Galaxy S21. Both of these phones are extremely good and the fight ahead is going to be intense and brutal.
Design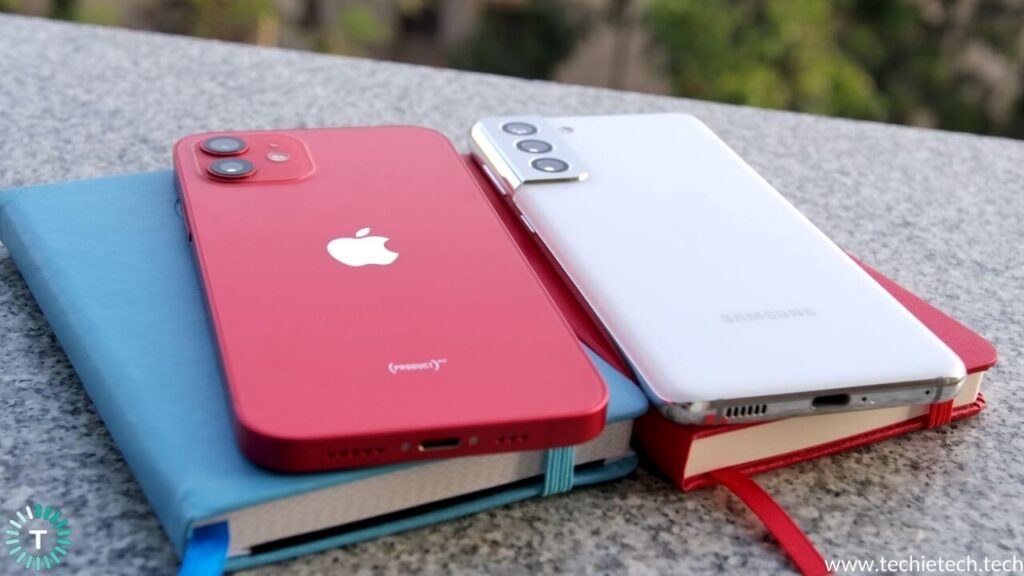 Both the Galaxy S21 and iPhone 12 have flat display panels. That's it. That's the only design element that both of them share with each other. Apart from this, designwise, the iPhone 12 and Galaxy S21 are worlds apart. Every surface on the iPhone 12 is perfectly flat. Be it the matte aluminium edges, the display or even the back glass. It's like an iPhone 5 design on steroids and I love it. It feels amazing, both in hand and  to look at. However, one thing that I dislike about the design is the glossy glass back that is just a canvas for all the fingerprints and smudges in the world. 
Also read: Best iPhone 12 Cases You Can Buy Right Now
Enter Galaxy S21. With it's matte finish plastic back, the Galaxy S21 is much, much better at looking clean. Plastic also means that it won't shatter when dropped, although it does feel a tad bit less premium than glass. However, what truly sets the Galaxy S21's design apart is how they've integrated the camera module to the aluminium frame of the phone. It looks unique and unlike anything in the market. 
Other than that, both phones are very similar size wise, weight wise and protection wise with similar IP68 Ratings. 
Also read: Best Cases for Samsung Galaxy S21
Display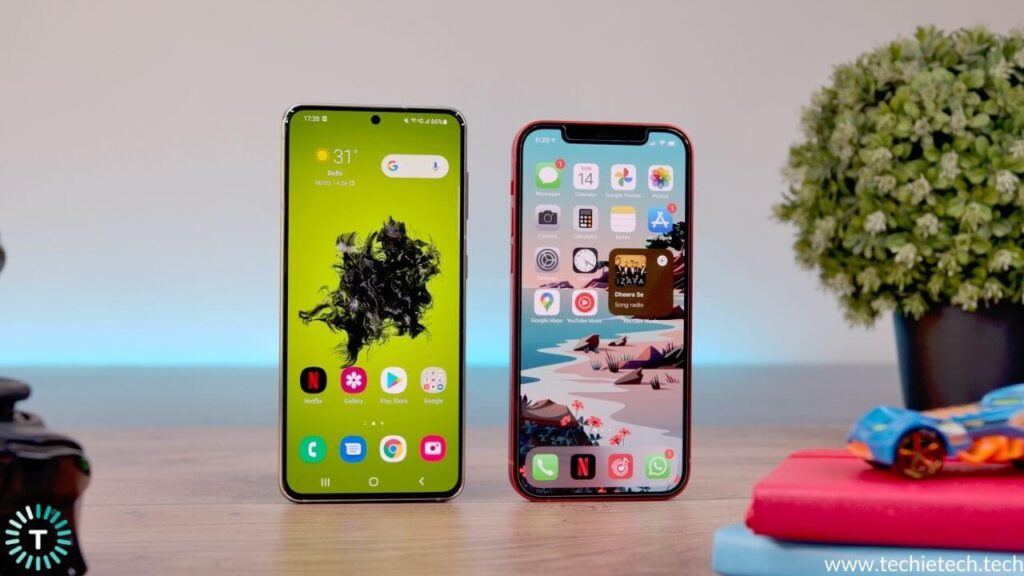 Flip over to the front and we have tough glass sheets on both, Gorilla Glass Victus on the Galaxy S21 and Ceramic Shield on the iPhone 12. But things tend to differ when we talk about the actual display panel under that glass. The iPhone 12 comes with a beautiful Super Retina XDR panel which shows very natural looking, beautiful colours. The Dynamic Amoled on the Galaxy S21 is just as good but has a different colour profile, making it look more vibrant with colours that pop out. 
Also read: Best iPhone 12 Screen Protectors

However, where the Galaxy S21's display truly races ahead is the refresh rate. It is an extremely smooth 120 Hz panel which makes sure that every tiny animation looks graceful. Even though the iPhone's high touch sampling rate and smooth animations make up for most of the difference, most users will still notice it when kept side by side. One thing that all users will notice when kept side by side is just how much cleaner the punch hole on the S21 looks compared to the archaic notch on the iPhone 12. There's just no competition here, the Galaxy S21 clearly has the better display experience. Make sure to check out our roundup of the best screen protectors to protect your Galaxy S21's AMOLED display.
Performance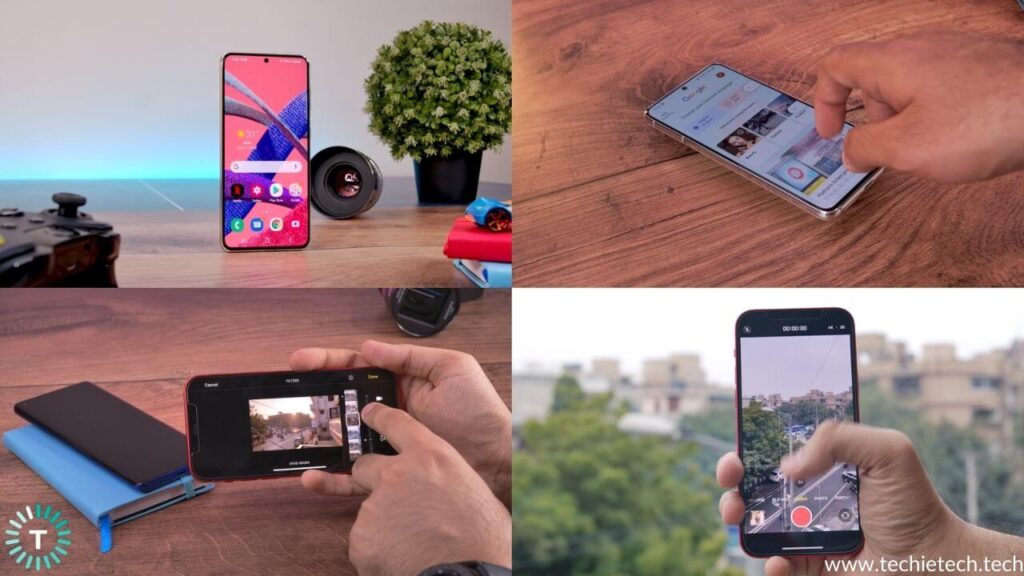 Let's talk performance now. This is a very heated segment because both these phones are packing the most powerful components available in their respective software camps. For a vast majority of the users, both these phones will feel so smooth and capable that they won't ever feel the need for more power. For regular use like Social Media and Email or even for intense stuff like video editing and gaming, both these phones are neck to neck with lightning fast App opening times and very efficient memory management.
Also read: Best Accessories for iPhone 12 & iPhone 12 Pro
Gaming
However, if you are a hardcore gamer, pick the iPhone. Call me out if you want, but I noticed time and again that the core quality and overall optimisation for most heavy games was simply better on iOS. It is not a big deal if you just play games casually or just to kill time but if you are serious about smartphone gaming and want the best experience possible, my advice would be to get the iPhone. 
Also read: Best Galaxy S21 Accessories to get the most out of your smartphone
Software: OneUI vs iOS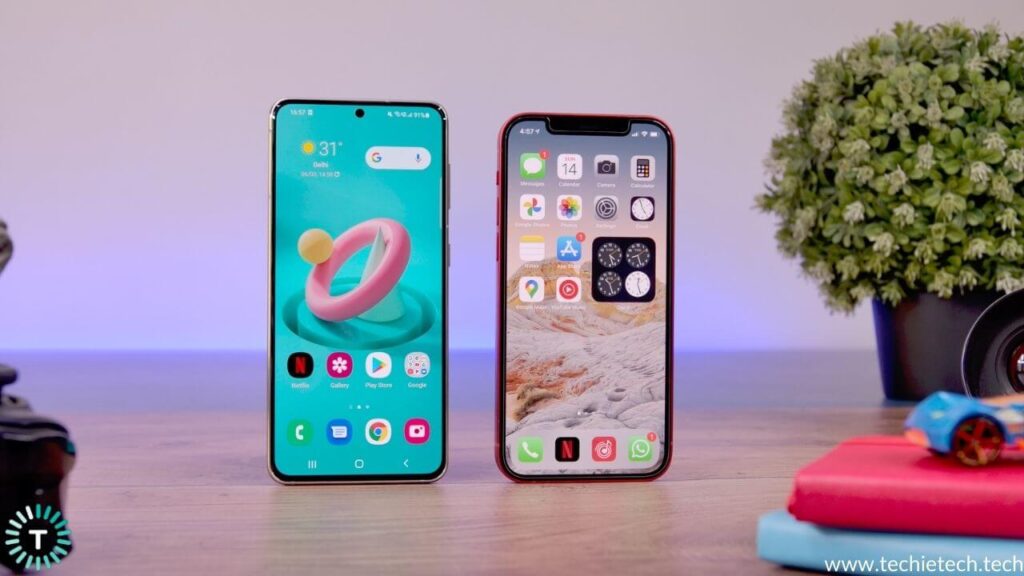 Let's talk software now. Android vs iOS is honestly more subjective now that it ever was before. Both software ecosystems are getting better with every update to the point that they are more similar than ever before. I personally prefer and use Android on my daily phone but I switch to iOS often and enjoy that experience too.

A major advantage that iOS has historically had is software updates. But the gap is getting narrower with time as Samsung has also announced 4 years of software updates for their phones. Of course, Apple still does it better with 5 years of updates and same day update delivery on all models but it's good to see Samsung raise the bar to support older devices.
Also read: Best Fast Chargers for Galaxy S21
Camera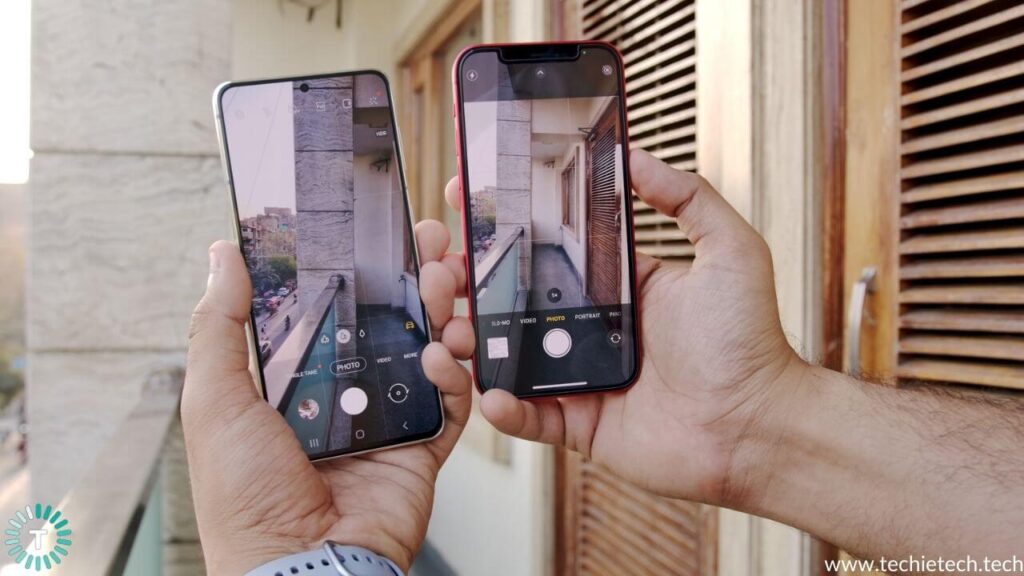 Let's talk about the cameras now. In terms of optics, the Galaxy S21 sports last year's camera setup from the S20 featuring a 12MP f1.8 primary camera, 12MP f2.2 ultrawide and a 64MP f2 telephoto camera. On the other hand, the iPhone 12 sports a dual camera setup which includes a 12MP f1.6 primary camera and a 12MP f2.4 ultrawide camera. Let's find out how these leading flagships perform in real life.
Photos:
Apart from the minor tonal differences, both devices shoot excellent pictures with the primary camera. The iPhone 12 has better dynamic range round while the Galaxy S21 shoots sharper stills. Overall, the pictures shot on both devices have vibrant colors with great details. 
Ultrawide performance is good on both devices. The Galaxy S21 shoots pictures with a wider POV and better noise processing. On the other hand, the iPhone 12 shoots pictures with well managed distortion and high dynamic range. 
The iPhone 12 does not have a telephoto camera and crops the primary sensor to produce 3x digitally zoomed-in stills. The S21 uses hybrid zoom with the 64MP sensor to produce 3x zoomed-in stills. Clearly, the Galaxy S21 is the obvious winner here with excellent stabilization and sharpness. 
Subject separation performance is also good on both devices even in challenging shots. Thanks to the dedicated high resolution telephoto sensor, the Galaxy S21 wins this round as it can also shoot 3x zoomed in portraits with more accurate subject separation. 
Selfies shot outdoors look impressive on both devices with good skin tones. Although, I'd give more points to the Galaxy S21 as it's a better overall performer because the iPhone 12 tends to overprocess selfies in certain situations.  
Low light mode works on all cameras on both devices. Pictures shot on the iPhone 12 have more accurate colors while the long exposures shot on the Galaxy S21 are sharper and have better noise processing.
Also read: Best Camera Lens Protectors for iPhone 12
Videos:
In terms of frame rates and resolutions, both devices can shoot videos in 4K@ up to 60fps from the rear & front cameras. The Galaxy S21 goes a step further and can even shoot videos in 8K@24fps. 
Both, the Galaxy S21 and iPhone 12 pack flagship features in the video department like HDR10+ and Dolby Vision support respectively. 
The iPhone 12 has the upper hand when it comes to shooting videos. It shoots videos with industry-leading image stabilization and dynamic range. On the other hand, the Galaxy S21 shoots sharper videos with a rich camera UI and better zoom capabilities.
To conclude, If you're looking for a smartphone to shoot videos, the iPhone 12 series has the best video camera in the market. Period. On the flip side, if you want to shoot pictures which offer versatility in post production, then the Galaxy S21 is the right choice for you. But of course, regardless to say, both these phones are top tier camera beasts so you will get one of the best smartphone camera packages in the market today no matter which phone you end up buying.
Also read: Best iPhone 12 Fast Chargers to speed up the charging time
Battery Life & Charging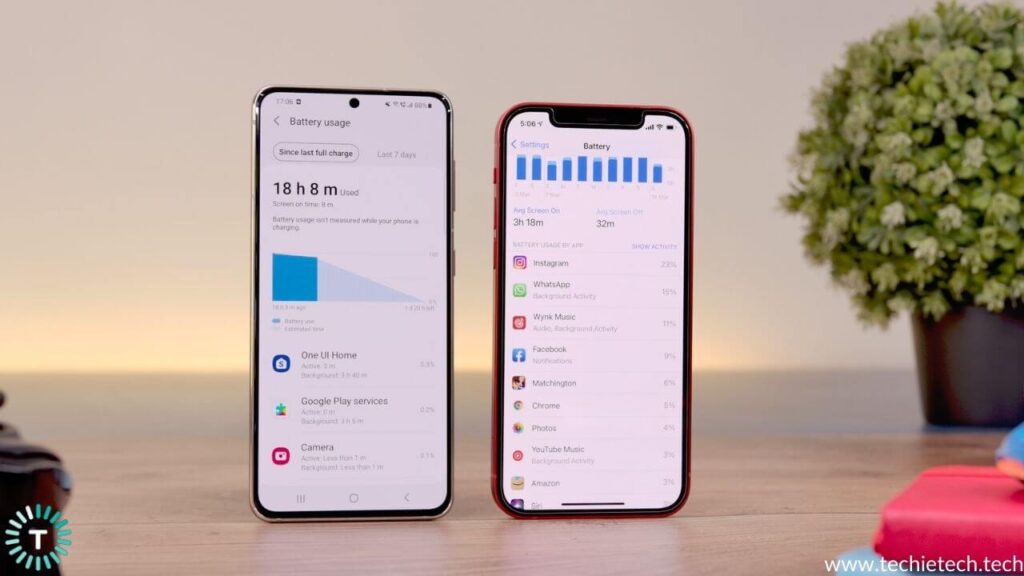 Battery life on the iPhone 12 and Galaxy S21 is extremely similar. Both these phones are good for a day's use and can max out at a day and a half's on a single charge if used conservatively. However, the iPhone has a slight advantage here as it loses significantly lesser battery life when kept on Standby. Not a huge difference but definitely worth mentioning.

Both phones support fast wireless charging although the S21 also supports Reverse Wireless Charging which the iPhone does not. Also, both phones do not include chargers in the box, just a charging cable so do factor the cost of the adapter in, when making your buying decision.

Talking of costs, even though both these phones are priced similarly, the base variant of the Galaxy S21 has 128 GB of storage compared to just 64 on the iPhone 12.
Also read: How to fix battery drain problems on iPhone 12
Call Quality, Biometrics & Speakers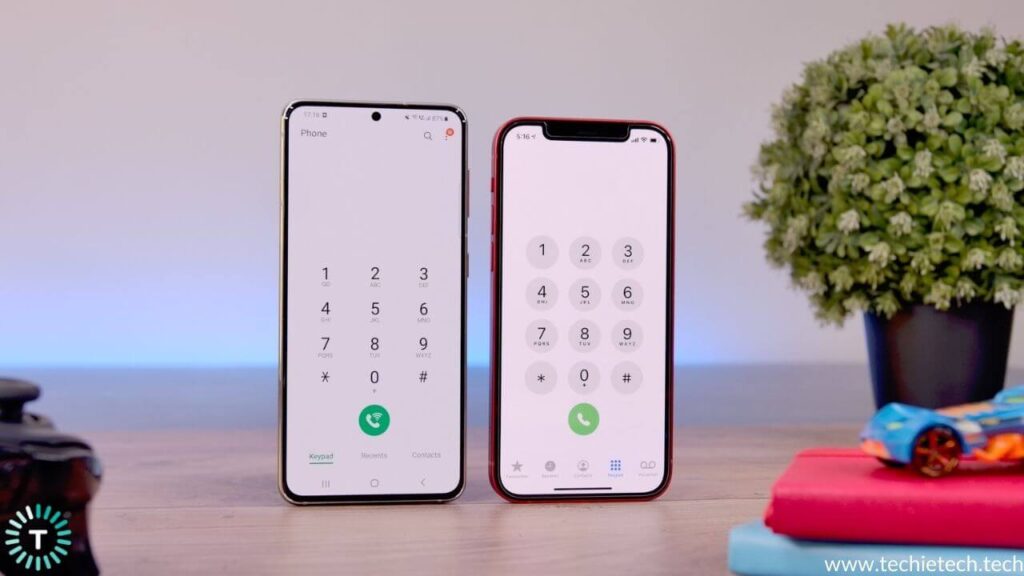 A few random observations before we conclude. The phone call experience is better on the Galaxy S21 in my experience. It's an A+ on the S21, while an A on the iPhone 12. Biometrics on the Galaxy S21 are also a win-win with an in-display fingerprint sensor compared to FaceID only on the iPhone 12. Makes a world of a difference in a world where face masks have become the norm.
Speakers sound better on the iPhone 12 for media playback although the difference is not very significant.
Make sure to check out our roundup for the best MagSafe compatible cases for iPhone 12.
Conclusion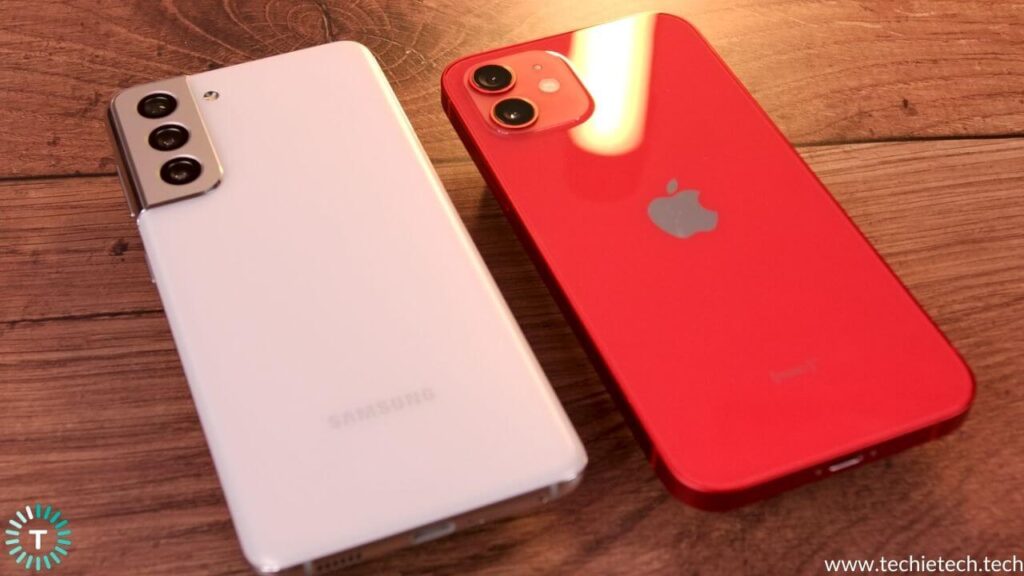 Now, for the conclusion. Both the Galaxy S21 and iPhone 12 are champions of their software ecosystems and it is simply impossible to go wrong with either of them. If you have a preference for Android or iOS, or you're already a happy user of either Apple or Samsung's eco systems, this is an easy decision for you. But if none of these apply to you and you're just looking for the more cutting edge of the 2 phones, for me, it is undoubtedly, the Samsung Galaxy S21.

Check Galaxy S21 price:
Amazon (US): https://amzn.to/3bqVE0K 
Amazon (UK): https://amzn.to/30mpVYq 
Amazon (India): https://amzn.to/3kYu6D7 
Check iPhone 12 price:
Amazon (US): https://amzn.to/3er6cwK 
Amazon (India): https://amzn.to/3eqlQst 
Amazon (UK): https://amzn.to/3p0iP72