Apple is known for being late for innovation when it comes to some basic stuff like customizing lock screens, Control Center, etc. Fast wireless charging was only added in the iPhone 12 series with the introduction of MagSafe and continued in iPhone 13. If you're someone who doesn't like wires everywhere and wants to stay organized, wireless charging is a very nice tech upgrade. Though it is not exactly wireless- a cord still runs from the power outlet to the charging pad. Beyond any doubt, they are not fast enough when compared to wired chargers. Wireless chargers are nothing but a convenience if you don't want to fiddle around with cables. Wireless chargers are here to sort out the messy cables and always a clean desk problem. You can easily throw your iPhone or any other device like Apple Watch or AirPods onto a charging pad and stop worrying about finding 3 different cables and adapters. So, here we have collated the top 10 wireless chargers for iPhone 13 series.
These wireless chargers are compatible with iPhone 13, iPhone 13 Pro, iPhone 13 mini, iPhone 13 Pro Max, and even iPhone 12 series. After hours and hours of testing and research, we've listed the best wireless chargers for iPhone 13 series you can buy right now. Whether you are looking for a simple iPhone 13 MagSafe charger or a multi-device charger, we've listed them all. If you are someone who owns both Apple and Android products some of the below-mentioned chargers are compatible with Samsung Galaxy phones, Google Pixel devices, and other Qi-compatible devices.  
All the chargers listed here are compatible with iPhone 12, iPhone 13, and iPhone 14 series. In addition, some of them work well with non-magnetic iPhones as well like iPhone 8 and iPhone X.
How to shop for wireless chargers for iPhone 13?
Before, we proceed, here's a quick recap of the specs. The iPhone 13 lineup has a smaller notch, an A15 bionic chip, a larger battery, and brighter displays. iPhone 13 series supports fast charging at 20W wired and 15W with MagSafe wireless charging. Wireless chargers are available in many shapes, sizes, and colors and it's important to research before buying to get the most out of your purchase. But before buying your best wireless charger for iPhone 13 series there are some factors you should consider to buy better products over others. 
Charging Speeds
Even though wireless charging has always been slower than wired charging still you should take note of the charging speed. Charging speed varies for different iPhones. Regular wireless chargers/pads offer mostly 7.5W speed while MagSafe chargers offer up to 15W. Charging speed also varies on how many gadgets you're charging at once. However, a decent charger should output at least 7.5W or more so you can easily wirelessly charge your iPhone 13.
Check for Charging Protocols
Always look out for brands that have Qi certification and MagSafe compatibility. The former is the standard charging protocol for wireless charging and the latter is Apple's faster-charging standard with built-in magnets.
Some dodgy alternatives will try to fool you like" Qi compliant" or Qi-compatible" but the words you're after are "Qi certified" and MagSafe. This certification guarantees reliable wireless charging.
Apple's MagSafe
MagSafe is a standard you should look for when buying a wireless charger for iPhone 13. For those who didn't know MagSafe is a technology by Apple that has inserted a round magnet on the back of your phone that will easily stick to a MagSafe charger or accessory and charge quickly. One of the biggest problems with wireless charging is that it takes time to find the "sweet spot" that needs to be aligned with the phone on the charger. With MagSafe, Apple has solved this problem by inserting magnets in your phone and charger. There are not just MagSafe chargers but different accessories like wallets, power banks, cases, etc.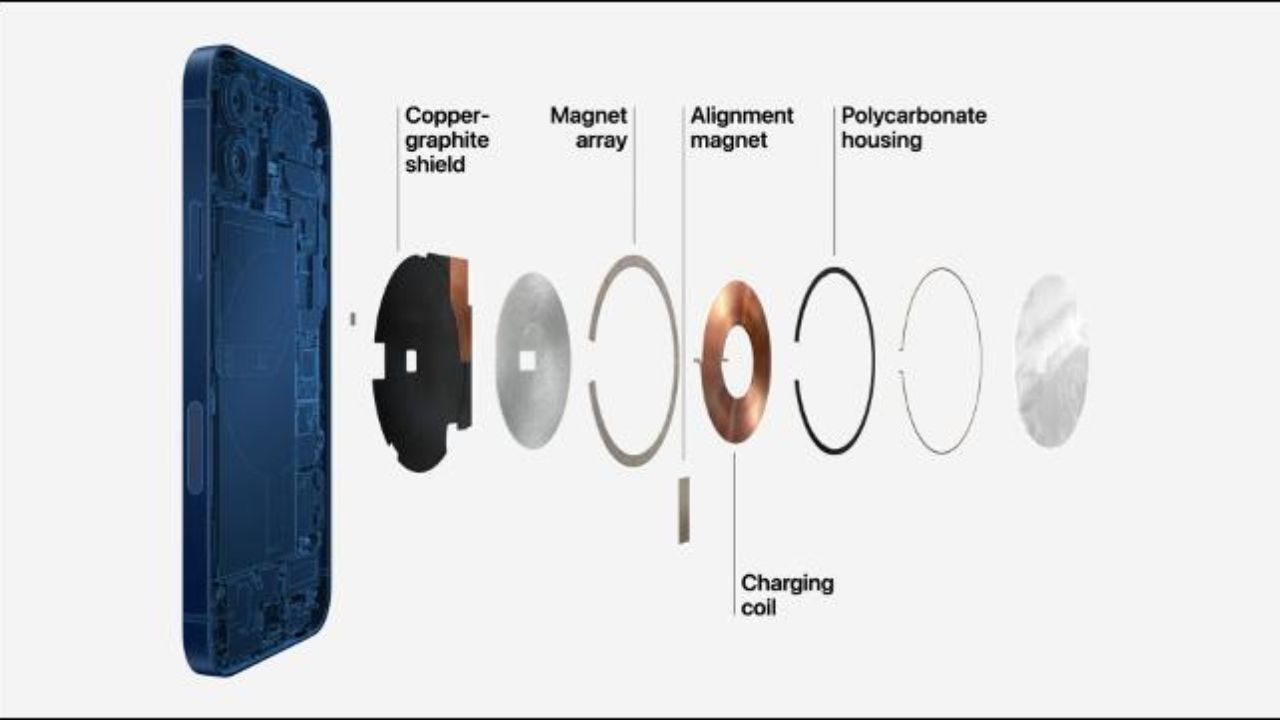 Multi-device support
One more thing that you should keep in mind while buying a wireless charger is how many gadgets you own or wish to buy soon. If you own an iPhone 13 and an Apple Watch or AirPods and always carry them on you,  look for a wireless charging station. This will not only save money but your office desk or bedside table will look much cleaner as compared to multiple wires and adapters all over the place. Furthermore, you won't be occupying multiple sockets while charging all your devices. This is a lifesaver when traveling or when you've got guests over at your place. 
Other factors
Some other factors you should consider are your budget, warranty, and after-sales service and service centers near you.
Best Wireless Chargers for iPhone 13 Series [MagSafe & Qi]
1. Apple MagSafe Charger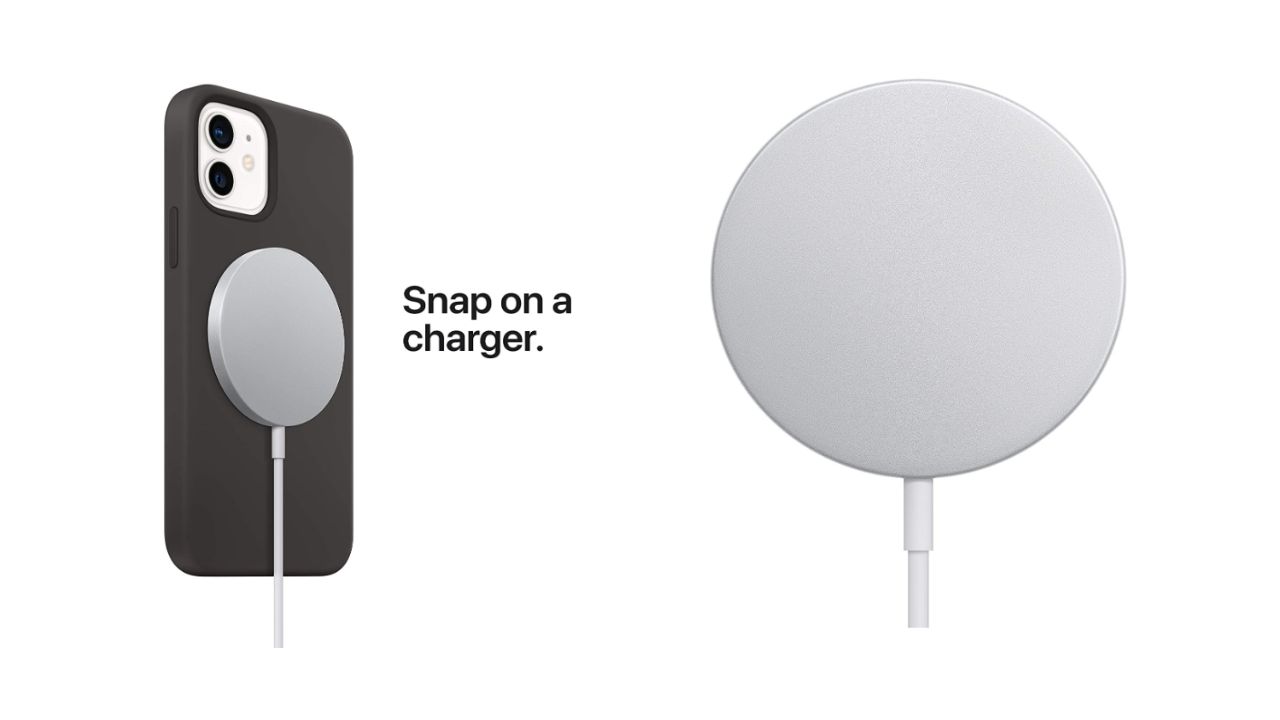 The Apple MagSafe charger is the official and one of the best iPhone 13 wireless chargers on the market. You can charge your iPhone at the full 15W charging speed thanks to its lightweight, compact size, and premium design. Additionally, you can also wirelessly charge your AirPods with Apple's MagSafe charger. The absence of color options is perhaps the only drawback of the Apple MagSafe charger.
When you place your iPhone on top of the MagSafe Charger, which looks like a plain white Air Hockey puck, your iPhone 13 Pro will start charging wirelessly. Your iPhone 12 or iPhone 13 should automatically stick to the MagSafe charger, which uses magnetic connections to keep everything in alignment.
The charger has a USB-C connector on the other end that can be plugged into a power adaptor (which isn't included in the box) or a laptop. The USB cord extends to 1 meter (3.2ft) in length, giving you lots of options for where to place the charger.
Reasons to Buy:
Magnetic Alignment (MagSafe Support) for iPhone 12 and 13 series

Premium build quality

Portable and travel-friendly

One of the few chargers that deliver 15W wirelessly
Where it falls short:
Relatively expensive 

Does not come with an adapter

The user requires a 20W or more adapter to get 15W wireless charging speeds
Apple also offers a MagSafe Duo Charger to wirelessly charge two devices simultaneously. This is the most travel-friendly iPhone 13 Pro wireless charger if you own an
Apple Watch or AirPods. One of the best features of Apple's MagSafe Duo is its practical design. First of all, you can fold it like a wallet, which instantly makes it very super travel-friendly. Secondly, one of the sides can either stay flat or go up, depending on how you want to place your Apple Watch.
Also read: Best Camera Lens Protector for iPhone 13 Pro Series to buy right now
2. Belkin MagSafe 3-in-1 Wireless charger 
There are other third-party wireless chargers for iPhone 13, and then there's the Belkin BoostCharge Pro, which takes everything to a whole new level. Apple has closely worked with Belkin to provide the best-in-class accessories for iPhone 13 series. It'll only work with MagSafe-ready iPhone 12 and iPhone 13 or newer models. This MagSafe wireless charger has 3 charging points. In addition to charging your iPhone 12 or iPhone 13, you can also wirelessly charge your Apple Watch and AirPods at the same time. It's the ideal wireless charging device for your bedside table or office workstation.
Although this is a relatively expensive wireless charger compared to the affordable alternatives in this category. However, given the sleek appearance, premium build, and the ability to charge three Apple devices simultaneously, we believe it is money well spent. Belkin also upgraded the Apple Watch charger to support fast charging on the Apple Watch Series 7 and above.
Reasons to Buy:
Can Charge 3 devices simultaneously

MagSafe support

Premium build quality & minimalistic design

Sleep mode support
Where it falls short: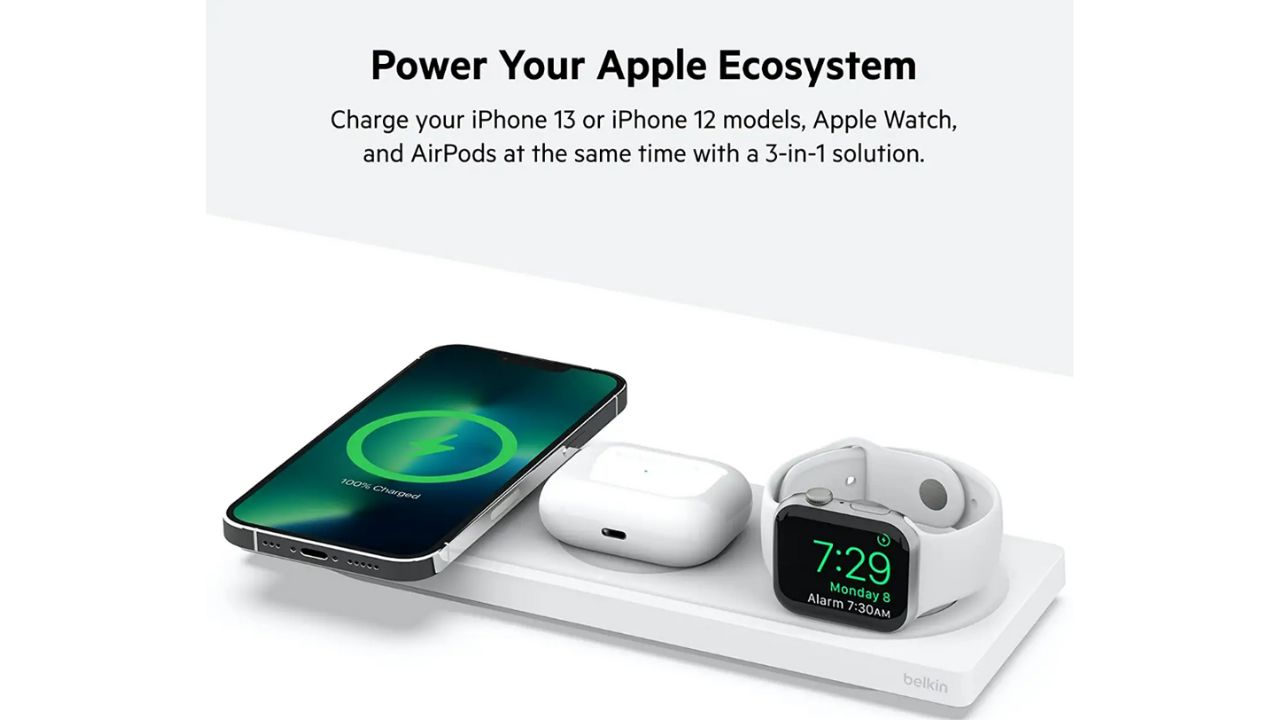 For travelers who are used to wireless charging on the go, this is one of the top multi-device charging pads for Apple accessories. This is a very compact alternative to Belkin 3-in-1 wireless charger that can easily fit into even your smallest backpacks. The charger has a very functional design that can easily charge your iPhone, Apple Watch, and AirPods. 
Also read: Best iPhone 13 & 13 Pro Screen Protectors 
3. ESR Halolock Kickstand Wireless Charger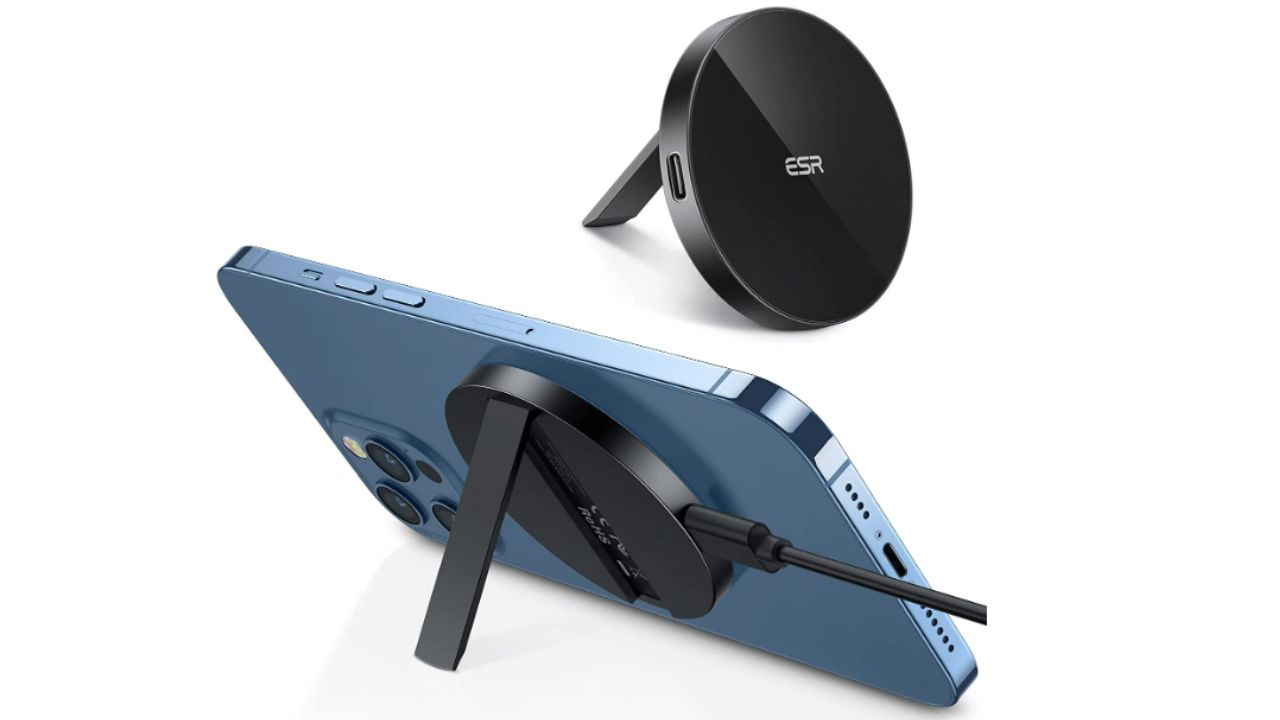 The ESR HaloLock Kickstand Wireless Charger is a simple and highly functional MagSafe charger for iPhone 13. It looks just like the Apple MagSafe charger but comes with a pull-out kickstand that you can use to keep your iPhone in an upright or horizontal position while charging. You can also use it as a conventional phone stand by removing the accompanying charging wire. Not only that you can easily
watch movies and shows, and shoot TikToks and Reels while your iPhone 13 Mini's battery juices up.
The charger has a sleek and attractive aluminum shell that gives it respectable build quality. It boasts a strong magnetic connection and a 5-ft USB-C charging cable, allowing you to easily use your iPhone 13 while charging.
Reasons to Buy:
MagSafe compatible

Built-in kickstand

Available in different colors

Removable 5-foot USB-C cable
Where it falls short:
Does not come with an adapter

7.5W charging speed only
Also read:  Best MagSafe Accessories for iPhone 13 Pro Max 
4. Belkin Boost Charge 15W Fast Charging Pad (Works with all smartphones)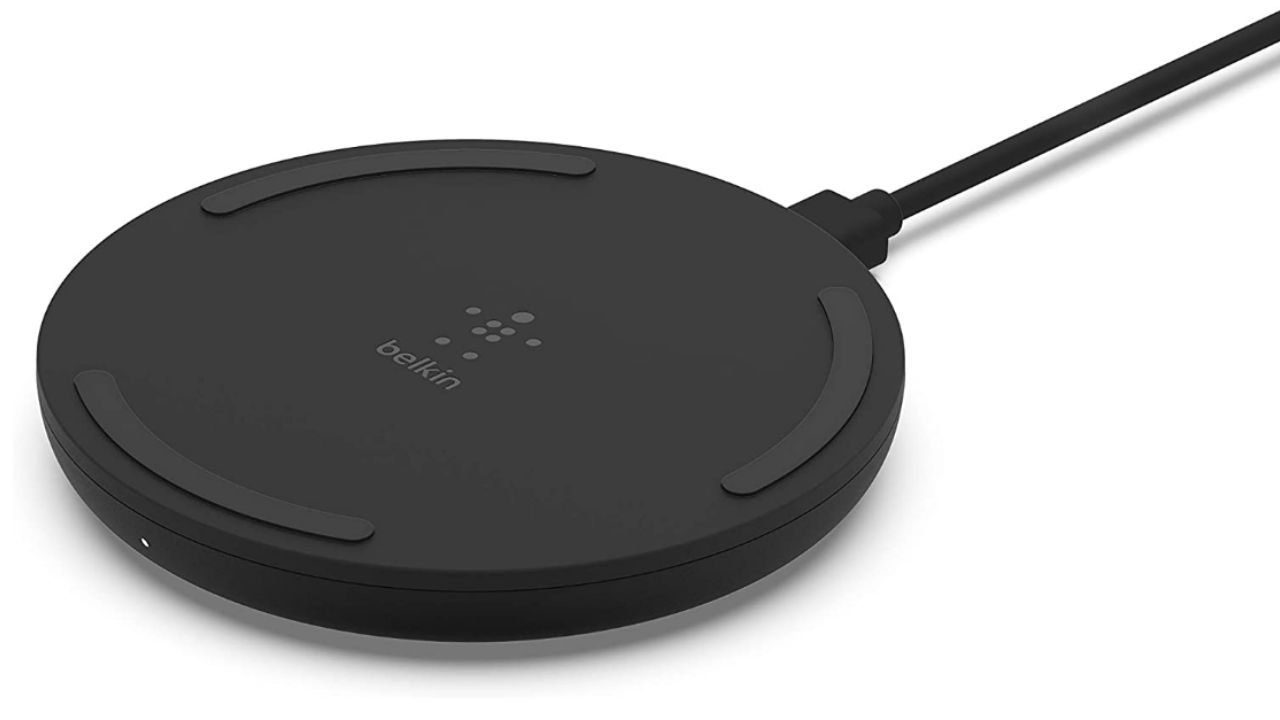 The Belkin Boost Charge Wireless Charging Pad is an ideal wireless charger when you own smartphones of multiple brands. Surely you can easily charge your iPhone 13 wirelessly but it is as easy to charge your Samsung Galaxy and Google Pixel smartphones. Belkin's wireless charging pad was engineered with universal Qi compatibility in mind, meaning the Boost Charge will always attempt to deliver the fastest charge possible up to 15W. Simply place your Qi-enabled smartphone or device on the non-slip pad and instantly begin fast charging at up to 15W. Not only smartphones you can also charge your AirPods with this charger. 
Belkin's blend of form and function cement it as an absolute go-to device for your wireless charging needs. If you're looking for an iPhone 13 Pro wireless charging pad to give you the utmost confidence when it comes to cutting the cord and stepping into the wireless age, you've found it.
Reasons to Buy:
Compatible with Google, Samsung, and other 15W fast wireless charging-supported devices

Non-slip surface 

Comes with 2 years of warranty

Respectable build quality
Where it falls short:
Only works with up to 3mm thick cases

No MagSafe support (No 15W charging on iPhone 13)
Also read: How to fix iPhone 13 Black Screen of Death
5. Yootech 10W Wireless Charger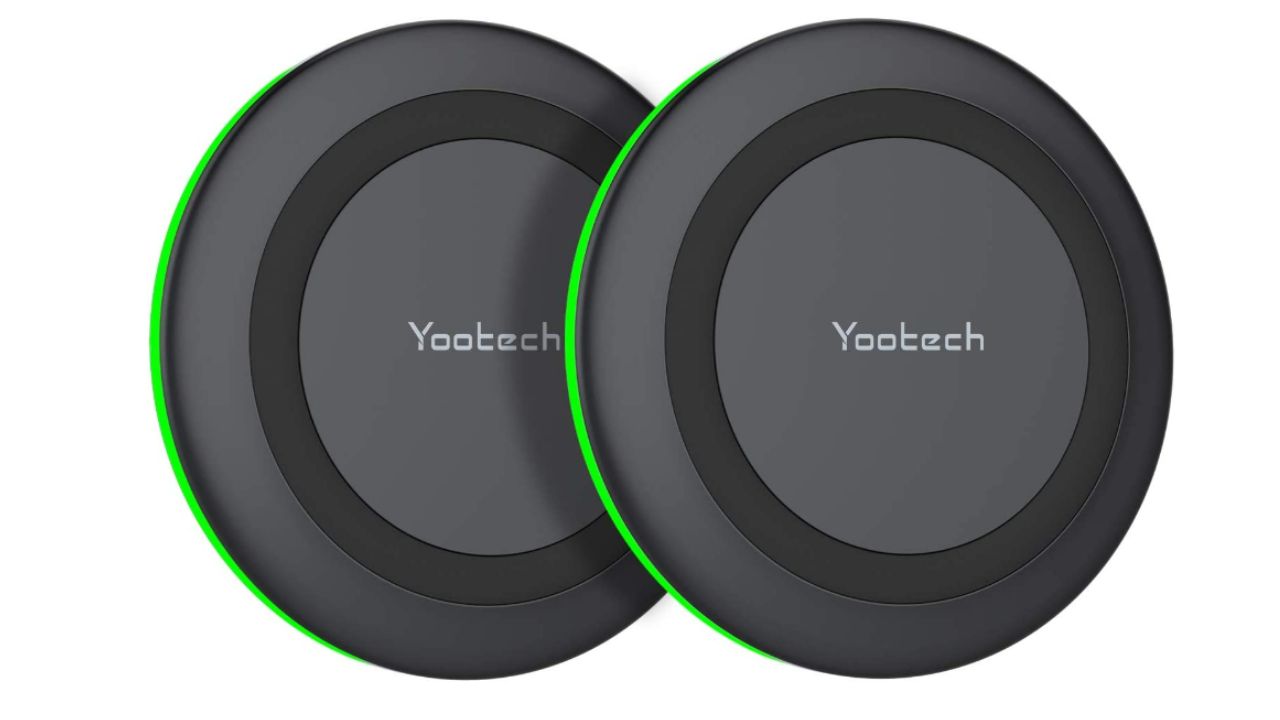 The Yootoech wireless charger is one of the most affordable options to wirelessly charge your iPhone 13. Yootech products have been on our roundups since the iPhone XR series. Yootech provides two wireless charging pads and two power outputs: 7.5-Watt charging for iPhones and 10-Watt charging for Android phones. It is not the fastest charger on the list but if you want to start with wireless charging this is a great option without spending hundreds of dollars. The two pads give you the flexibility to keep them in separate places you can use one on your office desk and one in your home. 
The set includes a 3-foot USB-C power cord. So keep that in mind while shopping for a power cord. The magnetic interface is fairly powerful, but it is not strong enough to charge with a thick case on your iPhone 13 Pro. Since the charging pad is made of fire-resistant ABS, which offers admirable temperature management. It also comes in a stand version.
Reasons to Buy:
Comes with 2 charging pads for office and home use

Value for money

Wide compatibility 

Portable and easy to use

Built-in temperature control for heating issues
Where it falls short:
No MagSafe support 

Not the fastest wireless charger
Yootoech also offers a budget-friendly version of all the wireless chargers that we've mentioned in this list. 
Also read: Best Apps for iPhone 13 in 2022
6.Spigen ArcField MagSafe Charger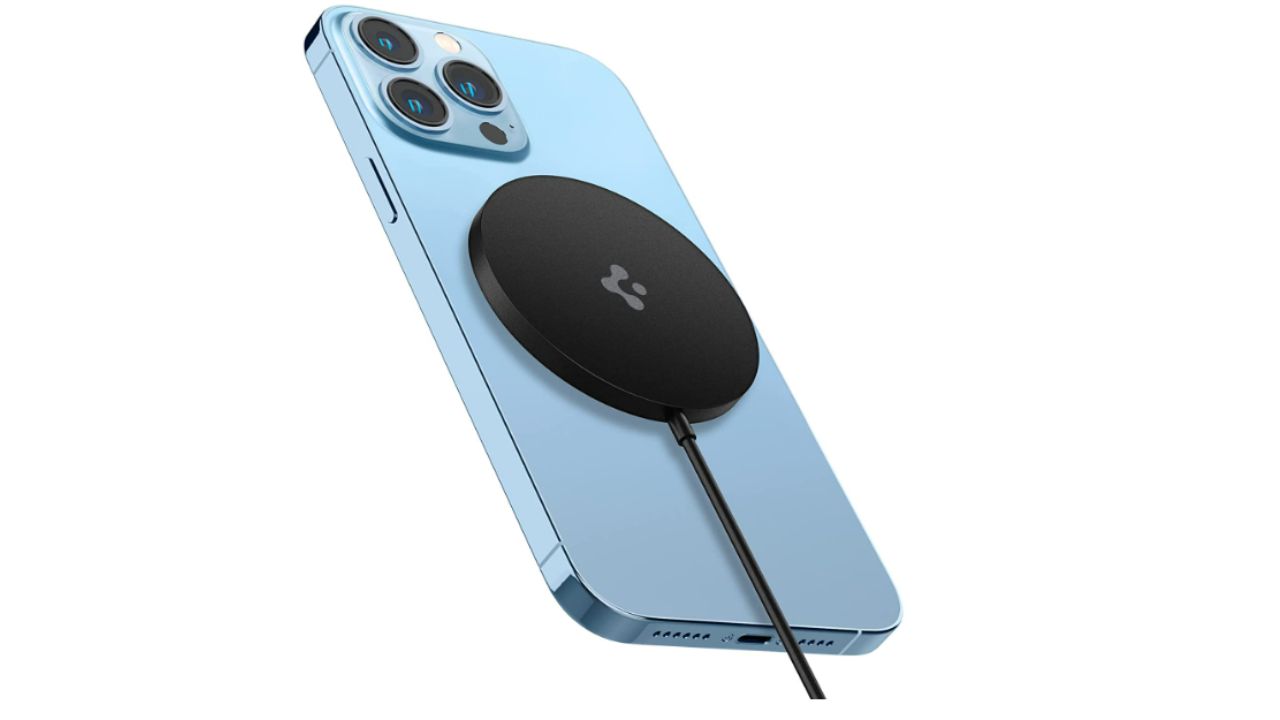 Spigen ArcField charger is an excellent alternative to the Apple Magsafe charger for iPhone 13. This wireless charger is specially designed for iPhone 13, iPhone 13 Pro, iPhone 13 Pro Max, iPhone 13 mini, and iPhone 12 series. Because it is a budget-friendly MagSafe charger you can easily align it with your iPhone even with a case on. With this wireless charger, you'll get a 3.3ft USB-C cable so you don't need to buy another one. The only downside of this charger in comparison to Apple's MagSafe puck is that even with a
20W GaN PD 3.0 adapter it will still deliver 7.5W of power output. Apple's official charger offers 15W but at almost double the price of this one.
Reasons to Buy:
Slim and lightweight

MagSafe compatible

Value for money
Where it falls short:
7.5W power output as compared to Apple's 15W

The magnets are not as strong as the Apple ones but these do the job
Also read: Top 13 Fast Chargers for iPhone 13 and iPhone 13 Mini
7. ZECHIN 5-IN-1 Wireless charger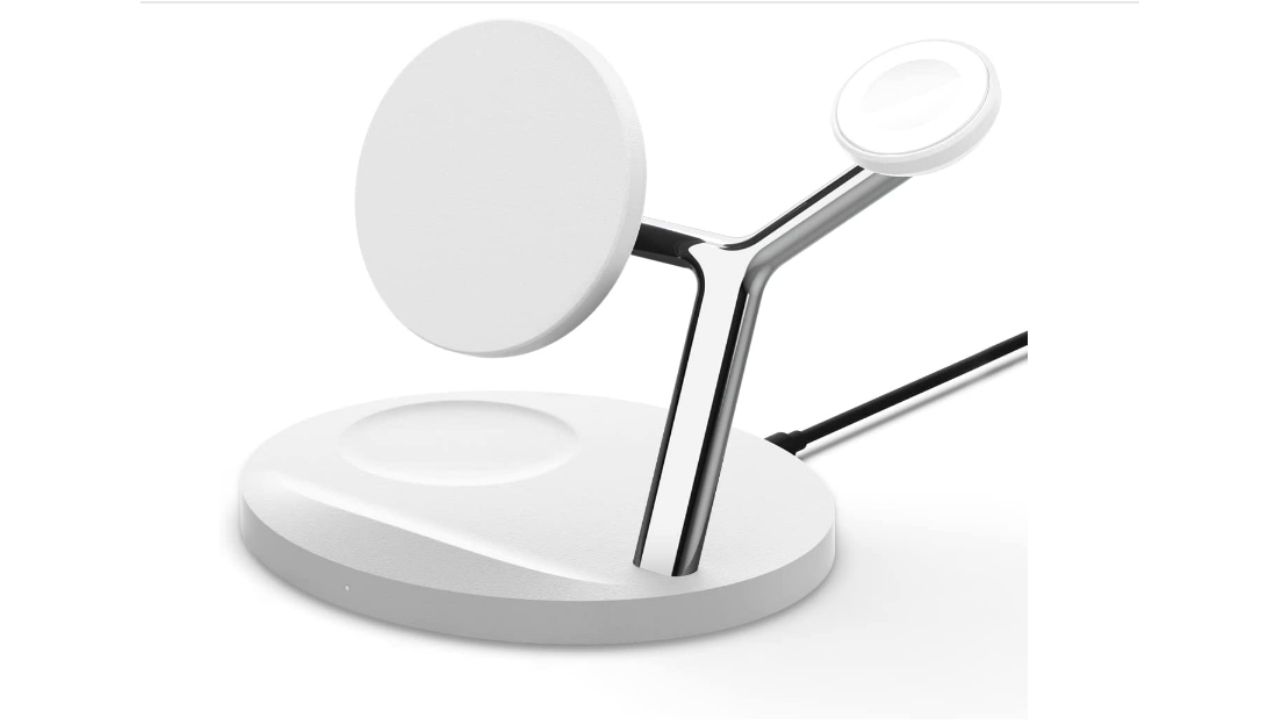 If you want to buy a charging station but are not sure about investing hundreds of bucks on the Belkin Boost Pro we mentioned above, try this wireless charger for iPhone 13. This 3-in-1 iPhone 13 Pro wireless charger can charge up to 3 devices simultaneously as well as comes with a USB-C and USB-A port that can charge any device with up to 20W power output. These ports are for wired charging of those devices that do not support wireless charging like the Pixel 6a. This wireless charger is more of an overnight charger when you can charge all your Apple devices with one charger. The phone charger is adjustable and you can use it as a stand to watch movies and shows. 
Reasons to Buy:
Apple MFi certified

Supports wireless and wired charging

Comes with a 37W adapter

Premium build for an affordable price
Where it falls short:
Not the fastest charger (7.5W for iPhone & 10W for others)
Don't Miss: iPhone 13 Battery Drain? Here are 17 Ways to fix it
8. Anker Multi-Device Detachable Wireless Charging Station (Most Versatile Charger)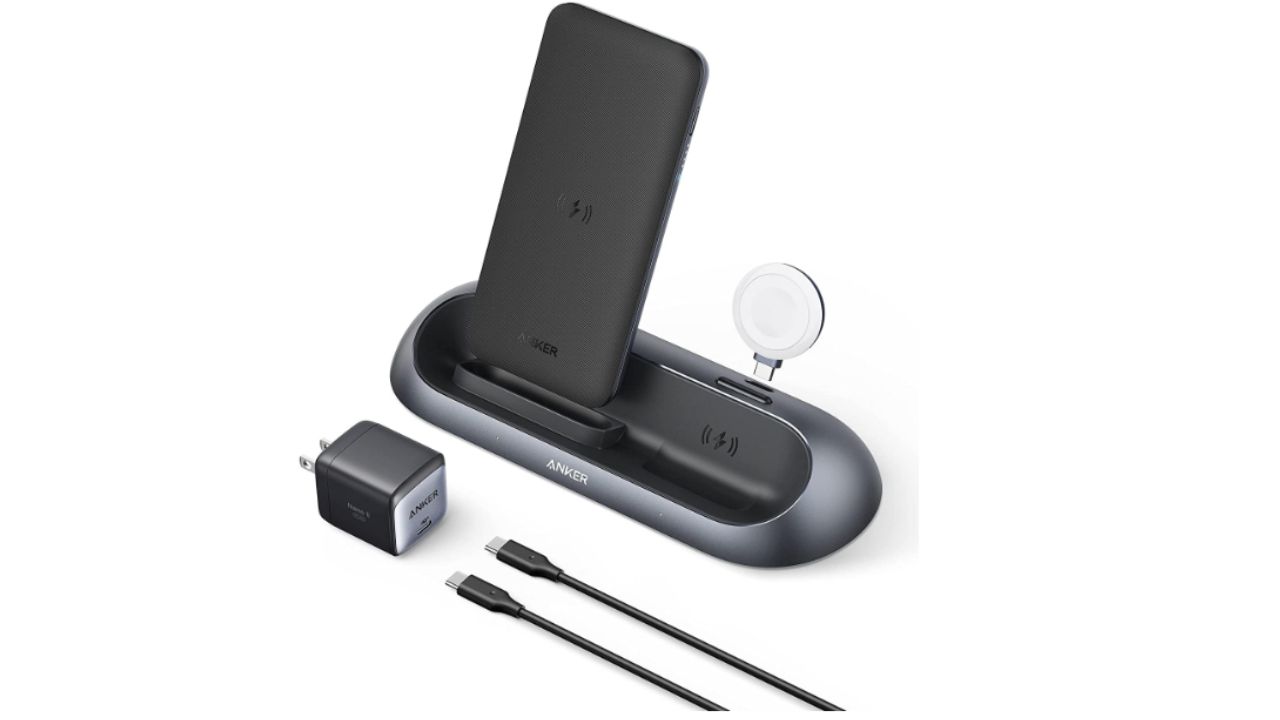 Anker MultiDevice charging station is one of the most functional wireless chargers for iPhone 13 and other Apple devices. This is an MFi-certified charging station that ensures maximum safety and can charge up to 3 devices at one time. This charging station comes with a 45W Anker Nano II adapter which you can also use for wired charging your iPad, iPhone, or even your MacBook Pro. This is a detachable charger that you can use in many ways like detaching the phone stand and using it separately as both wireless and wired charging for iPhone 13 Pro Max. The 45W adapter can easily charge your MacBooks and iPads so you don't have to buy a different adapter for that. You can easily attach the Apple Watch charger and even charge it with your MacBook
Reasons to Buy:
Comes with great functionality

Compatible with MagSafe cases

Detachable battery pack
Where it falls short:
Very bulky and expensive

No MagSafe (magnets) support
If you're looking for a MagSafe-compatible iPhone 13 wireless charger from Anker, we recommend checking out the 2-in-1 MagGo 623 charging station. It has an all-new design and works seamlessly with MagSafe accessories with support for charging AirPods wirelessly.
Also read:  Best MagSafe Cases for 13 Pro Max
9. Nanami 30W Fast Wireless Charger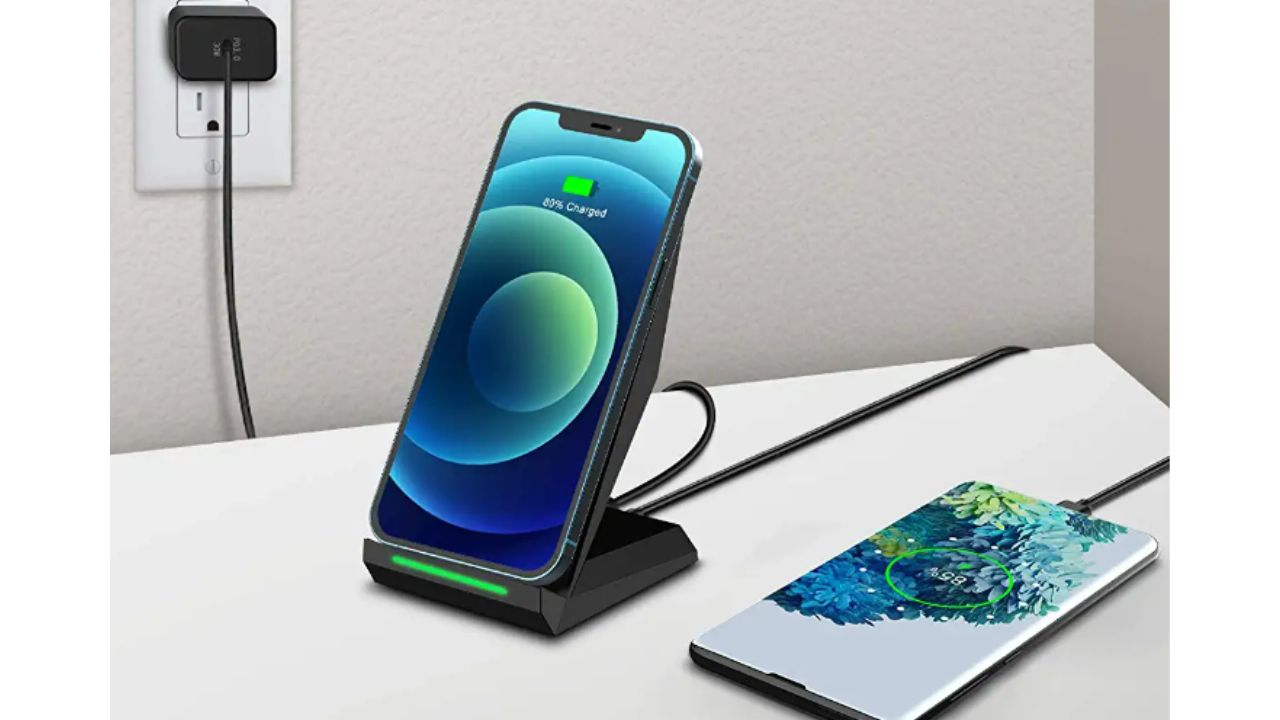 This charger is one of the best wireless charging stands for iPhone 13 Pro Max, iPhone Mini, iPhone 13 Pro, and iPhone 13. This is a charger for newbies who are used to wired charging but won't mind trying out a wireless charger. It has a built-in USB-C port that can charge another device with up to 30W of power output (up to 20W if used when a device is charging wirelessly). It comes with a 30W PD 3.0 adapter that can fast charge your phone easily. On the wireless charging stand, you can charge your iPhone horizontally as well as vertically. Given the high power stand-to-foot ratio, there are four friction-enabling rubbers beneath the foot to avoid falling. This hybrid iPhone 13 Pro Max wireless charger comes with 2 cables one USB-C to USB-C and the other USB-C to USB-A.
This charger can also charge your iPhone with a case that is no thicker than 5mm. Thinner cases for iPhones 12 and 13 are preferable for better results.
Reasons to Buy:
Built-in USB port for wired charging

Compatible with multiple smartphones

60 days money-back guarantee with 1 year of warranty. 
Where it falls short:
Doesn't work smoothly with all cases
Also read: How to fix iPhone 13 Battery Drain issue?
10. ESR Halolock MagSafe Wireless Car Charger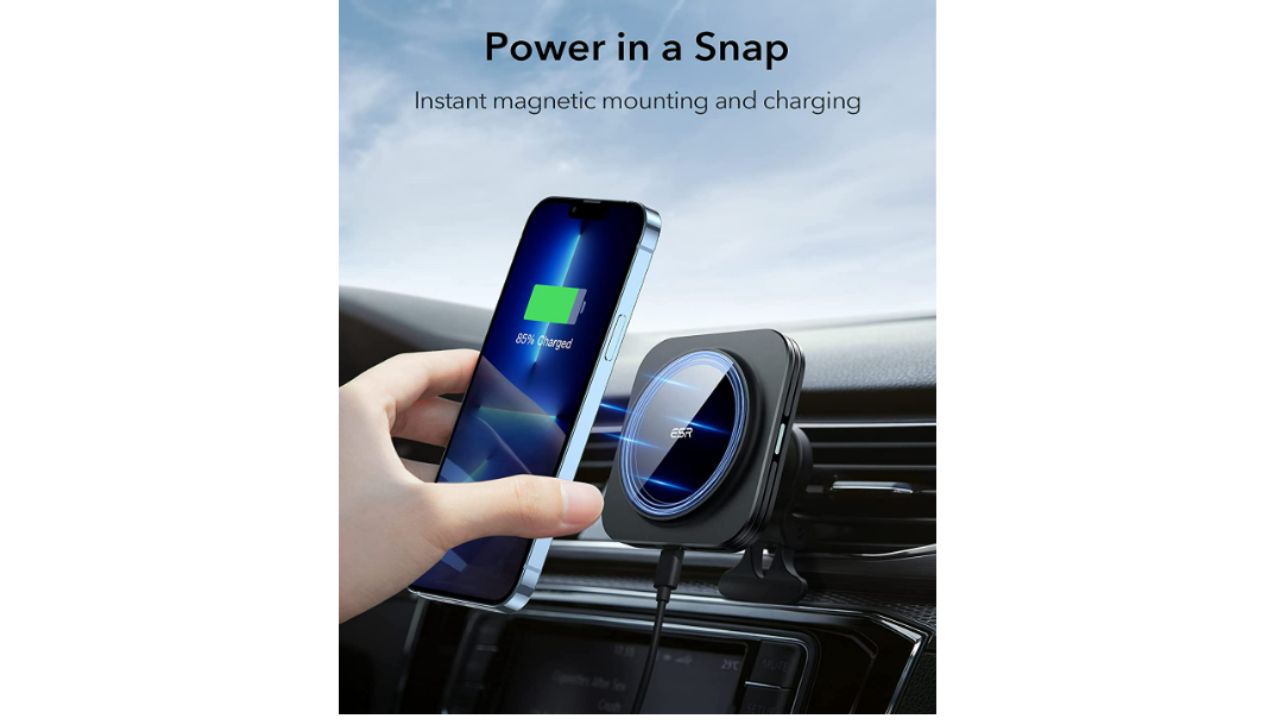 This is the only wireless car mount charger on this list and one of the best in the market. The is one of the best wireless car chargers for iPhone 13 that easily stick your phone to the car mount, If you're someone who is always traveling and driving a lot, a car charger is a must-have and a MagSafe charger further eases the job. While traveling you
tend to look for Maps and directions and when your phone is stuck to the dashboard it becomes easier to navigate and on top of that, your phone is charging as well. It is a nice accessory to own when you need to safely access their iPhone 13 for navigation, music, or even answering calls while driving.
The MagSafe compatibility makes it sturdy and your phone will not fall off even in bumps and bends. You can align your phone horizontally and vertically and use your phone easily. It has a built-in fan that cools the iPhone to prevent iPhone 13 from overheating and maintains its battery health. This ESR MagSafe car charger is compatible with MagSafe cases but for better magnetic connection use it without a case or with a
Reasons to Buy:
Strong magnets keep it glued

Only works with official MagSafe cases

Cools the phone while charging with an in-built fan
Where it falls short:
Also read: iPhone 12 vs iPhone 13: Which one you should buy in 2022
11. Anker MagSafe PowerWave Pad Slim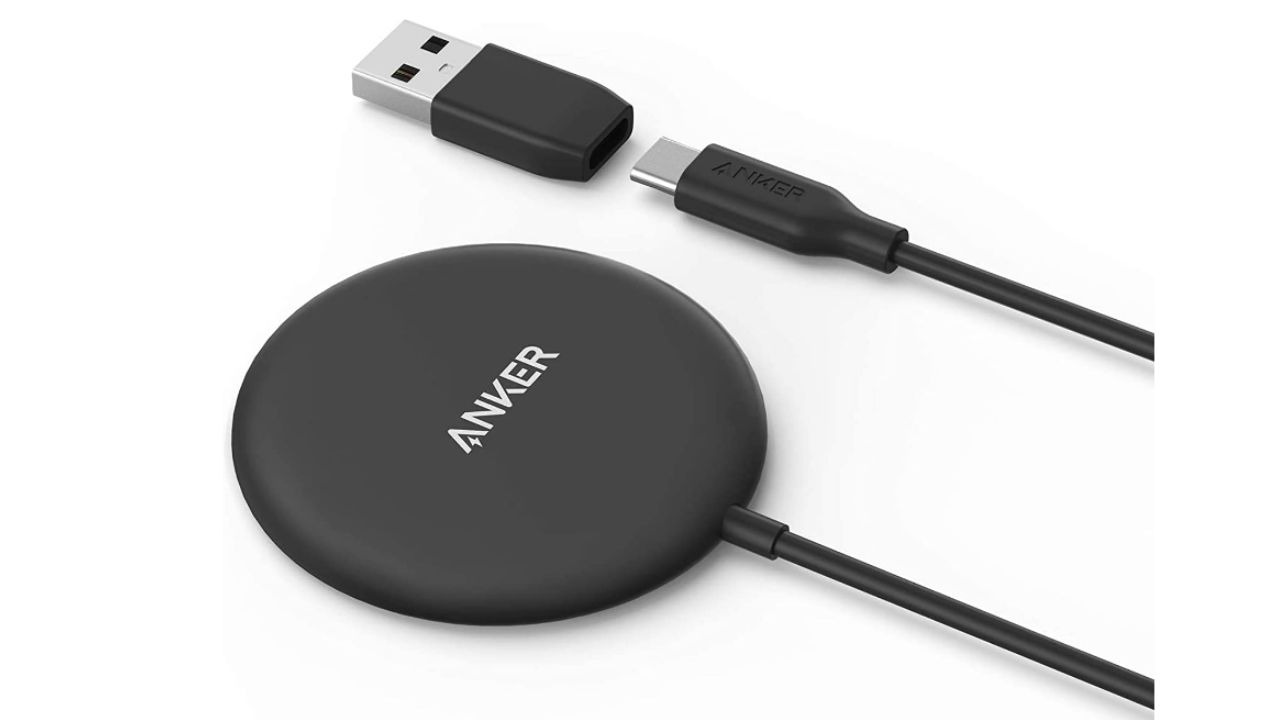 Anker makes a ton of great charging options, both wireless and wired and the MagSafe PowerWave is amongst the best of them. If you're just starting out with wireless chargers and don't want to spend a hefty amount then this recommendation is for you. The Anker MagSafe PowerWave is an affordable yet durable wireless charger for iPhone 13. The charging pad is made of plastic but with a rubber finish at the bottom to prevent slips and slides. This is a MagSafe charger so it does charge your iPhone 13 very efficiently and you don't have to move around your iPhone to find the sweet spot. This charger comes with a 5ft cable and a USB-C or USB-A connector so you can place your MagSafe wireless charger for iPhone 13 wherever you want to. There is no adapter included so you have to purchase that separately or you can use any 15W charger to charge a bit faster. If you consider the 18-months warranty and the fantastic customer service this wireless charger is a great bang for your buck to go with. 
Reasons to Buy: 
Affordable yet durable wireless charger 

Comes with a 5ft cable and USB-A/USB-C connector

A discreet light indicator that doesn't hamper your sleep 
Where it falls short:
7.5W charging for iPhones

No adapter included
Also read: Best Wireless and MagSafe Chargers for iPhone 14 
12. Otterbox MagSafe Wireless Charging Pad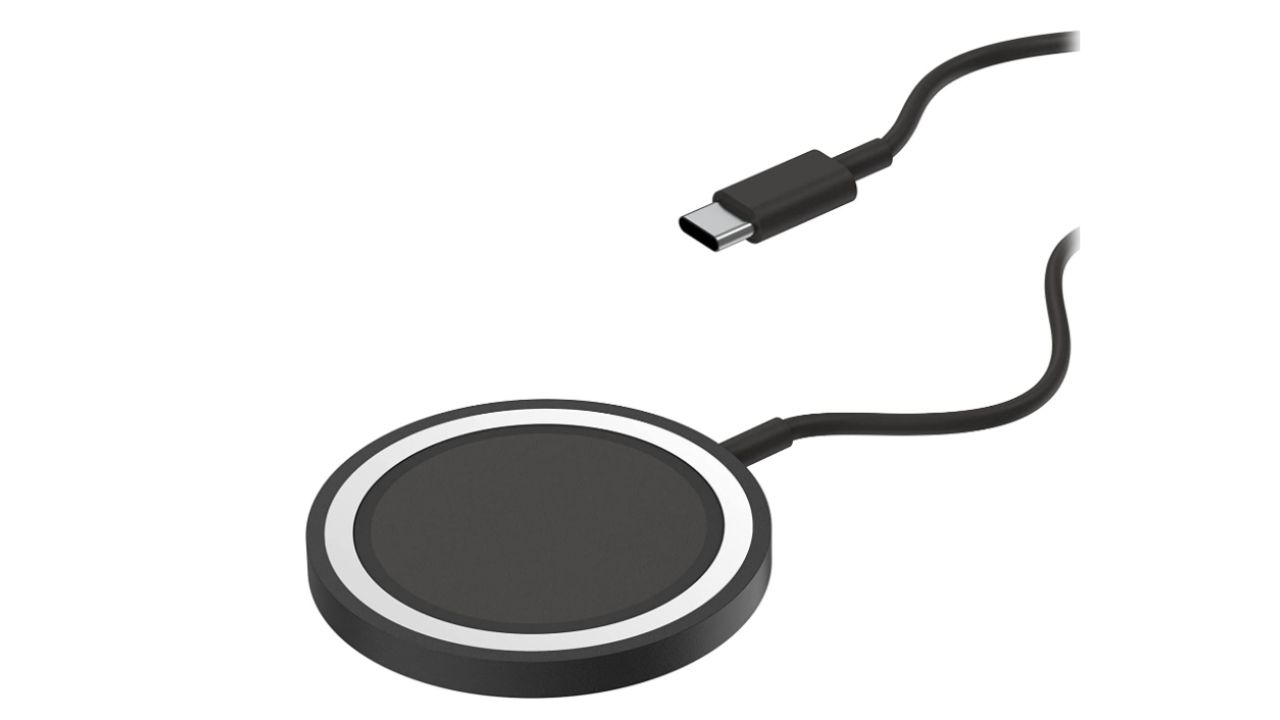 Otterbox MagSafe wireless charging pad gives some competition to Anker PowerWave Slim Pad.The entire surface is coated with a fairly grippy finish to ensure even with glossy MagSafe cases your iPhone won't slide off. This wireless charger has an illuminated disk inside that will glow up in the dark if you charge it however it is not so bright that it will disturb your sleep. The magnetic disk ensures to attach your iPhone 13 real quickly. It comes with an integrated 6.6ft USB-C cable so you can place this charging pad for iPhone 13 wherever you go. The power output of iPhone 12 or later is 15W for MagSafe so you need at least at 20W adapter to charge your phone faster.. 
Reasons to Buy: 
Affordable MagSafe wireless charger 

Comes with a 6.6ft cable

Easy to align and comes with strong magnets
Where it falls short:
Very basic 

Adapter not included 
Also read: Best MagSafe cases for 13 Mini in 2023
13. Courant Mag:1  MagSafe Leather Charging Pad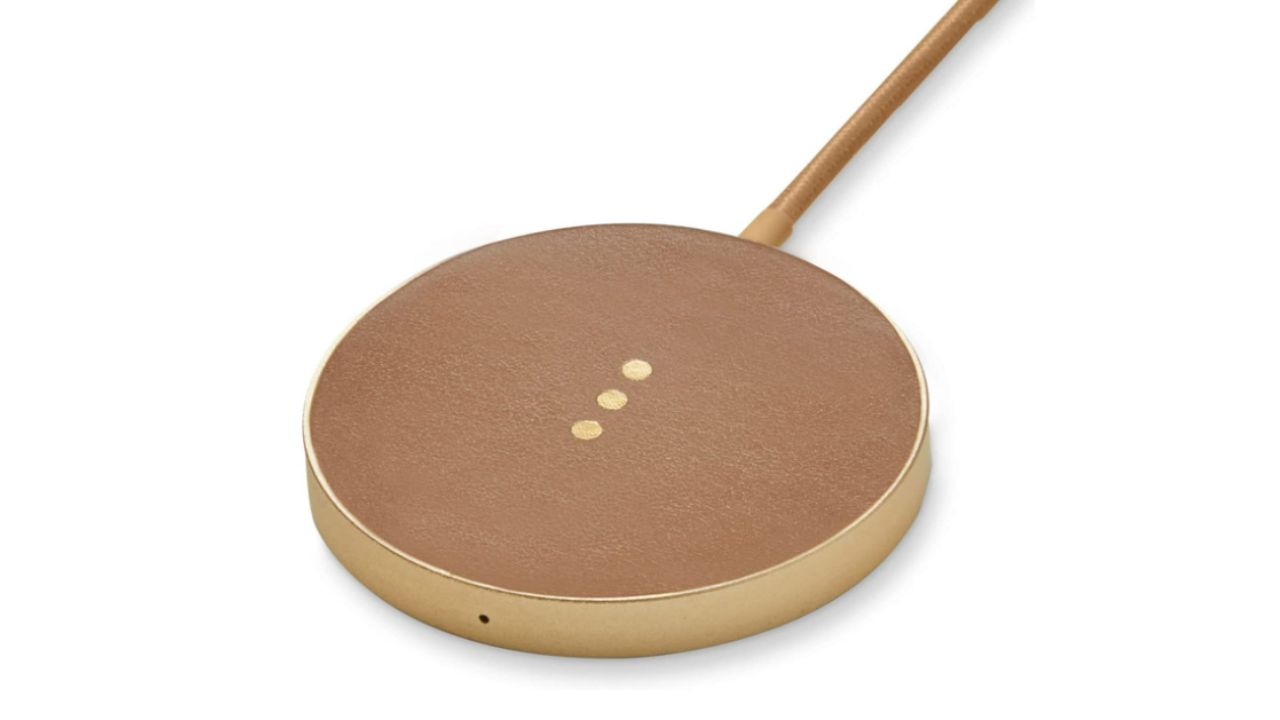 If you want a stylish wireless charger that looks like a part of your decor this is the perfect recommendation. This iPhone 13 Magsafe charger comes with beautiful leather and linen, soft-touch sides, and a color-matched USB-C to USB-A cable. It has a white pinpoint charging indicator at the rear of the pad, next to the USB port: it won't bother you at night, but it's also hard to see without rotating the pad. The small size makes it very easy to carry around if you're always on the go. This wireless charger for iPhone 13 comes in leather and linen finishes in 8 neutral colors that you can choose according to your preferences. This is a 15W charger that will give you decently fast charging if you are someone who likes to charge overnight. So, if you are more inclined towards a better-looking wireless charger for iPhone 13 the Courant Mag:1 is a great option. 
If you have multiple work and personal phones and want an aesthetic-looking charging device. You can check out the Courant Catch:2 to charge two phones simultaneously. However, if you're interested in buying a valet tray that can charge your phone do check out Courant Catch 3. The Catch: 3 comes with a tray and a wireless charging pad that can charge iPhones as well as Android phones.
Reasons to Buy: 
Stylish-looking wireless charger with linen and leather finish

Comes with an attached USB-C cable

15W charging speed and MagSafe compatible
Where it falls short:
If you're interested in aesthetic-looking wireless chargers then there is another option that you should check out. The Eggtronic wireless charger is made of marble that blends with your home decor. However, the charging speed is not very good but if slow charging is not a problem and you want a stylish wireless charger then this is worth checking out. 
Also read: Best Chargers for iPhone 14 and iPhone 14 Plus in 2023
Best Pick
Belkin MagSafe 3-in-1 Wireless Charger with MagSafe should be your priority if you have an iPhone 13 or 12-series phone. Attaching your iPhone 13 and other accessories are simple. This charger comes with a wall adapter and Belkin's 2-year warranty covers the charger and the connected adapter. The two significant benefits you'll get with this purchase are the fast and perfect alignment and 15W charging speeds and it is officially licensed by Apple. 
Let us know in the comments which wireless charger you're buying for your iPhone 13 series.
Also read: Best Fast Chargers for iPhone XR, XS, and XS Max in 2023