ESR has made a reputation for itself by consistently providing sturdy, reliable, and functional products in the accessory market. We have been testing their range of HaloLock(which is ESR speak for MagSafe) Wireless Chargers and we're happy to report that ESR has managed to create a product lineup that stands up to its high standards. 
Throughout our review duration, we tested out 2 products from the ESR HaloLock series-
CryoBoostTM Technology: A Game Changer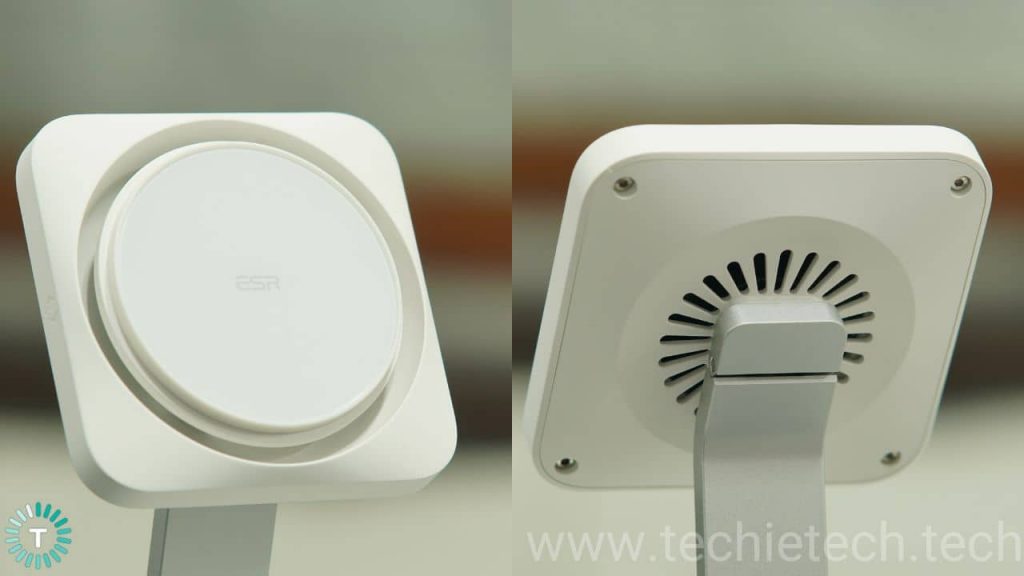 Before we begin dissecting our experience with each individual product, let's talk about CryoBoostTM, ESR's enhancement of the MagSafe technology which, in my opinion, is what sets these products apart. 
The CryoBoostTM system basically incorporates a cooling system with the wireless charging puck. This cooling system consists of a fan along with some heat dissipation tech built inside. Here's how this helps. Wireless charging generates a lot of heat, which leads to overheating of the device being charged. This leads to throttling, where the charging speed is reduced significantly to protect the components of the device from excess heat. 
Now, ESR's CryoBoostTM solves this by constantly keeping the device cool while it's being charged. This takes any form of throttling out of the equation which makes the ESR HaloLock the fastest wireless charger we have tested until now. For comparison, it is more than twice as fast as the first party MagSafe charger sold by Apple. 
ESR HaloLock 3-in-1 Wireless Charger with CryoBoostTM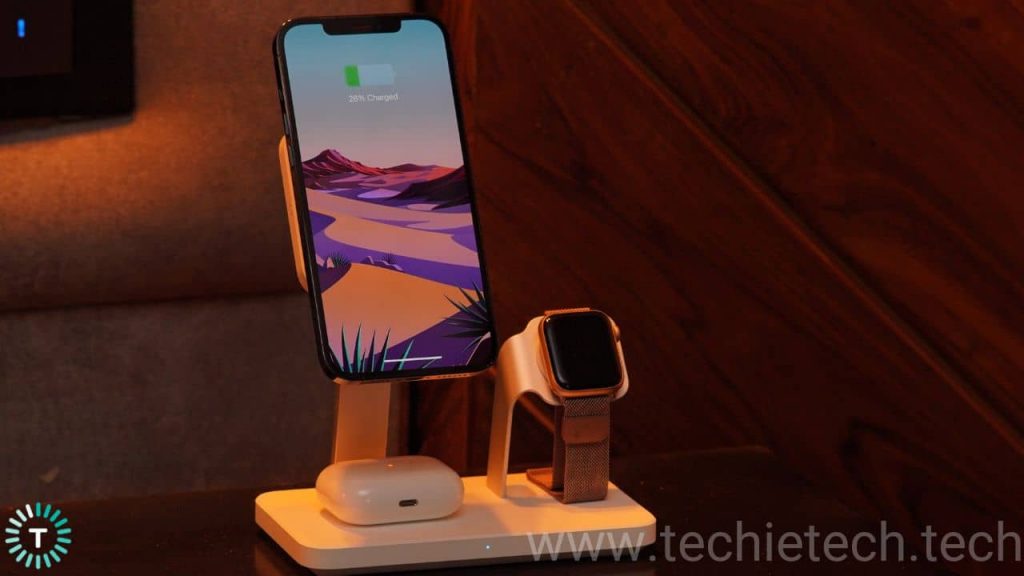 If you are someone who is deep into the Apple Ecosystem with a pair of Airpods and an Apple Watch to compliment your iPhone, this is the wireless charger for you. The ESR HaloLock 3-in-1 is a well crafted, beautiful product that would definitely add to the looks of any desk setup. It features a CryoboostTM enabled MagSafe/HaloLock charger for your iPhone. Once you stick your iPhone to it, there's a ring light that glows, confirming that the connection to charge has been established. It also adds to the aesthetic.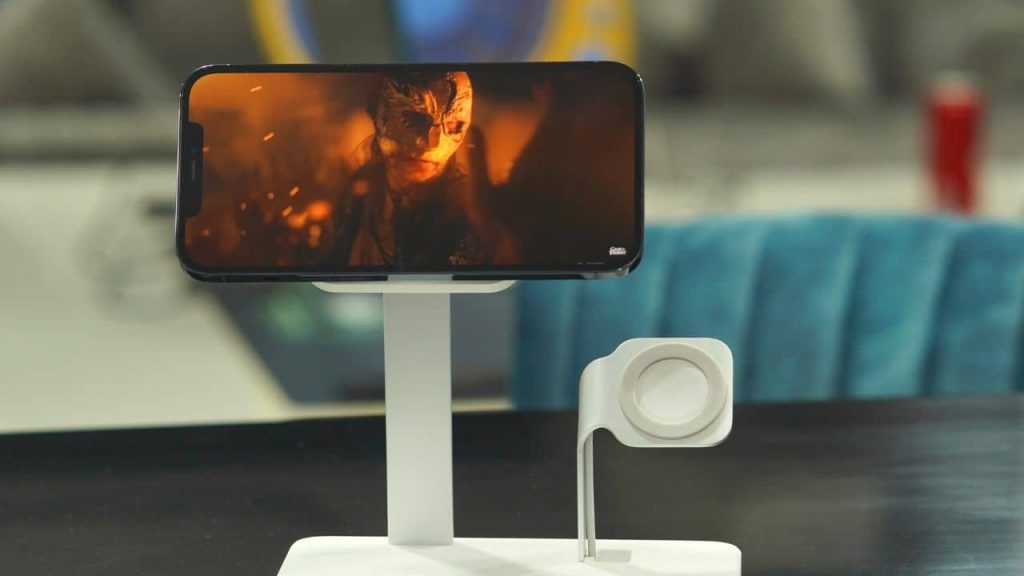 In my thorough testing, the magnetic hold was really strong, so much so that rotating the heavy iPhone 13 Pro Max from portrait to landscape while it was connected was a non-issue. This inspires a lot of confidence. Another nifty feature is that you can turn the dark charging mode on which turns the ring light off but also turns off the CryoBoostTM fan. It is a very thoughtful addition if you want to charge your iPhone overnight.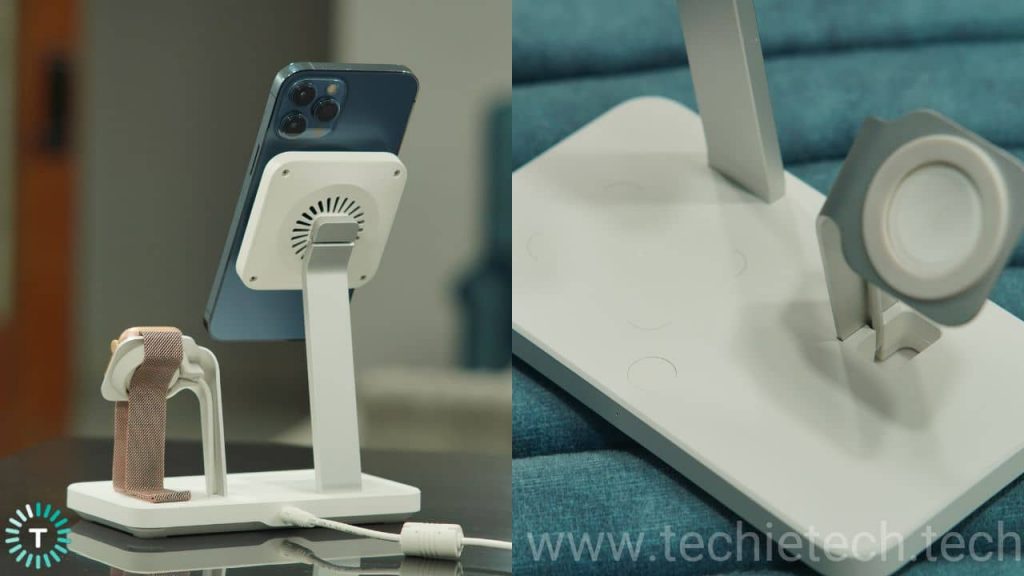 At the base is another Qi-enabled wireless charger which you can use to charge your AirPods or pretty much any Qi wireless charging compatible device like a smartphone or some other earbuds. We used this to charge our AirPods Pro and got respectable charging speeds. It also acted as a fairly functional wireless charger for my secondary Android phone.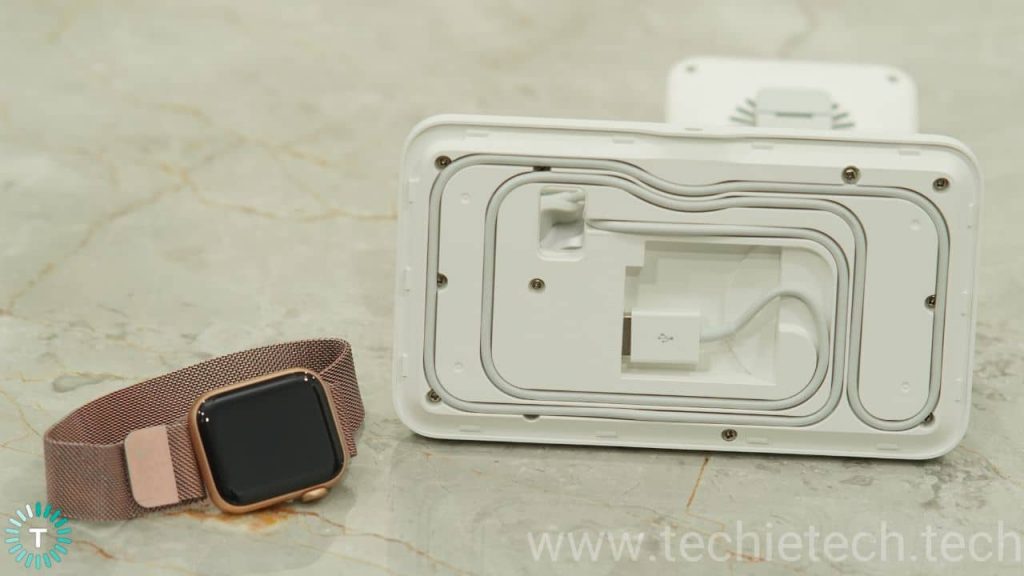 One caveat of this ESR charger is that it does not include a built-in Apple Watch charger. It includes a stand which can slot in your Apple Watch charging cable. ESR has done something incredibly neat here. There is a very nifty design at the bottom of the ESR 3-in-1 which can efficiently manage all your wire and further hide it so that your desk appears as uncluttered as ever. There's both a USB Type-A and Type-C connection at the bottom so all sorts of Apple Watch charging cables will be compatible. I believe that this is a very neat implementation and would go a long way in ensuring that you get a clean look on your desk. It has been a pleasure using the ESR 3-in-1 wireless charger daily and this is one of those rare instances where I would continue using a product beyond the review period! 
ESR HaloLock Wireless Car Charger with CryoBoostTM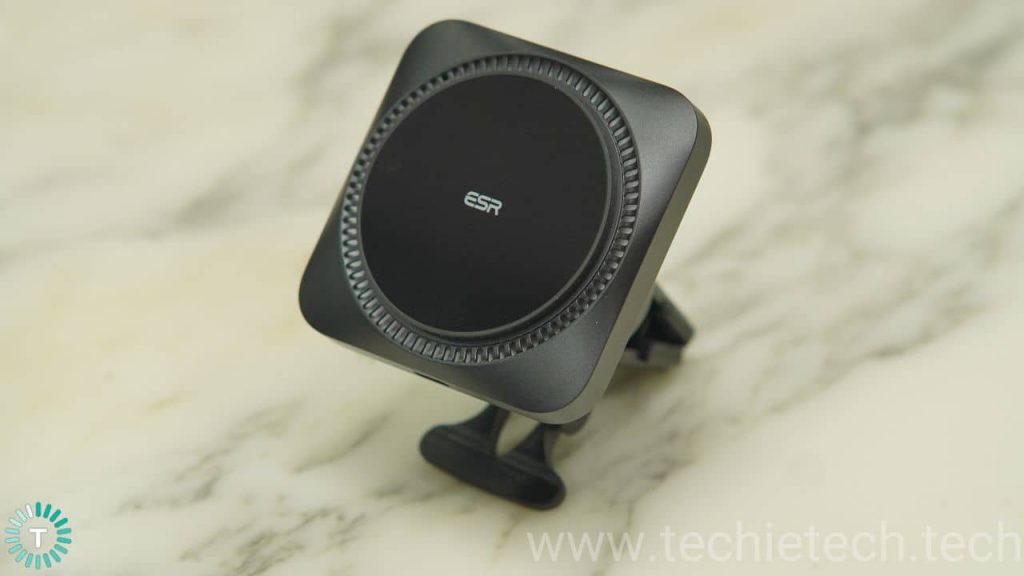 The ESR HaloLock Wireless Car Charger is a MagSafe holder and charger for your car. It comes with a very sturdy clip and stabilization arm, which ensures that the whole contraption is stable enough to stay put even when you're driving on bumpy roads. In my experience, while the initial setup with connecting the clip to the AC vent can be a bit tricky, the connection remains sturdy once you've got it right. 
The real star of the show here is the CryoBoostTM technology. Our phones are pushed a lot when we're driving. We're often using navigation and streaming music or a podcast or even using CarPlay, all while our phone is kept in direct sunlight in our car. Put wireless charging into the equation and you've got an excess heat warning coming very soon. But the ESR Wireless Car Charger solves this issue. Since this charger is mounted directly in front of the AC mount, the cool air conditioned air along with the CryoBoostTM technology make sure that the phone is sufficiently cooled down and the heat is dissipated accordingly to avoid overheating.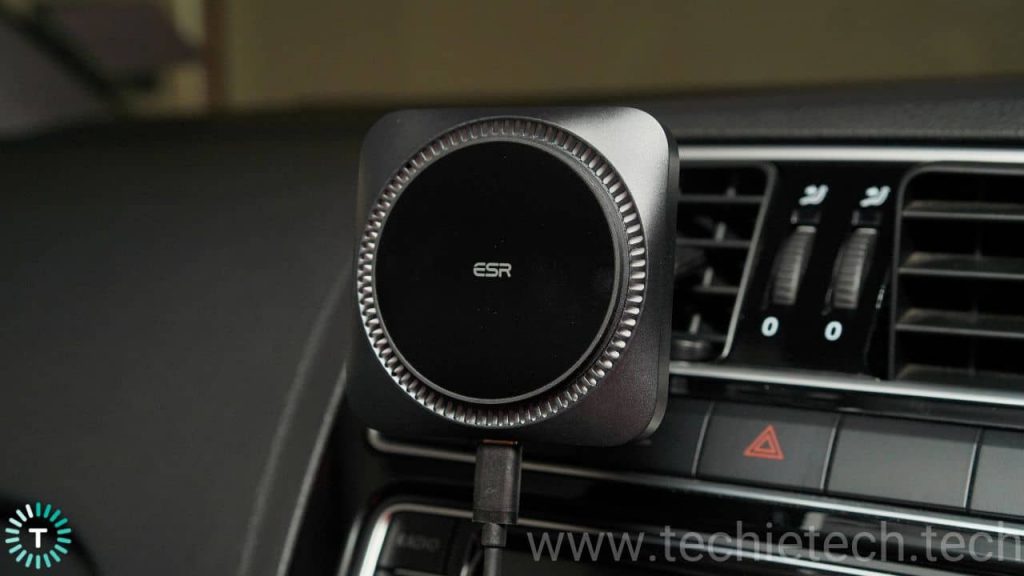 In addition, the strong magnets inspire a lot of confidence in ensuring that your phone will not fall down if you drive over bad roads or even go off-roading. You get a Type-A to Type-C cable in the box, which can be used to connect the charger to your car to transfer power. 
As you can tell, the ESR HaloLock Wireless Charger lineup has left us very impressed. As someone who is invested in the Apple Ecosystem and uses an iPhone, Apple Watch, and AirPods on a daily basis, the ESR 3-in-1 is a life changer and just makes everything so much cleaner and simpler. The minimalist, gorgeous looks match Apple's aesthetic and definitely add to your room.


Similarly, the ESR HaloLock Car Charger is definitely the best MagSafe car mount that you can get for your iPhone. CryoBoostTM helps fix a lot of the usual shortcomings and it all sums up to provide an excellent user experience.