Recently, Samsung came up with the S21 lineup that included three brilliant devices: S21, S21 Plus, and S21 Ultra. The Galaxy S21 series features a new camera setup on all three variants that is a treat to your eyes. All the smartphones under this lineup pack in-house Samsung Exynos 2100 or Snapdragon 888 for better performance. 
As far as charging is concerned, the Galaxy S21, S21 Plus, and S21 Ultra come with a maximum charging input of 25W. It also comes with the fast charging features. It should also be noted that fast charging can cause a rise in phone temperature, which is normal. However, if you find Galaxy S21 series smartphones to overheat while charging, then it is a matter of concern. 
At TechieTechTech, we are well aware of these kinds of issues and decided to come up with a troubleshooting guide to fix the Samsung Galaxy S21 overheating problems when charging. So, without wasting any time, let's dig in. 
11 Ways to Fix S21 Overheating problem while Charging 
We are aware that overheating problems can be annoying, especially when you have a premium device like Galaxy S21 Ultra. Remember, overheating issues can be the result of either hardware or software issues. We urge you to follow the first five methods to rule out any hardware issue that is causing the problem. Once you're done with that, you can check for any software issues by following the rest of the methods to fix these overheating problems when your phone is charging. 
1. Inspect the charger
If you are facing overheating issues while charging on the Galaxy S21 Series smartphone, you might need to check the charging adapter first. Sometimes, a charging adapter may work weirdly causing your S21 Plus to overheat when it is charging. So, to make sure the charging adapter is fine, try charging other Samsung Galaxy phones with the same charger. If the outcome is positive, then you should understand it's not the charger, but some other element that is causing the problem. Since there is no charger in the box and getting a good charger is a must to ensure long battery health, make sure to check out our roundup of the best Galaxy S21 Series fast chargers. 
Also read: How to fix common problems on Samsung Galaxy Z Fold 3 5G
2. Check for faulty cable
If you found out that the charger is fine, it is time to inspect the charging cable. To ensure that the charging cable is doing fine, you need to check for any damage in the cable that might be causing the problem. Also, you need to make sure that it is a compatible charging cable for Galaxy S21. Remember, an incompatible charging cable can also lead to other problems where the Galaxy S21 won't charge.
Also read: How to fix overheating problem on Galaxy S21 smartphones
3. Inspect the charging port of the Galaxy S21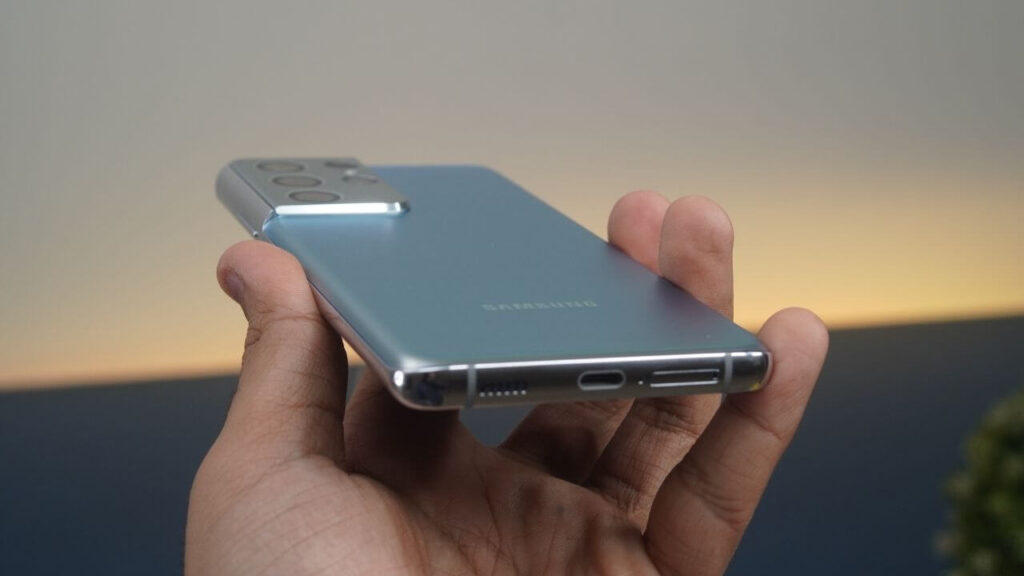 Inspection of the charging port should be thoroughly done to make sure it is not the reason behind the overheating problem. It is possible due to some foreign objects residing inside the charging port. The most common example is when pocket lint accumulates over time in the Type-C USB port of smartphones. They may cause corrosion and hamper the charging process which leads to overheating problems on Galaxy S21 devices. Also, you shouldn't charge the phone when the charging port is wet. It may cause short-circuit and long-term damage to your phone. 
4. Check for conflicted power socket
If none of the above elements were troubling your phone, you need to get your power socket checked by certified electricians. It is possible that conflicted wiring can be the possible reason why your S21 is overheating while charging. 
Disclaimer: Don't try this method yourself, unless you're a trained professional.
5. Remove cases/covers
As we mentioned earlier, the Galaxy S21 comes with a fast-charging feature. You should know that fast charging tends to heat the phone. It is why you need some of the best cases for Galaxy S21 with better heat dissipation properties. If not, you can remove the case/cover to check if it stops overheating. This method is recommended when your Galaxy S21 smartphone is overheating when you're charging it wirelessly. Wireless charging is slow and generates a lot of heat but taking off the case helps a lot.
Don't miss: Best Galaxy S21 Ultra cases to buy in 2022
6. Turn OFF network services while charging
Network services like Wi-Fi, location, mobile data, or mobile hotspot can be another reason for the S21 overheating problem. It is because they search for available networks in the background draining the battery as well as heating your phone. To fix this problem, you need to turn OFF these services when the phone is charging. You can turn OFF these services by going to connection settings.  
Don't miss: How to fix 5G not working on Galaxy S21 series
7. Check for apps running in the background
If you don't find any fault in the hardware, then the software part might be causing the real problem. To ensure this, we suggest you check for apps running in the background at first. You may not realize this, but these apps run in the background putting an extra load on your phone when it is charging. And, eventually raises the temperature of the Galaxy S21 Ultra. So, we recommend you disable the background activity of apps that you think are troublesome. 
Here's how to disable the background activity of an app:
Go to Settings
Scroll down and tap on the Apps
Now, tap on the app you suspect is causing the issue
Tap on the Mobile data
Now, toggle OFF the Allow background activity option
Once you're done, check whether your phone overheats while charging or not. If it doesn't, it means apps running in the background were causing the real trouble.
Also read: How to fix incoming calls not showing on Samsung Galaxy Devices 
8. Avoid using the phone when it is charging
With fast charging, every phone gets hot while charging. However, when you use it during its charging cycle, it can heat up extra than usual. So, it is best not to use the Galaxy S21 series when it is charging. This is a very common problem among mobile gamers. 
Also read: How to Fix Battery Drain on Galaxy S21, S21+, and S21 Ultra
9. Power OFF/Put the Phone in Flight mode
Another way of fixing the S21 heating problem is to charge the phone in flight mode or keep it OFF. This is because turning OFF the phone reduces the load, allowing your Galaxy S21 Plus to charge without generating extra heat. In case you want to keep the phone turned ON, try charging the S21 series phones in flight mode. 
Also read: 19 Ways to fix Samsung Galaxy S20/S20+/ S20 Ultra Battery Drain Problem
10. Update software (if available)
If you found out that a bug is causing overheating issues on Galaxy S21, it is best to wait for Samsung to roll out another update to fix the issue. You can ensure this by reading different forums or news sites where users discuss problems related to the related smartphone. Moreover, lots of users have reported overheating issues with the Galaxy S21 Series Smartphones, that too in both Snapdragon and Exynos variants. However, you should know how to update the software of the Galaxy S21 series; when it gets rolled out. 
Here's how to update the software on Galaxy S21:
Go to Settings
Tap on the Software update
Now, tap on download and install
After that, your device will search for the latest update
If any update pops up, tap on download and install it. 
Note: Samsung allows users to schedule the installation of the update when it gets downloaded.
In addition to this method, you can try factory resetting the Galaxy S21. To reset your device you should go to Settings> General Management> Reset> Factory data reset. You need to backup your Samsung Galaxy phone before trying this method, as it will clear all the data on your phone. 
Also read: How to fix Play Store not updating apps
11. Visit the service center
If none of the above methods helps fix overheating issues on S21, it means you can't fix it from your end. You need to get technical assistance from experts at the Samsung service center. They will take care of your device and fix the problem. 
If you are lucky enough, you might get a brand new Galaxy S21 phone if the service center can't fix the issue. However, the faulty phone should fall under the warranty for the same to happen.
Also read: Common Samsung Galaxy S22 Series problems and how to fix them
FAQs related to Galaxy S21 overheating issues while charging
Why does my Samsung S21 heat up when charging?
Before we address the reasons behind Galaxy S21 Ultra overheating when plugged in, we want you to know that every smartphone is bound to get warm while it is charging. However, you should be worried if your Galaxy S21/S21 FE overheats while charging. As we all know, overheating problems are something that is very common among smartphones of different brands. Most users who own Apple or Samsung devices often write about this problem on different forums. However, you shouldn't worry if you are facing it because the Galaxy S21 series overheating problems while charging can be prevented by ensuring the following things: 
Please make sure you're using official or trusted 3rd party charging accessories. If you feel they are expensive, you can get fast chargers from reliable third-party brands such as Anker, Spigen, ESR, etc. Please note that faulty or cheap charging accessories are usually the main reason behind the overheating and

battery drain problems on Galaxy S21 series

. 

You shouldn't use your device or play graphic intensive games/videos when the device is charging.

Turn OFF all the unnecessary features and network services when your device is charging.

Please ensure that all the unnecessary background running apps like backups or downloads are closed for the time being. 

If you are experiencing overheating problems while charging your Galaxy S21, S21 Plus, S21 FE, and S21 Ultra, we recommend using a

case with a good thermal design

. 
How can I cool my phone down while charging?
If you are experiencing overheating issues on Galaxy S21 FE and S21 Ultra, we recommend trying the following things to cool down your phone within minutes.
Don't use your device while it is charging

Keep your device away from direct exposure to sunlight

Lower the screen brightness until the device is fully charged

Close all the background apps

Disable all the connectivity features such as mobile data, location services, NFC features, Wi-Fi, etc.

Turn Off High Performance or Gaming Mode

Remove the phone from the case. Some cases have a poor thermal design, as a result, the phone is unable to dissipate heat effectively. 
If you take care of these things, you can prevent your Galaxy S21 series smartphone from overheating while charging.
With that, we have come to the end of this troubleshooting guide where we talked about several methods to curb the Galaxy S21 series overheating problem issue while charging. If your Galaxy S21, S21 FE, S21 Plus, or S21 Ultra is overheating than usual, we recommend checking our dedicated troubleshooting guide.