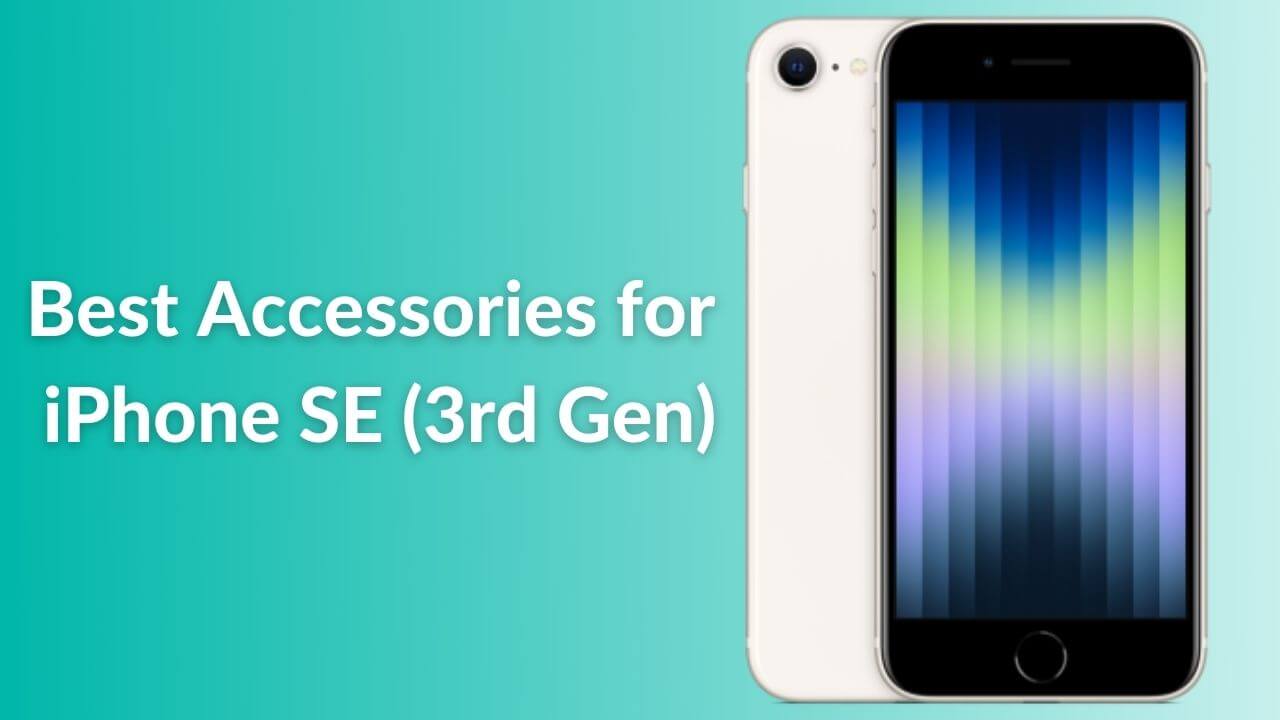 Apple finally unveiled its most affordable iPhone to the world that goes by the name the iPhone SE 3 2022, at the company's Peek Performance event on 8th March 2022. Besides, we witnessed the launch of the much awaited Mac Studio and M1 iPad Air 5 in the same event. 
The 3rd Generation iPhone SE 2022 features a similar design and camera module as we saw in the iPhone SE 2020. This 2022 iPhone SE comes with a 4.7″ Retina HD 60Hz Ceramic Shield display, which Apple claims to be the toughest glass in the industry. The iPhone SE 3rd Gen 2022 packs the company's most powerful A15 Bionic chipset from the iPhone 13 series, while it runs on iOS 15 right out of the box. This compact and super-affordable iPhone is shipped with 5G and Wi-Fi 6 support. Did we mention it is available in three beautiful color options: White, Black, and Red. 
Now that this budget phone has started shipping, it's time to get all the essential accessories to make the most out of the powerful smartphone. Since the product design is the same as before, the market is flooded with compatible accessories which makes it tough for anyone to choose the right accessories for iPhone SE 3 2022. But, you don't have to scratch your head when we are here. 
At TechieTechTech, we are committed to helping you find the best accessories for iPhone SE 3rd Gen. That's why our team has curated a full-fledged list of the best accessories for your 2022 iPhone SE 3. Here we will cover some of the best cases, screen protectors, fast chargers, and whatnot. We urge you to read this piece until the very end and choose the top accessories for the iPhone SE (3rd Generation). 
With no further ado, let's jump right into the list of best accessories for iPhone SE 3rd Gen that you can buy in 2022. 
Note: We update our article from time to time to cover the latest products available in the market.
List of Best Accessories for iPhone SE (3rd Gen) in 2022
Best Cases for iPhone SE (3rd Gen) in 2022
Disclaimer: All the cases listed below are fully compatible with Qi wireless charging.
1. Otterbox Defender Series (Best iPhone SE 2022 Protective Case)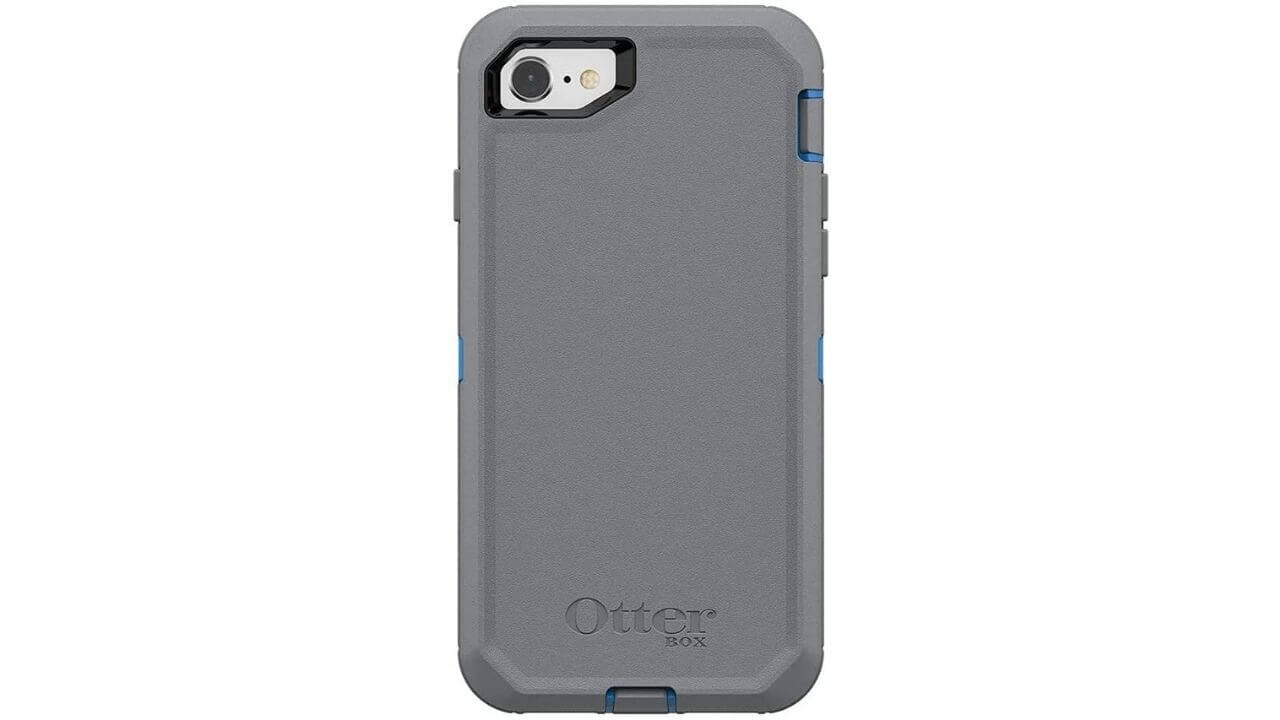 Thinking of buying a protective case for iPhone SE 3rd Gen? Bring home the OtterBox Defender Series case. It is one of the best heavy-duty cases that you'd find in the market to protect the little beast from Apple. This rugged protective iPhone SE 2022 case is built around a high-impact PC shell, durable silicone slipcover, and a built-in screen protector for all-around protection from any kind of damage. Undoubtedly, this tough case is a must-buy accessory for people who tend to drop their phone frequently or people who work in construction zones. In addition, you'll find port coverings that keep the charging ports and speaker grills safe and secure from dust particles. Adding more towards the ease of usage, there's a belt holster at the back that acts as an in-built kickstand. In short, if you are a college student, a road warrior, or anyone who's got pets or kids that throw your phone the Otterbox Defender Series is the best iPhone SE 3 protective case that's worth investing in. 
2. Spigen Tough Armor (Best Rugged Case for iPhone SE 3 2022)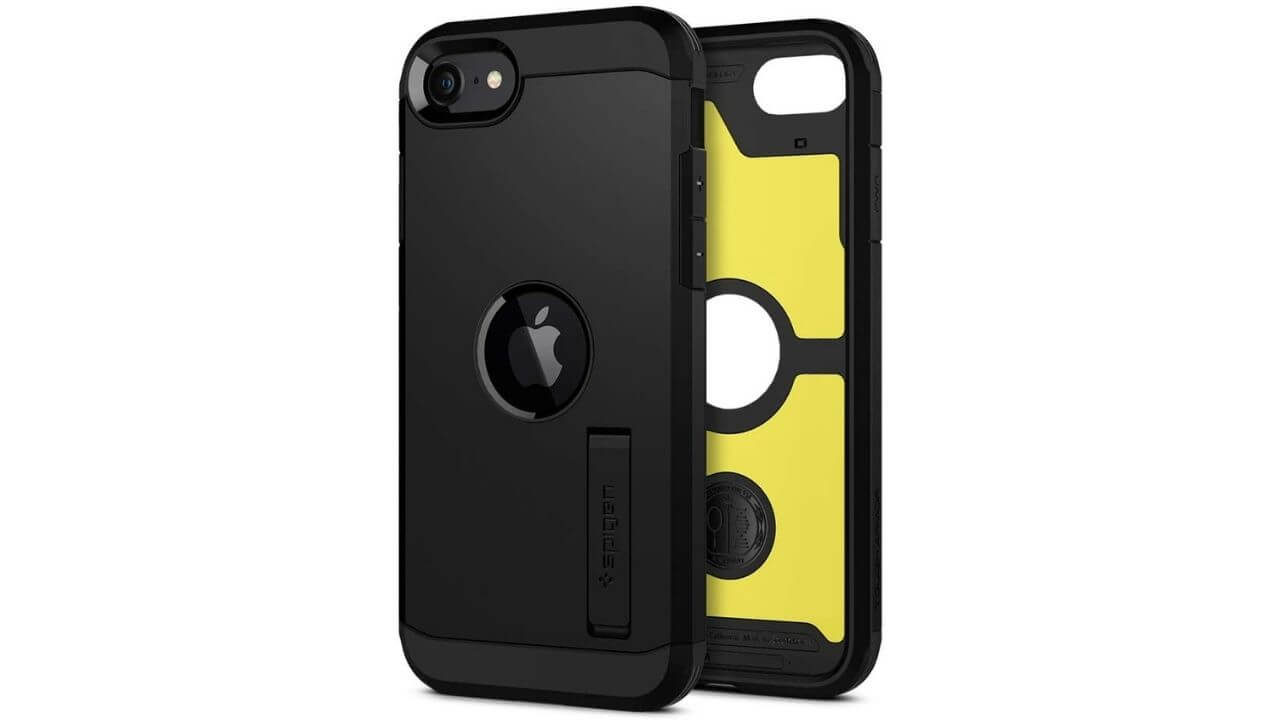 If you're looking for the best-rugged case for iPhone SE 2022, the Spigen Tough Armor is surely the one you'd go with. This Spigen Tough Armor case features a top-notch rugged build to protect the super-affordable iPhone from shocks, drops, and other possible impacts. Talking about the build, the Spigen Tough Armor comes with a hard PC back and flexible TPU bumper which allows it to offer rugged protection to the iPhone SE 2022 without much fuss. Spigen has incorporated this rugged case with Air-cushion technology that acts as a shock deflector to safeguard the 4.7″ Retina display from shattering due to heavy shocks. Additionally, this iPhone SE 2022 rugged case sports an in-built kickstand which comes in handy to place your iPhone on a desk or a table when you're attending
Zoom meetings or watching the latest movies on Netflix and various OTT platforms, hands-free. Moreover, you can grab this iPhone SE 3 2022 protective case in Black, Gunmetal, and Red colors.
Please make sure you also check the Spigen Rugged Armor case for the 2022 iPhone SE 3rd Gen. It is more affordable but offers a similar kind of protection to the budget iPhone.
Also read: Best Protective Cases for iPhone 13 
3. UAG Plasma Protective Cover (Best Grip)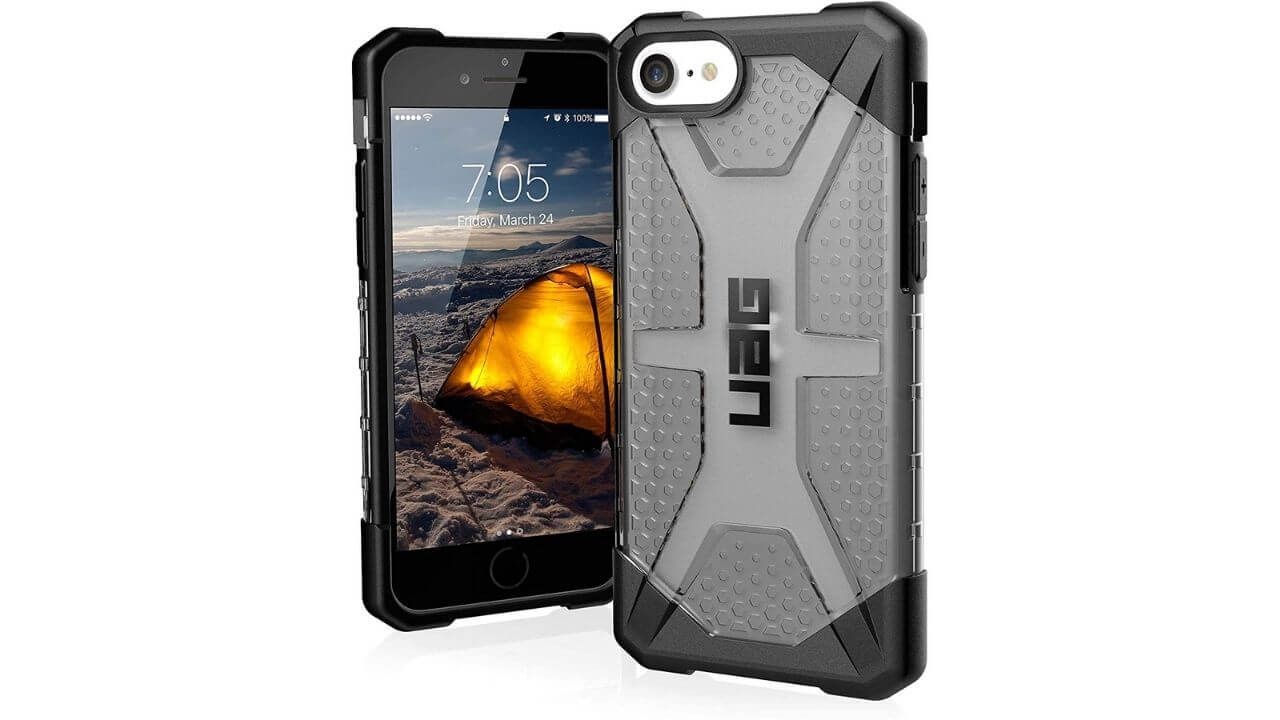 The UAG Plasma Protective Case for iPhone SE 3rd Gen is for anyone who is not a fan of bulky cases. It is one of the best lightweight rugged cases for the iPhone SE 3 2022 that you can buy right now. This rugged case features a harder outer shell and a soft impact-resistant inner core that works combinedly to offer the best protection to Apple's latest budget iPhone. On top of that, the soft rubber raised edges and rear anti-skid pads to prevent the display and rear camera from getting scratched due to daily wear and tear. Also, this iPhone SE 3rd Gen rugged cover features a dotted pattern on the back ensuring you have the best grip possible when you're roaming around in a public vehicle capturing the street view using the 12MP rear camera. The best part of having this rugged case is that it comes with military-grade certification which suggests it can survive heavy impacts and drops from a height of up to 4 feet. Thanks to the feature-like build, it works perfectly with Qi wireless chargers available in the market. Moreover, this rugged iPhone SE 3rd Gen case is available in various colors and designs to match your vibe. 
If you're looking for a funky shockproof case for the 3rd Gen iPhone SE (2022), combined with an unorthodox design, the Ringke Fusion X should satisfy your needs. It features a wraparound bumper combined with a clear back design that lets you flaunt the color and Apple branding on your device ensuring the best shockproof protection. 
Also read: Best Cases for iPhone SE 2020
4. Spigen Ultra Hybrid (Best Hybrid Case for iPhone SE 3 2022)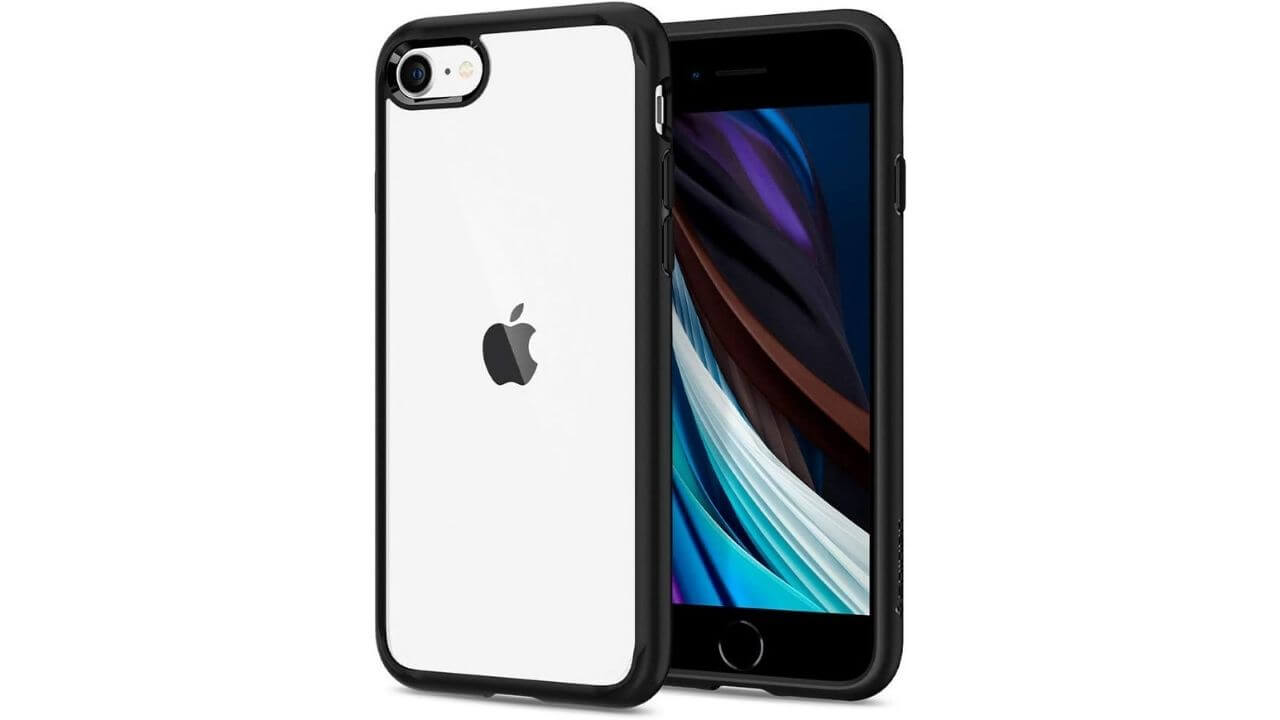 Unable to find the best hybrid case for iPhone SE 3rd Gen? Grab the Spigen Ultra Hybrid case without thinking too much. Thanks to the combination of Air Cushion Technology and Hybrid Drop Protection, this hybrid case protects your 2022 iPhone SE 3 from various kinds of impacts without adding much bulk. Besides, this durable clear hybrid case features a transparent back design that allows you to flaunt the original look and colors of your iPhone SE 3. On top of that, the wraparound bumpers play their part well to prevent screen shattering problems caused due to heavy shocks. Also, there are raised edges around the screen and a 12MP rear camera which gives sheer protection from annoying scratches that may appear when you keep your iPhone on your office desk or working table. Besides all the protection it offers, the color combination available for this case gives you the freedom to match your style. In simple terms, it is one of the best hybrid cases for iPhone SE 2022 that your money can buy. 
Also, please make sure to check some of the top hybrid cases for iPhone SE 3rd Gen:
5. Apple Official Leather Case for iPhone SE 3rd Gen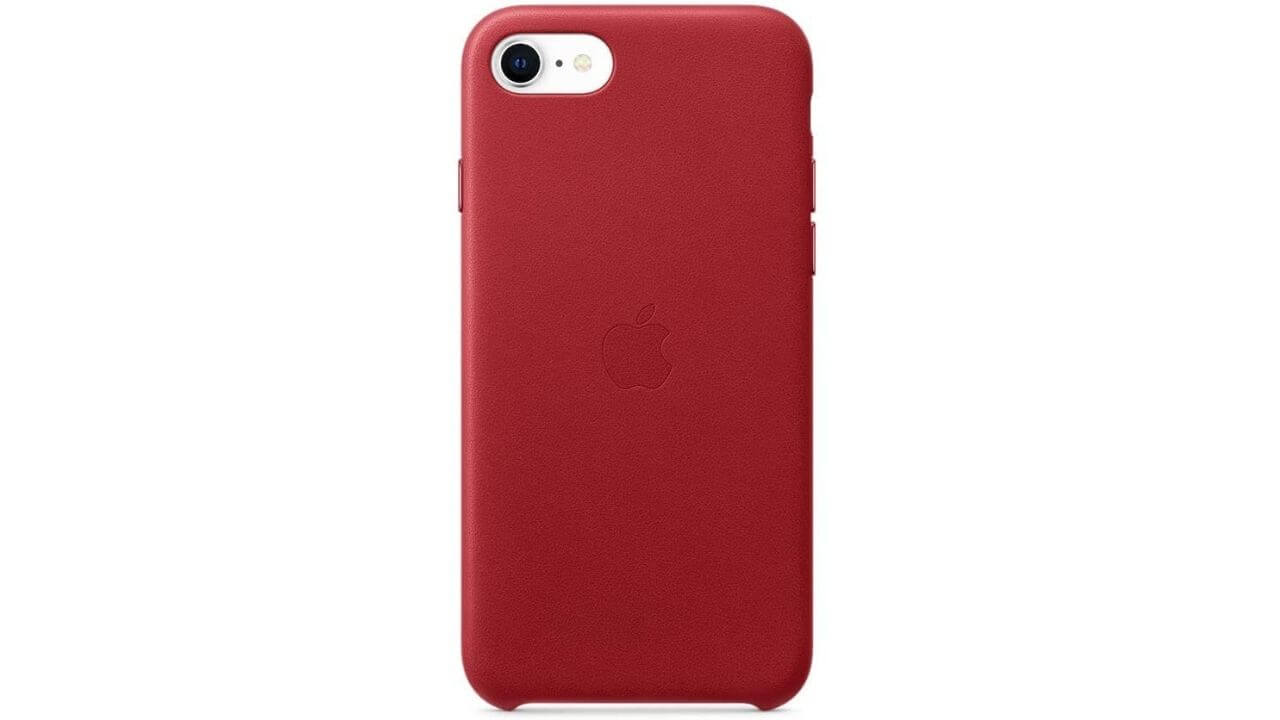 If you are a fan of premium accessories, then we want you to take a look at the official leather case for iPhone SE 2022. This sleek-looking case blends well with the curved design of the iPhone SE 3, giving it a great finished look. Talking about the design, this official case for iPhone SE is designed with European leather which offers a premium look and comfortable grip to your iPhone. It offers a premium look and an enhanced grip on your iPhone. Thanks to the tactile aluminium button that complimented the smooth finish of the leather case making your iPhone more appealing while using. That's not all, besides the stylish look and build, this official case for iPhone SE 2020 comes with an inner microfiber lining to protect your device from drops, bumps, and knocks. Overall, it is a good choice if you love adding official accessories to your cabinet. However, it is more expensive than other alternatives available in the market. 
In case you're looking for a more affordable official case for iPhone SE 3 2022, get yourself the Apple Silicone Case. 
6. TORRAS Slim Fit Series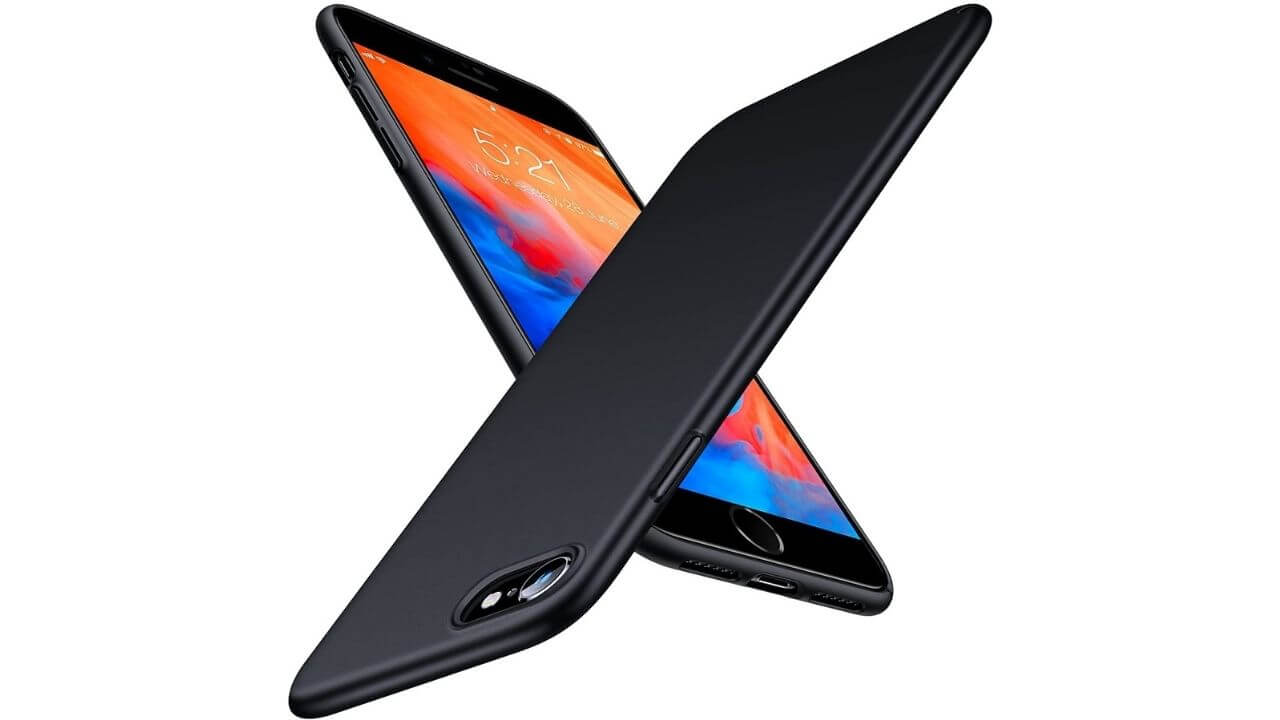 For anyone who is looking for a thin and colorful case for iPhone SE 2022, here we have the TORRAS Slim Fit case. It features a sleek, lightweight, and minimalist design that doesn't feel bulky at all when you hold your device in your hand. It snugly fits your iPhone SE 3, giving you a velvety feel, whereas the anti-slip finish prevents it from slipping off your hand which makes it quite handy for iPhone users with butterfingers. Besides, the sleek design makes it easier for you to put in or take your device off your pocket smoothly. In addition, it has raised edges which is useful in preventing annoying scratches that can ruin the look of a beautiful iPhone. Moreover, tactile buttons, matte finish, and lightweight design make it a worthy iPhone SE 2022 thin case to invest in.
If you love Spigen products and thin cases, the Spigen Thin Fit case would be the perfect choice for you. We recommend investing in it without any ifs and buts. 
Also read: Best Cases for iPhone SE 3rd Gen
Best Screen Protectors for iPhone SE 3 in 2022
1. Spigen GlasTR AlignMaster (Best Easy-to-install Screen Protector for iPhone SE 2022)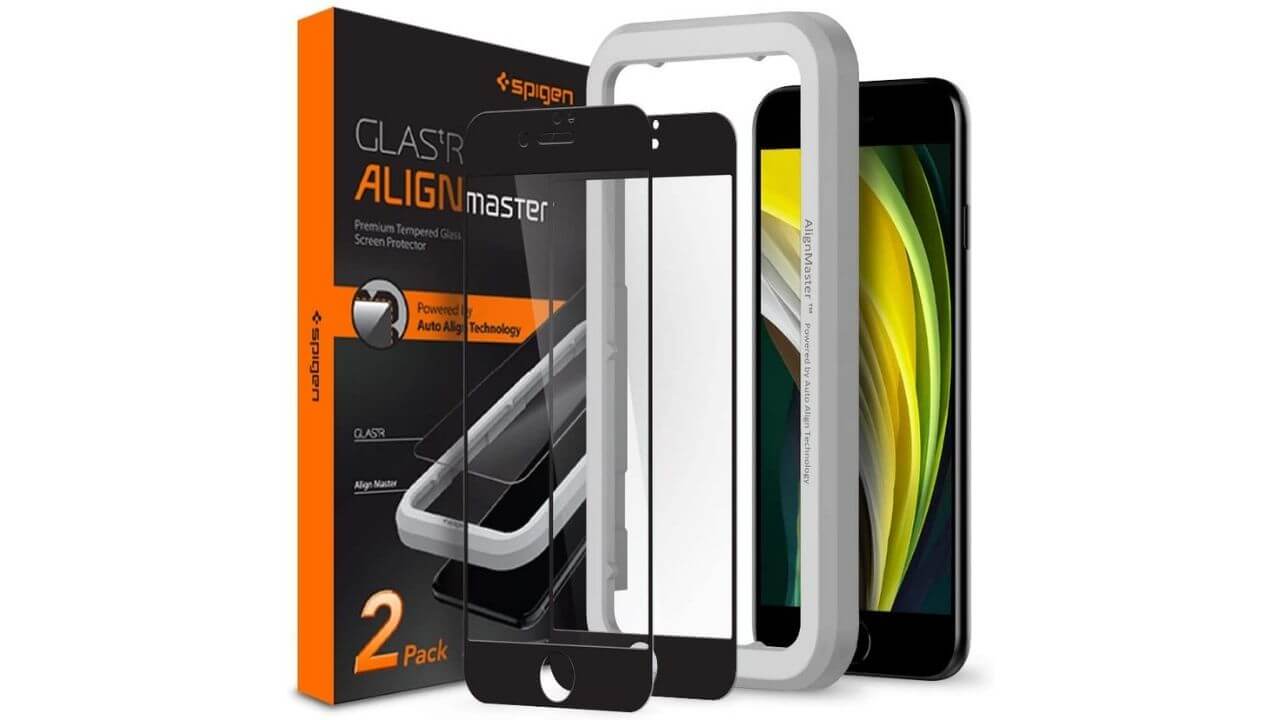 The Spigen GlasTR AlignMaster Screen Protector is a highly durable and reliable tempered glass for iPhone SE 3rd Gen in 2022. Thanks to the installation guide frame available in the pack, the installation process of this best-in-class screen protector for the iPhone SE 3 is very easy, even if you're one of those first-timers who always mess up the installation. This tempered glass offers solid protection to the display of the third-generation iPhone SE. Whereas, it preserves the original clarity, sensitivity, and quick touch response when you're using your device. So when you're using your device to play games, you can easily multi-touch controls flawlessly. Besides, it comes with precise cutouts for the front camera, speaker, sensors, and the Home button for better accessibility. Did we mention that the oleophobic coating on the top of this screen protector prevents dirty fingerprint stains and smudges? Hence, if you're looking to keep your iPhone SE display away from any kind of damage, this Spigen screen protector should be on top of your buying list. 
2. amFilm Glass Screen Protector (Best Value for Money)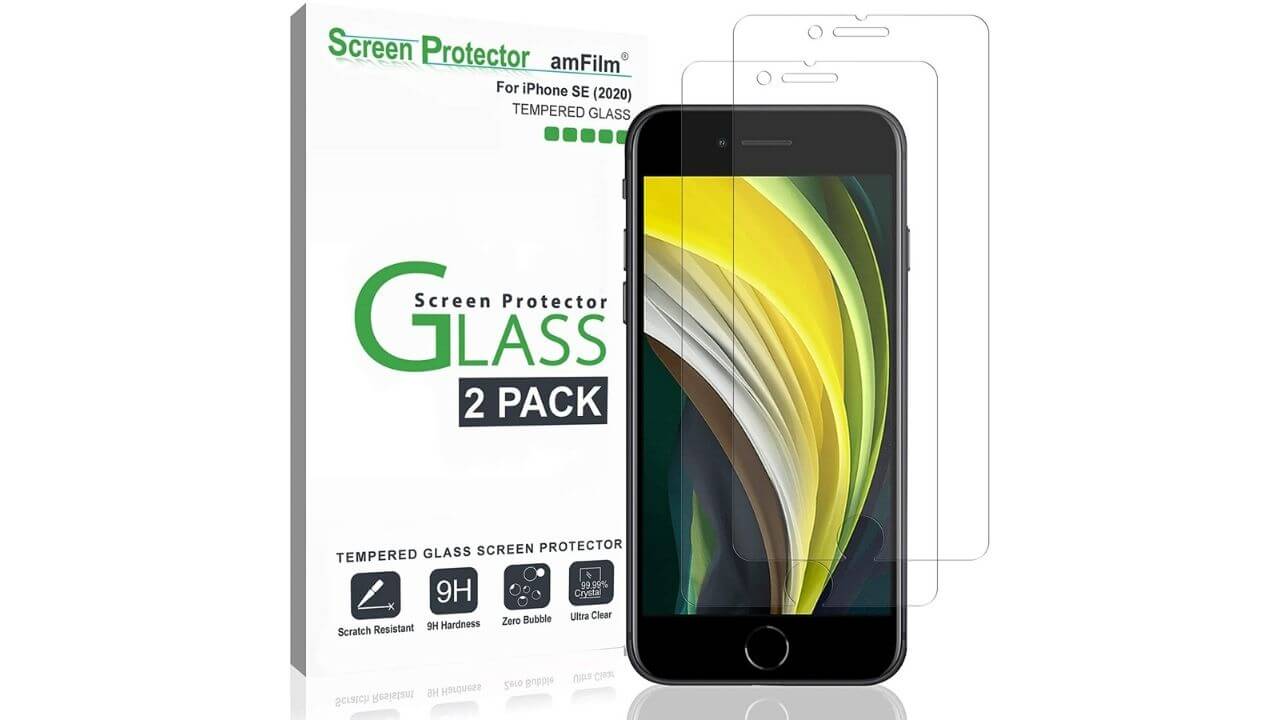 If you're a beginner and don't want to mess with the installation of the iPhone SE 2022 screen protector, we recommend grabbing this one from amFilm. The fact that it is shipped with dust removal stickers and an instruction manual, makes it easy for any first-timer to get the installation of this screen protector perfectly fine. The amFilm Glass Screen Protector offers edge to edge coverage preserving the original screen quality, colors, and touch response.  This 2022 iPhone SE screen protector is made from durable materials to offer reliable protection to the 4.7″ Retina HD display from heavy damages, shocks, and scuffs with utmost effectiveness. Furthermore, the oleophobic coating makes its tempered glass super smooth and resists any kind of fingerprint stains and it comes in a pack of 2. Now that we are using it on our Android devices, we are super confident of it doing well for iPhone SE users. Undoubtedly, it is one of the best iPhone SE 3rd gen accessories that offers excellent value for money.
3. OtterBox Performance Glass Series (A Tough Screen Protector for iPhone SE 2022)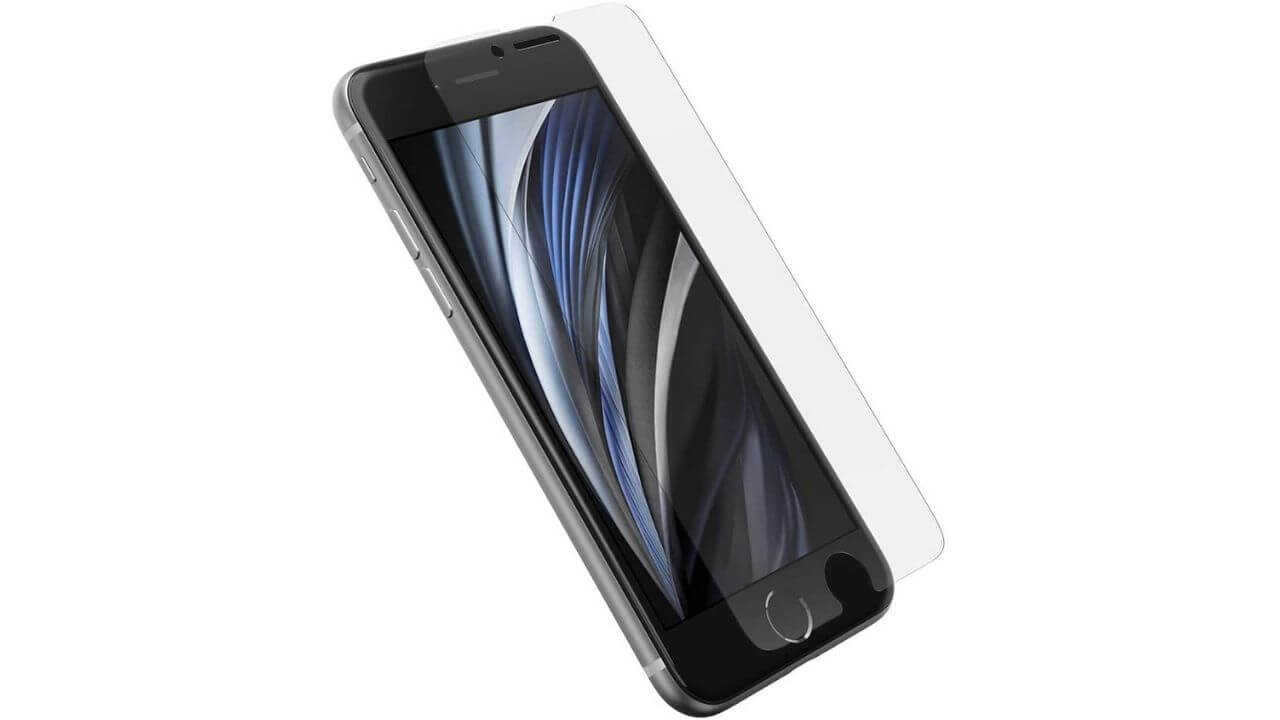 Be it screen protectors or cases, OtterBox has been among the frontrunners in the industry alongside Spigen, ESR, etc. for years now. And, the Performance Glass Series from this brand is doing justice to its name. This screen protector is among the toughest screen guards you can get to protect the display of the iPhone SE 3rd gen. This OtterBox iPhone SE 2022 screen protector is designed using highly-durable materials that the company claims to deliver top-notch shatter-resistant drop protection, all thanks to the 9H hardness features and advanced material build. 
Besides the protection it offers, this 2022 iPhone SE screen protector preserves the original clarity and colors of the Retina HD display. Did we mention it is fairly easy to install than other screen protectors that come without an alignment tool? Other than its heavy price tag, we honestly couldn't find any flaw with this screen protector for iPhone SE 3 2022. Moreover, we recommend this to 3rd Gen iPhone SE users who travel a lot or workaround warehouses dealing with heavy equipment, trust me it's a lifesaver. 
If you are on a strict budget, the ESR 2-pack screen protector is worth exploring. It has over 6000 reviews on Amazon, which is enough to demonstrate the credibility of the product priced at $12.99. 
Honorable mentions to some of the best screen protectors for iPhone SE 2022 that are worth all the attention:
Also read: Best apps for iPhone 13
Best Fast Chargers for 3rd Gen iPhone SE in 2022
1. Apple 20W Official USB-C Charger for iPhone SE 3rd Gen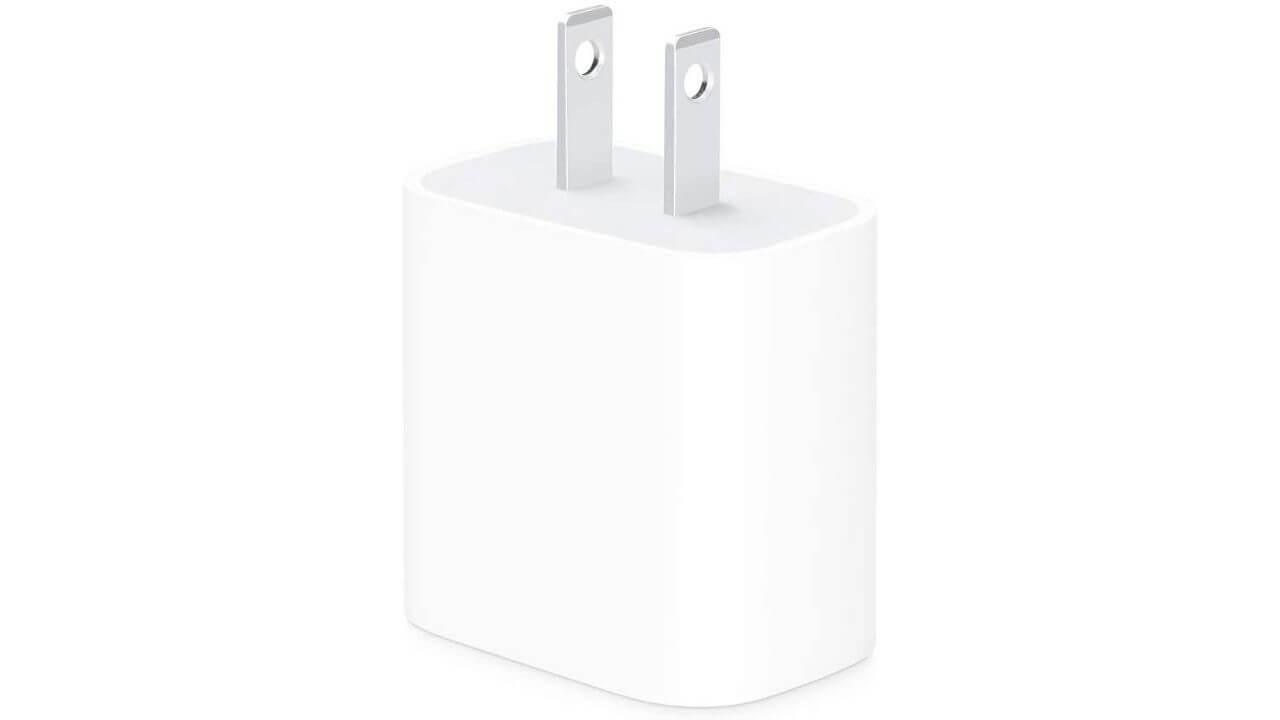 First and foremost, we have the official USB-C fast charger. iPhone SE 3rd Gen that delivers a maximum of 20W power output. This fast USB-C charger features a single type-C port that is enough to deliver faster charging for the best value for money iPhone. Besides powering up the 2022 iPhone SE 3rd Gen, this Apple power adapter can offer the best charging experience on iPhones, iPads, and even a MacBook Air. Design-wise, it is compact and lightweight which gives you the freedom of carrying it even in your pocket when you're travelling or getting late for your office. Moreover, you can use this fast iPhone SE 3 USB-C charger to re-energize various USB-C-enabled devices across different brands. If you are fond of official accessories, the Apple 20W USB-C for iPhone SE 2022 is worth the investment.
2. Belkin 25W iPhone SE 3rd Gen Dual USB-C Charger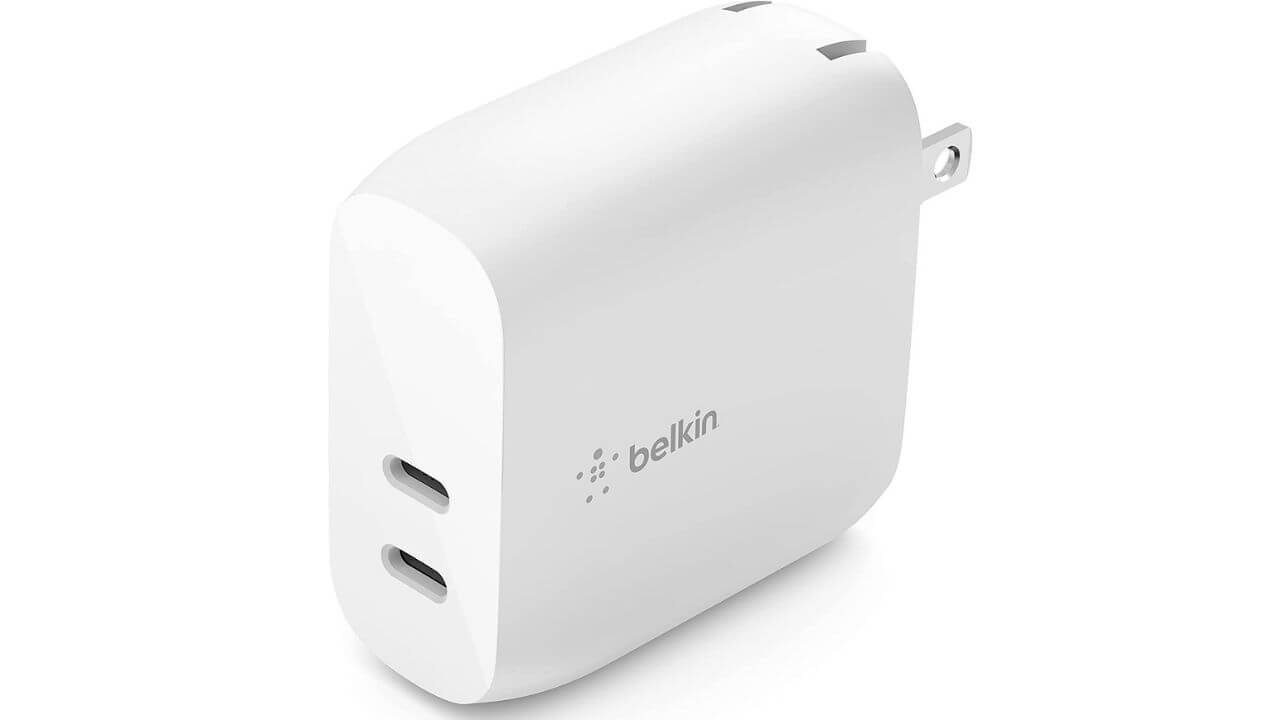 We all have witnessed Apple's love for Belkin as it lists compatible accessories from the third-party brand on its official store. As Belkin products are popular among iPhone users, we thought of listing them above any third-party fast chargers in our roundup. Coming to this charging accessory, Belkin ships these fast chargers with 2 USB-C ports that offer a cumulative 25W power output which should be more than enough to charge an iPhone SE 3rd Gen and
accessories for iPhone SE 2022, at the same time. This fast USB-C charger for iPhone SE 2022 is more affordable than the official 30W Apple charger, so here's another reason to go for this one. As we mentioned, it sports USB-C ports, which practically means you can charge any compatible device using this fast 25W charger. Did we mention this fast USB-C iPhone SE 2022 charger can rapidly re-energize an iPhone 13 or iPhone 12 from 0-50% within 25 mins and an iPad from 0-50% within 40 mins? Now, you don't have to buy separate chargers to charge your and your family members' iPhones. All in all, this compact and lightweight charger is suitable for anyone who travels a lot, thanks to the foldable plug which ensures you can store it even in minimal space.
If you like keeping a spare charger for your "work phone" and "personal phone," we recommend getting yourself the Anker Dual-port 40W USB-C Charger. If you're wondering it might be expensive to get a combo pack, surprisingly, it's not. This Anker charger packs Multi protect safety technology which safeguards your device from overcurrent,
overcharging, and overheating. You can get two USB-C chargers lashed with foldable plugs for just $25. 
Also read: How to fix iPhone 13 not charging problem
3. Anker 547 120W USB-C Multi-port Charger for iPhone SE 3rd Gen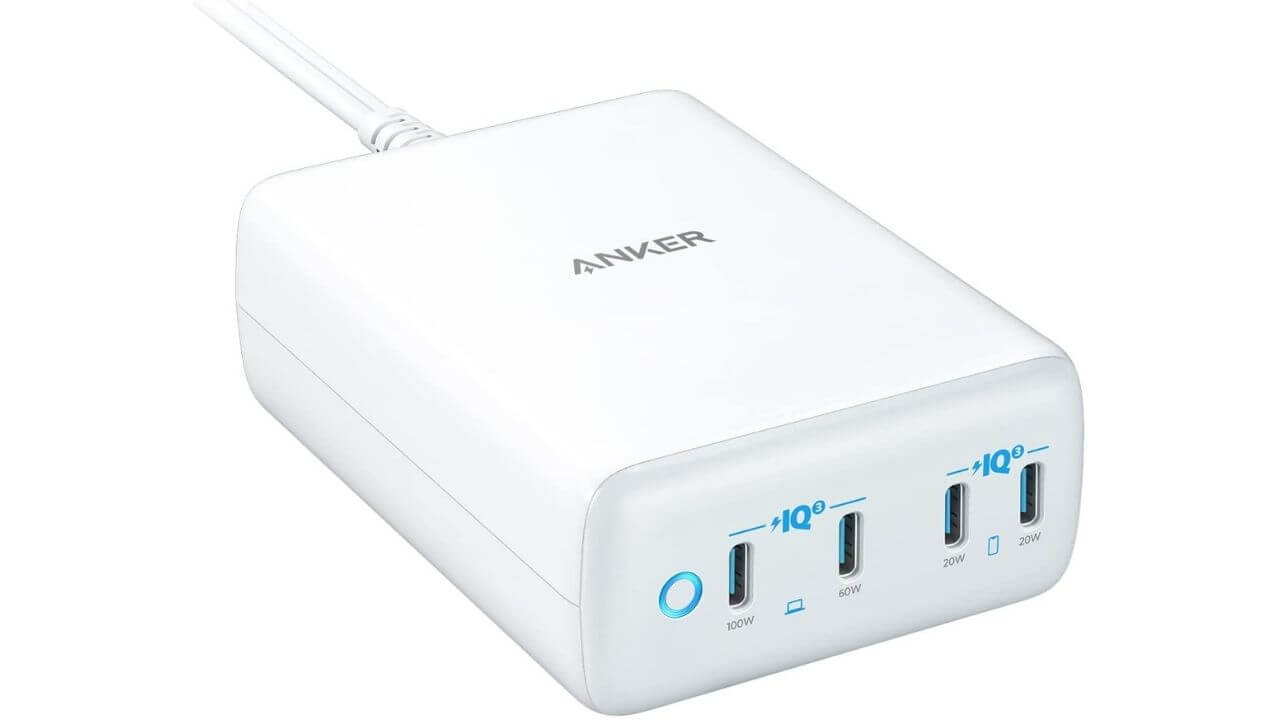 For anyone who juggles around different USB-C devices daily, the Anker 547 Multi-port charger can be a lifesaver for you. This powerful Anker charger delivers a cumulative 120W power output to charge four different devices simultaneously. Thanks to all the Power Delivery ports, this multi-port iPhone SE 3rd Gen charger can re-energize the 2022 iPhone SE, a MacBook, iPad Air 5, and Android smartphones, all at once. In short, it can charge almost all USB-C-enabled devices without much fuss. As far as safety is concerned, this powerful Anker charger is equipped with temperature control, overcurrent, and short circuit protection. Also, the inclusion of 5 feet long USB-C cable can be handy to charge multiple devices while you're working on a desk, preventing you from sitting near a power socket all the time. Did we mention you can also charge multiple Windows-powered laptops such as Dell XPS, Microsoft Surface Pro using the high power ports available on the left side? In short, this powerful fast charger for iPhone SE 2022 is worth all the penny you invest. 
We understand Anker 120W multi-port charger is fairly expensive, so we recommend the UGREEN 65W iPhone SE 3 multi-port charger which can help you save a good amount of money. 
If you are always travelling in your vehicle, a fast car charger is a must-buy accessory for you. So, here we have listed some of the best fast car chargers that you can buy in 2022, please choose accordingly. 
Also read: Best Fast Chargers for iPhone SE 3rd Gen
Best Wireless Chargers for iPhone SE 3rd Gen in 2022
1. Belkin Boost Up Wireless Charging Pad (Best of all)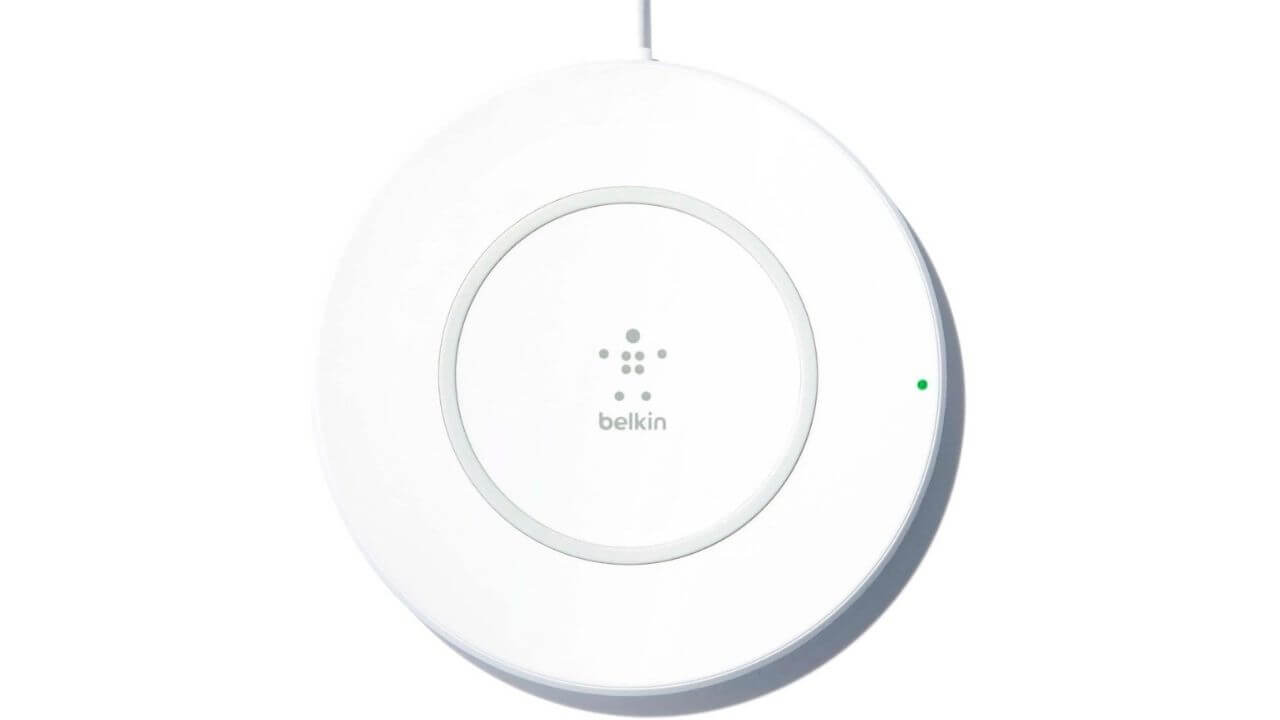 Looking for reliable and best wireless chargers for iPhone SE 3rd Gen? Nothing can beat the Belkin Boost Up Wireless Charging Pad. This highly functional wireless charger comes with 7.5W of power output to charge the 2022 iPhone SE 3rd gen. Thanks to its striking design and aesthetic look, it surely elevates the look of your working desk or office table. This iPhone SE 2022 wireless charger features 7.5W transmitter coils, a thermal protector, and a fanless design to eliminate any noise that can be irritable when you place your device during bedtime. Also, you'll find a rubberized non-slip bottom to prevent your device from skidding off a workshop table at your office. 
Further, the lightweight and compact design makes it easier for you to carry this wireless charger for the 2022 iPhone SE anywhere you go. Plus, it is compatible with cases of up to 3mm thickness. As far as protection is concerned, this wireless charger is equipped with overcharge protection and foreign object detection to ensure a hassle-free charging experience. Did we mention the inclusion of LED light that gives an idea of when your device is charging? Surprisingly, the Belkin Boost Up Wireless Charging Pad comes with an AC adapter out of the box. 
Belkin also ships the 10W wireless charging stand which is available in black and white finish. 
Also read: How to fix iPhone 12 not charging wirelessly
2. Anker PowerWave (Best Budget-friendly Wireless charger for iPhone SE 3rd Gen)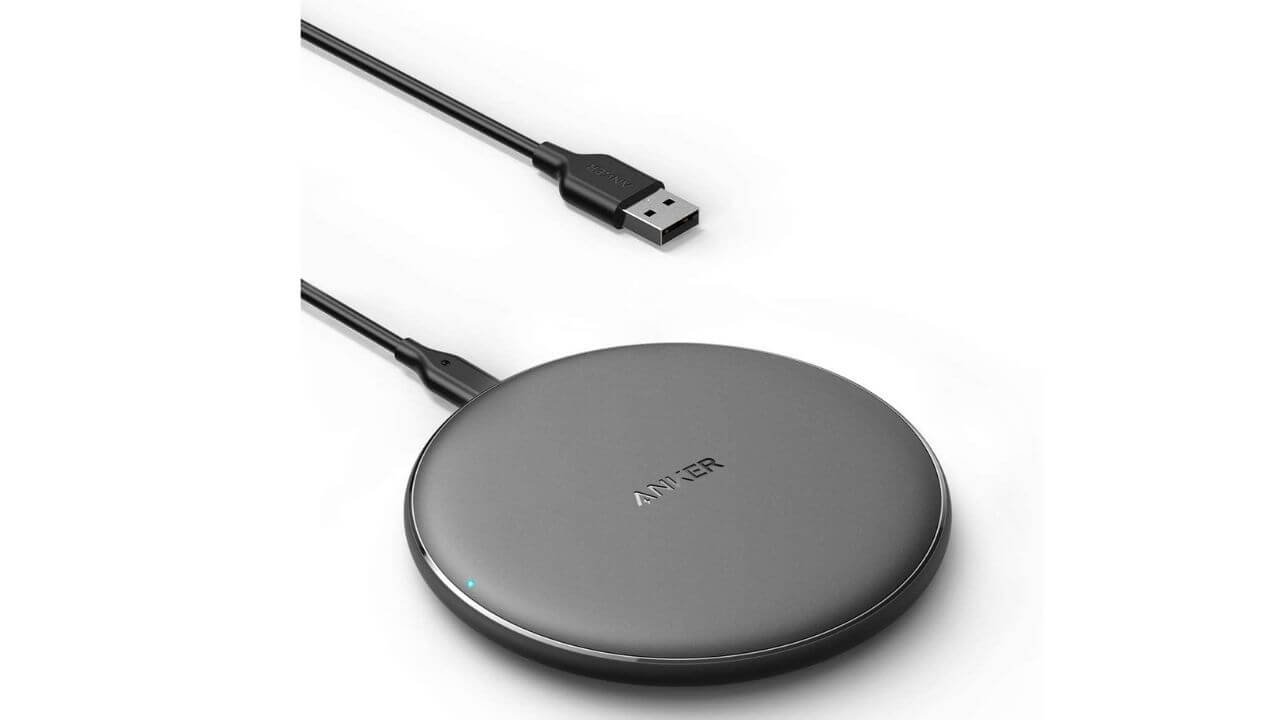 Here we have another wireless charger on our list from Anker that delivers 7.5W wireless charging for iPhone SE 2022. You can simply place your iPhone on the centre of the pad and you're done. This top wireless iPhone SE 3 charger comes with a sleep-friendly LED light that indicates the status of wireless charging. Did we mention it is compatible with case-through charging? Putting it simply, you can easily charge your device wirelessly without removing the case of your iPhone SE 3. Besides, you can also use this wireless charger to re-energize your AirPods at 5W. However, it is important to remove all the metallic or magnetic attachments from your device, otherwise, the wireless charging might get disrupted. In short, it is one of the best budget-friendly chargers that can be used to wirelessly charge iPhones of different generations.  
3. Mophie 3-in-1 Wireless Charging Pad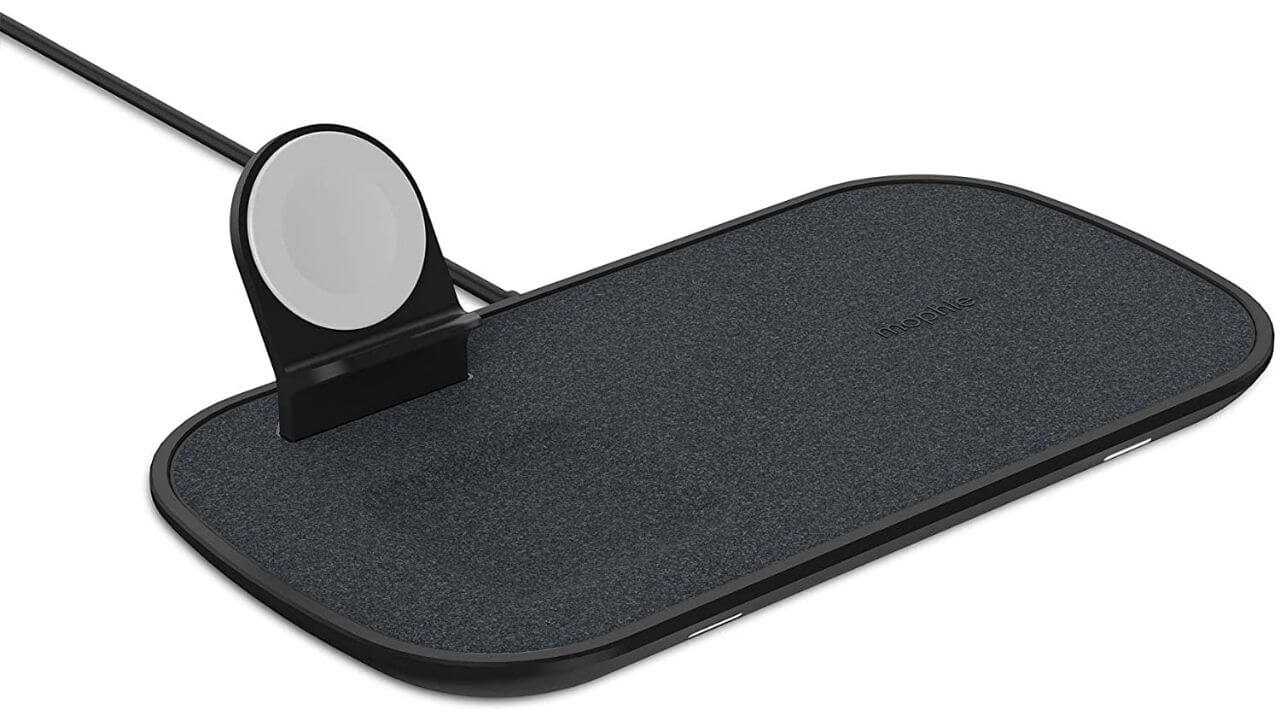 If you are looking to wirelessly charge multiple devices at one go, we urge getting yourself the Mophie wireless charging station. You can charge your
Apple Watch, AirPods, and iPhone SE 3rd Gen, all at once. Thanks to the magnetic watch holding stand, you can take advantage of NightMode by placing your Apple Watch at an ideal angle on it. Let's not forget, this wireless charger delivers 7.5 watts of charging output which can efficiently charge all three devices placed on it. Also, it supports case-through charging, which means you can charge your device without taking off the case (as long as it is up to 3 mm thick) using this iPhone SE 2022 wireless charging station. The premium look and anti-slip pads are some additional features that made it possible for this wireless charging station to sit on our list of best wireless chargers for the 2022 iPhone SE 3.
Also check: Mophie Wireless Charging Pad 
Also read: Best Multi-device Wireless Charging Stations for iPhones
Honorary mentions some of the best wireless chargers as well as wireless car chargers that you can also consider buying for your 2022 iPhone SE 3rd gen:
Best Wireless Earbuds and Headphones for iPhone SE 2022
1. Apple AirPods Pro (Best Wireless Earbuds for iPhone SE 3rd Gen)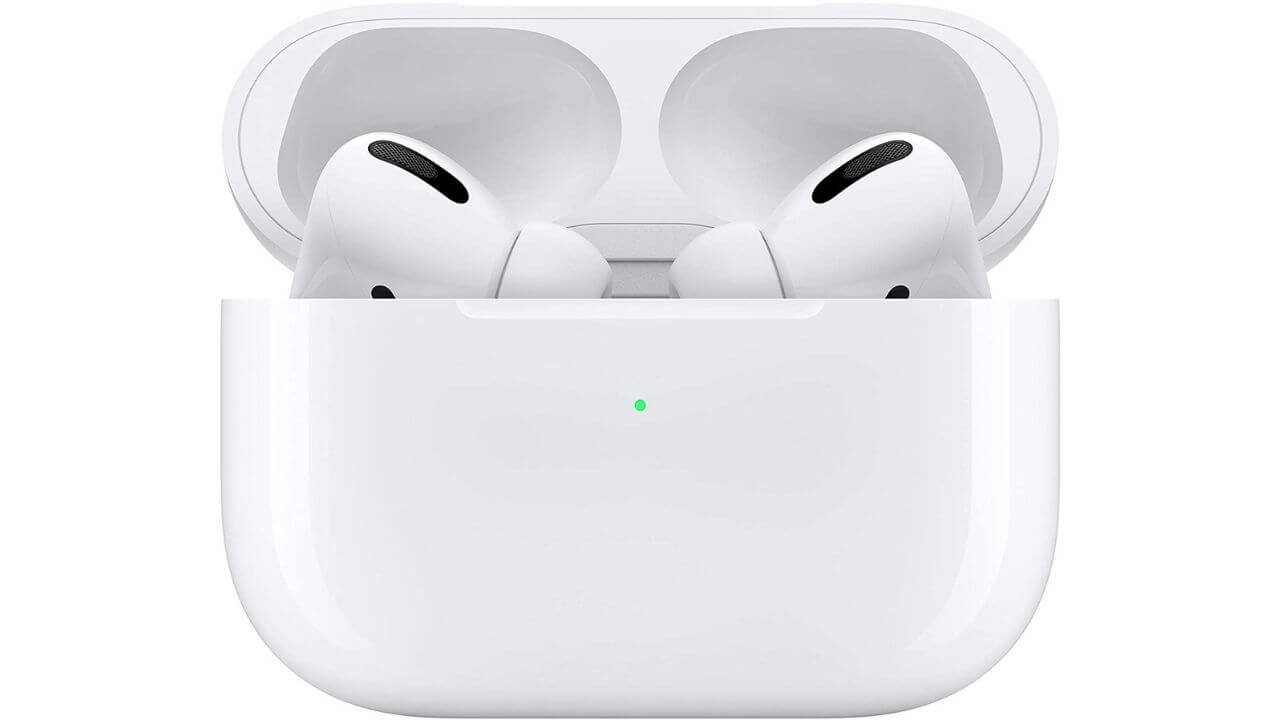 If you're hooked to music all the time, the AirPods Pro should be the right fit for your listening sessions. It is one of the industry-leading audio accessories that is loved by millions of Apple users worldwide. The AirPods Pro packs Apple's in-house H1 chipset that offers an extremely good audio experience. These wireless earbuds for iPhone SE 2022 come with Active Noise Cancellation (ANC) feature which lets you enjoy your favorite music, preventing outside noise coming from your neighbor's crazy house party. Besides, these best-in-class wireless earphones for 3rd generation iPhone SE features a transparency mode that lets in the outside noise to keep you aware of the outside environment. Let's not forget that the AirPods Pro is shipped with three soft ear tips that sit comfortably in your ear without any discomfort when you're enjoying a comparatively longer Spotify podcast. As far as battery backup is concerned, you'd be happy to know that the AirPods Pro offers 24 hours of playtime. Moreover, it is shipped with sweatproof and waterproof ratings. Overall, it is the best accessory for the 3rd Gen iPhone SE that your money can buy. 
For anyone who is looking for a premium wireless headphone for iPhone SE (3rd Generation), it's best that you invest in the AirPods Max rather than anything else.
Also, if you're willing to invest in premium third-party wireless earbuds, we recommend going with the Power Beats Pro Wireless Earbuds. It offers 9-hour battery life, which is extensively increased up to 24 hours when combined with a charging case. Further, it packs an Apple H1 chip and Class 1 Bluetooth, making it useful for both Android and iOS users. Users with a tight budget can check Anker Soundcore Liberty Air 2 Wireless Earbuds on Amazon, it is priced under $50. 
Also read: Best Accessories for AirPods (3rd Generation)
2. Sony WH 1000XM4 (Best Premium Third-party Wireless Headphones for iPhone SE 3)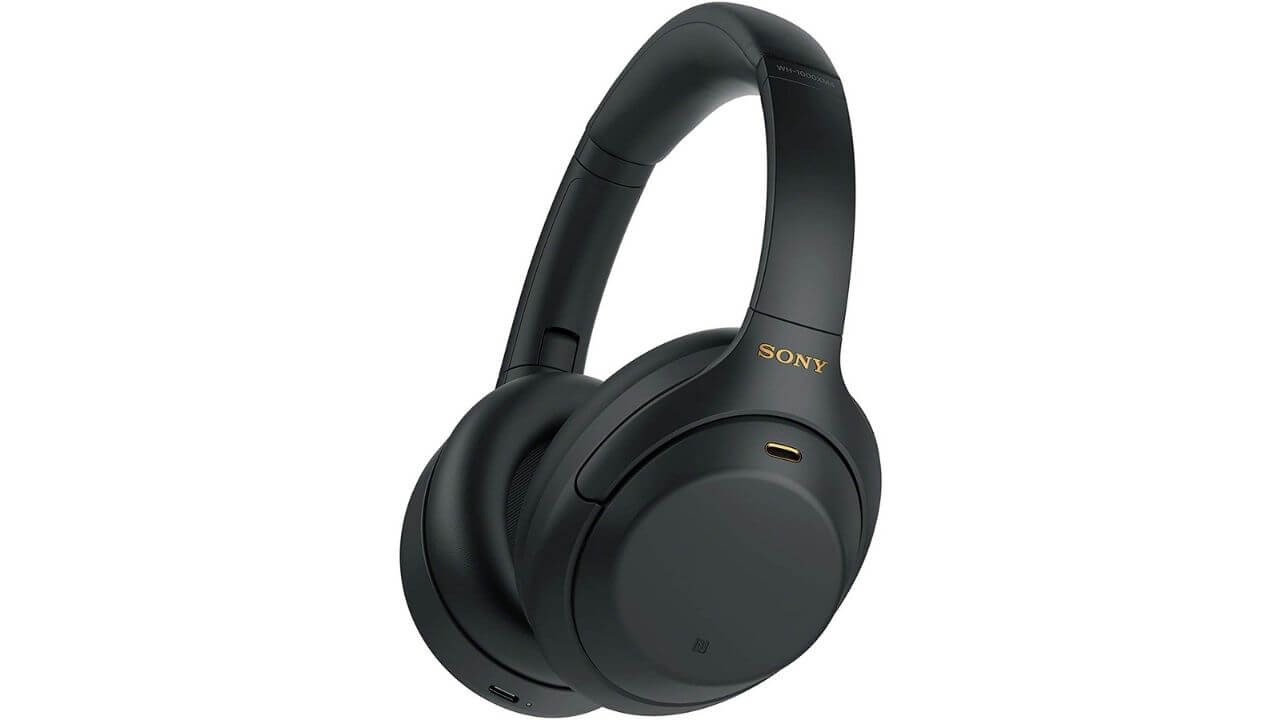 The Sony WH 1000XM4 is an aesthetically pleasing wireless iPhone SE 3 headphones that are well-known to deliver immersive sound quality and impressive active noise cancellation. This wireless headphone for iPhone SE 3rd Gen is combined with comfortable ear cushions that are designed for long listening hours. The Speak-to-Chat feature in this wireless headphone automatically pauses your music when you speak, whereas the Quick Attention Mode allows
taking all the calls without even touching your 3rd Gen iPhone SE. 
Thanks to the foldable design, it can be stored even in a travel pouch making it one of the most suitable choices for travellers. Sony claims that you can enjoy music for up to 30 hours on a single charge, and also mentions that 10 minutes of charging can offer up to 5 good hours of listening to your favorite playlist. Furthermore, the touch sensor does its job to play, pause, skip tracks, control volume, and activate the voice assistant as well. 
If you have already invested most of your budget in the iPhone SE 3 and are looking for a reliable wireless headphone, the Anker Soundcore Life Q20 Hybrid wireless headphone is all you need. It is one of the best budget-friendly wireless headphones that you can buy for under $50. 
Also read: Best Bluetooth Speakers for iPhone
Must-Have Accessories for iPhone SE 3rd Gen in 2022
1. Apple Watch SE (GPS, 40mm)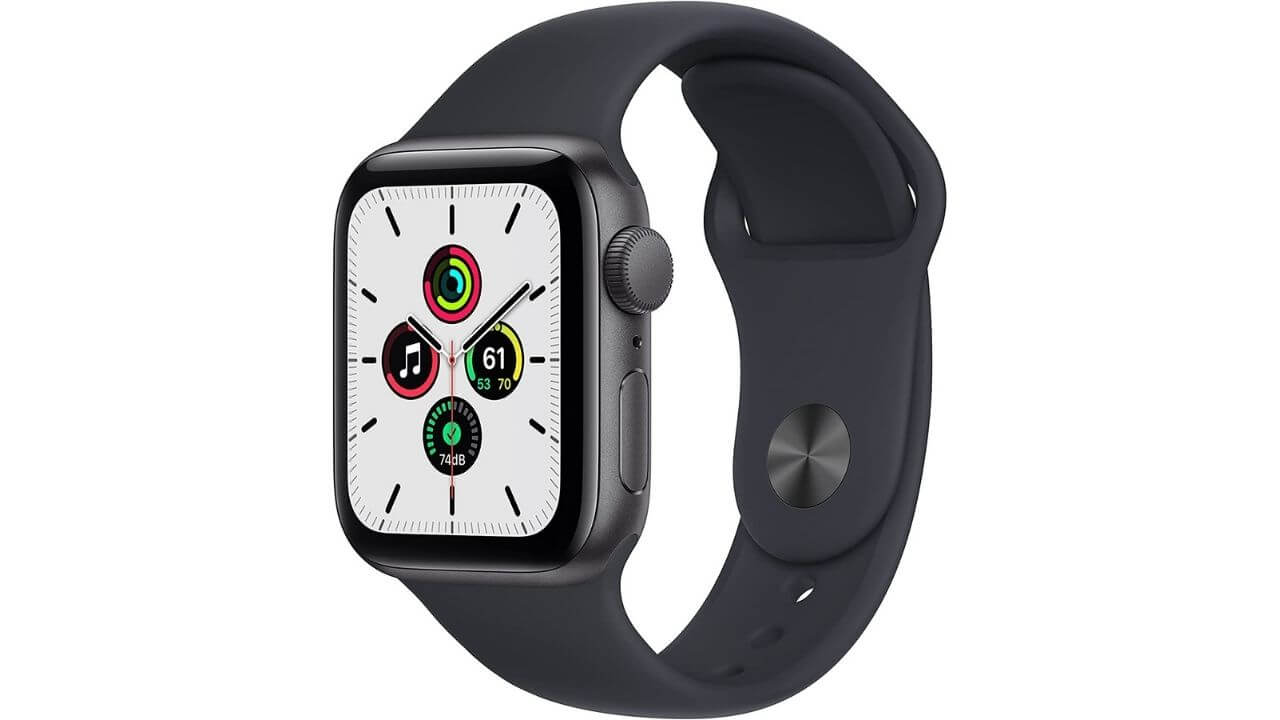 When we talk about must-have accessories for iPhone SE 2022, the Apple Watch SE is something that you'd need in the first place. The overall design and looks of the Apple Watch Series SE looks similar to the older generation Apple Watch 3. It is one of the best budget-friendly Apple Watch for iPhone SE 3rd gen. Talking about the design, this smartwatch features a retina display with curved corners, which is almost 30 percent larger than Series 3. This smartwatch is powered by a dual-core processor and S5 System-in-Package that delivers almost two times faster performance than Apple Watch Series 3. As far as features are concerned, the Apple Watch SE includes hand-wash detection, built-in accelerometer, gyroscope, Family Setup, always-on altimeter, fall detection, and sleep detection features. 
2. Lamicall Ring Holder Finger Stand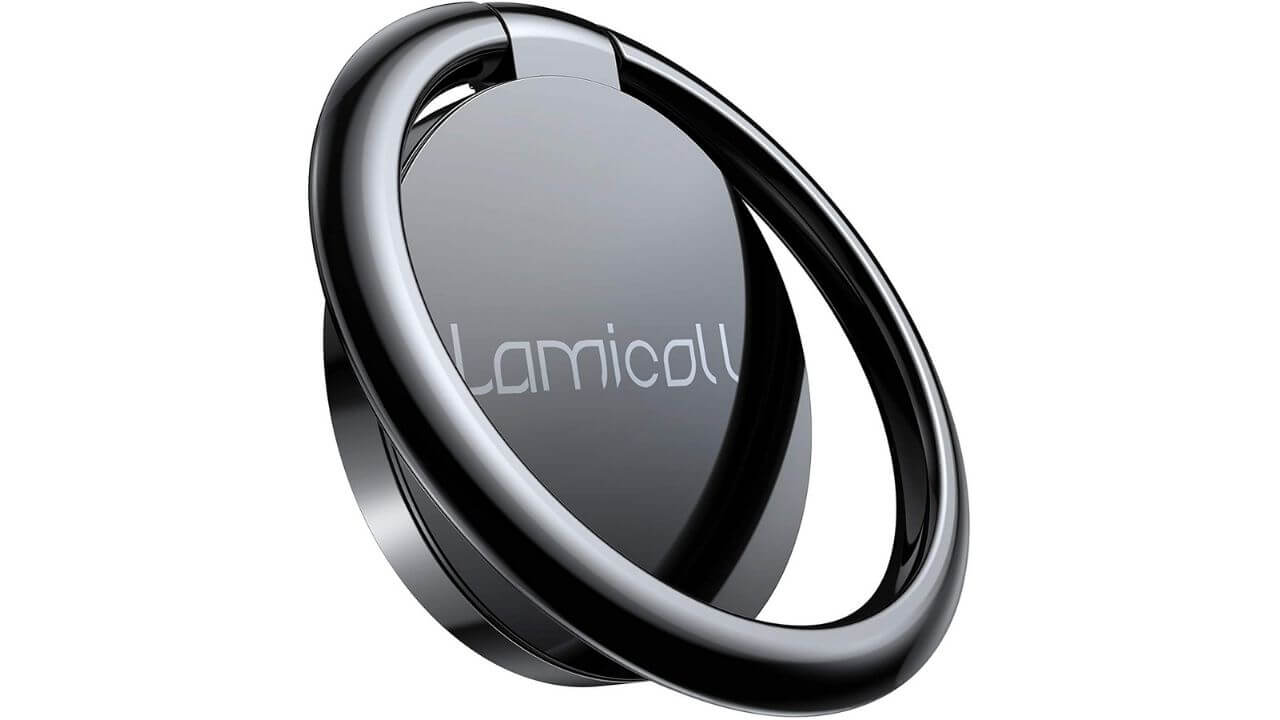 This unique accessory for iPhone SE 3rd Gen lets you carry your device using even a single finger as well. This ring stand is compatible with iPhone SE 3 and other iPhones. It is made from high-quality Zinc Alloy and Stainless Steel giving it a solid polished look that goes well with the design and colors of your budget iPhone. The inclusion of Zinc Alloy makes it durable leaving behind all the worries of getting it scratched by your nails. This multi-purpose ring stand holder can be used as a kickstand to enjoy favorite movies or attend Zoom calls whenever necessary. Plus, it is available in five beautiful colors that let you match your vibe.
3. Popsockets (Must-have for Netflix Binge Watcher)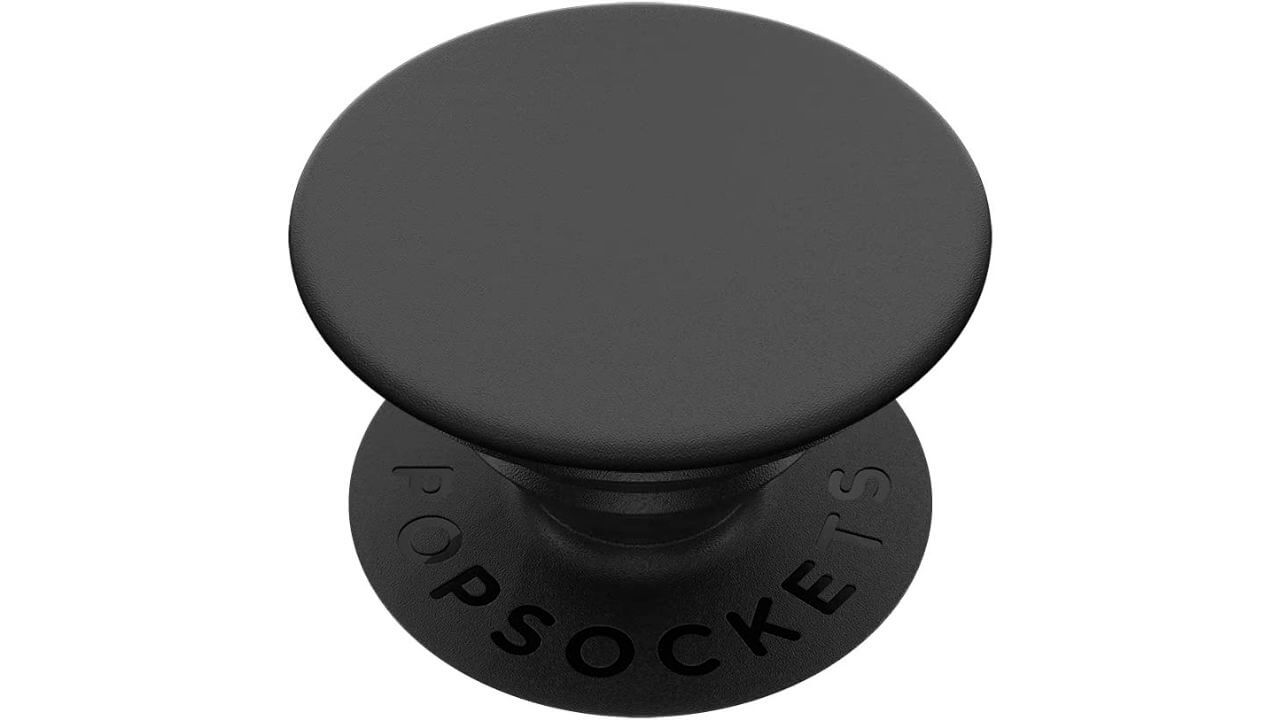 Even though an iPhone SE 3 is not a big phone, it is still handy when you have pop sockets attached at the back of it. It is a must-have accessory to use your device one-handed. A pop socket can be handy for anyone who likes to
binge-watch their favorite Netflix shows during bedtime. You just have to extend the piece and place it on your bed, or you can simply wrap your fingers around comfortably to hold the device, it's that simple. At present, there are multiple choices for anyone looking for it. That's why we mentioned some of the most popular and highly rated pop sockets available on Amazon. Make sure to check them out.
4. Mophie Juice Pack for iPhone SE 2022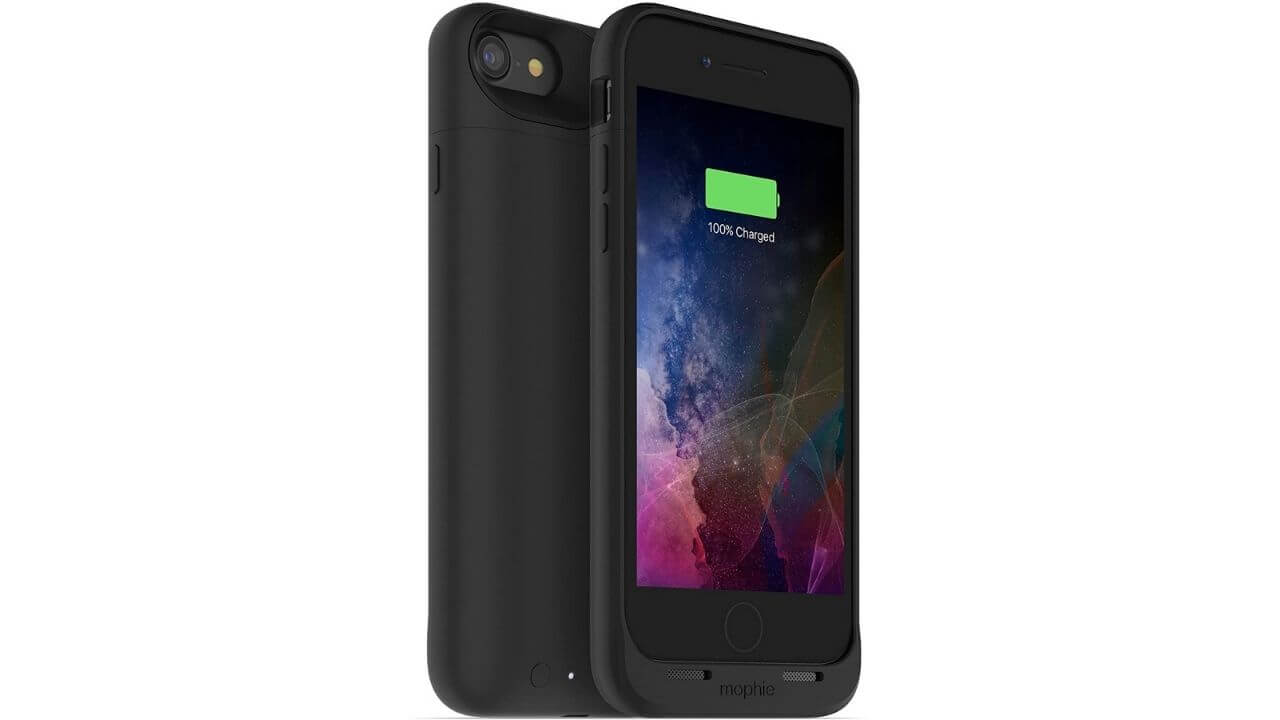 If you're looking for greater protection combined with additional battery life for your iPhone SE 2022, the Mophie Juice Pack is the must-have accessory for everyone. It comes in a beautifully slim and redefined design that allows charging your device wirelessly almost anywhere. It surely is a perfect case for iPhone SE 3rd Gen for anyone who is planning for a vacation or business trip. The priority charging feature offered by this iPhone SE 2022 battery case ensures that the power is directly delivered to the iPhone when it is running out of charge. Interestingly, when the iPhone is fully charged, the battery inside the case also starts charging. If you are concerned about the protection, let me tell you that this battery pack case offers a good amount of protection for your device very much similar to the one offered by top cases and covers from leading market players. Not to forget, this iPhone SE 2022 case supports wireless charging too.
Also read: Best Wireless Car Chargers/Pads for iPhone
That was all from our side on this roundup where we covered some of the best accessories for iPhone SE 3rd Gen in 2022. We hope you have already picked the accessories that suit your requirements and let us know in the comment sections. Also, please make sure to check our full-fledged list of
best cases, best screen protectors, and best fast chargers for iPhone SE 2022