If you've got a laptop, a smartphone, a tablet, and another accessory that uses USB-C for charging then Anker just announced the best fast charger for you. Anker's 547 charger features 4 USB-C ports with a total power output of 120W.
Anker's most powerful charger can charge an iPhone 13 Pro Max, an iPad Pro, the Apple Watch and even the new 14-inch MacBook Pro together. The leading iPhone accessory brand has managed to fit 4 PD supported USB-C ports in a wall adapter form factor.
Just like the existing lineup of Anker chargers, the 547 fast charger has temperature control, current regulation, and short-circuit protection. Pair this with Anker's excellent customer service and past record, we have ourselves a perfect tech gift.
It comes with an almost five-foot long power cord and has support a wide variety of devices like Chromebooks, 14 and 16-inch MacBook Pros, Microsoft Surface devices, iPad Pro, Apple Watch, Galaxy Tab series, and Android smartphones. Here comes the best part. You can combine these products for charging; be it a laptop, tablet or a smartphone and they will charge just fine.
Although there's something you need to know about this little fast charger. Not all ports deliver equal power. Have a look at the following image. The 4 ports are divided into two categories with two high power ports on the left and the remaining two USB-C ports on the right side.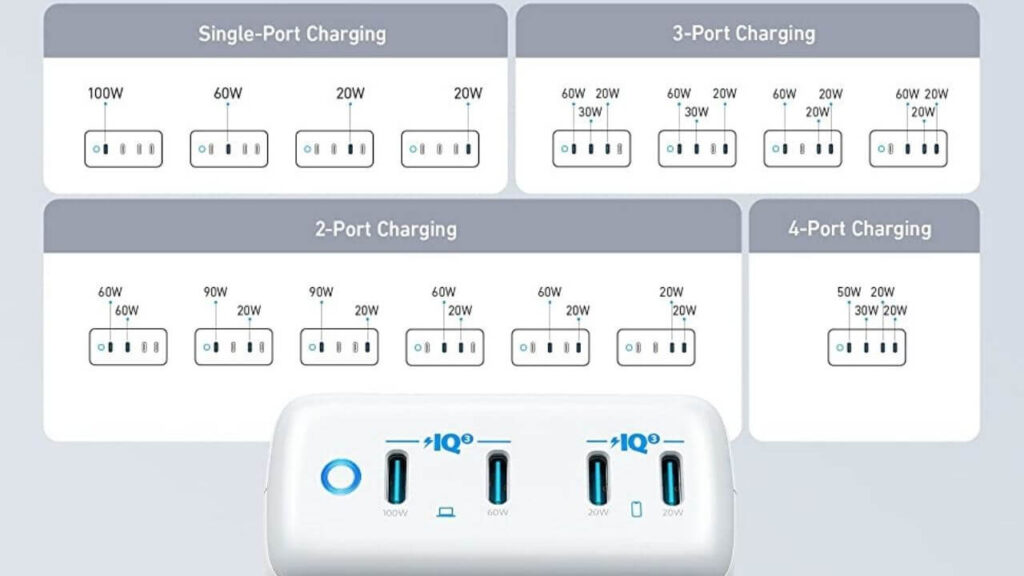 The portable multi-device charging station comes with a 4.9ft power cord and a small adhesive strip that makes mounting it alongside your docking station setup a breeze. Under the hood, the Anker 547 fast charger is powered by PowerIQ 3.0 technology which provides optimized charging for different devices like 25W for iPhone 13 Pro, 5W for Galaxy Watch etc.
With new products like Galaxy S22, and more hitting the markets in the next few weeks, this is a must have accessory for people who prefer minimalist setups.