Apple offers thousands of great games on the App Store, which has made the iPhone a pretty cool handheld gaming device on its own. Moreover, the launch of Apple Arcade, a subscription-based service, offers a whole host of high-quality, exclusive games across the Apple Ecosystem. It's fun to play games like puzzles and Candy Crush Saga on your iPhone. However, to enjoy the action games on your phone, you need to bundle it with some gaming add-ons. You can completely utilize your iPhone as a true gaming device with some ace accessories.
Whether you want to have an improved grip for fierce action games or get the feel of a real driving wheel for racing games, there are several amazing accessories for you to choose from. We have prepared a list of the best iPhone gaming accessories that will take your gaming experience to a whole new level.
If your iPhone overheats while using it for a long time, you might not be able to get the best gaming experience. We have listed
some of the common reasons which make your phone overheat and simple hacks to cool down your iPhone.
Best iPhone Game Controllers 
The physical controllers are one of the must-have iPhone gaming accessories to enhance your gaming experience. Earlier, the MFi certified controllers were compatible with the Apple devices, and they still work perfectly across the iPad and iPhone. With the launch of iOS 13, Apple has pushed its boundaries and allowed the users to connect and use various Bluetooth-powered controllers as well. 
The popular multiplayer games like PUBG Mobile and Fortnite offer controller input. However, it's worth noting that not all iOS games offer controller support, you must check the individual games for the compatibility.
Here's our roundup for the best iOS controllers in 2020.
Xbox Wireless Controller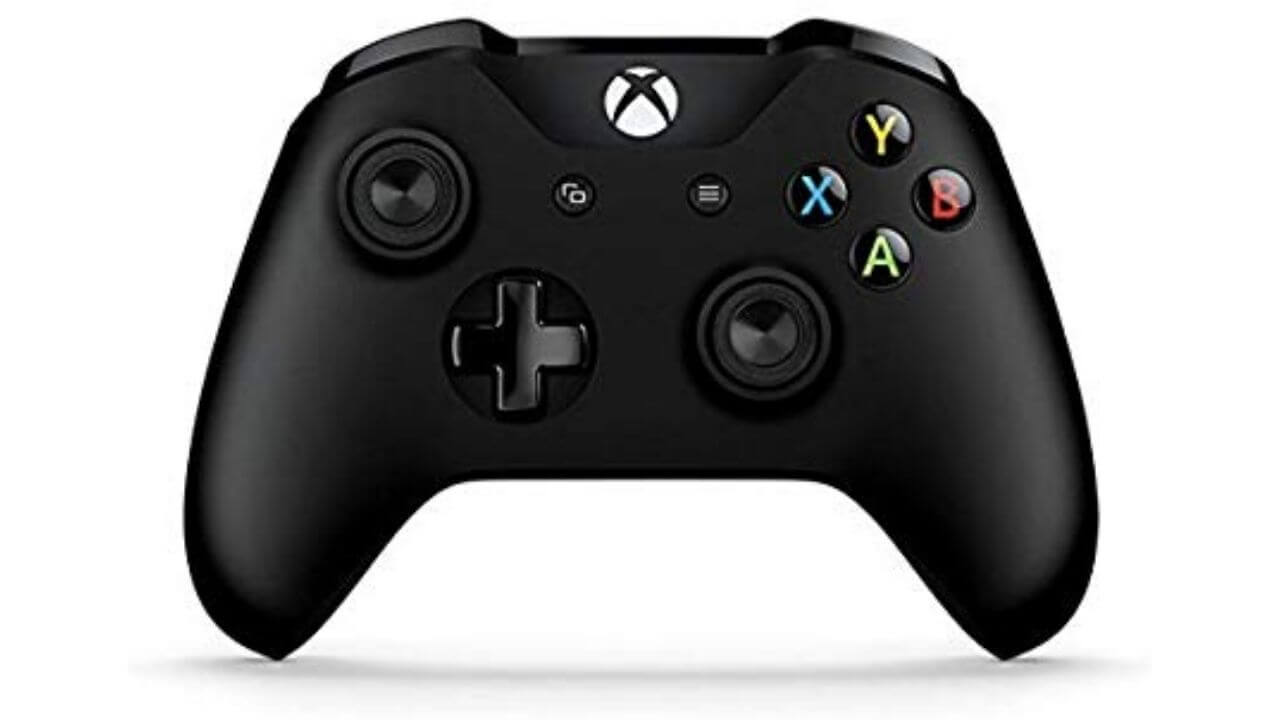 Compatibility: iOS 13 devices
The release of iOS 13 brought a piece of great news for Xbox gamers. If you have the newer Bluetooth compatible Xbox controllers, you can use the same to play games on the iOS devices. The latest Xbox wireless controller features a streamlined design and textured grip, which lets you stay on the target and enhances your gaming experience. The controller offers you access to all the triggers and buttons, but you won't find the platform-specific buttons. The Xbox wireless controller is compatible with almost all PC games, so you need not buy separated controllers to play games on PC and iOS devices.
SteelSeries Nimbus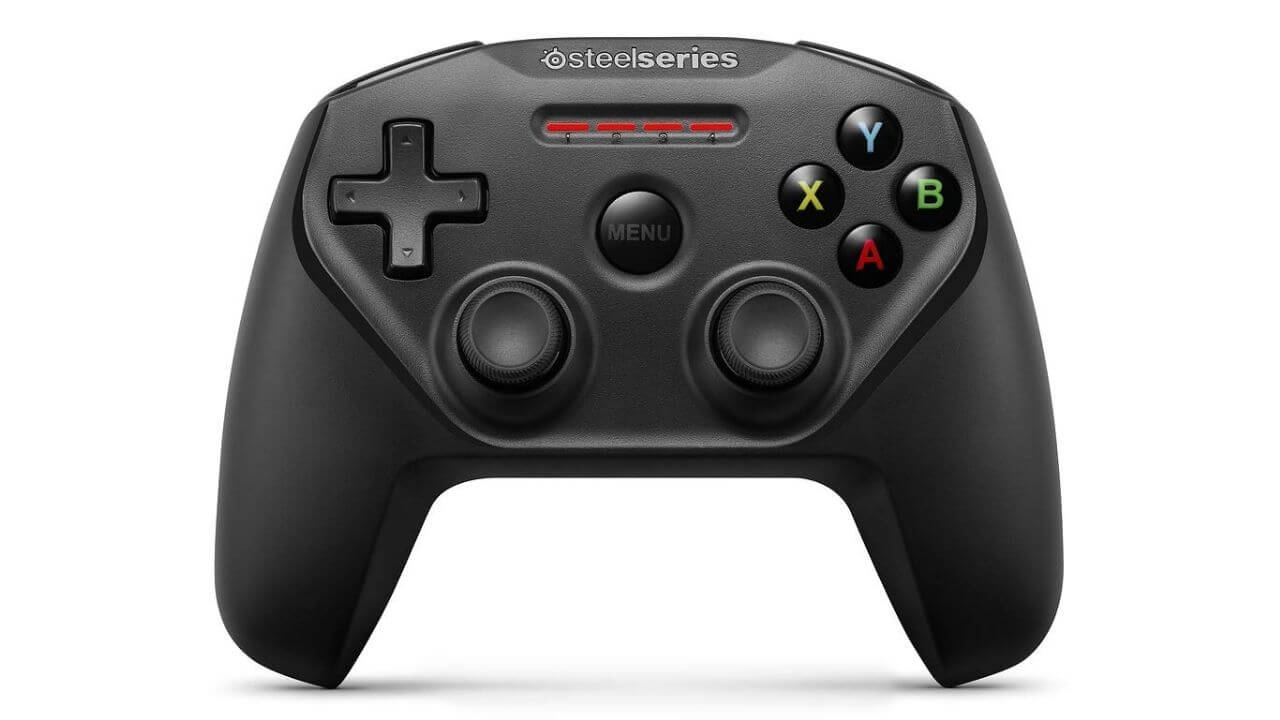 Compatibility: iPhone, iPad, Apple TV, and iPod Touch 
The MFi certified controller by the popular gaming manufacturer, SteelSeries, will let you enhance your gaming experience across the Apple ecosystem. It boasts pressure-sensitive buttons, four display LEDs, and center buttons for navigation. As it's the part of Apple's MFI programme, the controller works perfectly well with every controller-supported game on the App Store. The controller features a Lightning port for charging and offers you a 40-hour battery life. 
The best thing about SteelSeries Nimbus is that it's compatible with the Apple TV as well. Therefore, it's a must-have iPhone game controller that offers smooth performance on all iOS devices.
 Rotor Riot Wired Game Controller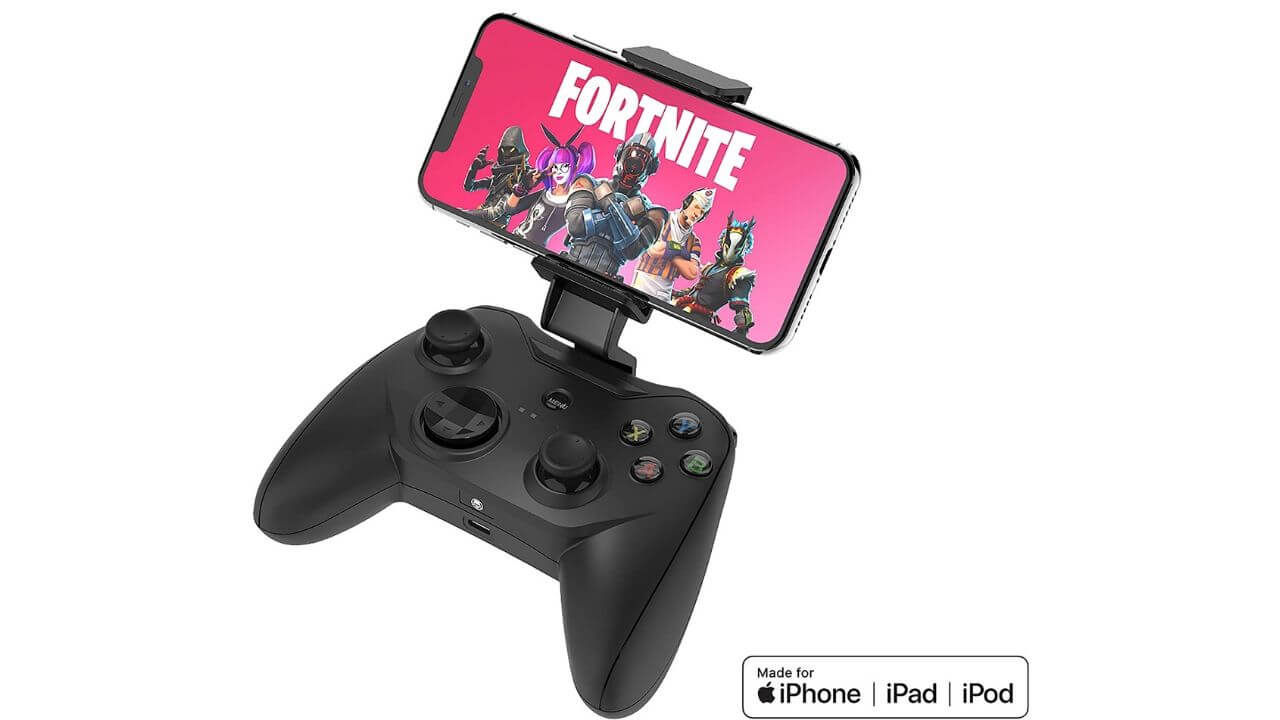 Compatibility: iPhone (iOS 7+)
The Rotor Riot is one of the best iPhone game controllers available in the market today. It features universal iPhone compatibility and support for over 1,000 different apps. The word wired might seem a little off-putting to some users, but the Rotor Riot provides a reliable connection for latency-free gaming. There's no battery in the controller, therefore you need not worry about running out of juice while you're in the middle of an important boss finale. Moreover, the pass-through charging port lets you charge your iPhone while you're playing the games. It's the only MFi controller in the market that comes with L3 R3 functionality.
You also get an optional clip that lets you attach your iPhone to the top of the controller. However, the clip locks your iPhone only in landscape mode.
4-in-1 Mobile Game Controller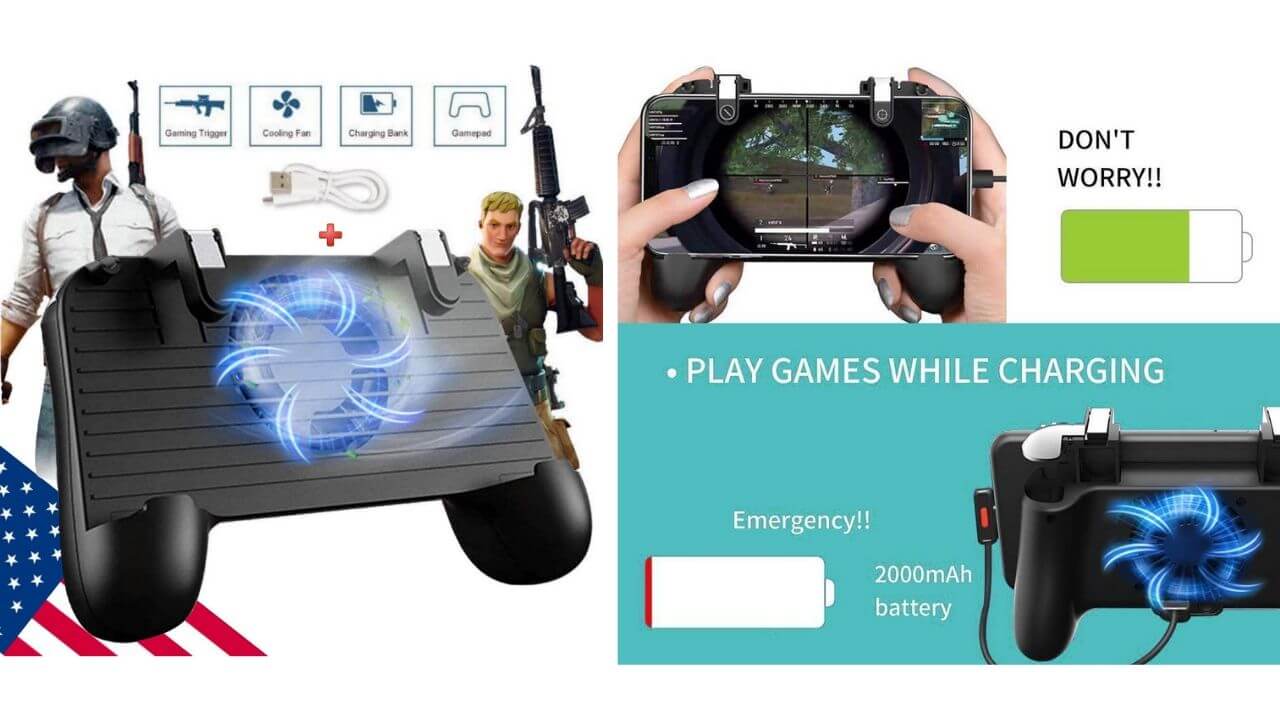 Compatibility: 4.5 to 6.5-inch smartphones
The 4-in-1 Mobile Game Controller integrates Gamepad, Game Trigger, Charging Bank, and Phone Cooling fan into a single device. If using only the thumbs to perform all the operations while playing intense action games trouble you, this controller is a must-have on your list of the best gaming add-ons for the iPhone. It lets you simultaneously turn, move, aim, and shoot using your index fingers too. You don't have to worry about getting your iPhone out of charge, the controller is packed with a 2,000mAh battery that lets you charge your iPhone while playing games. Moreover, this iPhone game controller has a cooling fan with a powerful heat dissipation function that prevents your phone from overheating when you play games at a stretch. All in all, it's a powerful iPhone game controller, which is compatible with all the iPhone models.
Other iPhone Gaming accessories
 Gamevice for iPhone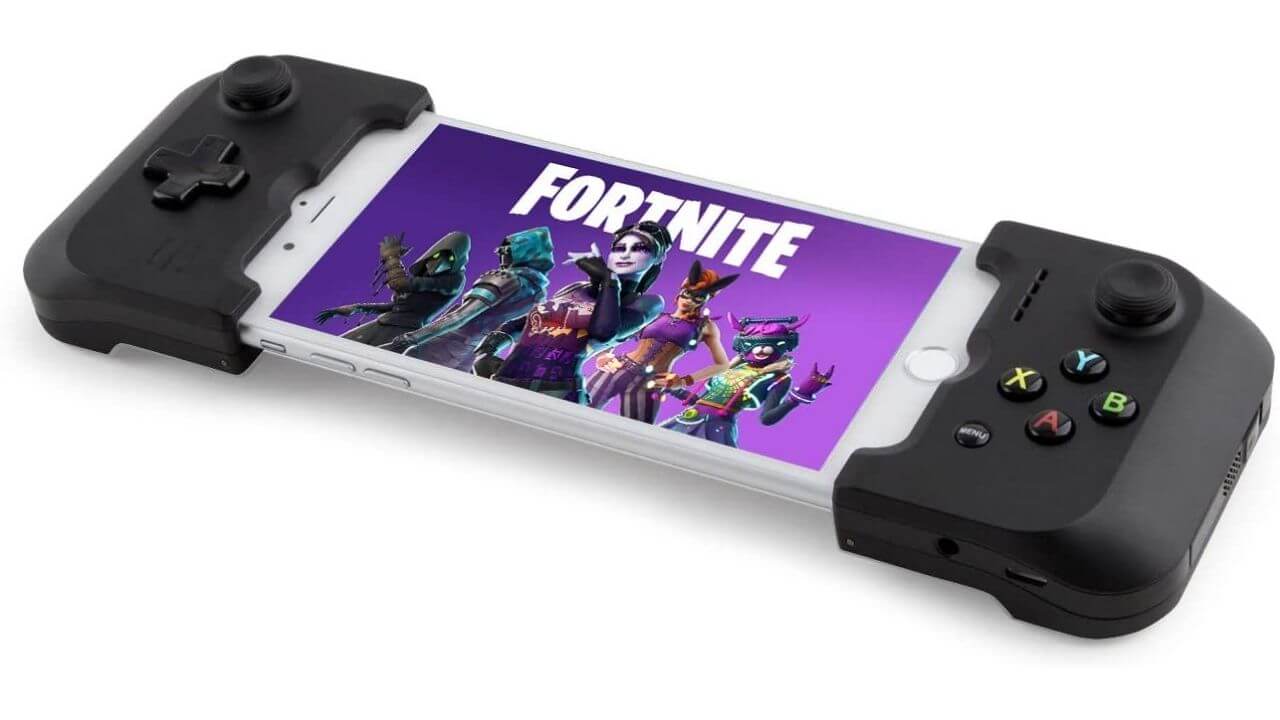 Compatibility: iPhone
You can turn your iPhone into a portable game device with the help of Gamevice. It is considered as one of the best gaming controllers for the iPhone. This gaming accessory features two analog sticks that are connected by an adjustable strap made of high-quality material. The strap can be easily folded and is super-convenient to carry, making it a must-have accessory for people who love playing games while traveling. Gamevice also offers you a full range of buttons and controls. You can expect unrivaled connectivity and performance with exceptional controls and telescoping grip. There's no need for paring and no stress for power loss. 
It also offers a 3.5mm headphone jack, audio DAC, lightning connector, and Micro USB power. 
Homido Virtual Reality Headsets V2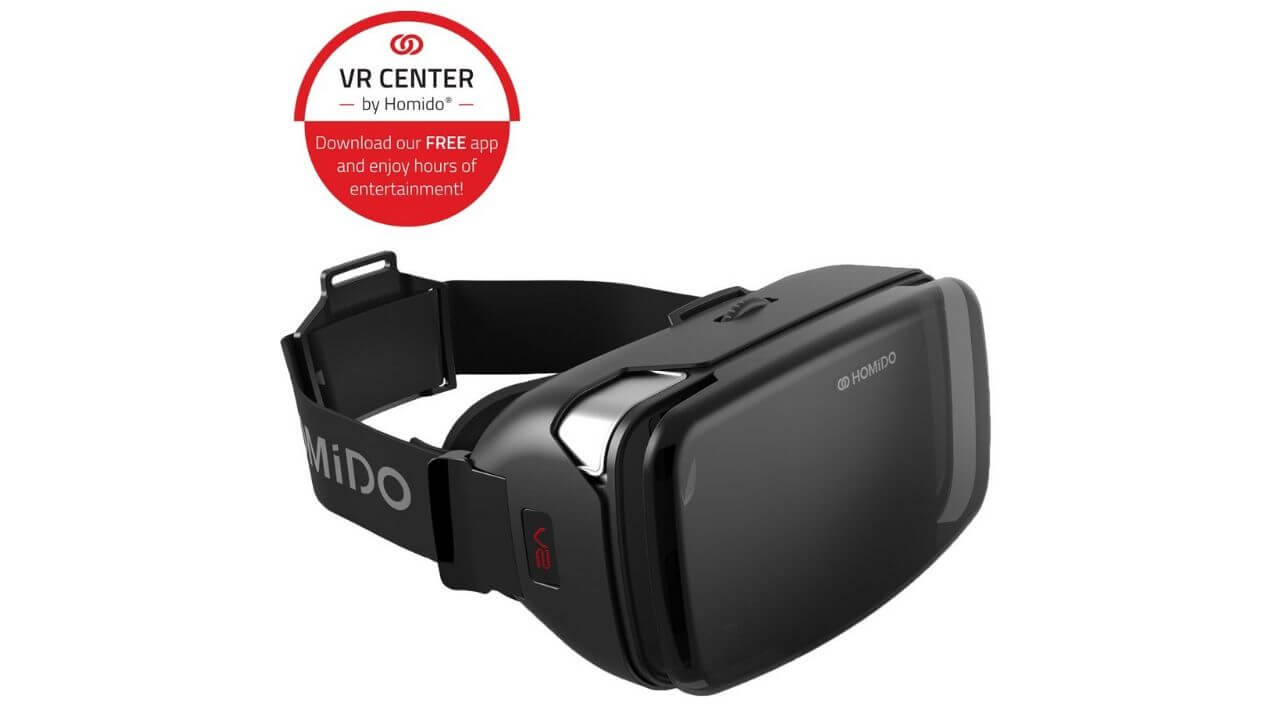 Compatibility: Smartphones between 4 to 5.7 inches
Want to experience VR while playing games on your iPhone? You must check out the Homido V2. It features two biconvex lenses of 37mm that don't fog up and offer you a clear view. The headset has adjustable T-shaped straps to decrease the pressure around your eyes and provide a customized fit for everyone. It comes with an efficient and responsive Google Cardboard V2, which is compatible with iOS. There's a magnet on the front latch, used for opening and closing the latch. You can effectively position your iPhone with the vertical centering being done automatically. It offers you complete freedom in adjusting the pupil as well as the object distance. You can adjust the pupil distance by rolling the gear on the left of the VR glasses, and the object distance can be adjusted by rolling the gear on the top of the VR glass.
All in all, if you're looking for the best mobile VR experience; the Homido V2 is a worth-investing gaming accessory for your iPhone.
That was for our list of the best iPhone gaming accessories. We hope these accessories will help you turn your iPhone as a perfect gaming device and let you play your favorite games in a better way. Also, do let us know which gaming accessory do you use for your iPhone.
If your iPhone is not performing the way it used to, don't forget to read our guide on how to speed up your iPhone to boost your gaming experience. 
Also, don't miss our roundup for the best iPhone camera accessories that you can own in 2020.