Apple announced some exciting devices at the September 14 event which included the iPhone 13, iPhone 13 Mini, iPhone 13 Pro, and Phone 13 Pro Max. Alongside, the company also unveiled the most anticipated Watch Series 7, iPad 9th Gen, and iPad Mini 6th Gen at the same event. Since this roundup is dedicated to the most budget-friendly iPhone 13 Mini, we will talk about it only. 
Talking about the exterior build, the iPhone 13 Mini looks identical to last year's iPhone 12 Mini. However, the diagonal camera setup is the only change on iPhone 13 Mini if physical appearance is considered. on the iPhone 13 Mini. The iPhone 13 Mini features a 5.4″ inch Retina XDR display that comes with a 60Hz refresh rate and HDR 10 certification. Apple ships all the iPhones under the iPhone 13 lineup with Ceramic Shield display, which is claimed to be the most durable screen out there. The performance on the iPhone 13 Mini is taken care of by Apple's in-house A15 Bionic Chip, whereas the addition of the latest iOS 15 brings in a lot of features for the best mobile experience. 
As you know iPhones are a big investment, you'd like to keep them safe from accidental damages. To ensure this, we'd recommend getting reliable and some of the best protective cases for iPhone 13 Mini that we have covered in this roundup. Let's dig right into it.
Note: We update our article from time to time to cover the latest products available in the market.
Disclaimer: Since the thickness of all the protective cases is appropriate, they all are compatible with Qi wireless chargers available in the market. 
List of Best Protective Cases for iPhone 13 Mini
1. Spigen Rugged Armor (Best Overall)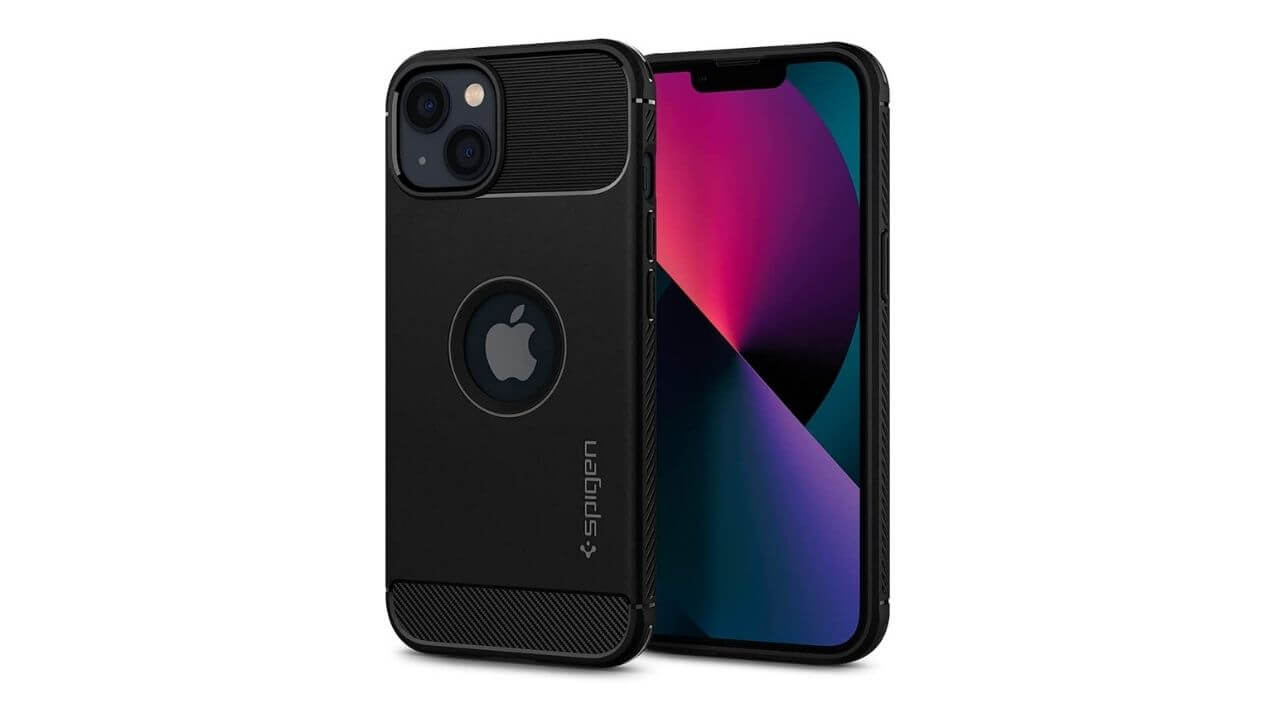 The Spigen Rugged Armor from Spigen is by far the best contender to be the best protective case for iPhone 13 Mini. This rugged case comes in a Carbon Fiber design and resilient shock absorption feature to withstand heavy blows that include drops, shocks, scratches, and more. It is designed in a way that ensures effective protection for your iPhone 13 Mini rugged case is useful for individuals working at a construction site or adventure games such as dirt biking, mountain climbing, etc. This case from Spigen can also come in handy in case you accidentally knock or drop your iPhones from vehicles or your working table. Plus, the Air Cushion Technology is incorporated in this case to deflect shocks generated from drops or bumps to prevent the screen from shattering. There're tactile buttons as well as precise cutouts around the charging ports and speaker grills for flawless mobile usage. All in all, it is a budget-friendly pick with the best protection. Choosing this should be no brainer.
Also read: Best MagSafe Cases for iPhone 13 Mini
2. OtterBox Defender Series (Heavy-duty Protection)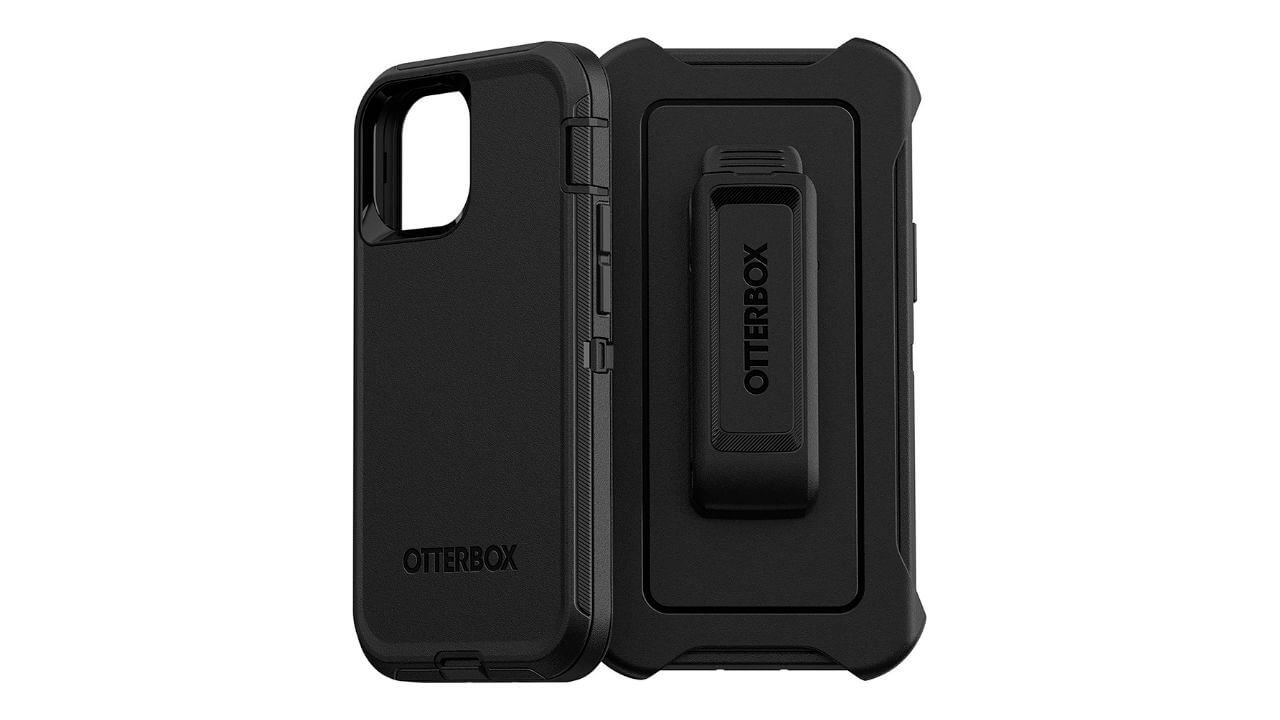 Here we have something similar to the one mentioned above, but with a hefty price tag.  The OtterBox defender series is, if not the best, but the best heavy-duty case for iPhone 13 Mini that offers extreme durability and protection against nasty drops, scrapes, bumps, or shocks from accidental damages, This iPhone 13 Mini protective case comes with a multi-defense design with its outer and inner shell that effectively safeguards the beauty of this phone. The ports are securely covered with a rubber lid to keep the dust and debris away from them. The fact that this OtterBox heavy-duty iPhone case is designed from 50% recycled plastic ensures that you contribute towards nature by buying this piece. Moreover, you get OtterBox's limited lifetime warranty and dual-color options for you to choose from. Hands down, it is the best protective case for iPhone 13 Mini that one could get, especially those who work around industries that require physical labor, or explore different terrains. 
Also read: Best Screen Protectors for iPhone 13 Mini
3. Spigen Tough Armor (Rugged Protection)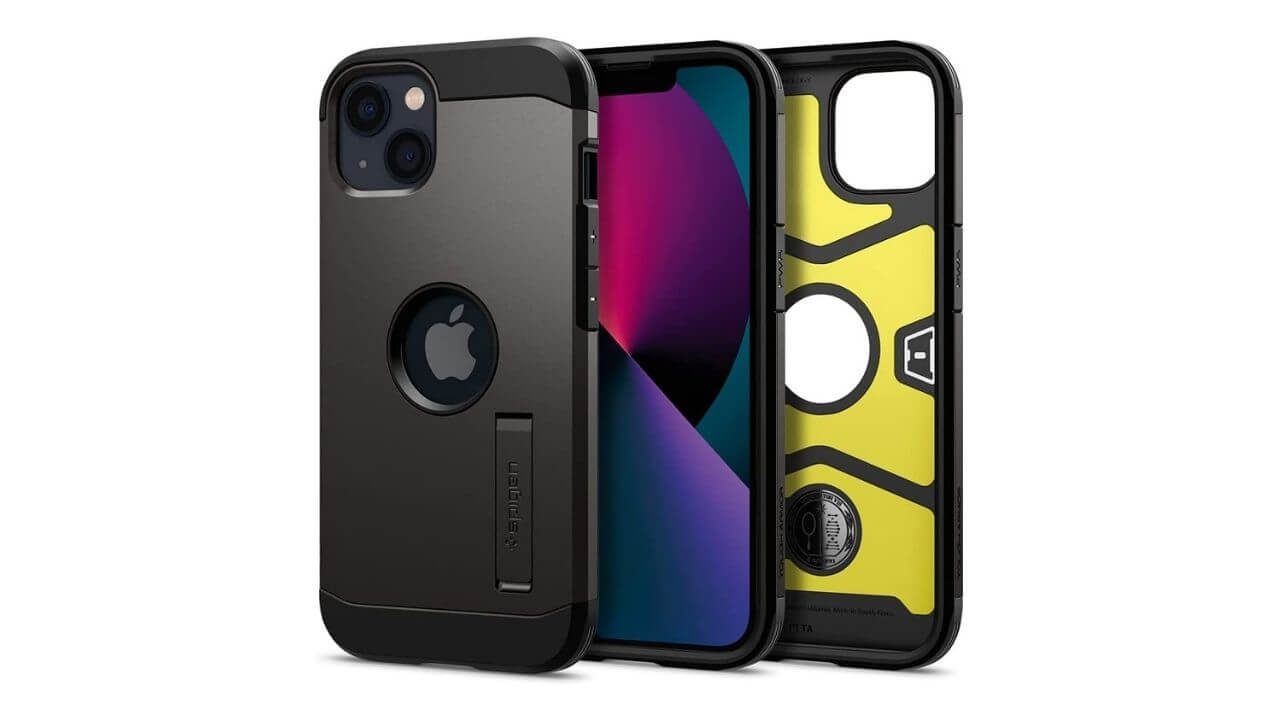 The Spigen Tough Armor is shipped with a two-way reinforced kickstand that ensures you binge-watch Netflix shows or attend video calls without troubling your hand. No doubt, this heavy-duty case makes your life easier in a way or another. It is made from a combination of TPU and Polycarbonate materials to offer dual protection from damages that might be the reason for serious drops and shocks resulting due to a heavy impact on concrete or a hard surface. On top of that, this rugged protective case for iPhone 13 Mini uses the all-new foam technology to add in an extra bit of protection. There are raised lips around the diagonal camera setup and Retina XDR display from annoying scratches. Also, the military-grade certification and Air Cushion Technology ensure that this rugged iPhone13 Mini case can effectively safeguards the budget-friendly Apple device by retaining its beauty for years. Plus, Spigen offers this protective iPhone case in four amazing color options. If you are looking to protect your investment, the Spigen Tough Armor is the best choice for you.
Also read: Best Accessories for iPhone 13 Mini
4. Ringke Fusion Shockproof Case (Grippy Protection)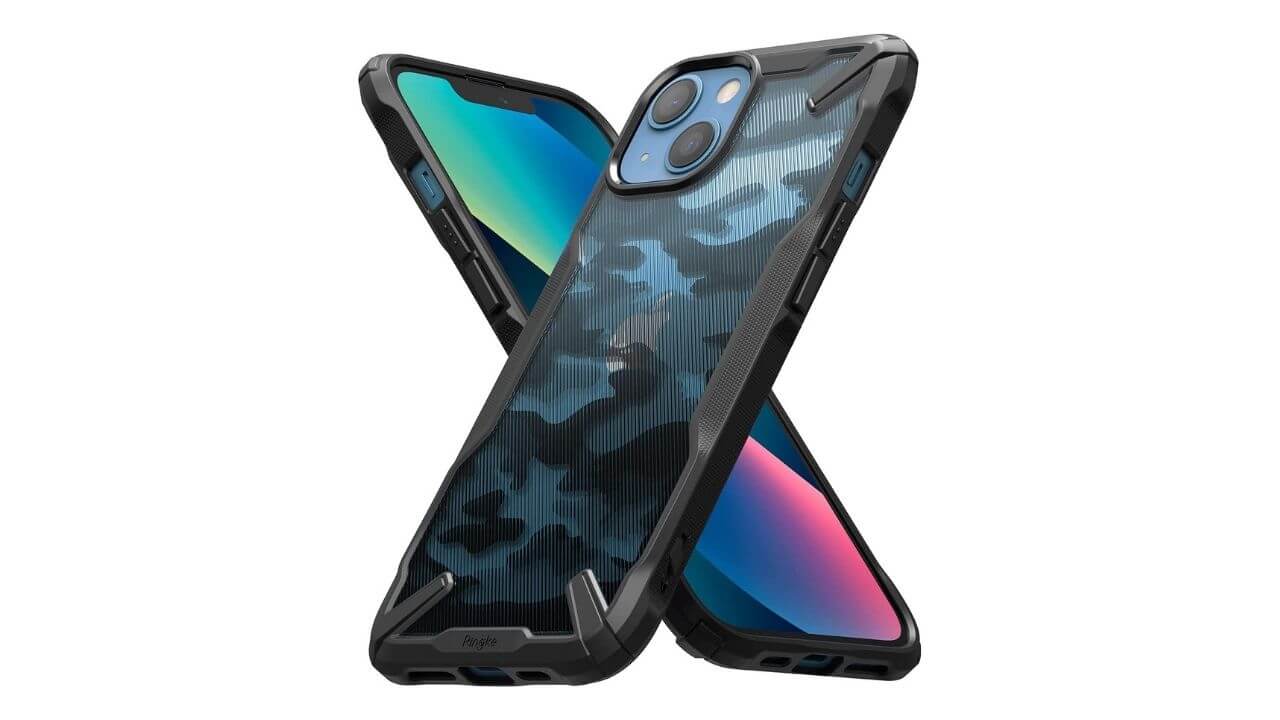 Are you looking for a uniquely designed protective case for iPhone 13 Mini? Grab the Fusion series case from Ringke. The solid combination of TPU and PC material allows flaunting the colors and design on the iPhone 13 Mini at the same time it offers solid protection. There is a wraparound side bumper that ensures that your iPhone remains safe by absorbing shocks generated when the device is accidentally dropped sideways. The grainy texture on the bumper allows you to grip the phone firmly so that you don't drop it while traveling on a bumpy road via public transport. It is useful for people who work in a factory or have kids around at home. 
The raised bezels keep away scratches and dents that may appear around the camera setup and screen when you keep the device upside down or vice versa on a rough surface. You'll also find built-in quick lanyard holes at the side bottom of this rugged protective iPhone case to attach straps. Please note that straps are sold separately. Moreover, it is compatible with all the wireless chargers as well as MagSafe accessories available at this point in the market. Just in case you want to add more style, you can choose from the Camouflage and other available designs. All in all, it is the best alternative to the Spigen Rugged Armor case that is a dollar more than the price of the Ringke Fusion series. 
Also read: Best Fast Chargers for iPhone 13 Mini
5. Smartish iPhone 13 Mini Protective Case (MagSafe Protection)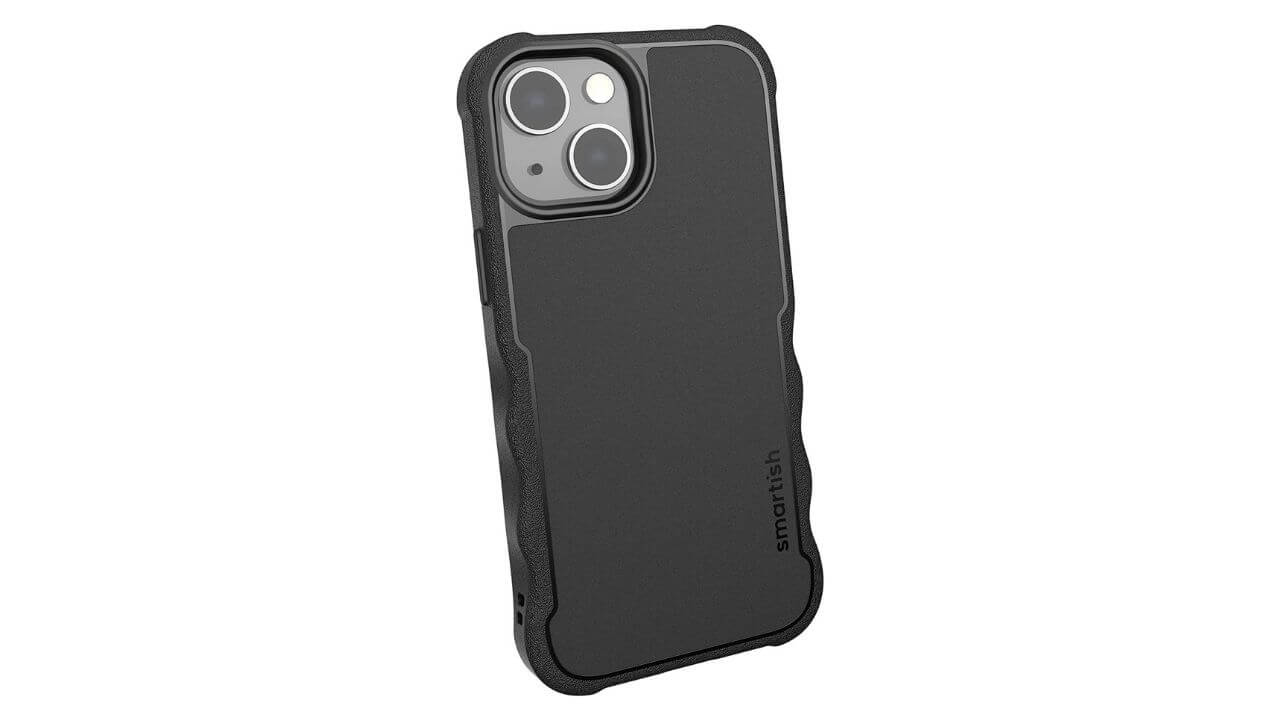 If you are looking for an iPhone13 Mini case with the best grp, we recommend getting the Smartish Gripzilla right now. Smartish offers this affordably priced and simple case for iPhone 13 Mini adding extra protection and a good grip. This protective case comes with grooved sides which makes it the best choice for individuals with buttery fingers out there. Remember, it is offered with the right thickness to make sure that it doesn't feel bulky when you are chasing down Chicken dinner or completing the episodes of Squid Game right before your bedtime. Also, the right thickness ensures that this rugged case for iPhone 13 Mini works well with MagSafe accessories available in the market. Best of all, you get to choose from some brilliantly crafted colors and designs to protect the smallest iPhone launched at the September 14 event. As far as price is concerned, this protective case for iPhone 13 Mini is slightly on the higher side, but believe me, it's worth the investment.  
Also read: Best MagSafe Accessories for iPhone 13 and 13 Pro
6. Poetic Revolution Series Heavy-duty Case for iPhone 13 Mini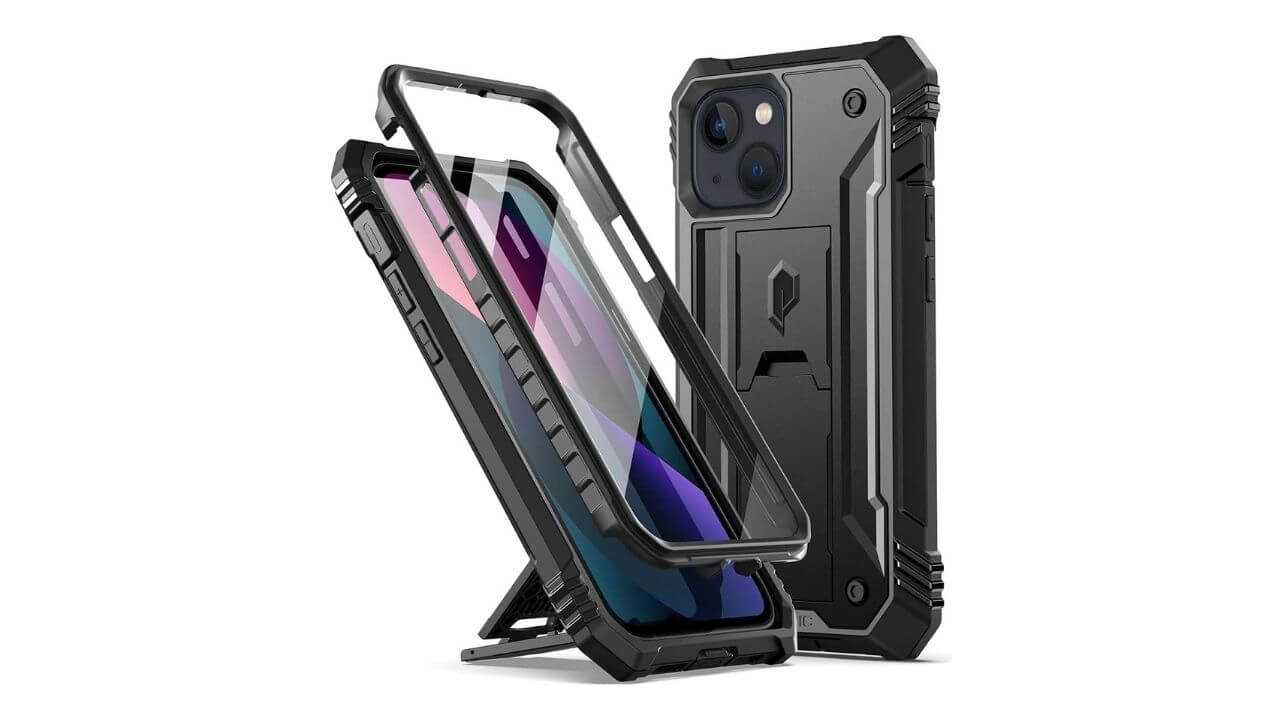 For everyone who is looking for a shockproof case, here we have one of the most durable cases for the iPhone 13 Mini from Poetic. The Revolution Series case from Poetic comes with a polycarbonate casing and a built-in screen protector for dual-layer protection without disrupting the screen responsiveness. This military-grade iPhone 13 Mini case is drop-tested at the time of the manufacturing process to ensure that it offers shockproof and drop-proof protection in order to provide extra life to the concerned iPhone.
All thanks to tactile buttons and precise cutouts, you can get around your iPhone 13 Mini without any hassle. The charging ports are enclosed with a rubber covering to prevent dust and debris from getting inside. There's a two-way kickstand attached at the back of this case to ensure that you're never worried about watching movies or attending
Zoom calls without hurting your hand. Moreover, you get to choose from three colors: Black, Light Pink, and Steel Blue. 
Also read: Best Protective Cases for iPhone 13 Pro
7. Caseology Vault Protective Case (Budget-friendly Pick)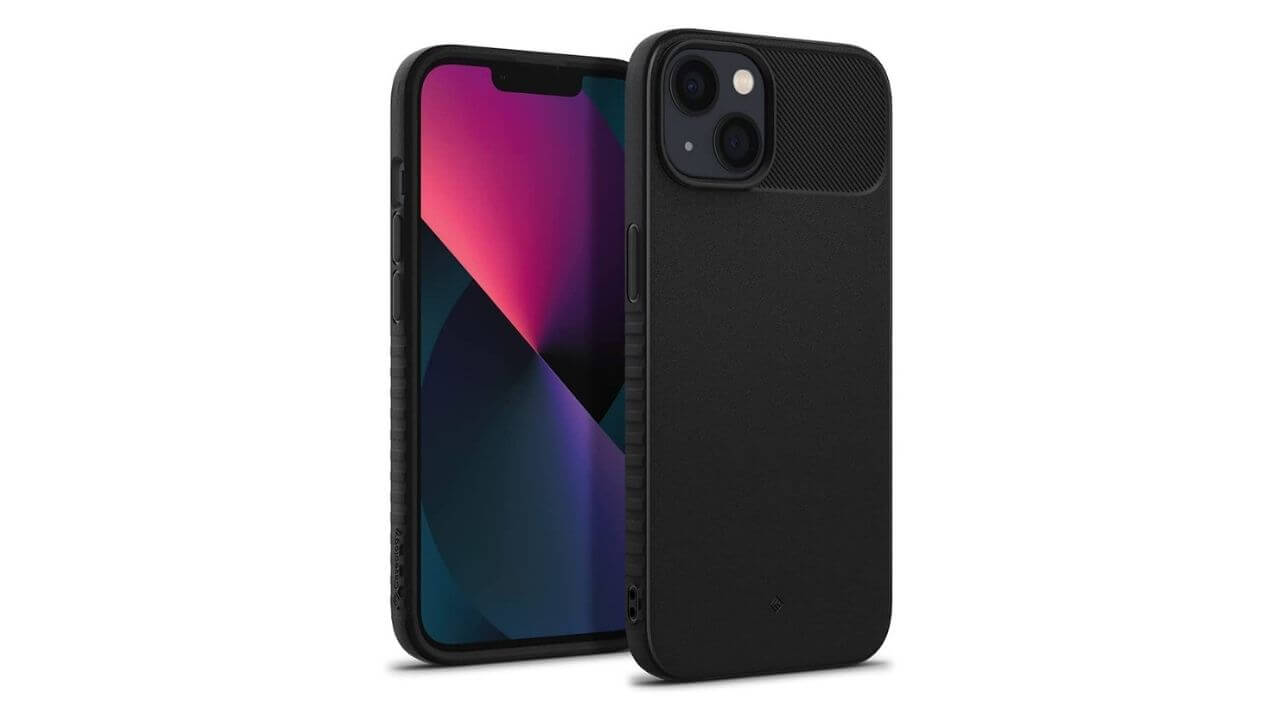 Looking to protect your iPhone 13 Mini at a budget-friendly price? Get yourself the Caseology Vault case now. This protective rugged case for iPhone 13 Mini is made from flexible TPU material with a sleeker design. The flexible design ensures that the case fits snugly into the iPhone. The granular texture on the back of this case makes sure that your phone doesn't slip off your working desk or a slanted surface. Whereas, the built-in Dia Grip on each side of the wraparound bumpers ensures that you have the best grip during the intense gaming sessions and bedtime browsing sessions. Caseology ships this rugged iPhone case with a defensive inner WaveShock pattern for extreme drop shock absorption by dispersing the shocks equally to keep the degree of impact as low as possible. Last but not the least, the Caseology Vault protective case comes with military-grade certification as well as support for wireless charging and MagSafe accessories. 
Also read: Best Protective Cases for iPhone 13
8. UAG Transparent Shockproof Rugged iPhone 13 Mini Case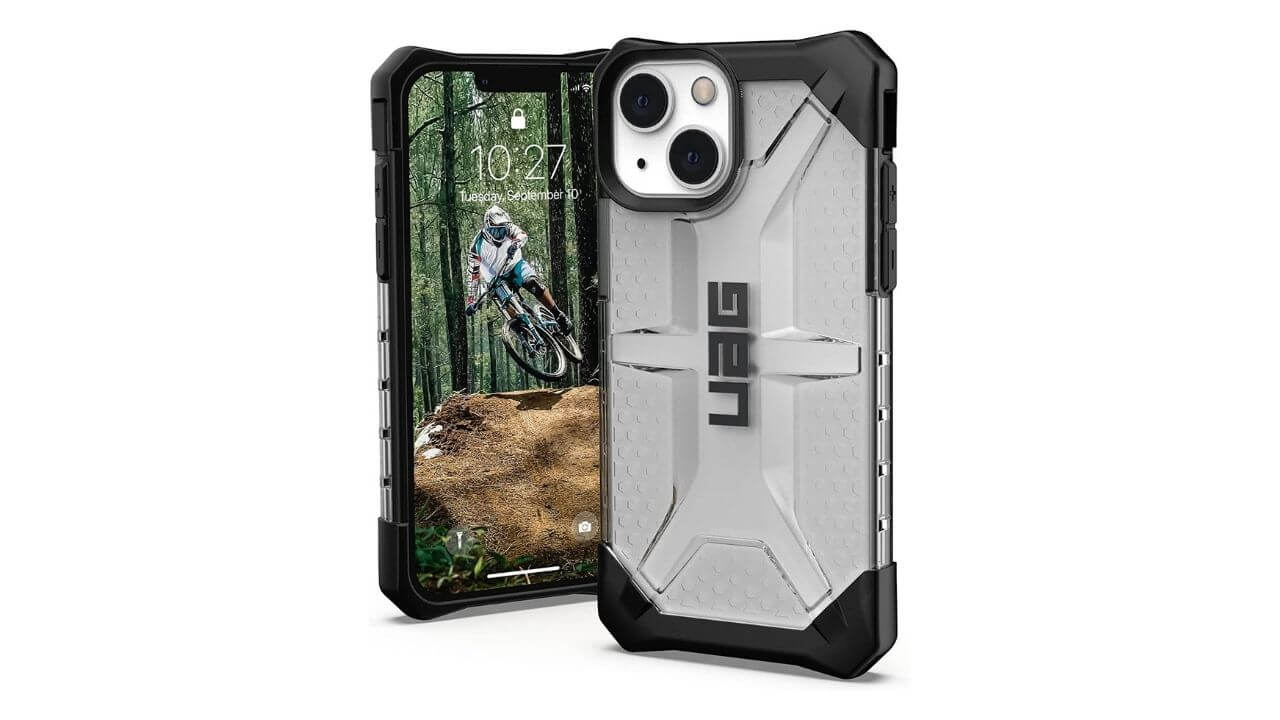 If you are searching for a clear transparent case that offers rugged protection to the iPhone 13 Mini, grab the UAG shockproof case. This slim yet highly durable case for iPhone 13 Mini is designed around thin TPU material and a soft impact-resistant core. There are elevated bubbles on the back and elevated lines on the side for better grip and comfortable handling. There are shockproof bumpers on all four corners to keep them safe and to prevent screen shattering issues when it comes in contact with heavy impacts. Did we mention that there are tactile buttons and precise cutouts for the best overall user experience? The brand claims that this rugged case for iPhone 13 Mini is tested to drop from a height of 16 feet (4.8 meters) and is MIL-certified. Apart from the clear version, there are colored and designer cases as well which are offered at a big price tag.
Also read: Best Clear Cases for iPhone 13 Pro Max
9. AICase Heavy Duty Case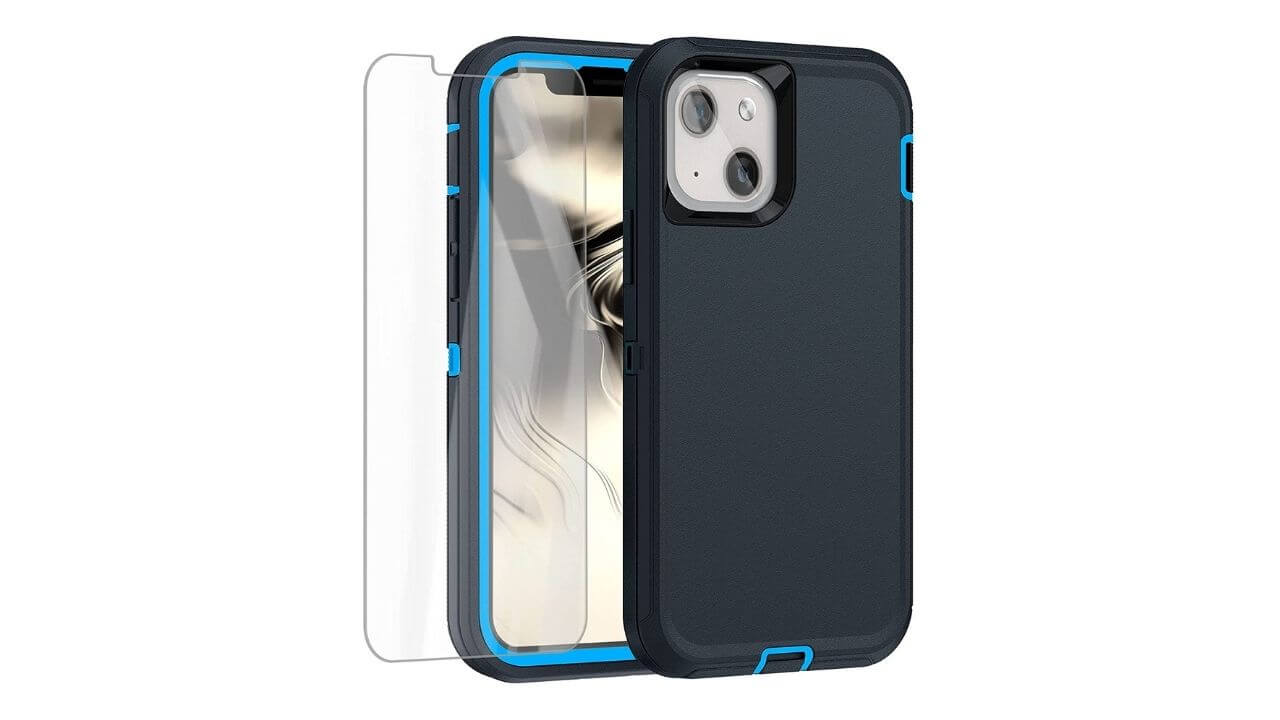 Here we have got another budget-friendly heavy-duty case for the iPhone 13 Mini that offers excellent protection by adding colors to it. The AICase protective case is the best option for individuals looking for a cool and colorful accessory. This case features a dual-layered design for extreme durability and protection to keep the iPhone safe when you accidentally drop it from your bike or selfie-stick while recording travel vlogs. Also, the grainy texture on the back gives the best possible grip for individuals who often drop them by mishandling them.  In addition to that, the port covering prevents dust, debris, and unwanted substances from getting into the charging port and speaker grills. As a bonus, you'll get a screen protector to safeguard the Ceramic Shield display and installation guide for smooth installation. Moreover, the brand offers a one-year manufacturer warranty when you purchase this shockproof case for iPhone 13 Mini.
Also read: Best Accessories for iPhone 13 Pro
10. Raptic Shield Case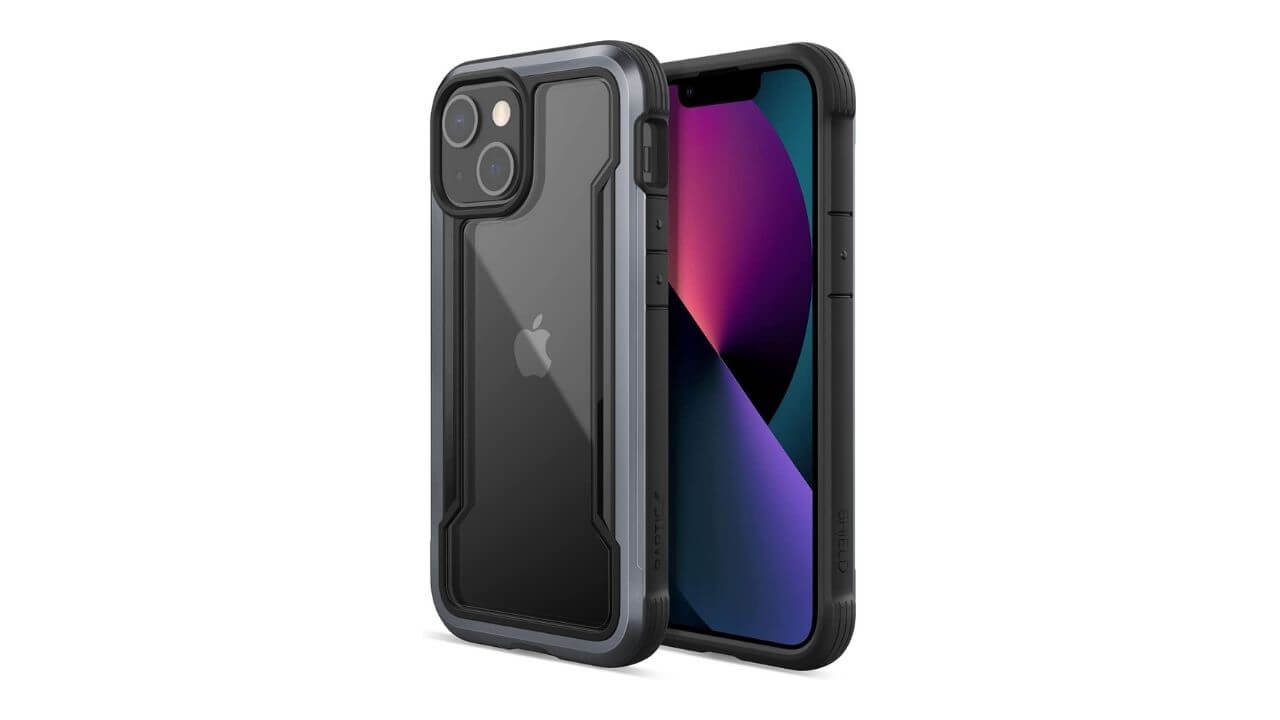 For all those who are looking for something out of the box, here's a colorful clear yet highly durable bumper case from Raptic. The Raptic Shield case packs a solid combo of slim-fit design and heavy-duty protection to safeguard your iPhone 13 Mini. This protective case is shipped with a hard PC shell wrapped with an anodized aluminum frame and a soft rubber interior lining to absorb shocks when your child or pet knocks off your phone from the bed. This makes Raptic Shield one of the best shockproof cases for the iPhone 13 Mini. 
Also, the clear back design of this case allows you to showcase the brilliant finish and impressive colors of the iPhone 13 Mini. This heavy-duty protective iPhone 13 Mini case comes with Military-grade certification which is claimed to withstand heavy drops of up to 10feet/3 meters. Please note that this case doesn't get attached to the MagSafe chargers, but it lets you enjoy the 15W wireless charging speed. There are plenty of color options available to add more beauty to your iPhone 13 Mini. 
Also read: Best Accessories for iPhone 13 Mini
That's all for now in this roundup of best cases for iPhone 13 Mini that you can buy right now. Also, make sure to check our roundup on the
best clear case for iPhone 13 Mini.