iPhone 14 features an identical to last year's iPhone 13 and was introduced by Apple alongside three other iPhones at the last year's Far Out event. It is the most affordable model among all four under the iPhone 14 lineup. The Cupertino giant also revealed the company's premium smartwatches and the second generation of AirPods Pro. 
Talking of specs, Apple hasn't upgraded the base models as it did for the Pro models. But if you're coming from an older iPhone like the iPhone 11 series, then you'll absolutely love the experience. The iPhone 14 features a 6.1" Super Retina XDR OLED display with an adaptive refresh rate of 60Hz, similar to its predecessor. It packs the old A15 bionic chipset that you saw on the iPhone 13 series. Having said that, Apple has made some noticeable changes to the camera. The camera lenses are comparatively larger than the predecessor, and Apple claims that the upgraded camera software will help you grab even better shots now. 
If you are willing to upgrade from iPhone 13 to iPhone 14, we recommend holding on a bit because there are no major changes that will woo you. On the contrary, if you have recently joined the Apple ecosystem and are excited about the iPhone 14, we can feel your joy. Now that Apple has started shipping the retail units, we assume you've already got one. Therefore, to make the most out of this phone, it is suggested to pair compatible accessories with it. Without wasting further time, let's jump into the list of the best accessories for iPhone 14 you can buy right now. 
Without further ado, let's dig in!
List of Best iPhone 14 accessories to buy in 2023
iPhone 14 Accessories that you shouldn't miss in 2023
1. Cases and covers (iPhone 14 accessories meant for sheer protection)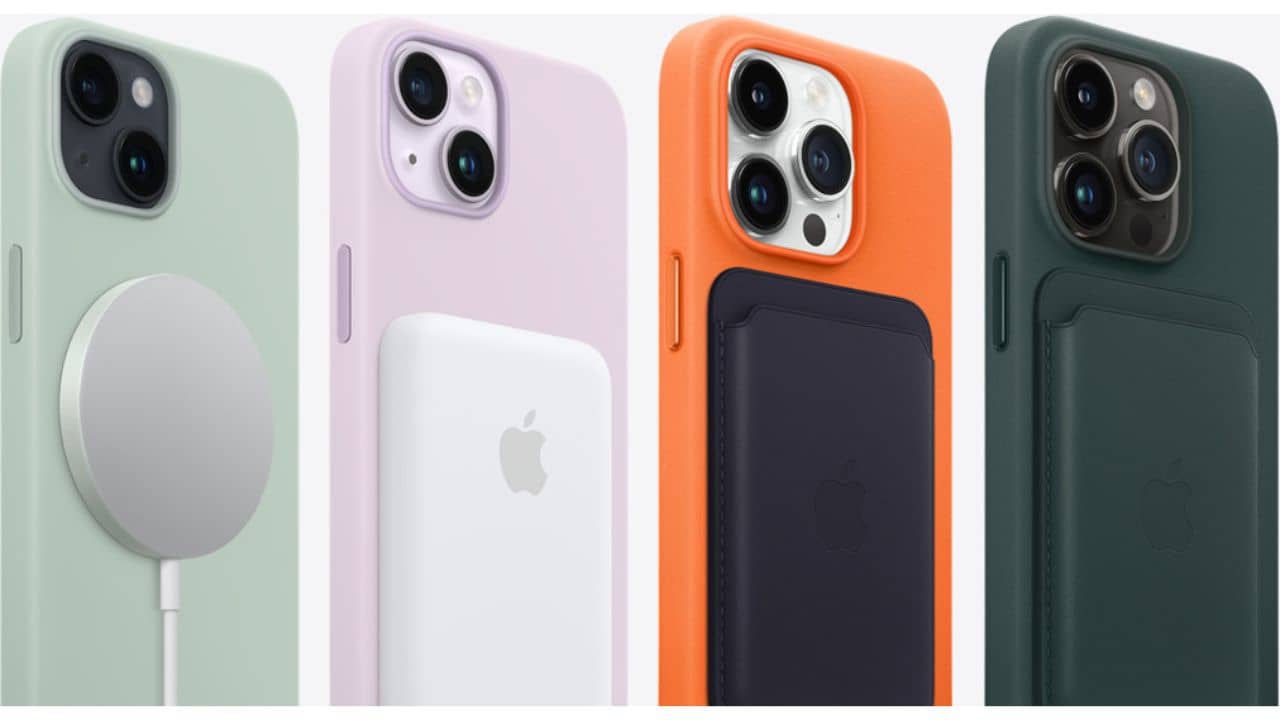 Whenever we talk about the protection of an iPhone, the first thing that strikes our mind is the protective cases. Several reputed brands like Spigen, OtterBox, Ringke, Caseology, etc. have been delivering some good cases for the overall protection of your iPhone. If you are still wondering, cases and covers are the undeniable must-have accessories for iPhone 14. Why? These protective covers can protect your device from accidental drops, bumps, fumbles, and whatnot. Plus, these iPhone 14 accessories are equally handy in keeping away annoying scratches that might take away the limelight of a glossy iPhone. So, if you are working in an unsafe environment like an out-of-office, factory, mill, or warehouse, it is best to grab a rugged or heavy-duty protective case. These cases are meant to offer top-notch protection by withstanding harsh drops and shocks that can damage your device. Since these cases are bulky, many people don't prefer them. So, if you are not fond of bulky cases, thin cases for iPhone 14 should be your go-to option. Remember, these cases are not designed to take heavy blows. 
To help you choose the best, we have curated a dedicated roundup of iPhone 14 cases. Please make sure to check it out and choose the one that caters to your needs.
Also Read: Common iOS 16 Problems & How to fix them
2. Camera Lens Protectors (Best camera accessory for iPhone 14)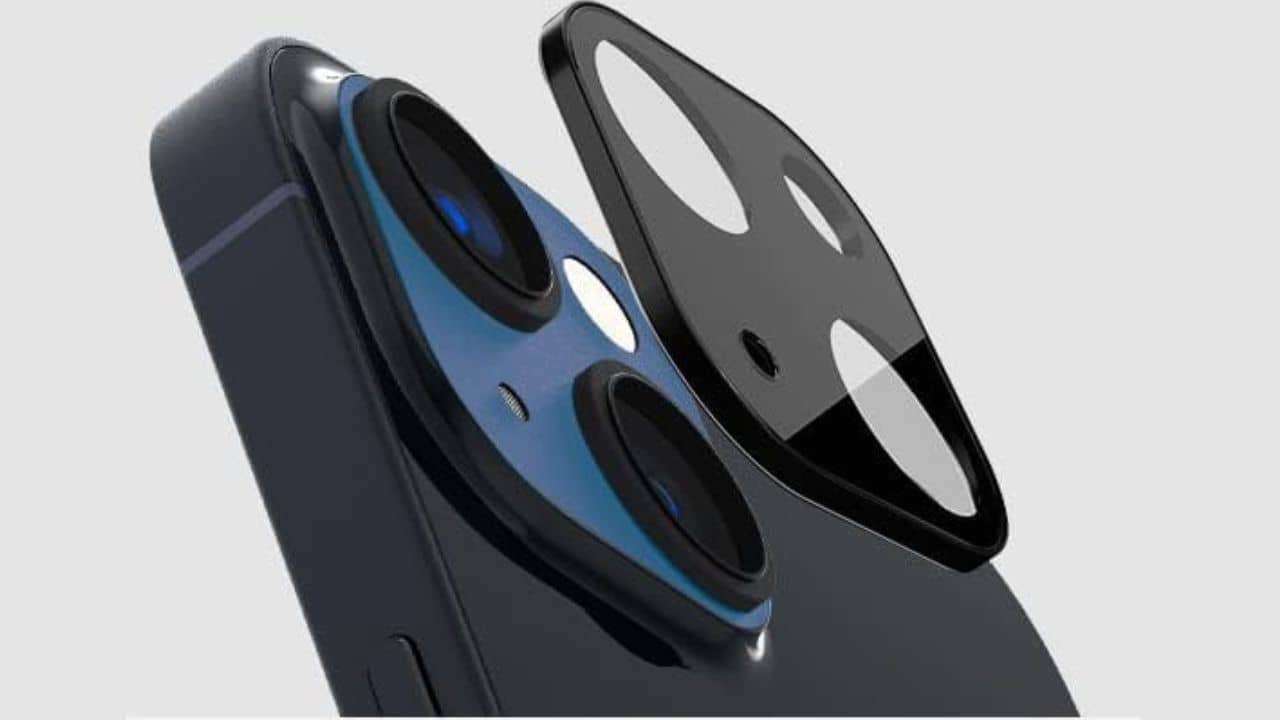 If you'd ask me, I'd do everything to protect every inch of a flagship phone like the iPhone 14. Since a camera is an integral part of an iPhone, it is important to protect it against any kind of accidental damage. If you are still wondering, we are indicating getting reliable camera protection accessories for iPhone 14 such as a camera lens protector. Believe it or not, they add an extra layer of protection for the iPhone 14 camera to protect them in the event of fatal drops or fumbles. Since iPhone 14 has a bigger camera lens, it is more prone to damage unless you have the right kind of protection installed. There are many types of camera lens protectors that you'll find right now in the market, some cover the camera module altogether, while some only shield the lenses. Therefore, if you are looking to defend the rear camera and utilize it to grab some amazing shots, a camera lens protector is a must-have accessory for your iPhone 14.
Here's a quick look at some of the best iPhone 14 camera lens protectors that you can buy right now: 
Don't miss: Common iPhone 14 Series Problems and Easy Fixes
Best Fast Chargers for iPhone 14 in 2023
3. Apple 35W Dual USB-C Charger (Official Pick)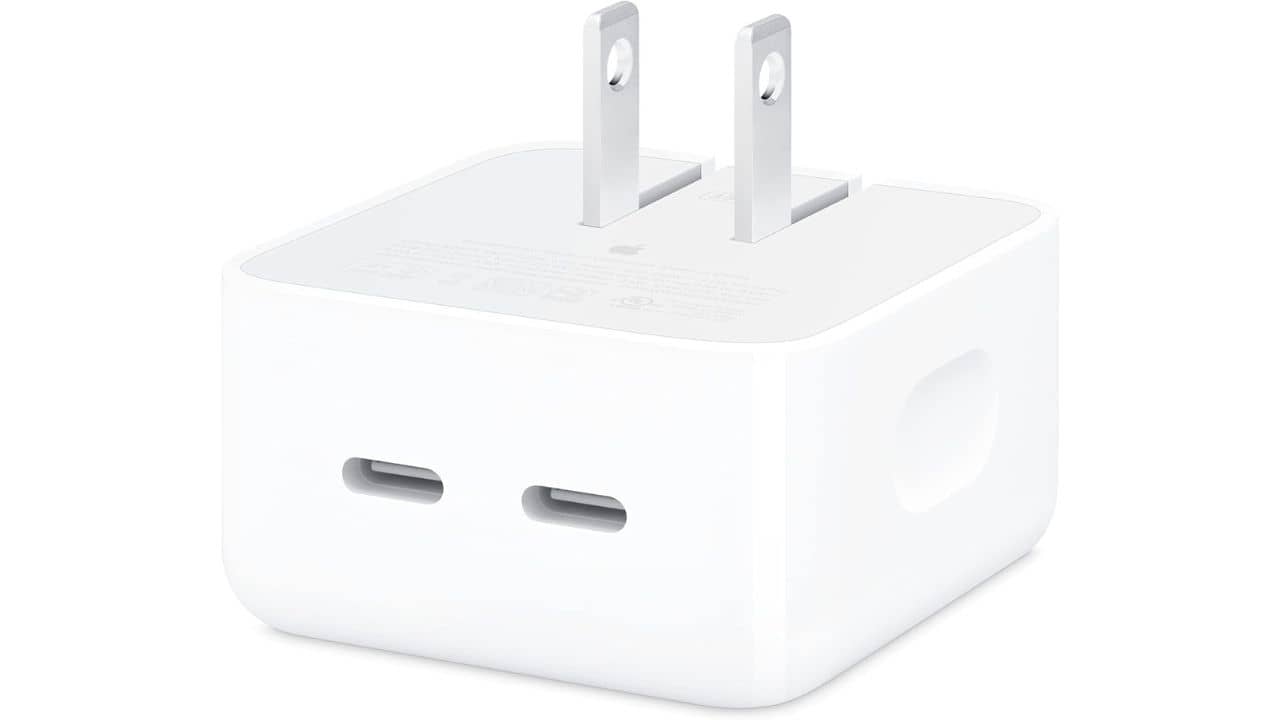 Are you looking for one of the best chargers for iPhone 14? Make sure to grab the new dual USB-C charger from Apple right away. You can also revive spare gadgets like an Apple Watch, AirPods, iPads, or even a MacBook Air. This charging accessory for iPhone 14 comes with a maximum charging output of up to 35 watts. It ensures that you can charge multiple devices at your home, office, etc., in one go. This iPhone 14 charger features a slim design, accompanied by foldable charging plugs. Since it has two USB-C ports, it divides a single power source into two, making sure you don't have to fight with your sibling over the single bedside power outlet. Having said that, Apple claims that this USB-C charger for iPhone 14 delivers up to 35W charging speed when a single device is connected. Remember if you plug in two devices at once, this iPhone 14 charger delivers 17.5W of power. It is fine to charge your iPhone 14 alongside an Apple Watch or AirPods Pro. However, we don't recommend using this adapter to simultaneously charge your MacBook beside an iPhone. That's because 17.5W is way too low to revive a laptop and will take hours and hours to recharge them. Therefore, we recommend grabbing a high-power dual-port charger from brands like Anker, UGREEN, etc. 
Reasons to buy:
Foldable prongs

Multi-device charging

Brand assurance

Premium finish 
Reasons to avoid
Relatively expensive than most the dual-port USB-C charger

You can find other options with more power output and ports
Are you looking for a high-power charging adapter to charge your iPhone, iPad, as well as MacBook Air/Pro in one go? Please check the following options:
On the contrary, if you are in search of one of the best single-port third-party USB-C chargers for iPhone 14, the Belkin 30W charging adapter is unbeatable in its price and charging efficiency that is offered. In terms of price, this charging accessory for iPhone 14 is only ⅓ rd of the price of the official Apple charger.
Also read: Best Chargers for iPhone 14 and iPhone 14 Plus
4. ESR HaloLock 3-in-1 Wireless Charger Stand with CryoBoost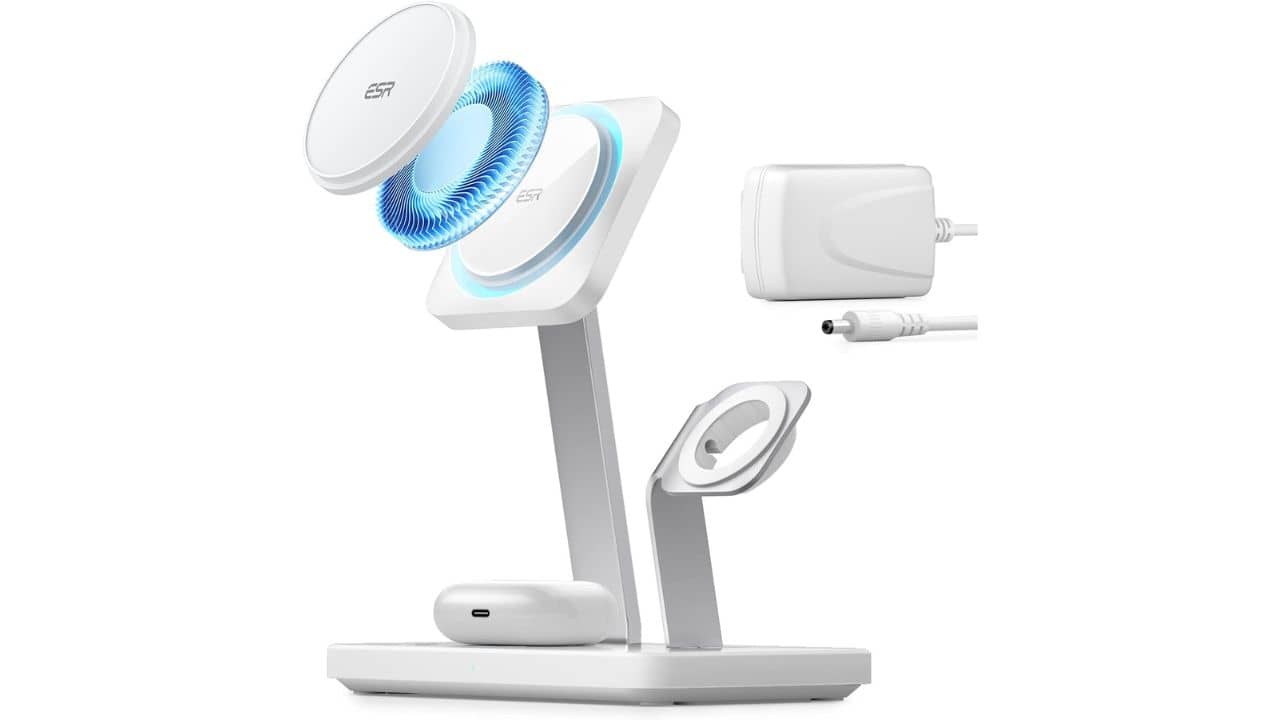 If you are looking to wirelessly charge multiple gadgets alongside your iPhone 14, we suggest you get the ESR HaloLock 3-in-1 wireless charger. If not the fastest, it is one of the best wireless charging accessories for iPhone 14 you can buy right now. Aside from the charging, it offers a nice look to your work desk. There are three charging points, one for Apple Watch, and one for iPhone, while the base can be used to charge AirPods or other compatible accessories. You'll also find a green charging indicator on this charger that confirms the right connection between the adapter and the charger itself. Once you place your iPhone on this wireless charger, a ring light lights up letting you know that the iPhone is charging. You'd be happy to know that the magnetic hold in this iPhone 14 MagSafe charging stand is quite strong. Therefore, it won't be an issue if you rotate your device from portrait to landscape mode when you want to watch a movie, while the phone is charging. Let's not forget that the charging pad
includes a cooling fan that prevents overheating issues while charging on your iPhone 14. Moving on, if you want an even stronger hold, we recommend pairing the HaloLock case with your iPhone 14. 
Reasons to buy:
Strong magnetic hold

Multi-device charging

You can rotate the dedicated charging pad from portrait to landscape mode

The cooling fan attached to the charging pad prevents overheating
Reasons to avoid:
Also read: Best Chargers for iPhone 14 Pro and 14 Pro Max: Fast Chargers, MagSafe, & more
Best Health and Fitness Accessories for iPhone 14 in 2023
5. Apple Watch Series 8 (Best for users who want to upgrade)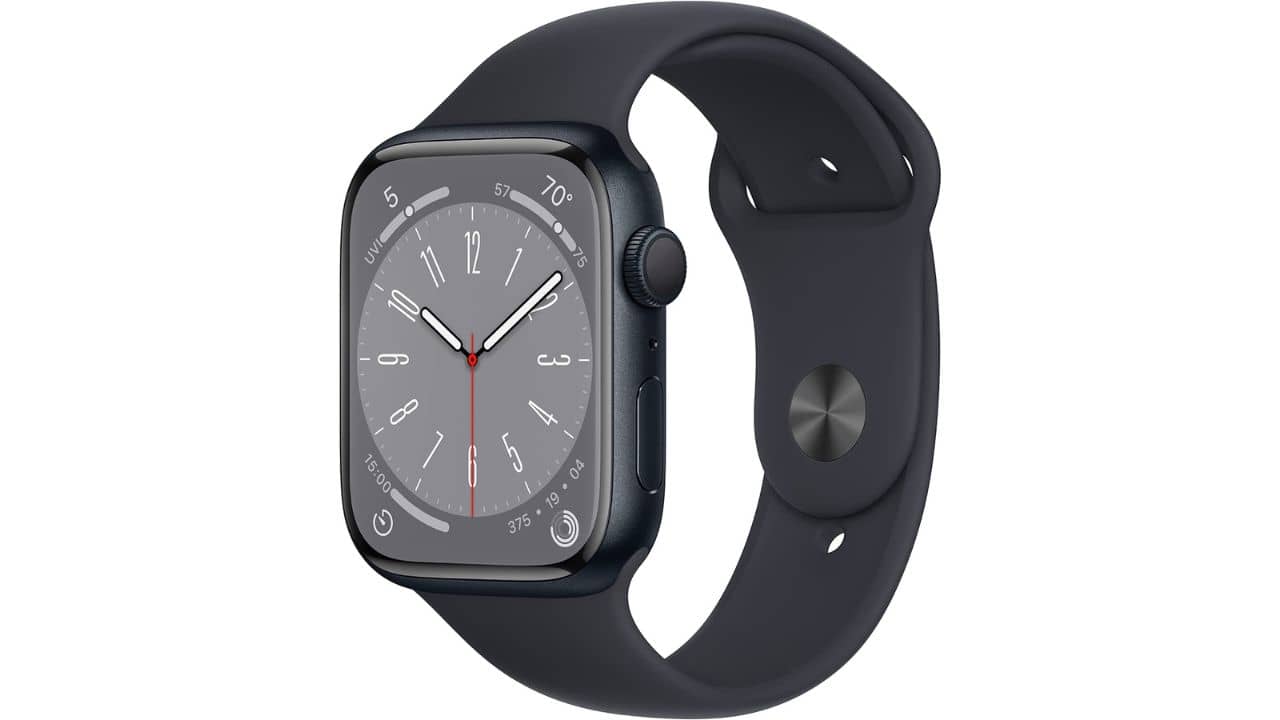 Not long ago, Apple launched the successor of the Watch Series 7, the Watch Series 8. So, if you are looking for smart accessories for iPhone 14 that track all your workouts and sleep schedule, Watch Series 8 is just perfect for you. Other than the nominal changes in the design, the tech giant has introduced the most anticipated car crash detection feature in this smartwatch. As far as performance is concerned, there's the new S8 chip which is proven to offer similar performance as the Watch Series 6 and last year's Watch Series 7. This iPhone 14 fitness accessory comes with a WR50 water resistance rating – meaning it can survive underwater for up to 50 meters. Therefore, if you are into water sports like swimming, kayaking, rafting, etc. this smartwatch should be your perfect companion. You can also take advantage of the body temperature detection feature, whereas the cycle tracking feature can be handy for ovulating females. It offers a better insight into women's health by alerting users regarding irregular periods. This smartwatch for iPhone 14 lasts up t  18 hours on a single charge, which increases substantially up to 30 hours using the all-new low-power mode. It runs on
watchOS 9 and is seriously a great option for someone looking to upgrade from Watch Series 5 or earlier.
Reasons to buy: 
Improved battery life

Car crash detection

Overnight temperature sensing

More accurate period predictions
Reasons to avoid: 
Identical design as the predecessor 
Let's not forget that Apple has introduced a premium smartwatch, the Apple Watch Ultra, that will cater to the needs of a professional runner, mountain climber, triathlete, or underwater adventurer. If you look forward to the latest tech innovations, ten this smartwatch might be just for you. The Apple Watch Ultra rocks an ultra-durable Titanium body and is equipped with several useful features that are meant for hardcore users. It is priced at $799, yes, it is expensive. Therefore, we want you to read about this fitness accessory for iPhone 14 in detail by clicking here.  
If you are looking for a rugged outdoor smartwatch for iPhone 14, we recommend grabbing the Garmin Instinct Rugged Smartwatch. This smartwatch houses a fiber-reinforced polymer case for rugged protection. On the other hand, the display comes with the protection of scratch-resistant Corning Gorilla glass. The fact that it is relatively more affordable than the Apple Watch Ultra, and packs plenty of health features, we think it is a go-to option for you.
Also read: 15 Meditation Apps to Help Reduce Anxiety [iOS & Android]
6. JEMACHE ArmBand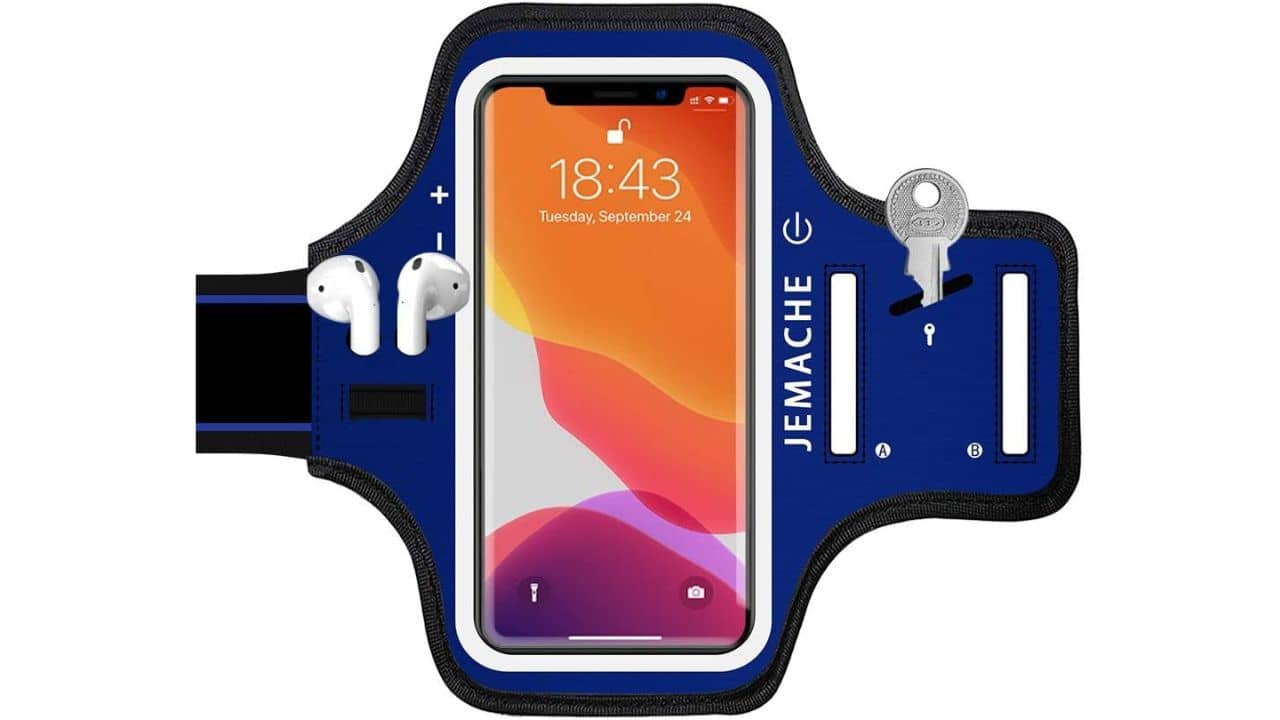 Do you fear dropping your $1000 phone on the road during the morning run? If yes, we want you to get your hands on the armband mobile phone holder for iPhone 14 Pro from JEMACHE. This iPhone 14 accessory is made from scratch and water-resistant neoprene. This fitness accessory for iPhone 14 ensures that your device is safe and secure from dirt, scratches, sweat, and even rainfall. Therefore, if you get caught up in the rain while jogging in the early morning, please be assured that your device will be safe and secure. The screen cover works pretty well with the touch sensitivity, allowing you to use the screen without having to take off the armband. This armband comes in a one-fit size and can be used by both males and females. It is also compatible with most smartphones. There's an adjustable strap that can be used to tighten the armband to your shoulder. This prevents you from dropping your phone off while you are ticking your running goals. This armband features a hidden pocket on the inside that can be used to keep valuables like keys etc. Also, if you prefer listening to music, you'd be more than happy to know that this iPhone 14 accessory sports a dedicated slot for keeping extra wires of your earphones, if you still use them. This eventually prevents the wired sweatproof earphone from floating here and there, when you are on the run. Moreover, you can fit your iPhone inside this armband without taking off the case that you've installed on it. Overall, it is a great fitness accessory for iPhone 14 users who keep health and fitness their topmost priority. 
Reasons to buy:
The material used is very soft and comfortable 

Effectively protects your device from sweat, dust, and rainfall

Adjustable size

Works with most smartphones
Reasons to avoid:
People with smaller arm sizes can find it difficult to fit this one. It only comes in a single-fit size. 
7. Withings Body+ Smart Wi-Fi Scale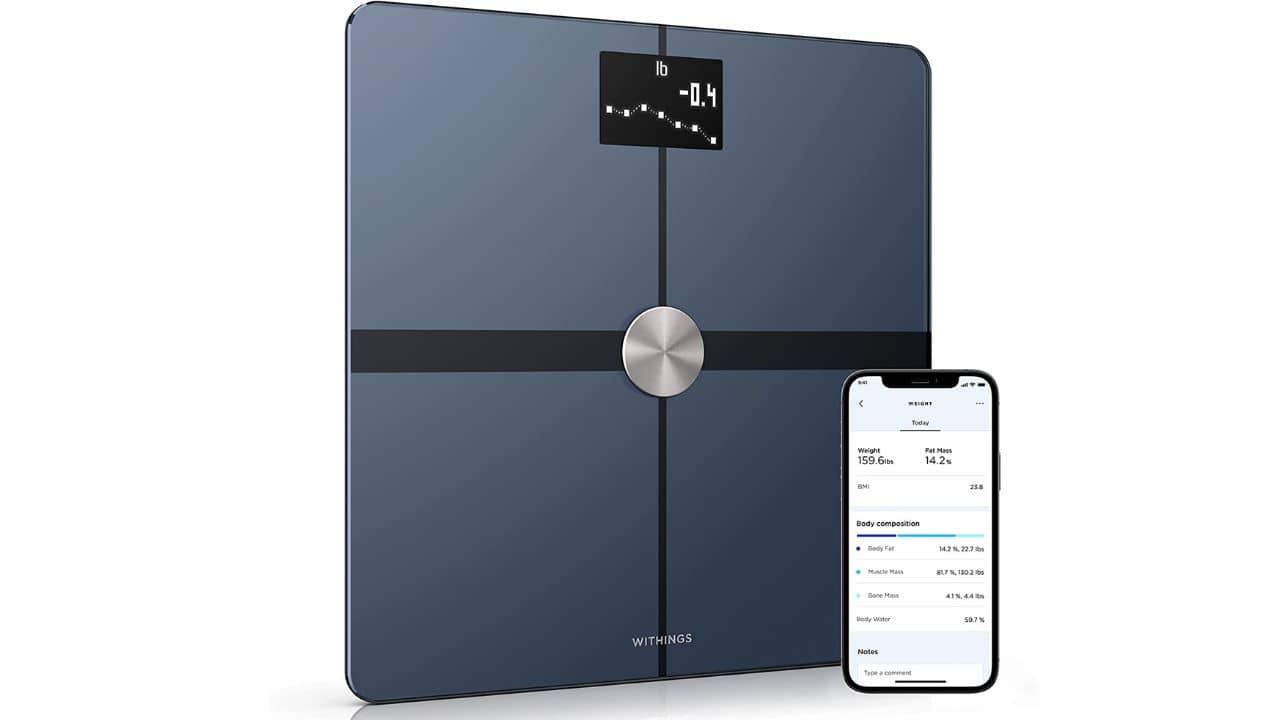 If you want to live a healthy life, you must consider keeping various factors about your body to a prescribed limit. By various factors, we meant your body weight, body fat ratio, water level, bone mass, and more. Therefore buying a smart health and fitness accessory for iPhone 14 like Withings digital scale is the need of the hour. This smart health accessory features an attractive design and gathers a lot of health data as compared to any smart scale you'd find. Each and every weigh-in data appears in the companion Health Mate app, via Wi-Fi or Bluetooth sync. Also, this smart scale can sync with more than 100
health and fitness apps on your iPhone as well as iPad. Unlike any other digital scale, this fitness accessory is compatible with Apple Watch and Apple Health. 
It is a must-have accessory for iPhone 14 users that recognizes up to eight persons and allows accessing their weighing data in their device. On top of that, if you are a parent, there is a Baby Mode that allows weighing your toddlers without any hassle. First, you need to step and allow the device to measure your weight. Then you can stand with your kid to measure their weight. It solves the hassle of toddlers not standing still on the scale which eventually gives an inaccurate reading. Talking of versatility, you'd happy to know that this iPhone 14 health and fitness accessory also comes with useful pregnancy mode, making it a perfect choice for mothers who are expecting. 
What's more? This digital weighing scale can be used for a whopping 18 months using four AAA batteries. Plus, you can also control this smart scale via your voice using
Amazon Alexa. Having all that said, please remember that this iPhone 14 health and fitness accessory doesn't diagnose any type of medical condition, it only gives you data. So, please make sure to visit your doctor to assess those data if things aren't normal.
In short, if you are eyeing to keep track of your overall body health, this health and fitness accessory for iPhone 14 can be quite handy for you all. 
Reasons to buy:
Gorgeous design

Subconsciously motivate you to stay fit

Very well-designed app

Useful stats on-display

Pregnancy mode

Baby Mode is useful to measure weight and essential health indicators of your toddler
Reasons to avoid:
Best Screen Protectors for iPhone 14 to get in 2023
8. amFilm screen protector (Best Value for money)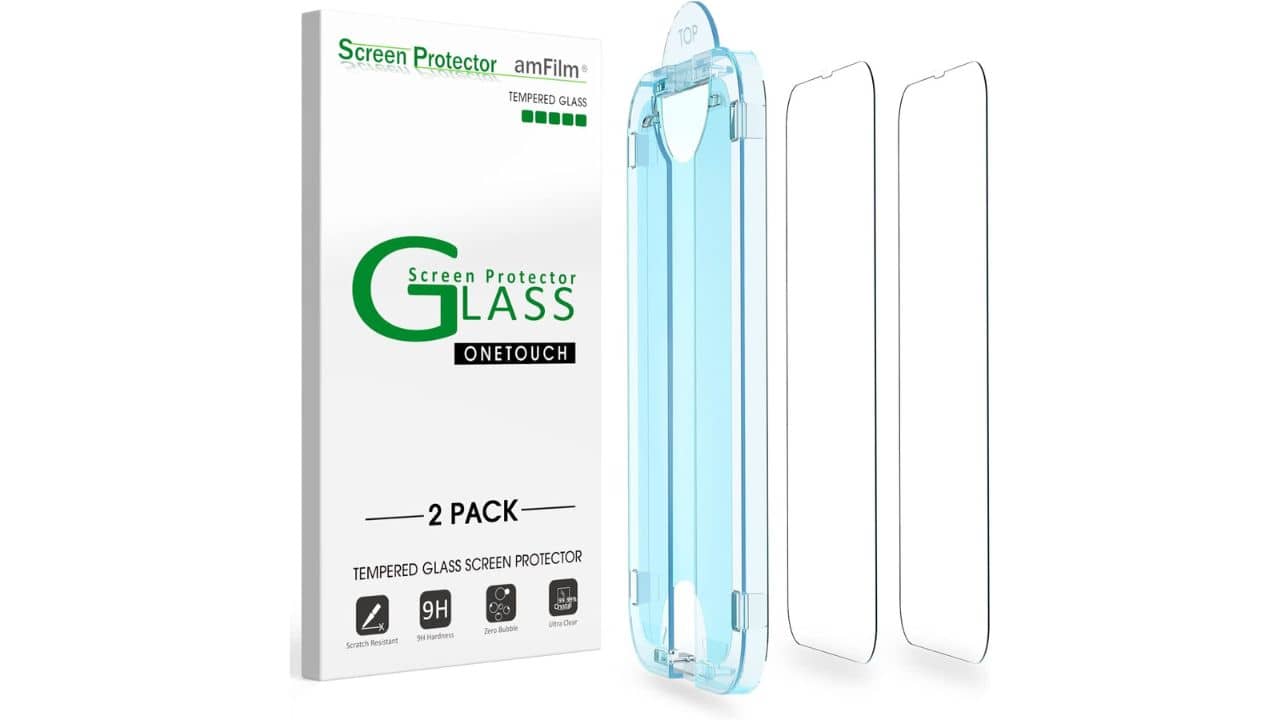 Are you looking for a reliable iPhone 14 glass screen protector? If yes, please make sure to get your hands on the amFilm screen protector. Thanks to its easy installation process and reasonable price tag, it emerges as one of the best value-for-money screen protectors for iPhones nowadays. amFilm offers two screen protectors for iPhone 14 in the pack that delivers edge-to-edge protection for overall screen protection. It is backed by 9H hardness property which suggests top-notch protection of display against fatal drops, and bumps. Therefore, if you manage to drop your phone from the bed on a hard floor, it should be just fine. The best part of buying this glass screen protector for iPhone 14 is that it is pre-installed with the alignment tool. It will roughly take around 20-30 seconds to perfectly apply this tempered glass screen protector. If you are a newbie who is trying to install the screen protector for the first time, this protective screen glass is just perfect for you. Besides, the thin design of this iPhone 14 screen protector doesn't interfere with the touch sensitivity when you're swiping through a long PDF or during intense gameplay. Plus, it offers a crystal clear viewing experience without compromising the quality and clarity of the iPhone. Let's not forget that it works seamlessly with FaceID of iPhone 14 as well. Further, the exterior part is topped with an oleophobic coating that prevents fingerprint marks to offer a spotless view of your device screen. Having said that, we can't deny the fact that we have come across a few complaints regarding touch sensitivity. But, tweaking the touch sensitivity settings seems to have resolved the issue for many users. 
All in all, it is a great screen protection accessory for iPhone 14 that can effectively protect the screen of Apple's latest offering. Did we mention that this iPhone 14 screen protector competes with the likes of
Spigen GlastR EZ Fit and OtterBox's screen protectors?
Reasons to buy:
Pre-installed screen protector on the alignment tool eases the installation part

Oleophobic Coating provides a spotless screen, almost every time

Crystal clear viewing experience

A full-size dust sticker helps wipe off dust before and after installation 
Reasons to avoid: 
Touch sensitivity might require some tweaking for some users
Also read: Best iPhone 14 Screen Protectors for a Scratch Proof Display
9. Spigen GlasTR EZ Fit (Tried and Tested for Years)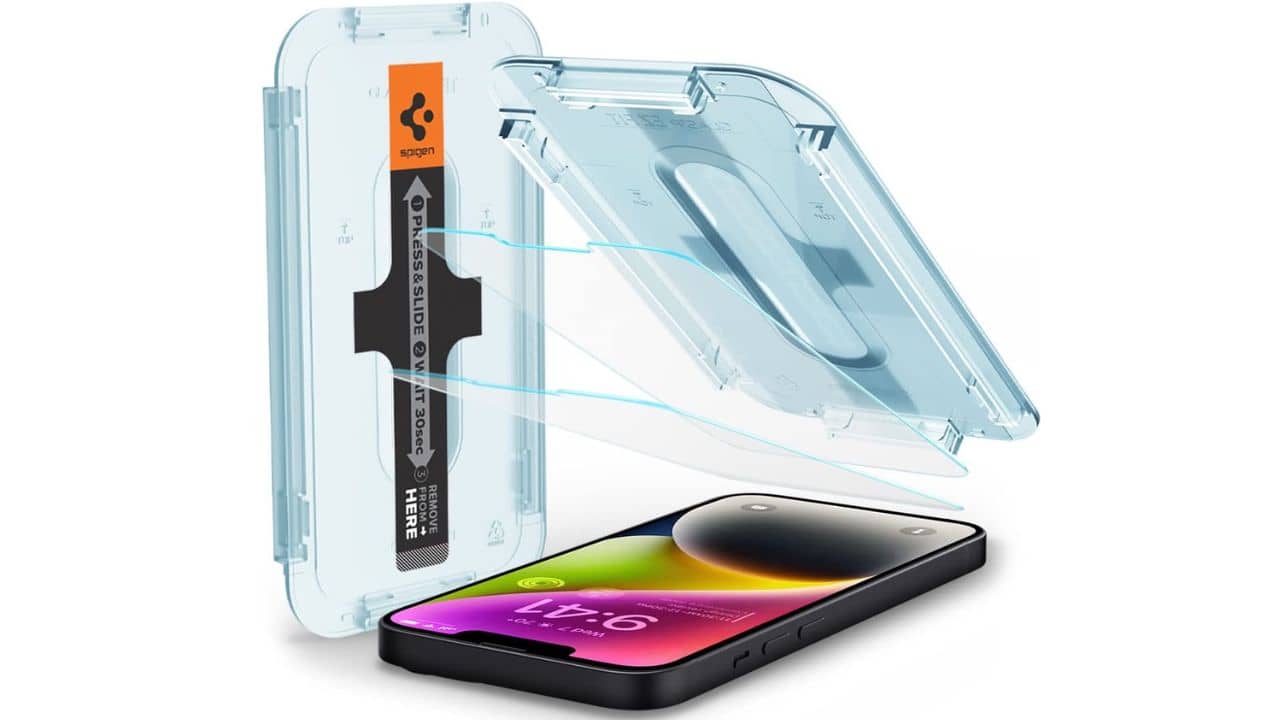 Spigen is one of the most trusted brands when it comes to offering top mobile protection accessories. And, the fact that it caters the display protection as well, we have listed a reliable screen protection accessory for iPhone 14 here. Yes, we are talking about the GlasTR EZ Fit. Other than its tongue-twister name, there's everything good about this one. This iPhone 14 glass screen protector comes with 9H hardness property, doing pretty much everything to safeguard the premium 6.1" display from chipping, scratches, and more. Aside, it offers solid damage protection against accidental drops or fumbles which can be fatal for the gorgeous iPhone display. So, next time you manage to drop your iPhone 14 on the staircase like one of our members did, it should come out just fine without any scratches. 
For easy installation of this iPhone 14 glass screen protector, Spigen ships an auto-alignment tool without any additional cost. You can simply align the guide frame and install the protective screen glass without any hassle. If you are a beginner struggling to apply this screen protector, please check out our step-by-step video guide on how to install it.
Moving on, you will get almost 100% transparency to enjoy every bit of thing being displayed on the iPhone's screen. We loved how it retains the original color and clarity
while watching Netflix and Disney+ shows or movies. 
Also, don't worry if you have sweaty/oily hands. The oleophobic coating on the exterior layer of this screen protector for iPhone 14 prevents fingerprint stains, offering a spotless view of the screen. Since we have been using it for years, we can confirm that it is one of the best and most trusted iPhone 14 screen protectors available right now. However, there are a few other brands that ship the same quantity at a relatively more affordable price. 
Reasons to buy:
Fingerprint resistant

Proven durability

Case-friendly design

An installation kit is included in the pack

Protects the display from heavy accidental damages
Reasons to avoid:
Slightly expensive than rivals like AmFilm, LK, and QHOHQ
Also read: Best Screen Protectors for iPhone 14 Pro Max in 2023
10. Ferilinso Privacy Glass Screen Protector (Be safe from prying eyes)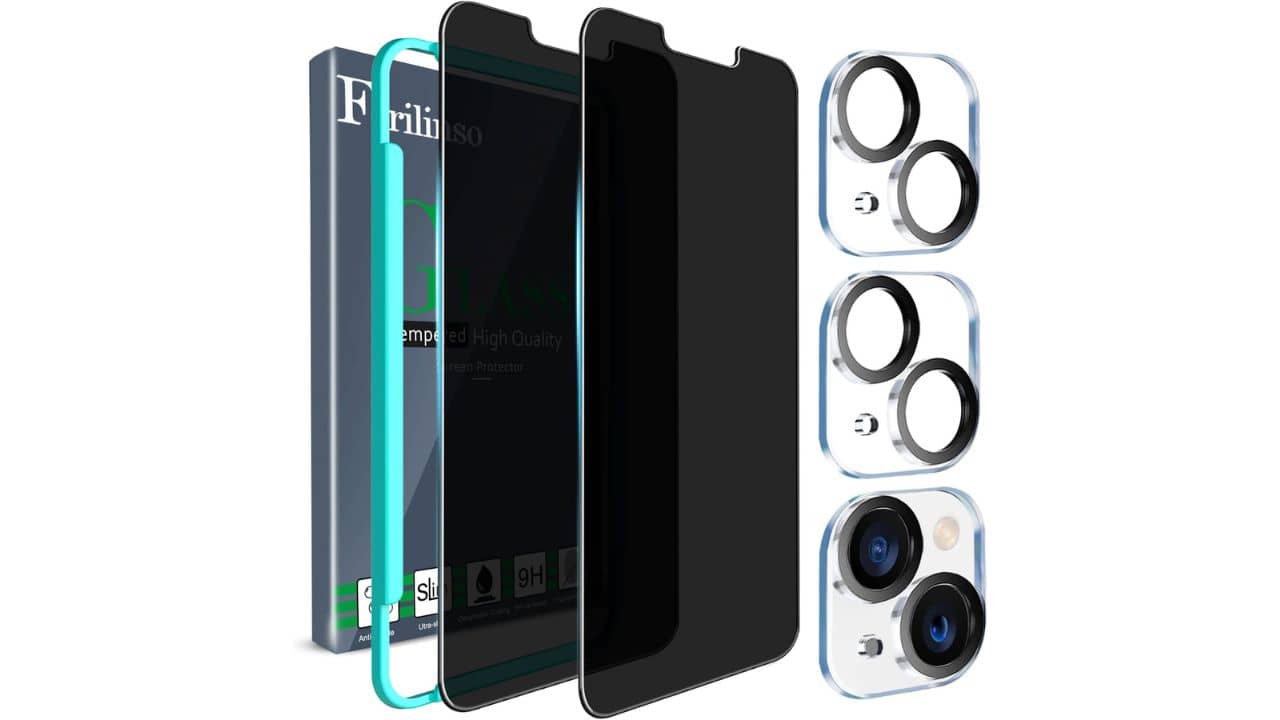 If you fear a stranger peeking at your phone in a public space like a bus or the subway, there's no better iPhone 14 accessory than an anti-spy glass screen protector. Therefore, we have for you a privacy screen protector for iPhone 14 from Ferilinso. These screen protectors protect your privacy against prying eyes. Talking of this protective glass, it is designed using an innovative way to privately view your content. Don't worry if it comes with dark shades, it does the job perfectly and is flawless with the FaceID feature of the iPhone 14. In layman's terms, these screen protectors let you view the screen only if you are in front of the screen. Anyone without direct eye contact with the display can't see anything that is displayed on the phone. Most importantly, it comes with 9H hardness properties that deliver protection against any sort of accidental damage as well as scratches that may take away the beauty of your beloved iPhone. Let's not forget that you also get three camera lens protectors alongside three iPhone 14 anti-spy glass screen protectors. Further, you will get a guide frame that will help you with the installation part of this screen protector. In short, if you are looking for reliable privacy screen protectors for iPhone 14 at a reasonable price, please make sure to get your hands on this fantastic pick. 
Reasons to buy:
Best for keeping your privacy intact in public space

9H hardness suggests top-notch protection

Ultra-thin design

Includes three camera lens protectors

The installation tray comes within the box 

Unbeatable price
Reasons to avoid:
Also read: The 11 Best Screen Protectors for iPhone 14 Plus to buy in 2022    
Best Audio/Music Accessories for iPhone 14 in 2023
11. AirPods Pro 2nd Gen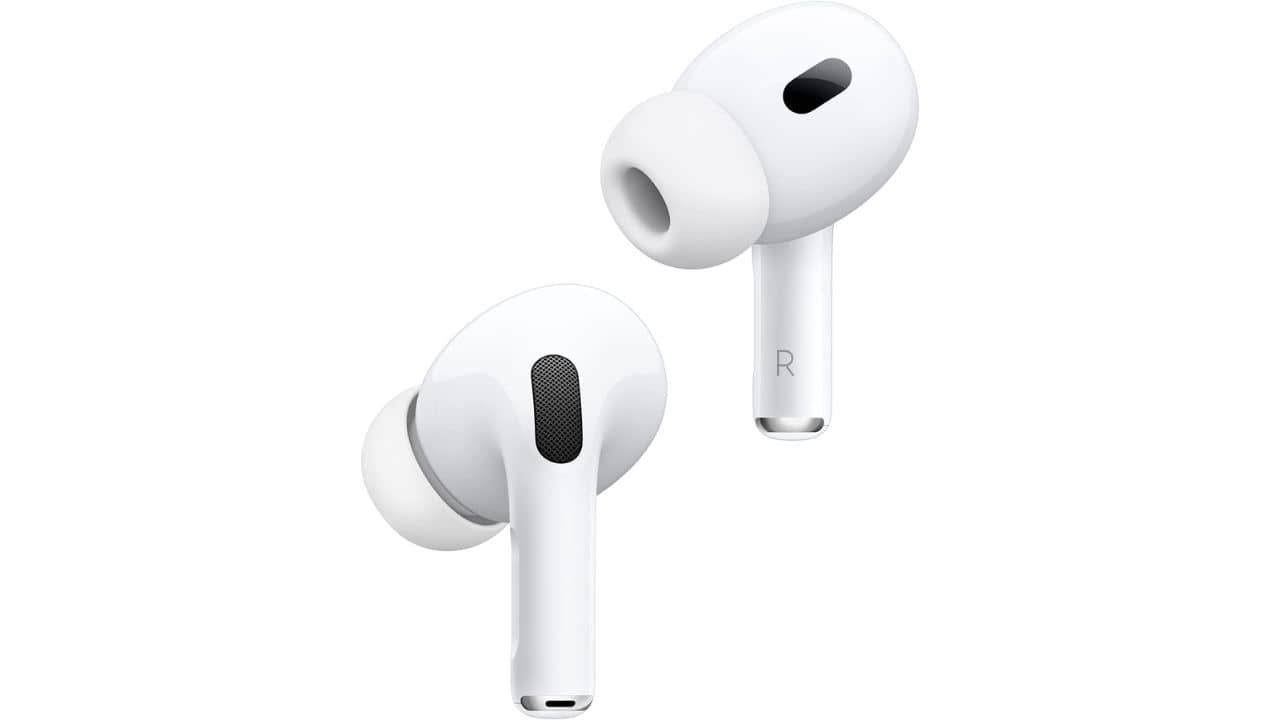 Apple introduced the 2nd generation AirPods Pro recently, and we can tell there have been minor changes on the inside. If you already have the original AirPods Pro, you wouldn't notice a significant change in the design. However, Apple has introduced major upgrades in the charging case this time around. First, let's talk about the AirPods themselves. 
The AirPods Pro 2nd gen packs the all-new H2 chipset for crisp and industry-proven best-in-class audio. You'll notice noise cancellation improvements and customized spatial audio features on the new AirPods Pro. As per Apple's claim this chipset enables a new Transparency Adaptive feature that will mitigate the loud environment noise coming from nearby construction sites, etc. The 2nd gen AirPods Pro has exciting features. You can adjust the audio volume by swiping your fingers up and down on the stem to increase or decrease it, respectively. The 2nd gen AirPods Pro offers a 6-hour-long battery life on a single charge, which goes up to 30 hours with the charging case.
Talking about the charging case, Apple has made some innovative changes to it. The charging case now works with a MagSafe charger as well. Previously, the AirPods Pro case could wobble around. However, that's not the case with the new one. There are magnets embedded inside the charging case that offer firm attachment to the wireless charger as well as the MagSafe charger. Don't worry, it won't slip off a charging pad like the predecessor. Also, there's a lanyard hole to help you carry it around the belt loop. If you are looking for official audio accessories for iPhone 14, the 2nd gen AirPods Pro is the perfect pick for you. 
Reasons to buy: 
Flawlessly pairs with all Apple devices

Wide variety of customizable options with

3rd party cases

Crisp, and clear audio

Excellent wireless charging case design

An impressive and innovative way of volume control

Hands-free Siri access
Reasons to avoid: 
No IP rating for water resistance

Relatively expensive
12. Bose QuietComfort Earbuds II (Latest release)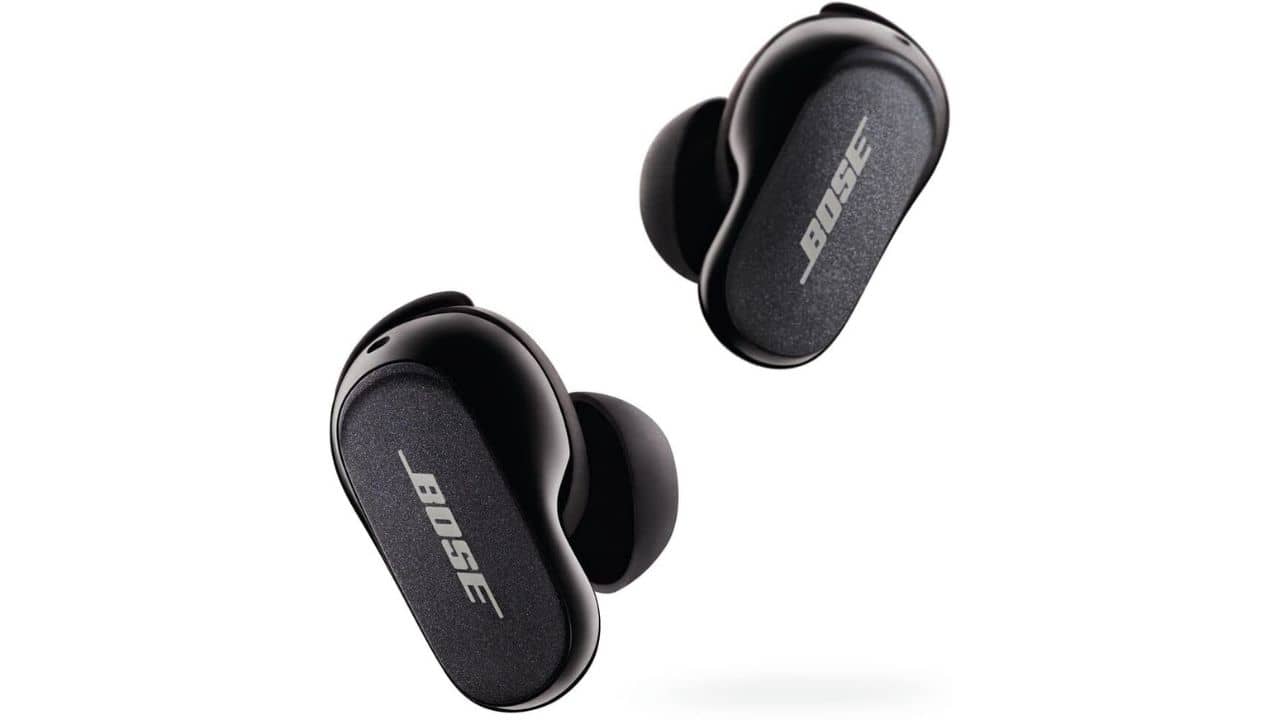 The new pair of Bose QuietComfort Earbuds II has recently launched with a refreshed design and major upgrades on the inside. The outer layer of this wireless iPhone 14 earbuds is designed using plastic that will take all the blows if you drop them on a hard concrete floor. In addition, it comes with an IPX4 rating that suggests it will offer uninterrupted listening even in the rain or while sweating out your calories at the gym. 
As far as features are concerned, this audio accessory for iPhone 14 allows you to control calls, music, volume, listening mode activation, and digital assistance, directly from the buds. It works perfectly with Google Assistant, Siri, and Bixby during voice commands. Besides, Bose uses a new proprietary technology called CustomTune that automatically calibrates ANC and the sound frequency profile to the unique properties of your ear. The ANC feature has gone one-notch up, it makes sure that you're enjoying your music without any outside disturbance. Industry-leading reviewers have termed it as the best ANC in earbuds. You can also choose from the two standard modes – Quiet (acoustic noise cancellation) and Aware (aka transparency mode). Also, you can also pick from 2 of 10 custom modes that are saved to your profile. 
For better connectivity, QuietComfort Earbuds II ships with Bluetooth 5.3, enabling you to stay connected with your phone even at a distance of up to 30 feet. These wireless earbuds come with a portable charging case that fits within your pocket pretty easily. As far as the battery is concerned, you can enjoy uninterrupted music for up to 6 hours. The quick charge option offers 2 hours of playback time with 20-minutes of charging. This isn't something Bose should be bragging about as its closest rival, AirPods Pro 2nd Gen offers 1 hour of listening time in just 5 minutes of charging. 
Summing up, these wireless earbuds offer the best in class audio features and is priced much higher than the latest AirPods Pro. Personally, we aren't amused by that, at all. However, the noise cancellation offered by this iPhone 14 music accessory is something to look out for. Please choose wisely.  
Reasons to buy:
Compact and stylish design

Top-notch active noise cancellation

Crisp and well-balanced sound quality

Excellent call quality

Awesome personalization settings
Reasons to avoid:
Relatively smaller battery life as compared to rivals

Relatively expensive than the close alternatives 

Finicky touch controls and app connectivity
Are you looking for an affordable alternative to Bose's earbuds, we recommend checking Sony LinkBuds S Truly Wireless Noise Canceling Earbuds. It is relatively more affordable and offers the best fit within the ear.
On the other hand, if you are someone who likes to experiment with the latest tech innovations, the Shokz OpenRun Pro should be an exciting music accessory for you. It is a bone conduction earphone that isn't required to be fitted inside your ear canals.  
13. Sonos Move (Portable Wireless Bluetooth Speaker for iPhone 14)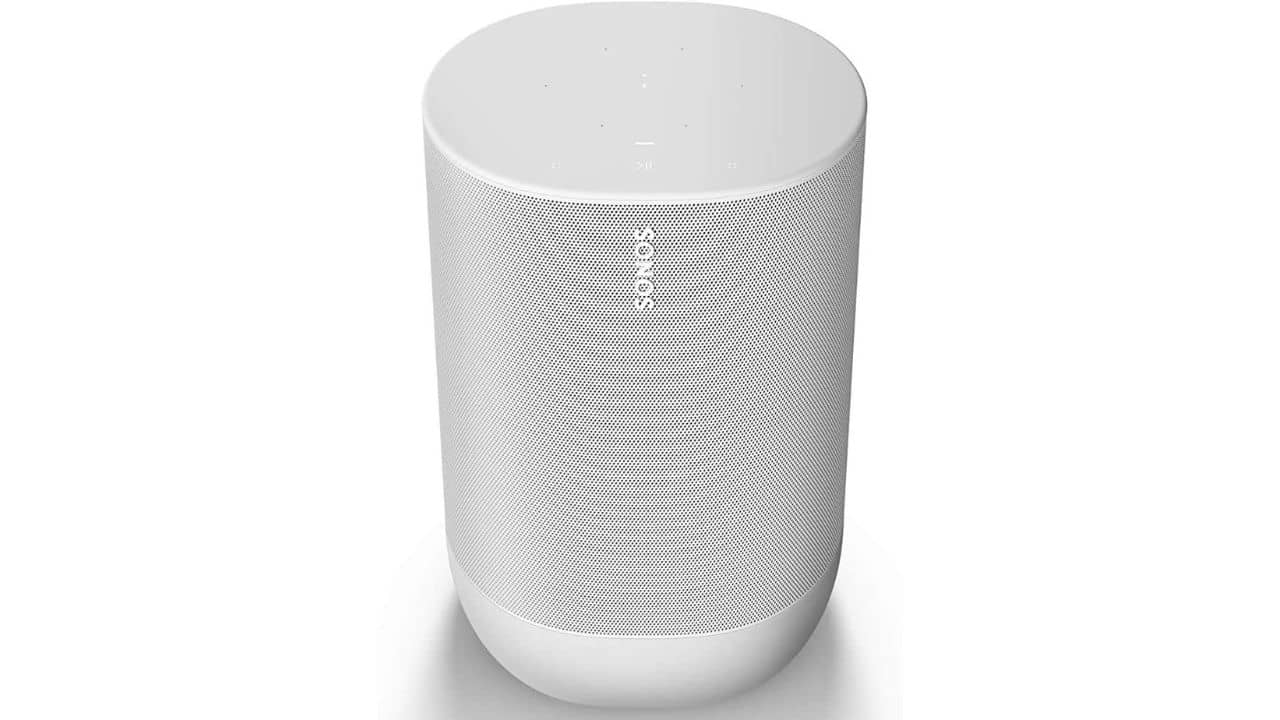 Are you looking for one of the best-performing wireless speakers for iPhone 14 that can elevate your house party experience? If yes, grab the Sonos Move without any second thoughts. It is a great deal for anyone looking for top music accessories for iPhone 14. Talking of sound, we are glad of its rich bass and wider soundstage. Thanks to Trueplay tuning, this wireless iPhone speaker automatically adapts to and optimizes the sound based on your surroundings. Let's not forget it comes with wide versatility. Utilizing the Sonos S2 app, you can seamlessly browse music, radio, podcasts, audiobooks, and more. As far as build is concerned, the Sonos Move Bluetooth speaker rocks an ultra-durable design and is backed by a shock-resistant case. Therefore, if it accidentally drops on the floor, it should come out fine. Plus, the IP56 rating gives you the freedom of using it almost anywhere. It is capable enough to withstand rain, dust, humidity, UV rays, and other extreme weather conditions. You can enjoy music for up to 11 hours on a single charge and revive it using the included base or a USB-C charger. This iPhone 14 Bluetooth speaker is somewhat pricey. We agree. But just like the iPhone, you're not paying for just a speaker here. You're paying for the Sonos ecosystem here. You can also pair multiple Sonos Move speakers and play your favorite music via Bluetooth and even Wi-Fi in high-resolution codecs across your house. 
Overall, it is a good iPhone 14 accessory that gives you the freedom to enjoy your favorite music without having to compromise on anything on the audio part. 
Reasons to buy:
Superb audio quality

Built-in Automatic TruePlay technology

Easy Wi-Fi-to-Bluetooth connection conversion

Durable

Supports multiple speaker pairing

Alexa support
Reasons to avoid: 
Also read: Best Bluetooth Speakers for iPhone
14. Sony WH-1000XM5 (Premium wireless headphones for iPhone 14)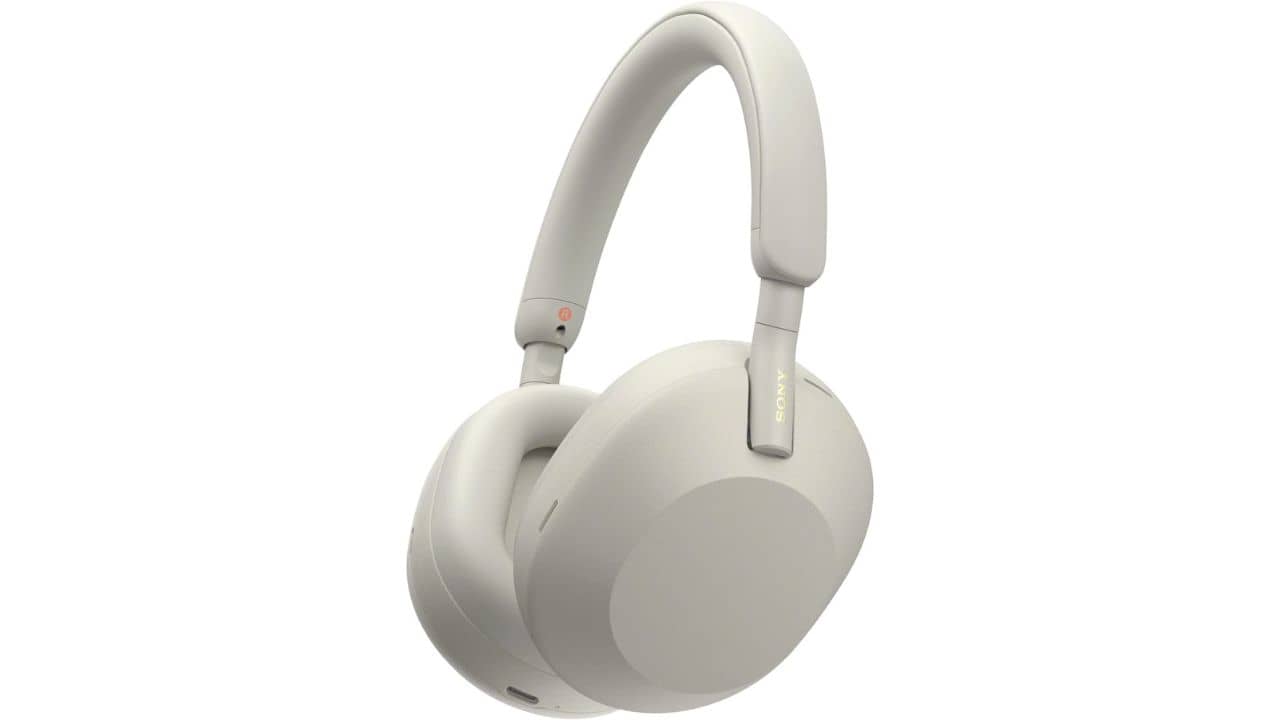 If you are inclined towards headphones and love the studio-like sound experience, don't forget to check out the Sony WH-1000XM5 over-ear headphones. This wireless audio accessory for iPhone 14 comes with 8 dedicated microphones that offer superior noise cancellation. On top of that, the exclusive Noise Cancellation Optimizing technology makes sure that the noise canceling is optimized depending on your surroundings and your wearing conditions. Therefore, the next time you pass by a road construction site or a noisy place, these headphones will automatically increase the noise canceling. This allows you to enjoy your time with your favorite music without any disturbance at all. 
Besides, the battery life is quite good, this wireless headphone delivers up to 30 hours of playback time on a single full charge. While the quick charging mode is a lifesaver for people like me who rush towards the office in the morning. The quick charging ensures 3 hours of listening time in mere 3 minutes, which is quite amazing. Did we mention this iPhone 14 accessory pairs with your
iPads, MacBooks, and other Android devices as well? 
Since it is a value pack, you'll get a carrying case, a 3.5 mm audio cable, and a USB-A to USB-C cable for charging it. If you already own the predecessor, the XM4, we don't think it is necessary to pay $50 extra to grab the new model. The features are more alike with some minor changes on the inside. However, if you are planning to get a new one, you can surely vouch for this one. 
Reasons to buy:
Superb calling experience

Pairs with two devices at the same time

Lightweight and comfortable

30-hour battery life

3 hours playback with just 3 minutes of charge

Better active noise cancellation as compared to the best-selling headphone of the year, the Sony WH-1000XM4
Reasons to avoid:
The price tag is not justified for a plasticky exterior build

No major upgrades over the predecessor, WH-1000XM4
If you are a loyal Apple fan and willing to spend to grab official audio accessories for iPhone 14, don't forget to check out the
AirPods Max. This premium over-the-ear headphone is equipped with some amazing features like an active noise cancellation feature, low power model, theater-like sound, and more. Even though it offers 10 hours less playback time as compared to Sony's XM5 headphones, it is still at the top when it comes to delivering top-notch sound quality with Dolby Atmos support.
Also read: The 43 Best Lock Screen Widgets for your iPhone [iOS 16]
Best Photography/Videography Accessories for iPhone 14 you should buy in 2023
15. Moment Blue Flare Anamorphic Lens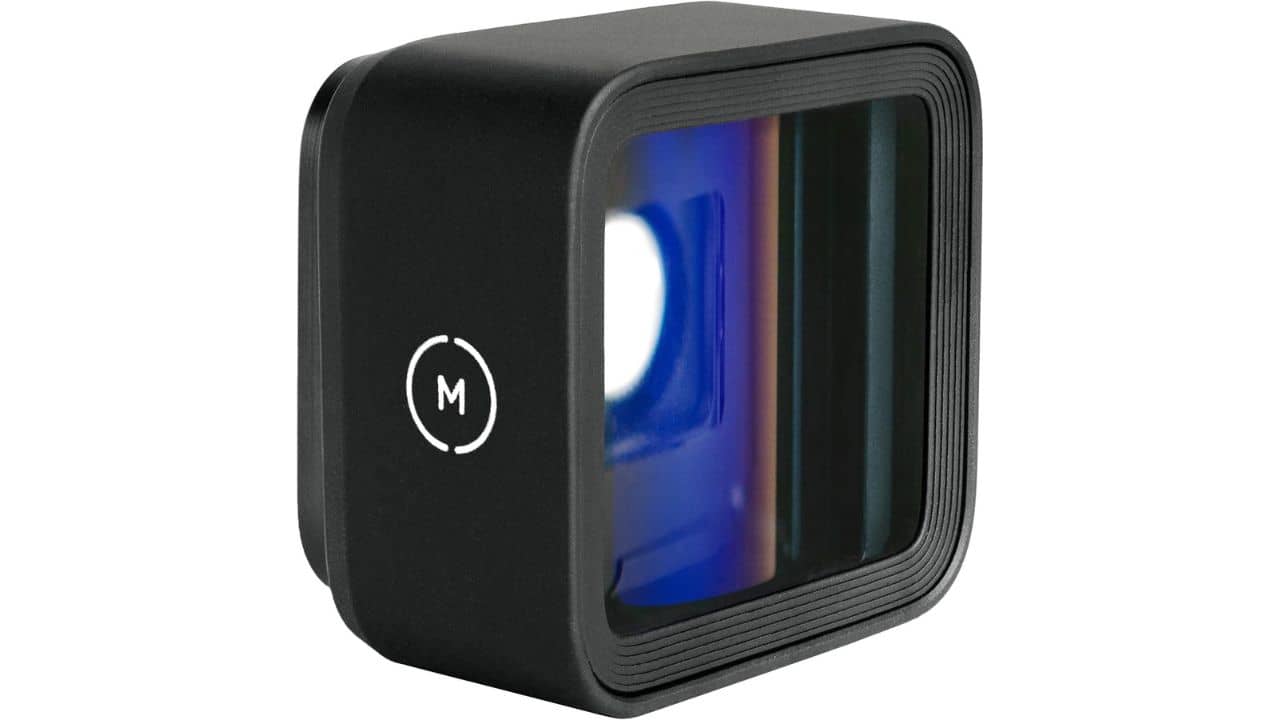 Do you want photos and videos that you took from your iPhone 14 to stand out as a movie scene? If yes, the Blue Flare Anamorphic lens from Moment is the best choice for you. Lauded by over 700 reviews and more than 4.5 average ratings on Amazon, this camera lens accessory for iPhone 14 is simply amazing for all sorts of photographic and video graphic needs. You will need to pair this with the
Moment iPhone 14 case with a lens mount in order to use this Anamorphic lens. To remind you iPhones shoot in a 16:9 Aspect ratio by default. But, the Anamorphic lens basically captures more horizontal information to create 2.35:1 aspect ratio images, that give the impression of a cinematic scene. The images or video captured using an Anamorphic lens look more professional as compared to shots that you take using default iPhone camera lenses. In short, it is a great photography/videography accessory for iPhone 14 you can get right now.
Reasons to buy:
Anamorphic lenses give you a larger field of view

Allows shooting high-quality video in the correct frame rate
Reasons to avoid:
Needs a special Moment case to attach it to the back of the iPhone's rear camera lens.

Expensive 
If you are looking for a gimbal for regularly shooting in planned recording sessions, the Zhiyun Smooth 5 is right for you. It is considerably larger as compared to the compact  Zhiyun Smooth Q3, which is a great option for anyone who shoots videos on the go. It comes with sensors and motors to help detect and counteract your body's motion to keep your phone steady as you move around. This not only keeps your camera steady but also helps you get creative shots that are not possible using a tripod or handheld. The combo pack includes 1 x Gimbal, 1 x Mini Tripod, 1 x USB-A to USB-C Cable, 1 x protective bag, 1 x fill light, 4 x  fill light filters, 1 x wrist strap, 1 x VIP Membership Card, 1 x Quick Start Guide. However, the standard package includes the gimbal, tripod, and USB cable. The charging time could vary on the type of charging adapter you are using. Moreover, this gimbal stabilizer lasts up to 25 hours on a single charge. 
16. SmallRig Universal Phone Video Rig Kit for iPhone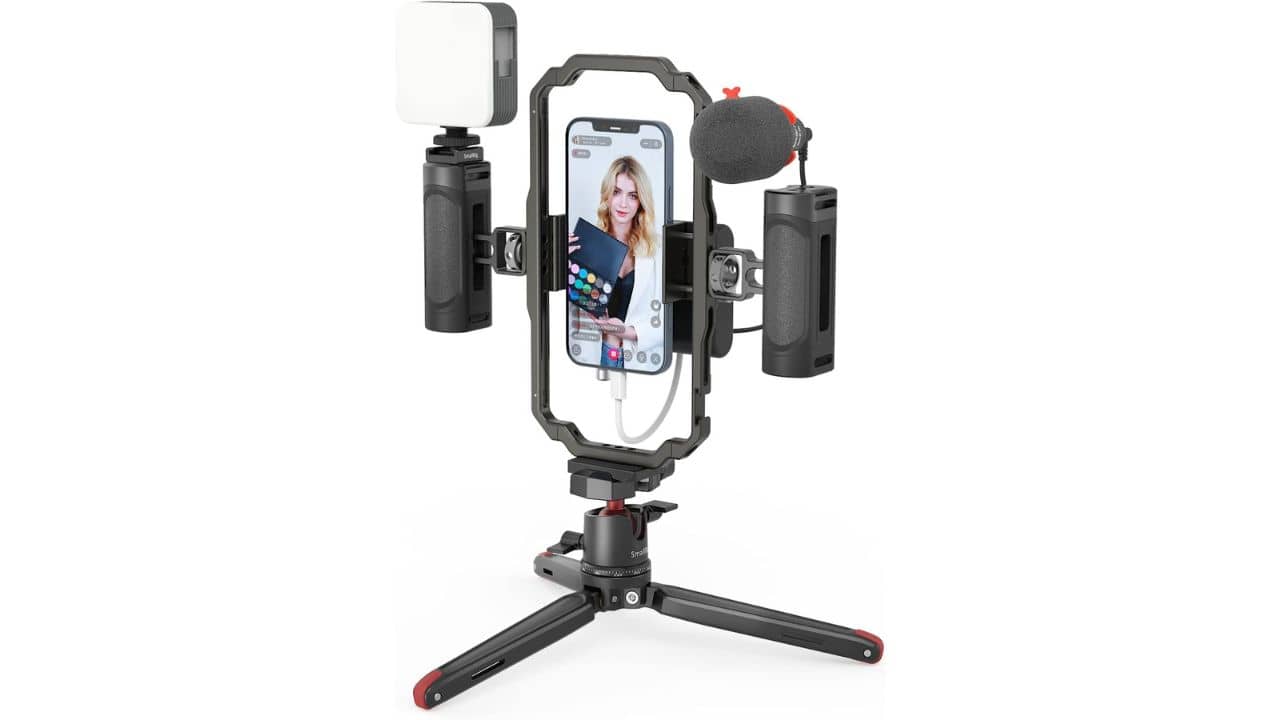 If you are a beginner and trying your hand at iPhone film-making, this accessory should come in handy for you. This video rig kit from SmallRig is one of the best accessories for iPhone 14 users who are inclined toward vlogging. It supports both handheld shooting as well as tripod shooting. The phone cage is suitable for any smartphone with a width ranging from 62mm to 86mm. Therefore, it is compatible with the iPhone 14 series. Besides, this video rig kit comes with LED light which is a great addition for anyone willing to shoot at night. It is portable as well as lightweight in design. It comes with a brightness control feature, color temperature scale, and more. The light lasts up to 105-minute at maximum brightness and can be charged using a USB-C cable. Moving on, the package also includes a mic that captures clear sound by reducing the background noise. You can simply use this mic by connecting it via a cable to your iPhone, no battery stuff. In short, if you are looking for an iPhone 14 accessory that can bring out your creative side in the field of short filmmaking, this is a fantastic pick for you.
Reasons to buy:
Excellent build quality

The audio quality is good

Easy to set up

Compatible with a wide range of smartphones 

Extremely portable design
Reasons to avoid:
There's no height adjustment feature 
That's all for now in this roundup, we'll be updating this piece in the upcoming days with new products, please stay tuned. If you own the iPhone 14 Pro, don't forget to check our roundup of the best accessories for the iPhone 14 Pro in 2023. 
Banner Image Source: Apple