Apple introduced the iPhone 14 lineup at the 'Far Out' event held on September 7, 2022. We got to witness the launch of all four models – iPhone 14, iPhone 14 Plus, iPhone 14 Pro, and the beast iPhone 14 Pro Max. Alongside, the Cupertino giant also unveiled its new and most advanced smartwatch lineup which included Apple Watch Ultra, Apple Watch Series 8, and the most affordable Apple Watch SE 2nd gen. Apple also dropped the AirPods Pro 2nd gen at the first half of the same event. As the title suggests we will be talking only about the base model of the iPhone 14 series in this piece. 
The iPhone 14 is the most affordable smartphone among all four models. The company hasn't made any significant changes on the hardware part. The 2022 Apple flagship features a 6.1" Super Retina XDR OLED display with HDR 10 certification and 1200 nits of peak brightness. It flaunts a flat-sided aluminum body and the traditional notch design that was available in all four models of the
iPhone 13 series. As far as performance is concerned, Apple is using the old A15 Bionic chip on the base models as their predecessor. However, the Pro models are updated with the A16 Bionic chipset. Apple says that the 'Photogenic Engine' will help with low light photography, better rendering process, and faster image processing. Also, the company emphasized the 'Action mode' – a new video stabilization feature that will help you get more stabilized video when you're on the go. Like last year's iPhone 13 and older iPhone 12, Apple has limited charging capabilities on its iphone this time around. The iPhone 14 comes with 20W wired charging, 15W MagSafe charging, and 7.5W Qi-wireless charging. 
Though the upgrades are minor on the base model, it is still a powerful smartphone. Therefore, you should protect it from any kind of accidental damage. For that, you'd need a protective case. We understand it is tough to find the right cases for iPhones, but we are here to help you. Our team has curated a list of the best cases for iPhone 14 that you can buy in 2023. If you are in search of protective cases, rugged cases, clear cases, or even thin cases, you'll get all in here. 
But before you jump to the list, we want you to have a look at the things that you should consider before buying an iPhone 14 case.
Factors to consider while buying an iPhone 14 case?
Regular or MagSafe?
MagSafe is a proprietary, magnetically attached wireless power transfer and accessory-attachment standard developed by Apple. To leverage the benefit of this feature, you should get the right MagSafe case. These cases have multiple small magnets embedded inside them which align with the magnets inside your iPhone. By default, these cases are compatible with MagSafe chargers and related accessories. In comparison to regular cases, the MagSafe cases are a bit pricey but they are well worth the price if you've already invested in the MagSafe accessories. 
The required degree of protection
Understanding the degree of protection your device requires is the most important factor in buying a case/cover for your smartphone. If you work in an unsafe environment like a warehouse, underground tunnel, or construction site, a rugged case is perfect for your needs. These cases comply with military-grade standards and ensure that your device remains safe and secure even after encountering fatal damages. On the flip side, if you are a regular user who works in a corporate setup, you can choose from hybrid, clear, or even thin cases, based on your personal preferences. 
The thickness of the case
Most of the time, the thickness of a case is associated with wireless charging. It is recommended to use an iPhone 14 case with a maximum thickness of 5 mm. If your case falls under this ceiling, you don't have to take off the case to enjoy the wireless charging feature with your old wireless charger.
Kickstand or no kickstand?
It can be tough for anyone to watch TikToks or YouTube Shorts while holding devices in their hand. That's where the kickstand case fits in. These cases solve these issues by attaching a hinged stand at the back that props up to make your iPhone stand at a comfortable viewing angle, either horizontally or vertically. 
Now that you know how to choose the best case for your iPhone 14, let's jump right into the list.
Note: We update our article from time to time to cover the latest products available in the market.
Disclaimer: All the cases listed here are compatible with wireless charging. 
List of top iPhone 14 cases to buy now in 2023
1. Rokform Rugged Series (Best Premium Rugged iPhone 14 case)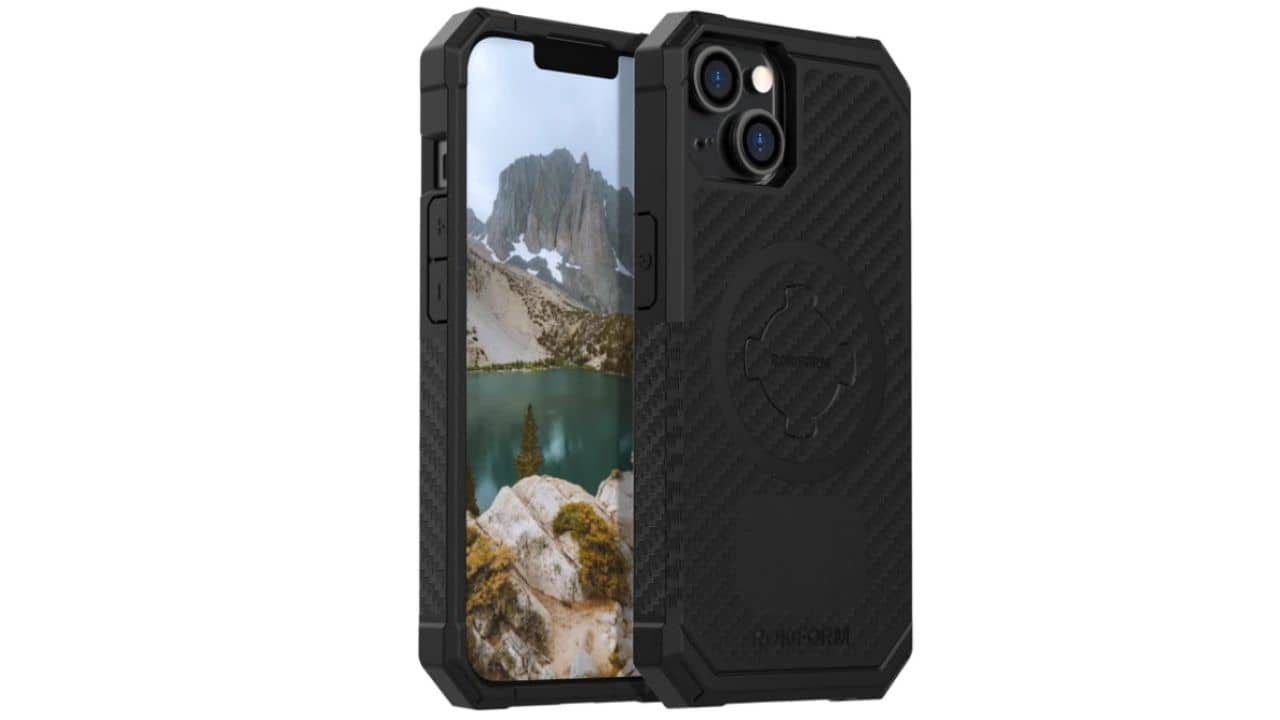 Next, we bring to you the Rokform rugged  MagSafe case for iPhone 14. Talking of the build, this protective case is made from durable Polycarbonate armor blended with reinforced corners which ensures top-notch protection against the roughest sideways drops. In addition, the bumper design is extremely helpful in deflecting heavy shocks. Rokform also boasts Military-grade certification (MIL-STD 801G-516.6) suggesting this iPhone 14 rugged protective case provides additional security from accidental damages. Further, you'll find raised edges around the camera and screen area to keep away the roughest scratches. So, next time you keep your iPhone upside down, don't worry, it won't scratch. That's not all, the textured design on the wraparound bumpers offers you a good grip when you are roaming around busy streets or the subway. 
Further, this rugged shockproof case for iPhone 14 houses a built-in RokLock Twist Lock System which can be mounted on your bike, bicycle, or scooter. This makes the Rokform rugged series a handy option for people who bike a lot. If you are into dirt biking or travel vlogging, you can take advantage of the Twist Lock System to grab amazing shots for your next YouTube video or Instagram Live. If that's not enough, you also get a 2-year post-purchase warranty. 
Reasons to buy:
2-year after-sales warranty

Serious protection for your iPhone

Twist Lock System makes it easy to mount your phone on a bike or bicycle

Grippy side bumpers

Compatible with screen protectors
Reasons to avoid:
Expensive

Similar alternatives are available at a much more affordable price

It is one of the heaviest cases
Even though, this rugged case offers extreme durability and protection, we still feel the $60 price tag is too much. In comparison, it is more expensive than the OtterBox Defender Pro series case. So, if you are looking to save a few bucks, we recommend getting your hands on the Elago Armor case. This case features a side textured design which is extremely handy when it comes to grip your phone. Whereas, the four corner guards act as a defense shield against sideways drops that can cause fatal damage to the iPhone's screen.
2. Spigen Tough Armor MagFit (Extreme Protection at a Budget)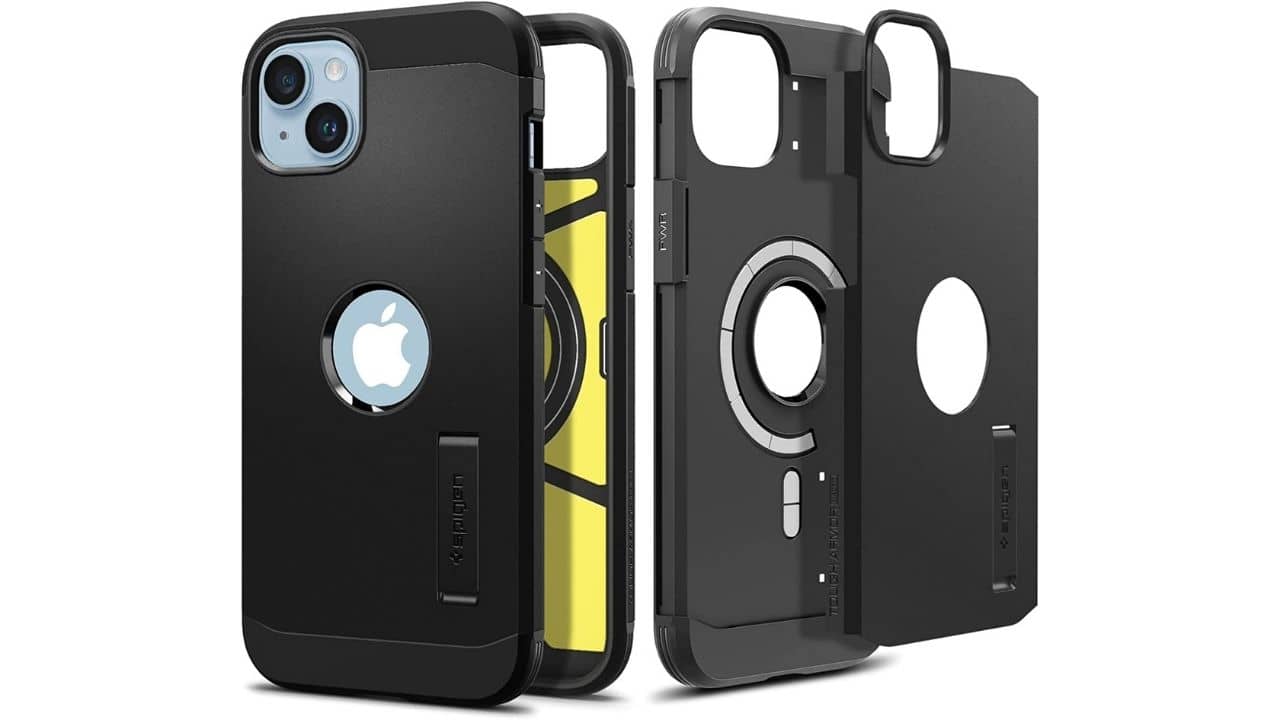 For someone who feels the OtterBox case is out of their budget, we always recommend choosing this beast from Spigen. Besides being budget-friendly, it is the best-selling heavy-duty case for iPhone 14. If you'd ask me, it is one step up from the OtterBox in many ways. The Armor case from Spigen preserves the slim and beautiful design of the iPhone 14 by delivering full-coverage protection. It is made from a perfect blend of carbon fiber and TPU materials to ensure top-notch protection against fatal drops, shocks, and bumps. So, if you have naughty kids or pets around in your house who often throw your stuff here and there, this protective case for the iPhone 14 case can be a lifesaver for you. Additionally, Spigen highlights the military-grade certification which ensures extreme durability and protection from every aspect. Do you get annoyed by unnecessary scratches that degrade the beauty of your iPhone? Worry not! The elevated ridges in this rugged iPhone 14 case lift the device from a flat surface to a certain degree to keep the camera and 6.1" display free of scrapes. 
Further, you'll get an in-built kickstand attached at the back of this case which is extremely helpful for hands-free movie-watching and a safe video calling experience. But, the kickstand needs to be more sturdy. What's more? The tactile buttons do the job well to offer a noise-free click response when the volume rocks and the power button is pressed. In short, it is one of the best protective cases for iPhone 14 available right now. Unfortunately, it has a minor flaw associated with grip. The Spigen Tough Armor lacks texture at the back and can get a bit slippery when the device gets warm. It can be worrisome for butterfingers and users with relatively smaller hands. Else, it is an extremely handy heavy-duty case for iPhone 14 users who are into rock climbing, mountain biking, zorbing, etc.
Reasons to buy: 
Affordable

Lightweight

Heavy duty and anti-shock protection

MagSafe compatible
Reasons to avoid:
Not many color choices

The kickstand could feel flimsy

The case can get slippery when your device gets warm 
Don't miss: iPhone 14 Pro: 7 Reasons to upgrade and 4 not to
3. Tech21 Evo Max (Best iPhone 14 Plus protective case for adventurers)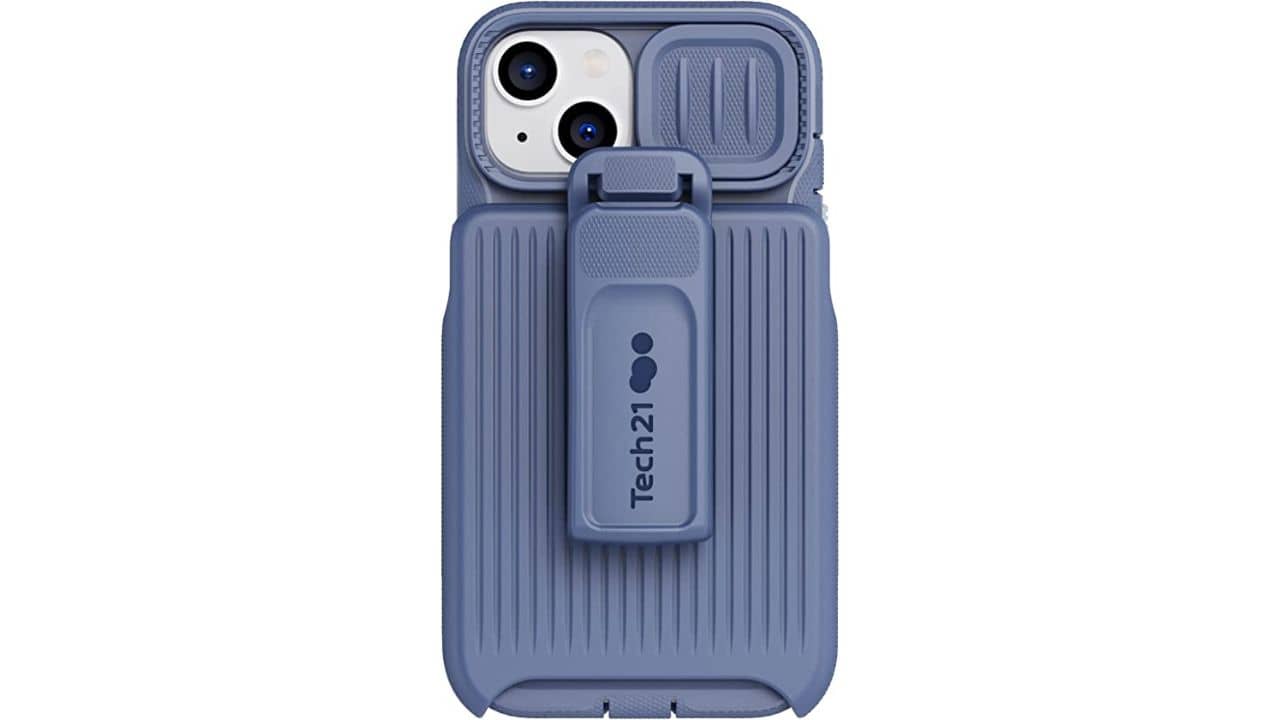 Are you someone who spends most of their time outdoors or in a risky workplace like a factory, mill, or warehouse? If the answer is YES, this protective case for iPhone 14 from Tech21 is one of the
must-have iPhone 14 accessories for you. It is made to defend your device against any kind of knocks, drops, falls, and bumps. Speaking in short, this rugged iPhone 14 case is just perfect for all the clumsy butterfingers out there. Talking of the design and build, this ultra-protective case for iPhone 14 is made from super-strong impact-resistant materials that complement the looks and in-hand feel of the phone. The back design is comprised of several grooves that give you a secure grip and ensures that you don't drop your device while shooting travel vlogs using the Action Mode. Now that we are talking about drops and shocks, it is worth mentioning that this protective iPhone 14 case offers an impressive 20 feet of multi-drop protection. It not only ensures drop protection but also prevents any kind of shocks that might damage the screen of your iPhone. Honestly, it takes good care of your iPhone 14 against all sorts of accidental drops. 
In addition to impact protection, this iPhone 14 protective case comes with port coverings. Therefore, you don't have to worry about dust, and debris getting inside the charging port to cause
charging issues on your iPhone. What's more? We also like the camera lid that can be slid to reveal the camera when you want to grab photos or videos. It also does the job to keep off scratches ensuring the dual-camera system is always ready to take clear shots. That's not all, you'll also find a clip-on holster that converts as a solid kickstand to ensure a hands-free movie-watching or video-calling experience. You can also use it to watch YouTube and take notes of the recipes for your next meal. With this protective case for iPhone 14, you don't have to roam around searching for a bottle or solid object to prop your device to record a TikTok video or Instagram reels. Surprisingly, despite being thick it works with most of the MagSafe accessories out there. 
Putting it simply, Tech21's Evo Max rugged case is one of the most protective cases for iPhone 14 that can be bought in 2023. 
Reasons to buy:
Multi-drop protective from a height of up to 20 feet

The Clip-on holster doubles up as a kickstand

Covered ports to prevent dust and debris from getting inside the charging port 

Sliding camera cover

Punch color options 

Offers seamless connection with MagSafe accessories
Reasons to avoid:
Relatively than other protective cases for iPhone 14
4. Raptic Shield for iPhone 14 Case (Pleasing Aesthetics)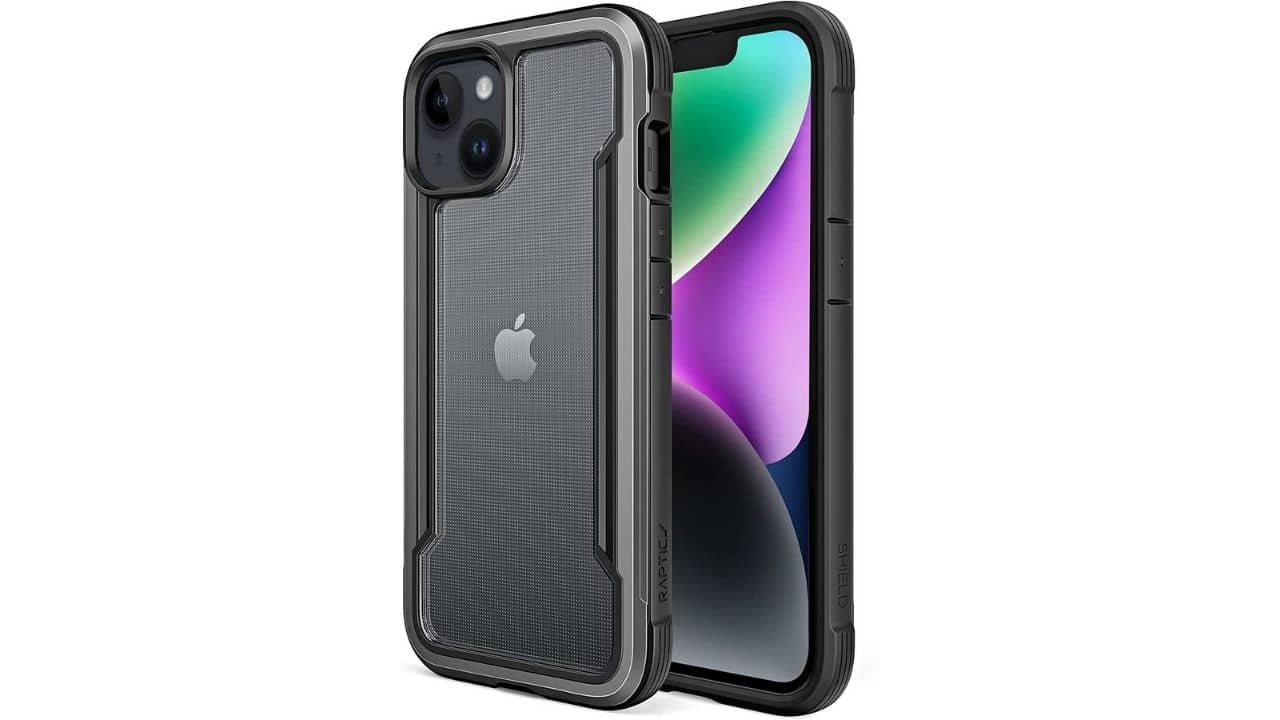 Here we have another protective case for iPhone 14 that should add durability and longevity to your newest Apple phone. This heavy-duty case is made from a perfect combination of a hard polycarbonate shell, anodized aluminum, and soft rubber material. All combined, act as a defense shield against accidental falls, shocks, and bumps. The military-grade certification suggests that this iPhone 14 shockproof case provides heavy-duty drop protection from a height of up to 10 feet or 3 meters. You'll also find a soft rubber interior lining that effectively absorbs and deflects the heavy shocks generated from a sudden impact on a tough surface. So, next time your little sibling drops your phone, this protective case should do the job. Plus, it is a lifesaver for underground workers such as tunnel engineers, etc. Like any other protective case, it also features raised lips that can be handy in delivering protection against unwanted scratches on the screen and camera setup. However, the back of this heavy-duty iPhone 14 case may get scratched when it is abruptly exposed to a rough surface. Overall, it is a good protective case, it is quite expensive as compared to the Spigen Tough Armor. Our first preference would be the Spigen case. Please choose accordingly. 
Reasons to buy: 
Appealing design

Colorful options available

Shockproof and heavy-duty protection

Extreme drop protection
Reasons to avoid:
For someone who struggles gripping an iPhone comfortably, we recommend choosing the Smartish GripZilla. It is among the top contenders for iPhone 14 protective case that features side groves for a solid grip. We recommend this heavy-duty case for someone who travels a busy metro or bus regularly. 
Also read: The 9 Best Cases to buy for your iPhone 14 Plus
5. Otterbox Defender Pro Series (Best of all)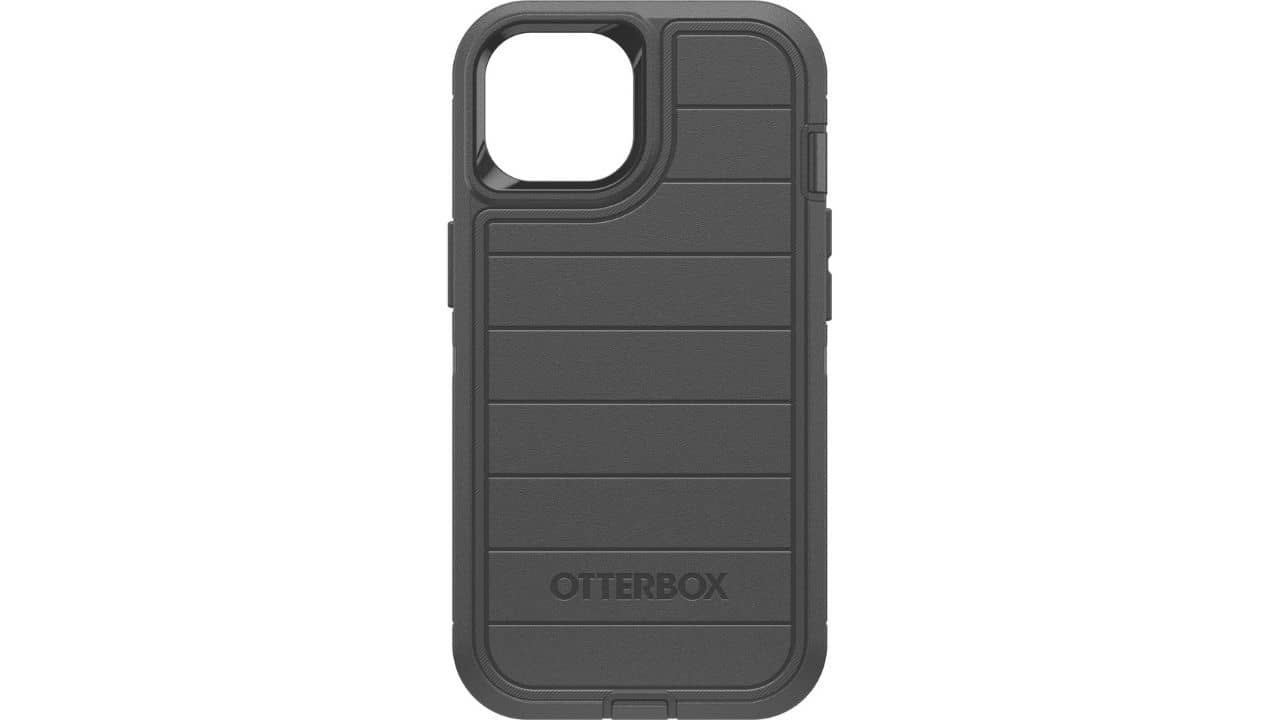 OtterBox Defender Pro series is one of the extremely durable and tough protective cases one can buy for iPhone 14. It houses all the features that will protect your iPhone from fatal damage. This heavy-duty iPhone 14 case comes with military-grade certification and Drop + protection which ensures that your expensive Apple flagship stays in one piece even after encountering several bruises. If you are into adventure sports like mountain climbing, trekking, etc., the Defender Pro series protective case is a must-have for you. 
Like any other iPhone 14 protective case, the OtterBox Defender Series features a dual-layer build and has a bulky design. The inner shell of this heavy-duty case is made from recycled hard plastic and has a slipcover on the outside built around soft rubbery material. The outer covering is effective when it comes to selecting heavy shocks generated from a drop from a significant height. It should be noted that your iPhone 14 can survive even if it is dropped on wooden or concrete flooring, so don't worry. Irrespective of the bulky design,  it slips in and out of pocket quite easily. In addition, this protective iPhone 14 case has port coverings to prevent dust and debris from getting inside the charging port or speaker grill. It is indeed a superb addition for users who work in a dusty environment – say a mill, factory, or construction site. 
You'd be happy to know that we are unable to find any flaw with this one except for the notorious price which OtterBox is famous for. We are aware that the bulky design associated with protective cases for iPhone 14 is argued most of the time, but it is pretty subjective. Another fact is that they are designed bulky to withstand the effect of drops and shocks. Therefore, if you don't like bulky cases, we recommend grabbing thin cases mentioned in this roundup. 
Reasons to buy:
Best drop protection

Port coverings available

Includes a holster to carry your device around

Otterbox limited lifetime warranty
Reasons to avoid:
Also, if you are in search of a budget-friendly heavy-duty case for iPhone 14 that has similar features as the OtterBox defender Pro, please grab the Diverbox Drop protection case. You'd be glad to know that this protective case is almost ⅓ times cheaper than the OtterBox's one. 
Also read: Best Cases for iPhone 14 Pro Max
6. SUPCASE Unicorn Beetle Pro Series (Bang for the Buck)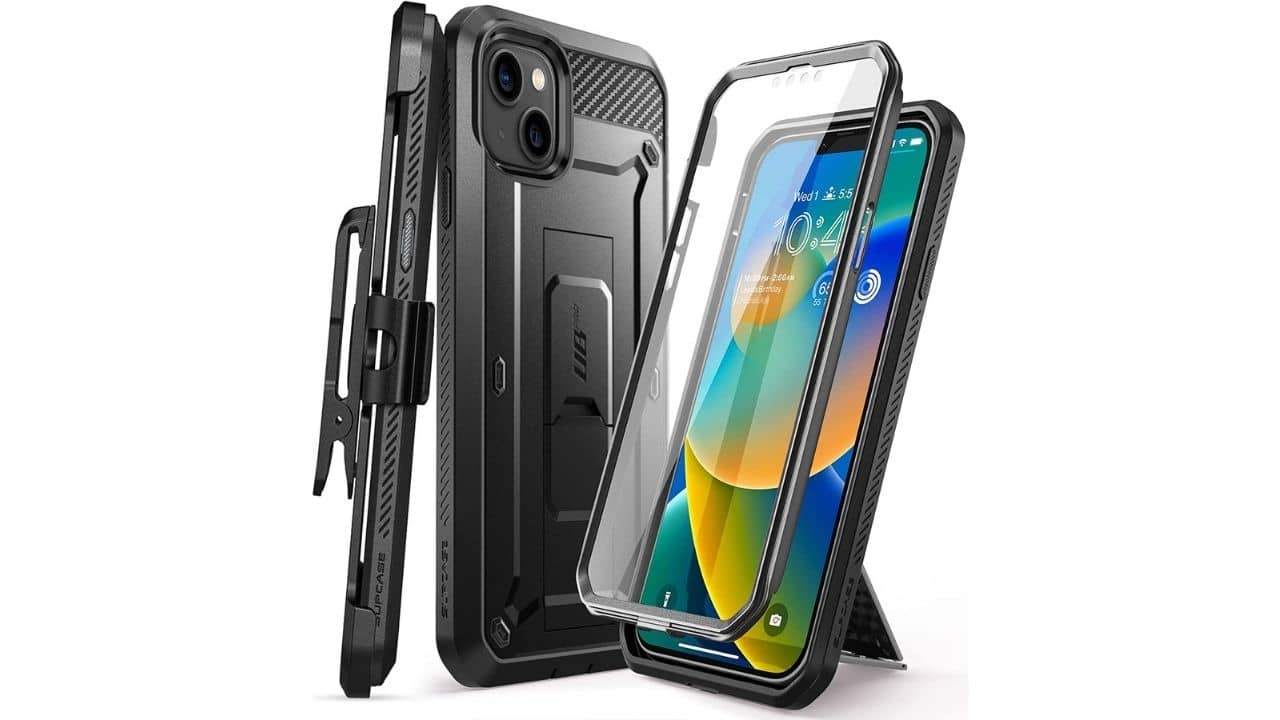 SUPCASE Unicorn Beetle Pro Series is another rugged case for iPhone 14 that is available for almost half of the price of OtterBox or other premium cases. It is one of the best-budget-friendly cases you can buy for Apple's 2022 flagship phone. Apart from its affordable price, this rugged protective iPhone 14 case stands out as one of the most uncommonly designed cases. It features a dual-layer design and shockproof TPU bumper, that acts as a defense shield against accidental drops and falls. SUPCASE ships this case with a built-in screen protector, when combined with the case, the overall package ensures 360-degree protection against roughest scratches and dents. Plus, the screen protector is solely responsible for the flawless working of Face ID. 
What's more? There's an in-built kickstand at the back of this case that offers a hands-free movie-watching experience. You can also use the detachable and rotatable belt clip holster for a hands-free carrying experience for your long walks. However, they are not that durable. 
Unfortunately, it is not the best case for anyone who loves kayaking, rafting, or is involved in other water sports. Why? The front opening of this rugged iPhone 14 rugged case allows water to get inside the case. If you are in search of the right waterproof case, we recommend getting the TEMDAN waterproof case. It has all the features that a waterproof case should have. You can submerge your device with this case under 6.6 feet/2 meters underwater for up to 30 minutes. Undoubtedly, it is the top choice for anyone in water sports. 
Except for the fact that it is not suitable for liquid damage protection, it is still an awesome pick for anyone looking for an affordable rugged protective case for iPhone 14.
Reasons to buy:
Scratch-resistant back shell

Built-In Screen Protector

In-built kickstand

Rotatable Holster Clip
Reasons to avoid:
The design might be overwhelming for some users
Are you looking for a relatively affordable rugged case to safeguard your latest iPhone? Check out the Poetic Revolution Series case without second thoughts. The features you get in the Poetic Rugged case are almost identical, but at a lower price tag as compared to the UB Pro Series case. 
7. Spigen Thin Fit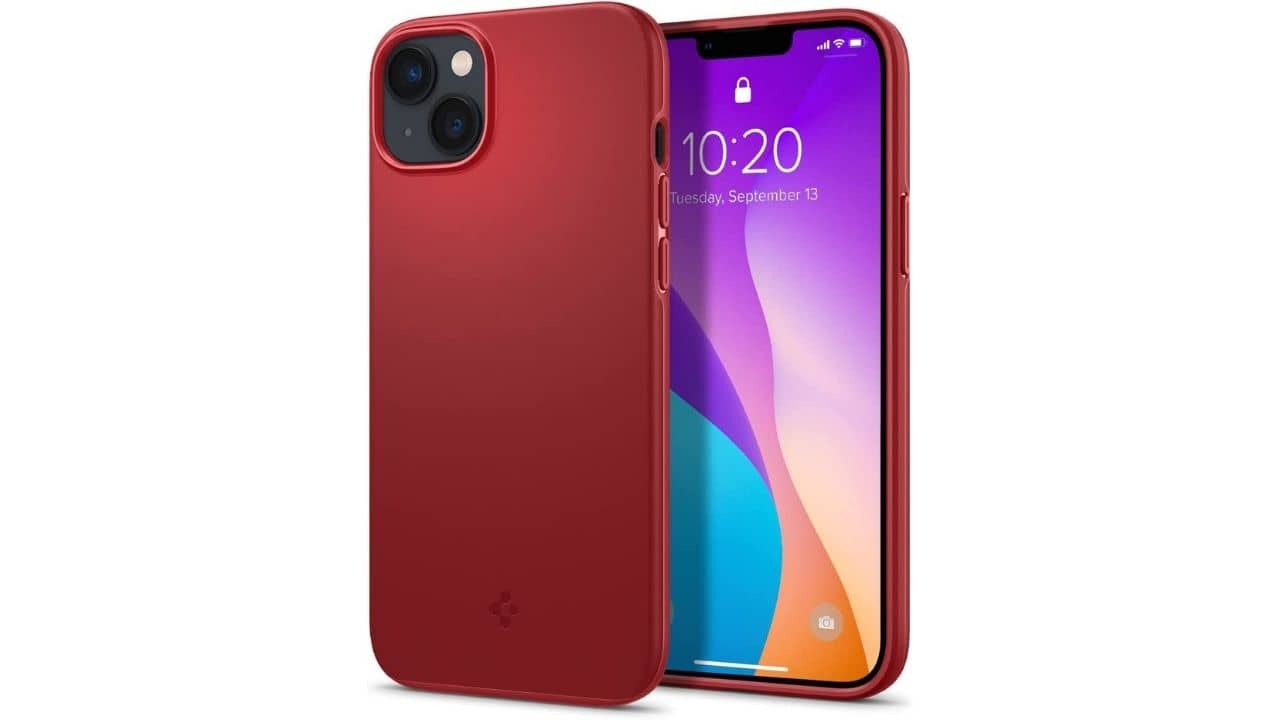 If you are not the biggest fan of bulky cases, the Spigen Thin Fit is always there to rescue you. It is one of the best thin cases for not just iPhone 14, but all iPhones. Plus you can grab it without spending much. Thanks to the Hybrid structure of PC and TPU material, this case maintains a slim form factor. Whereas the incorporation of the Air Cushion Technology ensures that your iPhone is safe from fatal shocks that are caused by sideways drops. In simple words, this thin iPhone 14 case will be able to deflect shocks if you accidentally drop your phone from your pocket or even a bed, preventing screen-shattering problems. Thanks to the slim and lightweight design, this iPhone 14 slim case preserves the exquisite form factor of your iPhone without adding any bulk. In addition, this case sports tactile buttons which ensure dampen-free clicks and are easy to spot in the dark while watching your favorite movies before bedtime. That's not all, the Polycarbonate back keeps the annoying scratches and scrapes away, making it an ideal scratch-resistant case for iPhone 14. With that being said, the PC back is slippery, therefore daily commuters should be cautious while using it on a busy subway, and metro. With brands like JETech, and Miracase offering similar cases, we feel Spigen can do better. But again, you are paying for the brand value and functional build of the case.
Reasons to buy:
Brand assurance

Air Cushion Technology

Sleek and minimalist design
Reasons to avoid:
The clear case from the Thin Fit series catches fingerprint smudges easily

Slightly expensive than the available alternatives
Also read: Best Wireless & MagSafe Chargers for iPhone 14 Series
8. TORRAS Slim Fit Case (Best in-Hand Feel)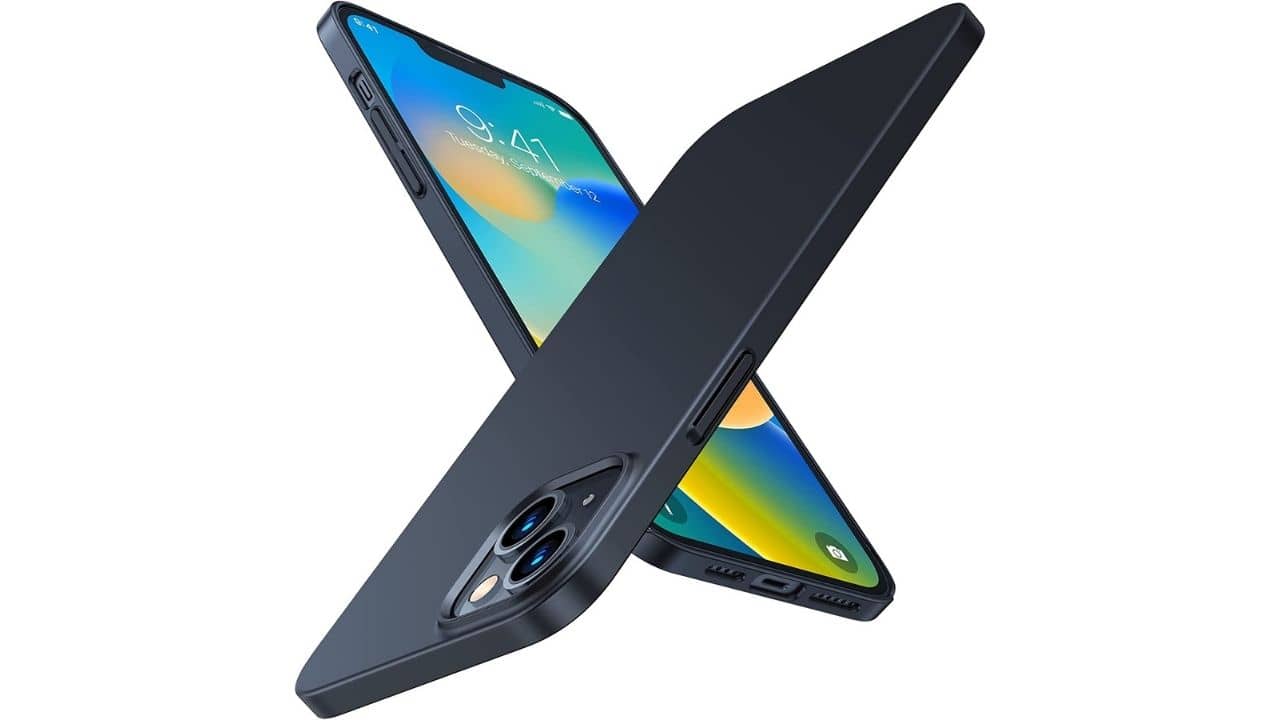 TORRAS Slim Fit is the right thin case for iPhone 14 users looking for the perfect alternative to the Spigen Thin Fit. This slim case flaunts a minimalist, sleek, and lightweight design that preserves the exquisite design of the Apple 2022 flagship. You'll also love the velvety feel and beautifully crafted details that give this slim case a premium touch. Further, you can expect this thin iPhone 14 case to offer an ample amount of protection, but please don't expect too much from this one. However, it can effectively resist decent shocks but may struggle to withstand a drop from a respectable height. That's not a flaw actually, thin cases are meant to offer minor protection to the device by offering a smooth and lightweight in-hand feel. Therefore, please refrain from conducting a drop test using this iPhone 14 ultra-thin case; your device might end up in an Apple Store. However, it does a pretty good job of keeping the inadvertent scratches away, all credit goes to the raised edges around the camera and Retina display. Though the case comes with oleophobic (oil repellant) and hydrophobic (water repellant) coatings on the exterior, the matte back still catches some fingerprints. Also, the material used to build this case is somewhat slippery, therefore, we personally don't recommend it for users with butterfingers. Trust us, we wouldn't want your iPhone 14 to slip out while you're trying to take pictures with oily hands. Overall, TORRAS has done a pretty good job to offer something reliable for users who are not fond of chunky cases like OtterBox, or UAG.
Reasons to buy:
Slim fit and comfortable grip

Non-slip design

Soft-in hand feel 

Offers a one-year warranty
Reasons to avoid: 
The edges around the camera bump are slightly higher, which can cause a problem with large wireless chargers 
9. OTOFLY Liquid Thin Case (Perfect Thin Case For Phone Droppers)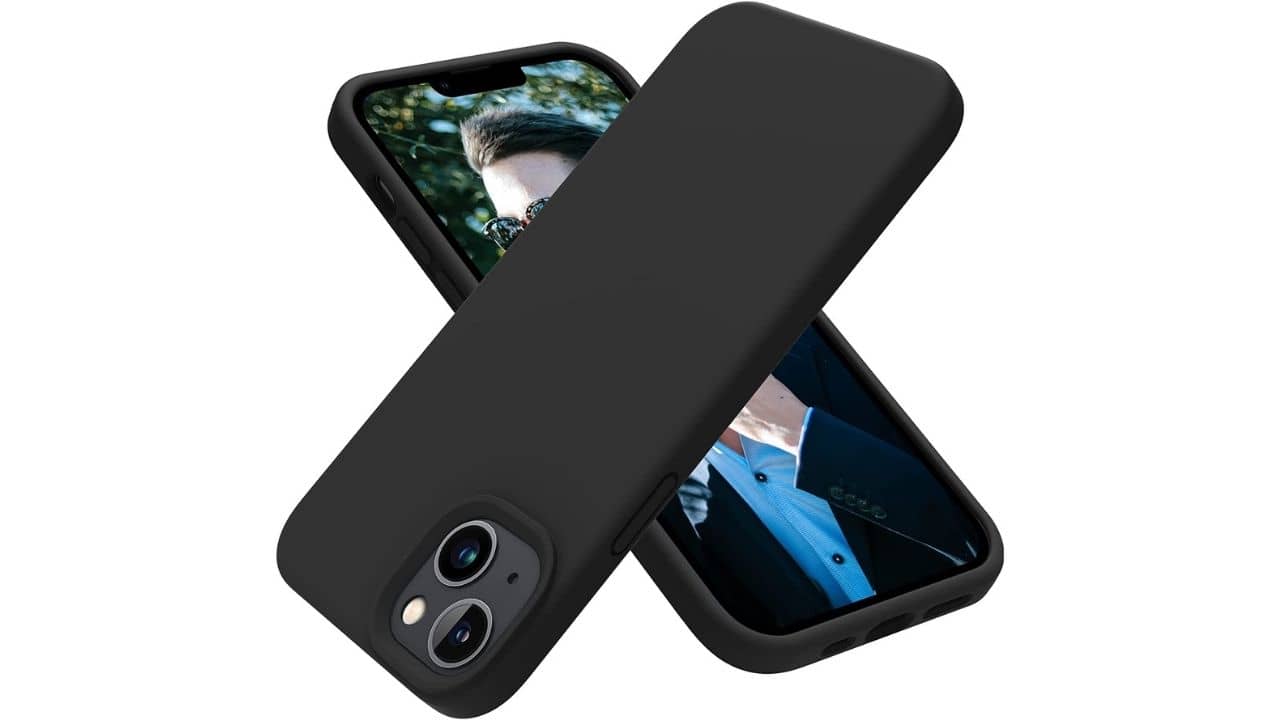 Anyone with a love for colorful mobile protection accessories should go with this thin iPhone 14 case from OTOFLY. Made from soft silicone material, this slim case gives you a great in-hand feel when you are killing your boredom playing games for hours. Protection-wise, it is great! Unlike other thin cases for iPhone 14, this one features a microfiber cushion on the inside which provides all-around protection to the device. It can effectively withstand accidental drops from a decent height. And, at the same time, ensures scratch-proof protection to keep the beauty of your phone intact for years to come. 
Talking of accessibility, this thin case for iPhone 14 comes with precise cutouts to fit in most of the 3rd party charging cables. Besides, you can expect tactical feedback from the pronounced buttons whenever you click the volume rockers as well as the power button. If you are an avid iPhone photographer with butter fingers, camera lens protection should matter to you the most. That's where the beveled edges come in handy, they raise your device to a certain height so that it doesn't get scratched when kept on a flat surface. Also, it prevents the front screen from annoying scratches and scrapes. Ceramic Shield may be shatterproof but it is a scratch magnet.
Overall, it is a great case that rocks a minimalist and lightweight design. But, it has a flaw – we didn't like the fact that the silicone material used in this case makes it quite difficult to get it in and out of pant pockets. It is just too grippy for some pants. If you are not a frequent traveler, this case is superb for you. However, we recommend avid travelers grab the SPIDERCASE's thin case. It is extremely handy when it comes to taking out-of-pocket. It surely will keep you ahead in the card punching game at metro stations.
Reasons to buy:
Fingerprint resistant

Available in various color options 

Pronounced buttons offer solid click response

Superb in-hand feel

Budget-friendly
Reasons to avoid:
It can be tough to take out of your pocket sometimes
Also read: Best Chargers for iPhone 14 and iPhone 14 Plus
10. Apple MagSafe Clear Case (Minimalist Looks)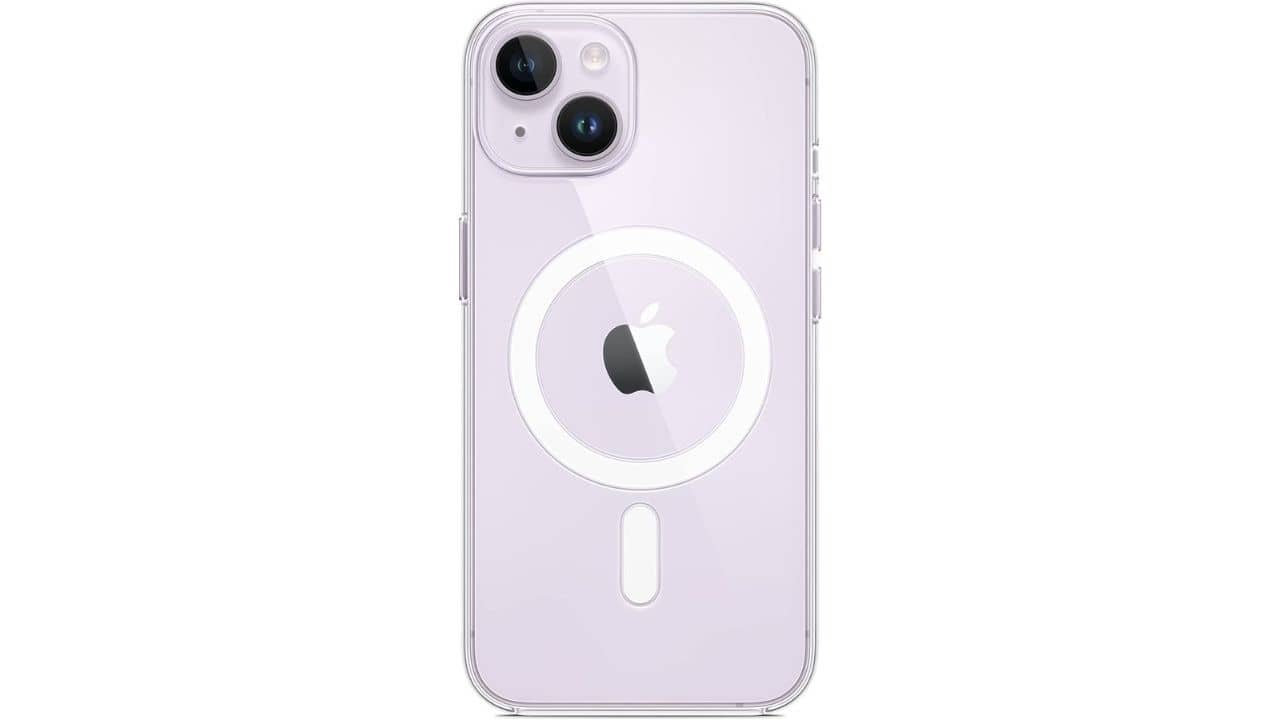 For all the Apple superfans, we recommend the official clear MagSafe case for iPhone 14. This clear case with MagSafe features a lightweight and super-thin design which offers a pretty good in-hand feel. Besides, the minimalist build allows slipping it in and out of the pocket very easily. Similar to other MagSafe cases, this clear iPhone 14 case houses multiple magnets embedded inside the case. When this case is installed, the built-in magnets align perfectly with the magnets inside the iPhone 14 allowing your device to fast charge using a MagSafe charger. Apple claims that this iPhone 14 clear case has undergone rigorous testing to ensure maximum protection from drops and unwanted scratches. However, customer reviews suggest that it is not the best case when it comes to protecting the iPhone. But it surely got points about the looks and non-yellowing property. Overall, it is more like a regular clear case that comes with MagSafe charging support. With that being said, it is more expensive than most of the clear MagSafe cases out there. But, the fact that Apple Clear MagSafe cases last longers and do not get yellow when used for more than a year. In fact some last even longer. Therefore, it is worth the price 
Reasons to buy: 
Preserves the slim look of the device

Apple's craftsmanship

Premium in-hand feel

Does not get yellow for a long time
Reasons to avoid:
Expensive than other clear MagSafe cases

Not as protective as other clear cases
If you are not a fan of overpriced Apple cases, this iPhone 14 clear MagSafe case from CASEKOO should be the right pick for you. It is a simple transparent case that has all the features you get in an official MagSafe case, but for almost half the price. 
Honorary mentions some of the best iPhone 14 clear cases with MagSafe:
11. Spigen Ultra Hybrid Clear Case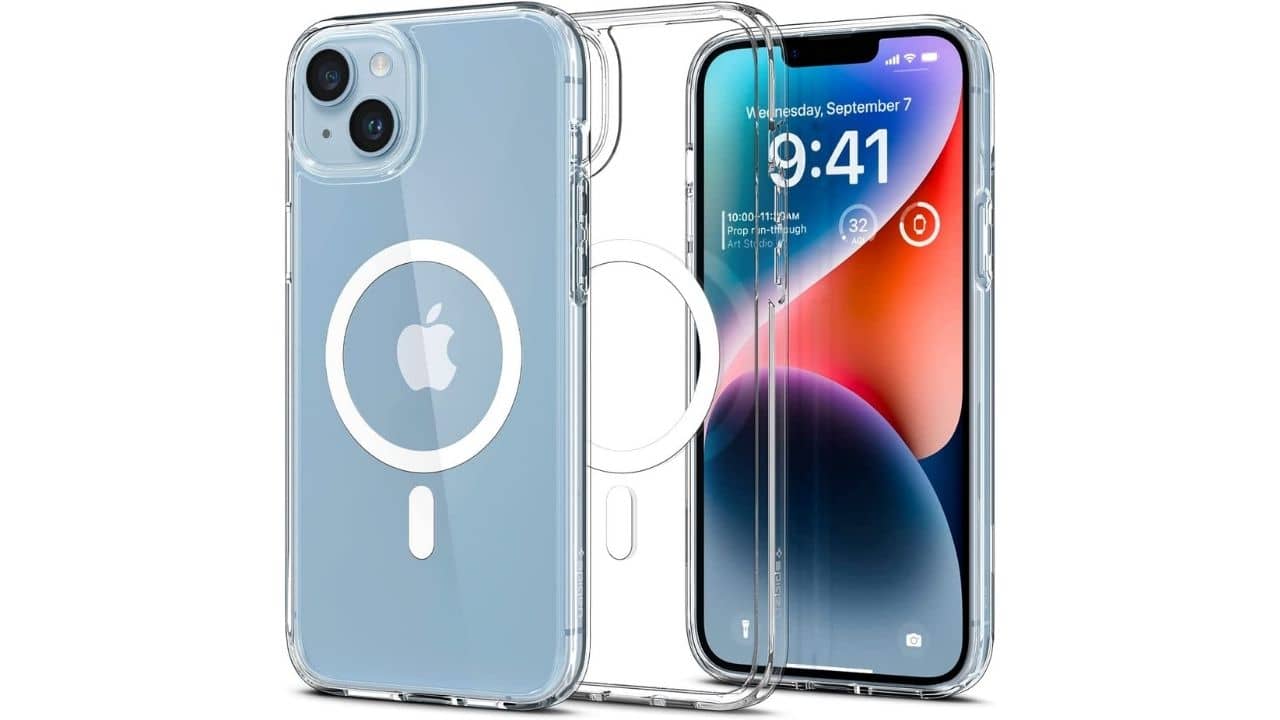 Spigen is the leading brand competing with OtterBox and others. It comes with something brilliant every time to please us. Like the Tough Armor case, the Ultra Hybrid series from Spigen tops the segment with a big margin. It is one of the top hybrid cases for iPhone 14 that one can grab right now. Talking of design, it features a hybrid structure made from a blend of a durable clear Polycarbonate back fused with a TPU bumper. Thanks to the transparent design, this iPhone 14 hybrid case lets you flaunt the original aesthetics of the 2022 Apple flagship. 
Most clear cases are not protection-centric, but this one from Spigen puts all others to shame. Yes, we are talking about the top-notch protection that this clear hybrid case for the iPhone offers. It can effectively mitigate the effect of drops from a decent height – say your kitchen cabinet or work desk. Besides the elevated ridges around the camera lens and Retina display of the iPhone 14 keeps off the unwanted scratches that might come off from a flat surface. Don't take our word for it. Over 35,000 user reviews with an average rating of 4.5 believe that too.
Further, you'll find pronounced buttons that offer tactile feedback, whereas the charging port cutout can fit in most of the charging cables. Overall, it is a great hybrid case for iPhone 14, but the non-yellowing term is the only caveat. Several users have complained about the clear variant of this hybrid case turning yellow in a couple of months. We also saw this in our unit but that happened after being used daily for over 8 months. Besides this, the Ultra Hybrid series from Spigen is a perfect choice for anyone looking for an iPhone 14 hybrid case at a reasonable price.
Reasons to buy:
Doesn't feel flimsy

Protective bumpers

Affordable

MagSafe compatible
Reasons to avoid: 
Turns slightly yellow over time

Needs more protection around the camera bump
12. Ringke Fusion Clear Case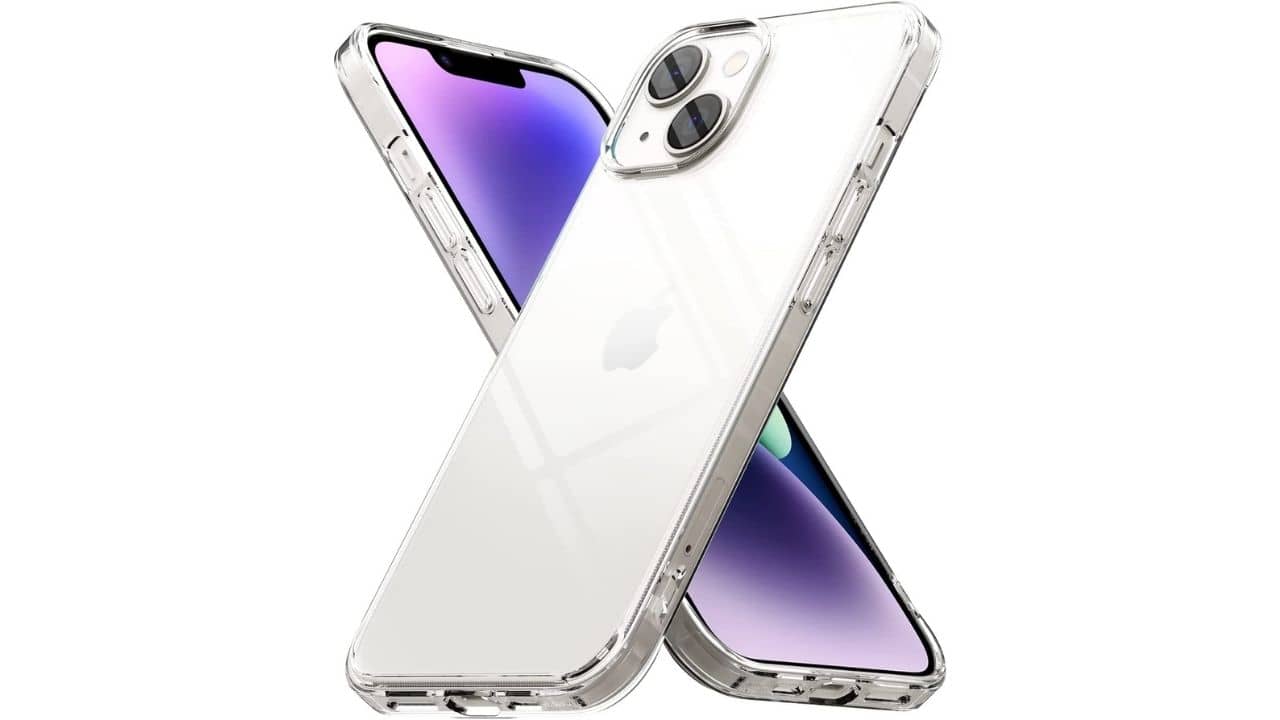 If you feel that the price of the OtterBox Symmetry series case is out of your budget, we recommend going with this one from Ringke. This budget-friendly clear case for iPhone 14 is made from a durable PC back and shock-absorbing TPU bumper. The soft side bumper offers protection against shocks while ensuring a comfortable and smooth grip when you are off to your office via a bumpy road. Look-wise, this clear iPhone 14 case is pleasing to your eyes. Whereas, the no-fuss crystal clear design is great for flaunting the design and colors of the latest iPhone, without any sense of bulk. Similar to other iPhone 14 clear cases, it also sports beveled edges around the camera module and screen to keep off the scratches. That's not all, you can attach a neck or hand straps to the available quick catch lanyard hole for a hassle-free carrying experience. If you are not aware, the hand straps are extremely helpful for the elderly or someone who has relatively smaller hands. Please note that Ringke doesn't ship a hand or neck strap with the pack, you'll need to get it separately. In addition, the buttons offer solid click response, cutouts around speaker grills, and charging ports are very much accessible. 
Of all that, we don't like the fact that this transparent iPhone 14 case turns yellow over time. Our long-term testing and review found lasted over a year and then showed minor yellow tints. Factoring in the price tag and the fact that it is way more affordable than the OtterBox clear case, we say it is worth a try. Therefore, if you are not looking for extreme protection from a clear iPhone case, this shockproof clear case for iPhone 14 is a brilliant option for you.
Reasons to buy:
Value for money

Decent grip 

Beveled edges prevent screen and camera scratches

The quick catch lanyard hole is handy for carrying your device using neck and hand straps
Reasons to avoid:
May not protect from heavy shocks and drops
Opinion & facts: Does the iPhone 14 charge faster than the iPhone 13?
13. Otterbox Symmetry Series Clear Case (Transparency With Tough Protection)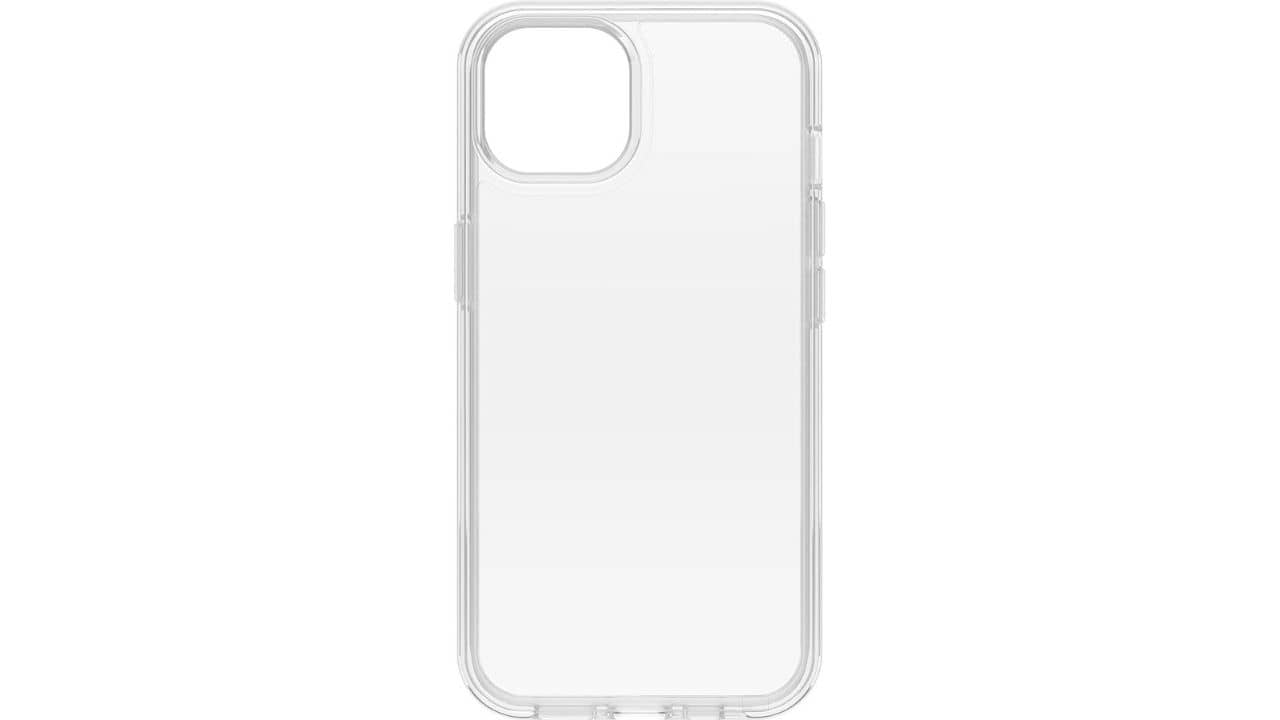 OtterBox Symmetry Clear Series is a great option for anyone looking for extreme protection with a clear case. It is made from a mixture of clear polycarbonate and synthetic rubber material that offers a smooth touch feel and awesome grip. In addition, the one-piece design fits snugly to the phone ensuring it snaps on and off the pocket when required. 
Talking of protection, this clear case for iPhone 14 comes with military-grade certification (MIL-STD-810G 516.8) which ensures extreme durability and protection against drops and shocks. You might be wondering what this refers to, right? Let's say you drop your phone on a concrete floor from your pocket while taking out money to buy a packet of Cheetos, your iPhone should be fine, don't worry! It can even withstand sideways drops preventing your iPhone display from getting shattered. The edges wrap around safely without impacting the glorious edge-to-edge Retina display on the iPhone 14. Like any good clear iPhone 14 case, this one also features a slightly raised edge that prevents the display or camera from touching a surface, say a desk when you place your device face down or vice versa. 
Plus, the raised button cover provides a great click response, and at the same time enables you to orient your iPhone the right way when picked up, especially at night. Besides, the lightning port cutout is large enough to support
slightly oversized charger plugs. 
Having said that, it is relatively more expensive than the Spigen Ultra Hybrid as well as the Ringke Fusion which competes in the same segment. Also, this iPhone 14 clear case can be tricky to fit for those who prefer keeping paper notes or metro cards at the back of the phone. But for the most part, it is a great clear case that offers good protection to your device while letting you show off the brilliant color of the iPhone.
Reasons to buy:
Incredible protection

Tons of cool colors and graphics to choose from

Grippy edges
Reasons to avoid:
A bit thicker than expected

Difficult to install and remove
If you want a military-grade clear case for iPhone 14 at a relatively affordable price, the ESR Air Armor should be perfect for you. It features Air Guard corners for shockproof protection, whereas drop-certification ensures that this clear iPhone case can withstand accidental drops from a considerable height.
Also read: Best Chargers for iPhone 14 Pro and 14 Pro Max
14. iBlason Ares Clear Protective Case for iPhone 14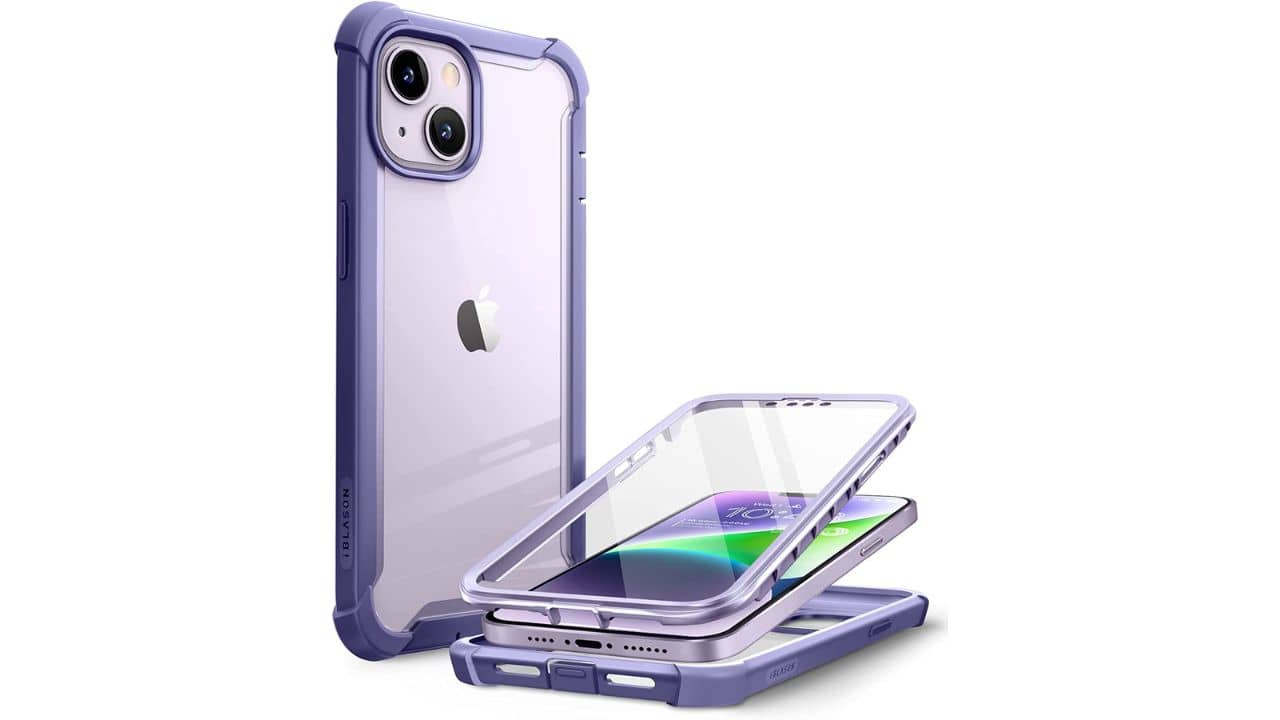 Next on our list of top iPhone 14 cases, we have this clear protective case from iBlason. Despite being offered in transparent design, it is among some of the most reliable protective cases for iPhone 14 you can buy right now. It features a clear, scratch-resistant design topped with shock-resistant TPU bumpers for all-around protection of your device. We have used it before and loved the case for the extreme durability and strength it offers to the device against drops, shocks, and bumps. So, if you are looking for a case that can safeguard your iPhone 14 from your naughty kids who throw your belongings here and there, this case is extremely useful.
This iPhone 14 protective case includes an in-built screen protector to safeguard the gorgeous Retina XDR display from shattering and annoying scratches. The fact that it can survive drops from a height of up to 20 feet, it is a must-have protective case for anyone who works in unsafe environments like mills, factories, or construction sites. Moreover, if you have butterfingers and tend to drop phones more often, trust me, this clear protective case is your lifesaver. Did we mention that this clear protective case for iPhone 14 also allows you can also flaunt the gorgeous iPhone colors?
Overall, it is among some of the top clear cases that offer heavy-duty protection to the iPhone 14 without having to invest much.
Reasons to buy:
The built-in screen protector is always a bonus

360-degree protection for iPhone 14

20 feet drop resistant 

One-year post-purchase warranty
Reasons to avoid:
The MagSafe variant is not available for the iPhone 14

Clear cases can be boring for many users 
If you are eyeing a budget-friendly option, you can consider getting the TORRAS Diamond Clear Heavy-duty case to protect your iPhone 14. It comes with similar features as the iBlason Ares clear case but lacks a screen protector. However, you'll get a variety of colorful options to choose from.
That's all for now in this roundup of the best iPhone 14 cases. Please let us know which one is suited best to your requirement in the comments below. Also, if you are planning to get the pro model, we recommend checking the best cases for iPhone 14 Pro Max.
Banner Image Source: Apple