After over a year of tease and leaks, the most anticipated smartphones of the year have launched at Apple's Far Out event. Apple launched iPhone 14, iPhone 14 Plus, iPhone 14 Pro, and iPhone 14 Pro Max. This year Apple has a different lineup as compared to the previous years. Unlike iPhone 13 this year's iPhone 14 lineup has a different model named iPhone 14 Plus. iPhone 14 Plus has replaced iPhone Mini in this year's lineup and this is a completely new model and a bigger version of the iPhone 14. This smartphone offers a bigger screen for less money as compared to iPhone 14 Pro Max. The iPhone 14 Plus features a 6.7-inch display with a dual rear camera setup of 12MP primary and 12MP ultrawide cameras. The front camera is also 12MP but the inclusion of
new autofocus camera and 'Photonic Engine' in the 14 series will give better shots in all lighting conditions with accurate colors. The iPhone 14 and 14 Plus are powered by the A15 Bionic chip which was also used in the iPhone 13 series but this year Apple has upgraded the A15 chip with a 5-core GPU from a 4-core GPU. Some extra emergency features are added to iPhone 14 like Crash detection which is also available on Apple Watches and Emergency SOS via satellite.
No doubt the iPhone 14 Plus is sturdy but it is advisable to use a case because Apple uses glass back in its phones which makes it easier to slip out. Plus, we all know about the annoying fingerprints on the glass back. If you want your phone to age in a good condition and to avoid expensive repairs you should buy a case that does it without burning a hole in your pocket. There are different types of iPhone 14 Plus cases available in the market like slim cases, protective cases, and rugged or waterproof cases, you should pick one according to your requirements and lifestyle. Some of these cases will provide you the maximum drop protection on a road while other cases will safeguard your iPhone 14 Plus, from bumps by your furry friends or accidental drops while running to a meeting on the stairway. Here we have listed the best cases for iPhone 14 Plus to make your life easier based on research and our testing.
If you're shopping for an iPhone case after a while, we recommend getting a quick heads up of what to look for in your next iPhone 14 Plus' case. You also skip the guide and jump to our recommendations of the top cases for your iPhone 14 Plus in 2023. 
How to Shop for an iPhone 14 Plus Case?
How much protection do you need?
Before buying a case for iPhone 14 Plus keep in mind your work environment and how much protection you need.  If you just need a case for protecting your iPhone 14 Plus just from accidental drops in the office or around the house then a hybrid or even a slim case would work. On the other hand, if you are doing a field job or working on a construction site there is more risk of damaging the phone badly. Going with a rugged protective case makes more sense.
MagSafe case or Regular case?
MagSafe cases are the ones that have a circular ring magnet in them and you can easily fast charge your phone wirelessly with a case on. MagSafe cases are usually more expensive than regular cases. They are also
compatible with MagSafe chargers & accessories. They snap easily with respective accessories. Regular cases are the cases we have been using for years. 
Thickness, Drop Protection, and Material
You should always look for a suitable material that would be comfortable for your hands to grip. If you want a better grip buy a case with a grippy in-hand feel with ridges so it does not slip away easily. Thick and rugged cases provide amazing drop protection however they feel bulky in hand and pocket. All these factors define the thickness and the materials used for iPhone 14 Plus cases. Most cases are made of Polycarbonate, TPU, or a combination of multiple materials.
Your Personality and Aesthetics
Cases add personalization to your smartphone, so while choosing a case keep in mind your overall outlook and the aesthetic of the case. You can choose from clear cases to leather cases depending on how you like your iPhone 14 Plus in those mirror selfies.
Extra features: Wireless Charging, Kickstand, etc.
Cases are not just restricted to protecting your phone; many cases come with a bunch of cool features like wireless charging support with a protective layer, card pockets, lens protectors, screen protectors, built-in kickstands for watching videos and video calls, and more. 
Top Cases for iPhone 14 Plus
1. Spigen Ultra Hybrid Clear Case – Best Overall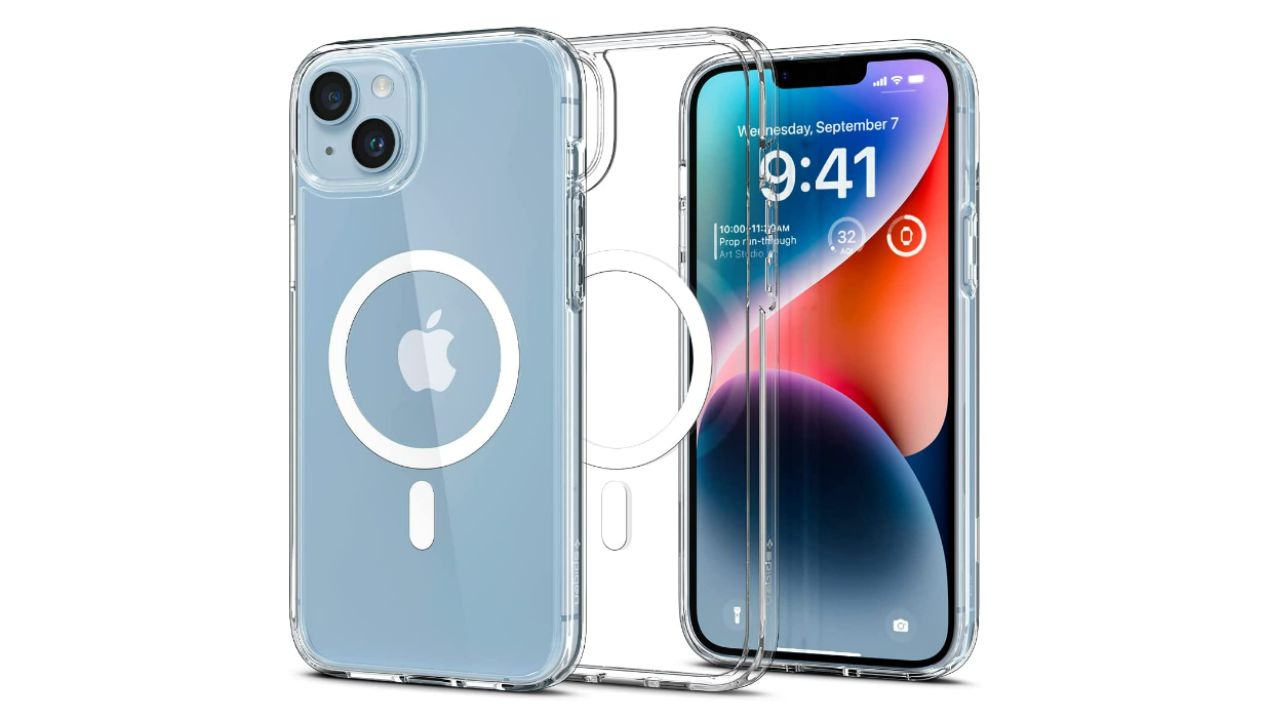 We can't have a list of the best cases without talking about Spigen. It is one of the most trusted brands globally when it comes to smartphone cases. In fact, Spigen cases have been our daily driver case since the iPhone 6 days. If you're someone who likes to showcase the alluring colors of your iPhone 14 Plus then go for this case. The case is constructed with the double protection of TPU and PC that provides durability. This is one of the best clear cases for the iPhone 14 Plus when it comes to providing durability at an affordable price. The raised bezels will protect your display and camera from coming in contact with the surface.
Reasons to Buy:
A hybrid case at an affordable price

Surprisingly thin given the protection level

Raised bezels for protection of displays and cameras
Where it falls short:
Also read: Best Wireless and MagSafe Chargers for iPhone 14 Series
2. Apple's MagSafe Clear Case – Premium Build at a Premium Price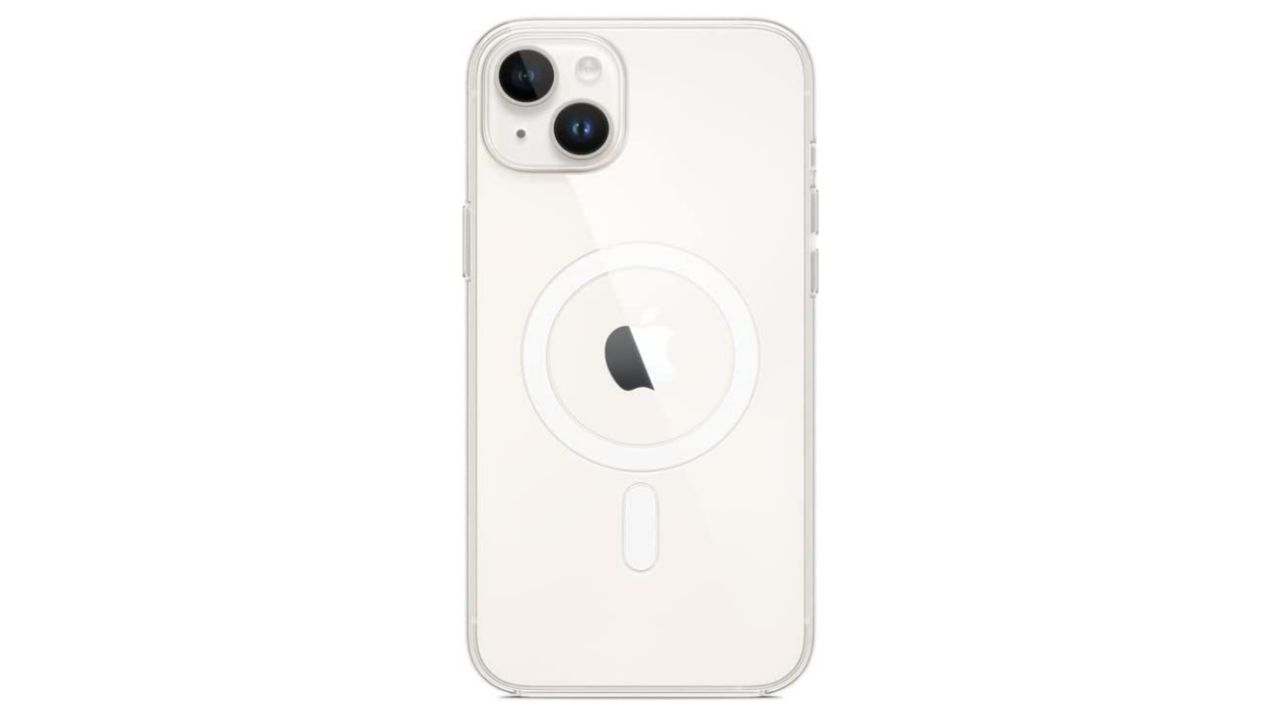 Like always, Apple also launched its own cases for the iPhone 14 series lineup. This case comes with MagSafe charging support as well as a premium build and smooth in-hand finish. This is a very simplistic yet elegant design that you can easily use in the long run. However, if you're someone who likes printed aesthetic cases more this is not for you. The looks that it offers do not justify the price of this product but you're most likely to buy this case if you shop from an offline Apple Store because of how good it looks in-person. Apple uses different materials for these cases so they don't start yellowing for a long time. This makes it one of the top clear cases for iPhone 14 Plus with MagSafe support. Apple also offers a variety of cases to choose from. You can easily choose from different materials like Apple Clear Case, Apple Silicone Case, and Apple Leather case. All of these cases come with MagSafe compatibility which will make it easier to charge your phone with a case on wirelessly.
Reasons to Buy:
MagSafe compatibility

Doesn't hide the color of your smartphone

Amazing fit with precise cutouts

Does not get yellow for a long time
Where it falls short:
Overpriced as compared to other alternatives
Also read: Best Apps to Download for New iPhone 
3. Ringke Fusion Clear Case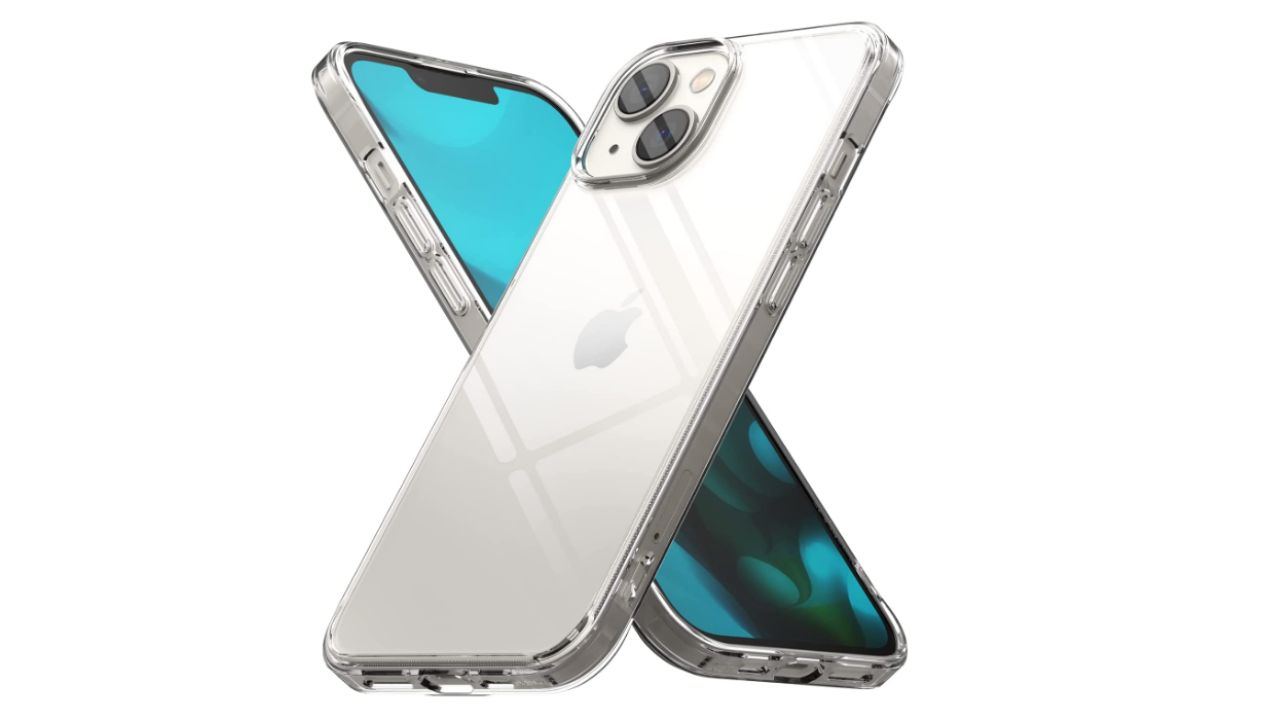 The major issue with a clear case is that you can see fingerprints and oily smudges while using it, Ringke has solved the problem with this case. The Fusion Clear case by Ringke features anti-fingerprint technology which offers a matte finish of the case. You will not see those smudged fingerprints with this case and save you rubbing your phone on your t-shirt and jeans again and again. We've all been there. Unlike Apple's fingerprint MagSafe clear case, this iPhone 14 Plus case avoids fingerprints quite effectively This is why it is one of the best clear cases for the iPhone 14 Plus. In the protection department, this case offers a shock-absorbent TPU bumper frame for durable protection. The matte finish not only saves you from smudge marks but provides a better grip as compared to thin glossy cases. 
Reasons to Buy:
Anti-fingerprint technology 

Value for money

Gives durable protection for a clear case
Where it falls short:
It will start to turn yellow after few months depending on usage
Also read: Best Chargers for iPhone 14 and iPhone 14 Plus
4. SUPCASE Unicorn Beetle Pro
–
Heavy Duty Protection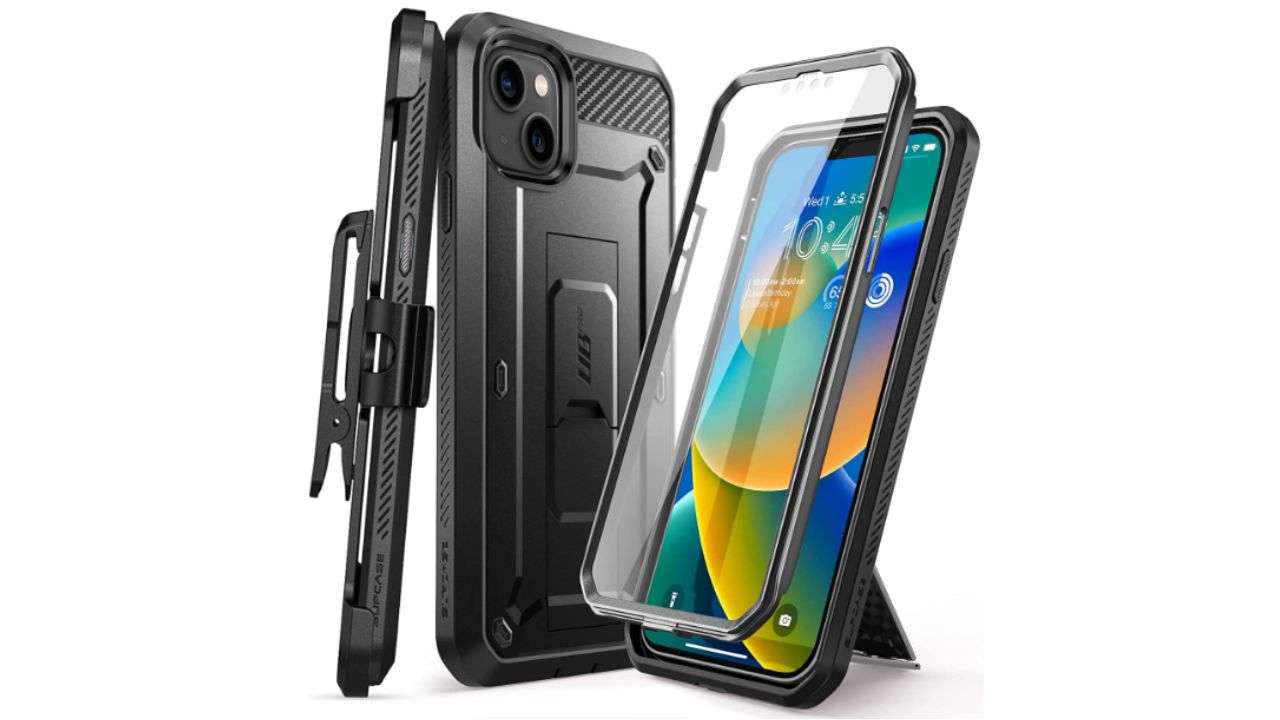 SUPCASE is known for making some of the most protective cases for smartphones as well as other gadgets. It is a perfectly suited case for people who need maximum protection for their devices. If you have a field job or work around a construction site then this case will be a lifesaver for your iPhone. It has a multilayer build that can handle almost anything you throw at it including up to 20 feet of drop protection because it exceeds military shock standard MIL-STD-810G. This heavy-duty iPhone 14 Plus case comes with a screen protector to provide 360 degrees of protection. It is one of the best-rugged cases for iPhone 14 Plus under $25. Not only that you will also get a detachable belt clip or holster with a built-in kickstand which allows you to easily place your phone on the desk during on-the-go meetings. The only problem with this type of case is that it feels bulky in hand. If your lifestyle is not so tech-device friendly like working around heavy equipment or in a warehouse then this case's heavyweight is a worthy trade-off in our opinion. Also, after a week of use, the bulkiness of the case fades away.
Reasons to Buy:
Offers robust 20-feet drop protection with Military Grade standard certification

It comes with a screen protector and detachable holster kickstand
Where it falls short:
Could feel bulky in the hand 
Also read: Best Chargers for iPhone 14 Pro and 14 Pro Max
5. Spigen Liquid Air Armor – Good Grip & Lightweight Case with Respectable Protection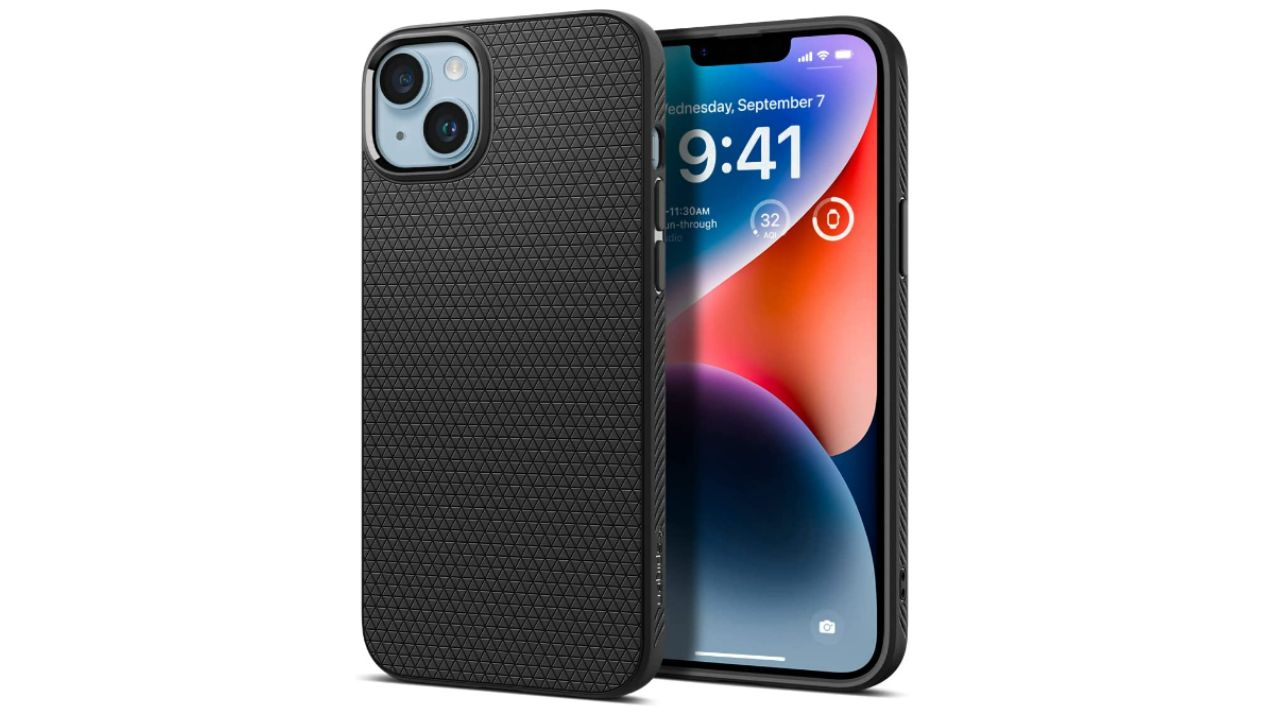 This is another pick from Spigen that gives an excellent overall experience for iPhone 14 Plus users. This case is packed with military-grade protection with Air Cushion Technology for anti-shock protection that will save your iPhone 14 Plus from any bumps and accidents. Given the durability it offers, this is a very slim and lightweight case for iPhone 14 Plus. The textured back provides a really good grip and the matte finish makes the case anti-slippery and prevents dirty fingerprints. This is one of the best cases for those people who like slim cases but want to protect their iPhone 14 Plus against heavy bumps, drops, and shocks. The slightly raised edges protect the camera bump as well as provide tactile buttons. You can enjoy your night outs shooting videos, and taking pictures without worrying about dropping your phone.
Reasons to Buy:
Snug fit with durable protection

Raised lips prevent scratches on display and camera bump

Textured back for a better grip with finger-resistant surface
Where it falls short:
No extra padding in the corners
Also read: Best Cases for iPhone 14 Pro Max
6. Otterbox Symmetry Case for Rugged protection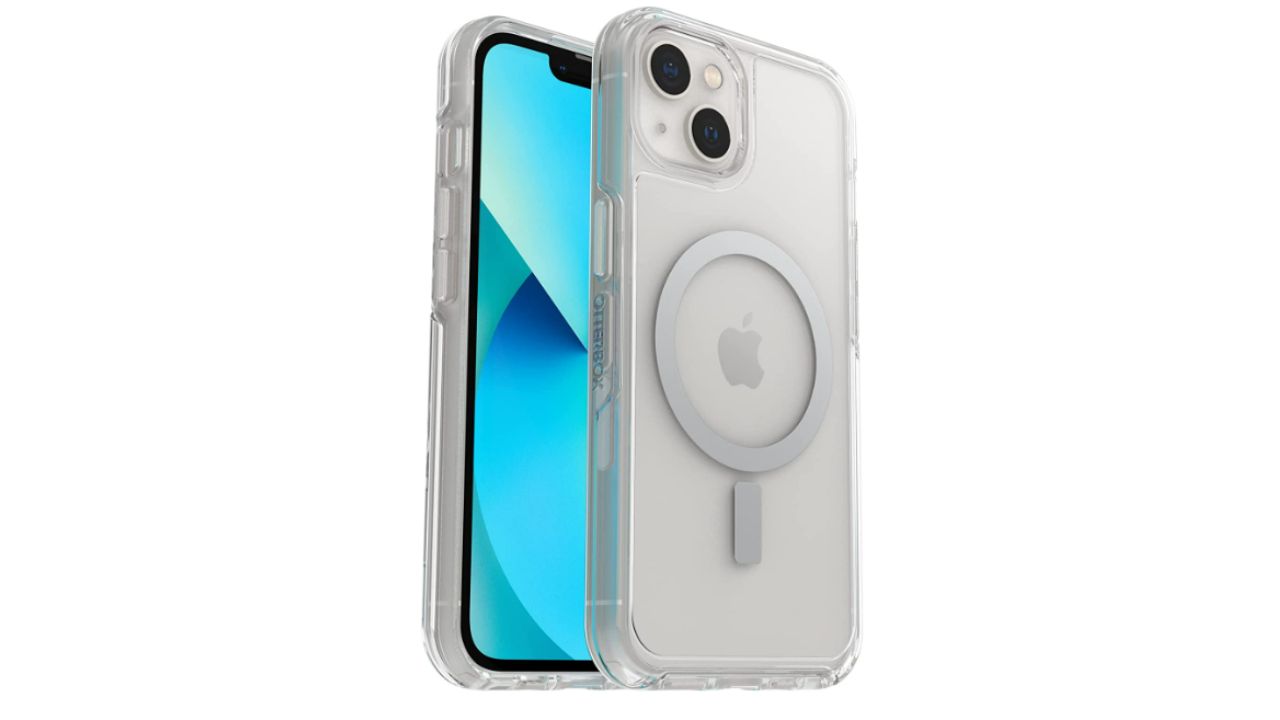 We can't talk about protective iPhone 14 Plus cases and not mention Otterbox. Not all iPhone cases can survive hundreds of drops, afterall. If it's your first time hearing about them then Otterbox is another very trustworthy name when it comes to cases for iPhones. The Otterbox Symmetry series is known for offering rugged protection without looking like an ugly rugged case.  It is one of those expensive protective iPhone 14 Plus cases you would want to invest in if you work outdoors or you're a parent of a very active toddler who likes throwing things. This case comes with antimicrobial technology and is made with  50% recycled plastic. You can also get a clear case as well as a solid colored or printed case in the Symmetry series. This is one of the best protective cases for the iPhone 14 Plus that comes with MagSafe support. Since it is a slim case you can easily slide it into your pockets and do not feel heavy compared to other rugged cases.  
Reasons to Buy:
Bumper guards available for shock protection

Military standard protection with raised edges

Comes with Antimicrobial technology and 50% recycled plastic

Many colors and patterns
Where it falls short:
Not suitable for car chargers
You can also get a clear case version of the Symmetry series case for the iPhone 14 Plus.
Also read: Apple Ditched these Phones After the Launch of iPhone 14
7. Spigen Tough Armor with Magsafe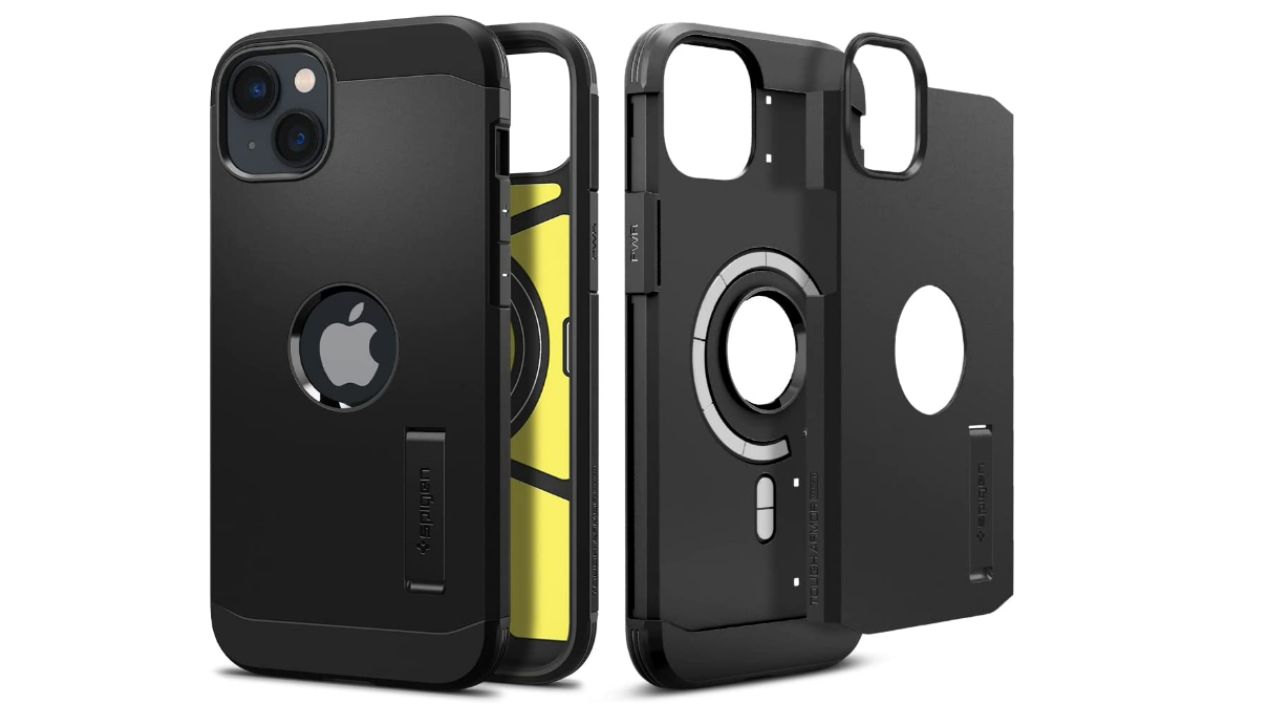 Spigen's Tough Armor is an affordable and rugged solution that gives excellent protection without burning a hole in your pocket. This case comes with a foldable built-in kickstand that you can use vertically or horizontally while FaceTiming your friends and attending Zoom meetings. For rugged protection, this case comes with a dual layer of TPU and polycarbonate. The thick and raised bezels make it easier to protect your camera from surface scratches. The built-in foam ensures your glass iPhone survives those nasty drops on the hard floor. This is undoubtedly the most trusted rugged case for iPhone 14 Plus that offers premium protection at an affordable price without adding bulk to your phone. 
Reasons to Buy:
Rugged yet affordable

MagSafe compatible

Double layer protection
Where it falls short:
It is not the most good-looking case
Also read: Best cases for 14-inch MacBook Pro
8. ESR Lightweight Clear Case – Slim Clear Case with Kickstand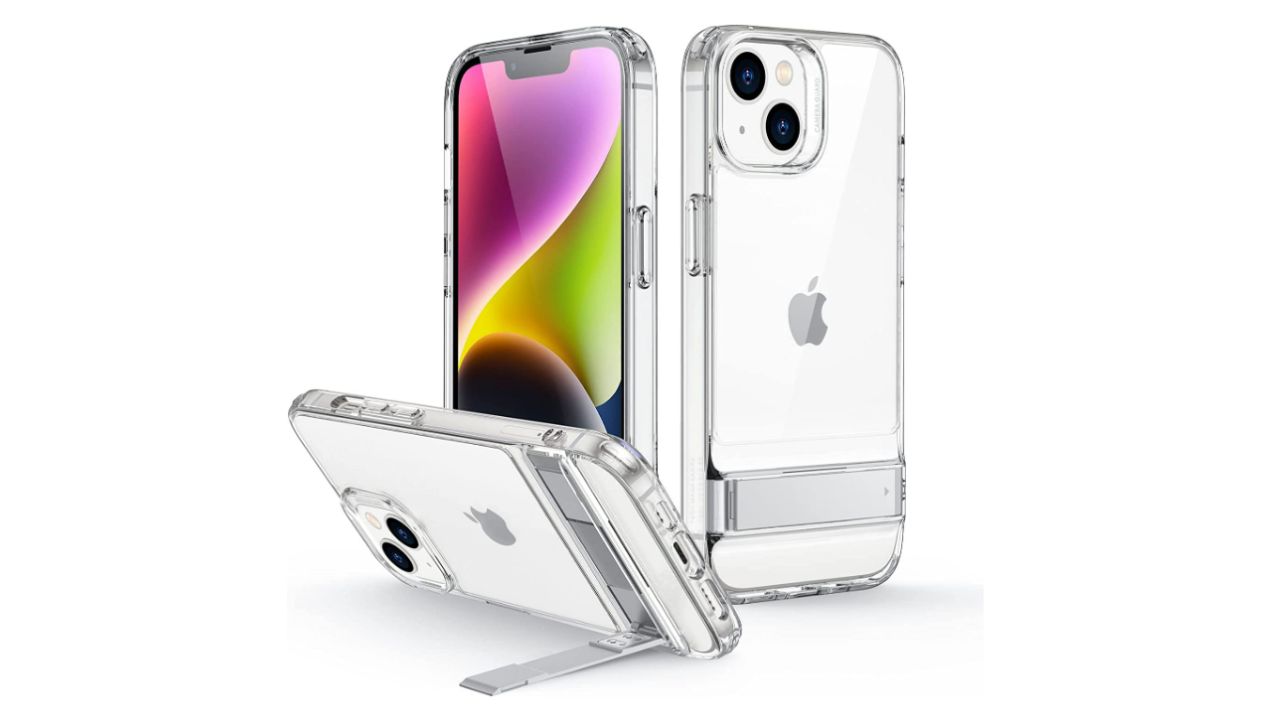 The ESR Kickstand clear case is ideal for your iPhone 14 Plus if you're someone who mostly uses video calls to connect with family and friends. This company has certified drop protection to secure your phone from accidental falls and scratches. Facetime calls and binge-watching can be made much easier with this case because of its three stand modes, including landscape and portrait. The high-quality polycarbonate resists the yellowing of the clear case and keeps your phone crystal clear. It also has 1.3mm raised edges on the front to avoid damage to the expensive display as well as on the camera bump. 
Reasons to Buy:
Clear case with excellent protection

3 different kickstand modes

Raised edges for display and camera protection
Where it falls short:
Possible problems with wireless charging due to the kickstand

Turns yellow after a year depending on usage
Also read: 5 ways to Delete Duplicate Photos from your iPhone easily
9. Temdan Waterproof Case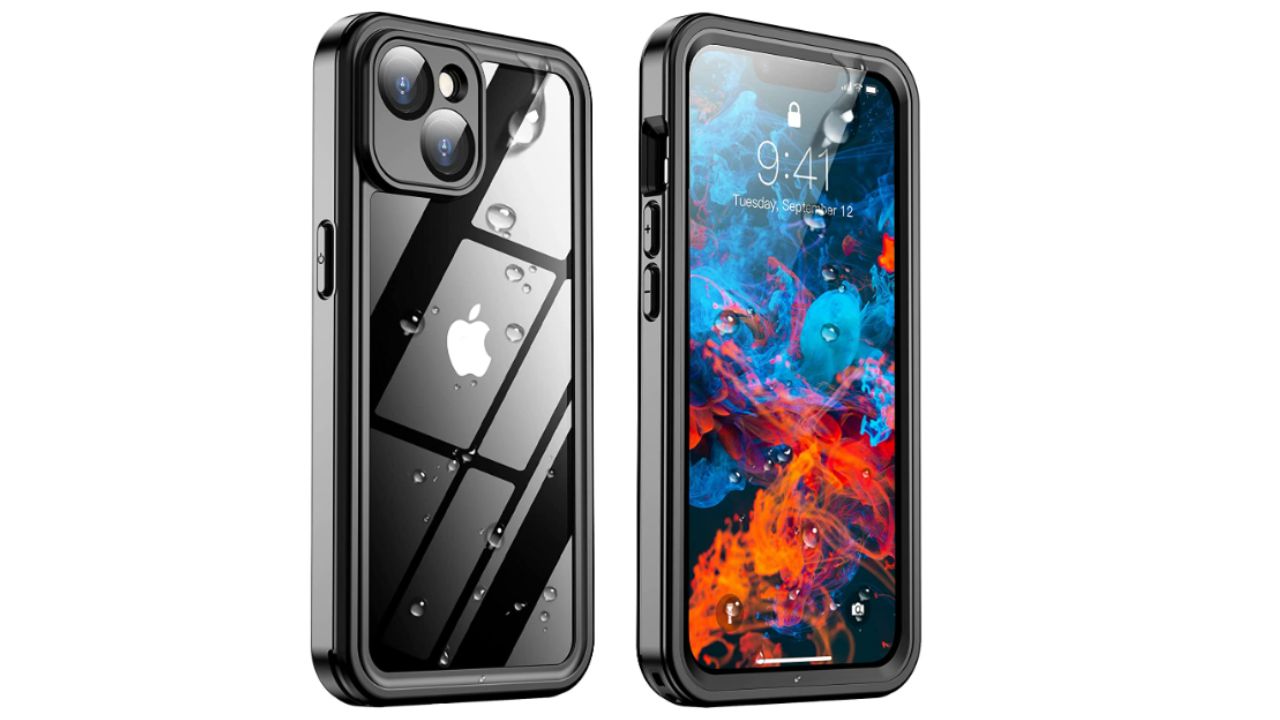 If you are someone who likes to swim a lot or dive and record videos then this is the perfect case for your iPhone 14 Plus. This is a water-resistant case that comes with a built-in camera and display protector. This is a rugged case that comes with shock, scratch, dust, and water resistance to provide maximum protection. This iPhone 14 Plus waterproof case provides drop protection up to 12ft. The case has a clear back but thick rubberized bezels to provide excellent protection as well as flex the Apple logo. There are 11 beautiful colors to choose from that you can match up with the color of your iPhone or make it contrast. If you're someone who likes to take pictures and videos underwater this is the best value for money case for iPhone 14 Plus. 
Reasons to Buy:
Waterproof with IP68 certification 

Premium shock-proof build

It comes with a built-in screen and lens protector

Variety of colors to choose from
Where it falls short:
Bulky in-hand feel

Interferes with your phone's mic and audio quality while recording videos 
Also read: How to Hide Photos on iPhone [Best Practices & Apps]
10. Case-Mate Pelican Protector Case- Rugged Protection Slim Profile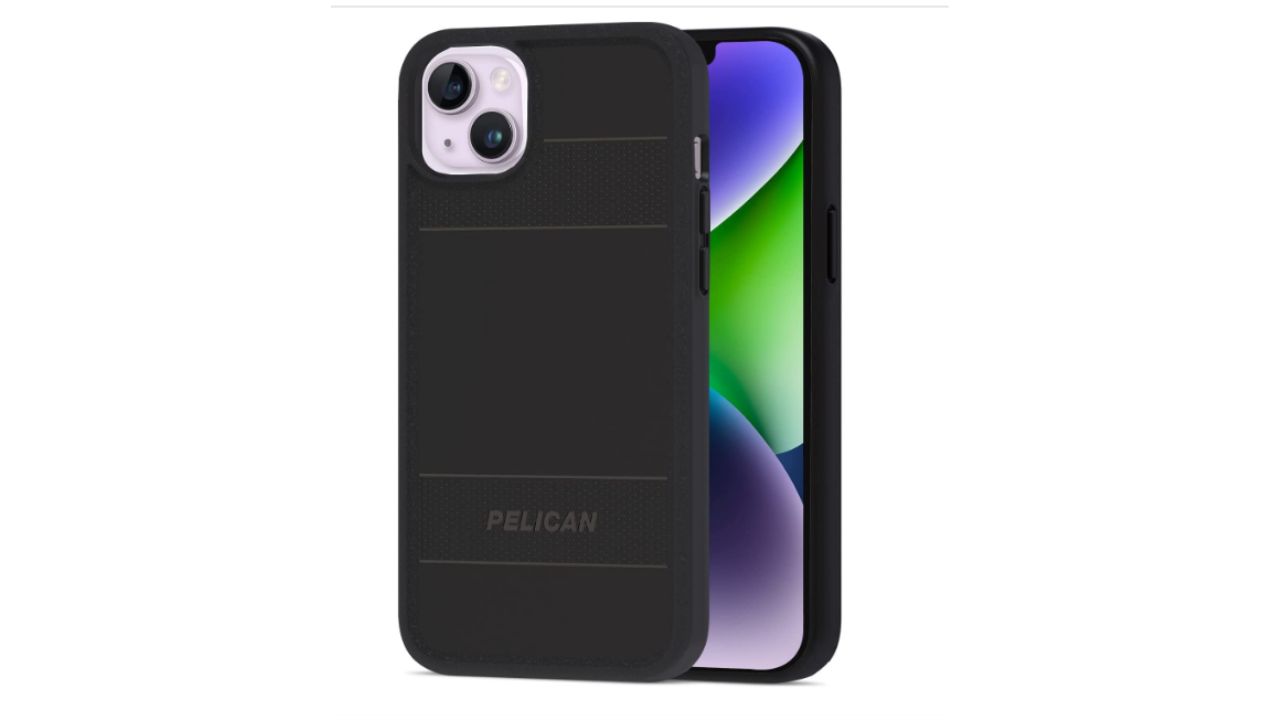 If you don't want to add bulk to your big screen of iPhone 14 Plus and still want rugged protection this is the case for you. The Pelican Protector Series for iPhone 14 Plus features a slim profile with non-slip rubber back for better grip. The impact-absorbing cushioned corners will save your iPhone 14 Plus from accidental drops while catching metro at a subway. The hybrid material of a rigid outer shell and softer inner layer protects your phone without damaging the screen. The case is certified with MIL-STD 108 that will give you drop protection up to 15-ft. The lightweight design ensures easy MagSafe compatibility so you easily use your MagSafe chargers and accessories. 
Reasons to Buy:
Lightweight design with  maximum durability 

Made with recycled materials

Up to 15-ft drop protection

MagSafe charger and accessories compatible

Lifetime warranty 
Where it falls short:
Very expensive 

Stiff buttons
Also read: Best Accessories for iPhone 14 Series in 2023
11. Torras Translucent MagSafe Case for iPhone 14 Plus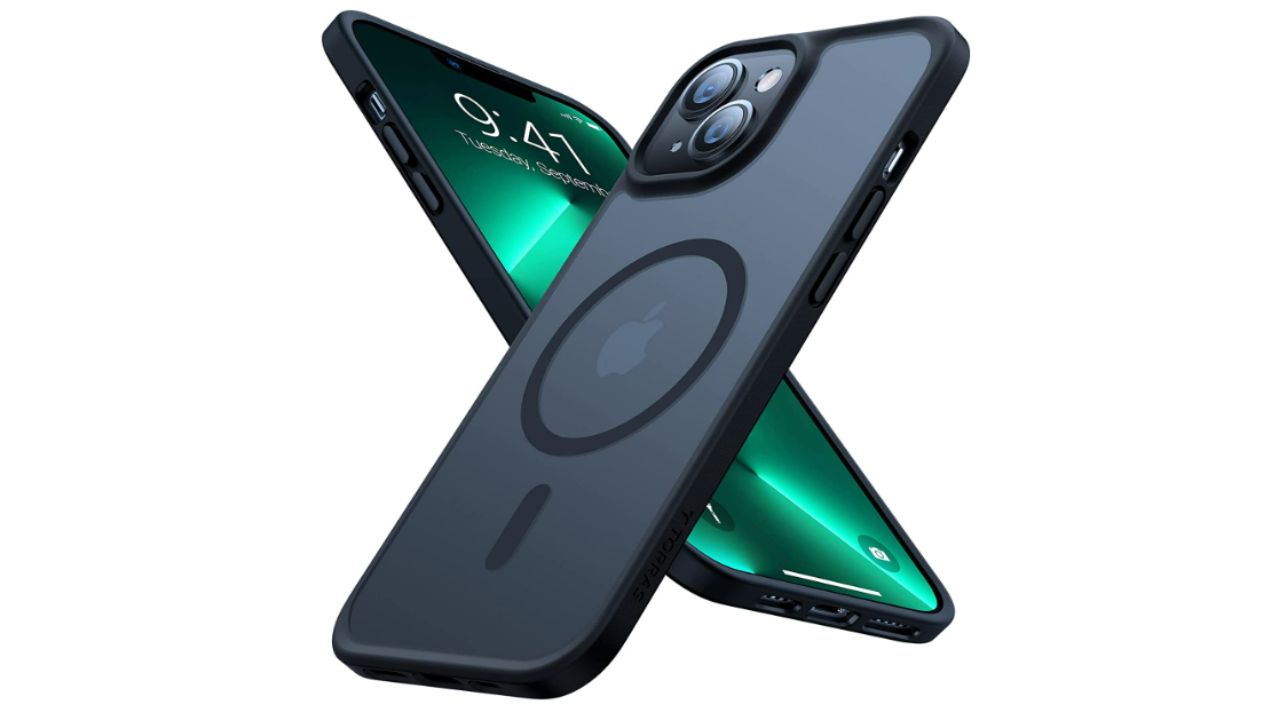 This sleek TORRAS case for iPhone 14 Plus is elegantly frosted for a translucent smoked look with black edges. Also, the new Nano Oleophobic anti-yellowing coating provides a velvety smooth and silky touch sensation without being sticky. Besides, the TPU side soft bumper with a 4-ply cushioning and Sliproof technology offers a superb grip for secure holding and makes it 360° shockproof. It has patented airbags that are tested to survive drops of up to 10 feet. Also, the 1.2mm screen lips, 0.8mm camera bezels, and Camera Airbags guard against dust, scratches, and damage. The improved magnetic array with 4x stronger magnets aligns properly and securely with MagSafe chargers and accessories for safe and quick wireless charging.
Reasons to Buy:
Grippy and smooth finish 

Patented camera lens AirBags

MagSafe compatible

Detacahble colorful buttons 
Where it falls short:
Buttons might fall off if you change it frequently 
Also read: How to Add Emergency Contact on iPhone and Access It from Lock Screen (Step-by-Step guide)
Our Best Pick
Spigen Liquid Air is our overall best pick because of the protection it provides, the excellent in-hand feel, and the lightweight build that too at a very minimal cost. The only caveat is that it comes in black color only. Other than that, it is our pick for the best case for iPhone 14 Plus. 
Whether you want a thin and lightweight case for iPhone 14 Plus to protect it from bumps & scratches or a rugged case to protect it against heavy drops, this roundup of tried and tested cases will help you. If you have a MagSafe wireless charger or you wish to buy one we recommend you go for a MagSafe case otherwise you can buy a regular case. Whichever the case may be (pun intended) you can easily find a nice case for your iPhone 14 Plus from the list above.
As more exciting cases for iPhone 14 Plus will come out of this list we will add them here so stay tuned!
Don't Miss: Best Accessories for M2 MacBook Air and MacBook Pro