Apple recently released M2 Pro and M2 Max powered MacBook Pros in 2023 along with the M2 Mac mini in a recent press release. Back in 2021, Apple released the most powerful MacBook Pros that broke through the benchmarks that customers expected from the Cupertino giant. The 14-inch and 16-inch MacBook Pros are powered by the powerful M1 Pro and M1 Max chipsets, a gorgeous mini LED Liquid Retina XDR display, and a large battery that will last for hours. Even though it has an aluminum chassis, MacBook Pro is a hefty investment and you want to protect it from scratches and dents.
It's always a great idea to buy a bag, snap-on case, or sleeve to protect your 14-inch MacBook Pro to keep it as shiny as new. To be fair, there's no shortage of Mac cases in the market but finding the perfect case that checks all the boxes is not an easy task. 
To make things easier, we have rounded up the best 14-inch MacBook Pro cases that will suit everyone's different needs. We have
tested, researched, and gone through thousands of user reviews to round up different types of MacBook Pro cases to protect them from scratches and daily bumps. We have listed a variety of designs- from rugged & protective snap-on cases that will protect your $2000 MacBook, against drops to hardshell cases to protect against surface-level damage without making another hole in your pocket. If you're someone who wants a protective MacBook Pro case with a premium design, we've listed hardshell and rugged cases that can protect it from shock damage, water, or heat exposure. If you're only looking for protection during long commutes from bag contents, we recommend a sleeve or a padded backpack with a laptop compartment as the way to go. However, if you're worried about drops and spills around the house, on the go, or office, go for a hardshell case. All the mentioned cases are suitable for both M1-powered or M2-powered 14-inch MacBook Pros. 
To save you from decision fatigue and buying the wrong case, make sure to check out the top-rated protective cases for the 14-inch MacBook Pro. Whatever type of protection your Mac requires, there will be something that will suit your needs.
You can jump directly to recommendations here.
How to shop for a 14-inch MacBook Pro Case
MacBook Pro is a premium product but it is not perfectly durable. while it can last for years with the proper care and usage, it can also turn into a thick scratched aluminum sheet because of ignorance and physical damage. One thing that any MacBook Pro case should serve is to give protection against dents and scratches. Apart from protection, there are other things that you should consider to enhance your overall user experience. Here are the things you should keep in mind before purchasing a case for your 14-inch MacBook Pro.
Your Environment
It is a common myth amongst everyone that cases increase the temperature of your MacBook. So while shopping for a case please look for proper vents and cutouts so that your MacBook's temperature is maintained. If you are someone who travels a lot or live in a place with hot temperatures, a case with vents will help regulate the internal temperature of your MacBook and
Professional Requirements
The 14" MacBook Pro has an aluminum body and extra portable design which makes it the perfect gadget to use on the go. If you are constantly pulling your MacBook Pro in and out of your bag for your presentations, pitch decks, or to show off your latest render, it makes it more prone to potential scrapes and scratches. So keep in mind your professional requirements how are you going to use your Mac and where you are going to use it? Are you using it in an environment that is not so tech friendly like a warehouse or construction site?
Creative Expression
The M1 MacBook Pro comes in 2 colors however the new M2-powered MacBook Pro comes in 4 colors. If you're someone who prefers colorful and creative designs over solid colors. There are plenty of printed and colorful hardshell cases for the 14-inch MacBook Pro. The printed and colorful cases allow you to showcase your personality and personalize your MacBook. 
Build Quality & Material of Case
The right material is a very crucial factor before buying a case for a 14-inch MacBook Pro. The material used in any case is the type of protection you will get from that MacBook case. You should get a hardshell plastic case as they offer decent protection from scratches and minor dents. On the flip side, polycarbonate cases with protective corner bumpers offer military-grade protection against serious drops. 
Other Factors
Some other factors you should keep in the back of your mind are the product warranty, after-sales service, and your budget.
1. ProCase MacBook Pro 14" Case with Foldable Kickstand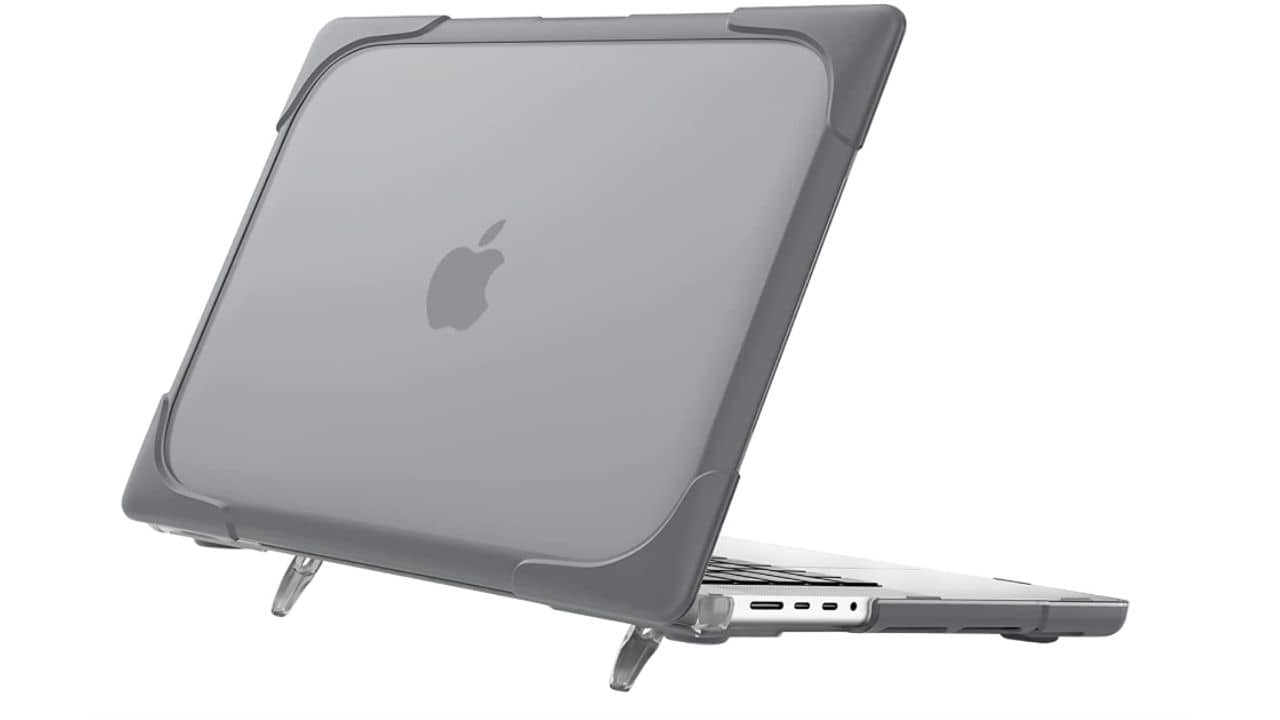 This hardshell case offers reliable protection against your daily bumps and table drops along with a comfortable stand. All these make it one of the most affordable and sturdy 14-inch MacBook cases. While the bumper isn't going to match up to a rugged case this case will provide enough protection to handle daily bumps and knocks. The foldable legs at the bottom will elevate your MacBook Pro which provides comfortable viewing and ergonomic typing angle. This design assures more ventilation with the space between your MacBook and the surface to easily dissipate any heat buildup. Please note, that some users have reported that the thickness of the case prevents the lid from closing properly which might be an issue if keep your laptop in a dusty area. The case is available in 5 colors black, gray, khaki, blue, and pink.
Reasons to buy:
Built-in ergonomic stand

Wraparound protective bumper

Good ventilation
Where it falls short:
Limited shock protection

Thickness might prevent the lid from closing completely
Also read: Top Rated Cases for the 13-inch MacBook Pro
2. B Belk MacBook Pro 14" Transparent Hardshell case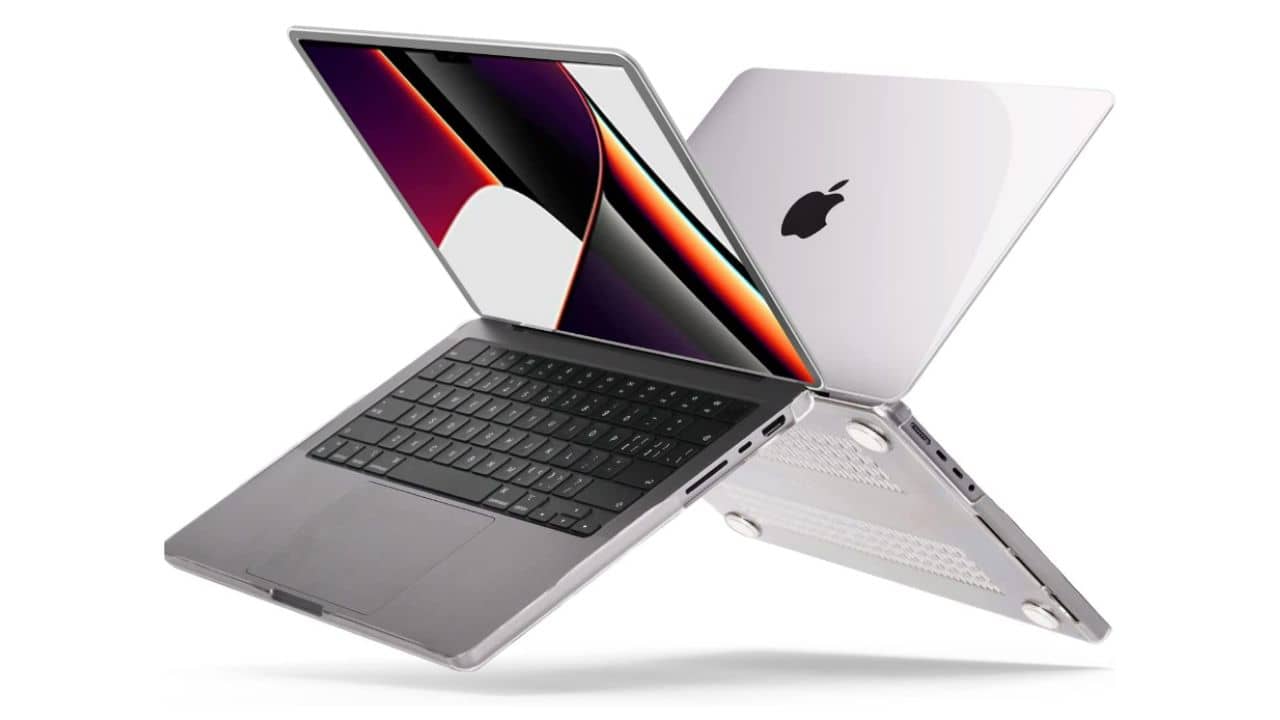 The B Belk transparent case is another budget-friendly clear case that offers decent protection to the 2021 14-inch MacBook Pro. This is the case for you if you're a college student or a content creator who wants to flaunt the looks of your MacBook Pro with a Dbrand skin and protect it from dents at the same time. The clear hard shell plastic material can easily withstand minor scratches and drops. This clear MacBook Pro case comes with a free screen protector that will prevent any scratches on the super bright XDR display. Just like the rest of the cases, it has an easy snap-on design for both top and bottom panels. You'll also get a TPU keyboard cover that prevents dust and debris from entering the keyboard. The case comes in 6 colors to choose from but not all the cases are clear.
Reasons to buy: 
The slim clear case protects against dents

Comes with a TPU keyboard cover

Very affordable
Where it falls short:
Does not protect against drops

The corners crack after frequent bumps 
If you want a clear case with maximum protection there is another alternative from STM Studio. This case has better build quality because it uses premium polycarbonate material instead of TPU plastic. This ensures better durability and protection from bumps and scratches. This protective case for MacBook 14-inch is trusted by Apple so you don't have to worry about the durability which makes it worth the investment. 
Also read: Best Docking Stations for 14" and 16" MacBook Pro (M1 Pro/ M1 Max)
3. Fintie Protective Case for 14-inch MacBook Pro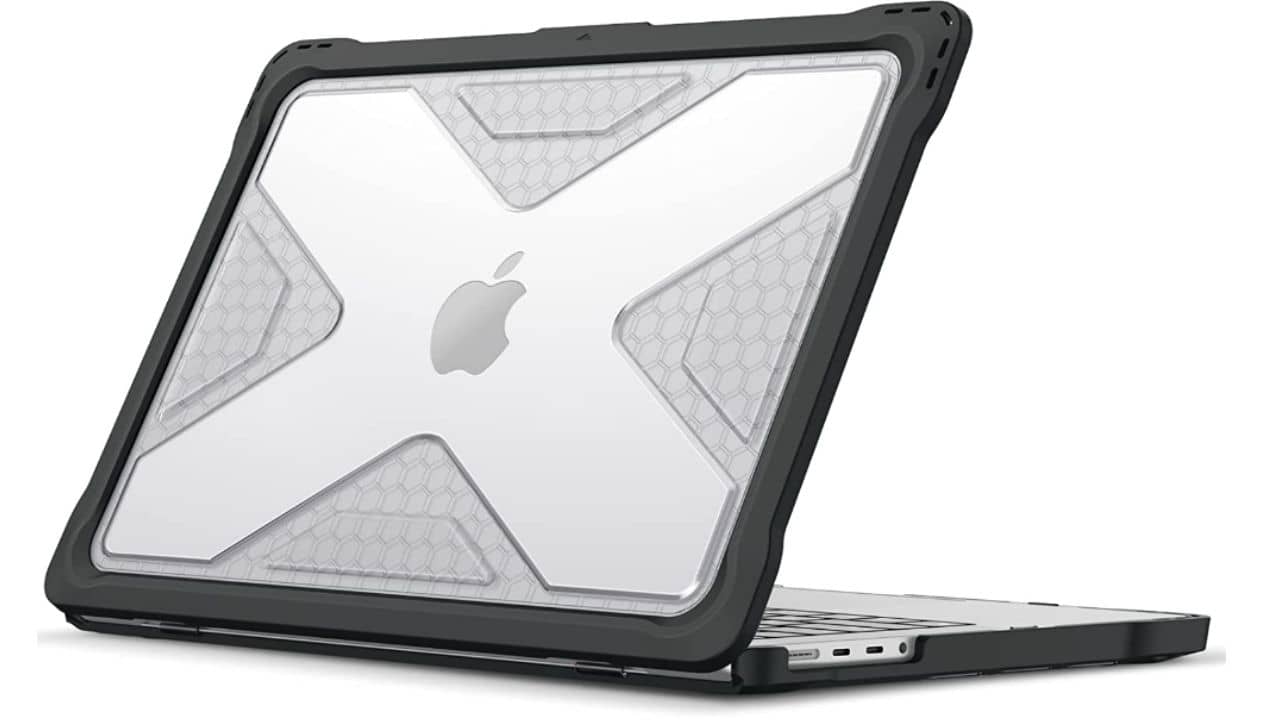 This is a protective rugged case for the 14-inch MacBook Pro that gives serious protection. Fintie Protective case offers exactly what MacBook owners worry about when dropping their laptops and damaging the display corners. This case has got some big chunky bumpers that lock in the corners of your 2021 MacBook Pro and a non-slippery finish. The transparent hardshell plastic cover makes the Apple logo easily visible and the bottom part of the case has a grill cutout for ventilation and heat dissipation.   
Reasons to buy:
Strong and durable

Cushions around the display corners

Easy to install and remove

Non-slippery
Where it falls short:
Adds bulk and weight to your MacBook
Also read: Best USB-C Adapters for 14" and 16" MacBook Pro 
4. SUPCASE Beetle Series Rugged Case for 14" MacBook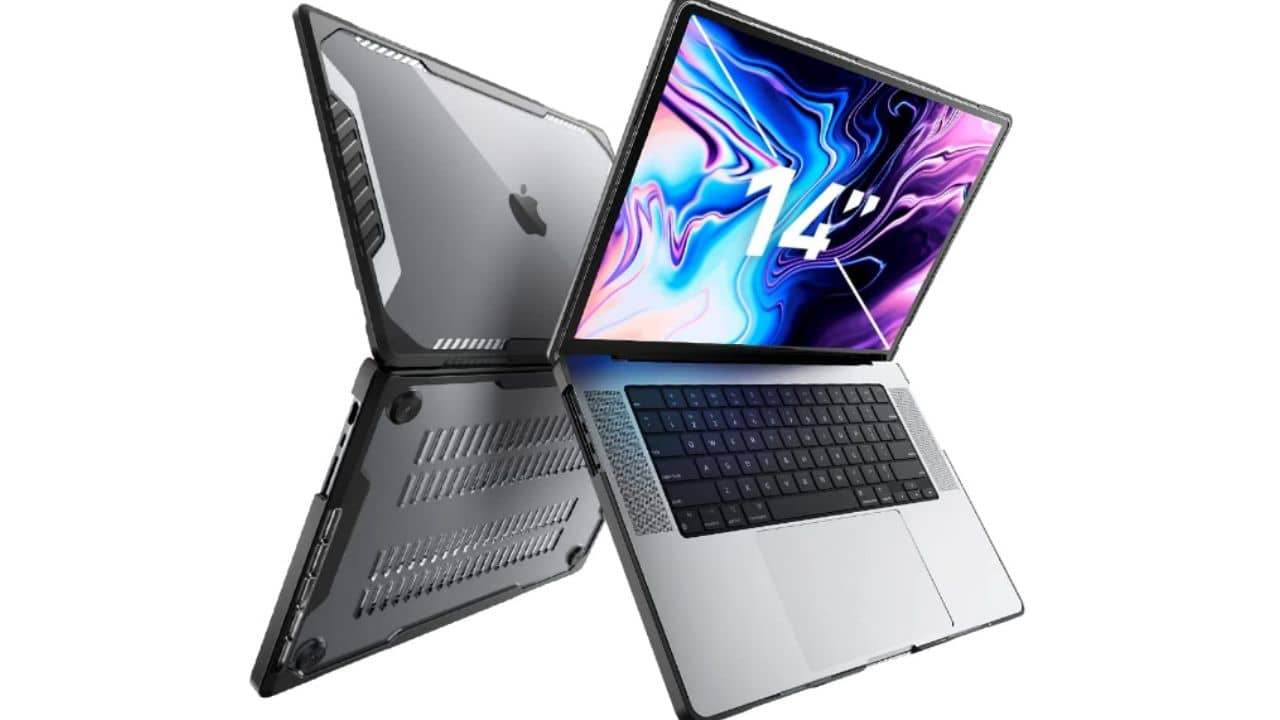 SUPCASE has been one of the leading brands when it comes to protective cases for iPhones & Android smartphones and MacBooks are no different. Their Unicorn Beetle series make use of dual-layer polycarbonate panels and a shock-absorbing wraparound bumper for maximum shock absorption to protect your 14-inch M1 Pro MacBook. It also features elevated rubber feet for better heat dissipation and grip on a titled surface. If you have kids or pets around the house you don't need to worry about your MacBook if you accidentally drop it, all thanks to the military shock protection. The bottom cover panel features ventilated grills and precise cutouts for ports. This makes it one of the most rugged cases available for the 2021 14-inch MacBook Pro. Some users have reported that the case makes their MacBook heavier however that doesn't seem to cause any issues with daily usage. If you're looking for a lightweight case, we recommend checking out the slim cases below. This rugged MacBook Pro 14-inch case is available in seven beautiful colors.
Reasons to buy:
Meets military shock test standards

Elevated rubber grips & grills for ventilation

Precise cutouts for ports
Where it falls short:
Also read: MacBook Pro not turning on? Here's how to fix it
5. MOSISO MacBook Pro 14" Case with Keyboard Skin and Screen Protector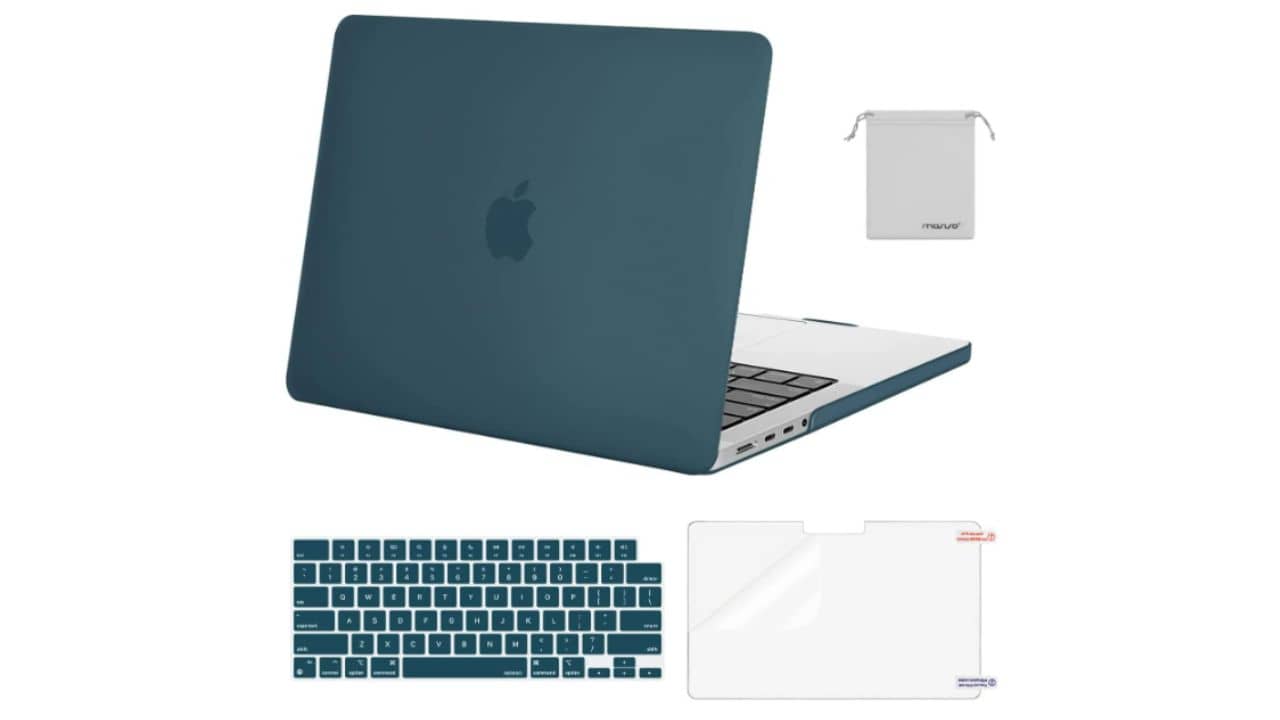 The MOSISO plastic case for the 14-inch MacBook Pro is one of the most affordable options on this list. The case has precise cutouts which will allow you access to all the ports without restrictions and ventilation grills at the bottom. This MacBook case comes with a screen protector and a keyboard cover. The screen protector prevents scratches on the display and the keyboard cover prevents dust from seeping into the MacBook keyboard. The hard shell is made from sturdy polycarbonate plastic which is lightweight and provides durability from minor scrapes and scratches. The four non-slip silicone feet keep your MacBook in place. The case is available in 40+ colors so you have plenty of options to choose from. Before hitting the Buy now button, keep in mind that different colors have different transparency so you can't see the Apple logo in every color. If you're someone who just wants to protect your MacBook from dust, minor dents, scratches, and bumps but not something that will be super heavy and provide drop protection then go with this one. 
Reasons to buy:
40+ colors to choose from.

It comes with a screen protector and keyboard cover

Value for money
Where it falls short:
Not the most durable case for long-term use

Feels plasticky
Also read: Best MacBook Pro Alternatives to Buy in 2023 
6. B Belk MacBook Pro Printed Case for 14" MacBook Pro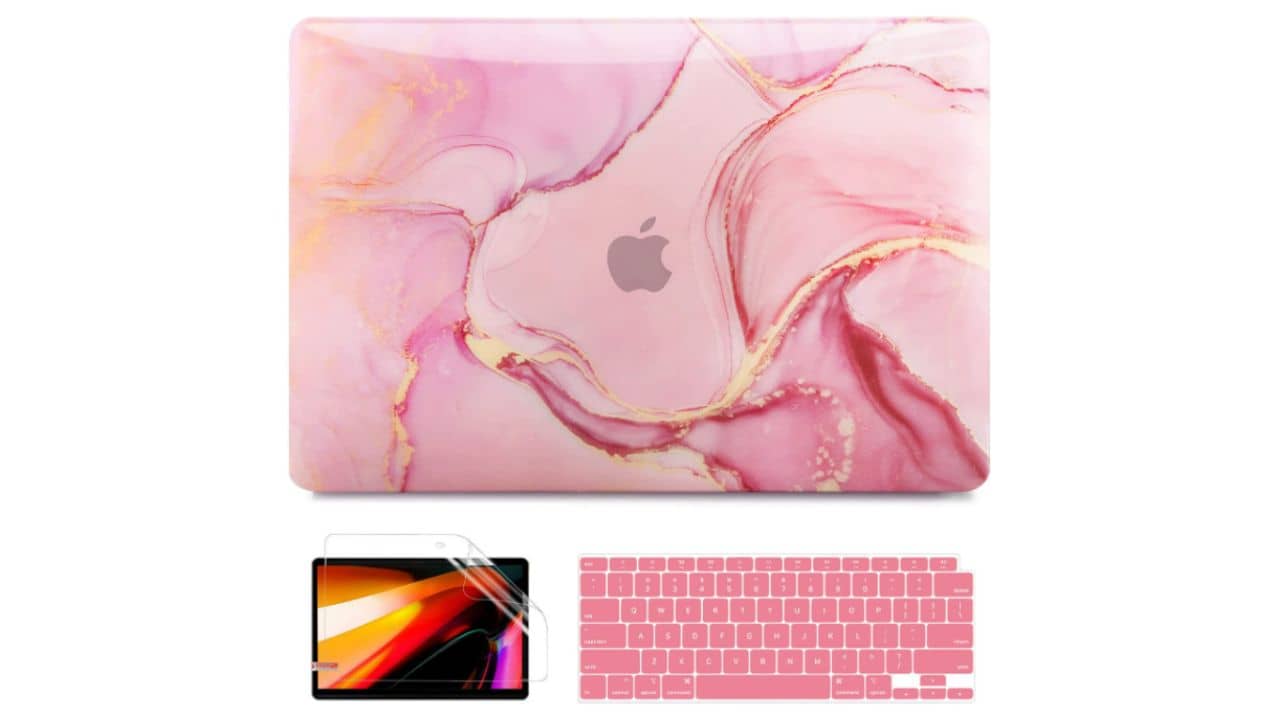 If you're someone who wants a personalized touch on your Mac this is one of the good-looking cases for a 14-inch MacBook Pro. This is a printed designer case that is available in different marble and flower prints. If you don't like plain hardshell or grumpy-looking cases and want something that expresses your personality and taste, then this is the case for you. The build quality is like any other clear hardshell case for MacBook Pro but this one has a printed design. This printed case for MacBook Pro comes with 2 keyboard covers and one screen protector. This case uses 3D printing with a design protective layer that does not come off or fade very easily so your MacBook case will look colorful and shiny for a long period of time. Like the MOSISO case, this case does not have the Apple logo cutout in all variants so look for that before buying. 
Reasons to buy:
Beautiful designs to choose from

It comes with a screen protector and keyboard covers

Print quality is better than in other cases
Where it falls short:
Not effective against drops  
Also read: Best Charging Stations for iPhone, Apple Watch, MacBook and more
7. Spigen Urban Fit MacBook Pro 14" Hard Shell case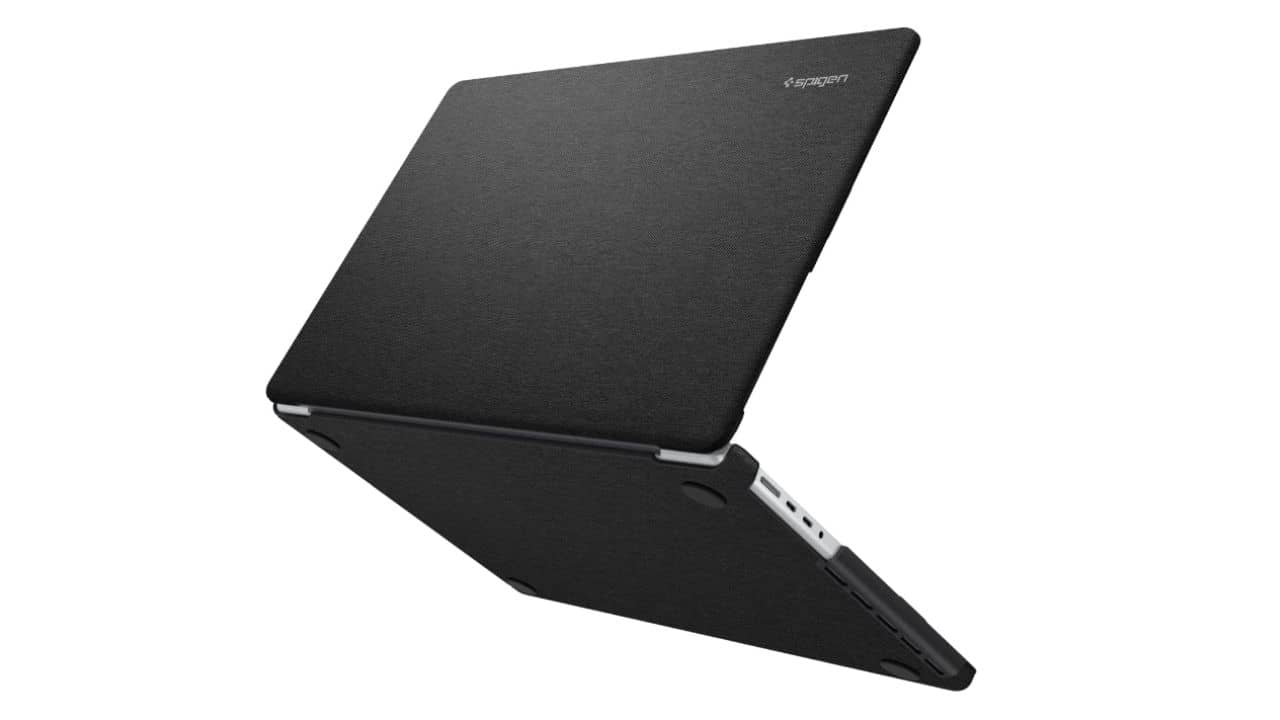 If you're looking for a slim and lightweight hardshell case for the 14" MacBook Pro that provides a comfortable grip on the laptop, then Spigen's Urban Fit case is the one for you The knitted fabric gives an amazing grip while the polycarbonate material protects your MacBook Pro from daily bumps and dents. The case features a magnetic closing mechanism to keep the lid closed that prevents dust from entering and scratching the display. This is super useful for users who work while cafe hopping. The elevated rubberized feet are good for heat distribution and prevent thermal throttling. The slight incline to your device is ergonomic friendly, which gives you more comfort over long stretches of work. Despite the protection, this is not a bulky case that keeps it portable and easy to take on your travels.
Reasons to buy:
Durable quality & lightweight 

Comfortable knitted fabric for decent protection and grip

Spigen's customer support
Where it falls short:
The knitted fabric tends to pick up lint, furs and hairs

Expensive
Also read: Best Monitors for MacBook Pro and MacBook Air
8. iCasso MacBook Pro 14" Gradient Case with Screen Protector, Keyboard cover, and Sleeve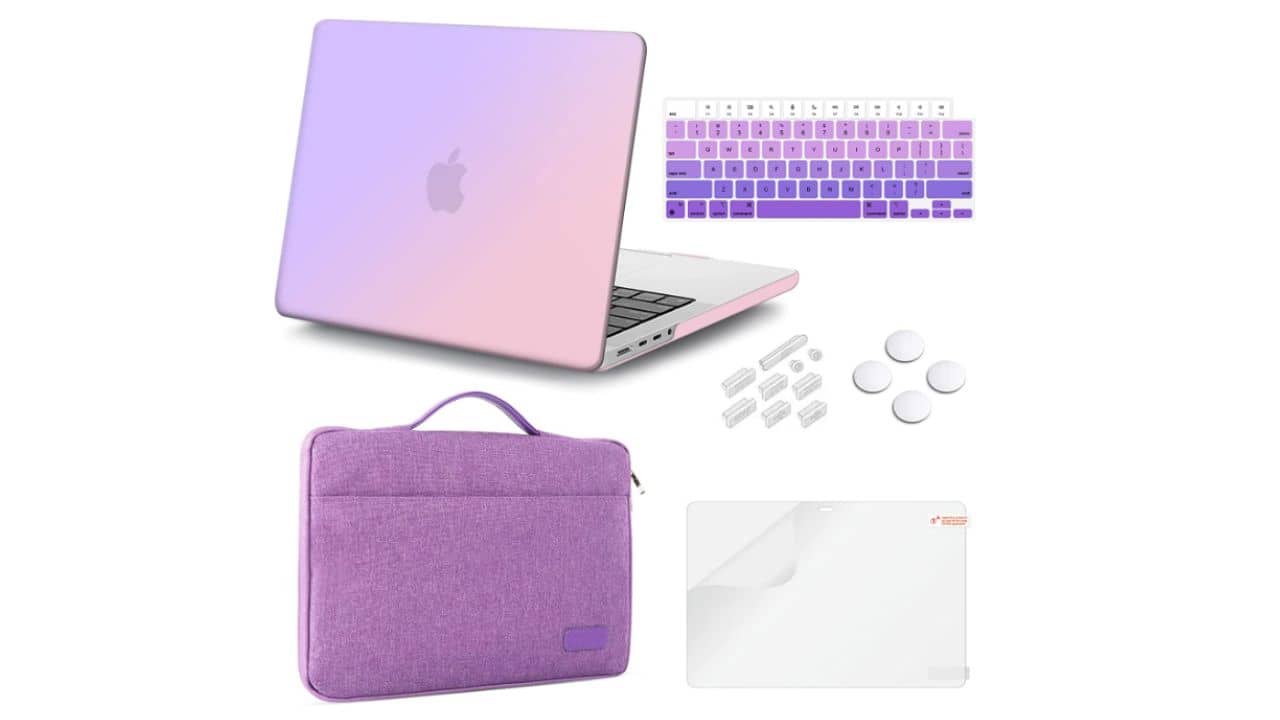 If you're looking for an all-in-one deal with a matching printed hardshell case, a sleeve, and a keyboard cover, then iCasso has got your back. Their printed cases are one of the best ones that you can buy for your 14-inch MacBook Pro in 2022. You'll get plenty of pretty and gradient colors to choose from. This case is well worth the money considering the accessories it offers. With this case, you'll get a keyboard cover, a screen protector, a laptop sleeve, and a dust plug. This gives you the freedom to choose between the sleeve or the case. On some days you can only use the sleeve for commuting or for double protection you can also use the case along with the sleeve. From protection, and sturdiness to looks, this 14-inch MacBook hardshell case has everything you would expect from a respectable case. Furthermore, iCasso has been known to make reliable value-for-money cases and accessories for MacBooks.
Reasons to buy:
Lightweight design with beautiful colors

It comes with a sleeve, keyboard cover, and screen protector
Where it falls short:
The dust plugs might not fit perfectly
Don't Miss: Best Apps for M1-powered MacBook Air and MacBook Pro in 2022
9. MOSISO MacBook Pro 14-inch PU Leather Cover Sleeve with Stand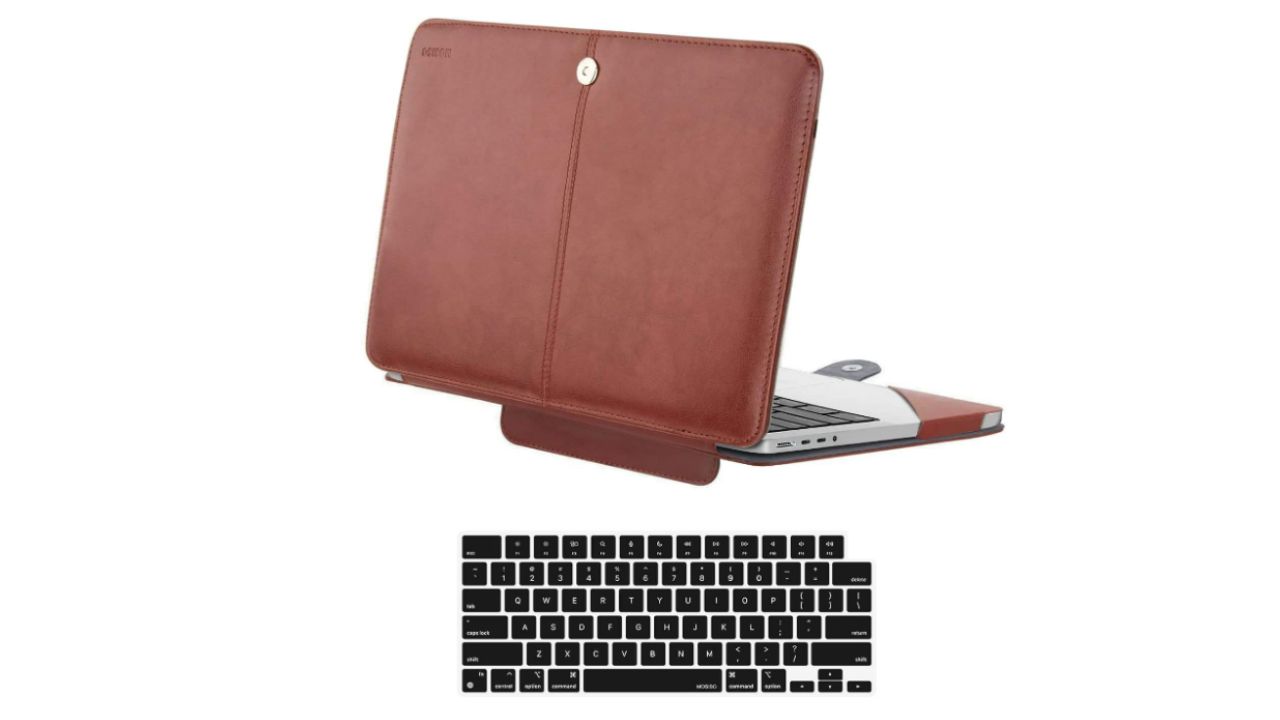 If you want an old-school and purely functional case for your 14-inch MacBook Pro, then Mosiso has got your back. This case transforms a MacBook Pro into a dapper accessory that would be easily blended in an office setting. The built-in foldable stand keeps the laptop at a better angle for on-desk typing and the vents on the bottom side make sure that your MacBook gets enough airflow. This PU leather 14-inch MacBook Pro case comes with a stand and a keyboard cover. This case is fairly durable and comes with respectable shock-absorbing features. The spacious cutouts for all ports ensure easy access to everything and there are 3 color options to choose from. 
Reasons to buy:
Strictly professional looks

Decent protection

Looks more expensive than it is
Where it falls short:
Lacks rugged protection

The magnetic closing design might not appeal to everyone
Also read: Best UltraWide Monitors for MacBook Pro 
10. Tomtoc 360 Protective Laptop Sleeve for 14" MacBook Pro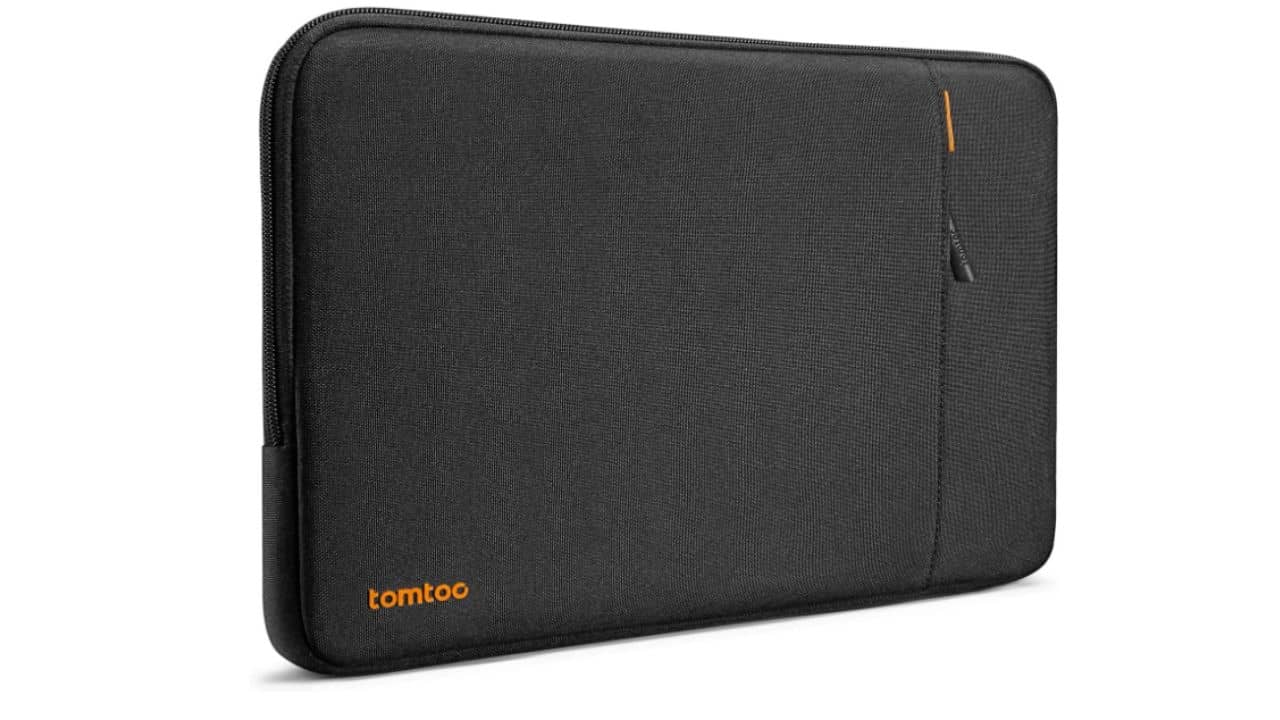 This is one of the best sleeves for a 14-inch MacBook Pro that you'll get at a very affordable price point. This MacBook Pro sleeve offers tested military-grade protection and comes with bubble padding underneath. It is water resistant and will protect your laptop from most drops, bumps, and scratches. The bubble padding is thick and soft to the touch and doesn't make your laptop feel bulky in hand. The exterior pocket is not very big but can easily store your iPhone, AirPods, or any other accessories like a USB-C hub. If you're someone who loves to go around town to sit and work in cafes or co-working spaces, this is the perfect sleeve for your 2021 MacBook Pro. 
Reasons to buy:
Very durable military-grade protection

Fits perfectly

Soft bubble cushioning inside 

Value for money
Where it falls short:
More focused on utility than aesthetics
Also read: Best Portable Monitors to buy for MacBook Pro/Air/Mac mini in 2023 
11. UAG Plyo MacBook Pro 14-inch case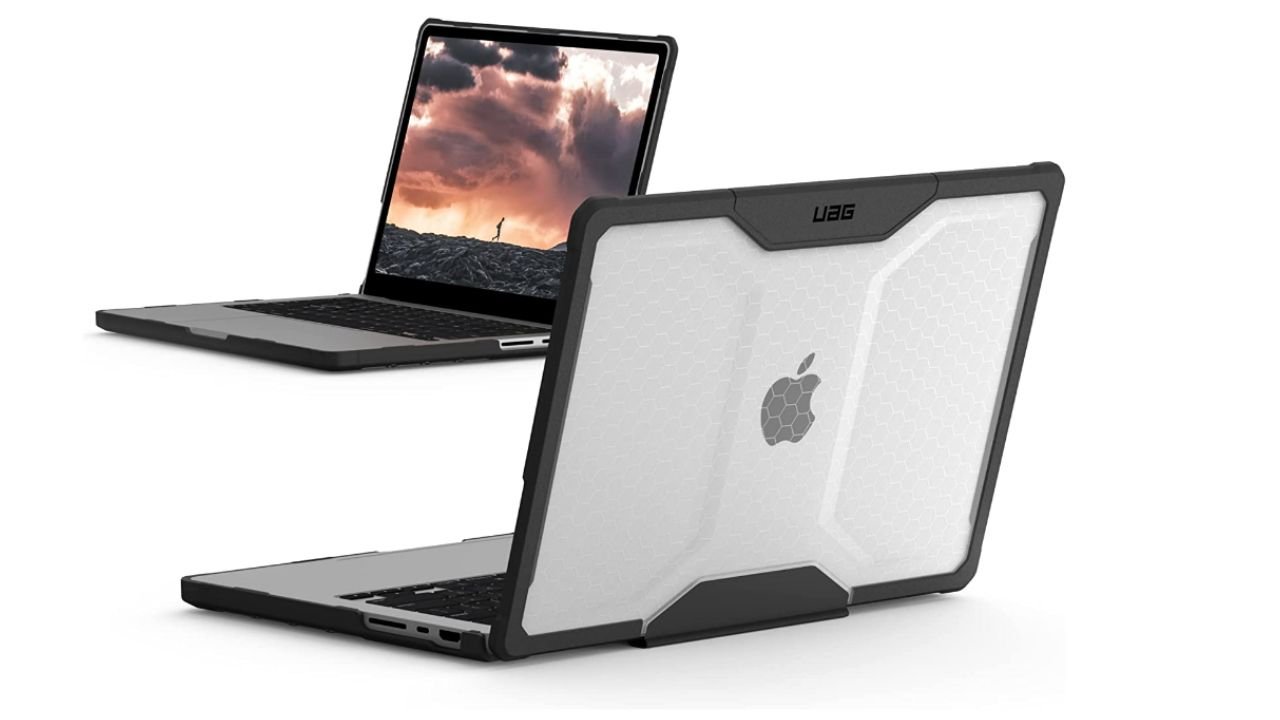 Urban Armor Gear is one of the best-known names when it comes to durable accessories. This Plyo 14-inch MacBook case gives solid overall protection against bumps and bruises. This case offers a sleek and minimalist design which is perfect for working professionals without compromising on protection. Most rugged laptop cases add significant bulk or weight to your device, but UAG's Plyo case keeps your MacBook Pro lightweight and easy to carry. The hard polycarbonate frame is dust-repellant, non-slip, and features a soft impact-resistant core with air-cushioned corners. The impact-resistant corner protection saves your Mac from dents when your laptop takes a tumble. MIL-STD-810G certification is the gold standard when it comes to consumer-level protection from shock damage, this case ensures to protect your MacBook Pro from any accidental damages. 
Reasons to Buy: 
Lightweight and durable 

Meets Military drop-test standards

Translucent, bulk-free design
Where it falls short: 
No funky color options

Removing it takes effort
Also read: Top 9 SSDs to buy for M2 MacBook Air in 2023
12. EooCoo MacBook Pro 14-inch Hardshell Case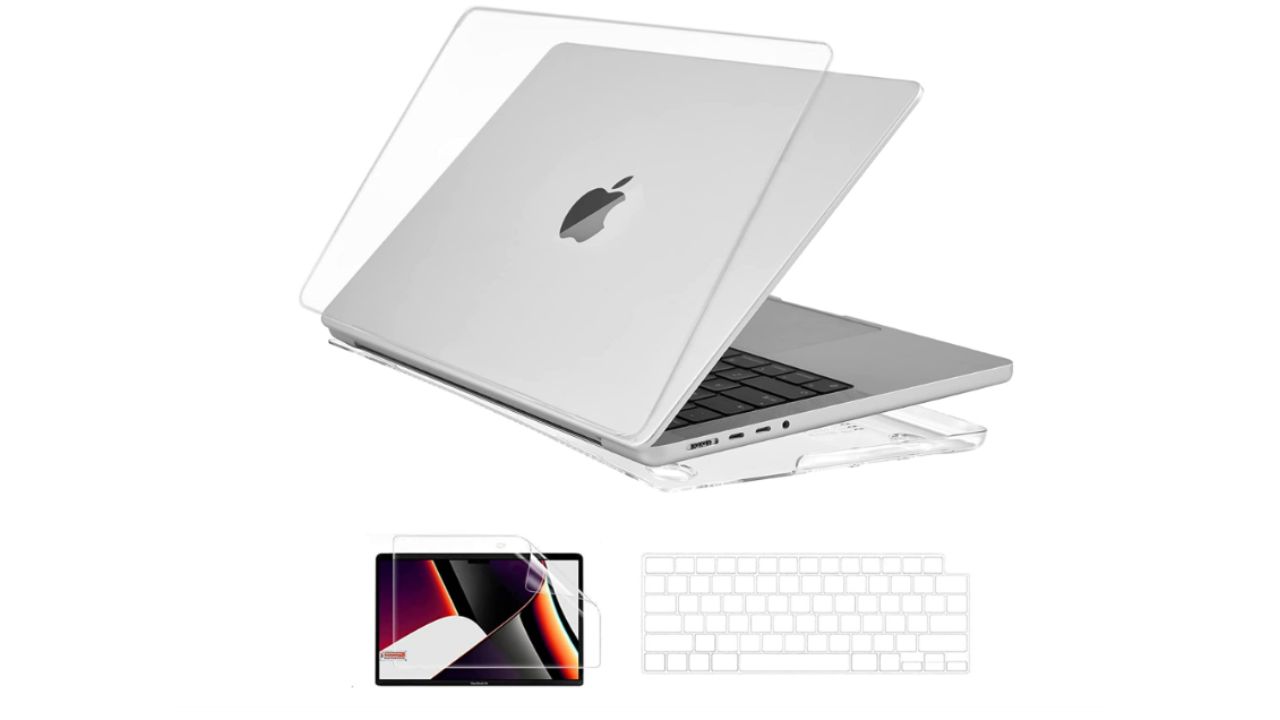 If you like to flaunt your 14-inch M2 MacBook Pro with that shiny Apple logo. This case will provide you with decent protection and comes with a keyboard protector as well. It snaps on in seconds, barely alters the look of your laptop, and adds very little weight to your MacBook Pro. It features sophisticated styling, injection-molded construction, and rubberized feet while also offering cutouts for access to ports. The base provides extra grips, too, making it easier to type and work regardless of the table surface. 
Reasons to Buy: 
Affordable and fits perfectly

Cutouts for better ventilation

Comes with a keyboard and screen protector
Where it falls short: 
Also read: Best USB-C Adapters for 14" and 16" MacBook Pro in 2023
Our Best Picks
B Belk MacBook Pro 14" Transparent Hardshell case is our best pick for a clear case that is affordable and provides decent protection.
If you're looking for a more durable and rugged case then pick SUPCASE Beetle Series for premium protection.

Some Hounourable Mentions:

Also read: Best Accessories for the 14-inch MacBook Pro