All of us, who use an iPhone or any iOS device, are aware of the fact that lightning cables are not durable. They either stop working or break and split into two only after months of use. Well if you have been in a similar situation then you have landed at the right place. I am going to share with you some of the most durable lightning cables available in the market in 2021. 
Most of the products mentioned in the list below are MFi certified. MFi stands for Made for iPhone, Made for iPad and Made for iPod. In other words, these products are licensed and verified by Apple but are manufactured by third-party vendors. These products pass through a series of tests to be certified as a product that matches Apple's standards.
It is recommended to use MFi certified products as they ensure that the standard quality of the product is maintained. Not only this but also MFi lightning cables also help in improving your iPhone's battery health. You can learn more about
how to improve the battery health of your iPhone. 
1. Anker Powerline+ II Lightning Cable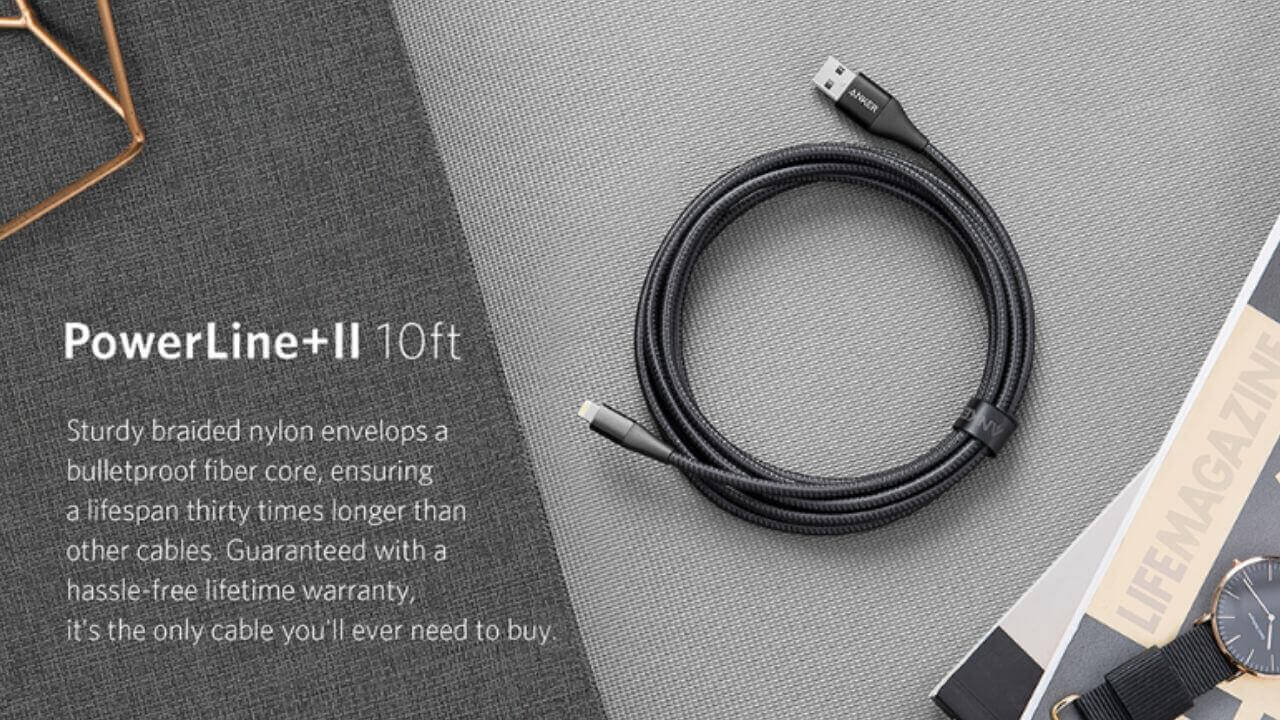 Anker Powerline+ II Lightning Cable is MFi certified and can withstand 30,000 bends. It has a Nylon shielding at the top which protects it from splitting or breaking into two and makes the cable much more durable. Also, the brand offers a lifetime warranty and hassle-free exchange in case of breakage or faulty cables. It is one of the toughest lightning cables as it can withstand 175 lbs of weight. 
It comes in four vibrant shades; red, silver, golden and black. The cable is protected with two-shade nylon braiding which not only makes it durable but also very handsome to behold. The cable is available in different sizes, from 3ft to 6ft and 10 ft so you can choose depending on your requirement. 
The cable comes in a stunning little carrying pouch which makes it very convenient to carry. The Powerline+ II lightning cable is one of the most heavy-duty lightning cables keeping in mind that it offers a lifetime warranty and friendly customer service. This Anker Powerline+ II cable also comes in an unbraided version but it might not be as durable as the nylon braided one. 
2. AmazonBasics Nylon Braided Lightning to USB A Cable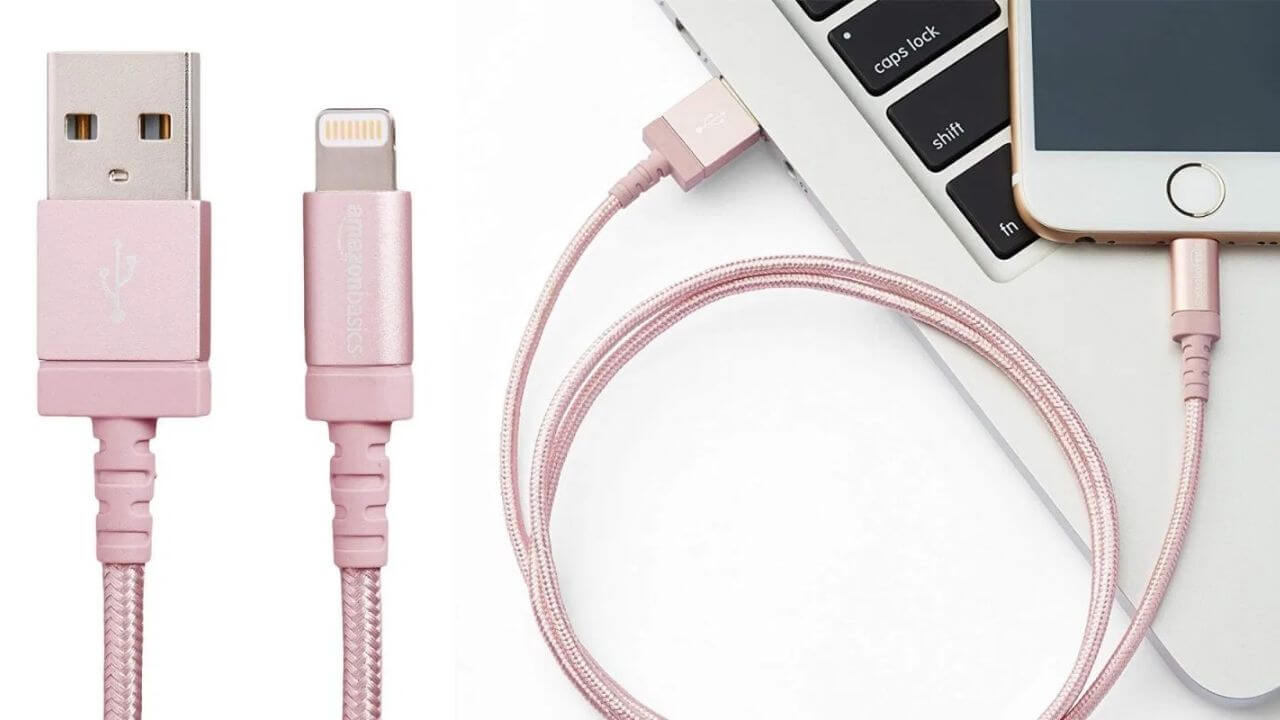 AmazonBasics Nylon Braided Lightning to USB A Cable Premium comes next in the list of most durable lightning cables as it is covered in a double layering Nylon cloth. The braided outer layering provides strength, protection, and flexibility. The cable is MFi certified and can withstand 20,000 bends. Amazon offers a limited lifetime warranty for this cable. 
The lightning cable comes in six color variants; silver rose gold, golden, black, red, and dark grey. Thus it gives you a lot of color options to choose from. It is available in different sizes 3ft, 6 ft, and 10 ft. It is much more pocket-friendly and durable than the Apple lightning cable. 
The inner wire is made of high-quality copper which ensures maximum signal quality. Adding to this, each cable comes with a carrying case and a velcro strap which makes it easier to store and carry while traveling. It is well-built and as good looking as the Apple Lightning Cable. 
3. Native Union Belt Cable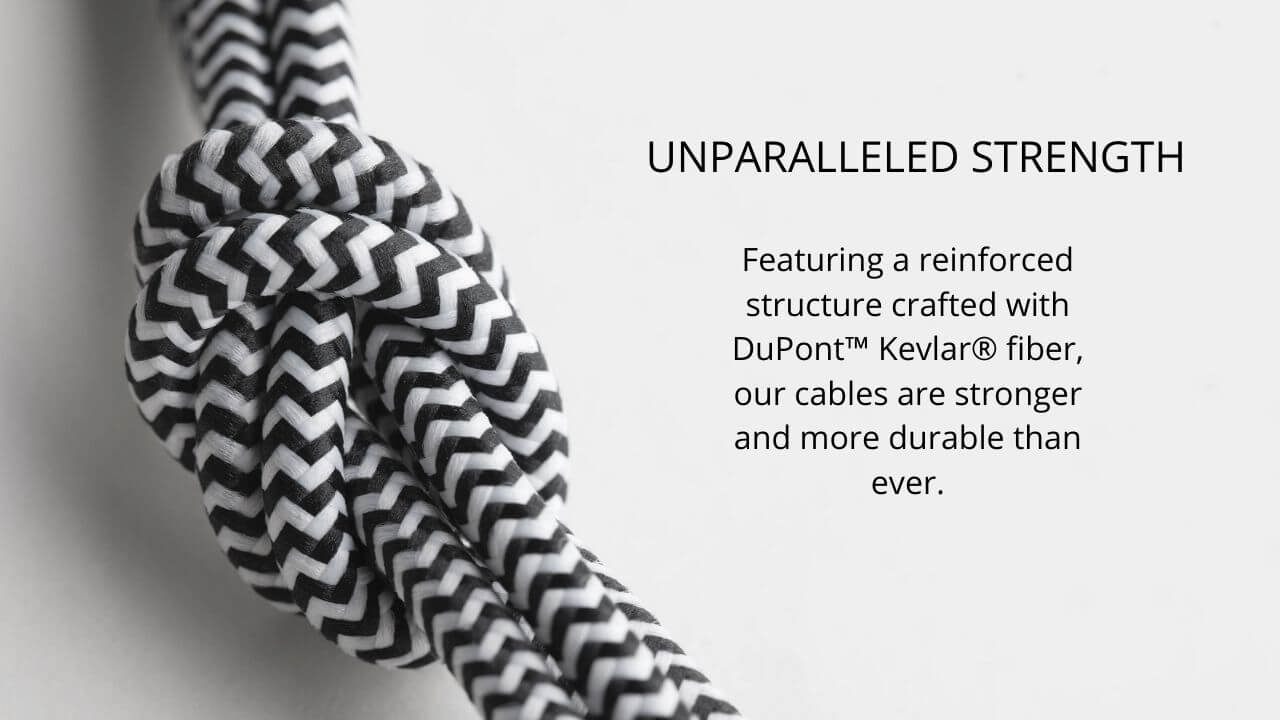 The Native Union Belt is one of the prettiest lightning cables ever. Period. But it doesn't make the list because of how beautiful it is but because of its durability. The cable is "Ultra Strong" and can withstand 10,000 bends. It is six times stronger than the standard lightning cable. It has a Nylon covered outing which prevents fraying and makes it durable. It is MFi certified which ensures the high quality of the cable. 
Native Union Belt Cable comes in five patterned variants which are Zebra, Marine, Cosmos, Rose, and Indigo. It comes with a leather belt loop that not only looks stylish but also makes the cable travel-friendly. They have a standard 4-foot long cable and an extra-long 10-foot cable. The cable also has an O-Flex strain relief design which prevents breakage at joints and makes the cable much more immune to fraying. 
The brand offers a limited lifetime warranty in case of a defect for as long as the customer owns it. However, it is not that pocket-friendly. But if you are looking for a durable lightning cable that is very stylish to behold then this is the one for you. Even though it is a little heavy on the pocket it is durable and would last a long time. 
4. FuseChicken Titan – The Unbreakable Lightning Cable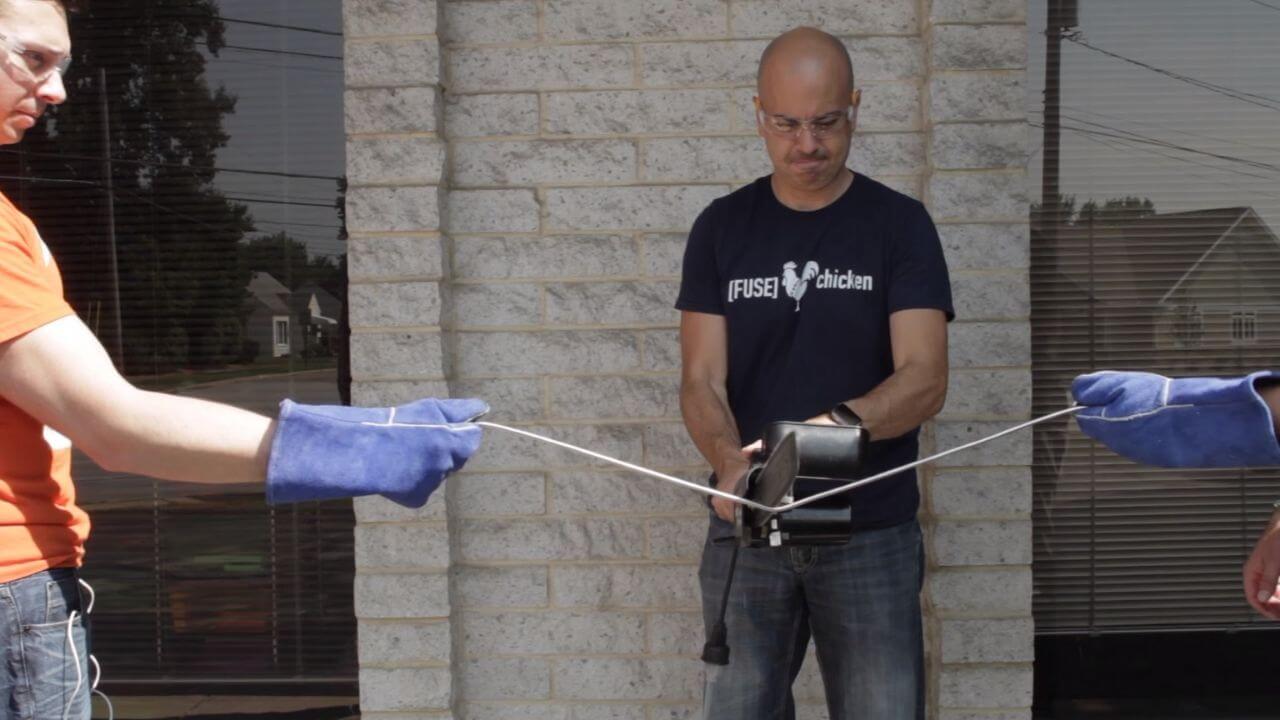 FuseChicken Titan Lightning Cable is the toughest lightning cable present on earth. It has undergone various tests to prove its strength from being hit by a hammer to being tried to cut by a chainsaw. You don't believe me check it out here for yourself. 
It is truly one of the most durable lightning cables as it has a double layer of high-strength steel. It is flexible like the plastic layered cables and can be twisted and turned around easily unlike Nylon layered cables which are rigid and inflexible. These cables are MFi certified and also have a limited lifetime warranty. Thus, this will be the last cable you'll ever need as it won't break and split like all the other plastic cables. 
The cable comes in different variants from travel cable which is 19 inches long to a key chain loop cable which is very easy to carry and a normal 3-foot long cable. If you are looking for an indestructible lightning cable then check out the Fuse Chicken Lightning Cable on Amazon.
5. Syncwire iPhone Charger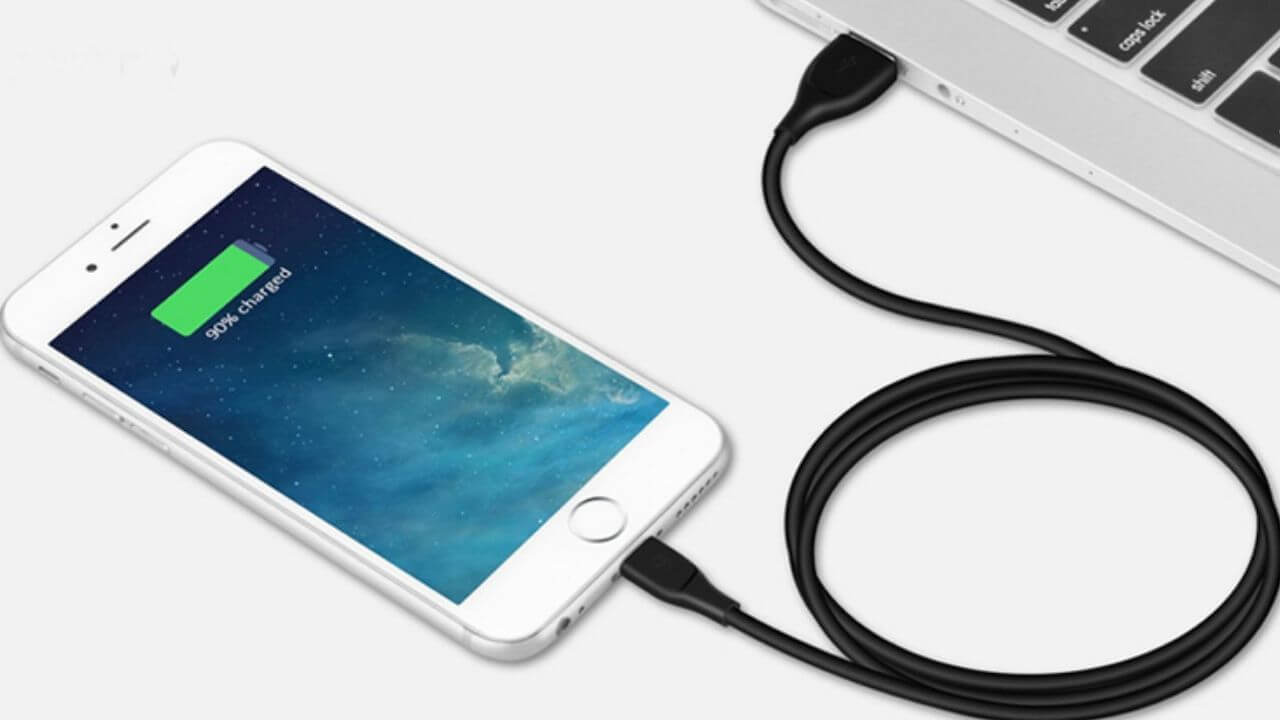 Even though Syncwire is one of the cables that is not covered in Nylon thread it is still considered as one of the most heavy-duty cables for iPhones in the market. It is MFi certified and thus no compromise on the quality is made. 
It is UNBREAKcable and is made up of polyethylene which makes it 40% more stronger than the regular plastic cables. The interior of this lightning cable is wrapped to prevent fraying and breakage while the exterior of the cable is smooth and flexible. It can survive more than 30,000 bends and can hold up to 275 lbs (124kg). 
It comes in two color variants; black and white, and two size variants; 3.3-foot and 8 inches. Syncwire cable also comes with a 3-year warranty and lifetime tech support. Grab this lightning cable as it is durable, sleek, good looking and surprisingly strong. 
6. SMALLElectric iPhone Charger Cable 
SMALLElectric iPhone lightning cable is one of the highest-rated lightning cables on Amazon. It is also one of the cheapest and pocket-friendly lightning cables available in the market. SMALLElectric also gives a six-month free return and refund policy along with 12 months of warranty.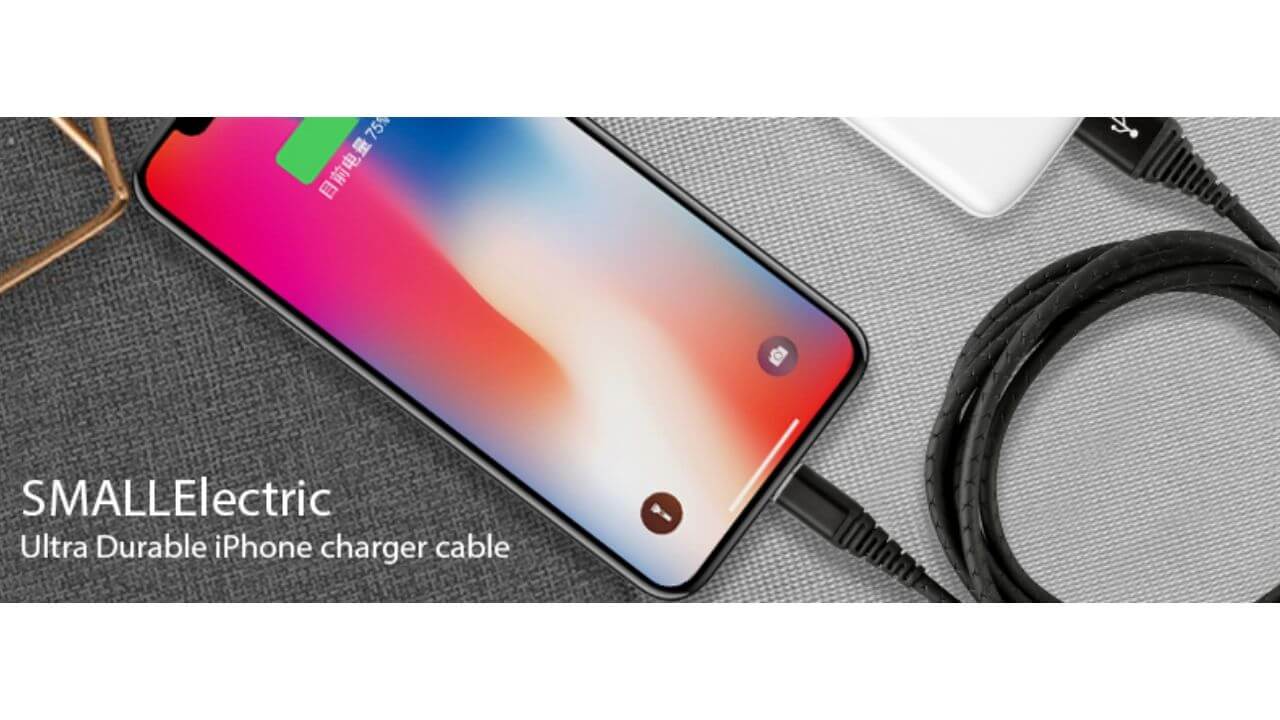 The product has premium copper wires which ensure high performance and fast charging. It is compatible with all iOS devices. The nylon coating on the outside ensures flexibility and durability. The brand claims that it will last 5 times more than the usual cables. The cable can resist more than 15,000 bends. It has also undergone various tests to prove its strength and durability. 
It is a 3-foot long cable and comes in only one color which is black. However, one of the drawbacks is that the cable is not MFi certified. Even then this cable makes the list because it delivers all the important factors that one looks at while purchasing a lightning cable. The maximum operating current supported is 2.4A. It has a zinc alloy connector which makes it stronger than the plastic connectors in regular cables and lasts 10 times more. 
7. Takagi Lightning Cable
Takagi Lightning Cable is ranked 9th in the Bestseller's Rank for Lightning cables on Amazon. It has a high tensile Nylon shell which makes it long-lasting. It also has a high-quality copper wire which increases signal quality and ensures stable data transmission. It can survive up to 8000+ bends. It is a high-quality product as it is MFi certified. 
It comes in a silver-gray color with 6 foot long 3 cables in a single pack. The Takagi lightning cable is pocket-friendly but does not compromise on the quality. It supports a maximum of 2.1A of current and sync data with a speed of 480 Mbps. Thousands of users on Amazon highly recommend this product and are happy with their purchase.
8. Anker PowerLine+ II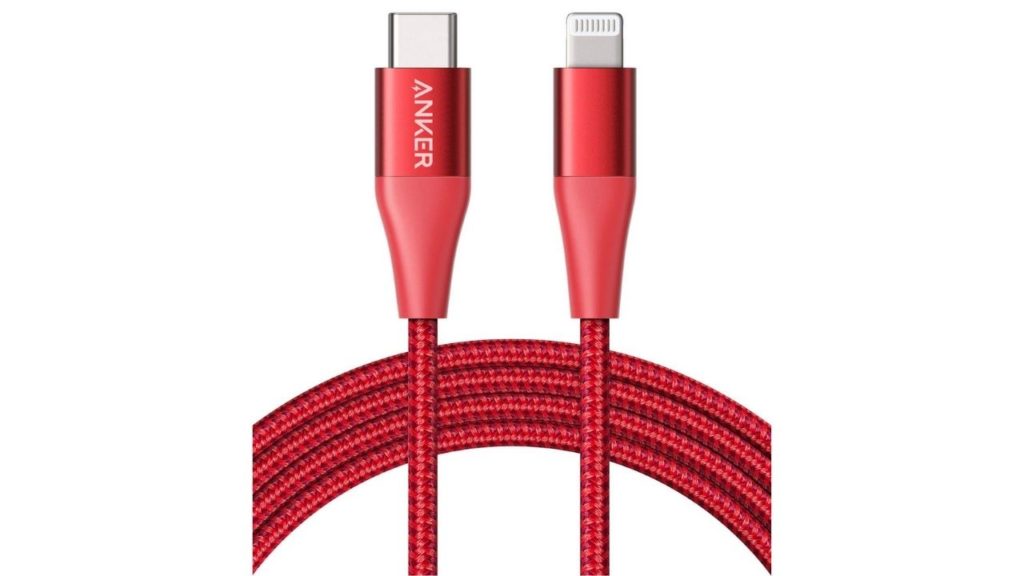 Looking for a USB-C to Lightning cable to fast charge your iPhone? Get yourself the Anker PowerLine+ II. This ultra-durable fast charging lightning cable is protected with a premium braided nylon fiber that can easily withstand any twists and tangles. Anker PowerLine+ II boasts MFi certification and provides a reliable solution to fast-charge your iPhones, iPads, and other devices. 
You'll get a travel-friendly pouch to easily fit in and carry your fast charging Lightning cable while you're on the go. Plus, you get to choose from 4 vibrant colors that will perfectly complement your device, desk, or the decor of your room. The gorgeous two-shade nylon braiding makes Anker Power+ II a must-have durable fast charging Lightning cable for all the users who love stylish and durable accessories. Another impressive feature includes the stellar lifetime warranty that promises to replace broken or faulty cables. 
It's worth mentioning that you must use this Lightning cable with an 18W or higher USB-C Power Delivery adapter to take the advantages of fast charging. Make sure to check out our recommendations for the best fast charging adapters for iPhone. 
9. LISEN Lightning Cable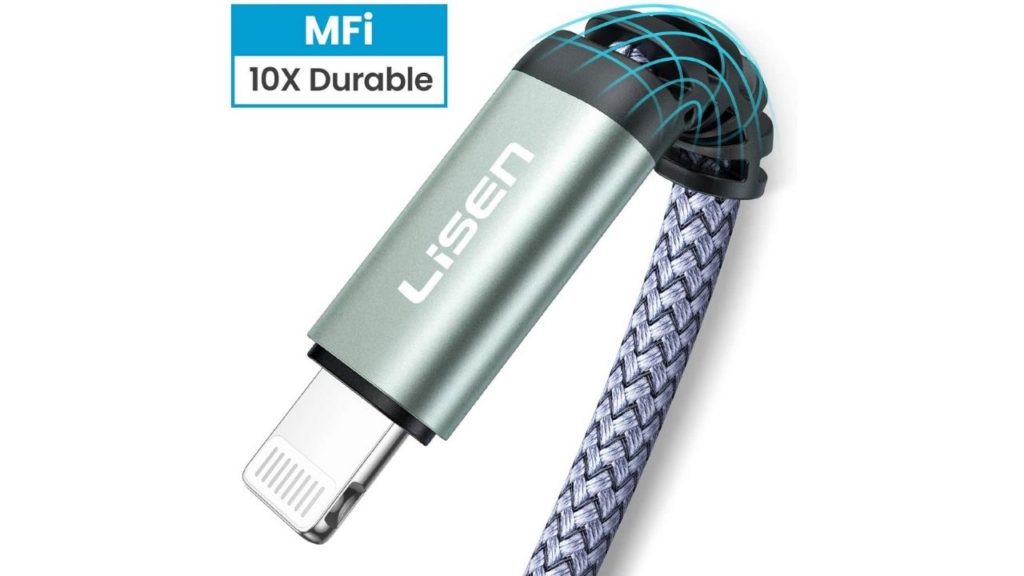 Looking for a seriously tough and durable Lightning cable? Have a look at the LISEN Lightning Cable, that's sure to impress you with its ultra-solid yet aptly flexible design. It's one of those rare Lightning cables that can
withstand 40,000+ bends. It's designed using the original chip to support fast charging (up to 2.4A) on your iPhones, iPad, iPad Pro, and iPod Touch. Also, you don't have to worry about ruptured connectors or losing a connection as this Lightning cable is packed with 6 times stronger terminal and exclusive laser welding technology. 
This two-in-one charging and sync cable claim to deliver a stable power to charge your devices and prevent signal interference while data transmission. Best of all, despite being packed with such amazing features, the LISEN Lightning Cable is priced at an attainable price of $15.99.
10. Monoprice Luxe Series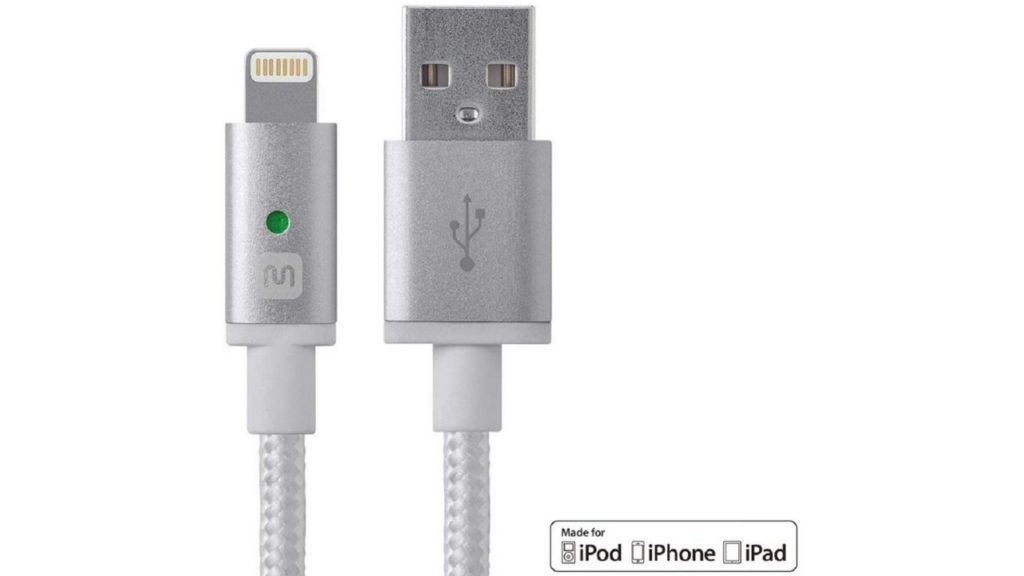 Monoprice has got an exciting lineup of cables. We've already recommended Monoprice Certified Premium High-Speed HDMI as the best HDMI Cable for 4K Gaming in our
best HDMI Cables for Gaming article. And this time, we've got a supremely-useful and budget-friendly Lightning cable from the same brand. The tangle-resistant nylon-braided shielding protects the cable from everyday wear and tear.  There's a LED indicator that lights up to let you when your device is charging. Plus, the metal enclosures around the connector ensures that the cable stays strong and rock-solid from its weak points. You get to choose from the various length and color options so that you can easily get what you exactly need. 
Also, not to forget, the Monoprice Luxe Series is backed by an impressive lifetime warranty, therefore, you can buy this Lightning cable without any second thoughts.
11. UNBREAKcable iPhone Charger Cable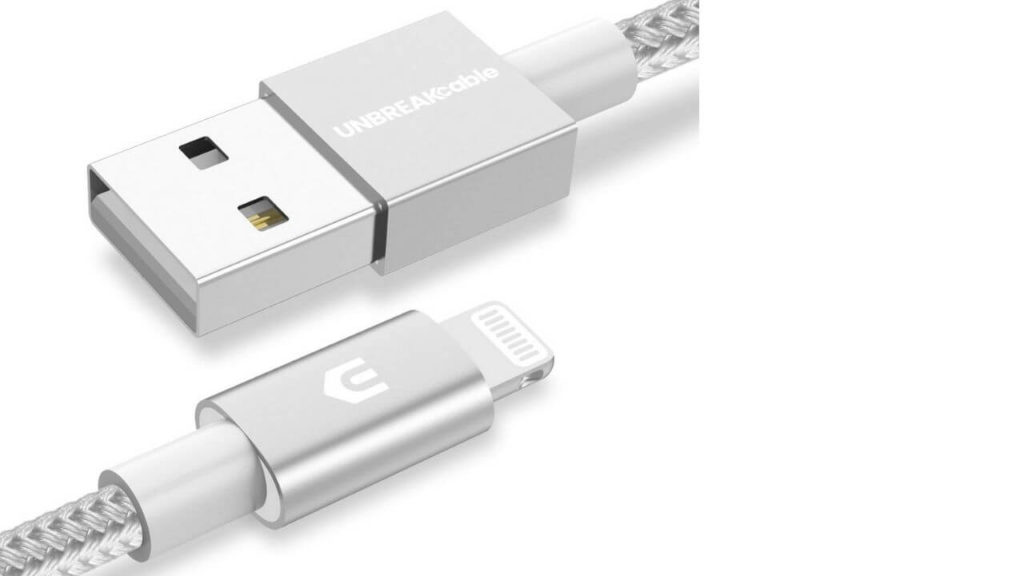 Here we've got an ultra-strong and durable lightning cable that will surely impress all the iPhone and iPad users out there. The UNBREAKcable Lightning Cable packs Apple's original C89 terminal and smart chipset, which makes this cable almost 20% faster than the regular lightning cables. Besides, the cable also comes with surge protection and advanced safety features to keep your iPhones safe while supplying them with the required power.
This durable lightning cable features an ultra-strong aramid fiber core, wrapped in a double-braided nylon sheath and a sturdy head plug that's capable enough to withstand a weight of up to 15kg without showing any signs of damage. Plus, the woven exterior is built using tough and flexible materials that help to prevent tangles and has an impressive load-bearing capacity of up to 50kgs. Therefore, it's a must-have option for all users who're looking for a highly functional and sturdy lightning cable that features excellent flexibility and durability. The cable fits well and delivers stable charging even if you've installed a case on your phone.
The UNBREAKcable durable lightning cable for iPhone is available in 3.3 and 6.6ft length options. 
If you need a USB-C to Lightning cable, you can check out the Type-C variant of this cable from UNBREAKcable.
12. UNEN MFi certified Lightning Cable (5-Pack)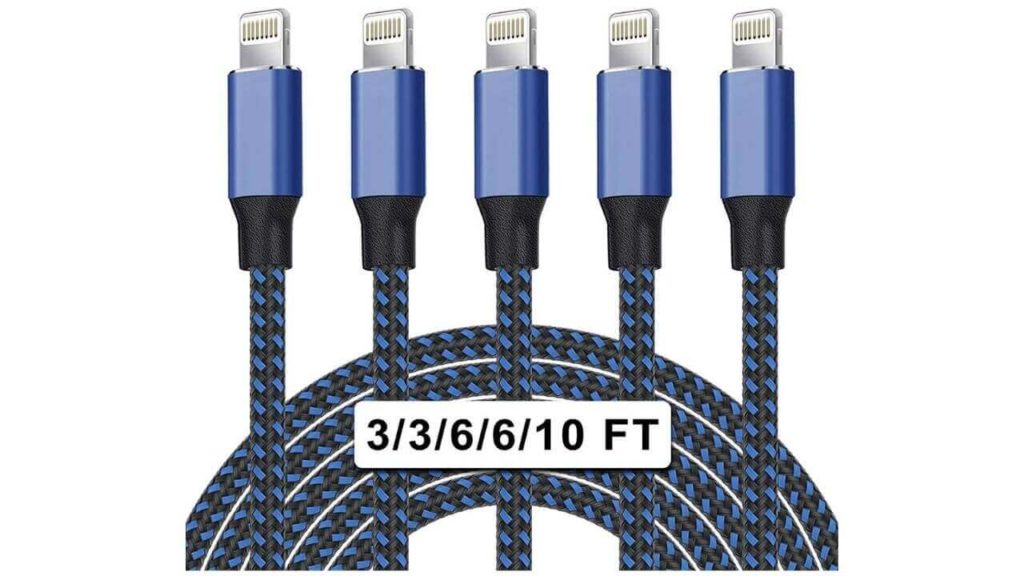 Got multiple iPhones or iPads? Get yourself this highly-useful pack from UNEN that includes 5 cables in varying lengths. It's an absolute must-have for all iPhone or iPad users who need durable lightning cables in different length options. The pack includes two 3ft, two 6ft, and a 10ft lightning cable that will fulfill your charging needs in varied situations. Whether you wish to charge your iPhone via a hard-to-reach outlet from the comfort of your bed or juice up your iPhone in a car, you've got perfect cables in all the lengths. It's a durable and MFi certified Lightning Cable that features a nylon-braided jacket and gold-tipped connectors that deliver fast charging and stable data transmission. This highly-functional and durable lightning cable for iPhone is light, flexible, and fits most cases.
The UNEN Lightning Cables are backed by a 12-month warranty. You can grab these cables in Blue and Black color options. 
13. Cabepow Lightning Cable (3-Pack)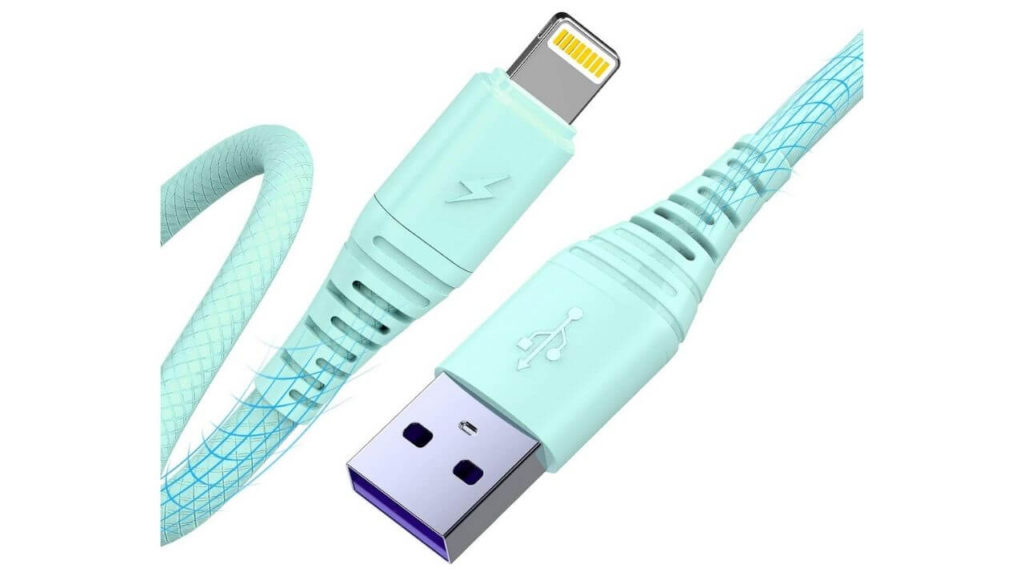 Looking for an affordable, reliable, and durable lightning cable that's available in various stylish color options? We've handpicked a fantastic option for you.
The Cabepow Lightning Cable is sure to impress all the users who love pairing colorful and unique accessories with their iPhones, iPads, or other compatible devices. The double shielding, tangle-free design, and reinforced stress points with a lifespan of over 10,000 bends make Cabepow an excellent pick for all users who need tough and durable lightning cables. You'll get a set of three lightning cables that are compatible with a wide range of devices, including iPhone 11, 11 Pro, Pro Max, iPhone XR, XS, XS Max, iPad Air, iPad Mini, iPod Touch, and others.
You can grab this lightning cable in 1, 3, 6, and 10ft length options.
Conclusion 
There is not much that can be said or looked for while buying a lightning cable. Above I have mentioned some of the products that have been used and supported by thousands of users. These are considered as the most durable lightning cables. 
Keeping all the factors in mind, from whether they are MFi certified or not if they have nylon covering which will protect them from fraying to the kind of warranty that the company offers, I have made a list which might help you buy a good quality Lightning Cable in the future. And hopefully, it will last you longer than the first-party cables. 
Do let me know if you have stumbled upon any of these lightning cables and how was your experience with them in the comment section below.