Launched in October 2020, the iPad Air 4 comes with exquisite design and amazing performance. Without a doubt, iPads are the best tablets you can buy. If you are fond of impeccable designs and ease of use, the iPad Air 4 would surely please you. The iPad Air 4 packs Apple's A14 bionic processor to offer best-in-class performance. 
With time and evolving technology, the use of iPads has soared high in the past few years. It is now considered a great tool for writing, photo/video editing, and other productive tasks. With that being said, you should also know that Apple doesn't ship any keyboard in the box to ease such tasks. We know it's frustrating and understand that finding suitable & reliable keyboards from thousands of listings on the internet is a daunting task.
So, we decided to ease your keyboard hunt and come up with this roundup on some of the best iPad Air 4 keyboards that you can buy right now. 
Note: We update our article from time-to-time to cover the latest products available in the market. 
Best keyboards for iPad Air 4
1. Logitech Multi-device Bluetooth Keyboard (All-rounder)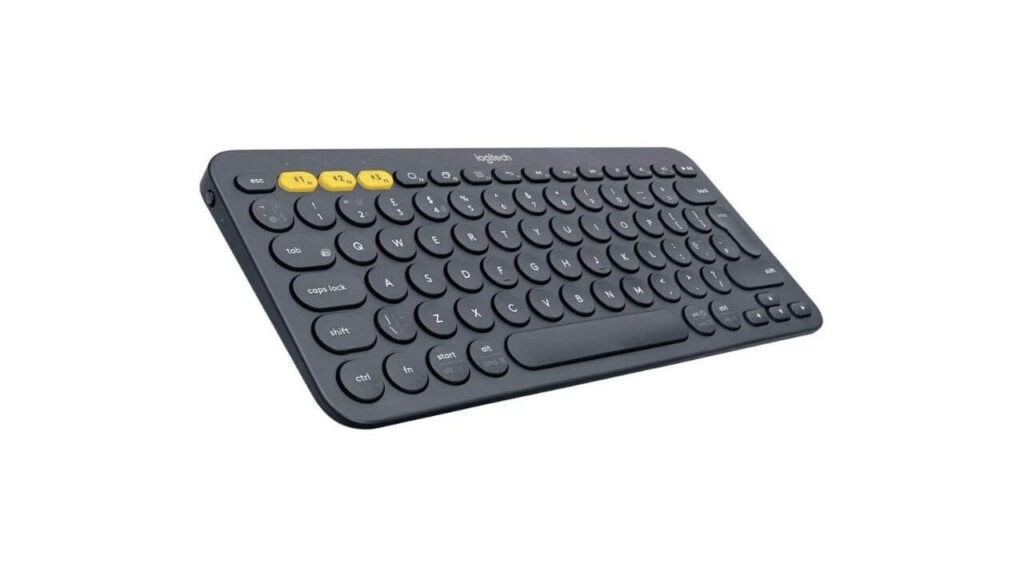 If you are looking for an aesthetically pleasing keyboard, this Logitech iPad keyboard should top the list. It is a multi-device Bluetooth keyboard that works seamlessly with Windows, Mac, Chrome, iPadOS, etc. In the below pointers, we have listed some notable features of the Logitech keyboard, have a look!
If you are a multi-tasker, the easy-switch button enables you to switch between three different devices connected to this wireless keyboard. You can connect and switch between up to 3 devices at a time. 
The comfortable and easy-to-type rounded keys make this keyboard more suitable for working professionals like coders and writers who work around keyboards for hours. 
The compact and lightweight design of this keyboard allows you to carry it anywhere. 
This Logitech iPad Air keyboard is shipped with two AAA batteries. Also, you can carry some backup batteries so that you are never out of juice.
This iPad Air wireless keyboard from Logitech comes with a year warranty and friendly customer service.
Overall, the Logitech keyboard is a wonderful option if you have a multi-tasking job with two or more devices. Given the price of the keyboard, Logitech is offering much more on the plate.
Logitech also offers other variants of this keyboard which comes with a connection switcher knob and in-built stands for devices like iPads, iPhones, etc. 
2. Apple Magic Keyboard (Best Overall)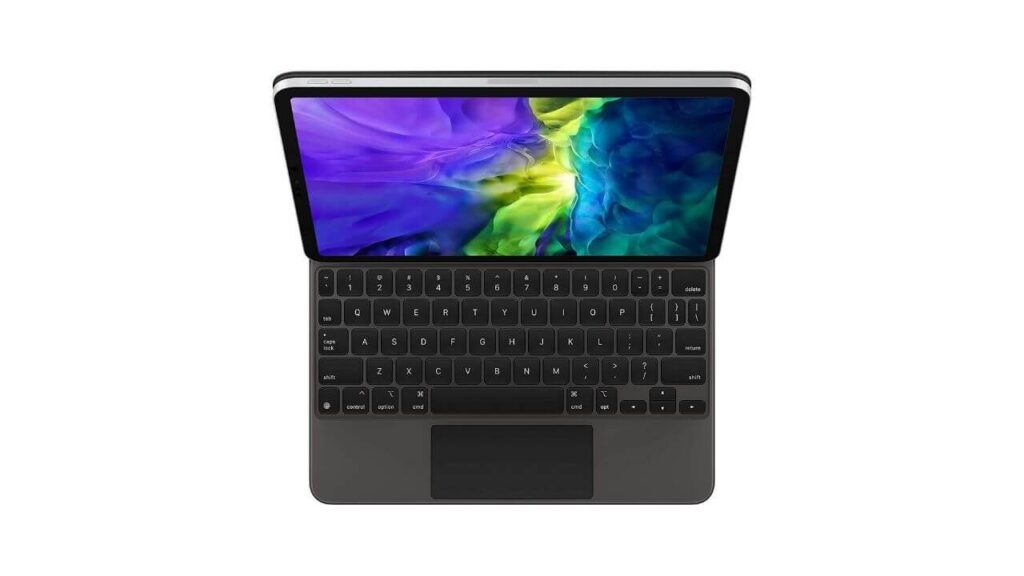 If you want to invest in an Apple product, here's an official keyboard that is fully compatible with the iPad Air 4. This sharp-looking magic keyboard easily snaps on and tilt holds the iPad pretty well giving you all the feel of using a MacBook. Being an official contender, this keyboard from Apple sits on top of our list of best keyboards for iPad Air 4. 
Here're some notable features of the keyboard.
The sleek & premium look of this keyboard goes well with the new design of the new iPad Air.
It features an amazing trackpad/touchpad with iPadOS supported functionality.
It automatically pairs using a smart connector, therefore, no need to fiddle with the Bluetooth connection.
If you're running low on juice, the built-in USB-C port can charge your iPad Air.
If you're a writer, the seamless typing & portability experience offered by this keyboard will surely amaze you. 
At this price tag, it's not all bells and whistles. This magic keyboard for iPad Air lacks function and shortcut keys. Plus, the viewing angles are also limited which might not be suitable for everyone. 
Also read: Best keyboards for writers
3. Apple Smart Keyboard Folio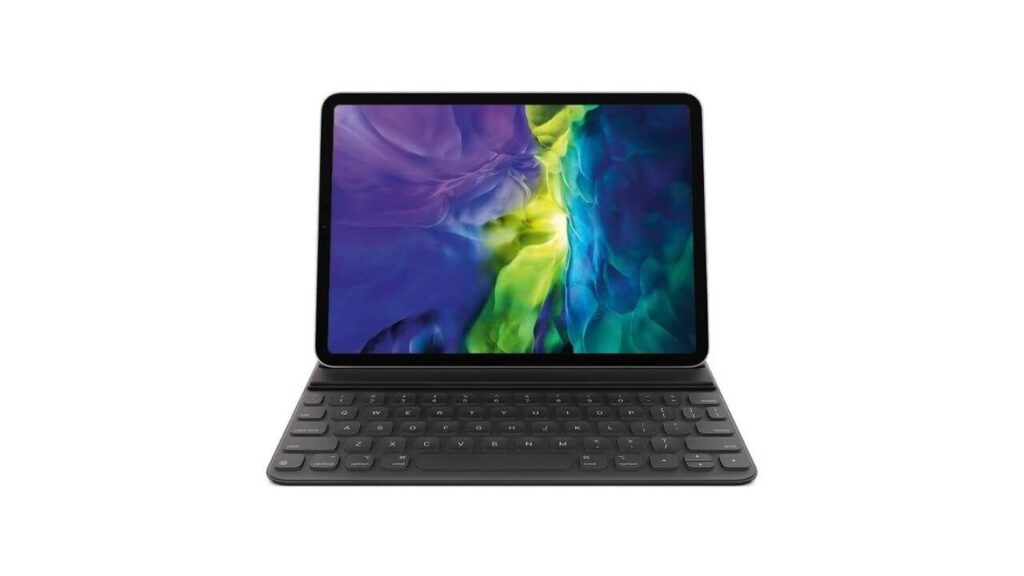 Here's another lightweight and slim keyboard for all the loyal Apple fans out there. Except for the absence of a trackpad/touchpad, everything is simply perfect about this smart iPad Air keyboard from Apple.
The Apple smart keyboard doesn't require charging as it intelligently juices up from the iPad for functioning. 
The lightweight and minimalist design will surely please those who travel a lot.
No worries about spilling coffees or fluids on the keyboard, all thanks to the fully-sealed design (all the keys are sealed).
You'll find two slots to attach the iPad to the keyboard so that you can use it with different viewing angles.
The real icing on the cake is that this 4th gen iPad Air keyboard folio serves as a screen cover too. 
Remember, you need to be more cautious at handing the iPad because it can easily get detached from the cover. 
4. OMOTON Ultra-Slim Bluetooth iPad Air 4 Keyboard (Budget King)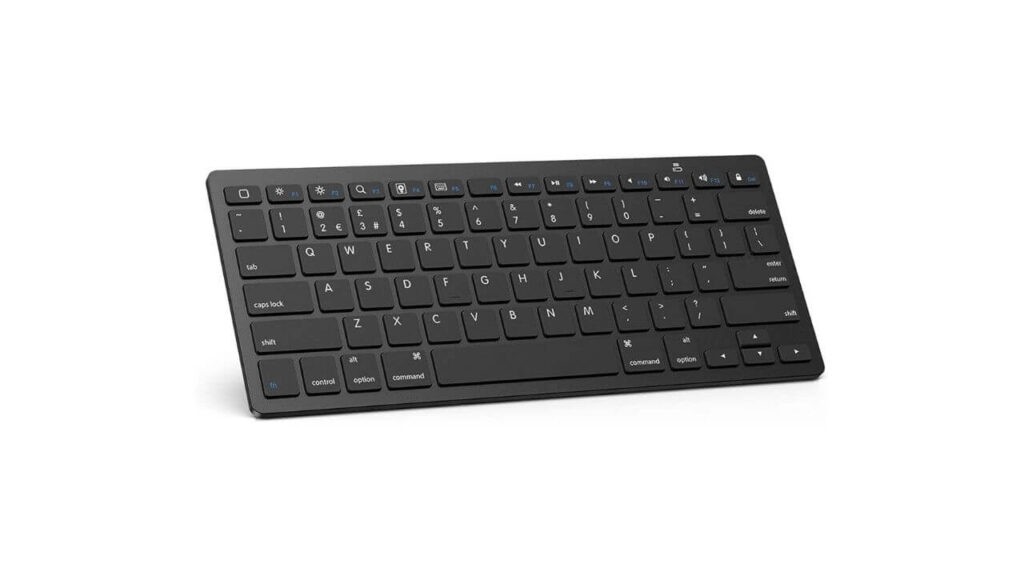 If you're tight on a budget, here's one of the affordable iPad Air 4 keyboards that you would find in the market. Yes, the OMOTON ultra-slim keyboard costs less than a standard iPhone protective case. But, delivers optimum performance and nails the basics of a portable keyboard for iPad. 
It has a "normal keyboard" feel to it. By that we mean, the keys are good and are similar to what you would find in a normal laptop with a scissor mechanism keyboard. 
Thanks to the active Bluetooth connection, you are certainly not going to feel any lag working with this keyboard.
The long battery life enables users with longer working hours to work worry-free. 
The function keys available in this keyboard wipes off all your headache to control music, volume or brightness of the iPad Air 4. 
The budget-friendly price tag makes it an appealing option for students and people working in construction environments.
5. Nulaxy KM13 Bluetooth Keyboard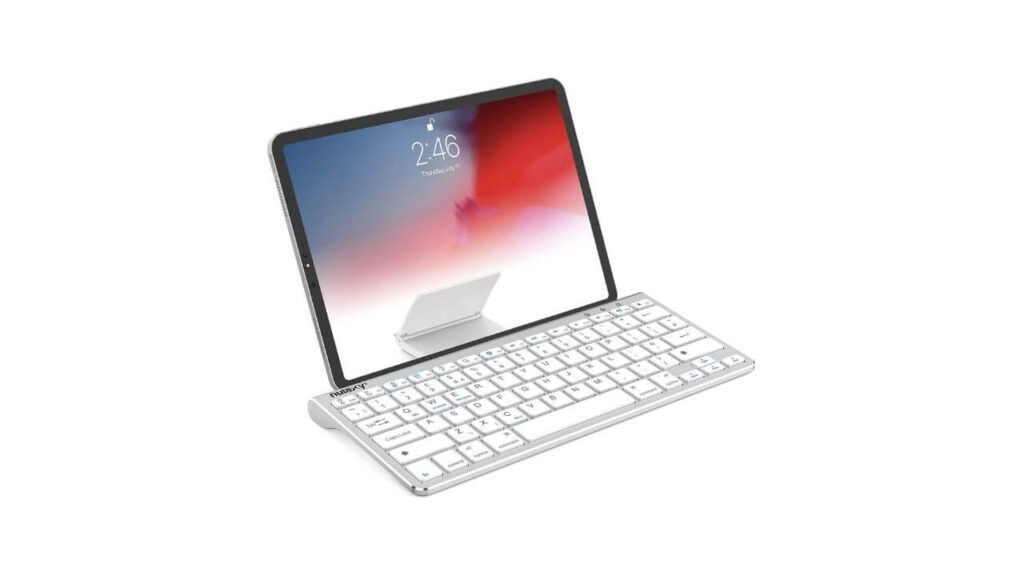 The Nulaxy KM13 Bluetooth keyboard is probably the best alternative for the Apple Magic Keyboard. It features a slanty design that allows you to type comfortably without stressing your hand. 
The built-in stand on this keyboard is best suited for users who are always on the go. You just need to slide out the stand of the keyboard and place your iPad; it's that easy. 
The Nulaxy Bluetooth keyboard is fully compatible with devices running on Windows, iOS, and Android.
This Bluetooth keyboard offers a comfortable and quiet typing experience, all thanks to the traditional keyboard size and quiet keys.
Remember, it is a wireless keyboard that works flawlessly within 10 meters of range. 
As this keyboard is not rechargeable, it requires 2 x AAA batteries. 
The auto-sleep feature incorporated in this wireless iPad keyboard comes in handy and helps prolong the iPad Air's battery life. 
6. Arteck Keyboard (Best Thin & Light iPad Air Keybaord)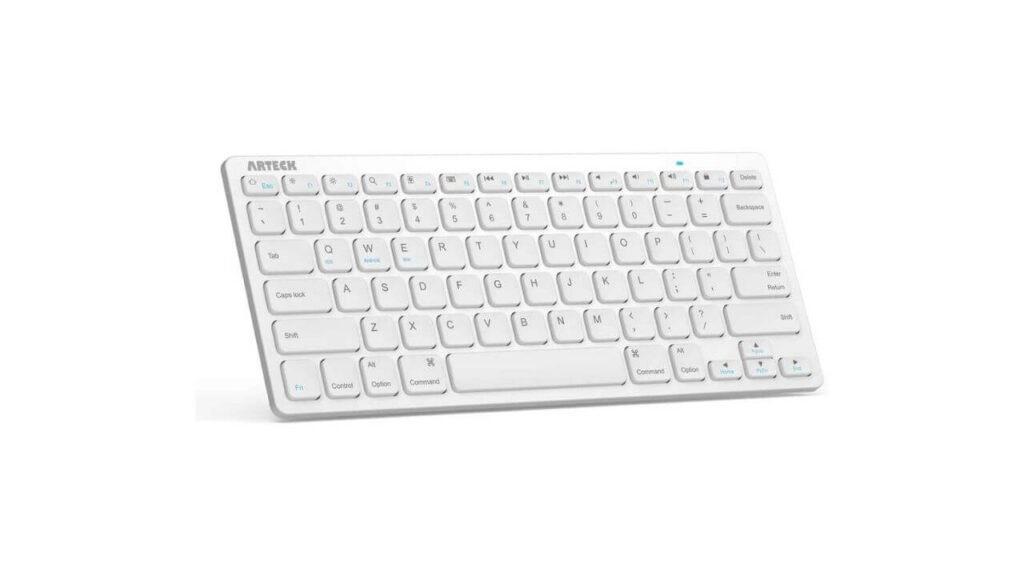 If you're looking for an affordable option, then you must grab the Arteck keyboard for iPad Air 4. The universal compatibility of this keyboard ensures that you can use it with different generations of iPads as well as iPhones. 
The Arteck keyboard comes with a plastic build that weighs mere a 7.65 ounces/216gms ensuring maximum portability.
You can switch between three different keyboard modes dedicated for iOS, Android, and Windows devices.
This keyboard offers a noise-free typing experience which is suitable for users spending time at a library, or working at a shared office table.
A convenient layout on this keyboard is suitable for users working all day long. 
Besides all this, you get two AAA batteries and a worry-free 24-month manufacturer's warranty.
It is worth mentioning that with this pricing and build quality, you can expect a medium-grade build and some flex on the keyboard. 
Also read: Best keyboards for iPad Air 2
7. Jelly Comb Multi-device iPad Air 4 Bluetooth Keyboard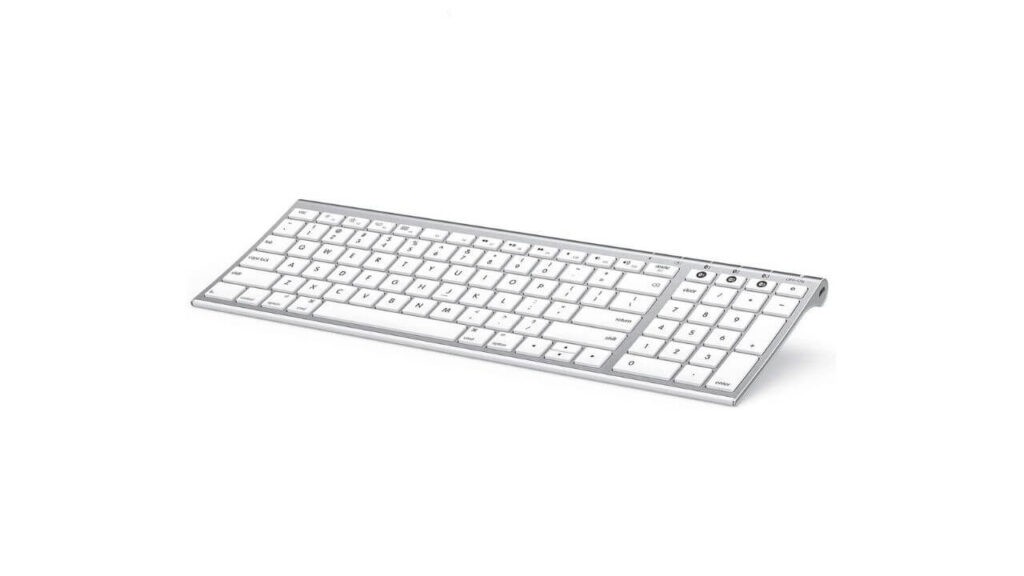 Here we have for you the Jelly Comb multi-device keyboard for iPad Air 4. It is the perfect iPad accessory for work from home setup. Identical to the Apple magic keyboard, this one offers a satisfactory typing experience. We have listed some notable features of this keyboard from Jelly Comb. The features listed below do justice to the price of this keyboard.
The silicone/rubber-like covering lets you type comfortably and quietly at the same time.
You can easily switch between three different devices and work effortlessly improving your productivity.
It even works well with different iPads as well as MacBooks. 
The Jelly Comb Bluetooth keyboard features a slim and lightweight design, while the material used in the manufacturing of this keyboard is certainly durable. 
It seamlessly pairs with iPads or other compatible devices within the range of 8 meters.
The dedicated numeric keypad on this wireless iPad Air keyboard is another reason to consider this keyboard in the first place. If you're a coder or creator who needs their number keys, you should consider this 4th gen iPad Air keyboard while making the purchase decision.  
8. Sparin Bluetooth Keyboard for iPad Air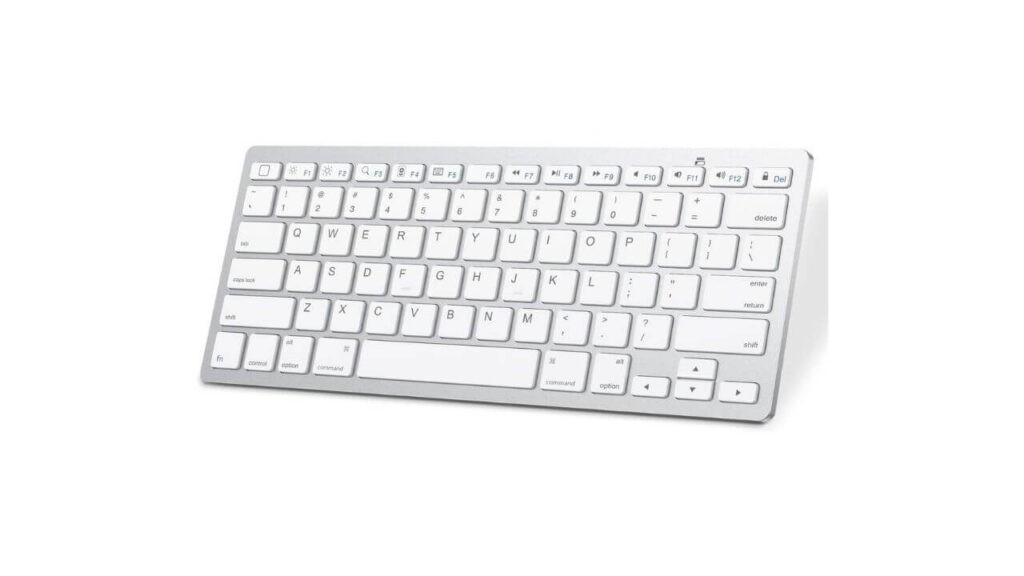 If you are searching for a slim iPad keyboard to use when you're traveling, this one from Sparin is a feasible option for you. 
This keyboard for iPad Air 4th Gen features an igneous design, which is slim and lightweight.
The Sparin iPad keyboard is the best pick for regular travelers as it can be carried in a backpack, or a handbag easily.
The automatic sleep mode option is great to save battery power.
You'll find function keys in this keyboard to control music, volume, screen brightness, and much more. 
Unlike other keyboards, you'll find a dedicated screen capture key that can be handy in indicating/sharing any work-related documents with your colleagues or team. 
You can pair this wireless iPad Air keyboard with any compatible devices within the range of 20 meters.
9. Jelly Comb Wireless iPad Air 4 Keyboard with Trackpad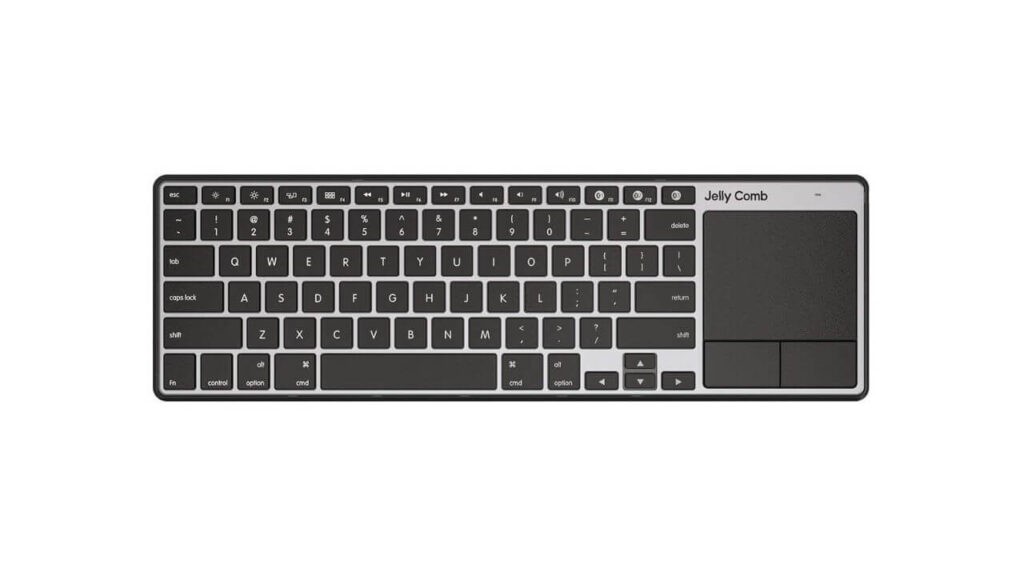 Just in case you're looking for an iPad keyboard with a trackpad, here's one from Jelly Comb. If you don't like to use the touchscreen while typing on a keyboard on your iPad, this keyboard is perfect for you. 
The touchpad incorporated in this multi-device keyboard allows better cursor control and offers a smooth use of gestures.
The slim and lightweight design of this keyboard makes it travel-friendly.  
If you work on multiple devices at one go, the easy-switch function helps you to switch between three different paired devices.
If you have heavily invested in the Apple ecosystem, this trackpad keyboard for iPad Air is best suited for you because of its universal compatibility feature. It works flawlessly with MacBooks including the ones powered by Apple's M1 chips.
The silent scissor mechanism of the keys gives a quiet and comfortable typing experience making this keyboard suitable for users taking notes from lectures or working at a library.
10. CHESONA Touchpad Keyboard for iPad Air 4 2020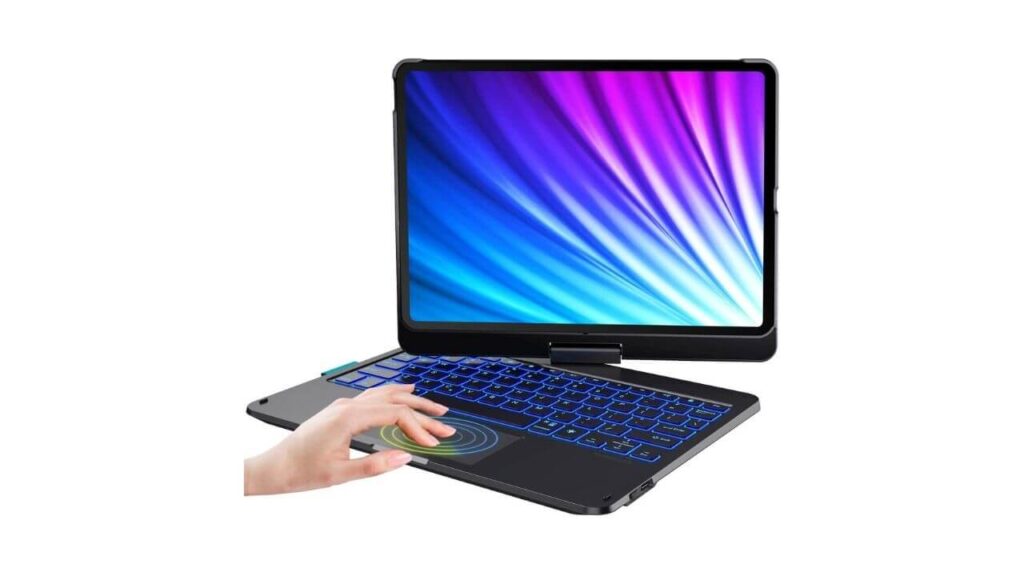 Here's another option for those looking for iPad Air 4 keyboards with a touchpad. Comparatively, it has more features as compared to the Jelly Comb touchpad keyboard mentioned above.  
It comes with a multi-touch trackpad with gesture support for a better user experience. 
The backlit keys ease the typing experience in low light conditions. 
The CHESONA wireless iPad Air keyboard has auto sleep and wake features that are quite effective for battery saving.
Also, the wide design of this keyboard gives you all the feel of using a laptop.
This one should work perfectly fine with old generation iPads including iPad Pro 2nd Gen (Model Number: A2228/A2068/A2230/A2231), and iPad Pro 1st Gen 2018 (Model Number: A1980/A2013/A1934).
The protective case around this keyboard offers decent protection from scratches, dents, or bumps. 
11. Macally iPad Air 4 Wireless Bluetooth Keyboard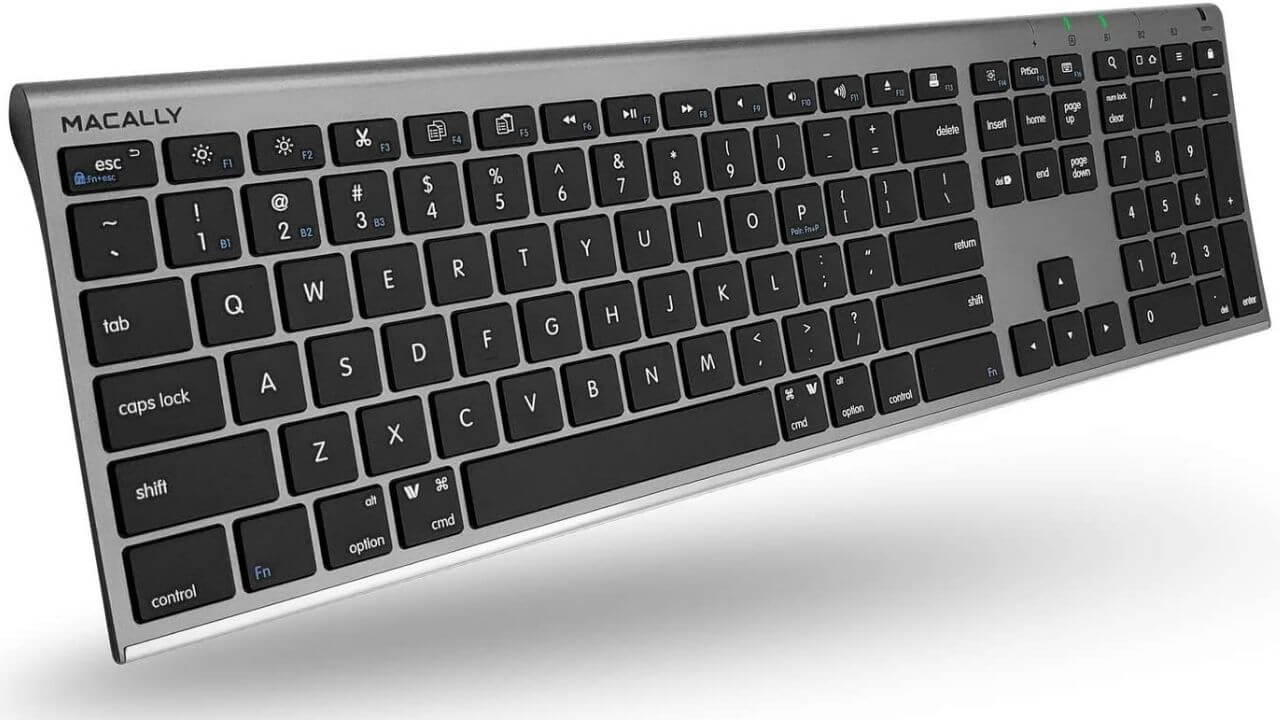 Next, we have a universally compatible wireless iPad Air 4 keyboard from Macally that features a sleek and lightweight design so that you're always up and ready when work is calling.
The multi-sync technology integrated into this wireless keyboard makes it easier to pair at least three devices at the same time. You can also switch between the connected devices and work flawlessly. 

Talking about the design, the aluminum body complements the premium look of the iPad Air looks minimalistic on a working desk almost every time.

One of the reasons why this is amongst the top keyboards for iPad Air is because it has 110 scissor flex keys that offer a quiet typing experience, whereas, it includes 20 MacOSX shortcuts which come in handy.

Let's not forget, the wide design makes it one of the best keyboards for the

MacBook Pro

and

iMac

.

Moreover, the rechargeable battery can be charged using the Micro-USB port in just an hour. Also, you can use this wireless iPad Air 4th gen keyboard for almost 3 months, if you use it for 3 hours a day. 
12. iClever BK10 Rechargeable Bluetooth Keyboard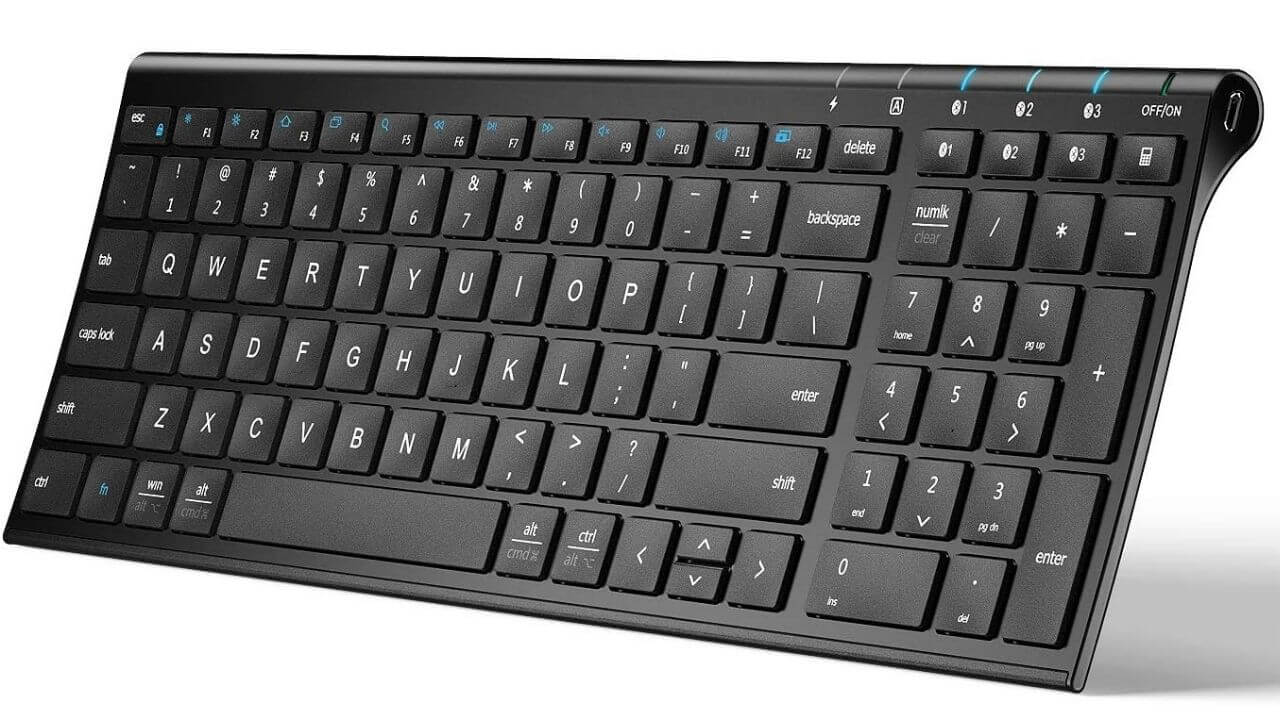 Are you looking for the best minimalist and lightweight keyboard for iPad Air 4th Gen? The iClever BK10 rechargeable keyboard made from stainless steel and ABS materials is suitable for you. Below we have listed the best features of this iPad Air 4 keyboard that we think you should know.
This wireless keyboard comes with dedicated numeric keys which can be handly for sanyone who is juggling with number on daily basis such as accountants, etc. Whereas, it feet that offers optimum slope to offer a smooth and comfortable typing experience for longer hours. 

Please note that you can pair up to three devices at once and switch between them very easily. 

The iClever iPad Air 4 wireless keyboard comes with a rechargeable battery which can deliver 90 hours of continuous charging on a single charge. You can use the Micro-USB port to charge this wireless iPad Air 4 keyboard.

Not to forget, this wireless keyboard for iPad Air 4th generation is offered with a power-saving feature that puts the keyboard to sleep after 20 minutes of inactivity. Therefore, you don't need to sweat about anything if you forgot to turn it off.

The shock-proof and skid-proof pads on the bottom of this keyboard give you the freedom of working on a slanted surface without dropping it.

Moreover, it is equipped with scissor keys for a fast and quiet typing experience which can be useful for anyone who works in a quiet working setup or at a library. 
13. XIWMIX Ultra-Slim Wireless Bluetooth Keyboard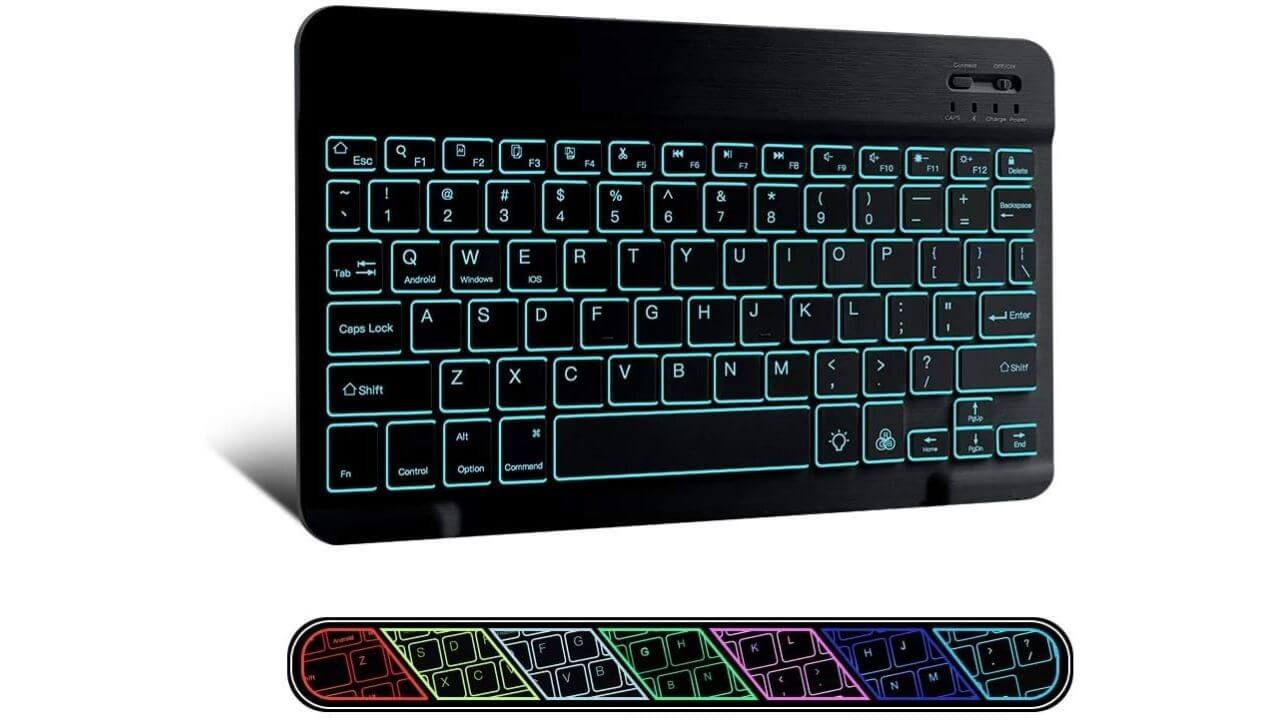 If you are looking for a budget-friendly backlit wireless keyboard for iPad Air 4, we recommend getting this one from XIWMIX. It is compact and sleek in design and lacks dedicated numeric keys. Despite that, it comes with many features which can be useful for anyone who is searching for a lightweight universal backlit wireless keyboard for iPads. 
This Bluetooth keyboard for iPad Air 4th Gen offers 7 colors LED backlight with breathing lights and constant light modes.

The slim and lightweight design of this keyboard ensures that you're always ready to travel without affecting your work. Simply pair the keyboard with the iPad and create your workstation, anywhere and anytime. 

Also, the reliable Bluetooth connection and pairing ensure that this wireless keyboard is operable within the range of 33 feet.

You can easily switch between different devices across various OS with the help of a dedicated key on this budget iPad 4th Gen keyboard. 

Talking about the power and battery, you will find a Micro-USB port for charging the iPad Air 4 keyboard which offers 10 continuous days of work, whereas it gets fully charged in 2 hours. 

Let's not forget, the auto-sleep function saves the battery power as it puts this keyboard to sleep when it's not used for 10 minutes. 
With that, we have come to the end of our roundup of the best iPad Air 4 keyboards you can buy in 2022. We'll be adding up some interesting options for you once they land in the market. So, make sure you bookmark this page and check our roundup on the best iPad Air 3 keyboards.