After almost two years of discontinuing the original HomePod, Apple launched the revamped HomePod smart speaker with improved sound, better intelligence, and smart features. The Cupertino tech giant claims that its latest smart speaker is packed with an array of innovations, including support for immersive Spatial Audio tracks, enhanced Siri intelligence, and secure smart home experiences. One of the most impressive additions to the new HomePod is the support for the wireless protocol Thread and the latest smart home standard, Matter. It means the speaker can help you control compatible accessories in your smart home. The much-awaited HomePod also brings some additional worthy upgrades for a powerful home theatre experience. 
Here's everything you need to know about the 2nd-gen HomePod.
Apple HomePod (2nd-gen) Features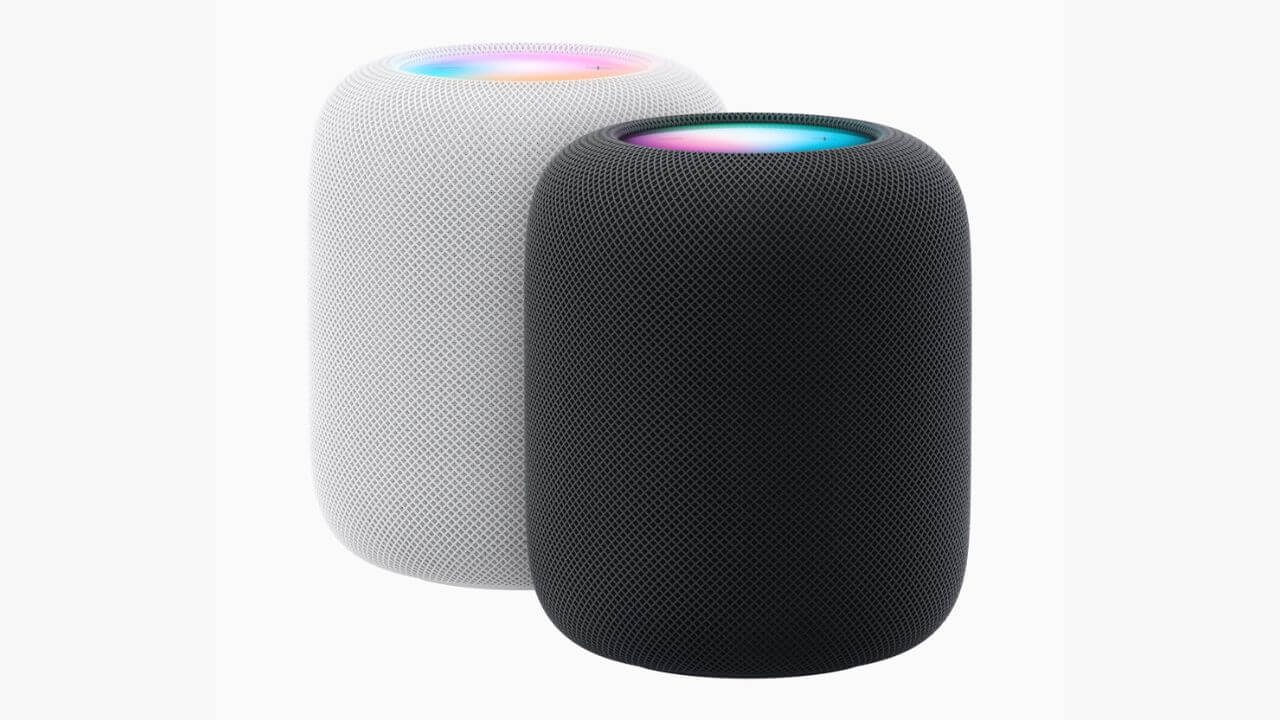 The new HomePod 2nd-gen features a similar design and form factor to the original HoemPod which was released back in 2018. The latest model is a little shorter by 0.2 inches and lighter by 0.35 pounds than its predecessor. The smart speaker rocks a beautiful, transparent mesh design finished with a backlit touch surface that illuminates from edge to edge. The new HomePod looks beautiful and can easily blend into any space. 
The smart speaker comes with a custom-engineered setup of a 20mm diaphragm, 4-inch high-excursion woofer, 5 beamforming tweeters, and a built-in bass-EQ mic for powerful acoustics. As compared to the A8 chip on the first-gen HomePod, the latest one comes with the S7 chip which was first seen on Apple Watch Series 7. Apple claims this chip produces even more advanced computational audio for groundbreaking listening experience. 
Just like the original HomePod, you can arrange two speakers into a stereo pair to create a better soundstage. You can also enhance your home entertainment experience by pairing the HomePod with your Apple TV 4K. Also, there's support for spatial audio with Dolby Atmos. Moving on, the next-gen HomePod also supports Ultra Wideband technology. It means you play the same song on the HomePod, which is being played on the iPhone. 
Also Read: Apple refreshed 14-inch & 16-inch MacBook Pro with M2 Pro & M2 Max processors
What's new in the new Apple HomePod
2nd-gen
?
The 2023 HomePod is packed with a 4-inch woofer paired with five tweeters, as compared to seven in the original one. The smart speaker has a total of four microphones, down from seven. Apple says these changes won't have any adverse impact on the sound quality. 
Coming to another new smart feature of the 2nd-gen HomePod, Apple says the speaker can sense how it is positioned in a room. It allows the HomePod to adjust the sound depending on whether it is placed up against a wall, on a table, or somewhere in the middle of the space. Moving on, the new HomePod is embedded with humidity and temperature sensors which can serve as triggers for smart home automation. For example, you can create automation to close the blinds or turn on the fan when the room temperature exceeds a certain point. 
That's not all. The HomePod can use its built-in microphones and Sound Recognition feature to listen for smoke or carbon monoxide alarms and send notifications to users' iPhones, iPads, or Macs. The new Sound Recognition feature with be available via a software update coming later this spring.
Impressively, Siri can recognize up to six different voices and provide personalized responses. For instance, each member can hear his favorite playlist or set calendar events. The latest smart speaker also gets
Find My and end-to-end encryption for all communications. On top of it, the new HomePod and the HomePod Mini can serve as a Matter smart home controller and Thread border router. It means you can manage Matter-compatible devices across Thread, Wi-Fi, and Ethernet networks.
Also Read: Top 25 Matter-enabled smart home devices to look out for in 2023
Apple HomePod (2nd-gen) Price & Availability
The new HomePod 2023 is priced at $299 and comes in Midnight and White color options with a color-matched power cable. The device is already up for pre-orders on apple.com/store and in the Apple Store app with shipping starting as early as February 3, 2023. The 2nd-gen HomePod is compatible with iPhone 8 and later or iPhone SE (2nd gen) and later running iOS 16.3; iPad (5th gen) and later, iPad Air (3rd gen) and later, iPad Pro, or iPad mini (5th gen) and later running iPadOS 16.3.
Also Read: 2023 Mac mini launched with M2 and M2 Pro chipsets