Are you tired of your TV's in-built speakers? If yes, then Sonos has the perfect solution to amp up your TV-watching experience. Sonos recently stepped into the budget-friendly soundbar market with the launch of their $279 soundbar, Ray. In addition, Sonos has been working on an affordable mini-subwoofer to offer a complete home theater experience. 
Sonos Ray launched in the US
.
After being leaked in a product listing, Sonos Ray was finally launched as their most affordable and smallest soundbar till now. It was also known as the S36 model, or many people used the code name "Fury." 
If we compare the Ray with the Beam and Arc (other soundbars by Sonos), you will notice that Ray is significantly smaller. Furthermore, it also has fewer drivers with two tweeters and two full-range mid-woofers that work with Class-D amplifiers. After a quick specs comparison, the Beam and Arc might seem like the obvious choices, but they cost double and triple the price of the Sonos Ray, respectively. That's right, Sonos Ray's launch price is $279 USD. This also makes it a
perfect tech gift for Father's day.  
Ray is not a smart soundbar and does not have any microphones that can be used for voice assistants. Sonos has made it easy to use the device with touch-sensitive buttons on its top and with status LED on the front. Additionally, it does not have an HDMI port for connecting to the TV instead, it uses an optical cable.
Sonos Ray allows you to pair it with Sonos SL as rear speakers and Sonos Sub woofer so that you can create a multi-speaker surround system similar to the ones in Sonos' other soundbars. 
Also read:-  Best Soundbars you could buy for your Bedroom in 2022
Sonos Mini Sub Design leaks 
Sonos plans to launch a mini subwoofer suitable for the Ray and Beam soundbars. This is because Sonos sells only one subwoofer right now, which costs more than Ray and Beam. 
Subwoofers make a ton of difference when paired with the right speakers or soundbars. They basically produce all the bass or low/hum-like frequencies. Hence, it does not make sense to buy a $700 accessory for a $279 or $400 speaker. Therefore, a more budget-friendly and smaller subwoofer is the logical product decision for Sonos. 
After Ray, Sonos has been working on bringing a new affordable sub-woofer, i.e., "Sub-Mini." 
Just like the bigger one, the leaks suggest it will be a wireless sub-woofer that allows hassle-free placement anywhere in the room. 
The Verge won the race by leaking information about the Sub-mini. They reported that the subwoofer has a cylindrical form and a pill-curved cutout in the middle of it. Based on a photo obtained by the publication, The Verge built a render.
Also read:-  LG's New Lifestyle TVs are some of the best-looking TVs you'll see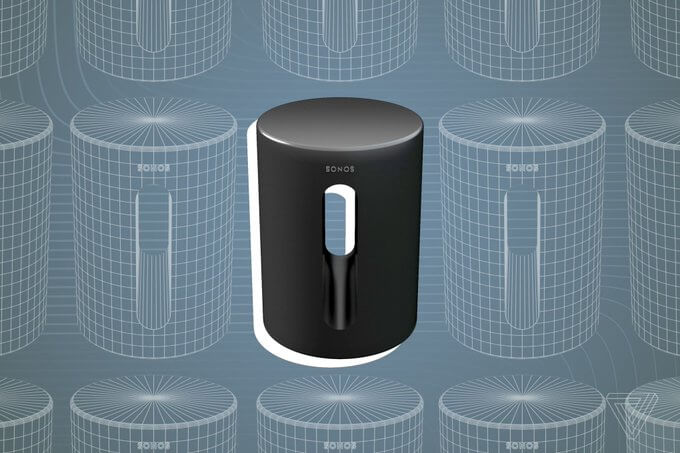 Sonos has a bigger picture for its audience. Sonos is targeting those who are giving away their interest in their TV's built-in speakers and looking toward budget-friendly good audio solutions. By releasing the Ray and planning to release Sub-mini soon, Sonos is trying to provide a good home theater experience to the customers without burning a hole in their pockets. With their wireless ecosystem and best-in-class sound quality, Sonos is giving tough competition to brands like Bose and Vizio. 
As audiences welcomed the Sonos Beam, with open hands, we are expecting the same thing for Ray and the upcoming Sub-mini. 
More information about the Sub-Mini is not yet known. Make sure to follow us on Twitter to stay updated.
Don't miss:- Best HDMI Cables for Soundbars in 2022 [Buying Guide]