Launched in 2018, the Bose Soundbar 700 officially completed its 4 years in September of 2022. The last four years have been super important for the audio industry as object-based surround sound standards have caught up a lot. The support for Dolby Atmos and DTS:X has increased significantly. You can easily find soundbars retailing for half the price of Bose Soundbar 700 with support for modern standards. With so many options out there, does it make sense to buy a four-year-old Bose Soundbar 700 right now?
I've been using the Bose Soundbar 700 for quite a long time now. A recent ad online caught my eye and compelled me to write this review. Read on to find out more about this.   
Bose Soundbar 700: Design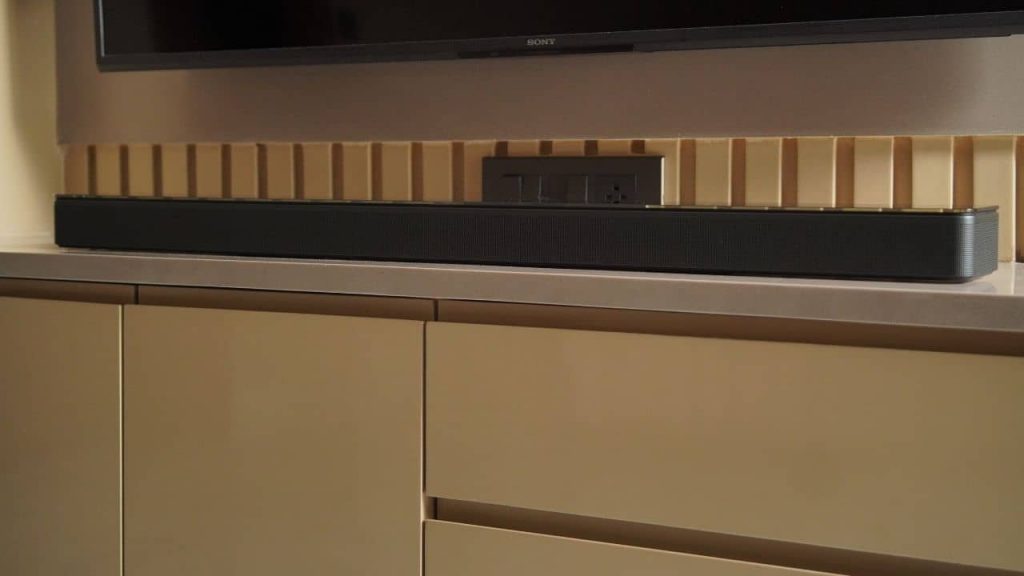 A first close look at the Bose Soundbar 700 and you'd know why it costs so much. If you have the option to see it in person at a nearby store. I recommend you give it a look. It's worth the drive. The minimalist clean design and tempered top glass scream premium. The metal-wrapped curved grills add a cherry on top. It's unlike anything you've ever seen before on a soundbar.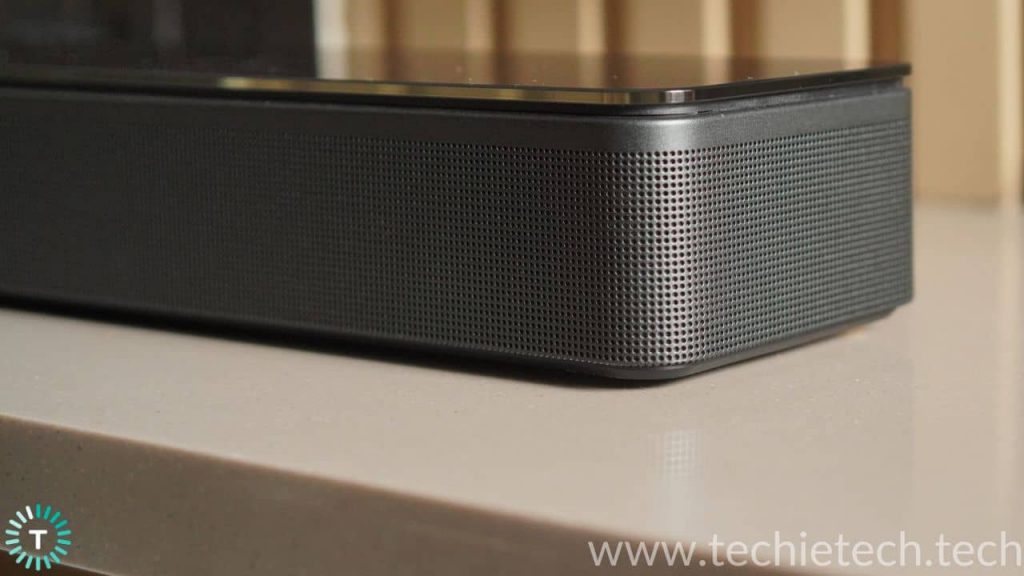 There's a recessed LED strip on the left side under the top glass of the soundbar. The LED bar acts as an indicator and lets you know what's up with the soundbar. Whether it's in pairing mode, updating software, Bluetooth mode, or listening via Alexa, etc. One thing to note here is that there's no volume indicator in the LED strip. There is no way to know whether you're at 50% volume level or 20%. You'll have to rely on the TV's volume indicators to know that.
The recessed ports in the back make cables easy to hide if you get them right. The ports are placed in a diagonal position which makes inserting thick cables a daunting exercise.
The Bose Soundbar 700 comes in two colors: white and black, making it easier to match it with your decor. 
You can place it on the TV stand or mount it on the wall with an additional wall mount bracket. Talking about the size, the Soundbar 700 has a very compact design for a premium soundbar. 
It is as wide as a 43-inch TV, measuring almost 6cm in height and 11cm in depth which is as wide as most toiler paper rolls. Weird comparison, I know. But, it's the most relatable thing I could come up with. The point is, the Bose Soundbar 700 is quite small to be called a premium soundbar. For reference, the Sonos Arc soundbar is wider than a 50-inch TV.
All that minimalist design, compact & premium build upgrade the decor of your room instead of ruining it with a bunch of cables and dust-filled speaker grills. 
Now, it's not all roses and sunshine. Bose did compromise the functionality over form here. The rounded tempered glass is a fingerprint and dust magnet. If you get it in black color and place it near a window, Lord bless your soul as you'd spend most of the time cleaning it. 
Some users also reported that the glass top reflected the TV screen at night but I found that case was limited to users who placed the soundbar under the TV. In my case, all my TVs are wall mounted so I never faced this issue. But if you've got your TV on a stand or mounted too close to the base of the console, you might run into this during your nightime binge-watching sessions. Moving on to the back, the hidden space for cables and other IO is good but you can't fit thick cables in there. Meaning, if you've got a braided or long HDMI cable, you might run into issues concealing it or pairing it with other cables like a CAT6 cable if you chose to use them.
Also read: Best Soundbars for Apple TV
Bose Soundbar 700: What comes in the box
The Bose Soundbar 700 comes with the following items in the box:
Bose Smart Soundbar 700

Universal remote

4 AA batteries (These last way longer than any other ones I've tested)

Cleaning cloth (You'll need this every day)

ADAPTIQ headset (Don't throw this away. It is one of the most useful accessories for the Bose Soundbar 700)

Optical cable

HDMI cable

Power cable

Quick-start guide
Bose Soundbar 700: More Accessories
If you're on a shopping spree (make sure to look out for Black Friday deals), then don't forget to check out the following accessories for the Bose Soundbar 700:
Bose Bass Module 700

: This is an absolute must-have accessory if you want to make the most out of your Soundbar 700. I've talked more about why you need this in the performance and sound quality section. 

Bose Surround Speakers:

Since the Soundbar series of Bose is a buildable system, you can also add the Bose Surround Speakers to the wishlist as they will take the 3.1 experience (assuming you've already got the Bass module) to the next level. These do not come cheap. A pair of these will set you back somewhere between $300 to $499 USD. I personally recommend checking out the used market for these. I got a really good deal on these from the open box/renewed category. 
Please note, I tested the Soundbar 700 with and without the subwoofer and surround speakers. 
Bose Soundbar 700: I/O or Connectivity & Specs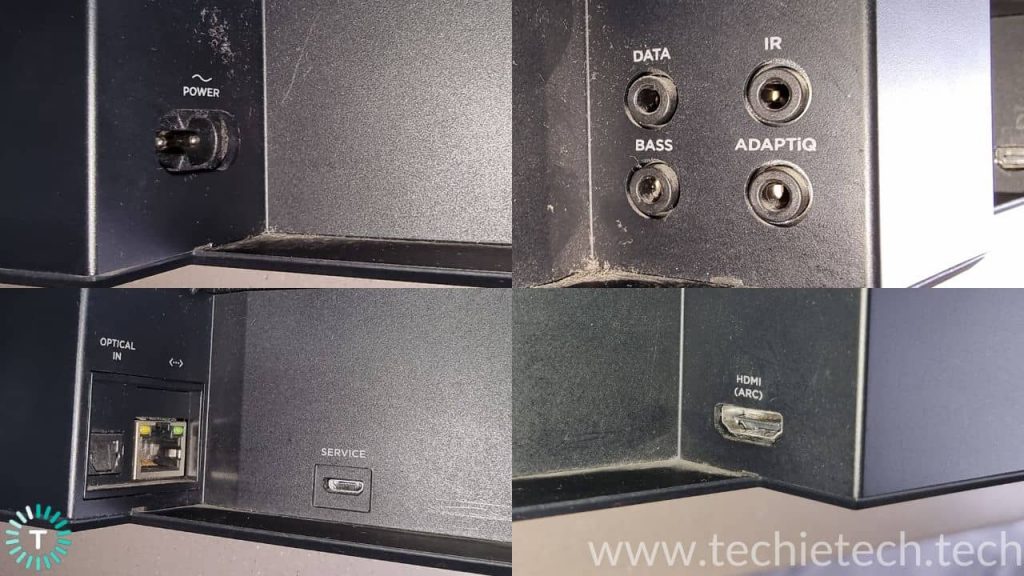 The Bose Soundbar 700 offers respectable connectivity options. The concealed cable box has a bunch of somewhat useful ports. Starting off, we have just one eARC HDMI port with backward compatibility with ARC. This means we have to connect streaming and gaming devices like Apple TV, PlayStation 5, etc. directly to the TV. As a result, the TV will route the audio via the ARC or eARC port to the soundbar. Moving on, we also have Optical audio, and an Ethernet port for internet connectivity (Alexa) and streaming. On the other side, we have multiple inputs labeled as DATA, IR, BASS, & ADAPTIQ. 
You can also connect the Soundbar 700 via Bluetooth to your smart TV, meaning you won't have to run any wires from the TV to the soundbar at all. It works fine for watching cable boxes and YouTube and stuff. But there was a noticeable delay whenever I switched to anything with stereo audio like a movie on Netflix or Amazon Prime. I recommend you stick to the HDMI connection. It's the best option for all kinds of users. Furthermore, it also supports HDMI CEC (Consumer Electronics Control). It means you can control many devices by using just the Universal remote that comes with the Soundbar 700. 
Bose has always been mum about the power of the drivers in their speakers. The SB700 is no different. I never had a problem with that. But what I don't like is the fact that it is a premium soundbar and does not have support for Dolby Atmos and DTS:X. These are object-based surround sound standards that add height channels, delivering a more immersive 360-degree listening experience. Bose did release the Soundbar 900 last year with Dolby Atmos support and it is just $100 more expensive than the Soundbar 700. More on this later.
The Bose Soundbar 700 has support for Alexa and Google Assistant (in some regions). It's got 8 microphones and they work just fine even when you're listening to music at loud volume levels.  
The soundbar has four custom drivers in the middle. PhaseGuide powered (Bose's proprietary technology) small transducers are present on each side that move and bounce sound around the room. I've talked more about this in the performance section. 
It supports a bunch of music streaming services that can be configured in the Bose Music app. You can also just directly cast it from the music app with an iPhone or Android device.
Bose Soundbar 700: Setup
Setting up the Bose Soundbar 700 is quite easy. You just plug in the HDMI cable (and of course the power cable) that came with the soundbar in the HDMI eARC port on the back and insert the other end of the cable in the eARC or ARC port on your TV. Once again, I recommend using the HDMI cable for connecting the soundbar because it supports CEC (Consumer Electronics Control) meaning you can control multiple devices with just your soundbar. Like your TV will automatically wake up once you turn on the soundbar, you can change channels and use your Smart TV features with the soundbar's remote, etc. Trust me, it's worth it.

I've hidden almost all the cables behind the TV console and due to this, I needed a longer HDMI cable that was suitable for eARC and my other uses. Once plugged in, all you need to do is download the Bose Music app from Google Play (for Android) or App Store (for iPhone).  Once downloaded, you can follow the step-by-step guide to add the soundbar after creating a Bose account. It is quite simple as long as you've got a working internet connection.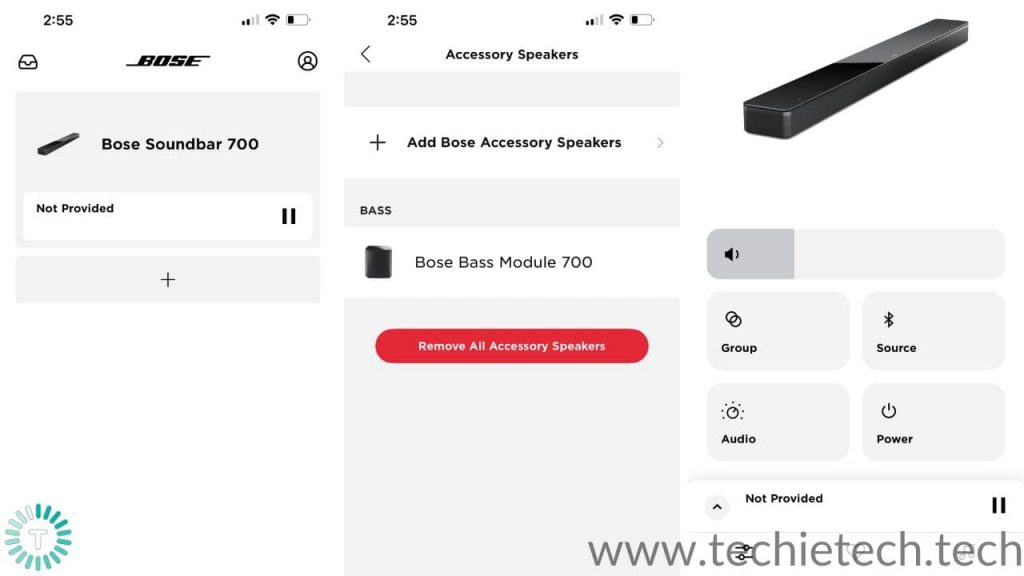 Adding an accessory speaker like the surround speakers or Bass Module subwoofer is very easy. Gone are the days when you had to wire everything right to make them work and afterward conceal them. Now, you just need to plug them with a power cable and everything happens wirelessly. 
The Soundbar 700 also offers the AdaptIQ calibration option when you're setting up the soundbar. I recommend you do that because it makes a ton of difference. I have a very weirdly shaped bedroom and I immediately noticed the difference. In order to run the AdaptIQ, you just put the headset with the mic on your head and sit in 5 different positions. This allows the soundbar to calibrate its acoustic performance according to your room's seating and furniture. Trust me on this, it makes a ton of difference.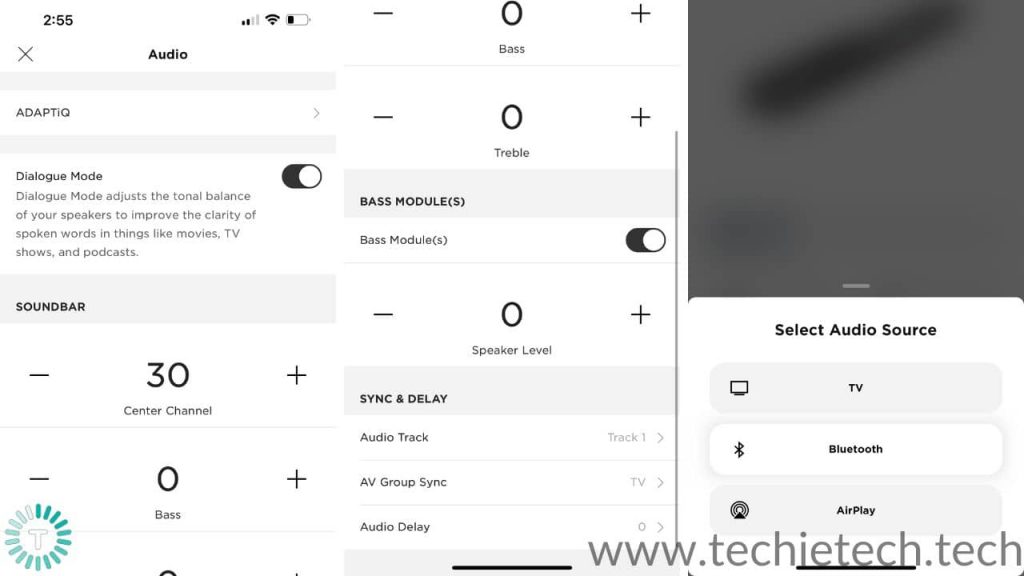 Features like AirPlay, Chromecast, and other smart speaker features are quite easy to use. Although I have to say the Multi-room and multi-source streaming is respectable, in terms of ease of use. It's not the best for everyone unless you already own Bose products except the SoundTouch-compatible ones. It's somewhat confusing. You can jump to the end here for a quick explanation. Sonos clearly has the upper hand in this department.
Also read: Best HDR TVs for Gaming on PS5 and Xbox
Bose Soundbar 700: Universal Remote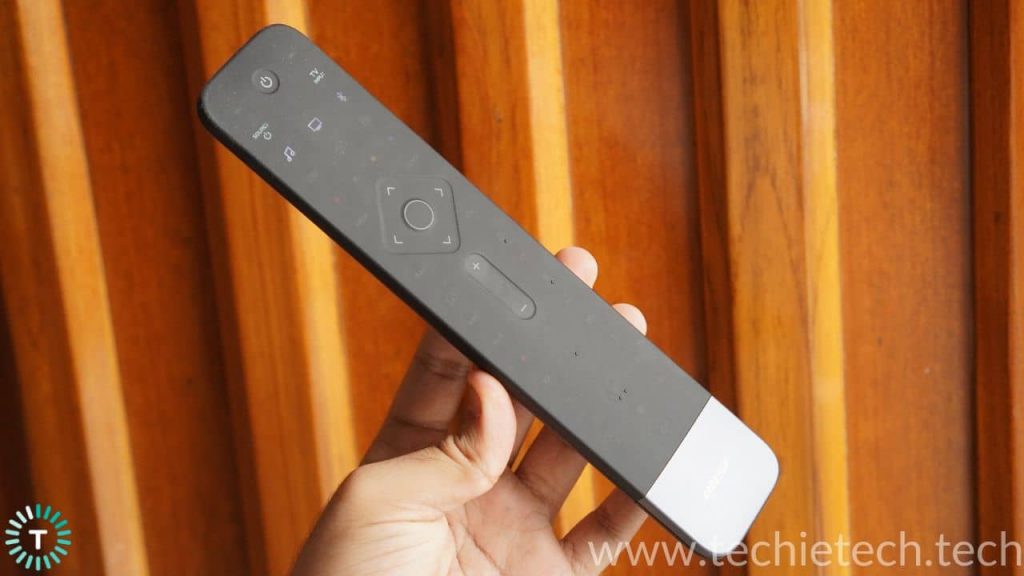 I have very mixed feelings about the Universal Remote that comes with the Soundbar 700. On one hand, it checks most of the boxes in the functionality department. On the other hand, the looks and design are just straight-up bad. Don't get me wrong. It is super functional with a great build. The rubberized design with motion sensor lights is some of the class-leading remote features. The remote lights up only the corresponding buttons for active devices. It is cool.
At the same time, the remote is heavy and so thick that you could fit almost two Sony Smart TV remotes in one Universal remote. The premium rubberized surface is a dust magnet and gets scratched very easily. I personally prefer the Bose LifeStyle 650 remote design. If you're going to make a smart TV remote, then go all the way and get it right. Just like the Soundbar 700's LED indicator, there's no way to know the volume levels on this remote.
Now that I'm done with my rant, let's see what's under the hood. 
Bose Soundbar 700: Sound Quality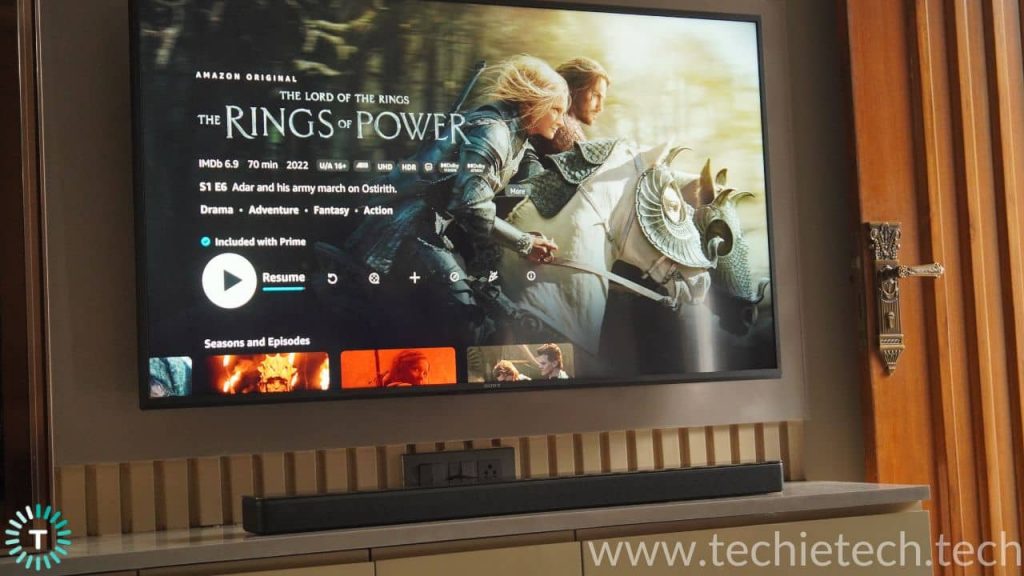 Moving on to the most interesting part. The sound quality of the Bose Soundbar 700, even 4 years after launch is exceptional. If you're coming from a traditional home theatre where you've gotta run wires here and there and hang those bulky surrounds, a soundbar is a perfect replacement.
Taking off the wraps, we have four custom-designed racetrack drivers in the center. These drivers do an excellent job when it comes to anything related to vocals. 
The dialogue processing and reproduction are outstanding especially when you've connected it via HDMI. Furthermore, you can take mid-frequency response up a notch by turning on the Dialogue enhancement feature. It ensures better clarity of dialogues. You can also manually increase the center channel volume to get even vocals in badly mixed movies. 
Overall, watching a movie on the Soundbar 700 is a good experience but there were times when I felt the low frequencies, (the bass) was somewhat missing. The lack of bass is felt during build-up scenes. After adding the additional Bass Module I saw Top Gun: Maverick and the Sonic booms, even though quite loud were crystal clear across the room followed by the thumping low frequencies. It was during those moments that the high price tag felt somewhat justified.
The Soundbar 700 does not have any vertical or up-firing speakers and I felt some vertical sounds during action scenes. The surrounds have a similar story to tell. All thanks to Bose's Phase Guide technology which sends audio to sides of the soundbar for a more cinematic experience and wider soundstage. The sounds feel like they're bouncing from the walls and the movie-watching experience is splendid when paired with the subwoofer.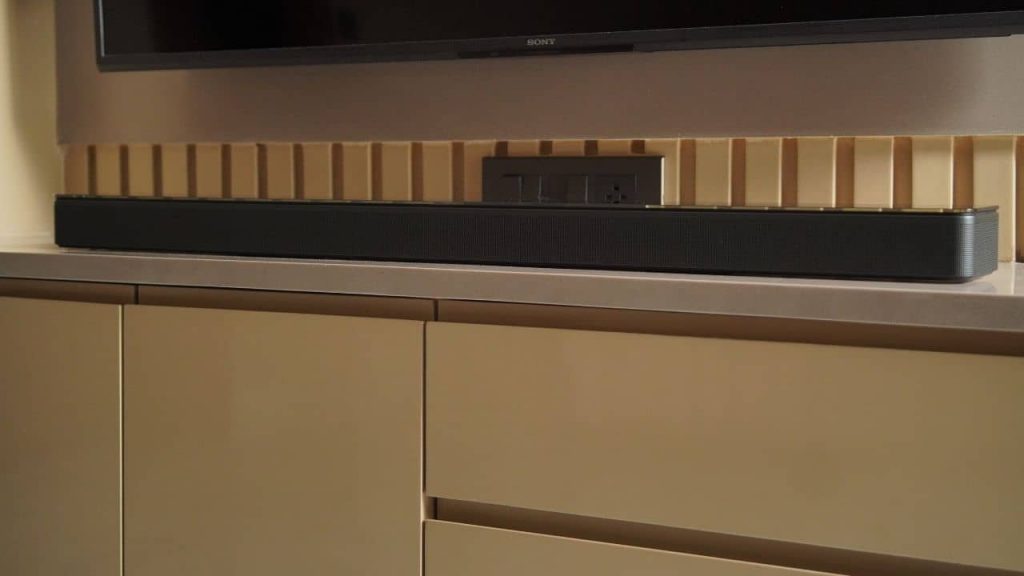 The music-listening experience on the Bose Soundbar 700 was even better than the movie-watching or gaming experience. In fact, music is where the SB700 really shines. There are more definitions even in large soundstage moments. Listening to Hans Zimmer's scores really makes your room feel alive. I've had many people ask if all sound is coming from just the soundbar or whether I've hidden any speakers around the room.
The QuietPort tech ensures the Soundbar 700 delivers deeper, clearer, and distortion-free bass. That is true until switching to a movie with some stereo mixing and action scenes. As mentioned earlier, you'll eventually have to get the additional Bass Module 700 in order to let it spread its wings. Unlike most home theatres in a box, Bose sells their subwoofers and surround speakers separately, and boy they are not cheap. Following in the footsteps of their soundbar series, the Bose Bass Module will cost you around $850. You can get really good deals in the used and open box section.
So, if you want to get the full Bose's great sound with good looks, I recommend getting the Bass Module down the line. Most of the testing was done with the Bass Module plugged in. 
Another thing that makes you feel the Soundbar 700 is worth the price tag is the fact that no matter how much loud you go or how much you try to push it, it won't buzz. All thanks to the premium build quality, the Soundar 700's body does not rattle at all. There's no distortion of sound either. 
Moving on ease of use, the Soundbar 700 can be easily operated with the Bose Music App available for both Android and iPhones. The app is well-designed with a plethora of features all suitably placed under the right settings. You can also sync multiple Bose speakers & headphones for private listening. Bose calls this feature Simplesync and according to them it only works with Bose speakers. This is a very good solution for a house party if you already own Bose speakers.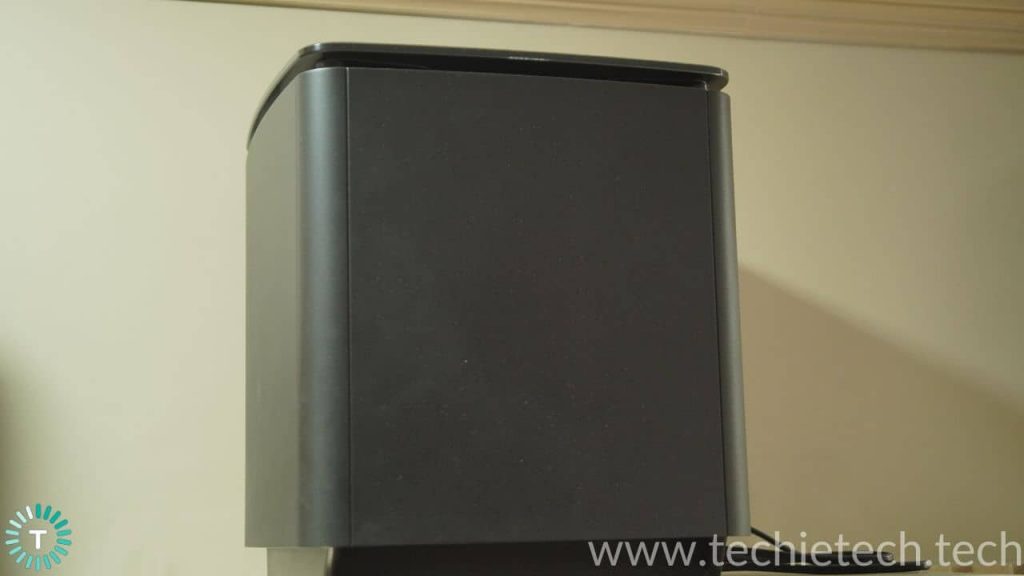 With the Bass Module and extra surrounds, the Bose Soundbar 700 delivers an impressive home theatre performance without the wires and still looks this small and this good while doing all that.
Bose Soundbar 700: Alternatives
What's the fun of reviewing products without talking about offerings from other brands? The competitors have caught up and have been eating Bose's market share. Today, you can find some really interesting and value-for-money soundbars. Here are some of the top alternatives to the Bose Soundbar 700.
1. Sonos Arc – Check Price on Amazon
Sonos is actually one of the brands that have been giving Bose products a run for their money. The Sonos Arc is their flagship soundbar that you can buy right now. It has support for Dolby Atmos, and DTS:X. Featuring a minimalist design that will add value to any room it sits in, the Sonos Arc is actually somewhat difficult to get as it sells out very fast. It also offers consistent sound quality across different modes, be it Wi-Fi streaming or HDMI. Furthermore, Sonos has been lauded for its industry-leading multi-room and multi-source music streaming and exceptional app experience. Sonos is the new Bose.
2. LG 95QR- Check Price on Amazon
LG announced this back at CES 2022. A few months down the line, they actually launched their 9.1.5 channels soundbar. With 14 channels and an impressive Dolby Atmos experience, it has received very positive reviews from both users and industry professionals. 
3. Bose Soundbar 600 – Check Price on Amazon
Bose launched the Soundbar 600 in October 2022. If you're looking for a replacement for the TV speakers and want something smaller that sounds good without interfering with the decor of your room. This is the one to get. It is considerably cheaper than the SB700 and comes with Dolby Atmos support. Just like its other siblings, the Soundbar 600 does not come with a subwoofer in the box. Meaning you'll have to shell out some extra money for the wireless Bass Module 500. It's the right size if you're looking for a soundbar for a medium or small bedroom. 
Conclusion: Should you buy the Bose Soundbar 700?
After all this time?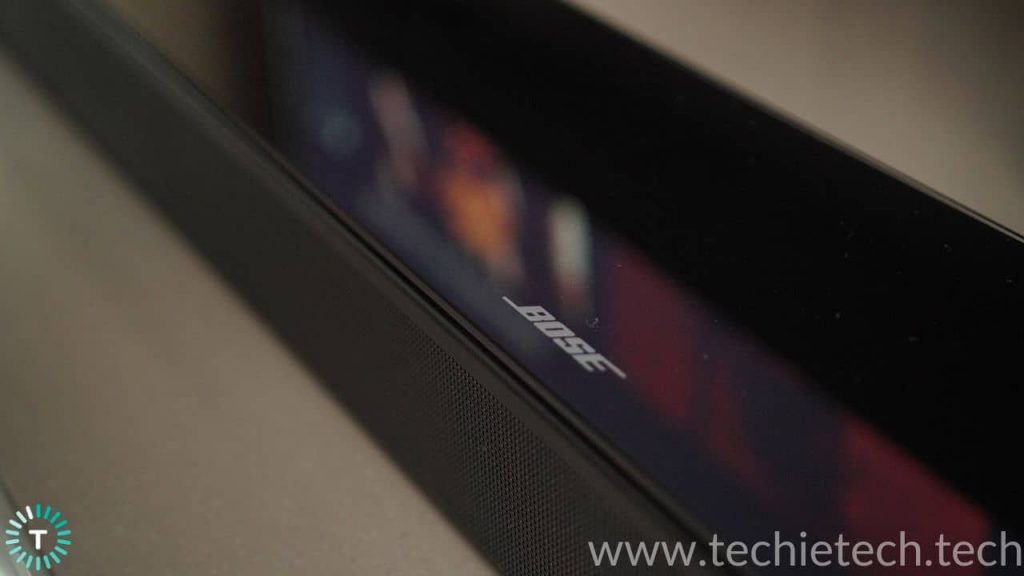 To sum up our review of the Bose Soundbar 700, I'd say it has a well-balanced neutral sound profile that offers a broad soundscape. You also get the SO (significant other) approval factor. It can easily fill your room with immersive sounds and still look aesthetically pleasing without taking up space like those bulky tower speakers. The only caveat is that lacks modern features like Dolby Atmos support and HDMI passthrough. 
No matter how much you push it in terms of volume or complex sound design movies, it won't buzz or rattle. The Soundbar 700 is the Classic Bose speaker. Delivering a wide and impressive soundstage in a smaller form factor.
So, should you buy the Bose Soundbar 700 right now?
Well, with the release of the Soundbar 600 ($499 USD) in October 2022, and the Soundbar 900 ($899 USD), the Bose SB700 has become the awkward middle child. There's no doubt, it delivers really good audio performance but you can spend an extra $100 and get the Soundbar 900 which has Dolby Atmos support and a noticeably better surround sound experience.  
You should buy the Bose Soundbar 700 only if you're getting a really good deal on a new or open box or used one. BestBuy and Amazon have been offering good discounts on the SB 700 and Bass Module 700. In fact, I was intrigued by their 40% discount on all Bose products ad which made me write this review.
Otherwise, the Bose Soundbar 900 makes more sense right now. 
Also, remember you're not just buying a product. You're buying into a product ecosystem. If you want a new portable speaker in the future or plan on upgrading the living room soundbar or adding a speaker to your kid's room, a Bose product would work more seamlessly than any other brand's offerings. Similar is the case with Sonos and other leading audio companies.  
Make sure to factor this in and then make the call. 
A few things to know before buying
Bose SoundTouch products are not multi-room compatible. Hence, they only work with the Soundtouch app and not the Bose Music app. If you've already got a Bose speaker and plan on taking advantage of the multi-room feature, make sure you check its compatibility. Here's a list of the products compatible with the Bose Music App:
Bose Home Speaker 500,

Home Speaker 300,

Portable Smart Speaker,

Bose Smart Soundbar 900,

Soundbar 700,

Smart Soundbar 600,

Soundbar 500,

Smart Soundbar 300,

Bose Music Amplifier,

Bose Noise Cancelling Headphones 700,

QuietComfort 45 Headphones,

QuietComfort Earbuds,

QuietComfort Earbuds II,

Sport Earbuds

Sport Open Earbuds,

Bose Frames Tempo, Soprano, and Tenor audio sunglasses
You can check the list of Bose SoundTouch Compatible products here.