There was a time when the Apple Music app was only available to iOS users. Following that, Apple made it available to the entire Android ecosystem. However, some Android users, like iOS users, experience issues and errors when using Apple Music. Some of these issues are universal, while others are unique to Android users. With an Apple Music subscription, you can listen to millions of songs, listen to curated radio and playlists, and get music recommendations all within the Apple Music app. You can also download music to listen to offline and access your music across devices if you're signed in to Apple Music with the same Apple ID.
However, since its release, Apple Music for Android has received a wide range of feedback from Android users. So, if you are one of those users who are faced with Apple Music not working issues, take a look at our troubleshooting guide to resolve this problem! Before we proceed with the actual guide, let's answer some quick questions in short.
1. Why is the Apple Music app not working?
This is perhaps one of the most commonly asked questions when it comes to Apple Music. The reason why Apple Music is not working is multifold. As you read further, you'll see a list of reasons which enumerate why Apple Music is not working. However, here are some quick ways to fix the Apple Music Android app:
Try

restarting your device,

 

Close and reopen Apple Music,
If only some songs aren't playing, delete the files from your Apple Music library and re-download them.
2. Why is Apple Music not showing on my lock screen?
Usually, when you turn on the screen, the Music player on the lock screen appears if you are actively playing something. But if the Apple Music app is not working and is not showing on your lock screen, then the root cause can be the notification settings on your device. If you want Apple Music to show up on your Android lock screen while you are cleaning the house or having a jam session, here's how you can do that:
Go to

Settings > Lock Screen and Security

. 

Click on notifications on the lock screen. 

Select which

apps you want to be shown on the lock screen
Restart Apple Music and see if it is working or not
3. Why is the Apple Music library not loading on Android
There can be a lot of reasons why the Apple Music library is not loading on your Android device. The primary reason may be the fact your Apple Music library is so large that it takes such a huge amount of time to load. And during this process, the app falls into a loop and takes forever to load your library. You can easily fix this by restarting your device and clearing the app's cache. Read on to see how you can perform these steps and fix your app's problems!
4. Why is Apple Music family sharing not working?
Family sharing is quite possibly one of the most novel features of Apple Music. The ease and app user experience with which this feature operates make it a wonderful addition. However, what do you do if Apple Music family sharing is not working on your Android smartphone? Well, don't worry we've got your back! Take a quick look at some common fixes for this problem and if they don't work, continue to read our holistic troubleshooting guide on Apple Music not working. If Apple Music family sharing isn't working, try:
Verifying your Apple ID
Check the enabled features on your Family sharing plan
Re-add your family members
Why Apple Music is not working on your Android device
Before we jump in and start working on solutions, we need to understand why this problem exists. The following are some of the most common causes of Apple Music not working on Android devices:
1. Faulty internet connection
Some problems with the Android Apple Music app can be traced back to more fundamental issues, such as a lack of a stable network connection. For example, if downloaded tracks won't play on Apple Music, then the issue is most likely Internet-related.
2. System Bugs
The Apple Music app on your Android smartphone may have some bugs. Software flaws and bugs are quite common, and they can cause any app to crash at any time which can lead to problems. It is usually recommended to update your apps on a regular basis. 
3. Outdated Android OS
Mobile apps must instantly adapt to new technical standards when a new operating system is released. If you don't upgrade, your phone will eventually be unable to support the new versions and features in your apps. This is why devices running old builds of Android OS can lead to significant issues when it comes to apps. Updating your device is the best option for getting Apple Music to work properly!
How to fix Apple Music not working on Android?
1. Restart your device
The first step to take when Apple Music stops working on an Android device is to restart your device. There are several good reasons to restart your phone at least once a week: better memory retention, app crash prevention, smoother operation, and longer battery life. This will update your phone's operating system and delete any (corrupt or damaged) system or temporary files that are causing Apple Music to malfunction. Here's how you can restart your phone:
Tap and hold the power button for 3-5 seconds and select Restart
Wait for some time and relaunch Apple Music
Check to see if the issue has been resolved, if not then stay with us and take a look at the next step!
Also Read: Reddit not working on Android? Here are top 14 ways to fix it
2. Force close Apple Music
A lot of users have a query regarding 'why is Apple Music not working on my Android device'. A viable method of repairing a malfunctioning app is to force-stop it. If Apple Music crashes, or if Apple Music is not working offline, force-stop it. When troubleshooting an app that freezes, refuses to respond, or performs poorly, this is usually the most effective step. Another reason why force-stopping an app is recommended is that it will bring all front and background processes associated with that app to a complete halt. Follow the steps below to force close Apple Music:
Open

Settings 

Go to

Apps

Choose

Apple Music

Select

Force Stop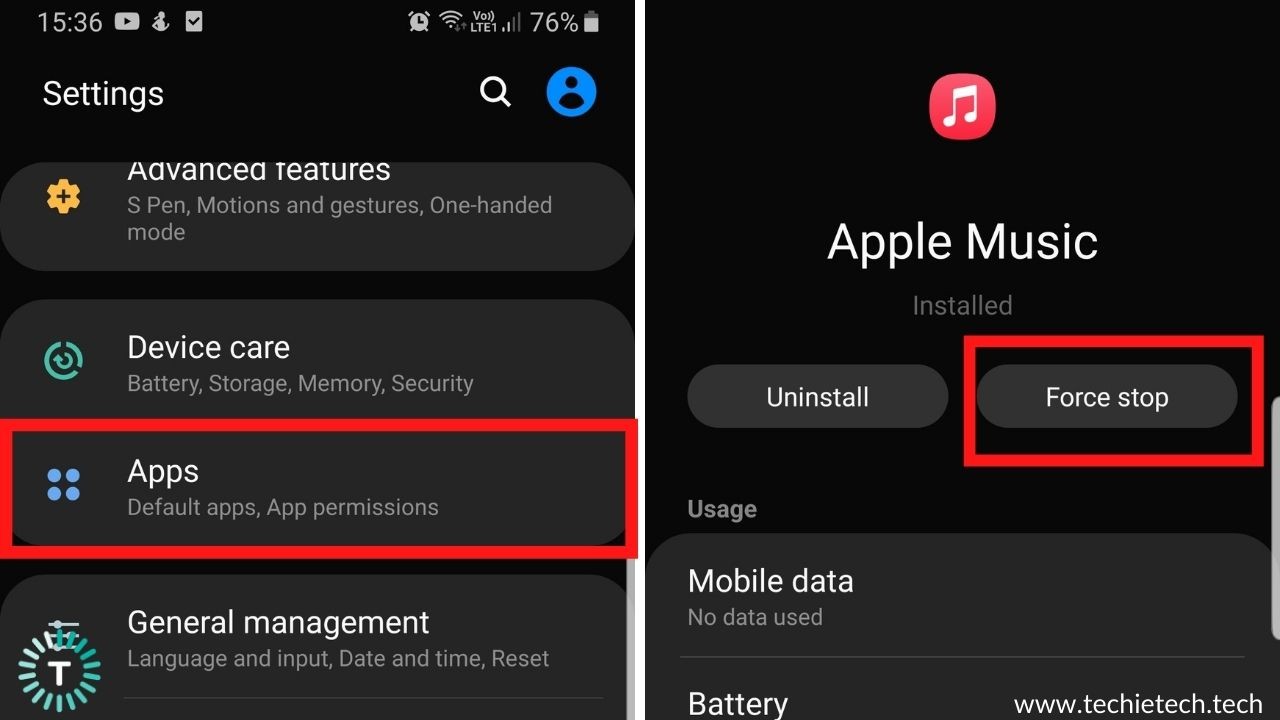 3. Clear Apple Music app's cache
Cached files can become corrupted or overloaded over time, causing performance issues on your Android phone. Your phone may collect a lot of files you don't really need, causing performance issues. When you clear the app cache on Android, you will be able to get the most out of your device. Another reason why this solution might come in handy is that Apple Music is a music streaming app which uses a lot of data as compared to other apps. So, the more data it uses the more cache it will create and the more likely it is to get corrupted and start malfunctioning. If your Apple Music app on your Android device is crashing on a regular basis, clearing the app's cache may be able to help. Clearing the app cache restored Apple Music to normal for users who couldn't play songs or load their music library. You should give it a shot and see if Apple Music is now working properly on your device. To clear the cache of Apple Music, here's what you should do:
To clear the cache,

long-press the app icon
Go to Storage, and then to the 'Clear Cache' option.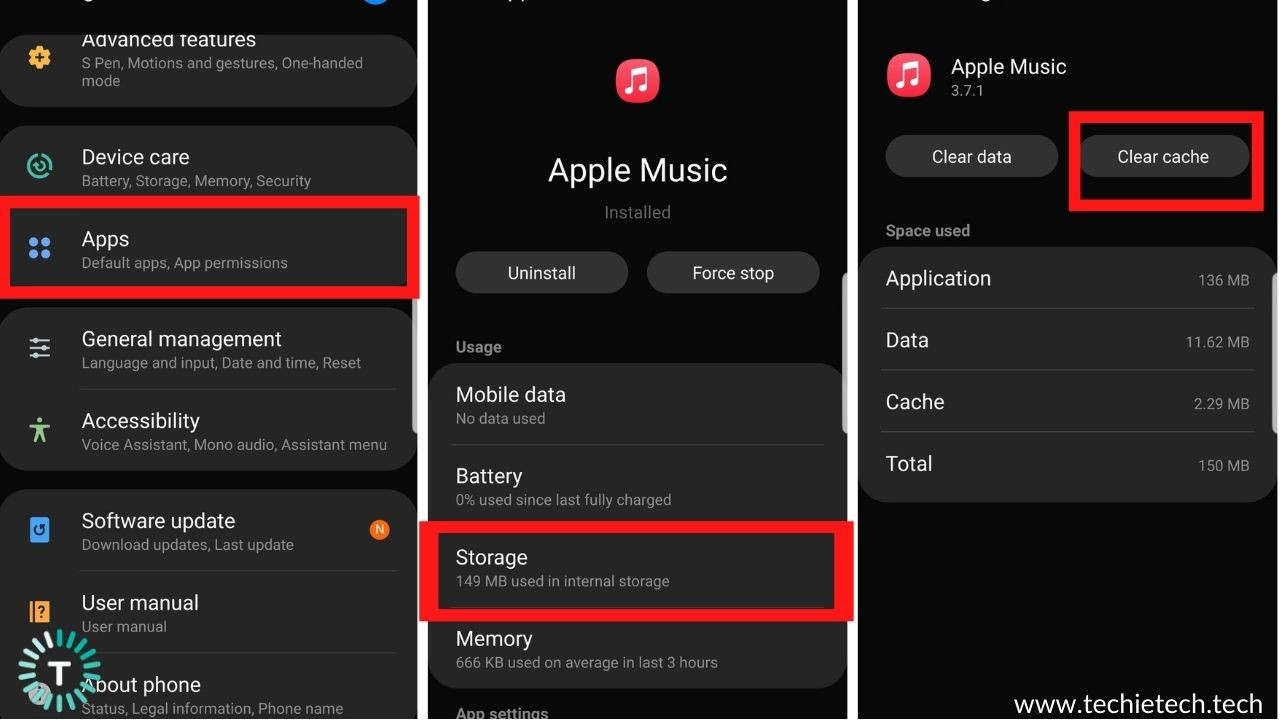 Also Read: Twitter not working on Android? Here are 16 ways to fix it
4. Clear app data
If you clear your app's data, it can lead to significant improvement in its performance. If your Apple Music is not playing downloaded songs or is not working offline, consider deleting your app's data. Please keep in mind that when you clear an app's data or storage, all of the data associated with that app is deleted. This includes your offline downloads, When this happens, your app will behave as if it had just been installed. You'll need to log in again, grant necessary permissions, adjust notification settings, and so on. Here's how to clear app data of the Apple Music app:
Go to

Apps > Settings.

Tap

Clear Data after selecting Apple Music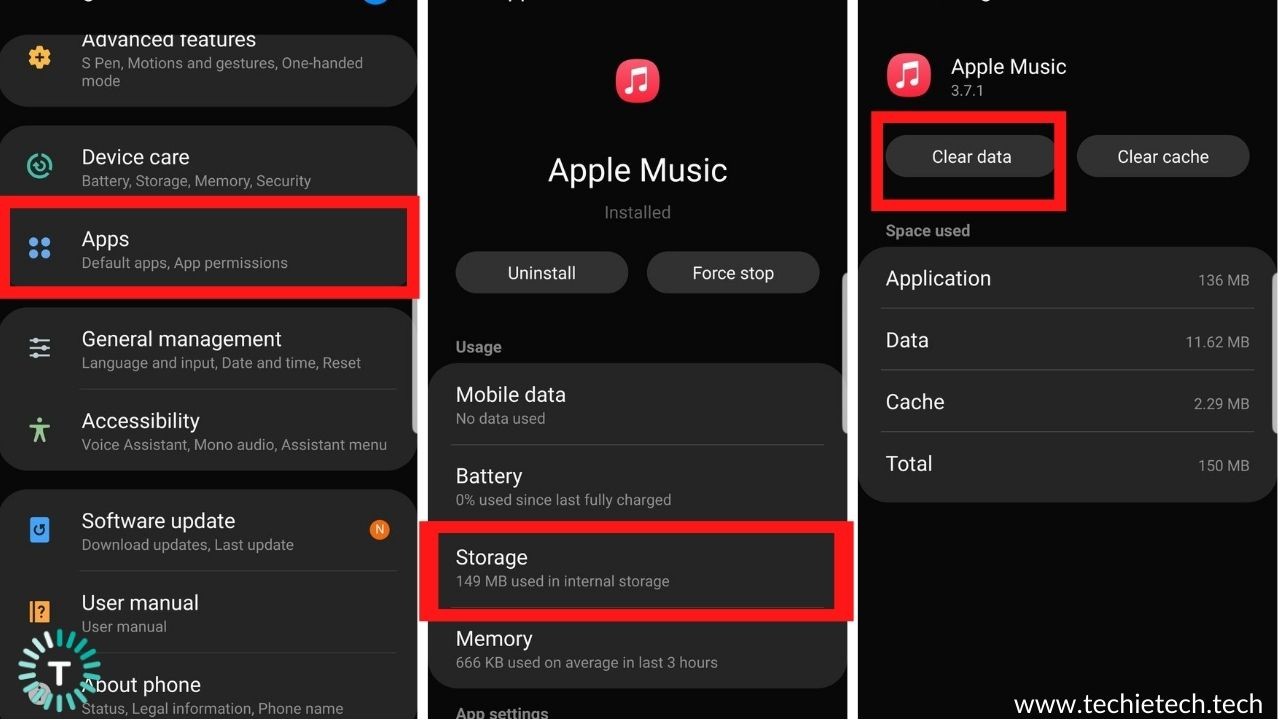 5. Check your Apple Music subscription
Unlike other apps, which allow you to listen to music for free, Apple Music requires a subscription to listen to the songs in your Apple Music library. This is especially useful for offline streaming because your playlists can still be listened to. If you're having trouble accessing your downloaded music, check to see if your Apple Music subscription is still active. If you forget to renew your subscription after it expires, you will be unable to access music for offline streaming. Also, make sure to check whether your credit/debit card has not expired. This is very common as people tend to update their billing details everywhere once a card has expired. 
6. Check if Apple Music is down
From time to time, Apple Music's server may go down, affecting a large number of users. Server outages are fairly common for a platform of this size. These, however, usually only last a short time. You can use DownDetector to see if Apple Music isn't playing any songs on Android, iPhone, or the web.
It will inform you if Apple Music is not working for you or for the rest of your friends. It gives you the ability to monitor problems and outages in real-time. There's nothing you can do if the graph shows a large number of recent outages. If the Apple Music servers are down all over the world, all you can do is wait for the problem to go away. You can also try out other music streaming apps or monitor the outage more closely on Twitter.
Also Read: Phone app not working on Android? Here're 12 ways to fix it
7. Reset network settings
If your Apple Music Android app says "You are offline" even though you're connected to Wi-Fi or have a strong 5G signal, resetting the network settings is the best solution. Faulty or corrupted network settings can also be the reason why you can't access family sharing on Apple Music, which is why we suggest you undertake these steps.
Go to

Settings > General Management
The reset option can be found by scrolling down and tapping it.

From the

list of options, choose Reset Network Settings.

Your current network settings will be deleted, and the defaults will be restored.

To continue,

enter your device passcode if requested.

Then

press to confirm that the settings have been reset.
If your Android is having trouble connecting to Wi-Fi, Bluetooth, or cellular networks, you should reset its network settings. Resetting your network settings will not delete any of your apps or personal data, but it will wipe out any saved Wi-Fi passwords, saved VPNs and Bluetooth connections. Therefore, make sure to keep them handy before resetting network settings on your device.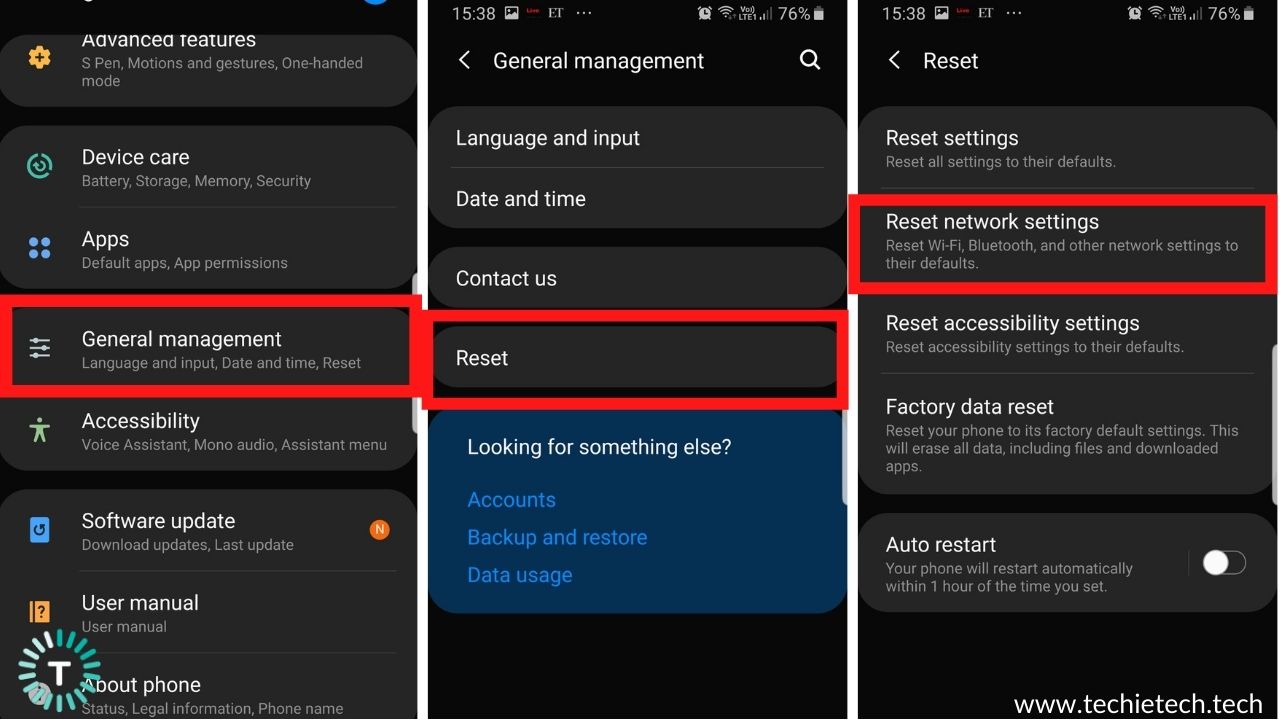 8. Update your Android device
Apple Music is compatible with any Android device running version 5.0 Lollipop or higher. As a result, you must determine whether you are still using an outdated Android OS. Upgrade to the most recent Android version, even if most users these days stick to the most recent smartphones with the latest system update. However, there may be some users who have a secondary Android device that is running an older version of Android. It's very simple to check for updates and install them. Here's how to do it:
Select Settings from the phone's menu.
Scroll down to the Software Update

option.

The system will check to see if an update for your Android smartphone is available, and you will be given the choice to download and install it. To update your smartphone, select that option and tap it.
Also Read: YouTube not working on Android? Here are top 15 ways to fix it
9. Update/Downgrade Apple Music app
Are you running the latest version of the Apple Music Android app? Perhaps a bug in an older build version of the app is causing the app to stop working as it should. So, go to the Play Store and see if there's any new update to download. Then install it right away. This will clear any data associated with the app from your phone, which may assist in resolving the issue or sometimes, you may need to download an older version of an app to your phone. There are plenty of reasons to roll back an update, whether it's because the current one is crashing, has introduced a new feature or option that's broken, or just because you don't like the latest modifications. Follow these steps to update the Apple Music app on any Android device: 
Open the Play Store and select the hamburger menu.

Select

My Apps & Games

from the menu on the left panel.

Check to see if Apple Music is on the list of apps that need to be updated

.

Or you can

simply search Apple Music and tap to open up the app page

.

See if the button on the right shows "

Update"or "Open".

 

If it shows "Update" then update the app

. On the flip side,

if it shows "Open" then wait and monitor for a new update.

You can leave detailed feedback for the developers in the review section and it comes in handy for fixing those bugs.  
10. Ensure sufficient storage availability
If you're wondering why Apple Music search is not working or why Apple Music is not playing songs on Android, it's because the app doesn't have enough storage to function properly. To stream and playback songs and podcasts, apps like Apple Music require a reasonable amount of free storage. In the cache, this area is also used to store music and track information. This process also uses some of the RAM on your device. As a result, preventing the app from crashing may necessitate going through your phone's storage and making room. To do so, follow these steps:
Go to

Settings and look for the Storage option
Scan the data

to see how much

Storage is left

and what can be cleared to

make way for smoother functioning of your phone.

Make sure there is

at least 15-20% of internal storage available

for the proper functioning of apps. 
Also Read: Google Photos not working on Android? Here are 16 ways to fix it
11. Reinstall Apple Music
Uninstalling Apple Music Android app is a good step if it suddenly stops playing on your device. Log out of the app first, then uninstall. This will clear any data associated with the app from your phone, which may assist in resolving the issue. This includes your offline music library, app cache and home screen widgets etc.
This is because as you use an app more frequently, it saves more data and files related to the programme on your device. This can break links and cause files to corrupt, causing Apple Music to stop working on Android. Reinstall the app on your device and log in with your username and password to see if the problem persists.
12. Contact Apple Music support
If nothing else works and you're still having issues with Apple Music not working, contact Apple Support. Apple's customer service representatives are in the best position to assist you and answer your questions about any problem with your Apple device. You can also share your detailed findings in the review section of the Google Play Store. 
13. Factory Reset
If your Apple Music app is still not working after you've tried everything else, this is your last and best option. This is only recommended if nothing else works out. Before you begin, keep in mind that all of your data will be erased, which is why we recommend that you make a
backup. Follow these steps to factory reset your Android device:
Go to

Settings

Select

General Management
Press Reset

Select

Factory reset data
Scroll and press Reset
Also Read: Gmail not working on Android? Here are 14 ways to fix it
The latest Android 12 update will be coming out with excellent upgrades which can hopefully increase the user experience up to a notch and with this, we come to the end of our guide to Apple Music not working on Android. We hope that the tips mentioned here have helped you, let us know if any of these tips have worked out for you and while you're here check out our guide on the Messages app not working on Android.