Samsung officially unveiled the Galaxy Z Flip 4 5G at the August Unpacked event held on 10th August. This foldable is the successor of the previous year's Galaxy Z Flip 3 which set record sales as soon as it hit the market. The Korean tech giant also announced the foldable beast, the Galaxy Z Fold 4 alongside the Flip 4. As you know that several specs of Z Flip 4 were leaked before launch, and you might know them as well. For anyone unaware, here's a quick look at the specs of the Galaxy Z Flip 4. The Samsung Z Flip 4 5G houses a 6.7-inch Dynamic AMOLED 2X display on the inside, whereas the cover display features a 1.9-inch Super AMOLED display. Samsung packs the latest Snapdragon 8 Gen+ 1 chipset in the Galaxy Z Flip 4 packs for unmatched performance. Talking of software, it will run on Android 12L and OneUI 4.1.1, out-of-the-box. This foldable smartphone is shipped with 5G, Wi-Fi 6, and 25W fast charging (an increment over the last year's Z Flip 3). In short, it's an all-rounder device that houses a great display, camera, top-notch processor, and bigger battery than its predecessor. 
Since it is a new phone, you should have the right accessories to get the most out of it. Therefore, we have compiled a list of the most tried and tested Galaxy Z Flip 4 accessories that you can buy right now. Our list comprises the top cases, chargers, earphones, and must-haves for your new foldable. 
Without further ado, let's jump right into the list of best accessories for the Samsung Galaxy Z Flip 4. 
Note: We update our article from time to time to cover the latest products available in the market.
Top Galaxy Z Flip 4 Accessories to Buy Right Now
Best Cases for Galaxy Z Flip 4 
1. Spigen Tough Armor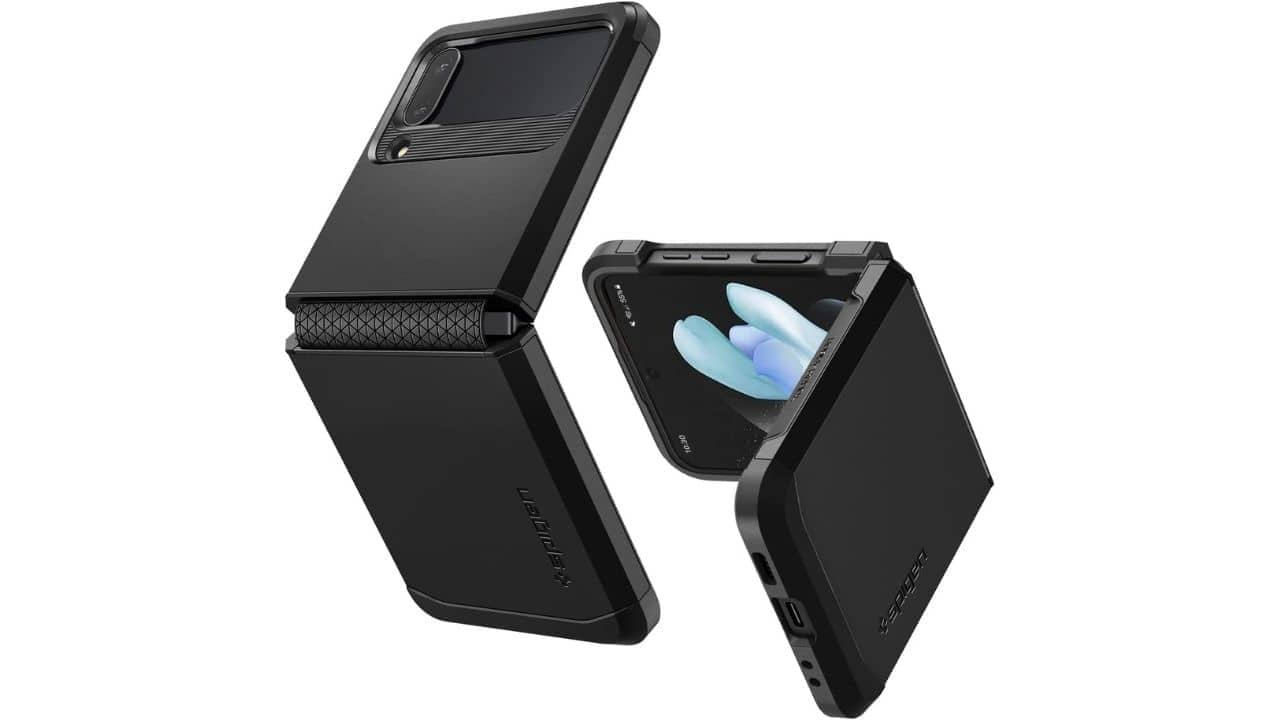 The Spigen Tough Armor case is by far the best and most popular protective case for Galaxy Z Flip 4 out there. This tough case is made from a blend of hard Polycarbonate material and Thermoplastic Polyurethane (TPU) materials. The overall build and military-grade design of this heavy-duty case for the Samsung Z Flip 4 ensure all-around protection against stubborn scratches, nasty drops, and shocks. Spigen has incorporated the all-new foam technology in this case to ensure maximum protection when your kid drops your phone from bed. In addition, the Air Cushion Technology integrated into this protective Flip 4 case ensures that it absorbs shocks when the device falls sideways from your pocket or desk. This eventually prevents the screen from shattering. That's not all, it comes with a built-in kickstand which can be handy to binge-watch your favorite Netflix movies or shows. You can also leverage its benefit for attending Zoom meetings or video-calling your loved ones. Despite its chunky build, this tough armor case for Samsung Flip 4 is compatible with both wireless charging as well as PowerShare. However, there have been complaints related to patchy wireless charging on the same case for Z Flip 3, hope everything stays fine, this time around. 
In short, it is undoubtedly a great case for protection, but it has a flaw. When it comes to gripping, this case can be slightly tricky as it lacks any patterns or ridges, or texture at the back. Therefore, it can get slippery when the device gets warm and your hand is sweaty. We also recommend people with butterfingers be extra cautious while handling the device with this case installed.
Reasons to buy:
Awesome hinge protection

Feels great in the hand

Military-grade certification

Adhesive strips securely attach the case with the phone

Suitable for rough drops
Reasons to avoid:
The case might get slippery when wet from moisture or sweat
Also read: Best Fast Chargers for Samsung Galaxy Z Fold 5 and Galaxy Z Flip 5 
2. SUPCASE Unicorn Beetle Pro Series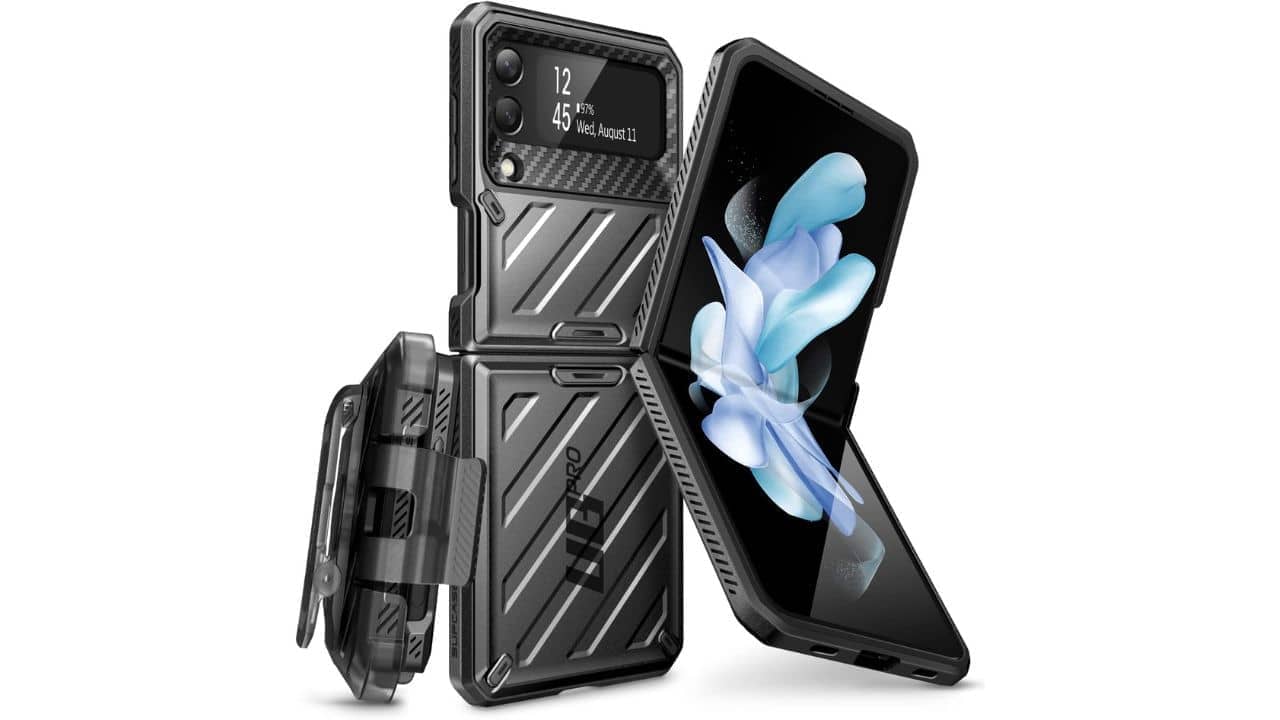 If you are eyeing a funky case for your Galaxy Z Flip 4, the SUPCASE Unicorn Beetle Pro Series is a must-have for you. It is made from a combination of Thermoplastic Polyurethane (TPU) and Polycarbonate (PC) material for scratch-proof protection. This rugged protective case for Galaxy Z Flip 4 comes in a dual-layer design to offer maximum protection against shocks, bumps, and fatal drops from a height of up to 20 feet. So, next time your naughty kid drops your phone from your working desk, you shouldn't worry. It should be just fine. As we are talking of protection, it is important to mention that the raised bezels around the display offer a good amount of protection against scratches that may appear due to regular usage or daily bumps. That's not all the rear back camera is also surrounded by beveled edges which also act as a scratch-defender for the tiny screen. Since this Galaxy Z Flip 4 case has a rugged texture on the back and both sides' bumper, this makes it grippier than the Spigen Tough Armor mentioned above. You can also use the detachable holster for conveniently carrying your device when you're on the go. The most striking point of this protective Samsung Z Flip 4 case is that it maintains a sleek profile despite having a rugged texture and chunky bumper. Further, it comes with wireless charging compatibility and the PowerShare feature. All in all, it is one of the best-rugged cases for Galaxy Z Flip 4 users available in the market. But, beware, the price might burn a hole in your pocket. For those who can afford it, it is an all-rounder case. 
Reasons to buy:
Superb grip

Snug fit

The belt clip is very secure

Precise cuts to fit most of the charging cables

Worth every penny
Reasons to avoid:
Not the most appealing case out there
Also read: Best Samsung Galaxy Z Flip 4 Cases You Should Buy in 2022
3. Otterbox Symmetry Series Flex Case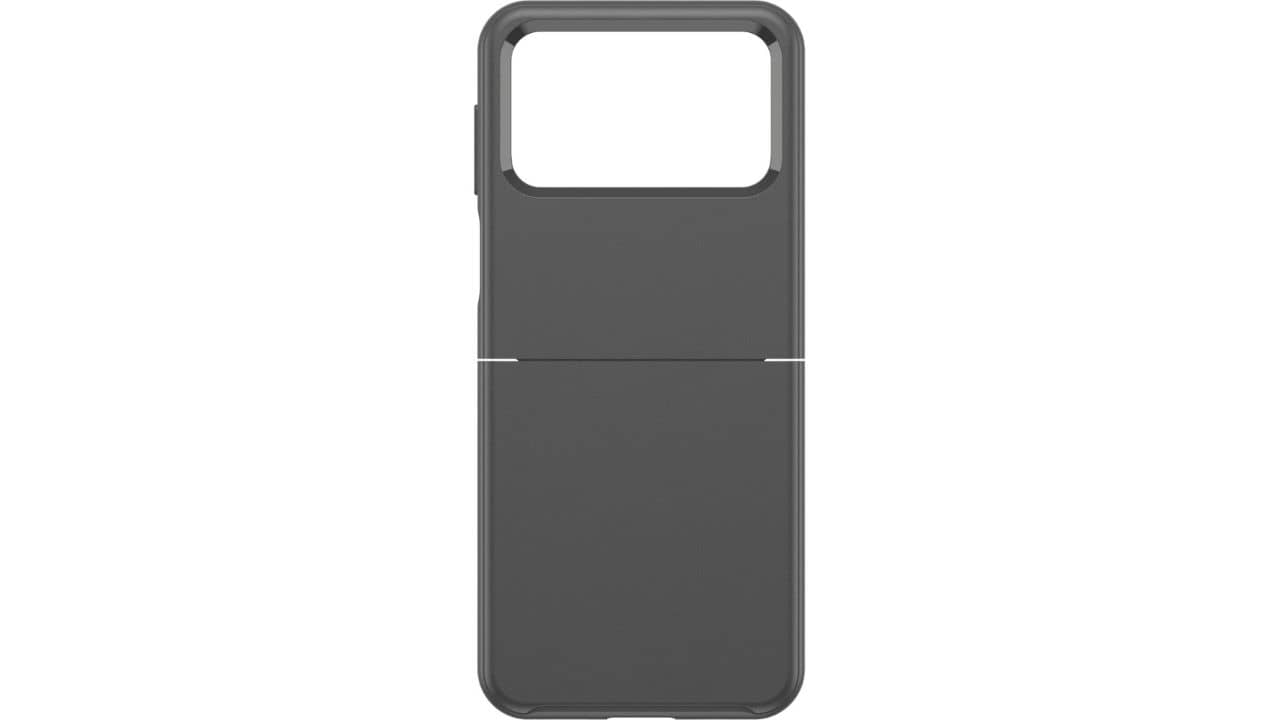 When we talk about mobile protection accessories brands, we never forget to mention OtterBox and Spigen. These two brands have been ruling the industry for a long period now, and it still keeps delivering unmatchable products. One of the most popular ones from OtterBox is its Defender series, but we are not talking about it here. Instead, we have the OtterBox Symmetry Series Flex case here which is a suitable thin case for all those who are not a fan of bulky cases. 
This thin protective case for Galaxy Z Flip 4 is made from a polycarbonate material and 60% recyclable plastic ensuring durability and sustainability at the same time. As compared to other OtterBox cases, which look chunky, this one preserves a sleek profile ensuring a smooth and premium in-hand feel every time you use your device. Frankly speaking, it is a great case that comes with a limited lifetime warranty, wireless charging compatibility, and PowerShare. You can always check user reviews if that's what satisfies you. 
Having all that said, we suggest you take extra care while removing this case as the foldable design of the phone can be tricky for beginners. You may end up damaging the screen as well. Plus, it is quite expensive – you can get almost three decent thin cases at the price it is being offered. For those who opt for quality over the price, it is still one of the top thin protective cases for the Samsung Z Flip 4 available on the market. Please choose wisely. 
Reasons to buy:
Best-in-hand feel 

Superior protection

Easily accessible buttons and ports

Withstand harsh drops

Limited lifetime warranty 
Reasons to avoid:
4. Ringke Clear Case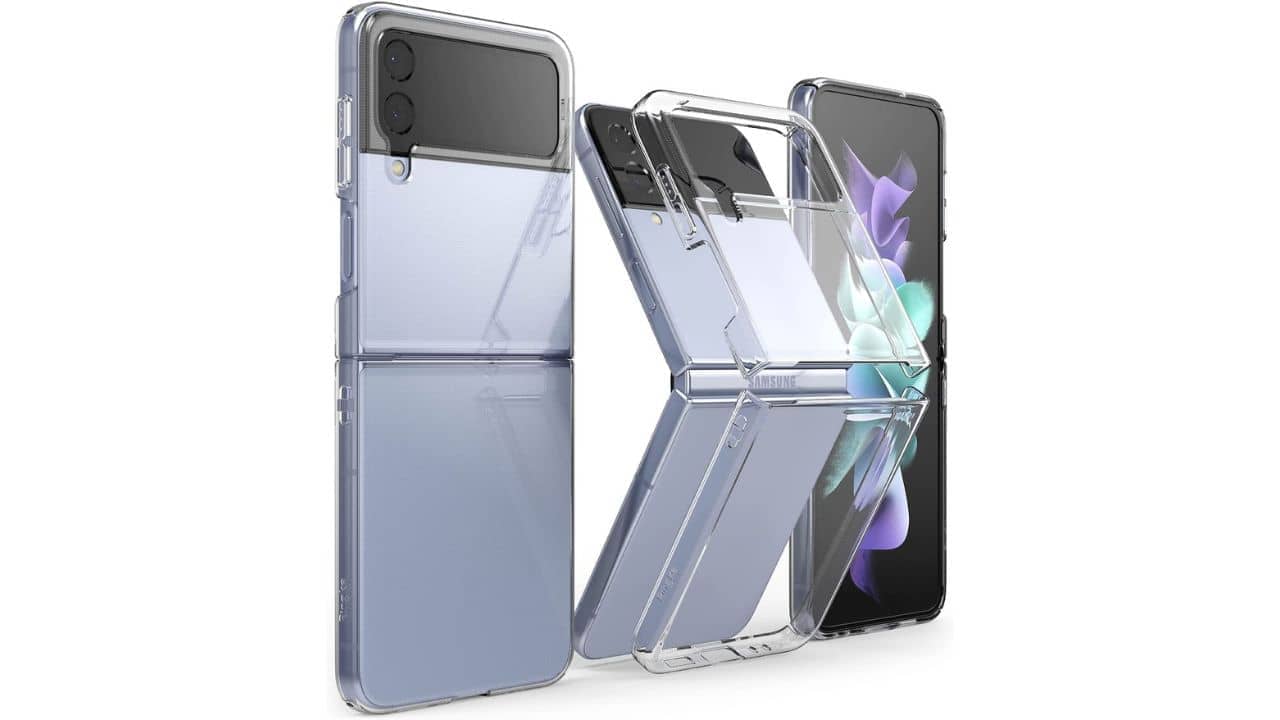 If you are looking to flaunt the gorgeous color of the 2022 Samsung clamshell foldable phone, this one from Ringke should be the right pick for you. This thin clear case for Samsung Z Flip 4 is designed using transparent Polycarbonate material which ensures decent protection against minor shocks and bumps. In no way, you should expect this slim transparent case to offer protection against rough drops or shocks, it's better to leave that task to the heavy and honestly uglier cases we mentioned above. Also, you can wirelessly charge your Flip 4 using compatible wireless chargers or via the PowerShare feature with this case installed on it.  
Talking of protection, there're elevated ridges in this clear Galaxy Z Flip 4 case that runs along the rear camera, outer display, and primary inner display. These ridges help prevent scratches that may appear when your device is placed upside down and vice-versa.
Additionally, there you'll find precise cutouts around the charging port, mics, and different buttons for better accessibility and user experience. If you are always worried about clear cases turning yellow over time, this is not the situation with this one. Keeping up with the tradition, this Samsung Z Flip 4 clear case is also shipped with a Quick-catch lanyard hole. You can use it to attach hand or neck straps to securely carry it around a busy subway or a crowded metro. 
What we find unpleasant about this case is that it can catch dust particles easily. In our testing, it is a bit of a turn off especially if you reside in an environment with lots of dust. Overall, it is a great option for anyone looking for a thin clear case for Samsung Galaxy Z Flip 4 5G. 
Reasons to buy:
Fingerprint resistant 

The cover buttons have texture so you can easily spot them even in the dark 

The transparent back lets you flaunt phone colors

No discoloration (or yellowing)

Raised lips offer scratch-proof protection for the main display and rear camera and cover display
Reasons to avoid:
Attracts dust particles easily
Also read: Best Galaxy Z Fold 4 cases
5. Cresee Slim Matte Case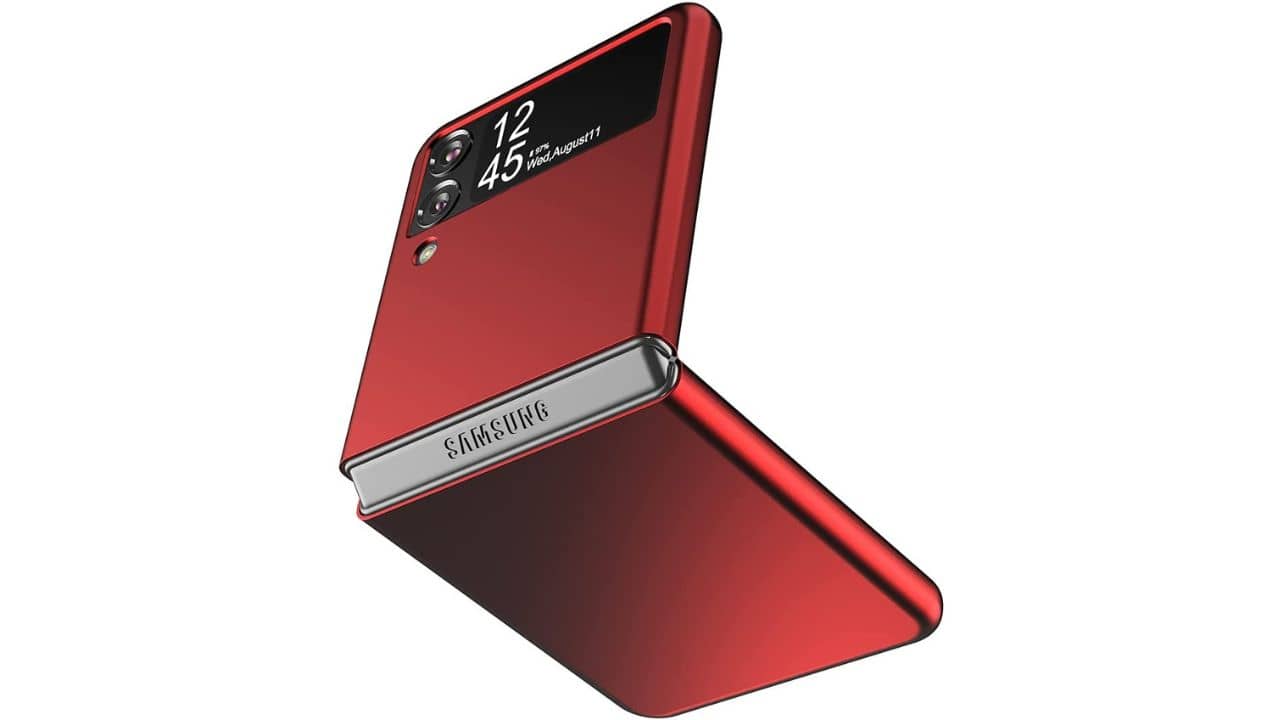 Still not sure which thin case to choose for your Galaxy Z Flip 4? We recommend going with this slim matte case from Cresee. Just like the rest of the above-mentioned cases, this slim fit case is also designed around solid polycarbonate material topped with a soft-touch matte finish on the back. The matte back design offers you a soft-touch feel. At the same time, it hides a greasy fingerprint that looks awful. 
This thin Z Flip 4 cover preserves the slim design of the phone ensuring minimum bulk when you carry it around in your hand. This case is just perfect for those who want to stay far from bulky cases like Spigen Tough Armor, and more, but want protection against minor shocks or bumps. Further, there are raised edges that help mitigate scratches that may come off the surface when you place them upside down during daily usage. The precise cutouts across the charging port, power key, and volume rockers ensure flawless functioning of the device. Did we mention that it is compatible with both wireless charging and the PowerShare feature?
Of all that said, there's a flaw related to the quality of this Flip 4 thin matte case. In our research, we found out that few users noticed that the protective coating was peeling off on its own. But, it was limited to certain units. Therefore, we suggest going with a different color to be on the safe side. Keeping that aside, it is still one of the best-budget-friendly thin cases for Galaxy Z Flip 4 that comes in four gorgeous color options to choose from.  
Reasons to buy:
Ultra-slim and gorgeous look

Fits well on the phone

The matte finish presents the fingerprint smudges

Striking color options are available
Reasons to avoid:
The protective coating might peel off with longtime usage
Also read: Best Samsung Galaxy Z Flip 5 Cases for Style and Protection
Best Galaxy Z Flip 4 Chargers
6. Spigen 27W USB-C PPS Charger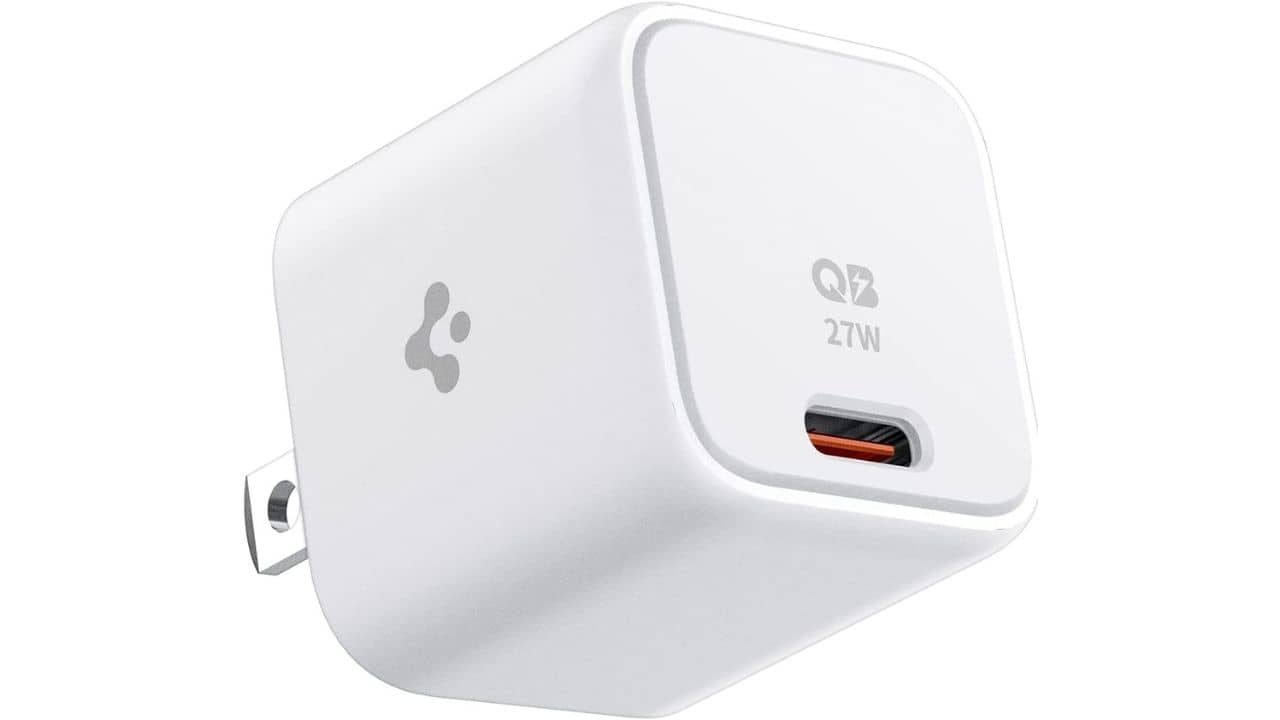 Spigen has been one of the leading competitors when it comes to mobile protection accessories such as cases and screen protectors. However, since the launch of GaN and PPS chargers, Spigen is competing with top players in the same segment. This fast PPS charger for Galaxy Z Flip 4 comes in an ultra-compact design which when compared to Apple's 20W brick, it's almost half in size. It delivers up to 27W of maximum power output ensuring that the Galaxy Z Flip 4 charges to its full potential. You can also use this fast charger to revive a work iPhone, Samsung Galaxy tablet, or the last year's Galaxy Z Flip 3. 
The charging efficiency is taken care of by the Power Quality Technology incorporated in this fast charger which minimizes the ripple noise while charging. At the same time, it provides stable power output for better charging efficiency and prevention against any kind of damage to your device while it is charging. 
Above all, it beats top chargers in the same segment such as Anker Power Port, an official Samsung charger, with its 24-months post-purchase warranty and support services. Overall, it is a perfect fast charger for Galaxy Z Flip 4 and a USB-C accessory available for a reasonable price tag. However, foldable prongs and a LED charging indicator would have been the cherry on the cake. 
Reasons to buy:
24-months warranty

Ultra-compact size 

Super fast charging (PPS compatible)
Reasons to avoid: 
Lacks charging indicator and foldable prongs
In case, you want a powerful and tiny charger for your Flip 4, we recommend getting the Anker Nano II over the Spigen USB-C mini charger. It is somewhat the same in size and comes in multiple power outputs as well, ranging from 20W to 65W with PPS support. 
Also read: 10 Best Fast Chargers for Galaxy Flip 4 in 2022
7. Samsung 25W USB-C Super Fast Charging Wall Charger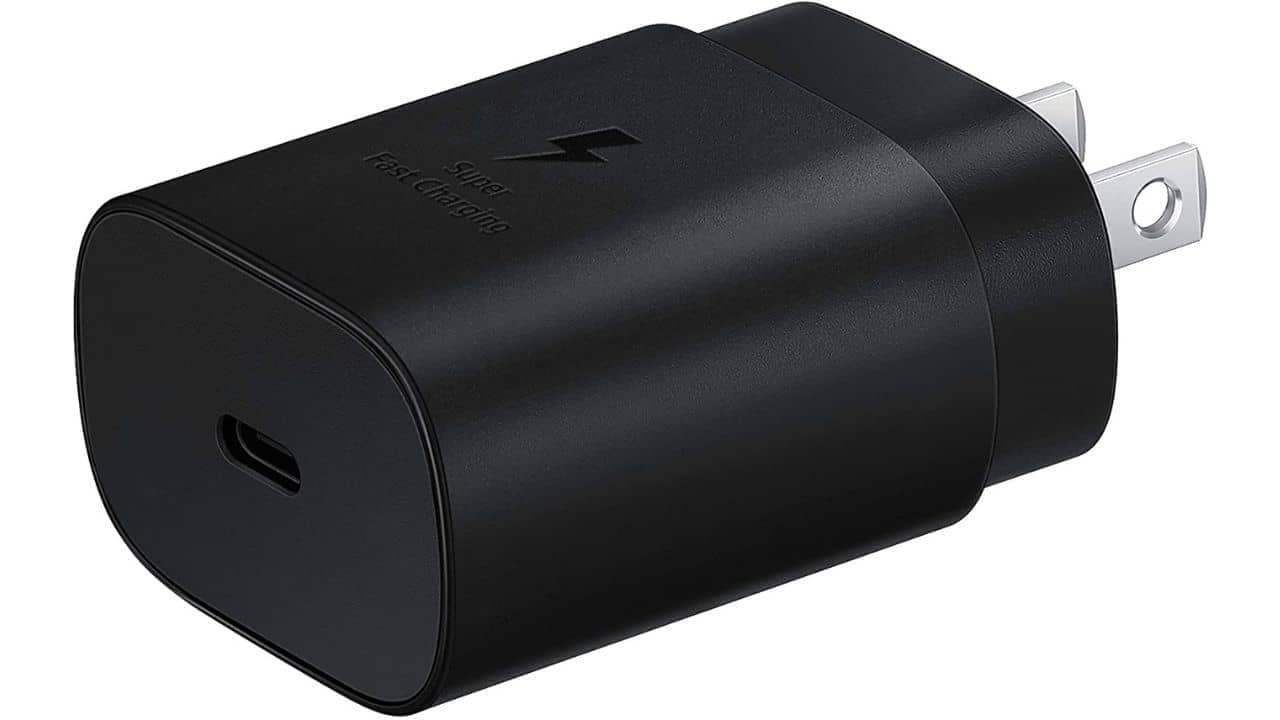 If you are a loyal Samsung fan and looking for the best fast charger for Galaxy Z Flip 4, the official 25W charger should be the perfect pick for you. Since Galaxy Z Flip 4 comes with 25W fast charging, this super-fast official charger can revive the flagship foldable in no time. This fast charger for Samaung Z Flip 4 maintains a minimalist profile that in shape looks similar to the 30W Google charger. This ensures that the charger doesn't take up much space alone when you're traveling. 
Talking of power, this Galaxy Z Flip 4 super-fast charger delivers up to 3 Amps power output, which ensures faster charging in comparison to a regular 1 Amps charger. It comes with a single USB-C port which can also be used to charge various USB-C-powered devices. So, next time your family member asks your power adapter to revive their iPhone, you can simply pass this fast charger to them. This Flip 4 charger comes along with a Quick start guide and a one-year after-sales warranty. Yes, the post-purchase warranty duration is lesser than that of Anker (another competing brand in the same segment). Anker chargers come with an 18-months warranty. Plus, we didn't like the fact that Samsung doesn't offer foldable prongs, which if it had, this charger for Galaxy Z Flip 4 could have been an unbeatable option for the price it is being offered. Even with its shortcomings, this  Flip 4 USB-C charger is still one of the top chargers available on the market right now. 
Reasons to buy:
Brand assurance

Durable and long-lasting

Compatible with almost all USB-C-enabled devices

Super fast charging (PPS Support)
Reasons to avoid:
After-sales warranty is lesser than a similar competitor like Anker 

The competition offers smaller and more efficient chargers 
8. INVZI 33W USB-C Charger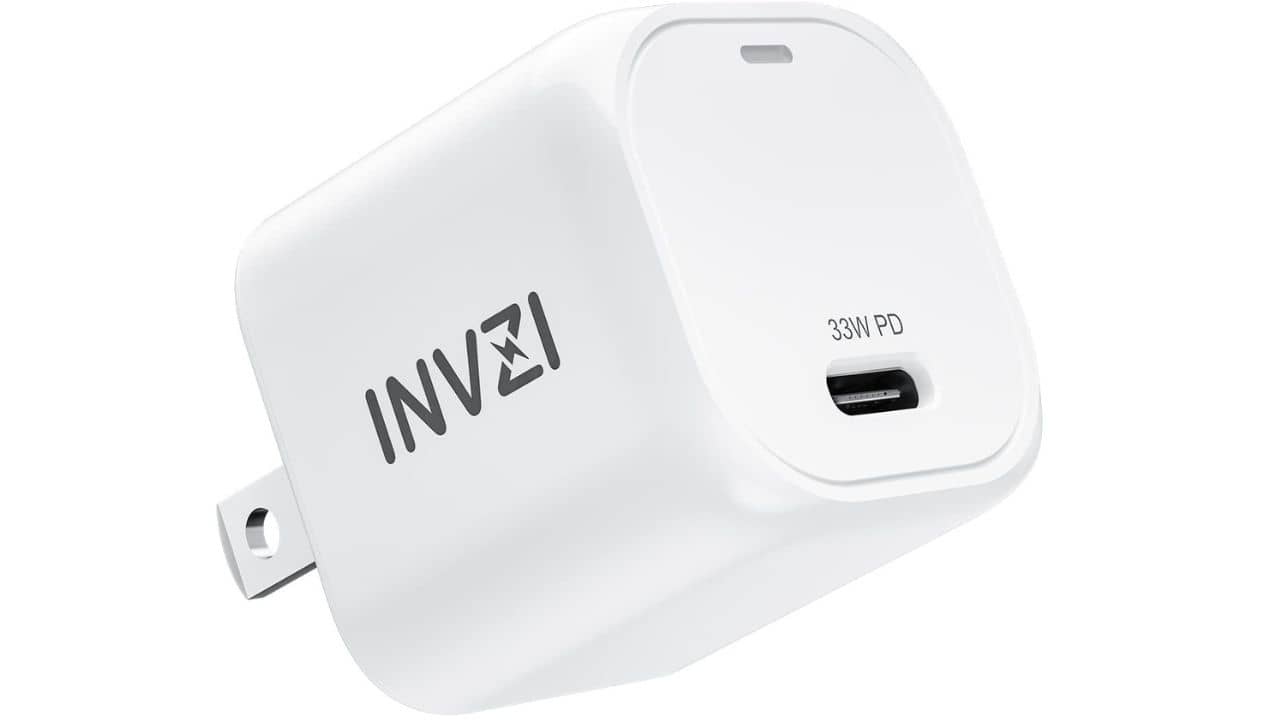 Another top contender on our list of best chargers for Galaxy Z Flip 4 is this 33W GaN charger from INVZI. This USB-C charger features a compact and lightweight design, making it one of the most suitable companions for avid travelers who are always on the road. Additionally, it is powered by GaN semiconductor technology making it a power-efficient charger for the 2022 lineup of Samsung foldables. All thanks to the latest UL STD 62368-1 safety standard, this fast USB-C charger prevents your device from over-current, over-voltage, overheating, and short-circuit protection. Further, it is compatible with different USB-powered devices including the iPhone 12, iPhone 11, and previous models. You can even charge a MacBook Air, or iPad Pro/Air using this fast Z Flip 4 charger. However, this fast charger is not recommended to charge the Macbook Pro 13" and 15". 
Talking of shortcomings, this USB-C adapter lacks foldable prongs and a 12-month warranty is not satisfactory when we have similar chargers offering a longer warranty duration. 
Reasons to buy:
Ultra-compact size 

GaN semiconductor technology ensures efficient charging

Complies with UL-STD 62368-1 safety standard 

Universal compatibility
Reasons to avoid: 
Doesn't come with foldable prongs
Also read: Best Accessories for Galaxy Z Fold 4 5G to buy right now
9. Anker 747 150W GaNPrime Multiport Charger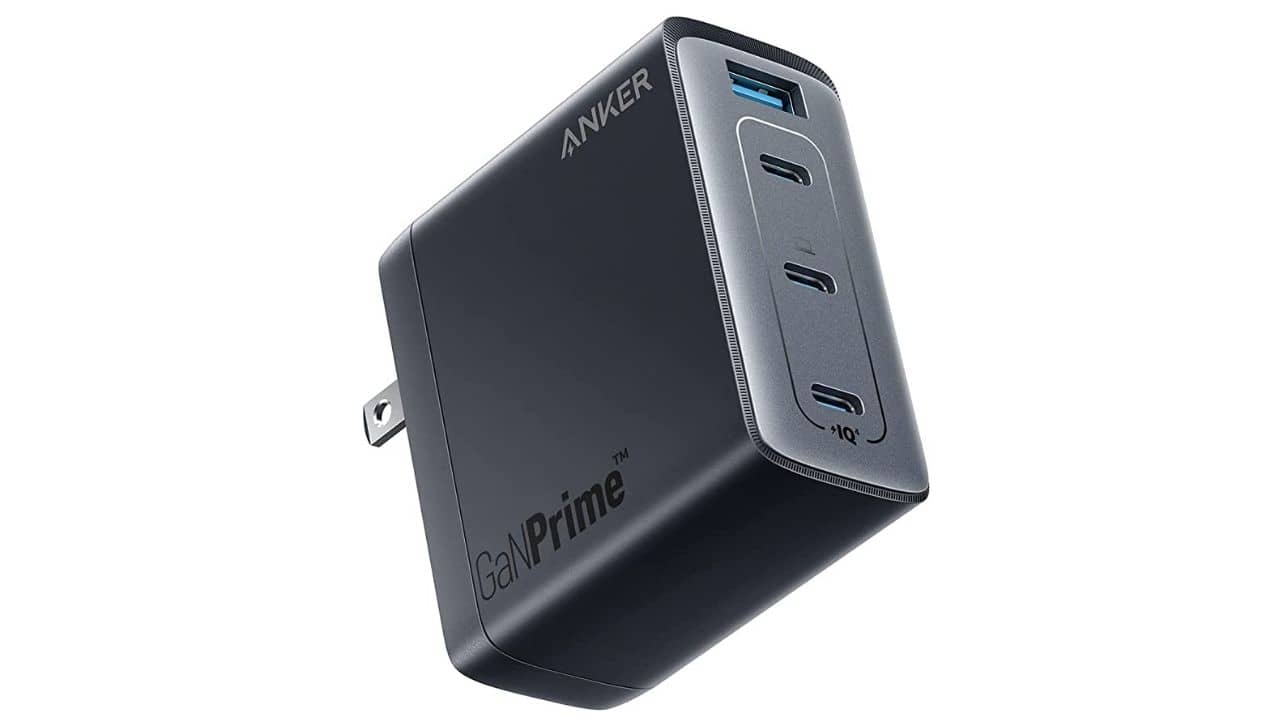 In August 2022 Anker unveiled a new range of next-gen GaN Prime chargers, among which the Anker 747 is the king of the jungle. If you own various USB-C and USB-A devices, this 150W multi-port charger can come to your rescue. This fast charger for Galaxy Z Flip 4 features a rectangular shape topped with textured corners for decent grip. The foldable prongs can be handy for travelers or sightseers
to carry this fast Galaxy Z Fold 4 charger in their pockets anywhere they go. This foldable fast PPS charger for Galaxy Z Flip 4 is 38% smaller than the Apple 140W power brick. Not only its foldable design but the inclusion of four different charging ports ( 1 x USB-A port, 3 x USB-C port) makes it stand out above various multi-port chargers available at this price point. This quadruple-port design is best suited for users who carry a lot of gear – say a different phone, laptop, tablet, earbuds, power banks, etc. You can take advantage of four ports to charge your Galaxy Z Flip 4 and three additional gadgets alongside. You'd be pleased to know that there's a dedicated slot in this fast multiport charger for charging your MacBook or any other USB-C-powered laptop.
This multiport Galaxy Z Flip 4 charger is backed by the Dynamic Power Distribution technology which ensures delivering maximum power for the connected
device with the lowest battery. Plus, the Active Shield 2.0 technology incorporated in this fast charger for Flip 4 automatically monitors the temperature throughout the charging process. This eventually protects the connected device from any issues such as overheating, overcurrent, short-circuit, and more. Further, the 24-month warranty is always welcomed. To be honest, there's nothing wrong except the omission of a soft LED indicator in this fast multiport charger for Samsung Z Flip We still believe Anker could have sliced the price a bit, though. For the best deals, you can always check these gadgets during the holiday season. 
Reasons to buy:
24-month warranty

Super travel friendly

ActiveShield 2.0 technology ensures continuous temperature control 

4-port design enables charing four different devices simultaneously

Dynamic Power Distribution prioritizes maximum charging for the device with the lowest battery

Foldable prongs and textured corners for a good grip
Reasons to avoid:
Lacks an LED charging indicator

Expensive
Also read: Best Samsung Galaxy Z Fold 4 chargers to buy right now
Best Audio Accessories for Galaxy Z Flip 4 
10. Galaxy Buds2 Pro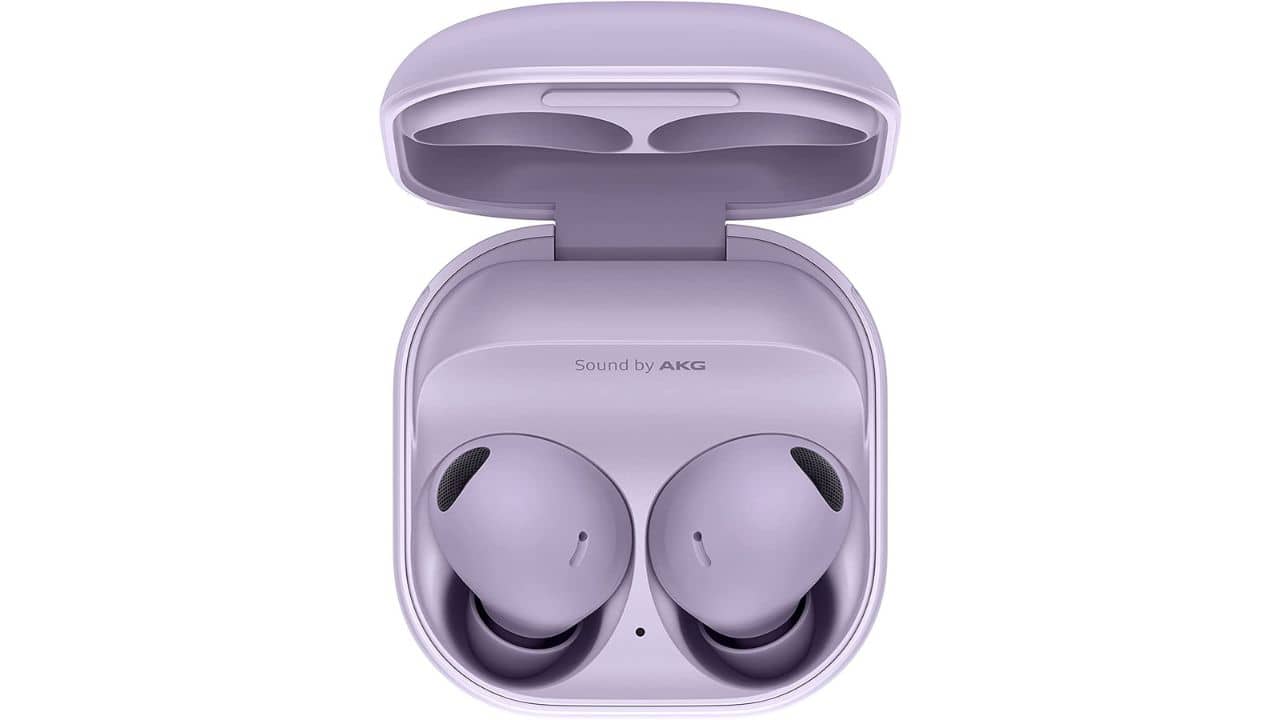 If you are fond of listening to songs or binge-watching OTT shows right before bedtime or during your commute, you should look for a good pair of ANC earbuds. These earbuds isolate you from the outside noise ensuring that nothing is bothering you while enjoying your favorite playlist. 
Since we are covering the top wireless earbuds for Galaxy Z Flip 4, I can't think of better noise-cancellation earphones other than the Buds2 Pro. It is the latest addition to Samsung's Galaxy Buds family. Though there are few third-party competitors, the Galaxy Buds2 Pro stands tall due to the 24-bit Hi-Fi audio and comfortable design. The TWS also comes with the Voice Detect feature which automatically adjusts your sound as soon as you start to talk to your colleague sitting next to your office desk. These features also change the ANC mode on Buds2 Pro to Ambient mode. 
As far as battery life is concerned, each bud offers a playback time of 5 hours with ANC on, and 8 hours without it. This is extensively increased up to a collective 29 hours of playback time with the charging case by your side. You can charge this TWS earbud using a wireless charger that you use to juice up Galaxy Z Flip 4, no need to spend an additional buck. 
Further, we also liked the Bora Purple, White, and Graphite color options, you can always go with the color that suits your style. Overall, it is a good package for melophiles like all of us. 
Reasons to buy: 
Long battery life

IPX7 water resistance

24-bit Hi-Fi sound

ANC (Active Noise Cancellation) support
Reasons to avoid:
11. AfterShokz Aeropex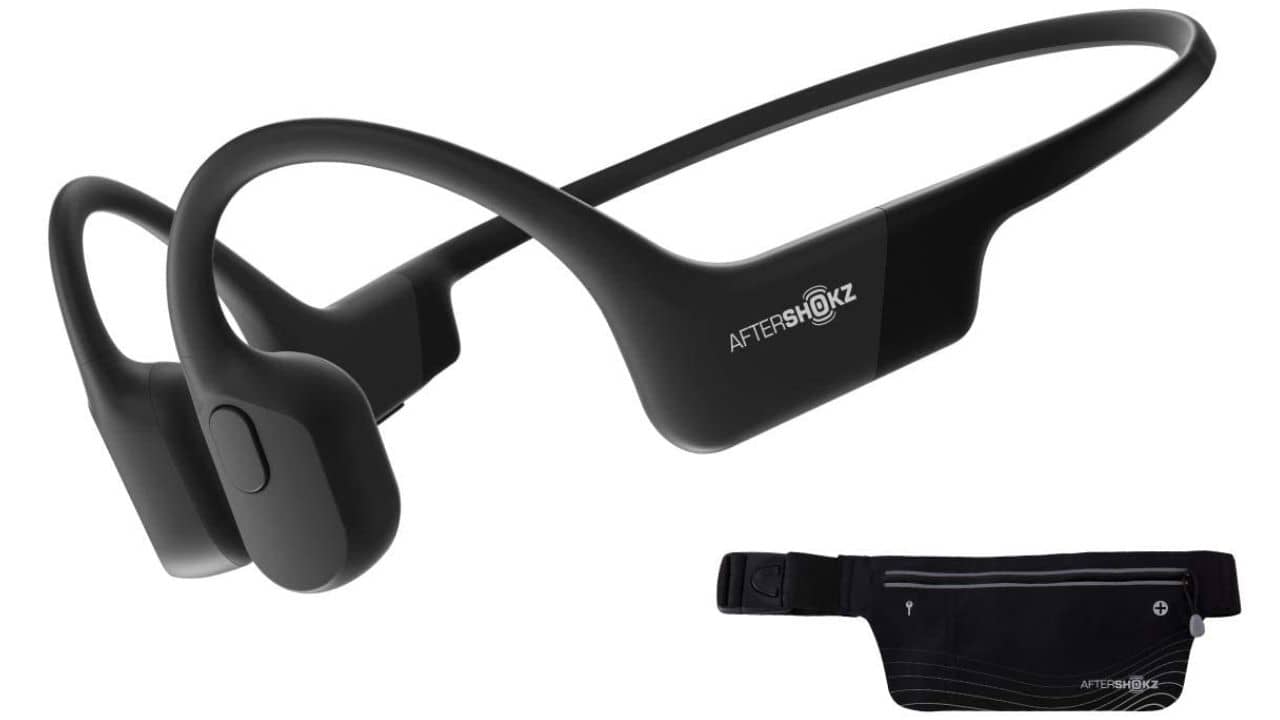 If you are bored of conventional earphones, the AfterShokz Aeropex should be the right choice for you. It is a great pair of bone-conduction headphones that comes in a lightweight buds-free design. For those unfamiliar with the concept, bone-conduction headphones play sound by sending vibrations into your cheekbones. These headphones are intentionally designed to leave your ears open so you can have conversations or listen out for ambient sounds like traffic, announcements, etc. The IP67 waterproof rating makes this Z Flip 4 wireless headphone one of the premier choices for gym-goers and runners who sweat a lot. Plus, the eight-hour battery life ensures that these wireless headphones can be your perfect companion on a long road trip. 
Having all that said, don't get swayed by the fascinating concept of bone conduction, it has a major drawback. The audio quality delivered by bone-conduction headphones is no match for the sound offered by the top wireless earbuds from brands like Beats Solo, Sony, Jabra, etc. So, if you are curious enough to try this out, we recommend going with it. Else, you can just stick to the traditional wireless earbuds, they are much more affordable and deliver better sound.
Reasons to buy: 
Comfortable and secure fit

Long battery life

Fully waterproof

Respectable sound
Reasons to avoid:
Not adjustable

Conventional earbuds sound better
Also read: Best Accessories for Samsung Galaxy S22 Ultra
12. Sony LinkBuds WF-L900H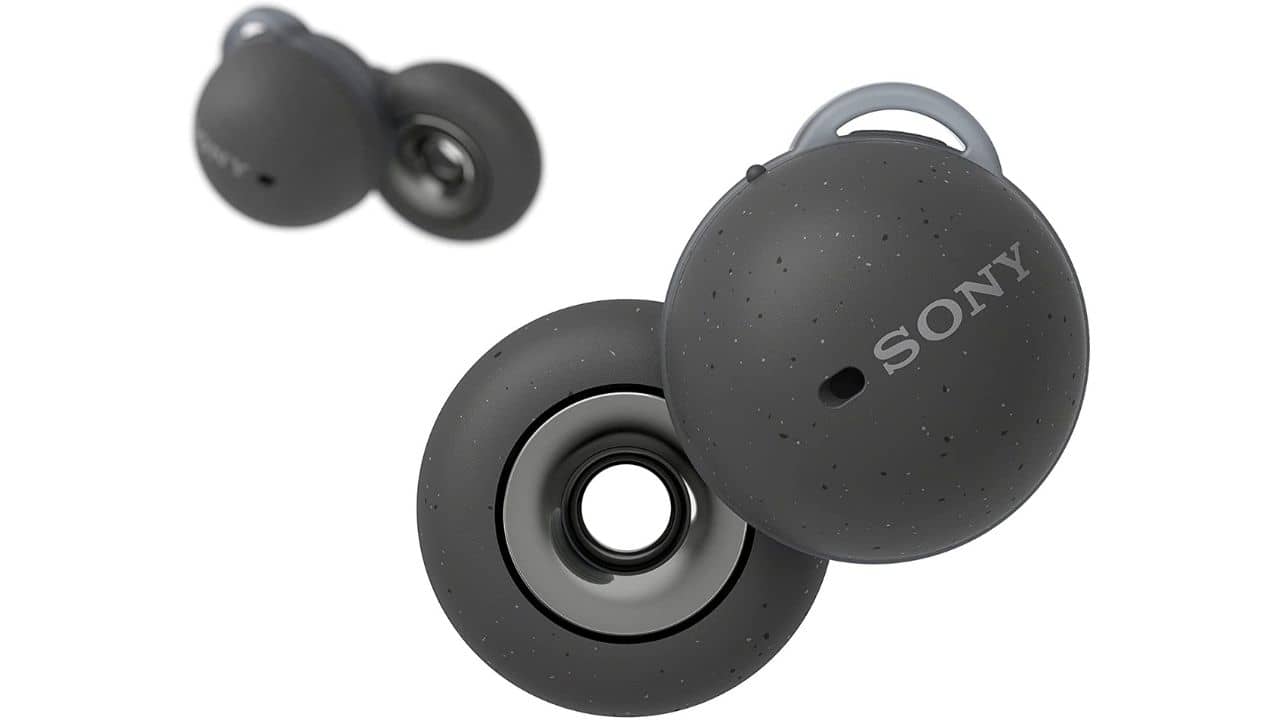 The Sony LinkBuds WF-L900H is the company's true wireless creation, topped with an open-ear design that lets you listen to your favorite music, and hear what's happening around you, simultaneously. Sony tried achieving this with an open-ear design that intentionally leaves the ear canal open to keep you aware of the surrounding sounds. No doubt, it is an innovative move but it is not the first earbuds of their kind. 
This open-ear headphone for Galaxy Z Flip 4 uses Sony's V1 chipset for highly-balanced sound quality. If you are not aware the V1 chipset is the same powerful chip found in Sony's best-selling
WF-1000XM4 noise-canceling earbuds. Sony has integrated the Precise Voice Pickup technology for crystal clear phone calls even when you're roaming around a busy subway or crowded public transport. 
Talking of battery, the Sony Link Buds offer up to 5.5 hours of battery life, and it goes extensively up to 17.5 hours with the charging case. If you are running late for your office or college but don't want to miss listening to your favorite playlist, you can take advantage of Quick charging. It enables you to enjoy 90 minutes of playback time with just 10 minutes of charge. Further, the IPX4 rating ensures splash-proof and sweat-proof protection, making it a perfect companion for fitness fanatics, or runners. 
Design-wise, it is quite small and is shipped with 5 sizes of fitting supporters for different ear shapes. However, it is not as comfortable as traditional earphones. Plus, we don't like the fact that Sony is not offering wireless charging compatibility for an earphone that is nearly priced at $150. Above all, it is quite striking and remarkable to see how Sony stuffed this much functionality into a micro-sized package.
Reasons to buy: 
Funky design

Fantastic call quality

Decent sound when listening in silent environments

IPX4 rating
Reasons to avoid:
Low battery life

Not practical in loud environments

No wireless charging

Not so good when it comes to fit and comfort
Also read: Best Accessories for Galaxy Z Flip 3 you can buy right now
Best Gaming Accessories for Galaxy Z Flip 4
13. Razer Raiju Gaming Controller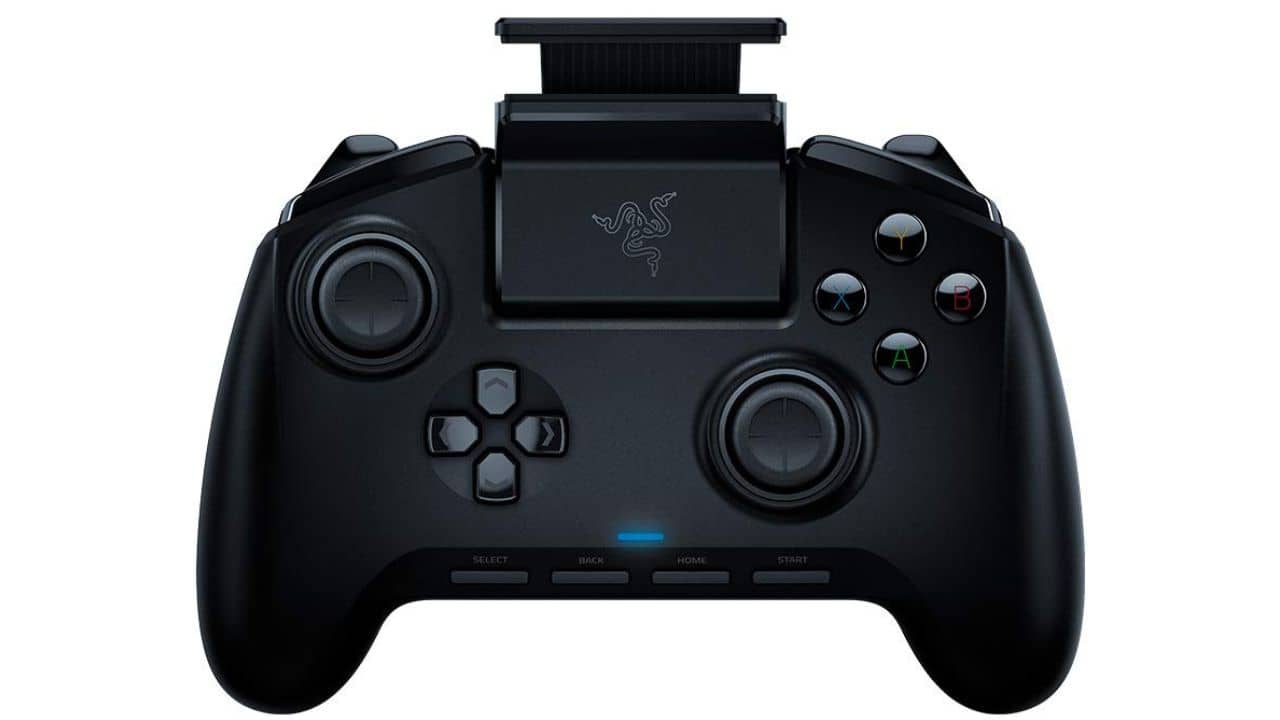 If you are into resource-intensive games such as PUBG, Asphalt 9, etc., the Razer Raiju Gaming controller can be a handy option for you. This wireless gaming controller turns any smartphone into a portable gaming console. Talking of looks, this gaming controller features a flexible, ergonomic design complemented by a multi-function button layout for advanced controls and gameplay. This gaming accessory for Galaxy Z Flip 4 comes with a pretty solid anti-slip material around the handle which ensures a solid grip during intense gameplay sessions. There's an adjustable phone mount in this gaming controller which enables you to enjoy your favorite games in the most comfortable position. What's more? You can easily configure this gaming controller using a mobile app dedicated to this gadget. However, some games don't recognize the middle triggers or rear trigger buttons as separate buttons. But, you can repurpose them using the mobile app to control volumes. Why should you buy it? It goes on sale quite often so we recommend you bag this deal as soon as possible. Furthermore, it is compatible with almost all smartphones. 
Reasons to buy:
Ergonomic design

Anti-slip handle grip

Adjustable phone mount

Available on Amazon at a heavily discounted price
Reasons to avoid:
The middle and rear trigger buttons might not work for some games
Also read: 14 Best Car Racing Games for Android
Must-have accessories for Galaxy Z Flip 4
14. LISEN Desk Stand for Phones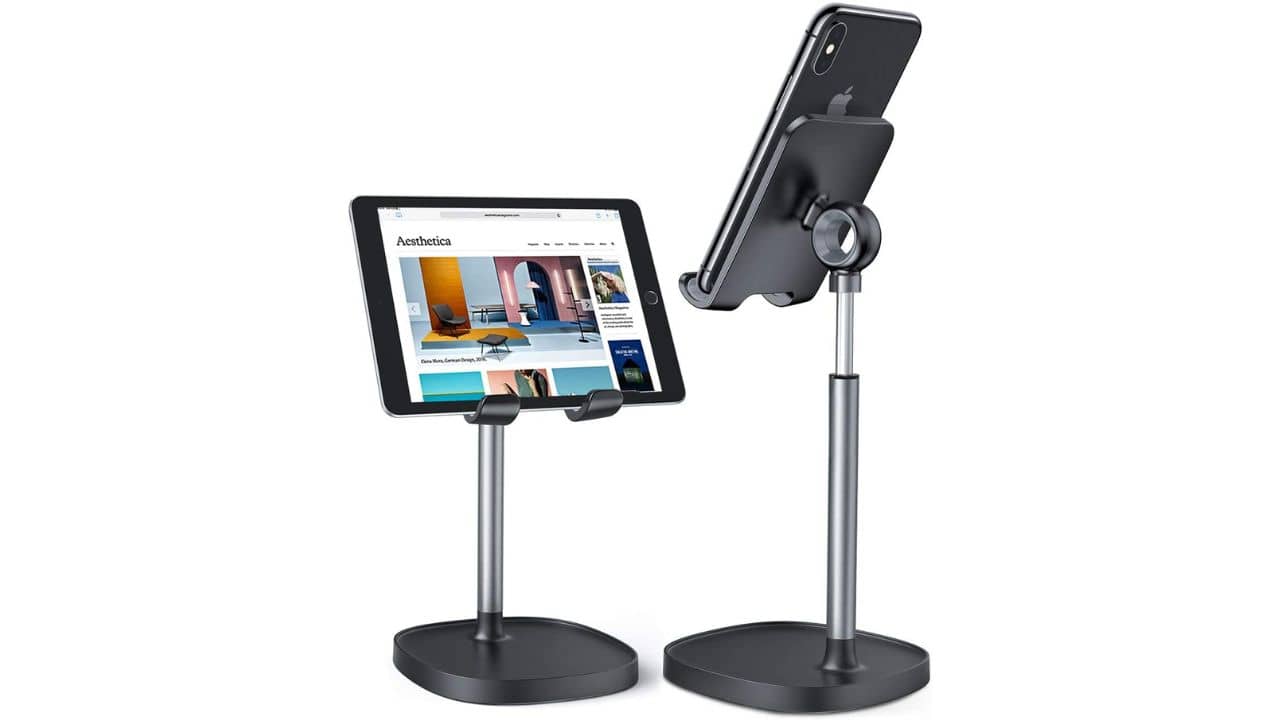 A mobile phone stand can be useful in many ways, be it watching your favorite movie or talking to your little one for hours, this phone stand can help you do it all. That's why we have for you one of the most popular desk stands for Galaxy Z Flip 4, trust us, it makes your life simpler than ever. This cell phone holder stand features an ergonomic design making it one of the must-have accessories for your working desk. You can adjust the viewing angle to enjoy a hands-free movie-watching experience. There is a reserved charging hole design in this Flip 4 accessory also allows a hassle-free charging experience preventing abrasion or fraying of the charging cord. So, next time you run out of battery while being on the
Zoom call, you can take advantage of the charging hole to securely charge your device. This phone holder is topped with a weighted anti-slip base. The anti-skid base prevents the stand from skidding off the surface or falling off when a smartphone or tablet is placed on it. Plus, you'll find a soft cushion placed in the phone holder to prevent your Galaxy Z Flip 4 from getting scratched. In short, it is a great Galaxy Z Flip 4 accessory that one should own to securely place the device while working on a desk. Further, the 365 days after-sales warrant and affordable price is the cherry on the cake. 
Reasons to buy:
Better charging cable management

Works with other devices like iPads

Adjustable viewing angle

Relatively affordable than other alternatives

Plenty of color options available 
Reasons to avoid:
Can get a little shaky when you're working on your desk
Also read: Top 25 Android Secret Security Codes You Should Know
15. Belkin 37W Dual-port Fast PPS Car Charger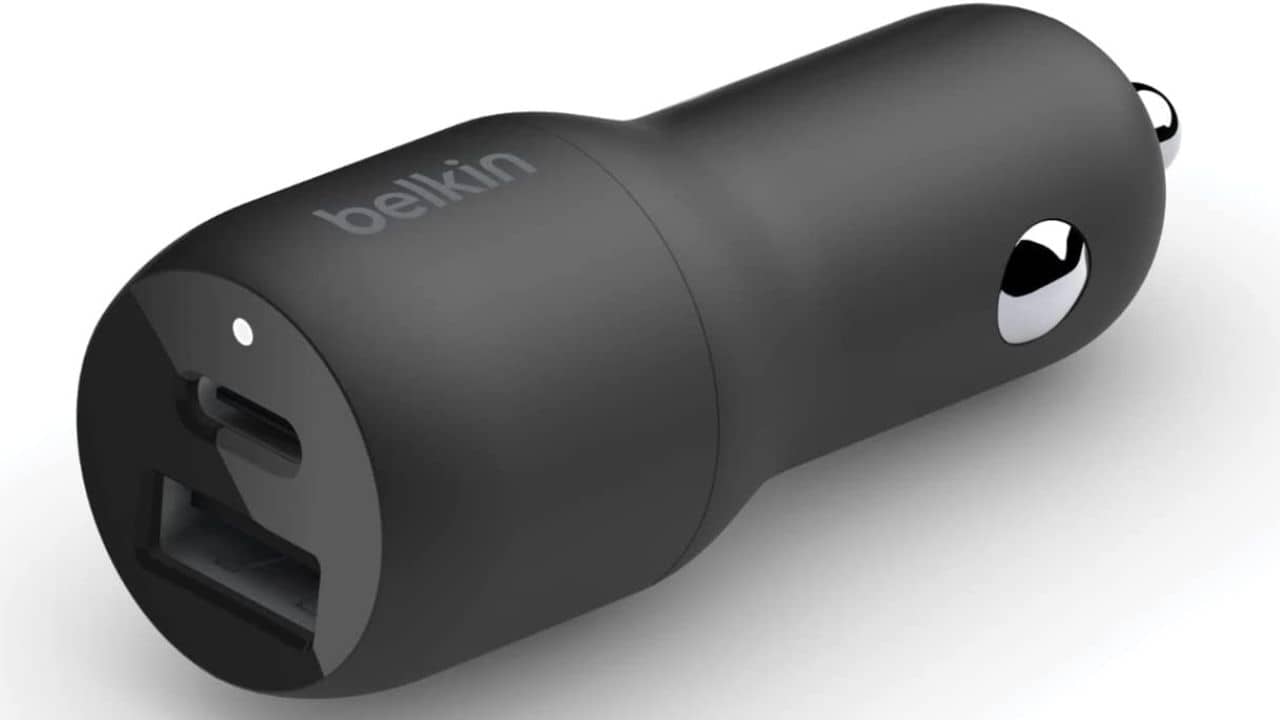 If you are an avid traveler and always on the road, this dual-port fast car charger from Belkin should be the perfect companion for your Galaxy Z Flip 4. As the name suggests, this fast charger comes with two different charging ports (1 x 25W PD 3.0 port with PPS support and 1 x 12W USB-A port). You can use the PD port to charge your galaxy Z Flip 4, whereas the USB-A port allows charging any extra  USB-powered accessories such as headphones, Bluetooth speakers, tablets, and more. The compact design and gorgeous all-black looks blend well with the car's interior, ensuring a flawless charging experience for the connected device. As far as power out is concerned, this fast car charger can deliver up to 50% charge on the Galaxy S21 Ultra in 26 minutes. Taking this as a reference, it is safe to say that you can expect a similar charging speed on the Samsung Galaxy Z Flip 4 5G. Additionally, there's a soft LED light that can be handy to figure out ports when you're driving at night with your car's interior lights turned off. The downside of this car charger for Galaxy Z Flip 4 is that it can be a little loose when you plug it into the port available in the car which in our view is purely subjective. On the other hand, we are not pleased with the price of this car charger. There are plenty of popular and highly rated brands like AINOPE, AILKIN, and HUSSELL, competing in the same segment with their non-PPS car chargers priced below $10. It can be argued that non-PPS makes those chargers affordable, but it won't change the fact that the one we mentioned here is still expensive. So, if your pocket allows, you can go with this car charger without any second thoughts. 
Reasons to buy:
Super fast charging

Blends well with car interiors

Dual-port design

LED charging indicator available 
Reasons to avoid:
Relatively expensive than fellow PPS car chargers available 
On contrary, if you are looking to bag an awesome deal, we have listed some best value for money car chargers for Galaxy Z Flip 4 below, have a look. 
16. Galaxy Watch 5 and Galaxy Watch 5 Pro
Must-have accessories for all fitness lovers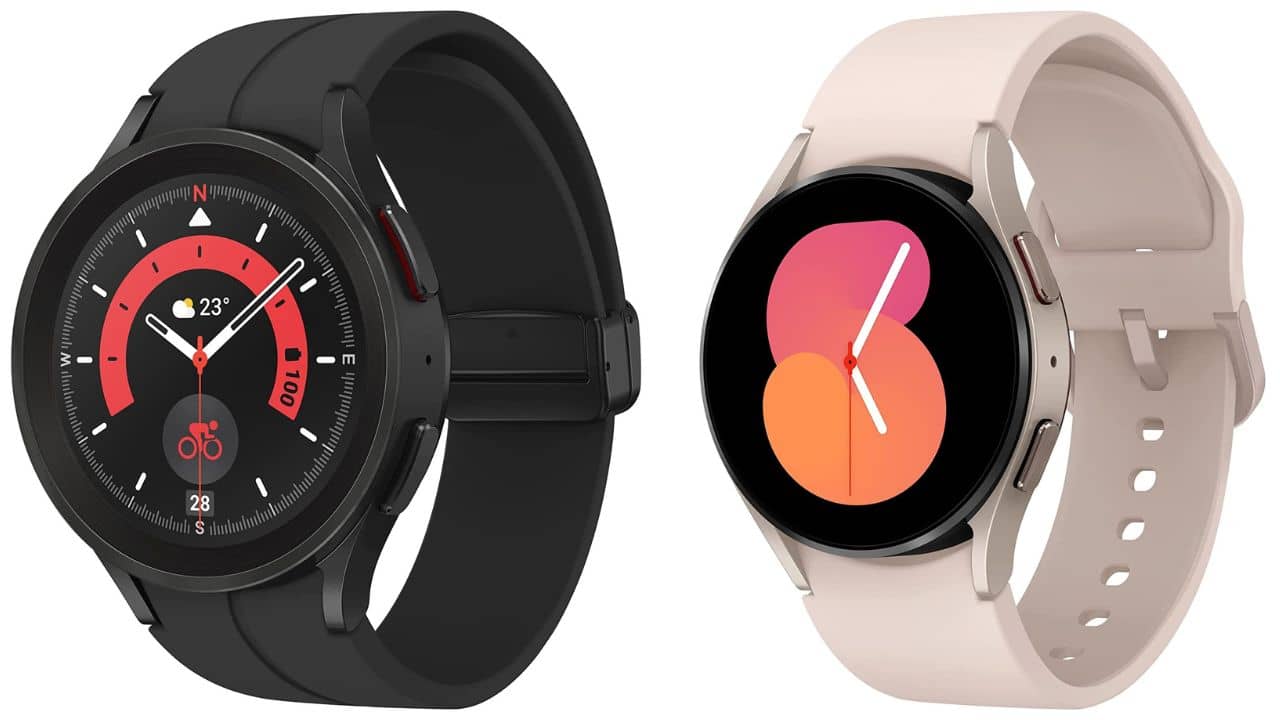 Back in 2022, Samsung unveiled the next-generation smartwatch – Galaxy Watch 5 and Watch 5 Pro, with the Galaxy S22 series. So, if you are into fitness, gym, sports, or generally want to keep track of your health, the Galaxy Watch 5 and Watch 5 Pro is a must-have accessory for Z Flip 4 users. Both smartwatches are designed to tack essential health metrics pretty accurately. This fitness accessory helps you to track your steps, and keep an eye on your sleeping patterns. Other than that, these smart accessories for Samsung Z Flip 4 are equipped with a 3-in-1 BioActive health sensor that can monitor heart rate, SpO2, and stress levels. There's also a new skin temperature sensor that can tell your body temperature. This will make users measure the temperature if they suspect fever. It won't be wrong to say that this innovative feature is definitely a lifesaver in the COVID-19 era. 
What's more? If you are into gyming, you'd be glad to know that the Auto Working Tracking mode in these smartwatches ensures tracking of all of your workouts and provides you with accurate data. This eventually helps you in ticking all the fitness goals you've set for yourself. Aside from providing you with health and fitness insights, this Samsung Z Flip 4 accessory elevates your style. Thanks to the sleek and lightweight design of this smartwatch, you can wear it to mark your fashion statement on different occasions. 
That's not all, you can choose from different strap colors to give the smartwatch a personalized touch. Therefore, whether you're going to a gym, office, or a wedding party, this Galaxy Z Flip 4 accessory will complement your look. Moreover, you can choose these smartwatches from 40 mm and 45mm sizes with a choice between LTE and Bluetooth versions. 
In short, if you are looking to stay fit and want to attain a healthy lifestyle, you should definitely get these smart Galaxy Z Flip 4 accessories without thinking twice. 
Check Galaxy Watch 5 on Amazon
Check Galaxy Watch 5 Pro on Amazon
That's all for now in this roundup of best accessories for Galaxy Z Flip 4. If you are looking to grab the Galaxy Z Fold 4, you can check our dedicated roundup of compatible accessories for the foldable beast.