Do you remember playing classic arcade games like Ms. Pac Man and Mario Bros. in your childhood? Those were the golden days, weren't they? There is nothing that can match the nostalgia that was brought by these games. But I won't be playing the nostalgia game today rather I will talk about some of the best offline arcade games available for Android in 2022. 
Playing games has always been considered as one of the most effective stress-busters. We have all come across famous arcade games like Temple Run and Candy Crush. The fever of these games was such that they became insanely famous and every second person you came across was seen playing them. 
However, today the aim is to mention some of the best offline arcade games for android which you might have not come across but are just as good or even better than these conventional games. These are some of the games which you will find yourself addicted to in the future. 
1. Crossy Roads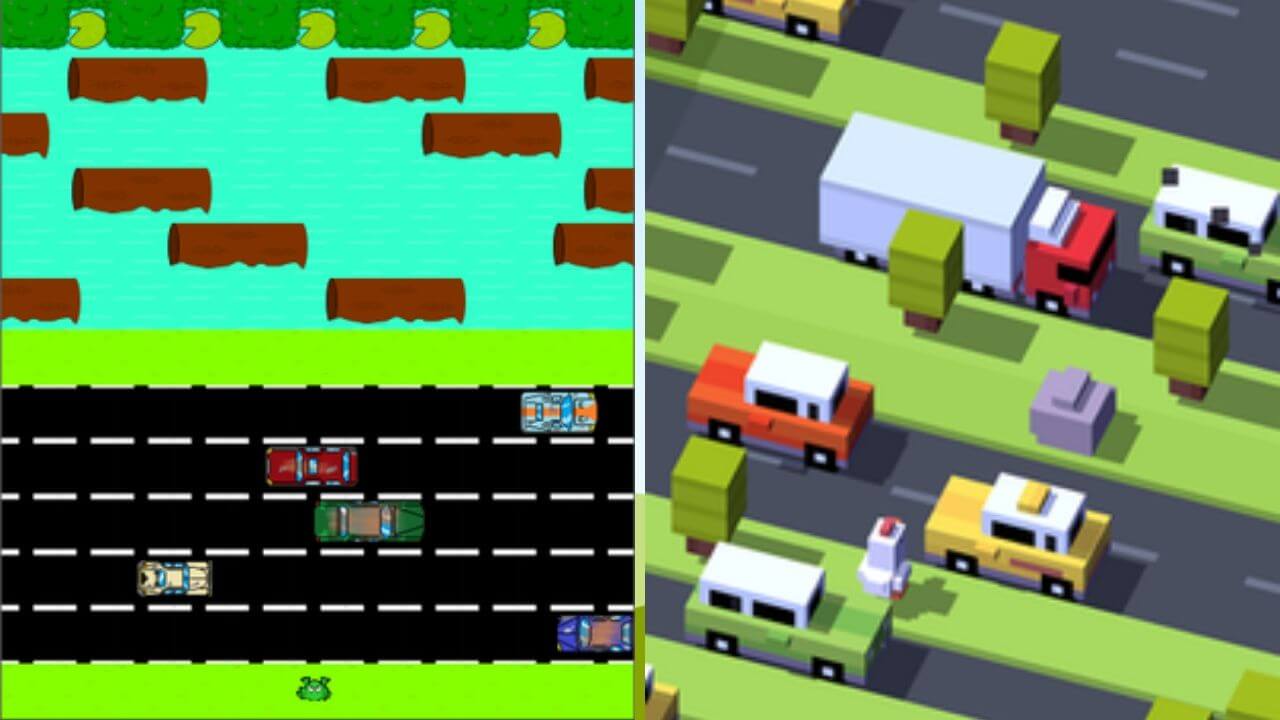 We are all aware of the famous "Why did the chicken cross the road?" riddle and joke. Well, the simple answer to this question is "To get to the other side". This is exactly what the game Crossy Roads is all about. As the name suggests all you have to do is cross the roads. Sounds simple, right? It isn't. While your character crosses the roads you have to keep in mind the cars, the current of the water and even the trains as they try to hit you. An eagle might eat you up if you linger on for too long without crossing the roads. 
There is an avid range of characters to choose from like Chicken, Dragon, Kiwi and many more. With certain characters the overall feel and graphics of the game change as well. Let's say you picked up Frankenstein's Monster as your character then the graphics will turn to represent a horror movie set. There are hundreds of interesting levels to complete in this modern Android arcade game. If you have liked playing the classic arcade game, Frogger, then you will probably love this game. 
Check it out here. Contains ads and In-app purchases 
2. Subway Surfers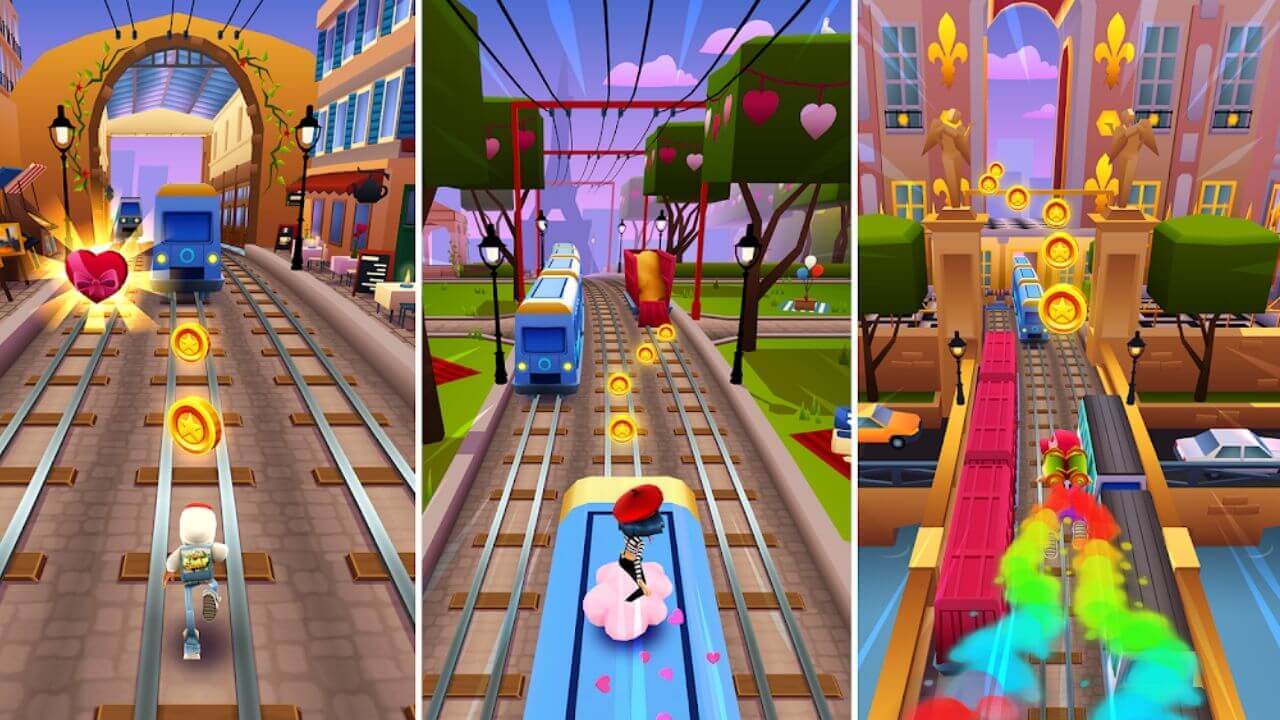 The list of best arcade games for Android will be incomplete without Subway Surfers. Even though the game was initially released in 2012, it still remains so entertaining that you can't ride the subway without seeing someone playing it. It is an endless runner arcade game where the character runs along the subway tracks collecting coins and completing missions. 
The world tour series of the game lets you travel in the city you desire and it is updated regularly as newer places are added to the list. The game begins with simple missions but becomes challenging as you move forward. There are different characters, costumes, and surfboards that can be unlocked after completing missions and collecting coins. The graphics of the game are pleasant and vibrant which will release your stress in an instant. If you haven't played this game yet you are definitely missing out a lot.
Download the game here. Contains ads and In-app purchases
3. Asphalt 8 Airborne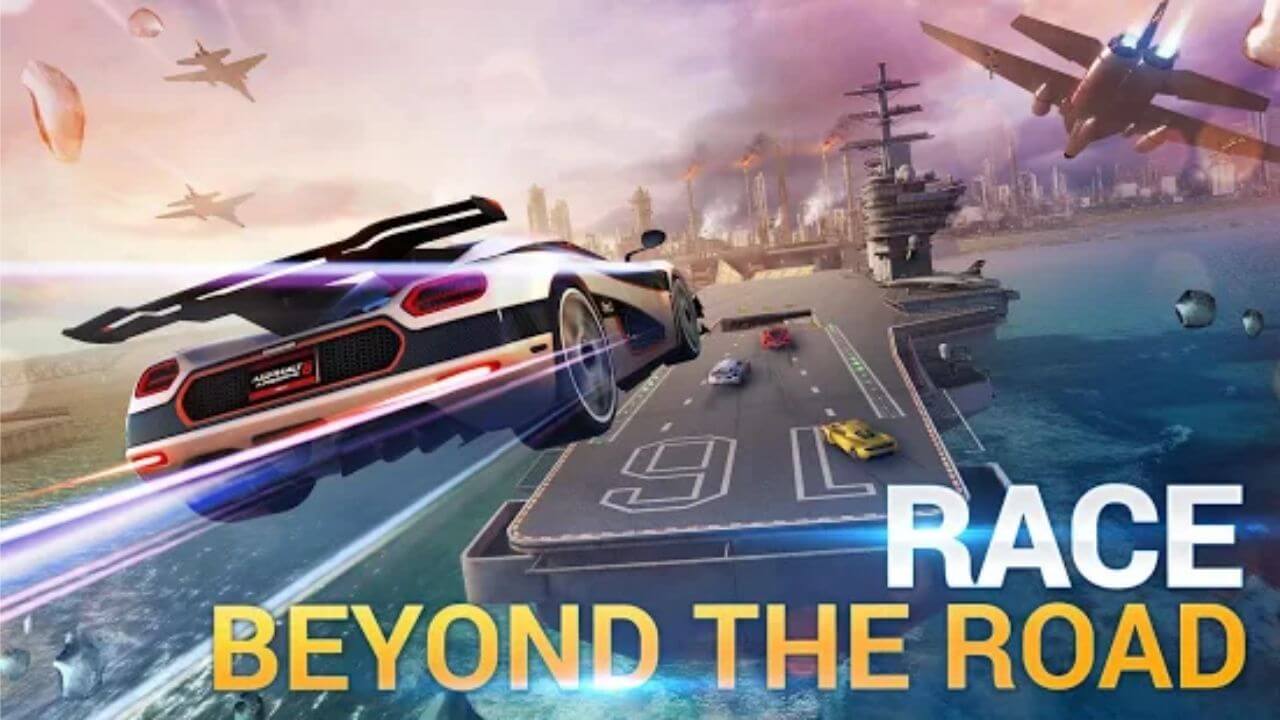 Asphalt 8 Airborne is a typical high-flying arcade racing game. If you like luxurious cars and speedy expeditions then you might like this game. Different cars like Bugatti, Lamborghini can be purchased as one earns more money in the game by racing. There are some cars which can be brought only with real cash. The controls of the game are pretty easy to use and the phone can merely be tilted to change direction while racing. 
Anyhow, the famous racing arcade game offers various locations like Iceland, London, Alps and each of these locations has different racing tracks that can be explored. Even though here we are just talking about offline arcade games, there is also an online multiplayer mode called "World Series" available where you can play with people from all around the world. There are variations available for races as well. It includes a standard race type, a head-to-head race, and elimination. To all the racers out there do not forget to check out this arcade racing game for your Android. 
Download and enjoy Asphalt 8 Airborne for a high graphic-packed racing expedition. Contains ads and In-app purchases 
4. Color Switch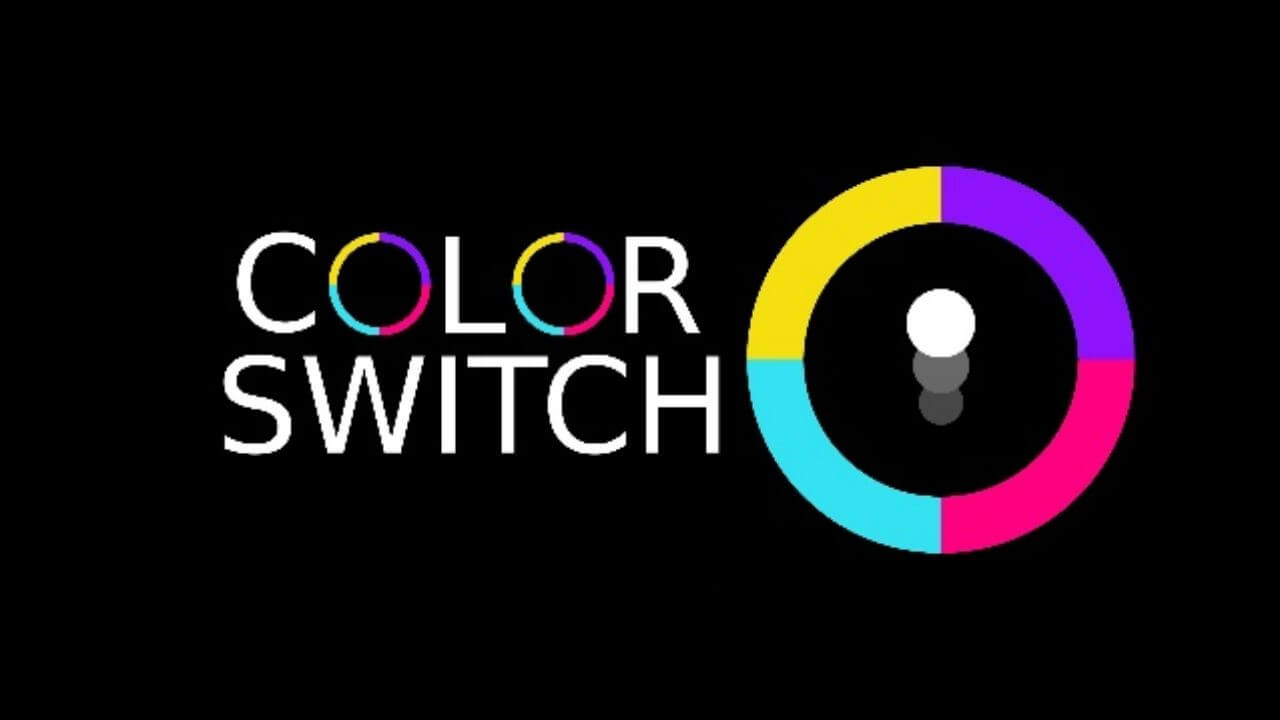 As the name suggests Color Switch is one of the most vibrant and hip looking arcade games for Android. The graphics of the game are so colorful that it will cheer you up immediately. The game is very simple as you control a ball to overcome different obstacles designed in geometrical shapes. The player controls the ball with taps on the screen and passes it through different shapes matching the color of the ball. If you are unable to pass the obstacle with the same color as the ball and touch a different color then the game is over. 
The game offers many different modes out of which some are designed around festivals like Christmas and Halloween. The challenges are divided into three categories; easy, medium and hard. You can choose which category you want to play depending upon your excellence and mastery. The graphics of the game are simple yet very fascinating and addictive. 
Try out Color Switch here.  Contains ads and In-app purchases 
5. Alto's Adventure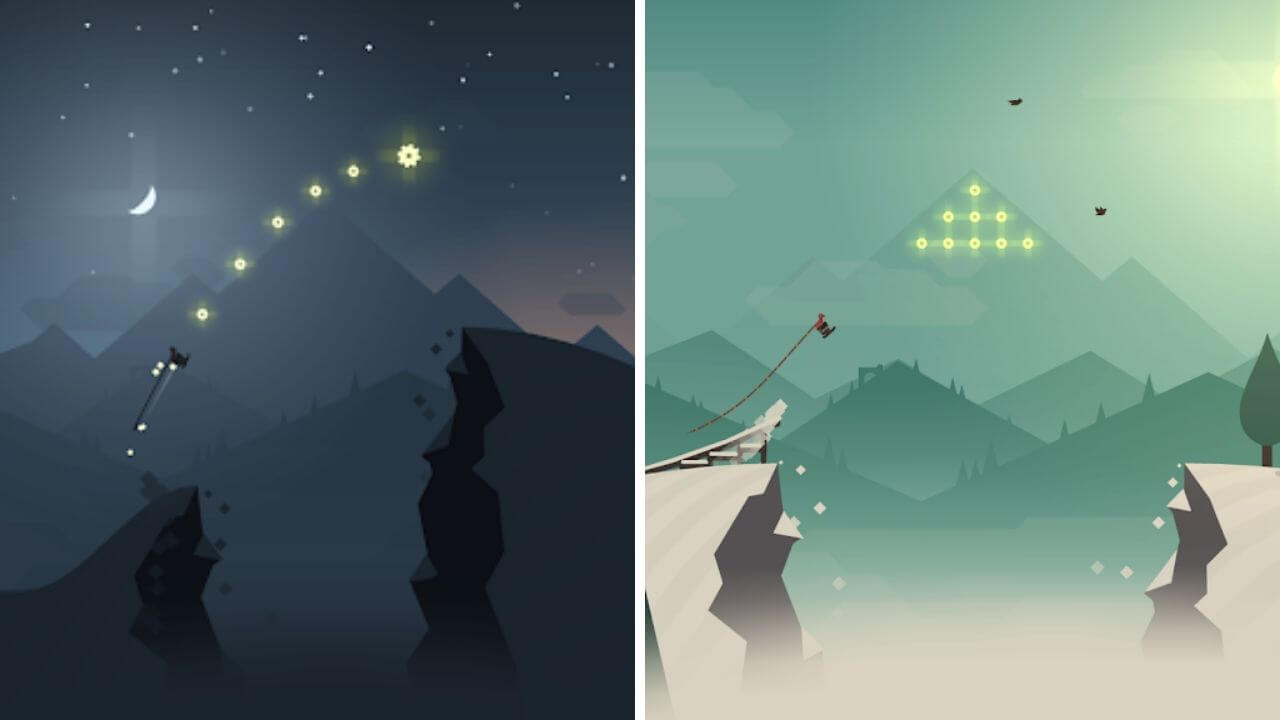 If you like snowboarding and snow-laden mountains then this is the game for you. The game offers the most beautiful graphics of mountains covered in snow during various times of a day. It is essentially a never-ending snowboarding journey where the player named Aldo chases after his Llamas, spooks birds and collects coins. Various weather effects like a thunderstorm, rain, lightning are also a part of the graphics. There are simple missions that are to be completed in order to reach another level. Well, it's just like a weekend getaway to a faraway countryside. Now, who wouldn't like that? 
Download the game here. Contains ads and In-app purchases 
6. Fruit Ninja Classic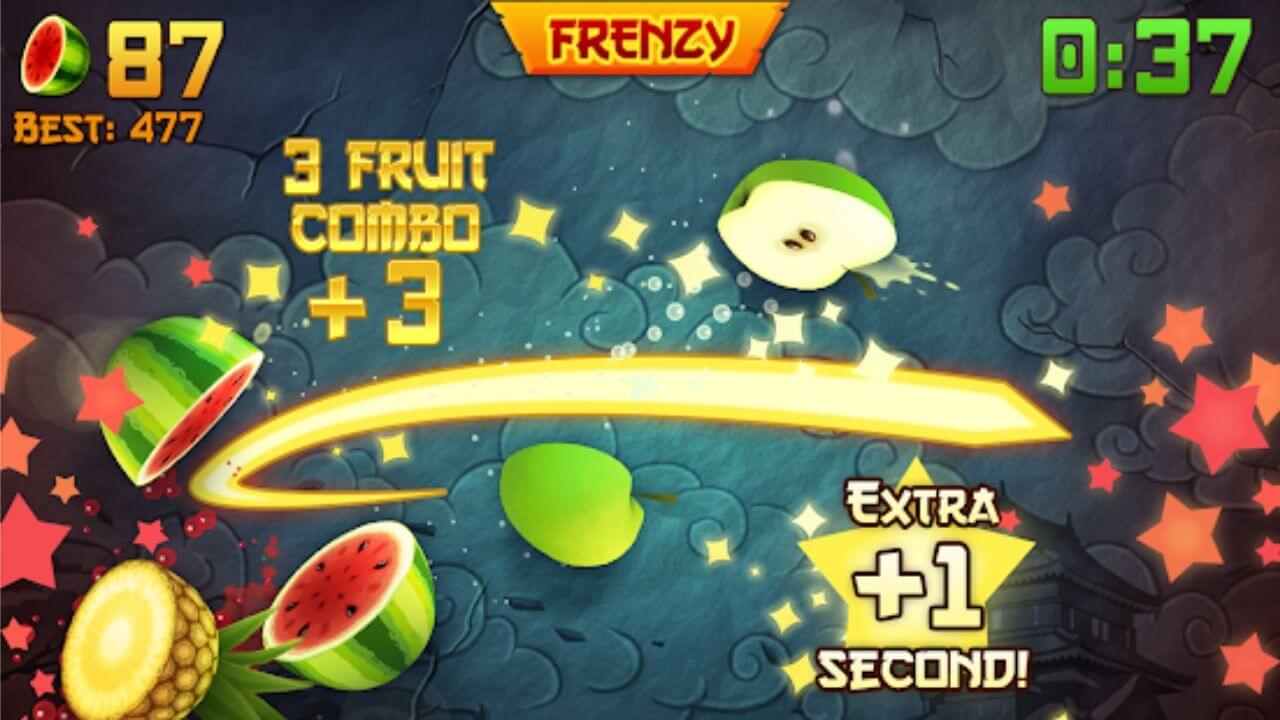 Fruit Ninja is a comparatively simple and relaxing game. Instead of a lot of action power-ups and intimidating graphics which can be seen in most of the games in this list, Fruit Ninja is for casual fun. All you have to do is slice the fruit as it is tossed and thrown at your phone screens. The fruits can simply be cut by horizontal swiping finger motion. There is also a wide variety of blades to choose from like a Chainsaw blade, an Ice blade, Flame blade and many more. 
There are different modes in the game like Classic mode and Zen mode. In the Classic mode, the player continues to play endlessly as long as he is not killed by an exploding bomb whereas in the Zen mode the player is given one and a half minutes to chop as many fruits as possible. 
There is paid as well as a free version of Fruit Ninja. The only difference between the paid and unpaid versions is that the former is ad-free whereas the latter contains ad. 
You can install the free version here and purchase the paid version here. Paid and In-app purchases  
7. Monument Valley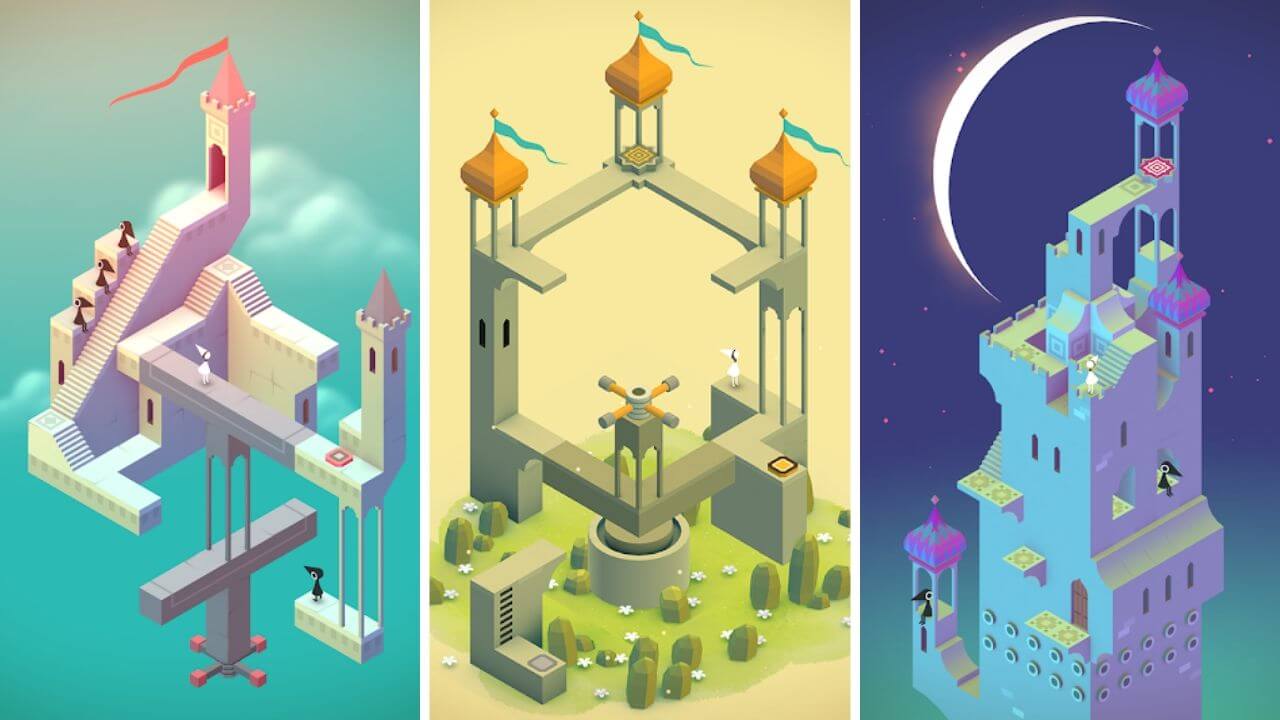 Monument Valley is a building game where the players build an architectural monument. The game is very similar to Tower clocks and Stack. If you have played and liked these games then you might end up enjoying this game as well. It is an adventurous game where the puzzles aren't as difficult to solve. There are ten different levels and with each level, the characters and settings change. 
The graphics are one of the most impressive things about the game. It is very different from the trending never-ending running games and war games. The game offers a backdrop story that is not very dominant in terms of its presence. The aim of the player is to reach the top of the monument which is presented in the form of a puzzle. After reaching the top of the monument, Princess Ida, the character in Monument Valley, is supposed to place a geometrical figure at the top. 
An extension of the same is also available on play store with eight more levels and double the fun.
Buy it here. Paid and In-app purchases 
8. Minecraft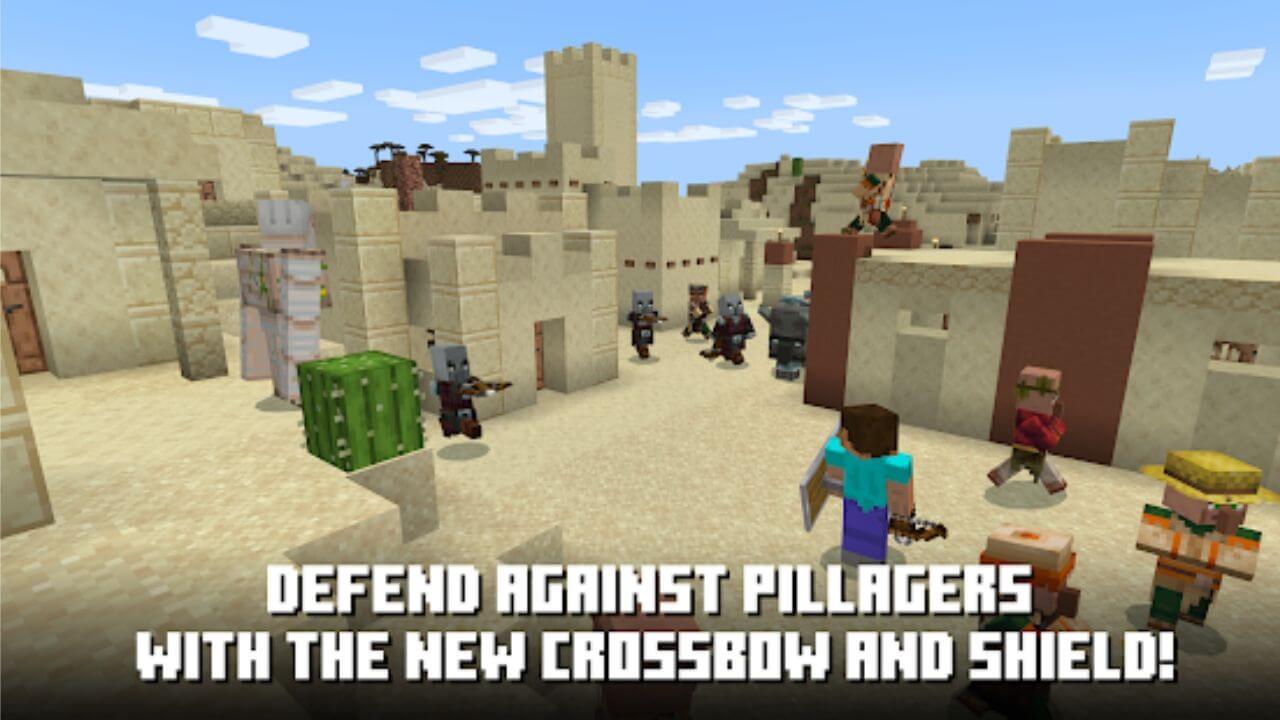 The single best-selling video game of all time and is also available on Android!
Minecraft is a 3D world where the player has to survive and perform certain tasks depending on the mode in which the player is playing. The game's world is made up of geometrical shapes, especially cubes. Players are given the freedom to survive in Minecraft World the way they want. A variety of characters are also available to choose from. 
There are different modes like Survival mode, Creative mode, Adventure mode, multiplayer and many more. In the survival mode, the player is supposed to survive and fulfill his basic needs by collecting woods and setting up tents in the wilderness to survive. In the creative world, the player has unlimited resources and can create buildings and projects without being bothered. It is one of the best arcade games for mobile and a free trial version for the same is also available on play store. The game will definitely give you an experience of another world.
Download it here. Paid and In-app purchases 
9. Crashlands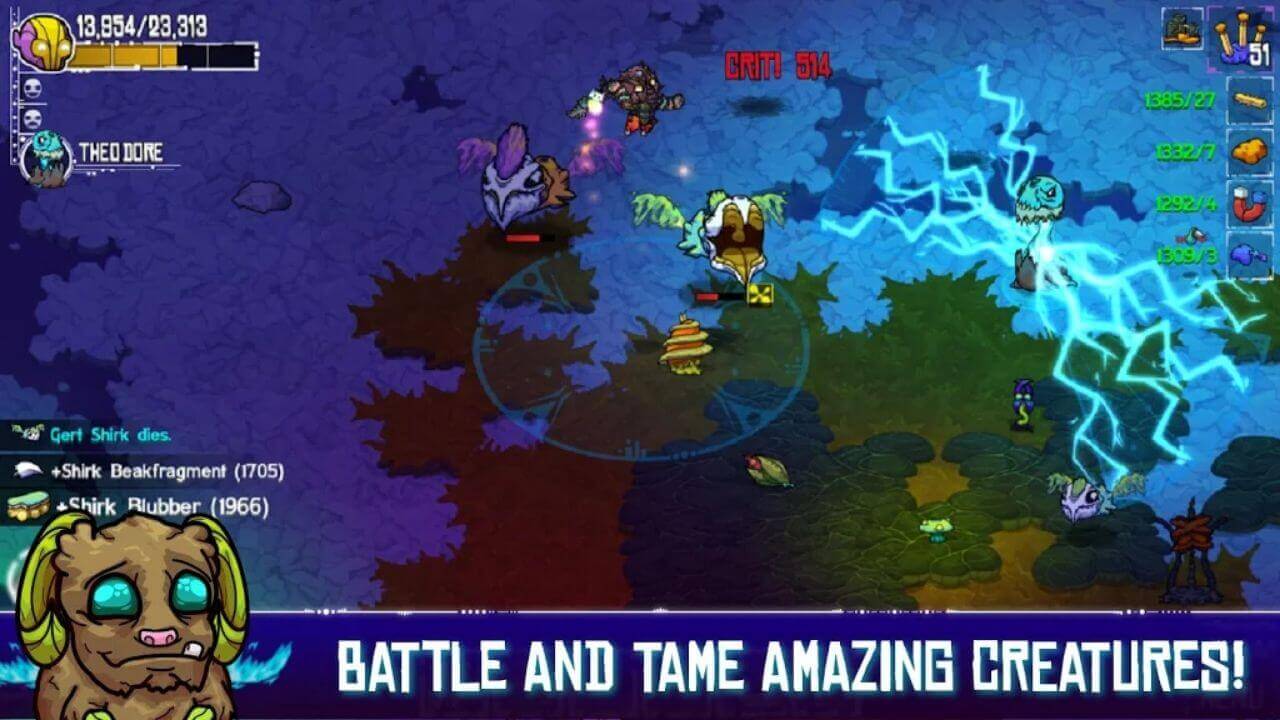 Crashlands is one of the most adventurous and skill-based games that involve battle, craft and taming wild beasts. It seems like one of your favorite sci-fi war movies has come to reality. It is an action-adventure game where a character named Flux crashes and lands on an alien planet. The character runs around the alien planet with the help of a map to look for resources and supplies for combat like weapons, shields, armors. 
It is essentially a crafting game where you will craft tools and workstations to repair your ship. After crafting enough weapons you are ready to go to war with your enemies. There are various quests that you might come across which are necessary to fulfill in order to move forward in the game. It is one of the most interesting arcade games and has been awarded as the Game of the Year in 2016. It is a skill-based game through and through without any microtransactions or ads to disturb you. For all the brawlers out there, it is definitely worth the money you pay for it. 
Buy the game here. Paid 
10. Jetpack Joyride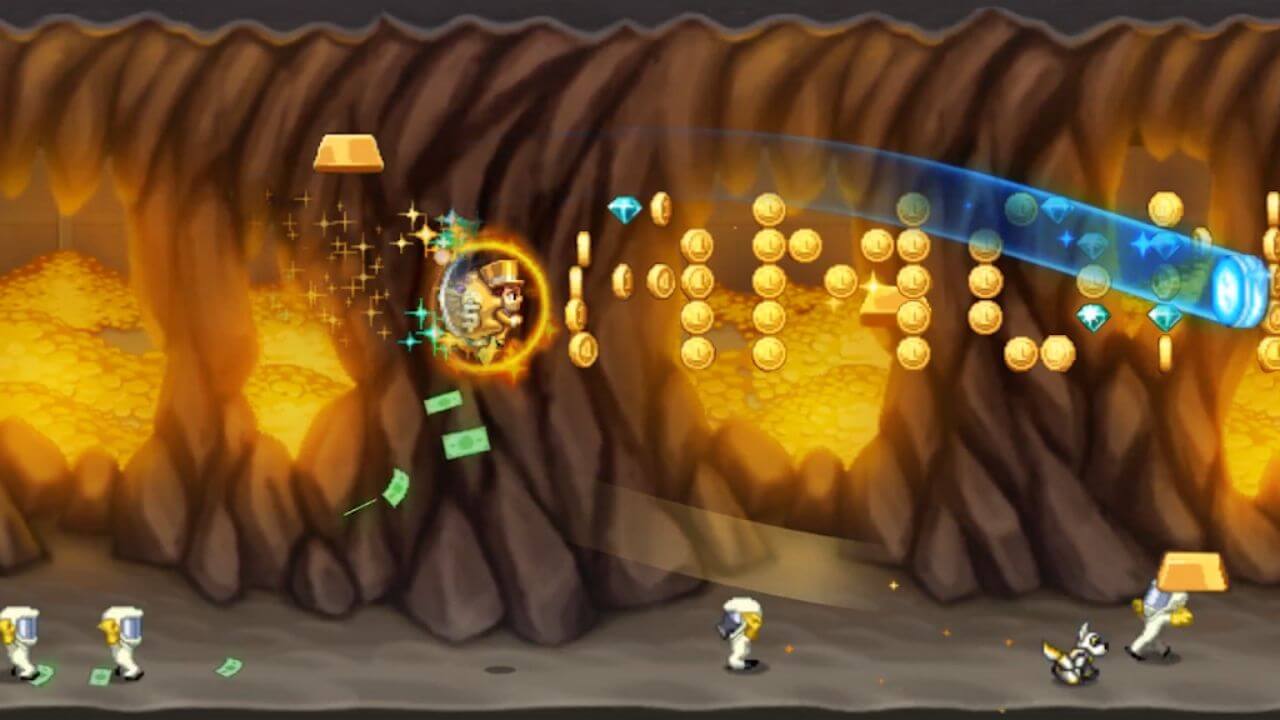 Jetpack Joyride is an endless running game. The aim of the player is to collect as many coins as possible in order to upgrade the costumes and jetpacks. It is very similar to Subway Surfers and Temple Run. If runner games are your cup of tea then you will definitely enjoy playing this game. 
The game also has a backstory where Barry steals a jetpack from a laboratory and tries to escape by dodging missiles and traps set up in order to catch him. Jetpack Joyride also has an official Indian version which has pop-ups like "Aadhaar linked" and many more. Adding to this, there are lassi jetpack upgrades, a sardaar costume, and even an ISRO missile to make it even more fun and interesting. It has a short playtime and can be played even if you only have a few minutes to spare. 
Install it here. Contains Ads and In-app purchases 
11. Hill Climb Racing 
Here comes a physics-based racing game for Android that packs unlimited fun and adventure. Hill Climb Racing offers the ultimate nostalgia with its controls, vehicles, graphics, and other in-game features. You'll get to play as an aspiring uphill racer who explores different climbing environments, right from Ragnarok to Nuclear Plant. This offline arcade Android game is addictive and full of challenges. Hill Climb Racing allows you to conquer the highest hills up to the moon while respecting the laws of physics. You'll get to climb hills in fascinating vehicles like monster trucks, hippie vans, super offroad, snow-mobiles, police cars, and more. 
You can flaunt your daring tricks, gain bonuses, collect coins, and upgrade your car to reach higher distances. 
Download Hill Climb Racing. Contains ads and in-app purchases.
12. Trial Xtreme 4 Bike Racing
Trial Xtreme 4 Bike Racing is designed for a realistic motocross PVP game experience. This offline racing game for Android is packed with super-crazy obstacles and amazing bikes. You'll get to race against players across the globe and win cash prizes. That's not all. You can also compete in PVP duels and tournaments to earn the jackpot. This Arcade Android game includes bike skills as well as strategic thinking. Trial Xtreme 4 Bike Racing offers over 200 Xtreme Levels and captivating 3D graphics so that you can enjoy an insane riding experience. The craziness of this offline Arcade Android game continues with the Swag Mode that lets you bling up your rider. You can choose from over 200 pieces of customization gear that reflect your style and abilities. 
Check out Trial Xtreme 4 Bike Racing. Contains ads and offers in-app purchases.
13. Friday the 13th: Killer Puzzle
For all the horror and puzzle lovers out there, Friday the 13th is amongst the best offline arcade games for Android. It involves exciting and unique game premises with bloody violence and you'll have to slaughter across 100 levels. You'll get to play Jason Vorhees who stalks and slay campers without showing any mercy. Don't forget to save yourself from the cops, traps, rotary telephones, and landmines. From supermax prisons to snowy ski resorts, you'll have to terrorize victims across the globe. This fun, scary, and action-packed arcade game is sure to keep you hooked for a long time. In short, if you prefer horror, gore, and puzzle games, Friday the 13th is worth trying out. We would recommend keeping your kids away from this offline arcade Android game. 
Try Friday the 13th.  Contains ads and offers in-app purchases.
14. Angry Birds Classic
If you're in search of the best offline arcade game for Android that's loved by kids as well as adults, Angry Birds Classic is a must-try. It features fantastic Physics-based gameplay that requires skill, force, and logic to solve each level. You'll have to use a slingshot to launch birds at greedy pigs who stole their eggs. There are over 15 episodes and a total of 680 levels to keep you hooked. Once you eliminate each pig after the last bird is launched, you'll move to the next level. As you move to higher levels, you'll unlock many powerful birds with different abilities. For example, one bird can scatter into multiple birds, while the other has the ability to increase its speed mid-air. You can download this Android game for free and play it offline. To boost your competitive strength, you can also compete against other players in the Mighty League. 
Check out Angry Birds Classic. Contains ads and offers in-app purchases.
15. Badland
Here comes one of the best offline Android games in 2022 that you must download right now. Badland is a superb action-adventure game that features unique gameplay and a fascinating atmosphere set in a beautiful forest that's full of inhabitants, trees, and flowers. The player discovers multiple imaginative traps and obstacles on the way to find what's wrong in the forest. The physics-based gameplay with fused with incredible visuals and real-like sound to keep you engaged for a long time. The superpowers are just fantastic and keep you rolling throughout the game. One booster can make you huge while the other can make you tiny. There are a total of 6 superpowers that you gain automatically when you cross different elements of the game.
This offline Android game offers single, multiplayer, and cooperative modes. 
Try Badland. Contains ads and offers in-app purchases.
16. Really Bad Chess
If you're interested in strategy games, Really Bad Chess is the best offline arcade game for Android in 2022. This puzzle game lifts up the boring restrictions on the regular Chess game and challenges you to think differently. The chessboard is the same while the pieces are completely random. You can play this offline Android game for free, where you get to play against an AI in Ranked, Daily, and Weekly challenges. Each player has a King and 15 other random pieces that are distributed based on the player's skill level. Rather than using typical chess moves, you'll have to think out of the box and achieve your goal. 
Download Really Bad Chess. Contains ads and offers in-app purchases.
Conclusion 
So, there goes the list of best offline arcade games for Android in 2022. I hope you enjoy playing all these games and have an amazing gaming experience. I tried to mention as many genres as possible so that everyone finds a perfect match. Do not forget to share your favorite arcade games with us in the comment section below.