After weeks of speculations, rumors, and leaks, we finally witnessed the Apple WWDC 2022 on June 6, 2022. It's one of the most exciting Apple events where we see new iterations of Apple's major operating systems with some impressive additions and improvements. And this year, Apple has stunned its fans with its next-generation in-house processor named the M2 chip and an M2-powered MacBook Air. Apple had introduced the M1 chip in 2020, followed by M1 Pro and M1 Max in 2021, and M1 Ultra earlier this year in March. Now, Apple is all set to push its performance bar a notch higher with the next-generation M2 processor. 
Here's everything you need to know about Apple's next-gen Silicon for Macs. 
Apple's new 2022 M2 Processor Specs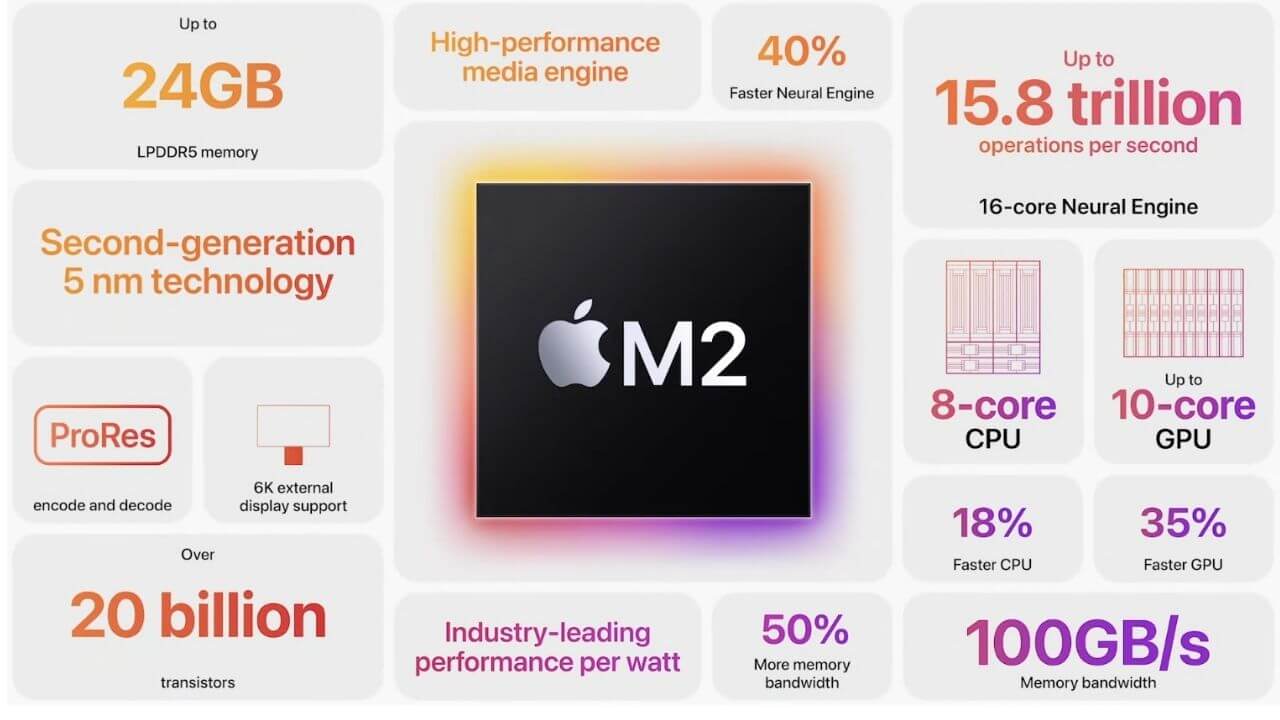 The new M2 chip uses Apple's custom Arm Silicon and is built on the new second-generation 5nm architecture with 20 billion transistors, which is 25% more than the original M1 SoC. Apple claims that the new M1 chipset offers 18% faster CPU and 35% faster GPU performance as compared to the M1 processor. This a great news for Mac users who like to edit videos and photos on the go. Additionally, Apple says that an M2 notebook is almost 1.9x faster than the latest 10-core PC laptop chip. For reference, Apple compared the M2's benchmark charts with a Samsung Galaxy Book 2 360 powered by Intel's i7-1255U processor. It is the latest 12th gen high-end mobile CPU meant for thin and light laptops.
Also read: Best Apps for M1-powered MacBook Pro and MacBook Air
It's worth mentioning that despite the performance increase, the new M2 chip will have an 8-core CPU which is the same as the M1 processor. Talking about the GPU, there will be two additional cores, which makes it a 10-core GPU. Apple is using the new performance and efficiency cores on M2 paired with 100Gbps of memory bandwidth (this is 50% more than M1's bandwidth) and up to 24GB of LPDDR5 memory.  
Moving further, Apple's M2 features a next-generation secure enclave and neural engine (that's 40% faster), and an updated media engine that can handle 8K H.264 and HEVC video. It means the machines with M2 chips can play multiple streams of 4K and 8K video simultaneously. Moreover, the M2 chip is more power-efficient, delivering industry-leading performance per watt. 
Also read: Best External Hard Drives for MacBook Air and MacBook Pro
Which devices have Apple M2?
The newly launched 13.6" MacBook Air 2022 and 13" MacBook Pro 2022 will be the first M2-powered Macs. The Macbook Air 2022 features a slimmer profile, comes with MagSafe charging and starts from $1199. The 13" MacBook Pro has the same design as the previous one. The only difference is that it has an M2 chip inside. 
Also read:  Here's everything you need to know about M2 MacBook Air