Note: This cover image was generated by the Imagine app on Android.
AI has taken over our daily lives, and it is being used everywhere these days. From generating and editing images to writing your emails, AI apps help you in different ways. Not long ago, the AI industry was taken by storm when ChatGPT, an AI-based natural language processing tool, launched in November 2022. ChatGPT has become the talk of the town because of its capabilities to let you have a human-like conversation. It can answer questions, assists you with tasks such as writing emails, or essays, and even help with your coding. Frankly speaking, there's a lot more you can do with the help of ChatGPT. Besides, Google is working on its own AI, named Bard, which has somewhat capabilities like the ChatGPT. That's not all, Microsoft recently also announced its artificial intelligence (AI)-powered digital assistant named '
Microsoft 365 Copilot' which is aimed to increase productivity, unleash creativity, and uplevel skills. To be honest, there were many AI apps for Android before the craze of ChatGPT, so here we have talked about them as well. Since the AI apps are growing at a crazy rate, we will keep the list updated over time.
Without wasting further time, let's jump onto the list of some top AI apps for Android that you can download from the Google Play Store right now. Keep reading!
Top AI apps for Android you can try now [Free and Paid]
Best AI Apps for Voice Assistants for Android
1. Google Assistant
We all know Google Assistant, almost all Android smartphones these days come with a pre-installed Google Assistant on it. It is hands-down one of the best AI assistant apps for Android you can try in 2023. Anything that you can think of doing with your device, Google Assistant is right there to help you. Be it playing music, asking it to turn on your
smart home devices, setting an alarm, calling your loved ones, or opening your favorite application, this AI app for Android can do all that just by voice command. On top of that, it comes with tons of features which can include basic to more advanced stuff like anticipating your needs like when should you leave for the airport for a flight, controlling your smart home device, and whatnot. There is much more this AI voice assistant app can be used for. The best part is that Google updates this AI assistant for Android regularly ensuring its stability and bug-free user experience. If your device has Google Play Services, you may already have this AI app for voice assistant already installed on your device, the only thing you have to do is set it up. 
The only thing you have to do after this AI app for Android is set up is to say "Hey, Google" or "OK, Google" and say your commands.
Also read: 21 Best Google Home Compatible Smart Devices of 2023
2. Amazon Alexa
Talking about an AI voice assistants app for Android and not mentioning Amazon Alexa is no less a crime. As far as usability and capabilities are concerned, this Android AI app does everything that you expect Google Assistant to do and is somewhat better. But the only downside is that it requires an Amazon Fire device or an Amazon Echo device. This Android AI app works as a controller for such devices and Amazon-related services. From basic features like playing your favorite music on Amazon Echo Dot to ringing your parents, or acting as an intercom for your home, it can do most things. If you are fond of listening to music but don't have an Alexa-compatible device, don't worry. The Amazon Music app, the Amazon Prime app, and even the Amazon shopping app work flawlessly with your voice commands. On top of that, it can easily complete sophisticated tasks like controlling your Alexa-compatible home automation devices like a smart fan, smart bulb, smart TV, or smart AC, that too remotely. Again, that is only possible when you have Amazon Echo. You can use voice commands to remotely turn on or off smart gadgets outside of your home. Overall, it is a useful AI app for Voice Assistant that we think you should download to streamline your daily activities.
Also read: Best Smart Home Device Upgrades You Need in 2023
3. VoiceGPT: AI Voice Assistant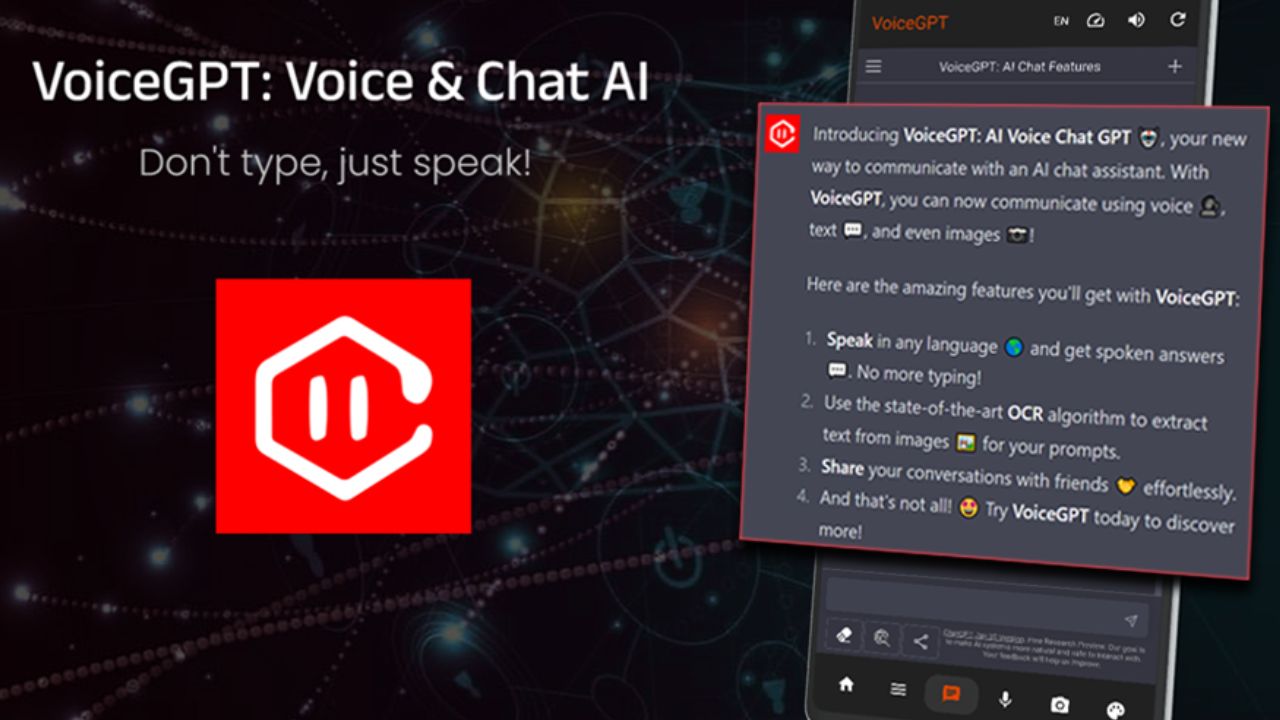 If you are looking for a ChatGPT alternative AI app for Android that can help you communicate just like you'd do with your friend, VoiceGPT is just perfect for you. It is one of the top AI voice assistant apps for Android that works just like Google Assistant. You can input your query in the app using text, OCR, or voice and it will answer you just like the ChatGPT. While several AI apps for Android come with restrictions when it comes to the number of queries or chat sessions, the VoiceGPT boasts unlimited message support. On top of that, this AI assistant app for Android comes with support for over 64 languages and can return responses in selected languages as well. You can choose from many accents and voices to receive a response from this ChatGPT alternative AI app. If you have the habit of triggering voice assistants with phrases, VoiceGPT has got you covered. You can use the 'Hey Chat' trigger to activate the VoiceGPT app hands-free. That's not all, tools like image recognition and scanning, copy, paste, and select options are also there, including the choice between Dark and Light mode. 
Having all that said, if you are bored of using Google Assistant and want to explore something new, VoiceGPT remains one of the top AI assistant apps for Android users to try out in 2023.
Download from Google Play Store 
Also read: 14 Best Free Reddit Apps for Android You Can Download Now
4. DataBot
If you are looking for a compact yet handy AI virtual assistant app for Android, DataBot can be the answer to your needs. It is a cross-platform Android voice assistant app that is available on different platforms like Windows 10, iOS, Android, iPad, and more. You can use it to find out answers related to any topic, and it will answer in its robot voice. In addition to that, it provides images, multimedia presentations, and other information based on the topic of interest to make the answer easily understandable. The DataBot relies on Google Searches, Wikipedia, RSS channels, and other sources to put forward information you might ask for. Being one of the top AI apps for Android, it is highly customizable. Meaning you can change the language and voice of the DataBot assistant as per your preference. This virtual AI assistant Android app can understand and speak in different languages including French, English, Spanish, Portuguese, German, and Italian. You can also ask it to set up reminders, summarize pages, and more.
In short, it can answer all your queries in the most presentable way. 
Also read: 30 Must-have Apps for your Android TV
Best ChatGPT-like AI apps for Android
5. Bing – Best AI Search Engine App
Another most talked about AI bot in recent days is Microsoft's Bing. You can use the new AI chatbot app for Android to look for things to purchase, get dining recommendations, ask it to recite the lyrics of your favorite song, create a travel itinerary hour by hour, and even ask about yourself. Yes, Bing can do all that now, the recent improvements have made users inclined more toward it these days. 
Bing is powered by GPT-4 under the hood and works more like an AI-powered search engine that gives you the best results for your queries by analyzing search results from the web in seconds. For your reference, ChatGPT uses GPT 3.5. To remind you, all that is done conversationally, just like the ChatGPT. That's not all, you can even ask for a preferred style of response and Bing will serve you the answers in that manner. Though, it doesn't respond in the detailed manner that we have seen in ChatGPT. Rather, it gives you the option to tap on the sources to explore more about the topic you searched for. That said, you'll also need to sign into a Microsoft account to use Bing's AI chatbot. 
Talking of the shortcomings, we found that Bing is not always accurate at picking up voice commands. And, sometimes it even fumbles executing commands as simple as setting up a timer (when all the permissions are enabled). That's not all, there is a limitation of 20 chats per session and 200 total chats per day. 
That said, it is one of the top and most popular ChatGPT-like AI apps for Android users to download in 2023. 
Download from Google Play Store
Also read: Best Productivity Apps for iPhone & iPad in 2022
6. Ask AI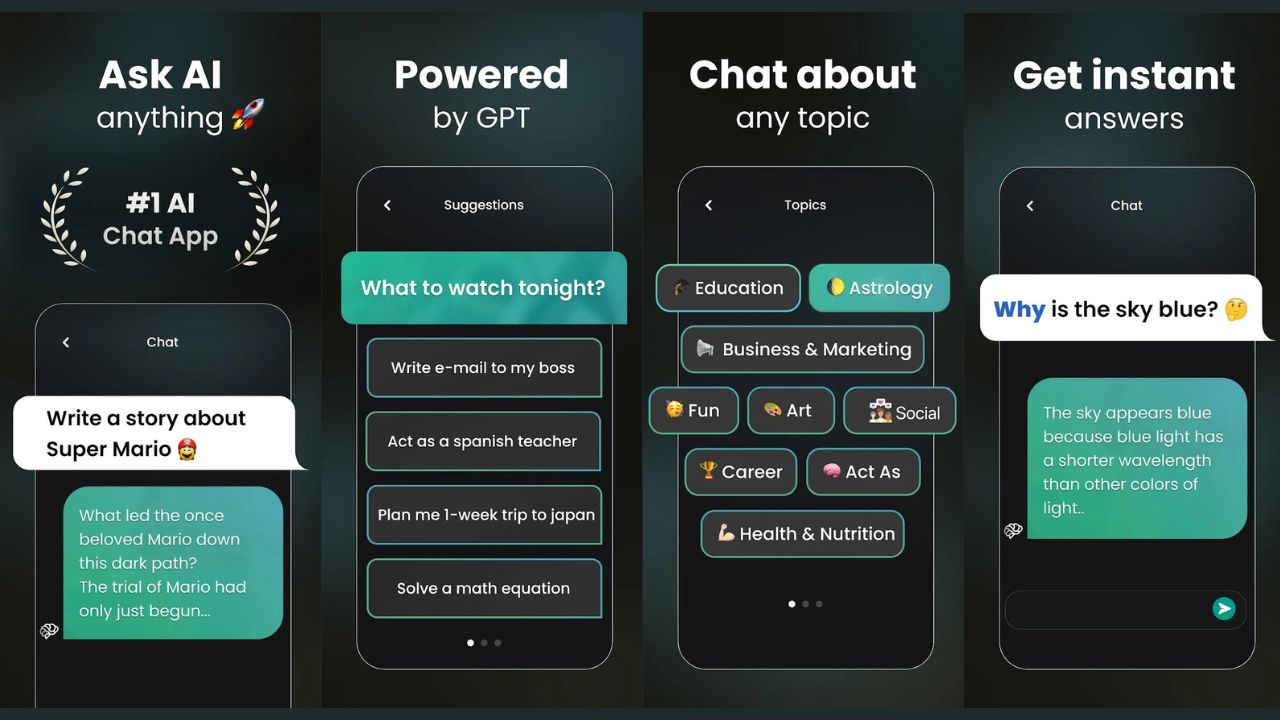 While ChatGPT is free for all users, we have seen several ChatGPT-like AI apps for Android on Google Play Store that charge a fee. One such app is Ask AI. By the name of it, you can tell about how it works. So, if you are thinking that you need to talk to input your query, you are right. You can simply ask the ChatGPT-powered AI app a question and it answers you, that's it. It's not complicated, to be honest. It is fun to ask different questions with this AI app for Android, and the response was great. I tested this app before writing about it and I was amazed to see how well it handles all kinds of queries. Even though all the questions asked were not that complex, but to gain basic knowledge about a topic, this ChatGPT-like AI app for Android is just perfect. If you go more into complex queries, you might have to rephrase sentences or play with words to get the desired results, as all of the responses might not be 100% accurate. That said, even ChatGPT sometimes needs rephrasing to get a desired response, so you can expect it to work weirdly at times. While the app is free for use, there's a subscription plan that ranges from weekly to direct lifetime access for $39.99 USD. 
In short, if you are looking for a ChatGPT alternative AI app for Android, Ask AI is one of the best to try out. 
Download from Google Play Store
Also read: Best PDF Editing Apps for iPad in 2023
7. Nova
If you are among some people who have jeopardized your daily routine and looking for an AI-powered Android app that streamlines your day-to-day workload or prioritizes tasks, Nova chatbot is just the app for you. This AI app for Android uses ChatGPT-3.5 to answer your queries and I can tell from my experience that it does a pretty good job for most parts. But, users claim that they have come across a few error codes when a complex question is asked. The fact that it comes with multi-language support from over 140 languages and gives you the option to voice input as well, makes it even more useful for someone bored enough to type all the queries. On top of that, it is also available on multiple devices including
Galaxy Watch. The only downside associated with this AI chatbot app for Android is that the free version is limited to three chat responses per day, which is understandable, but the premium version is relatively more expensive than most competitors out there. Also, you wouldn't get lifetime access to this app as with Ask AI. That's a bummer, we know. 
All that said, if you are looking to play around with an AI chatbot that can give you accurate responses, the Nova AI app for Android is worth downloading. However, the fact that it only offers three free responses in a day, we suggest you try a few other options out there before sticking to this one. 
Download from Google Play Store
Also read: Best Smartwatch for Seniors to Buy in 2023 [Buying Guide]
Best AI Photo and Video Editing App for Android
8. AI Mirror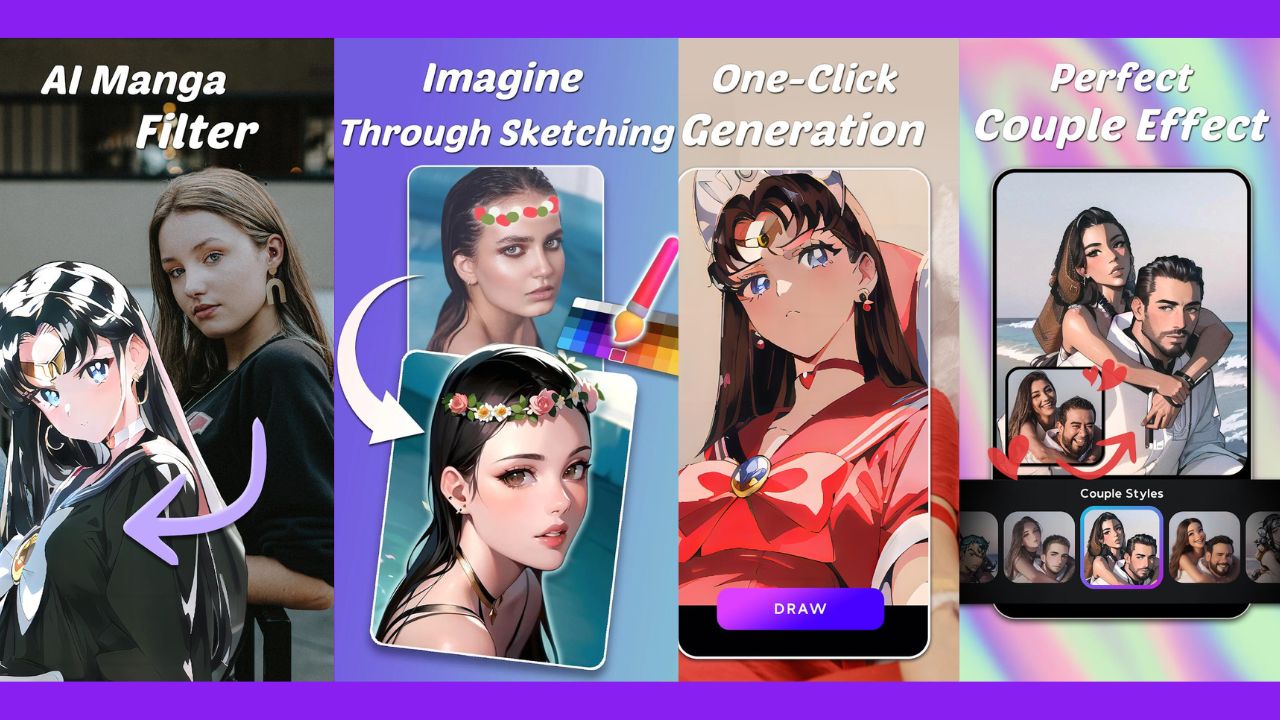 Are you looking for an AI photo editing app for Android? Well, first and foremost, we suggest you check out AI Mirror. It is an easy-to-use AI photo editor that gives you an edited image in a few taps. First, you will need to upload an image and select from any of the free AI filters that you want it to apply Once you choose the AI filter, the magic starts happening and the app will edit the uploaded photo using AI to fit in that style. There are a bunch of styles and filters available in the app such as cartoon effects, anime, AI Manga filters, and much more. To give you an idea of how it works, we tested the app during our research and we can confirm that it worked pretty well almost every time during our testing. However, we were taken aback by the amount of ads the app serves to its users. Although you can get rid of advertisements by paying a subscription fee, we don't recommend doing that. Why? The app is still young and needs some improvements when it comes to mimicking the skin tones and other aspects of an image. But, with continuous updates, we expect this AI photo editing app for Android will get better with time. 
Putting it simply, if you want to flaunt AI-generated images or cartoonize yourself in a Manga or anime on social media, downloading this AI Android app is worth the time.    
Also read: Best TikTok Video Editing Apps for iPhone and iPad in 2023                                                                                                                                          
9. FaceApp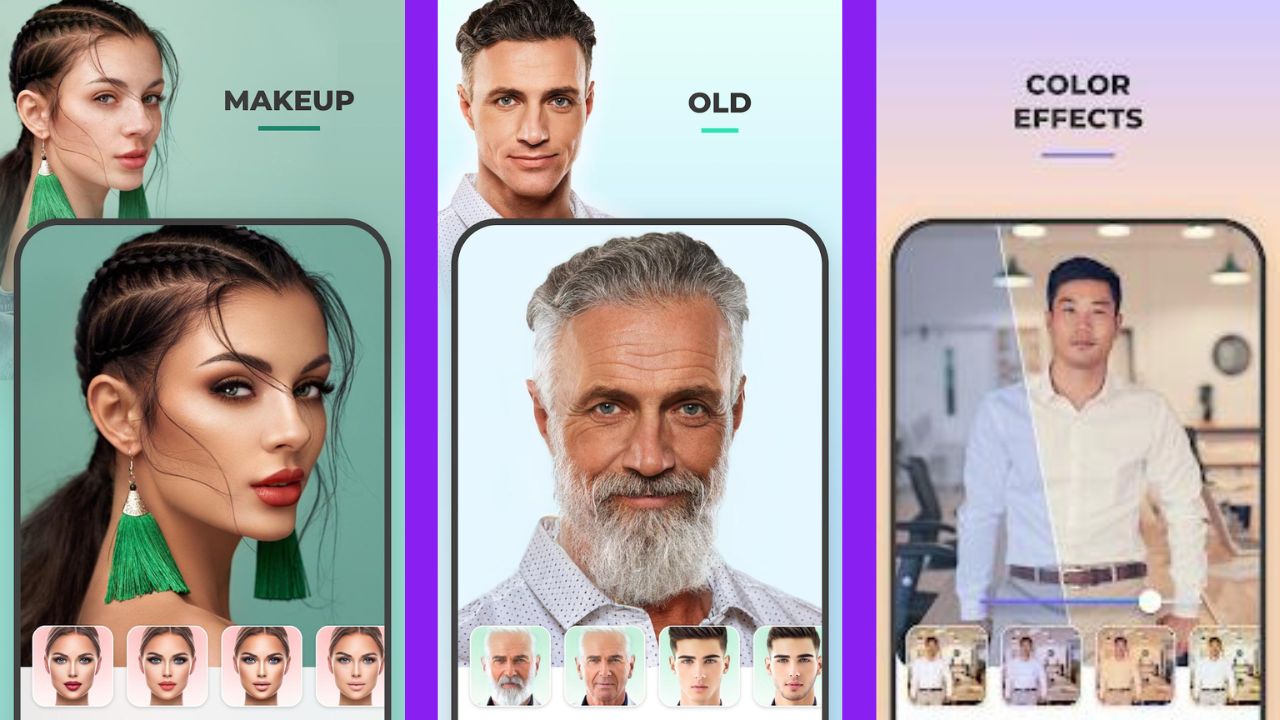 If you are looking for an AI photo editing app that can turn your selfies into something special, don't wait on downloading the FaceApp. It is one of the best AI-powered photo manipulation apps that changes the look of your face in no time while adding fun elements like glasses, hats, and other stuff to make it look even cooler. The fun part of using this app is that it comes with an aging simulator that allows you to see what you'd look like in years to come. Yes, you can now watch yourself with gray hair, a wrinkled face, and whatnot. Other than these fun features, it also acts as a basic
photo editing app for Android that can enhance your photos to make them look social-media-worthy. For example, this AI app for Android can remove annoying pimples or scars from your face to make your portrait shine more than ever. Other than that, it lets you play around with AI filters to cartoonize your photos just like you'd do using the AI mirror app. Frankly speaking, it is one of the most popular AI photo editing apps for Android that is used by millions of users to retouch their photos to make them more appealing. While the free version of this AI app for photo editing contains ads, you can always choose their subscription plans to use the app ad-free. 
All that said, FaceApp is one of the top AI photo editor apps for Android that you should consider downloading in 2023.
Also read: Best Video Editing Apps for iPad in 2023
If you are wondering what is the best free AI filter app for selfies that has the capabilities of FaceApp, we recommend downloading the Lensa app. It is one of the best AI photo editor apps that allow users to alter the image through color correction, face touchups, create magical avatars, and much more with an easy-to-use user interface. As far as the working of this app is concerned, it works similarly to FaceApp. But, it offers more features in compared to the FaceApp. You can easily remove imperfections from the image, blur the image background, create short movies, and even allows removing objects from photos. Moreover, there's a free and paid version of this AI selfie generator app, the free version restricts you to edit three photos per day. 
Also read: Best End-to-End Encrypted Android Messaging Apps to Download in 2023
Best AI Art/Photo Generator Apps for Android
10. Imagine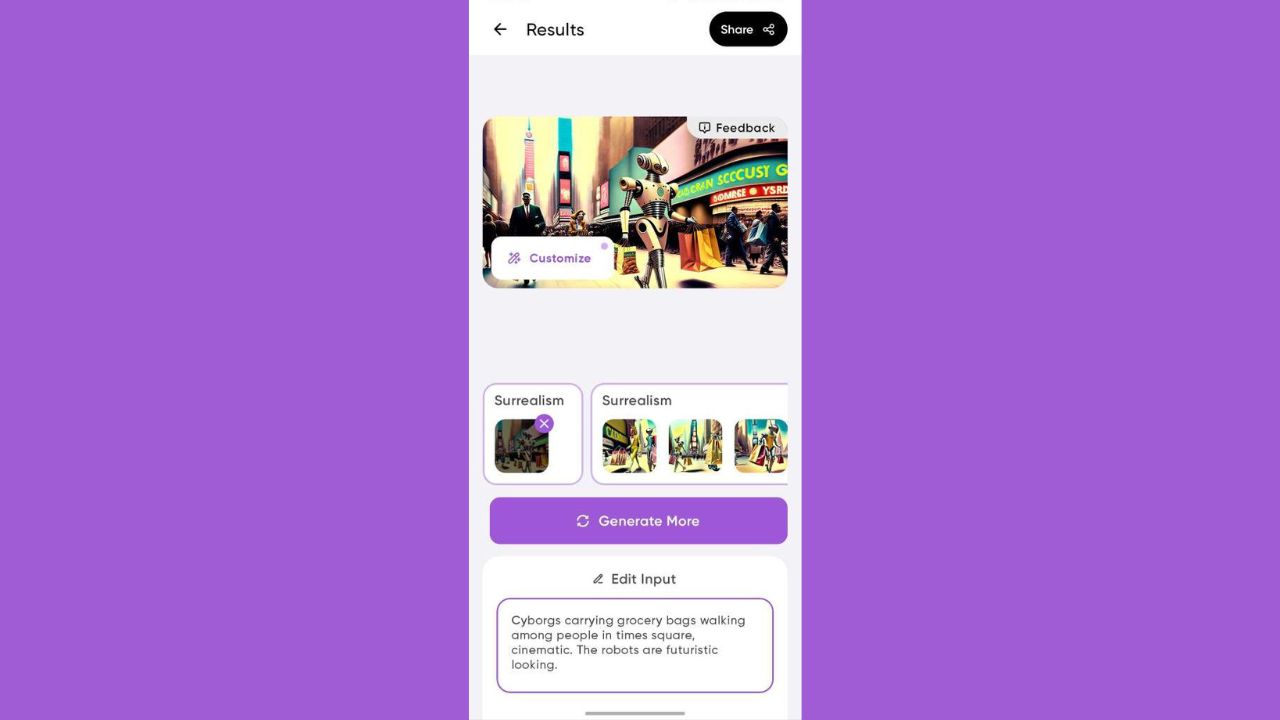 The Internet is taken by storm with Artificial Intelligence, and we have been witnessing the magic of AI in different niches. One of the major areas that have grown due to its boom is AI photo or art generators. Many artists are using their imagination to put forward something unique for their followers all over the internet. So, if you are looking for an AI photo/art generator app for Android, we think Imagine is the one that is worth trying. It is one of the most popular art generator Android apps that lets you create amazing photos with just words. All you have to do is tell the app what you want to draw, and Imagine will draw it for you. We tried a few examples, and it came up with some super cool images every time. However, you should be aware that it won't necessarily generate art or photo as you'd expect it to. The free version of the AI photo generator app for Android lets you generate an image at a time and that too after watching an ad. So, if you are eager to use it for professional or inspirational use, we recommend you subscribe to the weekly, yearly, or lifetime subscription, whichever seems feasible to you. It works fast and the art generated is pretty accurate to what we expected than other competitors out there. 
If you are interested in trying out other AI apps for photo or art generation, we recommend checking the PicSo app as well. It is available in Google Play Store and the good news is that it also does pretty well when it comes to art generation. 
Also read: Best Free Video Editing Apps for Android
11. WOMBO Dream
WOMBO Dream is one of the many AI art generator apps for Android that was released on the Google Play Store. Last year, it was ranked as the best AI photo generator app out there. As far as the art generation part is concerned, it works similarly to the Imagine art generator app. You'll need to upload an image that you already have or you need to add a text prompt. The app then generates art for you. Generally, this AI photo generator app gives pretty good results, but there are a few shortcomings as well. Meaning, there could be a few instances when you don't get the exact images that you are looking for while using this AI art generator app for Android. However, the image can be refined once you try a bunch of word prompts. Having that said, the free version of this Android AI app is slow, plus the ads are there to annoy you. If you are patient enough, you can generate the photo or art that you wished for and use it for a bunch of purposes. 
In short, WOMBO Dream is among a few AI apps for Android that can be used for art and photo generation. 
Also read: Best Stress Relief Apps for iPhone & Android
If you are keen to experience the magic of AI in a full-fledged photo editing app for Android, we recommend trying Adobe Lightroom. Well, Lightroom is not exactly an AI app, but some of its parts are now controlled by AI to increase the productivity of the users. For example, there is a healing tool that can remove a subject without distorting the background. On top of that, you'll be able to use masking and subject selection, adaptive presets, and much more. So, if you are into photo editing, this AI app for Android is worth downloading and even paying for.  
Best AI Android Apps for Education and Language Learning 
12. ELSA
If you are looking to improve your English communication skills for free, ELSA could be the answer. Acronym for English Language Speech Assistant, ELSA is an AI Android app that helps users to learn and improve their English speaking skills. This Android AI app helps you improve your pronunciation, your speech, and a lot more. You can keep track of your learning progress while analyzing improvements you've made over time. Based on all these, this AI app for English learning generates a progress report for self-analyzation. If you are weak in some aspects, you can work on it using this AI app for Android. 
The app's AI-based system monitors your fluency, pronunciation, word stress, and listening That's not all, if you are preparing for some international-level English tests such as IELTS and TOEFL, you can use this app for your benefit. Since ELSA acts as a speech assistant, it can help you with the IELTS speaking test as well. And, can help cover the cost of English language training, massively.  
Also read: Best eBook Reader Apps for Android
13. Socratic by Google
If you are looking for an eduction-based AI app for Android that can help your kids with school assignments or maths problems, Socratic is a perfect choice for you. This app is currently owned by Google and is one of the most popular AI apps for education that helps students solve their homework quite easily. Soctactic is powered by Google's AI models and currently supports major subjects like Science, Maths, Social Studies, and even English Grammar. If you are concerned about its usage, let me tell you this AI app for Android uses the camera to visually provide solutions to every question. You can simply click a picture of the problem or question from your book and the app will look for answers and provides solutions in a few seconds. If you don't feel like taking photos every time you are stuck with a math problem, there's an option in this AI app for Android for voice or text input as well. 
To give you an idea, I tried a bunch of questions from a standard high school maths textbook, and the app gave me accurate answers. So, don't worry about it messing with your homework. Not only maths, but it did well while trying out solving answers to different subjects including English Grammar, Science, Literature, and other subjects. Lastly, it is free to use and it can be downloaded from the Google Play Store easily. 
Also read: Best Language Learning apps for iOS and Android
14. Duolingo
Do you have the fascination of being able to speak different languages? If the answer is yes, the Duolingo app is the answer. It is one of the most popular AI apps for language learning that offers customized lessons depending on your speaking levels (beginner to advanced). In addition, this AI chatbot app for language learning on Android is designed to make learning fun and efficient by using an interactive game-like interface. You can practice reading, writing, speaking, and listening every day to gain fluency in a particular language quickly. If you think that's enough, there's much more Duolingo can do. This AI learning app for Android comes with two major AI features – Explain My Answer and Roleplay. As far as Explain My Answer is concerned, it allows you to understand more about your response in a lesson. You can enter the chat with Duo by tapping a button to get an easy explanation about why your answer is right or wrong. Whereas the Roleplay feature allows you to practice real-time conversations with different AI characters available in the app. Talking of popularity, this free language learning AI app for Android has over 100 million downloads from Google Play Store and is rated 4.5 stars. That's not all, it was awarded as one of the best free language learning AI apps for Android last year. 
Also read: How to Hide Apps on Samsung Galaxy Smartphones
Best AI Travel Planner Apps for Android
We don't generally talk about AI in the context of itinerary planning, but with the boom of AI, it was expected that the technology will take over the travel industry as well. Most of the travel planner app for Android these days comes with basic features that give a full itinerary for any one city at a time, depending on how long you want to stay there. From what we have seen, most itinerary planner AI apps for Android work like a charm, especially for popular tourist cities. You will be asked whether you are traveling solo, as a couple, or with a family. After that, you will be asked to choose topics of your interest such as history, art, culture, entertainment, shopping, and much more. Once you have selected from the list of topics, these AI travel planner apps for Android create a day-wise itinerary for your next trip. That's not all, all that is plotted on a map with details like the time you should spend there, and things to do when you are at a particular location. Besides, these itinerary planning AI apps also give you information about estimated travel time from one location to another including the modes of transportation available. You can even share all the details with your friend or your group. It is worth mentioning that we didn't find any ads within the app we have mentioned below. 
So, if you are planning a holiday, make sure to try out the following AI travel planner apps for Android. 
Also read: Best Trip Planning Apps for a Smooth Journey
Honorary mentions the best Android AI apps to download:
16. Wysa – Anxiety Therapy AI chatbot
17. eBay – AI-Powered Online Auction and Shopping App
That's all for now in this roundup of the best AI apps for Android that you can download for various purposes. If you are keen enough to know about some of the best TikTok video editing tools for iPhone and iPad, make sure to read our roundup for the same.
Banner Image Source: Imagine AI app