It's hard not to sound biased when talking about the OnePlus 8T. It was hands down one of the most balanced phones you could buy in 2020 and is still a great option to consider in 2021. Or is it? It's been a few months since the OnePlus 8T came out which makes it the right time for me to re-assess whether it is worth its price tag today. 
OnePlus 8T Review in 2021: Build Quality and Design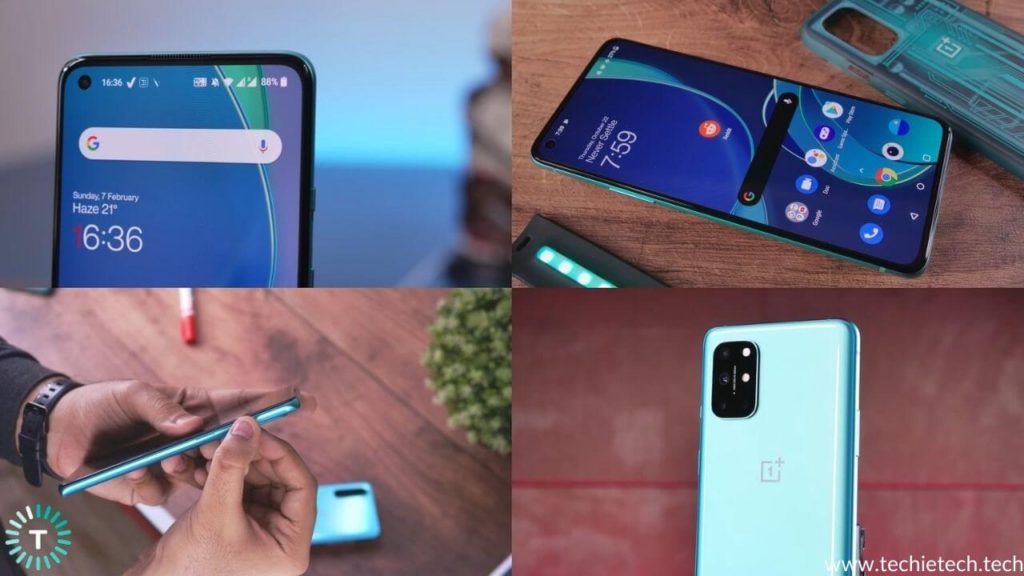 Build quality and design was never a strong point of the OnePlus 8T because of 2 major reasons. Firstly, it has a very mainstream Samsung-like design with the camera module to the top left. Secondly, its predecessor, the OnePlus 8 looked much better according to most people, including myself. 
But regardless of that, the OnePlus 8T ticks all the boxes of the quintessential premium 2020 smartphone. It has a Gorilla Glass 5 front and back, a matte aluminium frame in the middle and an edge to edge display with a selfie camera cutout on the front.

The back glass has a glossy finish which attracts smudges and fingerprints. A matte one like the one on the OnePlus 8 and OnePlus 8 Pro would have been more suitable. The display on the front is flat, which is a very significant functional advantage for a lot of users like me. A flat display means that you can wave goodbye to all the accidental touches and unwanted glare that's caused by curved glass displays.

See, while I am not the biggest fanboy of the OnePlus 8T's entire design language, I also don't hate it. In my day to day use, I sport OnePlus' first party Quantum Bumper Case and it does the trick for me. Apart from the Quantum Bumper Case, there are a lot of other great cases for the OnePlus 8T, which you must check out.
OnePlus 8T Review in 2021: Display Quality and Issues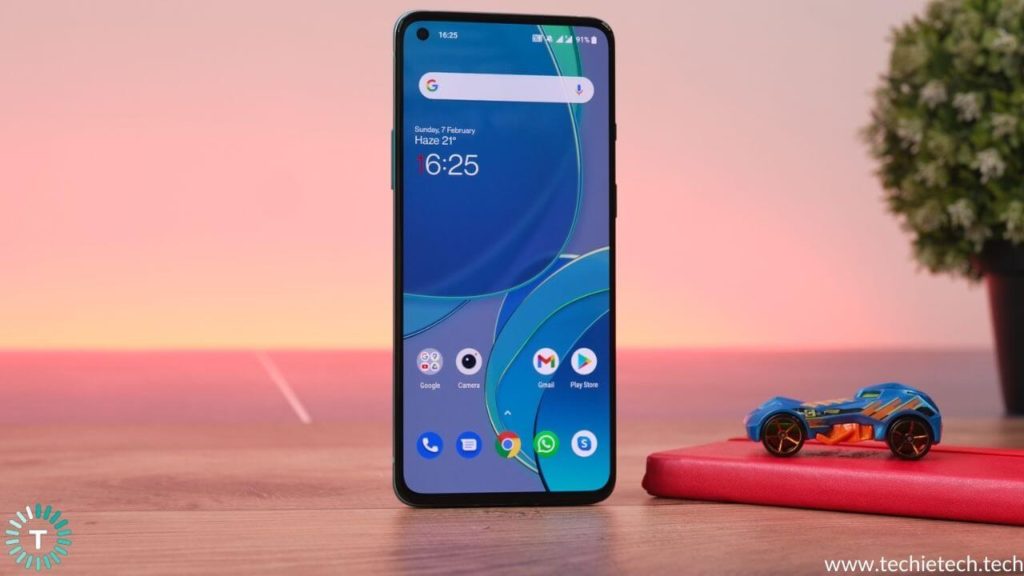 Flip over to the display and you get one of the many features that make the OnePlus 8T such a compelling smartphone package. The OnePlus 8T has a flat AMOLED display with a 120 Hz refresh rate and Full HD+ resolution. It is stunning. The saturation, vibrance and colours look natural and very pleasing to the eye. OnePlus also allows you to tinker with the display's colour profiles should you wish to. The 120 Hz resolution also ensures that every tiny bit of animation looks extra smooth.

Another thing I would like to clarify, since this is asked very frequently, is that while there were a number of widespread OnePlus 8 Pro Display Issues and OnePlus Nord Display Issues, I can confirm that the OnePlus 8T's display has been entirely trouble free in my usage period. The team even did a thorough analysis and the OnePlus 8T Display Issues were non-existent, similar to the OnePlus 8 Display Issues.  
OnePlus 8T Review in 2021: Software & OxygenOS 11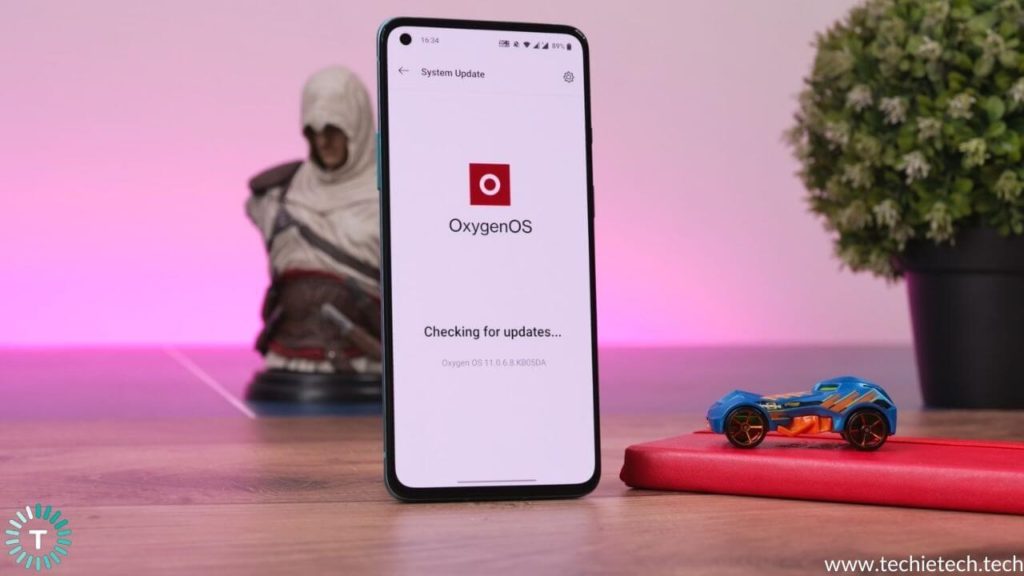 A key highlight of the OnePlus Experience is OnePlus' OxygenOS, which is the fastest and smoothest Android skin I have ever used. It has almost no bloatware, no shady Apps and no overload of half baked, unnecessary features. OxygenOS is as clean as they come and is my Android version of choice if longevity is the priority.
With the latest OxygenOS 11, OnePlus has tried an entirely new design language, which is quite similar to OneUI. While I don't mind the new software overhaul, I liked the Stock Android look and feel of the older OxygenOS 10 better. But overall, the best thing about OxygenOS is definitely how smooth it is and how it manages to retain that smoothness after multiple years of usage. 
OnePlus 8T Review in 2021: Software Updates
There is, however, one problem. Software updates. See, OnePlus has this bad track record of abandoning their older devices whenever a new iteration comes along. The OnePlus 8T is the latest version right now so things are looking good but just look at last year's OnePlus 7 lineup. Still waiting for the Android 11 update that the OnePlus 8 got back in October. I hope that's not the fate of the OnePlus 8T when the OnePlus 9 comes along. 
OnePlus 8T Review in 2021: Performance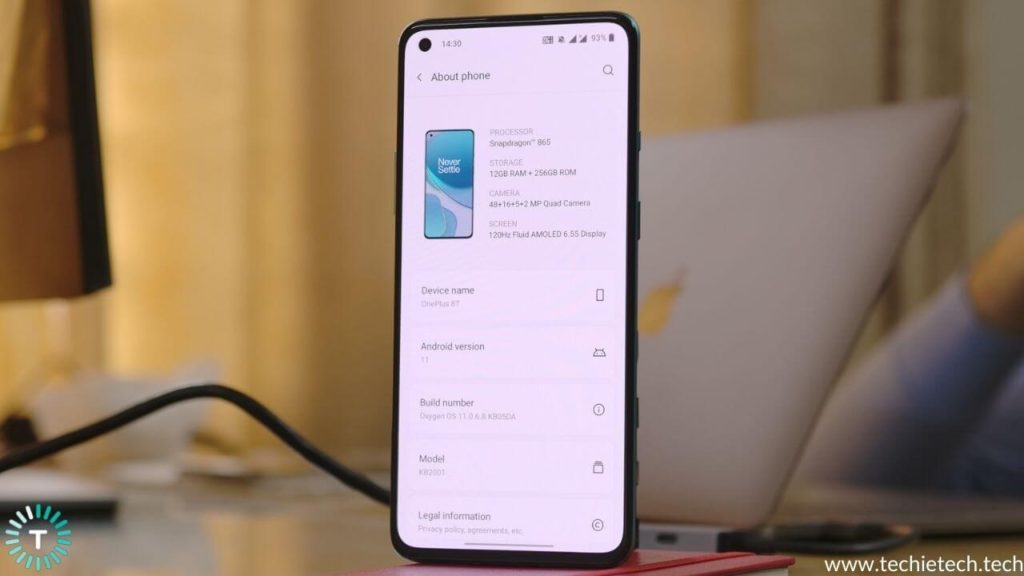 Moving on, let's talk performance. I told you OxygenOS ran smooth, right? Part of the reason why is that OnePlus always packs the most cutting edge hardware available at the time of launch. In accordance with this pattern, the OnePlus 8T packs the Snapdragon 865 processor with the lightning fast UFS 3.1 storage and either 8 or 12 GB of RAM.
To dumb it down a bit, this phone is fast. Anything you throw at it, be it your day to day social media use or video conferencing or even intense gaming, the OnePlus 8T is as equipped as the best Android phones in the market. Of course, there will be newer phones coming along in 2021 with more powerful next generation hardware but even taking that into consideration, I still cannot imagine any user for whom the OnePlus 8T will be underpowered. This thing is a beast and if power is what you want, power is what you will get with the OnePlus 8T.
OnePlus 8T Review in 2021: Camera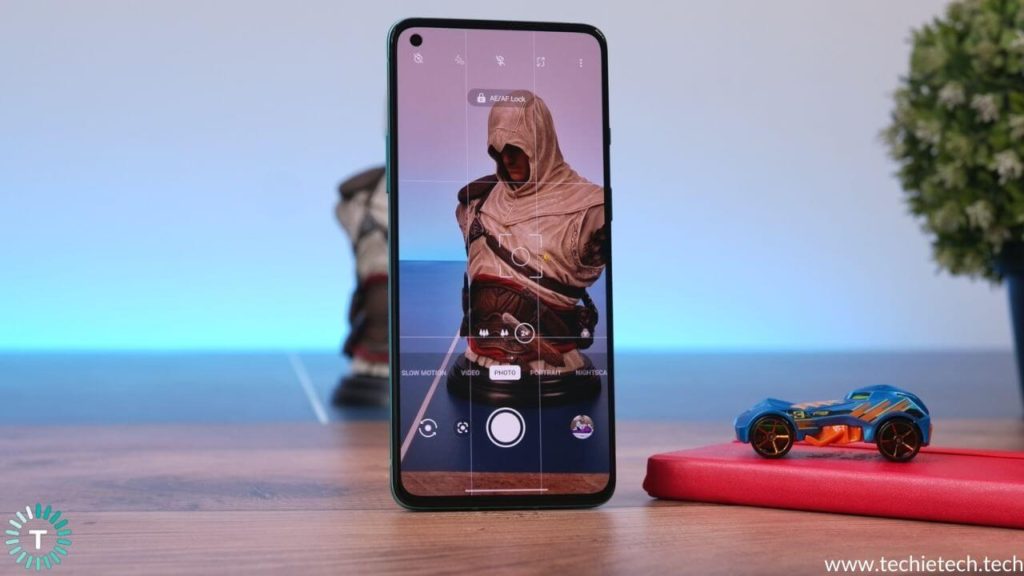 Let's talk a bit about the cameras. The cameras on the OnePlus 8 and OnePlus 8T are essentially the same so I'm just going to repeat what I wrote in that review. Remember, if you want a more in-depth analysis, you can always check out the Camera section of our Full Review of the OnePlus 8T.
For now, I want to talk briefly about my real life experience. As someone who is not obsessed with having the best of the best quality, the OnePlus 8T has actually provided a good enough photography and videography experience. The output has been adequate for my regular usage and I actually took some really good looking pictures after a few tweaks here and there.
However, if you click a lot of photos on your phone and quality is the utmost priority, there are better Cameras on smartphones even in the same price bracket. A comparison of the OnePlus 8T to the Galaxy S20 FE instantly comes to mind. Even a comparison between the OnePlus 8T and the Galaxy S20 is now reasonable, now that the Galaxy S20 has roughly dropped to the same price territory. 
If you click a lot of photos but also want the OnePlus experience, I would highly recommend comparing the OnePlus 8T to the OnePlus 8 Pro, because while they're very similar, the OnePlus 8 Pro does pack a significantly better camera. 
OnePlus 8T Review in 2021: Battery Life & Charging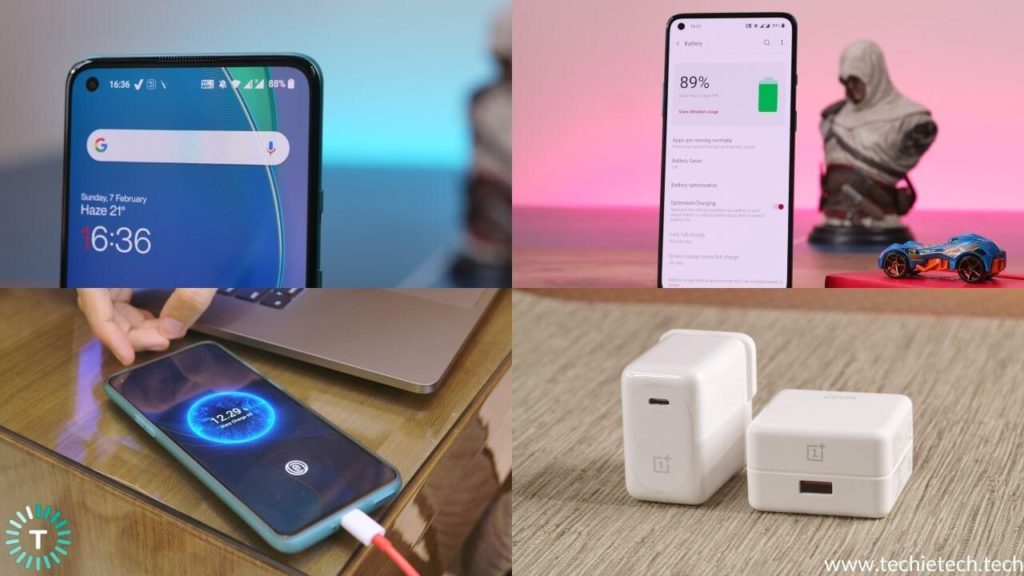 I have been getting great battery life with the OnePlus 8T. For my non-hardcore, zero gaming kind of usage, the OnePlus 8T gives me roughly 6 hours of Screen on Time which translates to either a day or a day and a half's worth of endurance. It's nothing to write home about but definitely something you can rely upon. If you follow some power saving measures like switching to 60 Hz refresh rate, I am sure you can stretch it to 2 days.

Also, while you don't get fancy stuff like Reverse Wireless Charging or even regular wireless charging, you do get 65 W super fast dash charging which charges the phone up insanely fast. Now, I'll be honest with you, it was fun to see Dash Charge charge my phone so fast when I first got it but I just stopped using it after some time to maintain battery health. I am not going out much so it doesn't matter anyway. If you plan to use your OnePlus 8T for long, I would recommend picking up a slower adapter. You can find some suitable chargers and other accessories for the OnePlus 8T here. 
Before we conclude, a few random highlights. The stereo speakers are great. The earpiece clarity and overall phone call experience is excellent. The fingerprint sensor is fast. The Mute Slider is amazing and something I always miss when I switch to a Non-OnePlus Android.
OnePlus 8T Review in 2021: Conclusion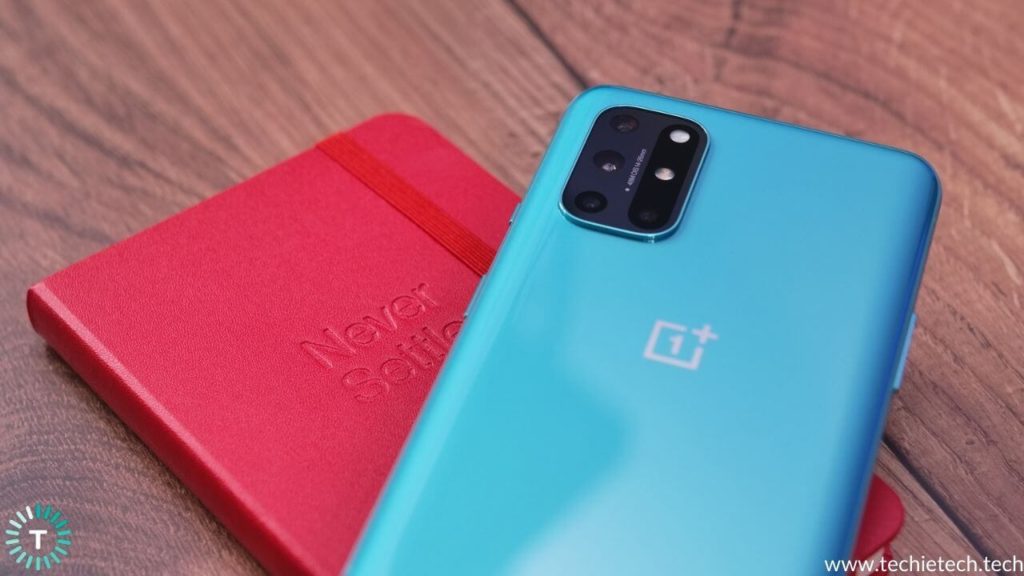 There's no doubt that the OnePlus 8T is an amazing phone and there's no doubt that I, as a reviewer and user, really like this phone. However, today, I would recommend you to not buy one for yourself yet. See, the OnePlus 9 series is going to come out soon and I would wait to check it out before buying the OnePlus 8T or any phone today. If you absolutely need a phone today and just cannot wait, the OnePlus 8T is a phone that I have no problem recommending. An amazing phone through and through.

Check OnePlus 8T Price on:
Amazon (India): https://amzn.to/2IGjmdr 
Amazon (US): https://amzn.to/3dLrR2D 
Amazon (UK): https://amzn.to/3kesTqf