Funny story, I actually wrote a review of the S20 FE, pondered a bit and then tore it up. Then, I wrote another review of the S20 FE and ended up throwing that as well. Let's find out why I did what I did. 
All the reviewing and trashing and re-reviewing, that's not because the phone is complicated, in fact the S20 FE, itself is a pretty straight-forward device. I did it because of the weird ways Samsung positioned it here in the Indian market. First, I wrote a review when the S20 FE just launched and was well priced for a few days. But then I had to trash it as the more premium Galaxy S20 Plus got a price cut to essentially the same price as the S20 FE which made the FE a senseless option to even consider. At that point, as I completed my second review, the S20 FE got a massive price cut and is now significantly cheaper. And so, a third review. Anyway, I have been using the S20 FE for upwards of a month now and here is my long term experience with it. 
Samsung Galaxy S20 FE: Build Quality Review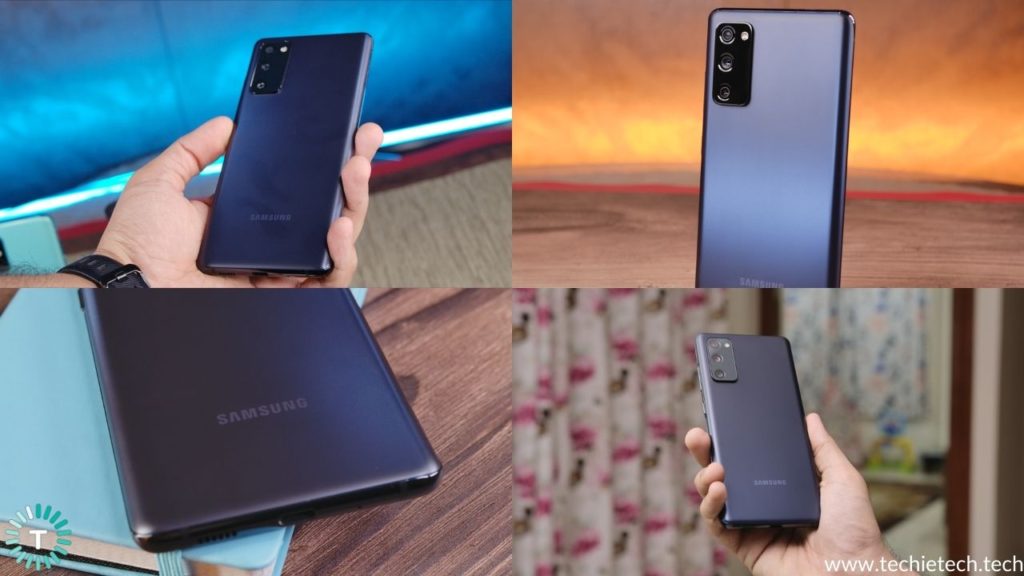 Let's talk about the build quality first. It's plastic and frankly, I love it. While there is no question that glass looks and feels more premium, the advantages that come with plastic are pretty awesome as well. You don't have to worry about shattering the back and you don't have to worry about babying the phone. To put things into perspective, I used this phone stress-free without a case, something which I cannot imagine doing with a regular glass backed phone.

But apart from that, this phone does not feel cheap in hand. The glossy aluminium frame provides some heft which actually makes the S20 FE feel quite substantial in-hand. The S20 FE is probably the most durable and abuse friendly flagship you can buy today. Also, while I used the very muted and discrete Cloud Navy colour, the S20 FE comes with a variety of colour options so there is something for everyone. 
Samsung Galaxy S20 FE: Display Review
Flipping over to the display, we have a Gorilla Glass 3 covered Super AMOLED panel which has a refresh rate of 120 Hz and a resolution of 1080 by 2400. Before we get into the core display quality, I have a few minor complaints. For once, I would have loved it if Samsung used the newer Gorilla Glass 5 since competing phones use that. Another tiny thing which annoys me is this shiny metal ring in the selfie camera cutout. It shines a lot and has been really distracting throughout my usage experience. Again, competing phones have a discrete black punch hole which blends in much better. 
Samsung Galaxy S20 FE: Display Quality
Talking about the actual display quality, it is actually pretty good. Samsung phones pack great displays and this one is no exception. Apart from the gorgeous larger than life colours and crisp detail, I also love the fact that it is flat. The 120 Hz refresh rate also goes a long way in providing a smoother user experience. But there are some rough edges. I faced a few issues mostly with some ghost touches which led me to do some Googling around. Turns out, a lot of users have been facing a variety of issues with the display on the S20 FE. Samsung even pushed a few software patches to fix it but it's still not fixed for most users including myself. I would have really liked this phone better if it were not for these issues because it did get very irritating at times, especially when scrolling or swipe typing.

Samsung Galaxy S20 FE: Performance Review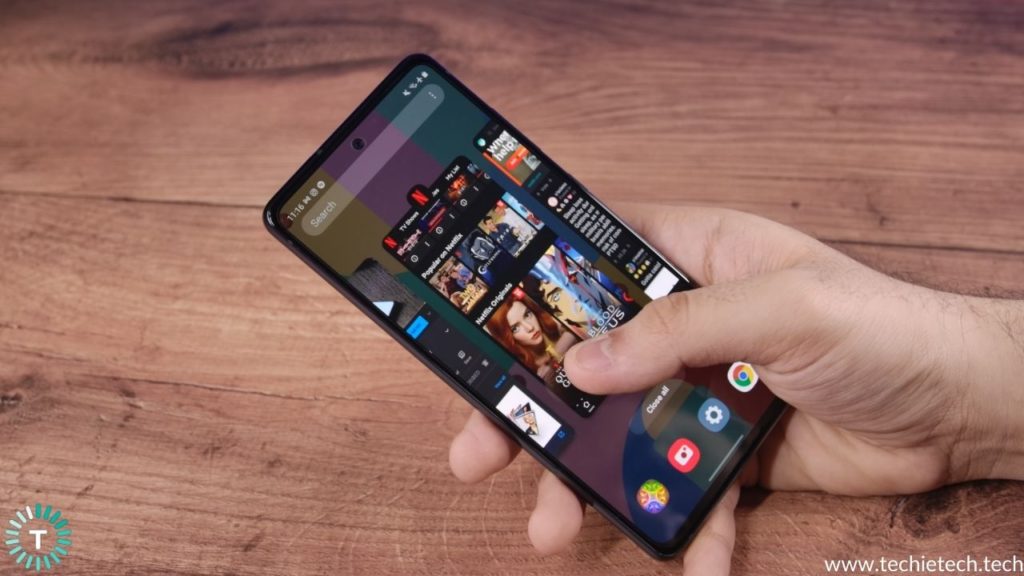 Now that we're done with the display, let's talk about the performance. This is actually very dependent on where you live and which variant you get. Long story short, there is an LTE version of the S20 FE with an Exynos 990 CPU which is good enough for day to day usage and some casual gaming but struggles when it comes to serious gaming or any other power intensive tasks. Then there is the 5G version which has a Snapdragon 865 CPU which is basically the most powerful CPU for Android right now so it breezes through everything you throw at it. 
I have the LTE version here since that is the only version sold in India. Now my usage consists of Social Media, Texting, Email… all less intensive tasks and the Exynos was pretty comfortable with this usage pattern. However, when I tried to test some heavy games or even during long multi-person video calls, it does get hot very fast and starts stuttering. Needless to say, if you are a power user, get the 5G version or maybe a competing phone with a Snapdragon 865 CPU like the OnePlus 8.
Samsung Galaxy S20 FE: Software Experience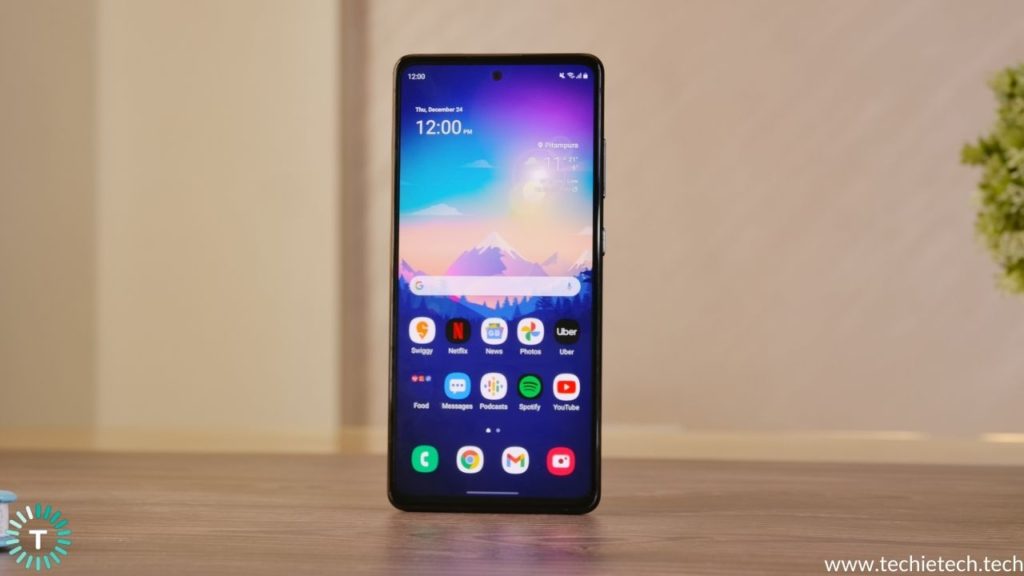 The Galaxy S20 FE recently got the Android 11, OneUI 3.0 update and I have to say, it really refined the overall software experience. Samsung's Android skin has grown from this irritating, laggy and messy pool of bloatware to a very mature, smooth and unified experience. Animations on OneUI are extremely smooth thanks to well polished software and that 120 Hz display. There are more features than ever here like floating windows, split screen multitasking, edge panels and a plethora of customizability options. 
Samsung still packs their own alternative for basically every Google service on the phone so there is Samsung Internet for Chrome, Bixby for Assistant and even a Galaxy Store for the Play Store. However, I won't necessarily call it bloatware since a lot of our viewers actually prefer using them. All in all, OneUI is one of my favorite Android skins and it is a great option if you're looking for a refined and polished Android experience with a loaded feature set.

Samsung Galaxy S20 FE: Camera Review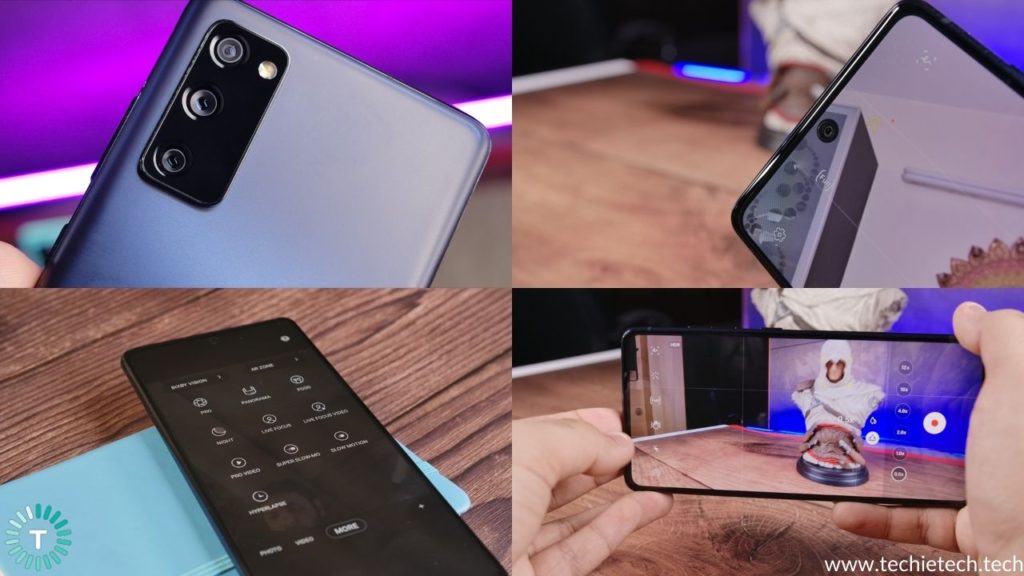 Let's talk about the cameras now. The Galaxy S20 FE sports a triple-camera setup on the rear and a 32MP front camera. The rear camera setup includes a 12MP primary shooter, an 8MP Telephoto, and a 12MP Ultra-wide camera module. Samsung Galaxy flagships have been known to deliver excellent performance when it comes to mobile photography, let's find out how it performs in real life. 
Photos:
The 12MP primary camera takes amazing pictures both indoors and outdoors. It produces stills with high dynamic range and rich colors that are pleasing to the eye. It is the same primary shooter as that on the Galaxy S20 Plus. 

The ultra-wide angle camera is very wide with a FOV of 123 degrees and delivers well-exposed pictures with minimal distortion and low noise. 

There is also an 8MP telephoto camera which takes 3x zoomed-in stills. Thanks to the optical zoom, it produces fairly good pictures with flagship level noise processing and sharpness.

The S20 FE delivers well-exposed portraits with fairly good subject separation on both people and objects. The dynamic range and color rendering of portraits are also above average. Besides, you can also adjust the bokeh after you've taken the pictures. 

Flipping to the front camera, the 32MP selfie camera takes fairly average selfies. Also, there's no autofocus. But, there's a wide mode where it actually takes 10MP pictures and a zoomed-in mode where it shoots 6.5MP stills by default. You can take 32MP selfies but they're just slightly sharper versions of the 10MP stills.

The S20 FE's low light performance is a mixed bag. On one hand, it produces amazing low light shots with respectable dynamic range and low noise with night mode support for all cameras. On the other hand, even after so many software updates, the post processing times are excruciatingly slow. 
Videos:
In terms of resolutions and frame rates, the Galaxy S20 FE can shoot videos in 4K@60fps from both the rear and the front cameras. 

The outdoor video quality is actually good with decent dynamic range and color rendering. 

On the other hand, the indoor video quality is somewhat average with muted colors.

Samsung also offers features like manual and portrait video modes which makes the S20 FE an appealing choice for content creators & professionals.
To conclude, the Galaxy S20 FE offers a flagship level camera experience at a not so flagship price tag. Moreover, the feature packed camera app and Samsung's software update history makes it a very appealing smartphone camera for both casual and professional users. So, if you're looking for a reliable smartphone camera which takes good pictures and videos from all 3 cameras in this budget, the S20 FE is the best of the bunch. 
Samsung Galaxy S20 FE: Battery Life Review
Moving on to battery life, it is pretty average. I get around 4 hours of SOT on a single charge which is manageable, not too good, not too bad. It has gotten slightly better after the OneUI 3.0 update but is still not good enough to be a 2 day or even a 1 and a half day phone. Also, if you get the 5G version, you might get slightly better battery life since the Snapdragon 865 is supposed to be more efficient than the Exynos 990 CPU.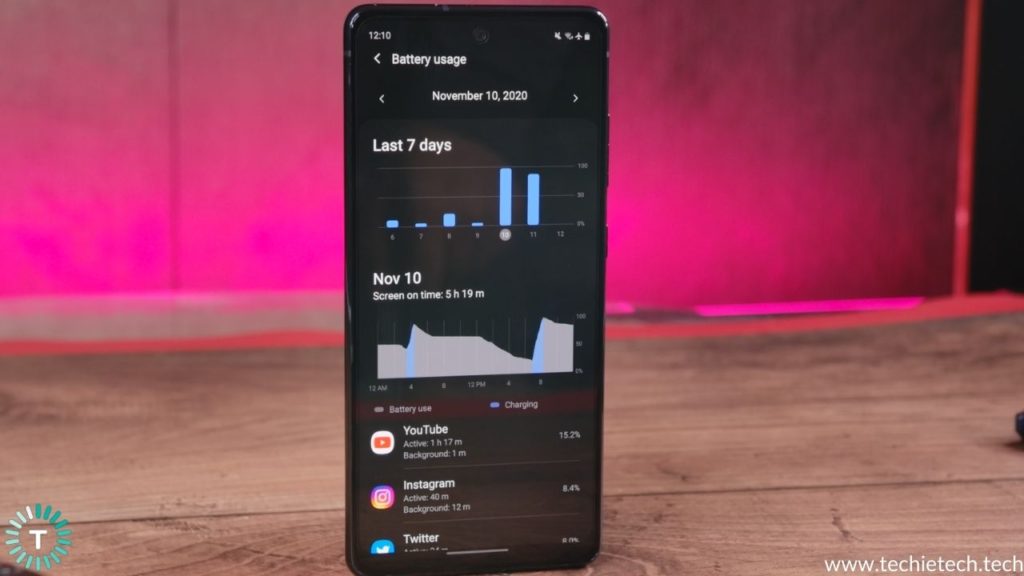 Another thing to note here is that while the box includes a 15W adapter, the S20 FE  can support fast charging upto 25W. There is also support for fast wireless charging, which I believe only Samsung offers in this price bracket.
Samsung Galaxy S20 FE: Call Quality Review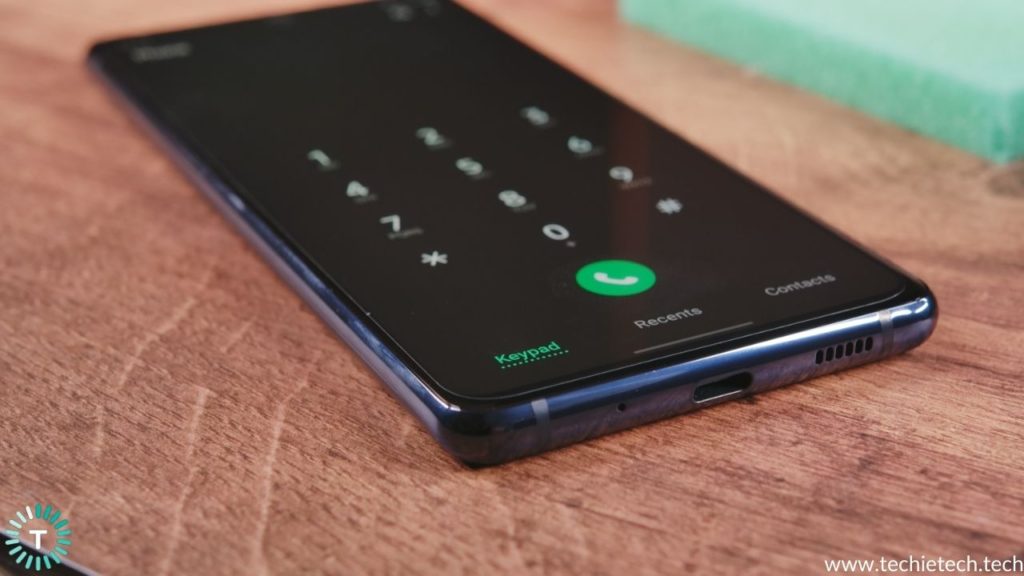 I also want to take a moment to talk about the phone call experience because it has been exceptionally good. Both the earpiece and loudspeaker are loud and clear and like other Samsung phones, it performs brilliantly when it comes to catching a signal and holding on to it.

Samsung Galaxy S20 FE: Should you buy it?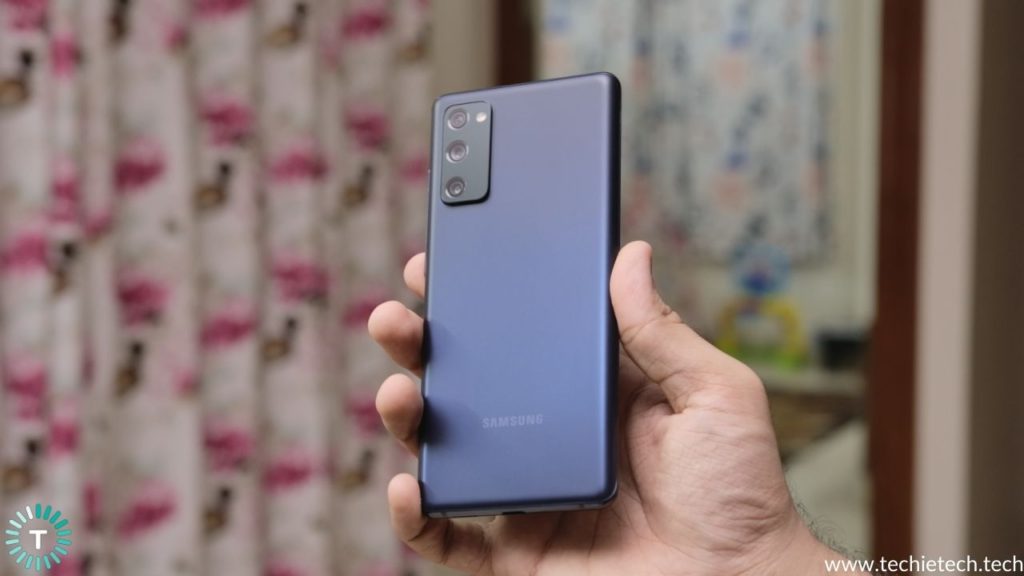 As I conclude this review, I would just like to say that the pricing of a phone is very important. The iPhone SE is a great phone but if it's just as expensive as say the iPhone 11, it becomes senseless. Similarly, the S20 FE is a great phone, but when Samsung priced it at the same price as the S20 Plus, it became meaning-less. However, now, at this price, I think that the Galaxy S20 FE is a solid choice for users who want a functional, feature rich and reliable phone. 
Check the Latest Price of Galaxy S20 FE Price:
Amazon (India): https://amzn.to/2UDmNog 
Amazon (US): https://amzn.to/3f6XGU8 
Amazon (UK): https://amzn.to/3pG3KaU