The interesting thing about comparing the Galaxy S20 and the OnePlus 8T is that even though both the phones are excellent in a vacuum, each one has got clear advantages over the other in many different areas. It is these clear advantages that make the choice of picking one of these phones so personal. Someone wants a decent camera, someone wants smooth gaming. Let's go ahead and compare the Samsung Galaxy S20 and the OnePlus 8T.
OnePlus 8T vs Galaxy S20: Build Quality and Design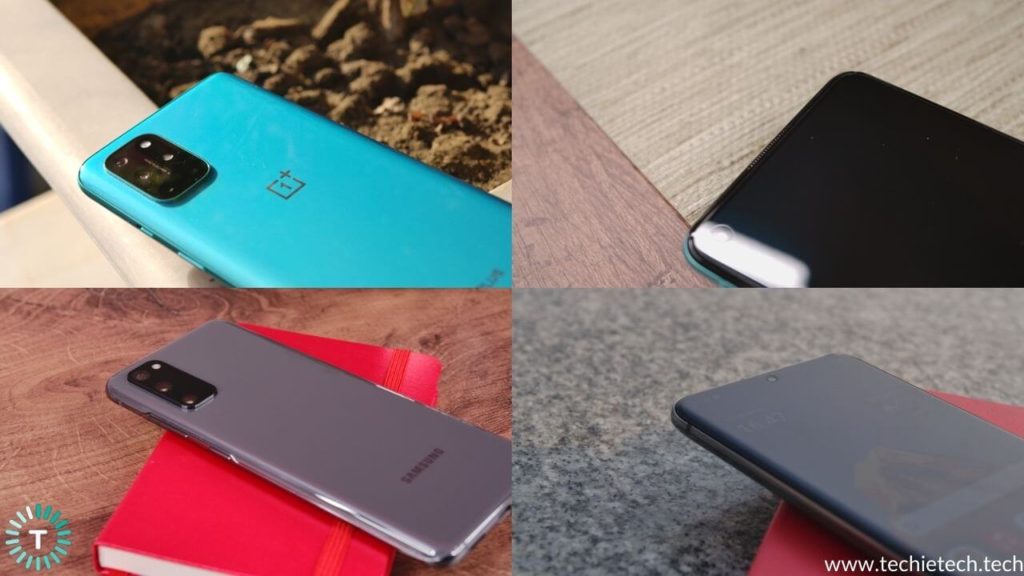 When it comes to the build quality and design, the similarities far outweigh the differences. Both phones have a glass front and back sandwiching an aluminium frame. Both of them have the camera module to the top left although the S20's module looks cleaner and more understated. Both phones have very clicky and tactile power and volume buttons.

There are a few differences though. The screen on the Galaxy S20 is curved compared to the flat panel on the OnePlus 8T. That makes a noticeable difference in how easy it is to grip the phone. The Galaxy S20 is also noticeably smaller and lighter and much better for one handed use. Conversely, the larger OnePlus 8T packs a larger display which is preferred by a lot of people. 
One last thing that I would like to point out is a personal observation. The Galaxy S20 looks a lot more stealthy and classy thanks to its clean design and muted colour options. The lively Aqua Green or Shiny Silver colour on the OnePlus 8T grab far more attention. Everyone has a different personal preference- you could prefer muted or you could prefer bright, so I'll let you decide this one for yourself. 
But whichever phone you end up picking, you're going to need a case to protect that fragile glass body. We have a Best Cases Guide for the Galaxy S20 and another Best Cases Guide for the OnePlus 8T. Do check them out!
OnePlus 8T vs Galaxy S20: Display Comparison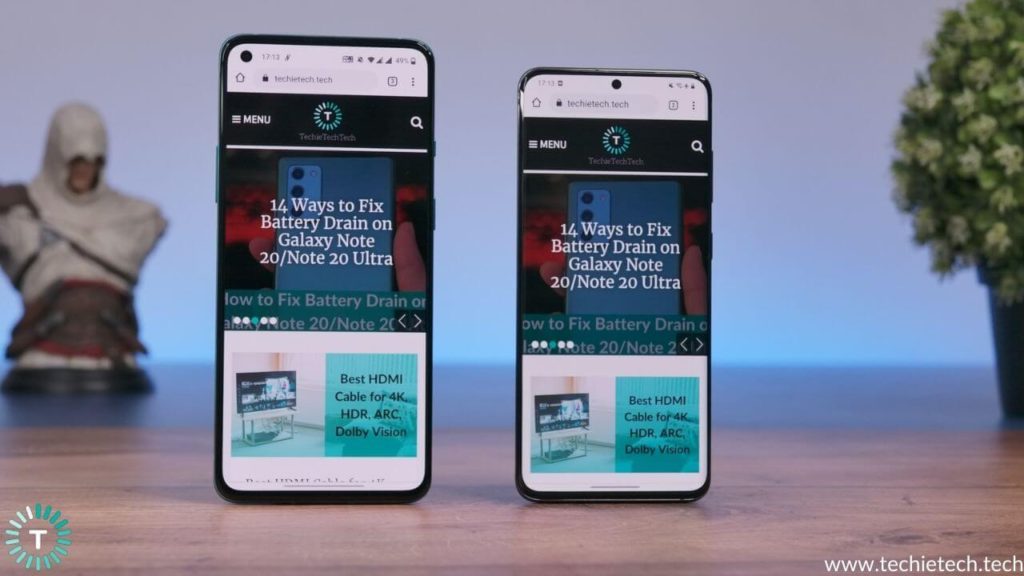 Flip over to the display panels and things get more interesting here. The display glass is slightly curved on the Galaxy S20 while it is completely flat on the OnePlus 8T. I usually don't like curved displays because they cause accidental touches and unwanted glare. However, I found myself liking the curved display on the Galaxy S20 because the curve is very subtle, which means that it can look premium without causing accidental touches.
While both the displays have a smooth 120 Hz refresh rate, the Galaxy S20 has a higher resolution at QHD+ compared to Full HD+ on the 8T. This translates to a more pixel-dense display on the Galaxy. You would be forgiven to think that the differences would not be noticeable on displays this small but that is honestly not the case. I read a lot on my phone and the text always looked noticeably sharper on the Samsung S20. Even the overall colours, vibrance and saturation were a notch better on the Galaxy S20. 
Let me clarify that in no way does that mean that the OnePlus 8T has a bad display. Far from it. The OnePlus 8T has one of the better displays in the industry and I love using it. Let's just say that if the display on the OnePlus 8T is an A, the display on the Galaxy S20 is an A+.
OnePlus 8T vs Galaxy S20: Performance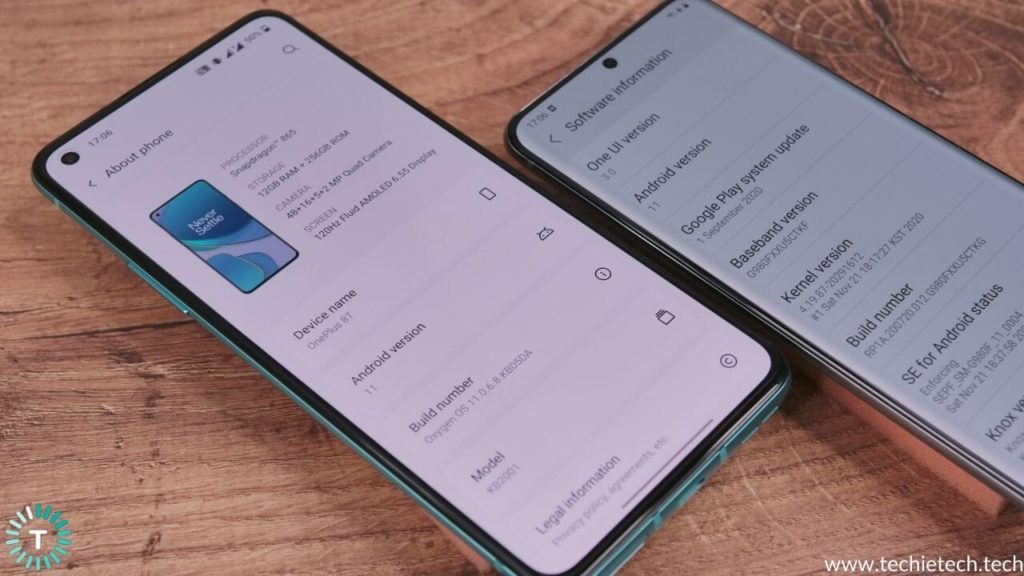 Now that we're handing out grades, let's quickly move on to the performance because there's a lot to cover here, at least in some regions. See, where I live, the Galaxy S20 comes with Samsung's in-house Exynos 990 CPU. This CPU is great for day to day use but struggles quite a bit when it comes to gaming or other power hungry stuff. It's also not as power efficient which means that battery drain and the rare incident of overheating can occur. 
If you've faced these problems too, check out our handy guide to fix the Galaxy S20's battery drain issues!
The OnePlus 8T, on the other hand, comes with a Snapdragon 865 processor. This processor was the golden standard of Android flagship CPUs in 2020 and is still incredibly capable today. It is present in most Android flagships, including the Galaxy S20 in select regions. All this global adoption of the Snapdragon 865 means it is better optimised which results in more efficiency and more raw power to play with. As a result, everything's just smoother on the OnePlus 8T. When it comes to performance, the OnePlus 8T absolutely annihilates the Exynos Galaxy S20.

My personal use does not include any smartphone gaming or other power intensive apps which means that the Exynos Galaxy S20 has been great for me. Would I switch it for a Snapdragon version if I possibly could? Yes, of course, yes. But at the same time, I willingly and out of my own choice use the Exynos Galaxy S20 and it has been sufficiently powerful for an average, non-hardcore user like me.
OnePlus 8T vs Galaxy S20 Software Comparison: OxygenOS vs 
OneUI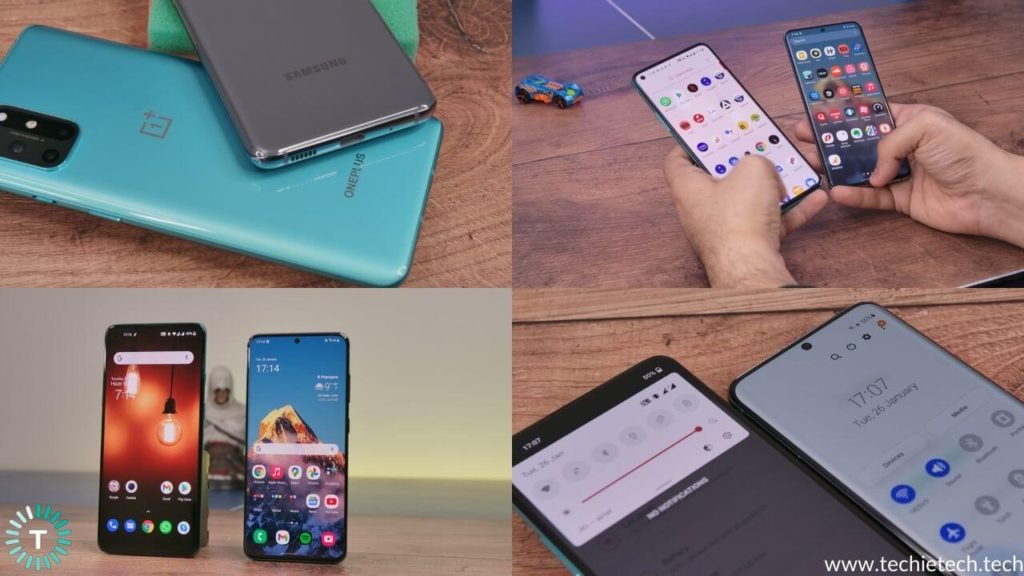 Let's talk about the software now. Samsung's OneUI and OnePlus' Oxygen OS are my 2 favourite Android Skins for somewhat different reasons. Let's quickly go over them. Oxygen OS is better just for how smooth and clean it is. There is basically no lag. The bloatware is non-existent and the customizability options are great to have. It has a few great features but my favourite feature is definitely just how smooth Oxygen OS can run even after a device gets 2-3 years old.

When it comes to OneUI, it is less about speed and more about form. OneUI is extremely polished and well put together. It feels like a very well tied together system. There are a lot of features for everyone and those features are actually usable instead of being buggy like it used to be with previous iterations of Samsung software. However, you do get a lot of pre-installed stuff, with a Samsung alternative for every Google service and even a bunch of Microsoft Apps. Samsung also has a better software update delivery record than OnePlus so keep that in mind if you intend to use your phone for 2-3 years. 
All in all, if you care about a light and fast experience, pick Oxygen OS and if you want a more feature rich and well loaded software experience, go with OneUI. You cannot go wrong with either. 
OnePlus 8T vs Galaxy S20: Camera Comparison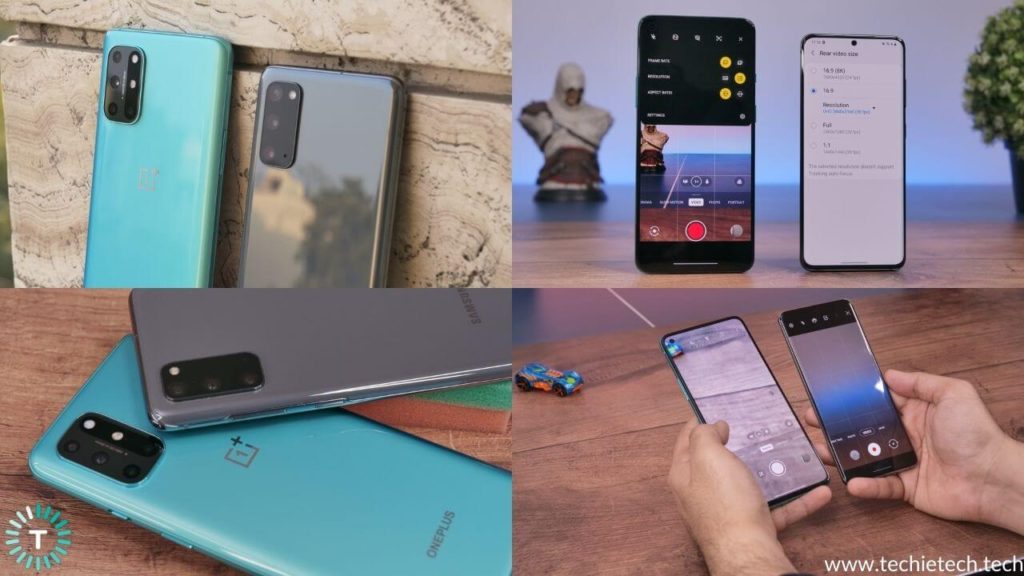 In terms of optics, the OnePlus 8T sports a quad-camera setup with a 48MP primary shooter, a 16MP ultra-wide, a 5MP macro, and a 2MP monochrome depth camera. On the other hand, the Galaxy S20 has a triple camera setup with a 12MP primary camera, a 12MP ultrawide, and a dedicated 64MP telephoto camera with 1.1x optical zoom.
On paper, the OnePlus 8T certainly has an edge with a high resolution primary sensor and more cameras while the Samsung Galaxy S20 has larger sensors. Let's find out how they perform in real life.
Photos:
The primary camera on the Galaxy S20 renders better colors with high saturation and warmer tones. On the other hand, OP 8T shoots sharper and contrasty stills with rich details. Even though the 8T has a high-resolution sensor, the S20's larger sensor manages to pull more details with high dynamic range making it a significantly better smartphone camera in well-lit scenarios. 

The S20 has a slightly wider ultra-wide angle lens than the 8T. Thanks to the larger sensor and pixel size, the S20 produces stills with low noise and better colors, again better than the ones clicked on the OnePlus 8T. 

The OnePlus 8T does not have a telephoto camera and uses hybrid zoom to produce 2x zoomed in stills. The stills produced on the 8T have low noise but lack sharpness. On the other hand, the S20 only has an 1.1x optical telephoto camera and uses the 64MP sensor along with cropping & processing to create hybrid optical 3x zoomed-in pictures. The pictures shot on the S20's zoom lens are sharper with good bokeh. Again, objectively better than the OnePlus 8T.

Even with a dedicated depth sensor, the OnePlus 8T lacks behind the S20 when it comes to subject separation while shooting portraits. The S20 also produces better portraits with more accurate skin tones. Do note that the 8T is way faster when it comes to processing times. 

The OnePlus 8T's 16MP front camera takes better selfies than the 10MP front camera on the S20. The S20 produces selfies with a processed look while the 8T produces sharper selfies and better skin tones. 

Moving on to low light performance, the pictures shot on the OnePlus 8T are brighter but suffer from color casting issues with some artefacts. On the flip side, the S20 produces pictures with rich details and better noise processing with no color casting issues. 

The OnePlus 8T can also take macro shots but the image quality is far below average. 
Videos:
In terms of video resolutions and frame rates, both devices can shoot in 4K@60fps from the rear cameras. The S20 is a step ahead and can also shoot videos in 8K@24fps. The Galaxy S20 is also ahead of the 8T when it comes to the front cameras. It can shoot videos in 4K@60fps while the 8T's selfie camera  tops at FullHD in 30fps. 

The Galaxy S20 also has a feature-rich camera app while the 8T provides a more snappier camera app experience. 

The video quality in terms of colors and HDR is good on both devices. On a closer look, we found that the OnePlus 8T shoots slightly sharper videos while the videos shot on the S20 have better stabilization.
To conclude, while the OnePlus 8T has an above average camera system which should be enough for most casual social media users, the Galaxy S20 has Samsung's flagship-level image processing and better hardware which delivers objectively superior pictures & videos to make it the clear winner in this department. 
OnePlus 8T vs Galaxy S20: Charging and Battery Life
Moving on, let's discuss the battery life. The OnePlus 8T obliterated the Galaxy S20 here. The Galaxy S20 struggles to last a day unless you use some power saving features. It gives roughly 4 hours of Screen On TIme. While the OnePlus 8T is no Endurance King, it sure looks like one in front of the S20. We're talking 5 to 6 hours of SoT and an easy day's worth of usage which can even be extended to a day and a half. If you want a longer lasting Samsung phone, maybe definitely look at the Galaxy S20 Plus.

Both phones support fast wired charging although the OnePlus 8T's 65W Dash Charging tech is significantly faster. The Galaxy S20 also supports Fast Wireless Charging and Reverse Wireless charging, while the OnePlus 8T has neither of those features. 
We've also gone ahead and picked out a number of quality wireless chargers for your Galaxy S20, do check them out!
OnePlus 8T vs Galaxy S20: Phone Call Quality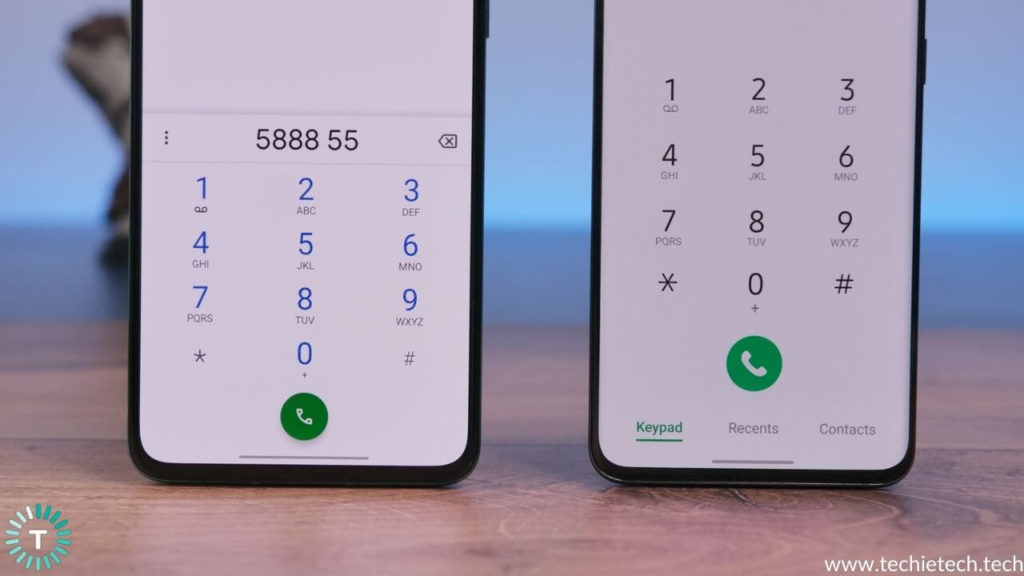 Before we conclude, a quick word about the phone call quality. The Galaxy S20 is noticeably better here with better clarity and signal reception. The callers on the other side confirmed over multiple test calls that our voice sounded more clear on that side when we used the Galaxy S20. 
The OnePlus 8T is great for phone calls too, but I did experience a bug where it refused to switch from VoLTE to VoWiFi without manual intervention.
OnePlus 8T vs Galaxy S20: Conclusion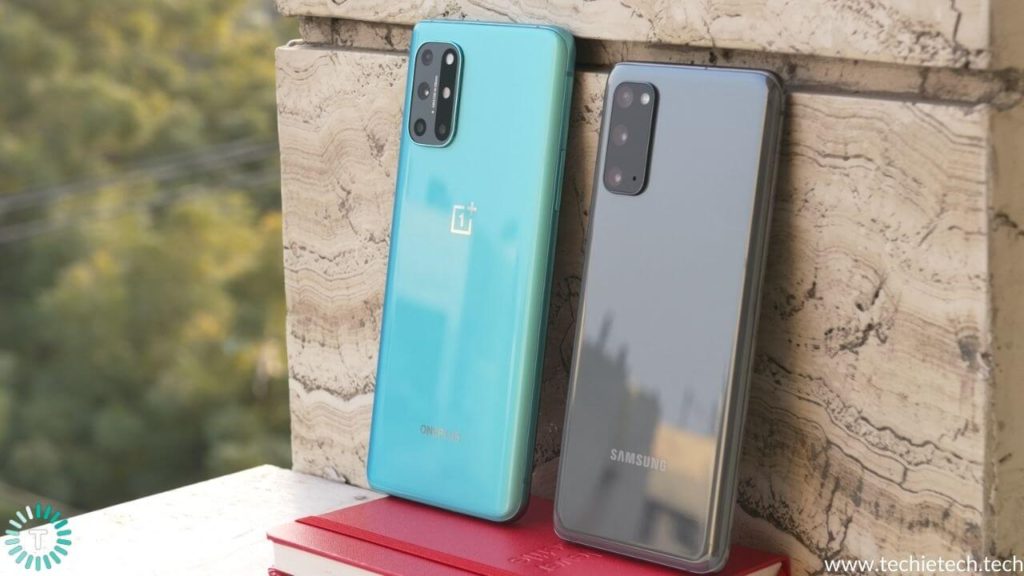 The Galaxy S20 and OnePlus 8T are very different phones for very different people. The OnePlus 8T provides a smooth and fast experience with great battery life, fast charging and excellent performance. It misses out on bells and whistles like Wireless Charging and IP68 rating but has great fundamentals. 
The Galaxy S20. on the other hand, has a better camera, a better display and way more bells and whistles than the OnePlus. But it's not as fast and does not last nearly as long. It's very hard to pick a clear winner from a reviewer's perspective but for a buyer, it's as easy as listing out what you want from your phone and then connecting the dots.
Check Galaxy S20 Price on:
Amazon (US): https://amzn.to/3izMXTO 
Amazon (UK): https://amzn.to/3pcseIs 
Amazon (India): https://amzn.to/3643iem 
Check OnePlus 8T Price on:
Amazon (India): https://amzn.to/2IGjmdr 
Amazon (US): https://amzn.to/3dLrR2D 
Amazon (UK): https://amzn.to/3kesTqf