OnePlus is undergoing a major overhaul. The flagship killing OnePlus which we were all fond of has practically vanished to give way to a more corporate like company. In line with this new strategy, OnePlus has a bigger product lineup than ever before. At a time like this, should you buy the OnePlus 8T or look elsewhere? Let's answer that question.
OnePlus 8T Review: Design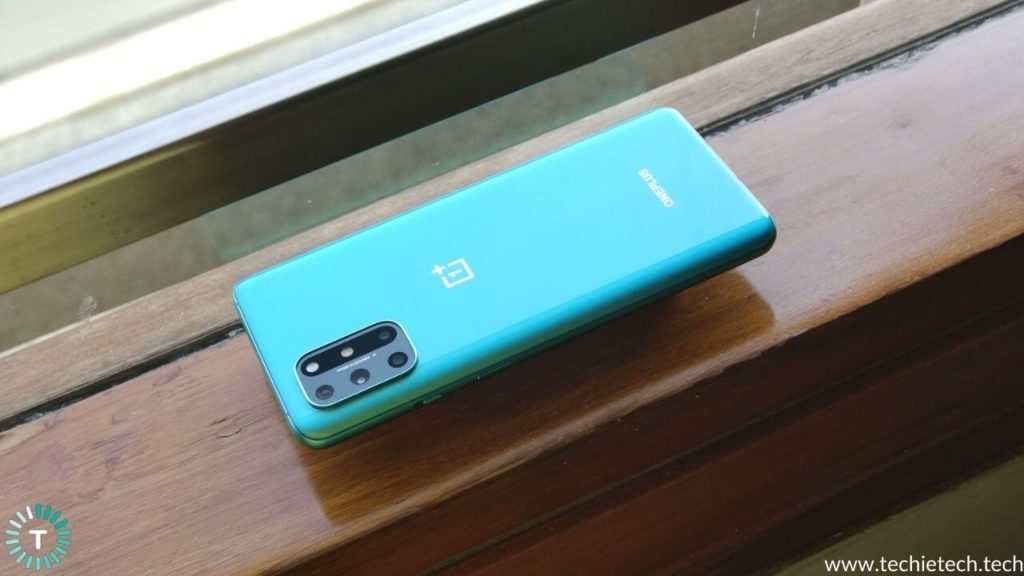 One look at the OnePlus 8T and you can easily tell who OnePlus has been looking at for inspiration. Design and aesthetic is purely personal preference but I just cannot get myself to love the Samsung style design theme of the OnePlus 8T with its rectangular camera module to the top left and glossy glass back. There is nothing wrong with it to be honest. It's just that we have always seen OnePlus phones standing out from the crowd with unique designs like the Sandstone backs on the OnePlus One or large
circular camera on the OnePlus 7T. With the 8T, OnePlus is being more mainstream than ever before. But again, this is purely personal preference.
OnePlus 8T Review: Build Quality
Keeping aside the design language, there is nothing wrong with the build quality of the phone. In fact, it feels quite premium in-hand. You have a glossy glass back which is surprisingly good at hiding fingerprints and it is complemented by a matte aluminium band. The buttons are all very clicky and the mute slider is always a pleasure to have. The camera bump on the top left is very small for 2020's standards, which is a welcome addition. This is the theme with the OnePlus 8T. There is nothing flashy or special about the build quality. But all the essentials are covered perfectly and that makes for a great functional experience.
And we're not even done with the functional point of view here. Flip over to the front and you see a flat display. Granted, it might not look as premium as other curved glass displays but who cares about that. With the flat display, you don't have to worry about accidental touches, there are no glares on the edges and finding and applying a screen protector is so much easier. The flat display on the OnePlus 8T is probably my favourite feature on this phone. It's just so simple to implement and enhances the experience by a lot while sacrificing so little.
Also read: Best Cases for OnePlus 8T
OnePlus 8T Review: Display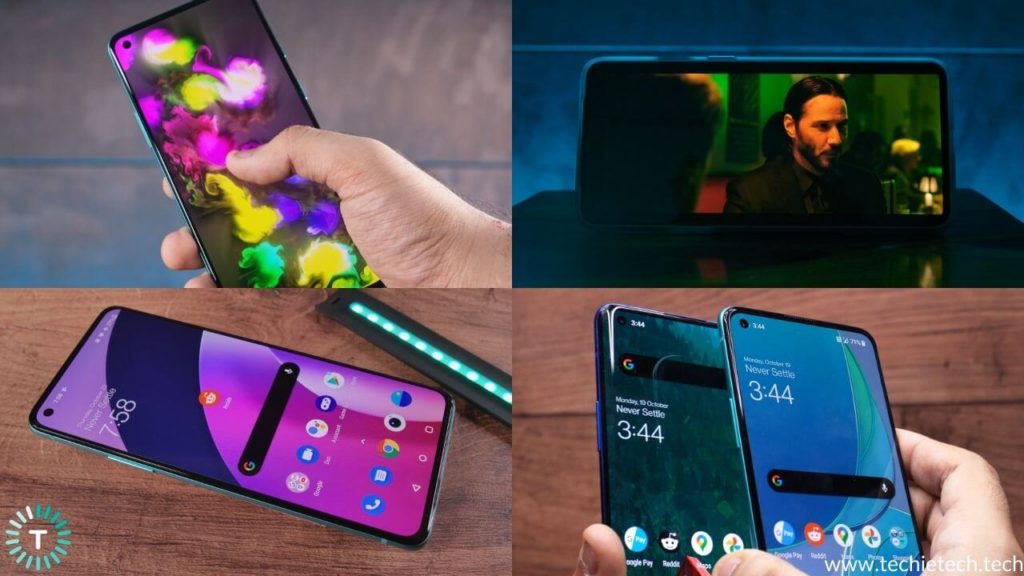 Talking about the actual display quality, we have a 6.55", 120 Hz refreesh rate, AMOLED panel with a resolution of 1080 by 2400. It is gorgeous. I believe this is the best flat display available on any Android phone right now. The colours look amazing, the vibrance is on point and even the text looks really crispy and clean with the high resolution. As if OxygenOS wasn't fast enough already, 120 Hz gives it an extra push and every tiny bit of animation just flows really smoothly. There is a selfie camera cutout on the top left but it is small and doesn't affect the user experience. I tested the display of this phone thoroughly in my long term usage to look for
any display issues like black crush or green tint but thankfully found nothing wrong. All in all, the display is one of the most important aspects of the whole smartphone experience and I think OnePlus has a winner in the display of the OnePlus 8T.
OnePlus 8T Review: OxygenOS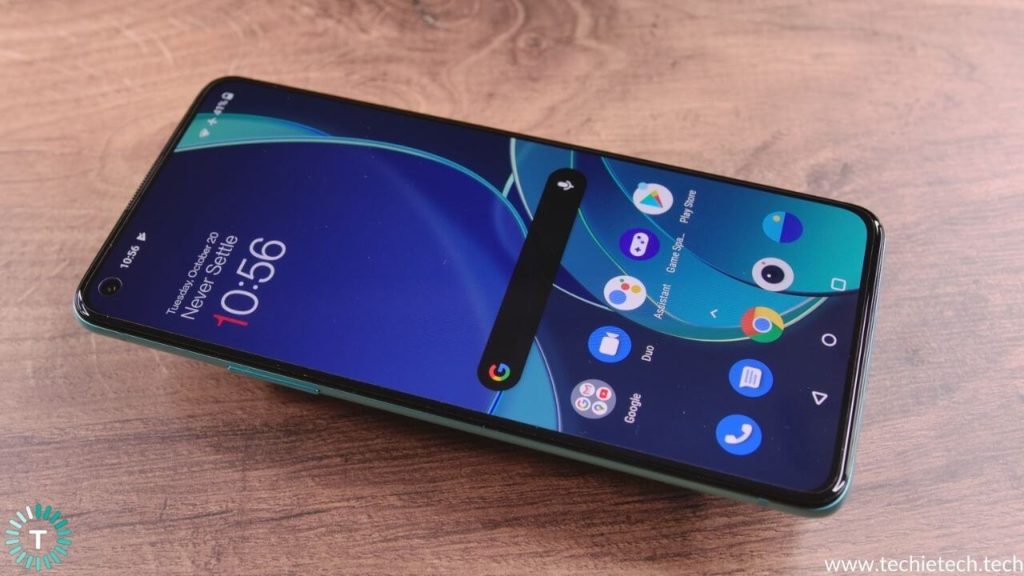 While we're on the topic of winners, let's talk software and performance. OxygenOS, OnePlus' Android skin, made a name for itself for being very similar to stock Android with the addition of a lot of customizability options. But with the latest OxygenOS 11, OnePlus has decided to step away from all that by making the whole UI look and feel different. Now don't get me wrong, it is still extremely fast and smooth but the overall look and feel just feels a bit funky.
But I can still go on to say that I'd rather use Oxygen OS 11 than most Android skins. It's just that I miss the stock Android vibe of OxygenOS 10 and depending on who you are, that might or might not be important to you.
OnePlus 8T Review: Performance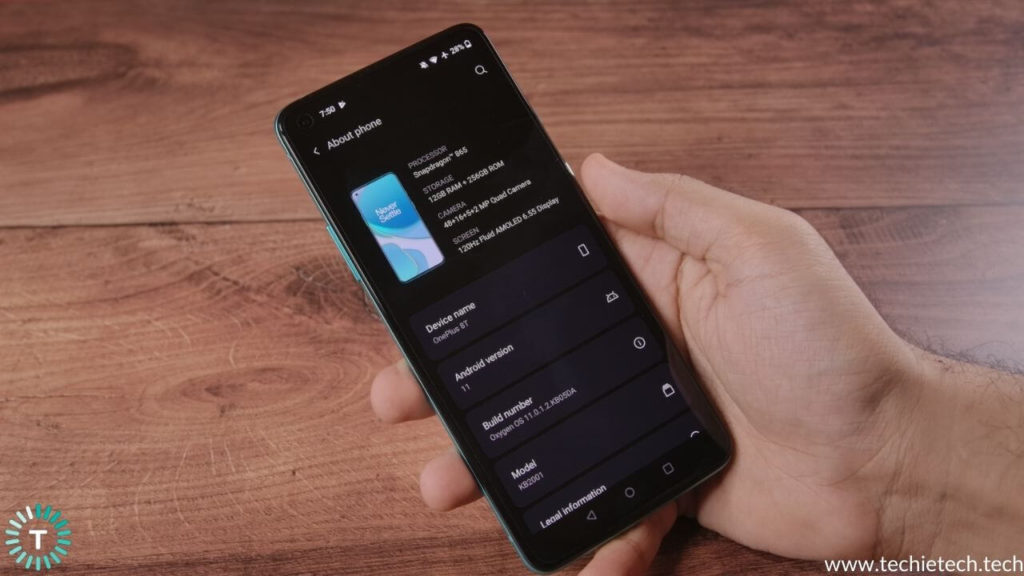 While the look and feel might have changed, the performance has not. OnePlus phones are famous for having the most cutting edge technology and this one is no different with the top of the line Snapdragon 865 CPU coupled with Adreno 650 GPU. But that's not important. What's important is the end user's experience. And that is amazing. The internals, software and 120 Hz display all combine to give what is easily the smoothest Android experience you can find on a phone today. Be it memory management, app switching, animations, transitions, social media, games… you name it. The OnePlus 8T is as equipped to take on intensive tasks as any Android phone in 2020 can be and I don't think there is any kind of user who will be unhappy with the performance of this phone.
Also read: Best Accessories for OnePlus 8T
OnePlus 8T Review: Camera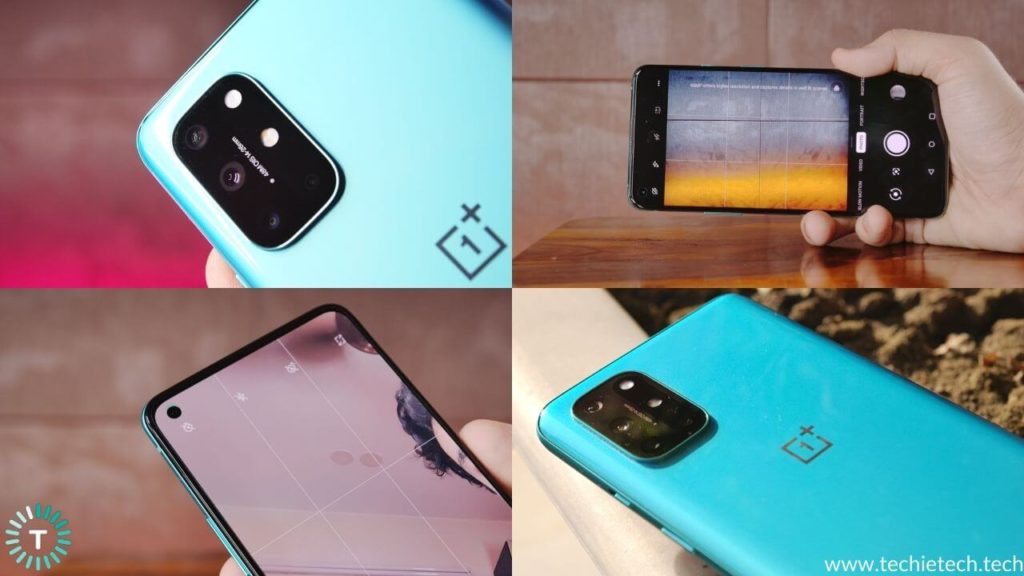 Let's talk about the cameras now. In terms of optics, the OnePlus 8T comes with a quad camera setup on the rear and a punch hole camera on the front.
The OnePlus 8T gets something from both the OnePlus 8 and the OnePlus 8 Pro. Just like the OnePlus 8, the 8T has the same 48MP primary camera along with an upgraded 5MP Macro camera. The OnePlus 8T also has a 2MP monochrome lens similar to the filter camera on OnePlus 8 Pro. The ultra-wide camera lens is a bit different from the pack with a field of view of 123°.
Let's find out whether the OnePlus 8T has a flagship killer camera or not.
Photos:
The OnePlus 8T takes excellent pictures with high dynamic range and sharpness. The pictures have the classic contrasty Shot on OnePlus look with better noise processing and warmer tones.

The 16MP ultrawide camera on the OP 8T has the widest FOV when compared to any OP 8 series smartphone. It produces stills with a softer look and really good dynamic range. Now, this certainly gives you a wider FOV but the pictures shot in low ambient light suffer from minor vignetting.

Although the Macro camera has been upgraded from 2MP on the OP 8 to 5MP on the 8T, it still takes pretty bad pictures.

The portrait mode shoots above average stills for both people and objects. The subject separation is really good. The only downside is the washed out colors.

The 16MP front camera takes fairly good selfies. They're not the best when it comes to details but they're quite similar in terms of dynamic range, subject separation and colors with other flagships.

Low light pictures are excellent when shot using the primary camera. The ultra-wide camera pictures suffer from minor vignetting.
Videos:
The 8T can shoot upto 4K@60fps from the rear cameras and in FullHD@30fps from the front camera. This isn't particularly an upgrade in terms of resolutions & frame rates from last generation.

One thing we like is that OxygenOS 11 has added a video portrait mode and a Nightscape video mode along with an improved camera UI.

The overall video quality is above average in terms of AF speed, OIS, and contrast.
In short, the OnePlus 8T offers a snappier and improved camera user experience. Although it may not have a flagship level smartphone camera, it certainly takes pictures and videos which are good enough for social media, casual users and even content creators to a certain extent. For someone like me who just wants a snappy good enough camera and not necessarily the best of the best, the OnePlus 8T definitely fits the bill.
OnePlus 8T Review: Battery Life & Warp Charging
Moving on to another one of my favourites about this phone, the battery situation. Now, battery life is good. 1 to 1 and a half days of endurance in my mid to heavy usage with 120 Hz always on. Roughly 5-6 hours of screen-on time. Pretty good but also boring. So, why am I so excited?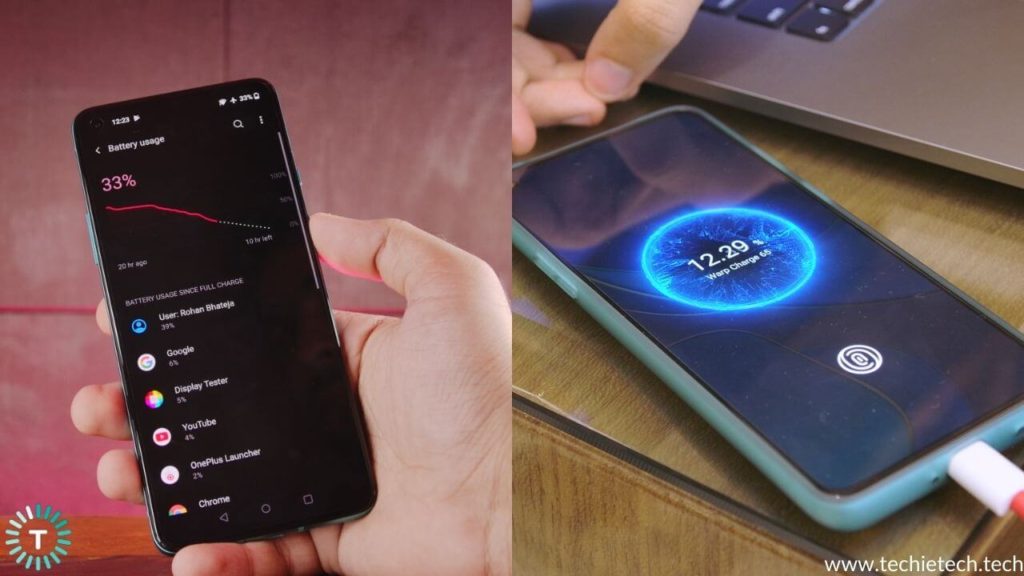 It's because of OnePlus' new Warp Charge 65 charging which made its debut with the OnePlus 8T. I am not even kidding when I tell you that I charged my phone from 0 to 50 in just 15 minutes. It is insane. You get 0 to 100 in 40 minutes. Technologies like Warp Charge 65 change the way a user interacts with their phones. I know that it is 2020 and people aren't going out as much but I can only imagine how useful Warp Charge 65 will be for people who forget to charge. Just plug in your phone and in 15 minutes, you have enough juice to last 6-7 hours. Even more. You can give me an iPhone 12 Pro Max or a
Galaxy Z Fold 2 or a Note 20 Ultra. This one feature is something that I always miss whenever I switch away from a OnePlus phone.
Of course, there are concerns about battery health in the long term with such insanely fast charging. OnePlus has said that to tackle this they have actually put 2 separate battery packs in the 8T which charge simultaneously and eventually help achieve those insane speeds. How the battery lasts in the long term, we'll know in the long term.
OnePlus 8T Review: Fingerprint Sensor
A word about the biometrics. The fingerprint sensor is fast, accurate, reliable, probably the same sensor from the OnePlus 8 Pro, OnePlus 8, OnePlus 7 Pro, OnePlus 7T Pro, OnePlus 7T and OnePlus 7. Basically as good as it can get.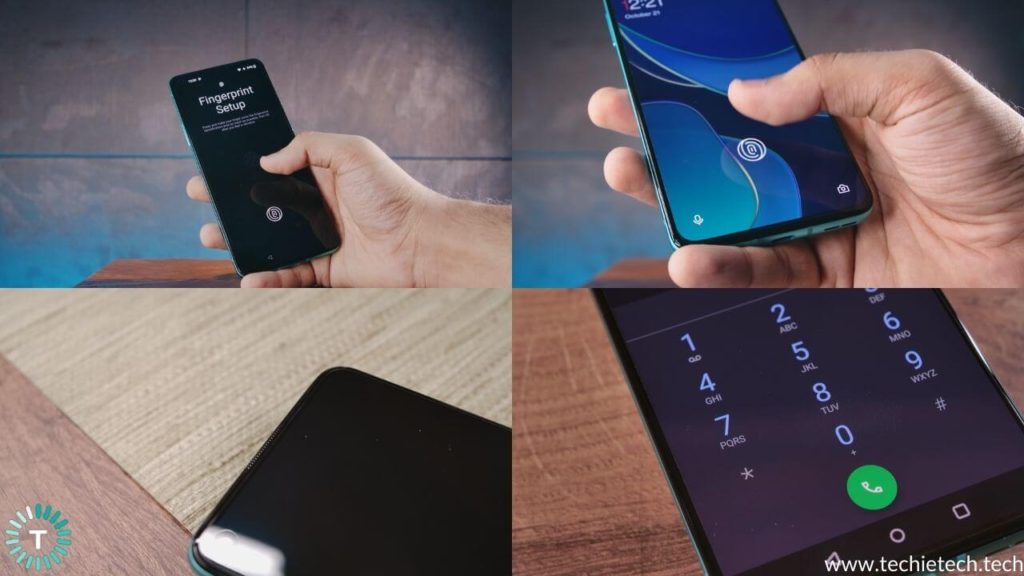 OnePlus 8T Review: Call Quality
Phone call experience on this phone has been a mixed bag. Sometimes. It had a hard time holding on to a signal when other phones kept nearby did it easily. Granted, it could be an isolated incident since cellular reception is inconsistent anyway. As for the actual phone call experience, although the earpiece can be a bit muffled sometimes, the overall experience is in-line with other OnePlus 8 series phones. Good but not the best.
OnePlus 8T Review: Conclusion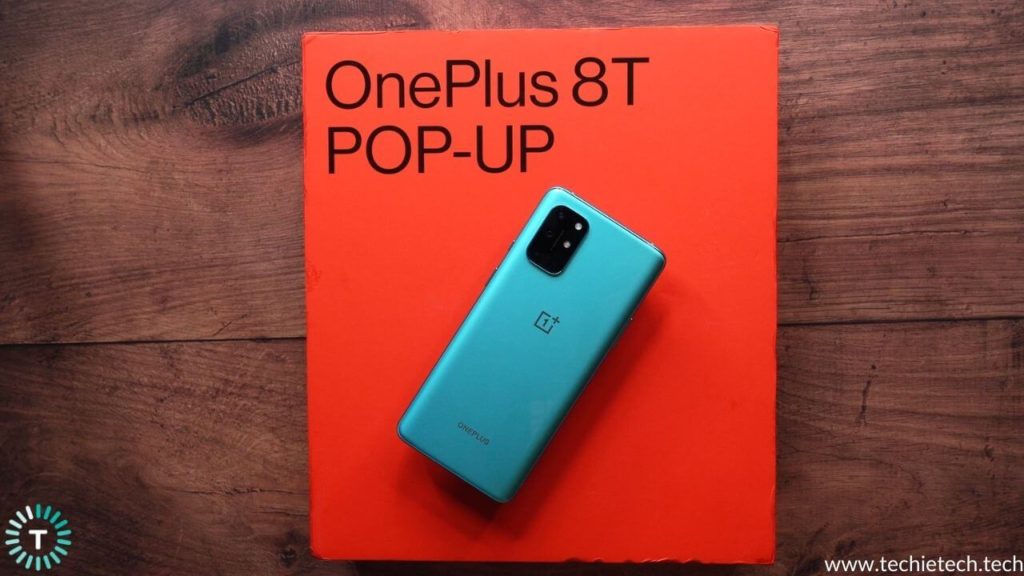 To conclude, remember how we talked about OnePlus changing from an ambitious startup challenging the status quo to any other corporate? That is happening. It is inevitable. With one of the co founders quitting and OnePlus introducing more and more phones, the OnePlus we knew and loved is changing. But that same OnePlus has perhaps left behind a symbol of the good old days, with the OnePlus 8T. This phone can challenge every flagship out there by providing a similar or superior experience at a more value price point. A true flagship killer, perhaps the last one.
Check OnePlus 8T Price:
Amazon (India): https://amzn.to/2IGjmdr
Amazon (US): https://amzn.to/3dLrR2D
Amazon (UK): https://amzn.to/3kesTqf