I'm not going to lie, I hated the Galaxy S21 when I first heard about it. It had dropped a lot of features from its predecessor and did not get any price cuts where I live. But then, I got my hands on one and my views changed completely. Let's talk about my long term usage experience of the regular Galaxy S21.
Design & Build Quality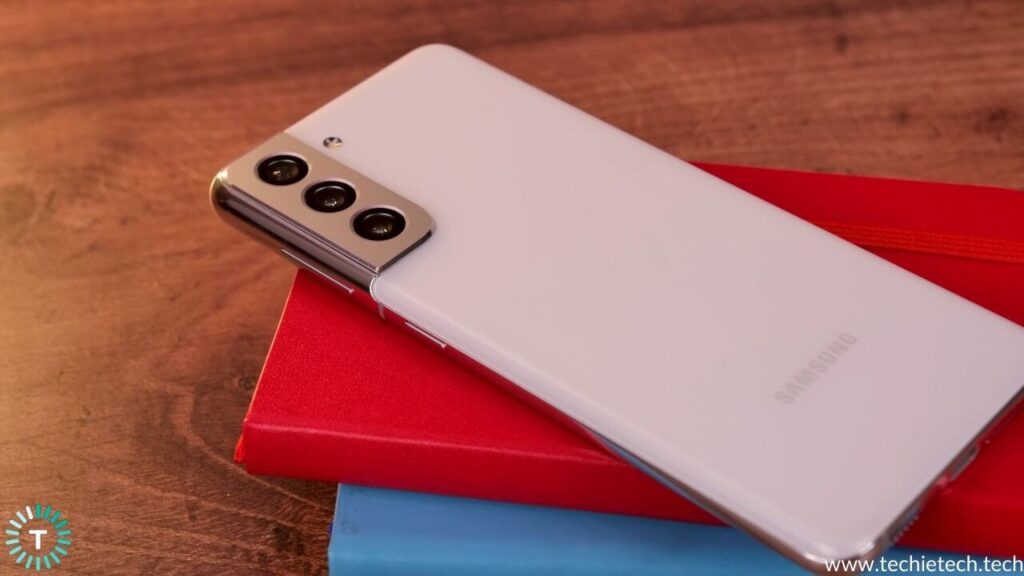 We'll get to plastic in a bit but before that, I would just like to take a moment to appreciate this new, beautiful design of the Galaxy S21. I love how they've integrated the camera module to the frame of the phone. It looks unique and very sophisticated, especially in this Phantom White colour. With its compact size and light weight, the Galaxy S21 is my new favourite device for one handed use. The flat screen and the matte finish of the plastic back further help in ensuring a proper grip on this phone.

Let's talk about the one controversial feature about the build now. The plastic back. To all the people who say that the plastic feels no different than glass, with all due respect, you're wrong. I used the Galaxy S21 Ultra and it is quite a noticeable difference between how that phone feels versus how this phone feels. But here's the thing. I love the plastic back. It's not slippery, it's not glossy and it won't shatter if I accidentally drop it. It's actually really high quality plastic and feels more refined than the material on the Galaxy S20 FE. Sure, it doesn't feel as premium as glass but hey, at least I don't have to worry about having a case on the phone. 
Also read: Best Samsung Galaxy S21 Cases You Can Buy Right Now
Fun fact: If you turn the flashlight on and put a finger on it, the light shines through the plastic to give this really cool looking effect. Watch it in action here.
Display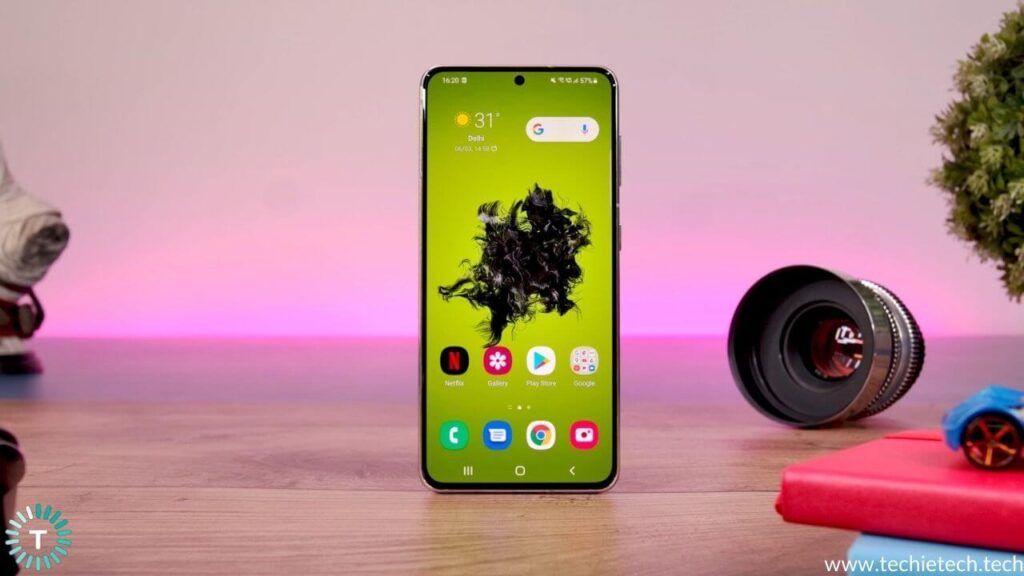 Flip over and we have the flat, FullHD Plus, 120 Hz display. It is excellent. It's no surprise that the core quality of the display is top notch. After all, it is a Samsung panel and they have been known to dominate this space for quite some time now. What was unexpected for me was how much I liked using the flat display. I don't have to grip a phone a certain way to avoid accidental touches and I don't have to adjust the tilt while watching video to minimise glare. I know these sound like they are not big deals but these tiny, tiny things add on to really shape up the user experience. 
Also read: Best Accessories for Samsung Galaxy S21
Software Experience: OneUI 3.0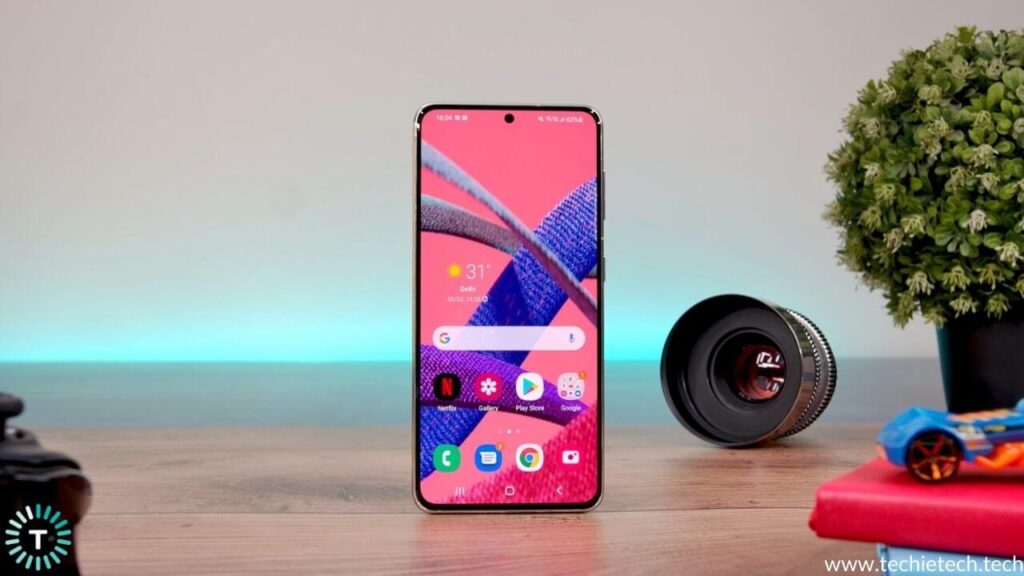 Let's talk about the software experience now. The Galaxy S21 runs Samsung's Android Skin OneUI atop Android 11. OneUI is great. It literally gives you everything. First off, it is extremely smooth and fluid. I encountered zero lags, frame drops or stutters when browsing through the general UI. Every animation carries itself in a very relaxed and graceful manner which I really appreciate. Another major positive for me is the Software Update situation. Samsung promises 3 major software updates for their flagship smartphones which is excellent when compared to competing Android vendors. You also get a ton of features and a lot of customizability options. 
However, such an overload of features can get overwhelming for most users. There's also a Samsung Alternate for every Google service in the phone which could be useful or could be bloatware depending on whether you use these Samsung services. My major issue with OneUI is that they've started pushing Ads in the general User Interface and System Apps. While this is bad on any phone, it particularly hurts to see it on such an expensive flagship phone which is supposed to provide a premium user experience.
Also read: Best Screen Protectors for Samsung Galaxy S21
Performance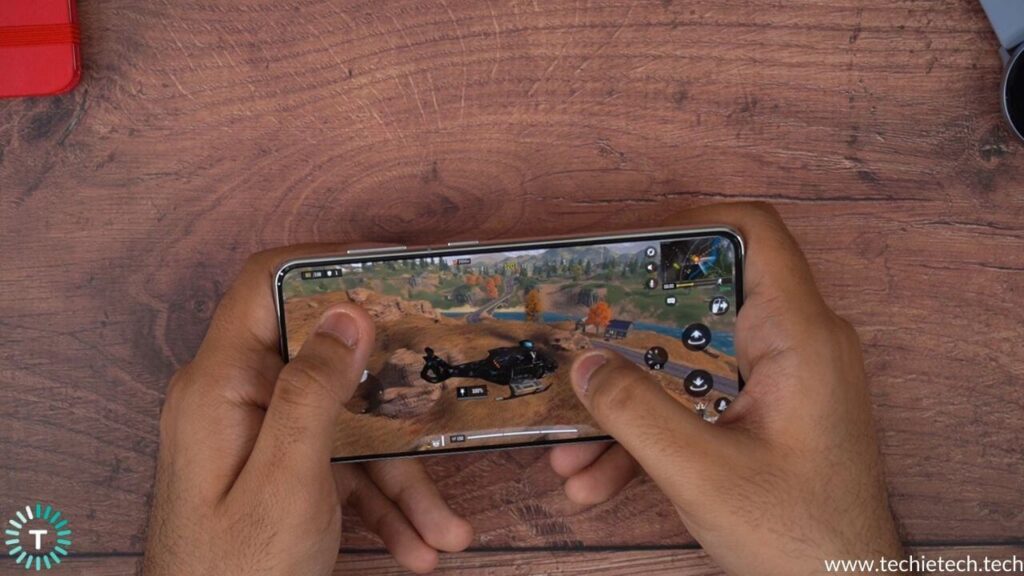 Let's go over performance now. Samsung's Exynos 2100 is supposed to be a major step up over the previous Exynos 990. As someone who used the Galaxy S20 a lot last year, that major step up is only noticeable when you push the phone to its limits. So, in the general usage scenarios with your light weight Social Media Apps or News Apps or Texting, the Exynos S21 performs flawlessly, so good that you would be hard pressed to find any issues. Switch over to gaming, and things are a bit underwhelming. 
While the Exynos 2100 is a significant step up over the Exynos 990, it is still not buttery smooth. The games are all still very playable with mid to high graphic settings but the whole experience is not Flagship level. First off, most games I tested did not support the Highest Possible Graphic Setting which is something that you would not expect on the latest Flagship Phone. Secondly, I compared the performance on this phone to the OnePlus 8 Pro and it performed better with support for higher graphic settings despite its CPU being a generation older. 
See, the thing is that the Exynos 2100 is a brand new CPU so developers will take some time to optimise their games according to it. Since Exynos is not as widely sold as Snapdragon, that game optimization often gets delayed or simply never happens.

To put it all in a nutshell, the Galaxy S21 is an extremely capable phone if you don't game on your phone. Even if you play intensive games occasionally, the Galaxy S21 will definitely suffice. But, if you are really serious about smartphone gaming, get an iPhone or a Snapdragon phone instead. 
Also read: How to fix overheating issues on Galaxy S21 series
Camera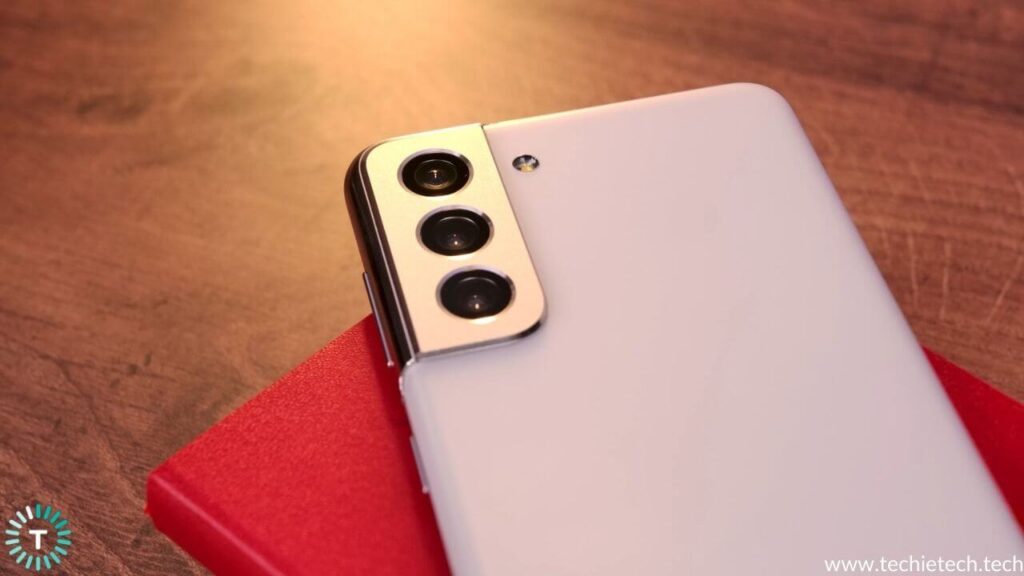 Now that we're done with that, let's talk about the cameras. Apart from the new camera module design, on paper the Galaxy S21 sports roughly the same camera hardware as that on the Galaxy S20 from last year. It sports a 12MP f1.8 primary camera, another 12MP f2.2 ultrawide and a 64MP f2 telephoto camera. Let's find out how the S21 performs in real life with the same hardware and yet, a brand new processing chip. 
Photos:
The 12MP primary camera shoots sharp pictures both indoors and outdoors. The pictures have vibrant colors and high dynamic range. By default, it tends to expose for the shadows so the pictures turn out to be brighter with colors that pop. 
Even though the Ultrawide camera has fixed focus, the S21 does not compromise on the image quality. It takes well-exposed stills with decent distortion and noise levels.
The1.1x optical 64MP telephoto lens uses hybrid zoom to create 3x zoomed in stills. The image stabilization is surprisingly good which leads to sharper pictures with respectable details. 
Subject separation while shooting portraits have slightly improved over last year's Galaxy S20. Also, the skin tones and dynamic range are very well managed. 
We see very similar performance in selfies with accurate skin tones, less smoothening and sharper pictures. 
Low light performance has also improved since last generation. The Galaxy S21 shoots sharper pictures which are bright and have low noise. 
Videos:
In terms of resolutions and frame rates, the S21 can shoot videos in 8K@24fps from the rear cameras and in 4K up to 60fps from both the front and rear cameras. 
The video quality is excellent in terms of colors and dynamic range. Moreover the flagship level image stabilization across all 3 lenses adds the cherry to the top.  
In conclusion, the Galaxy S21 is the right choice for all kinds of users. The simple camera UI and image processing deliver excellent picture quality for some serious photography or casual use like posting on social media . Thanks to the powerful hardware and features like 8K recording, HDR 10+ and RAW shooting support, the Galaxy S21's camera can easily tend to the requirements of professional users. Frankly, I think the Galaxy S21's camera is going to make all kinds of users happy. 
Also read: Best Galaxy S21 Fast Chargers
Battery Life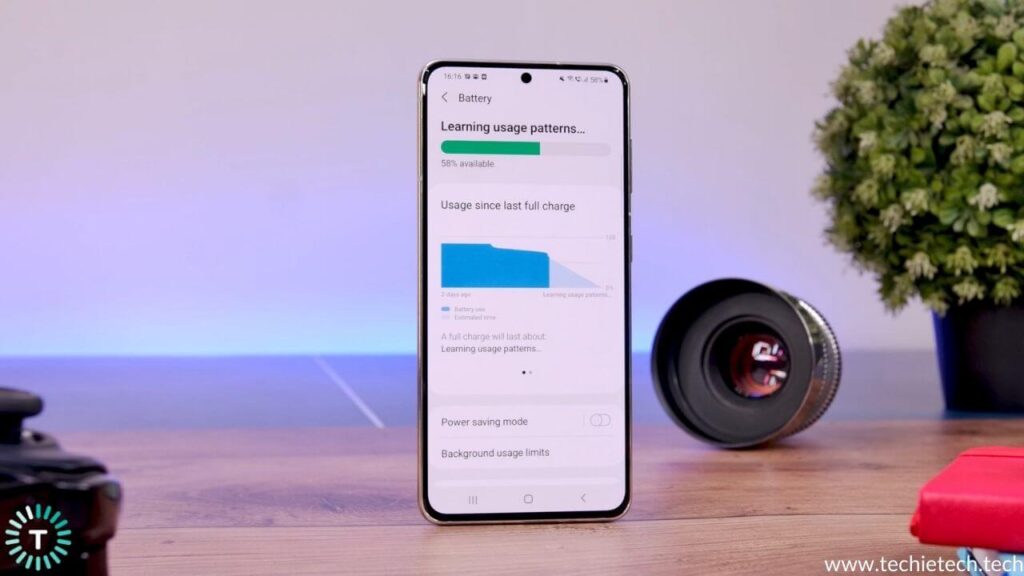 Moving on to battery life, things actually turned out better than I expected. Exynos CPUs have traditionally been bad at power efficiency which means bad battery life. That is not the case with the Galaxy S21. While it is not an endurance king, it easily lasted a day for me which translates to roughly 5 hours of Screen On Time. You can even stretch it to a day and a half or 2 days by using some power saving methods. This is a massive improvement over last year's Galaxy S20 and I'm all for it.

Apart from this, the Galaxy S21 supports Fast Charging, Fast Wireless Charging and Reverse Wireless Charging. However, it does not come with a power adapter in the box, only a Type C to Type C charging cable. 
Also read: Best Wireless Chargers for Galaxy S21
Highlights: Call Quality, Fingerprint Sensor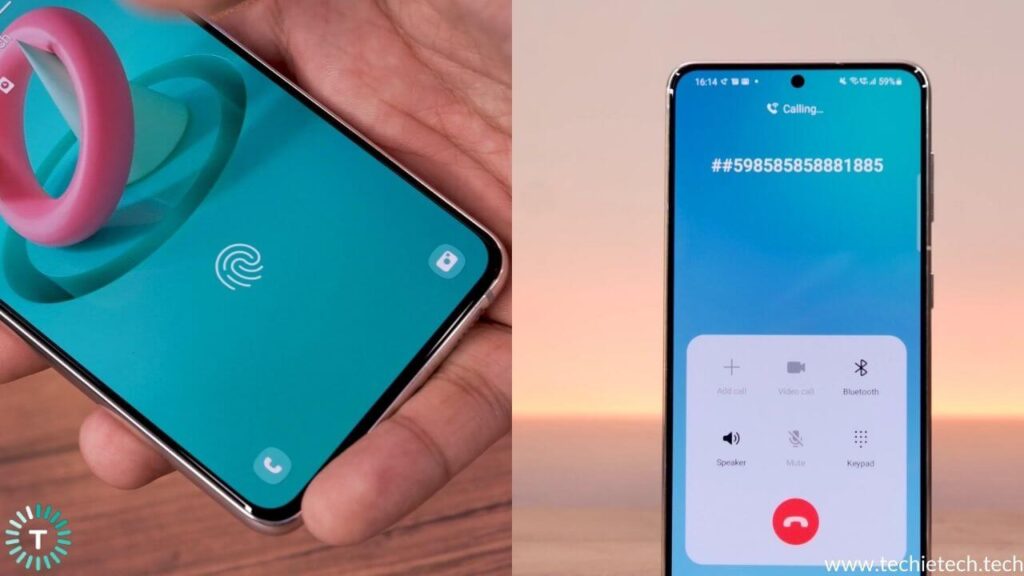 A few random highlights before we conclude. The in-display fingerprint sensor is my favourite one yet- it's fast, reliable and you don't have to wake up the screen to use it. The phone call experience is simply unrivaled. It catches a signal and holds on to it better than any other phone I've used. Even the earpiece quality is crystal clear. This phone is a joy to use if you take a lot of phone calls. 
Conclusion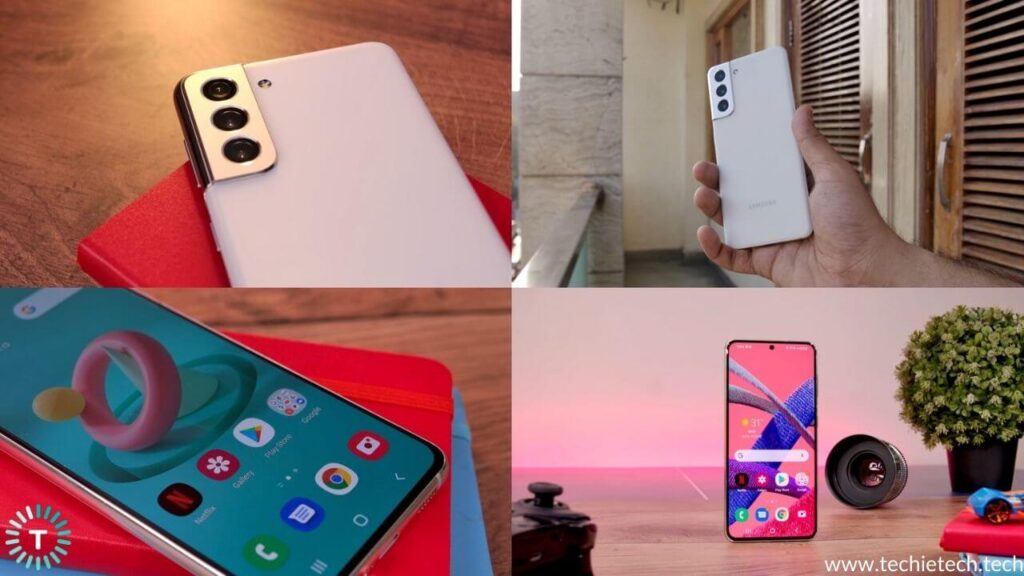 Now for the conclusion. The Galaxy S21 is simply the best regular sized Android phone you can buy today. It has the best display, an excellent camera system, great performance and good battery life. Sure, it's price is a bit high right now but it's Samsung so expect to see a lot of offers and discounts in a couple of months.
The thing is that every year, Samsung's S series sets the benchmark for smartphones to follow. I think that's what the Galaxy S21 is. A benchmark which is not only excellent by itself, but also really hard to beat for the competition.
 
Check Price on Amazon:
Amazon (US): https://amzn.to/3bqVE0K​ 
Amazon (UK): https://amzn.to/30mpVYq​ 
Amazon (India): https://amzn.to/3kYu6D7