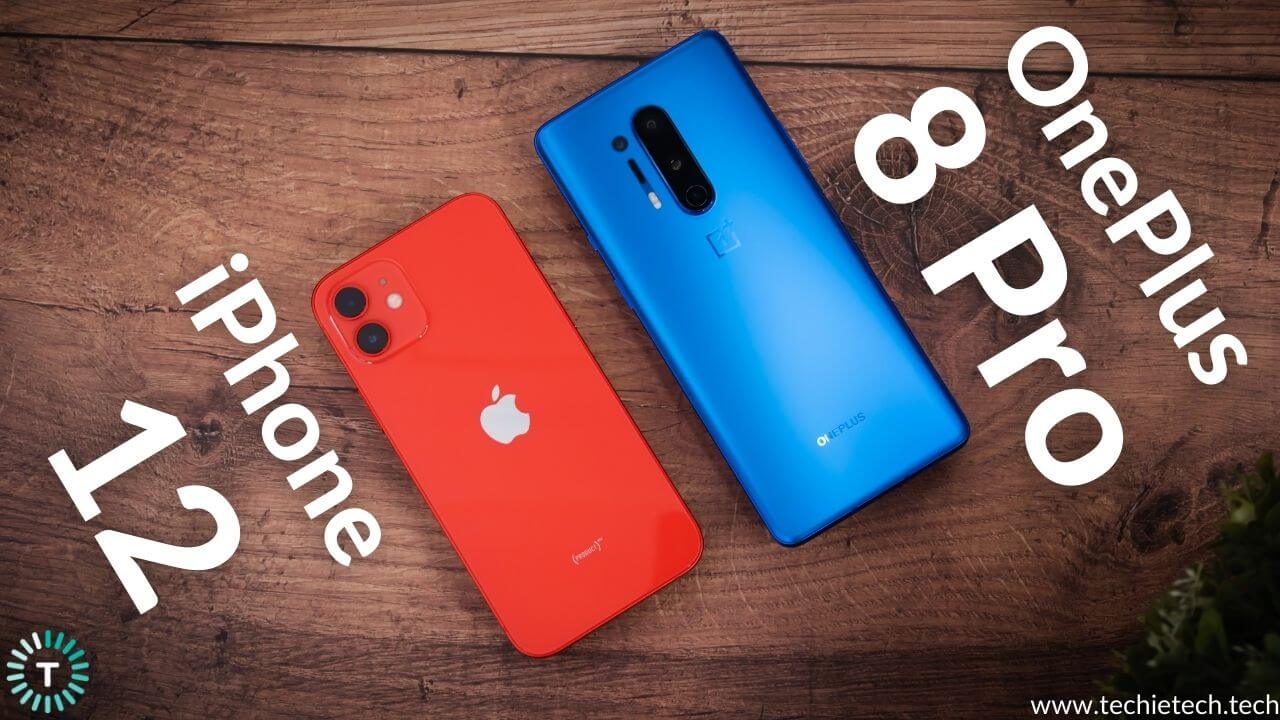 The OnePlus 8 Pro is OnePlus' most feature packed and premium flagship phone to date. OnePlus, which started off as a Flagship killer brand essentially makes the same flagships that it initially intended to kill. On the other hand is Apple's brilliant value iPhone 12, which is hands down the most well rounded iPhone you can buy today. But which out of the OnePlus 8 Pro and iPhone 12 is more suitable for you? Read on to find out. 
iPhone 12 vs OnePlus 8 Pro: Design Comparison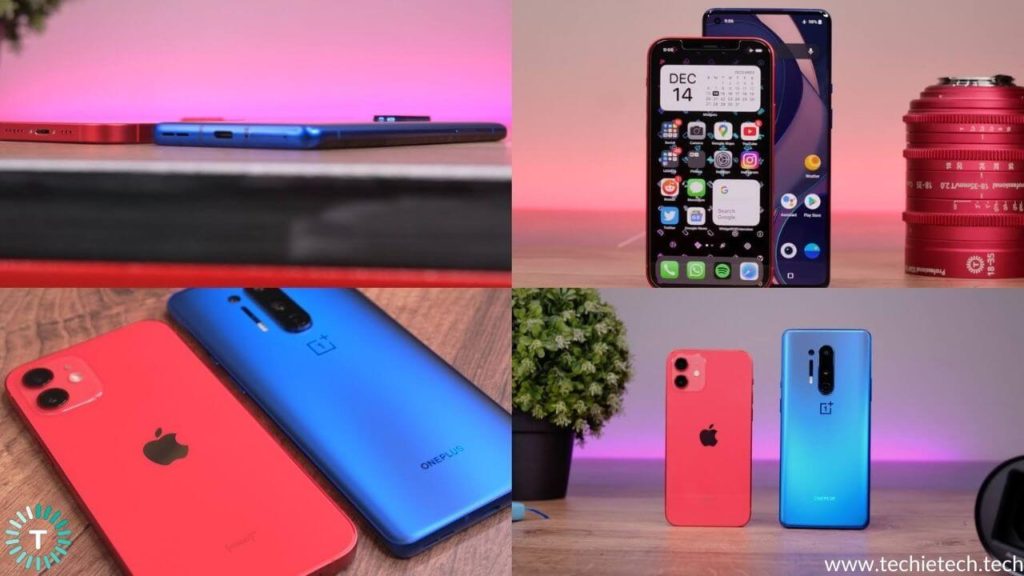 Designwise, these phones are literally polar opposites. It seems like they were designed to be as different from each other as possible. First, you have the flat design language of the iPhone 12 with the flat edges, flat display and flat glass back. Compare this to the sharply curved display on the
OnePlus 8 Pro, a curved glass back and rounded edges. On the back glass, you have a glossy texture on the iPhone 12 and a matte, satin-like texture on the OnePlus 8 Pro. I much prefer the cleaner looking, fingerprint hiding back on the OnePlus 8 Pro. 
Even the in-hand feel of these devices is as different as it can get. On paper, the OnePlus 8 Pro should be more ergonomic compared to the iPhone 12, because the rounded edges and slightly curved glass should technically fit your hand better. But in my real life usage, that was simply not the case. The big, curved display on the OnePlus 8 Pro combined with the really slim metal rail between the glass front and back combined with the satin-like finish on the back glass makes it very scary to use this slippery phone without a case. No wonder I use one of OnePlus' grippy sandstone cases with my phone. 
The iPhone 12 ,on the contrary, is more manageable in hand, mostly thanks to its significantly smaller footprint. Even though the sharp metal edges tend to stab you in the palm, one handed usage and even general handling of this phone is noticeable easier. 
Also read: Best Cases for iPhone 12
iPhone 12 vs OnePlus 8 Pro: Display Comparison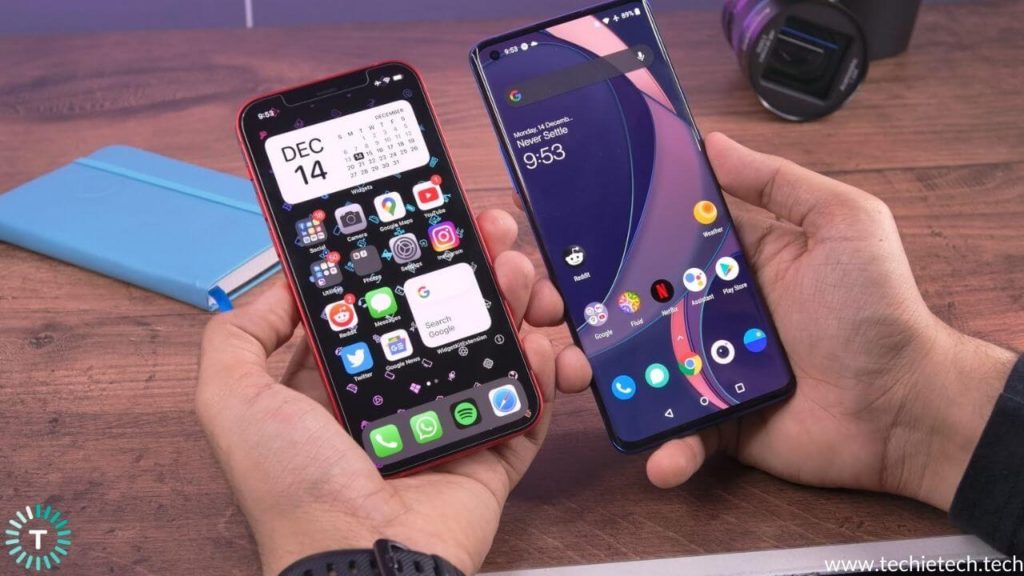 Moving on to the actual display quality, even though both phones have AMOLED panels, things get a bit complicated here. See on paper, the OnePlus 8 Pro should absolutely slaughter the iPhone 12's display with a higher resolution, higher refresh rate and higher pixel density. And it could have if it were not for a number of display issues ranging from black crush to green tint and what not. I have personally used the OnePlus 8 Pro a lot and even though these display issues don't ruin the experience, they are noticeable in day to day scenarios.

The iPhone 12's display experience is simpler. It looks gorgeous with a very life-like color tuning and great levels of saturation and vibrance. Even though it is 60 Hz only, I don't mind it because the animations on iOS are extremely smooth. The one thing which makes me prefer the iPhone over the 8 Pro is the flat display. It is just so much better to use and so much cleaner looking. While I don't mind curved displays in general,I hate the one on the OnePlus 8 Pro. It is way too steeply curved which leads to a lot of glare on both sides, a lot of accidental touches and just an overall clumsy experience. So even though the OnePlus 8 Pro has the better display on paper, I would actually pick the iPhone 12.
Also read: OnePlus 8 Pro vs Galaxy S20 Plus
iPhone 12 vs OnePlus 8 Pro: Performance Comparison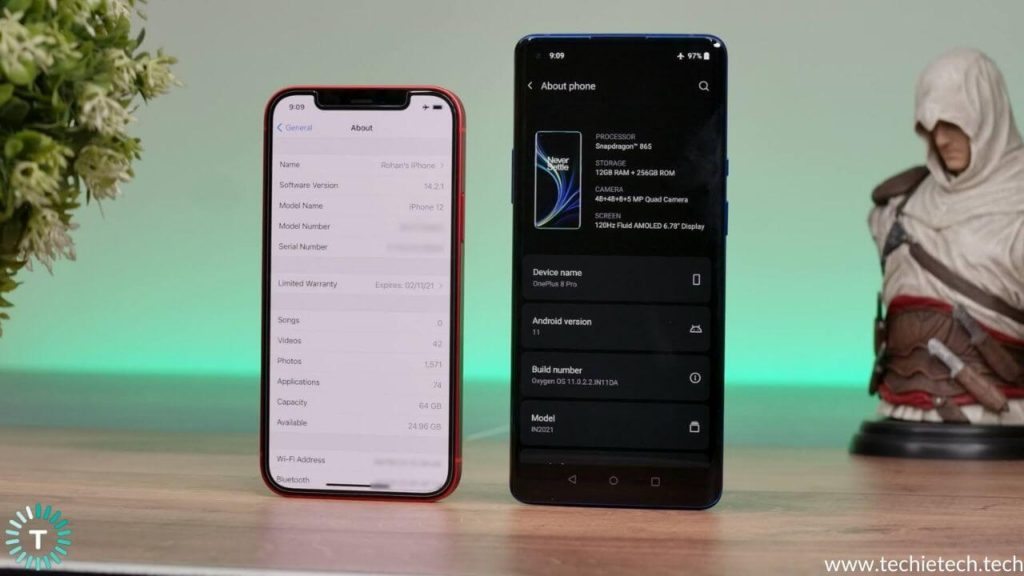 Let's talk about the performance now. Few phones are powerful enough to compete with Apple's A14 powered iPhone 12. The OnePlus 8 Pro is one of those few phones. These phones run on totally different platforms- iOS and Android and both of them provide the fastest version of their respective software ecosystem. Be it regular day to day use like Social Media, YouTube or power intensive use like gaming or video editing, the iPhone 12 and OnePlus 8 Pro provide a blazing fast experience.

Now, iPhones have always been lauded for having excellent long term performance and they deserve it. But here's the thing, if there is any brand on the Android camp which gives equally good long term performance, it is OnePlus. OnePlus phones tend to give great performance even after multiple years of use. 2 year OnePlus phones like the OnePlus 6T are still great performers today similar to 2 year old iPhones like the iPhone XR. 
iPhone 12 vs OnePlus 8 Pro: iOS vs OxygenOS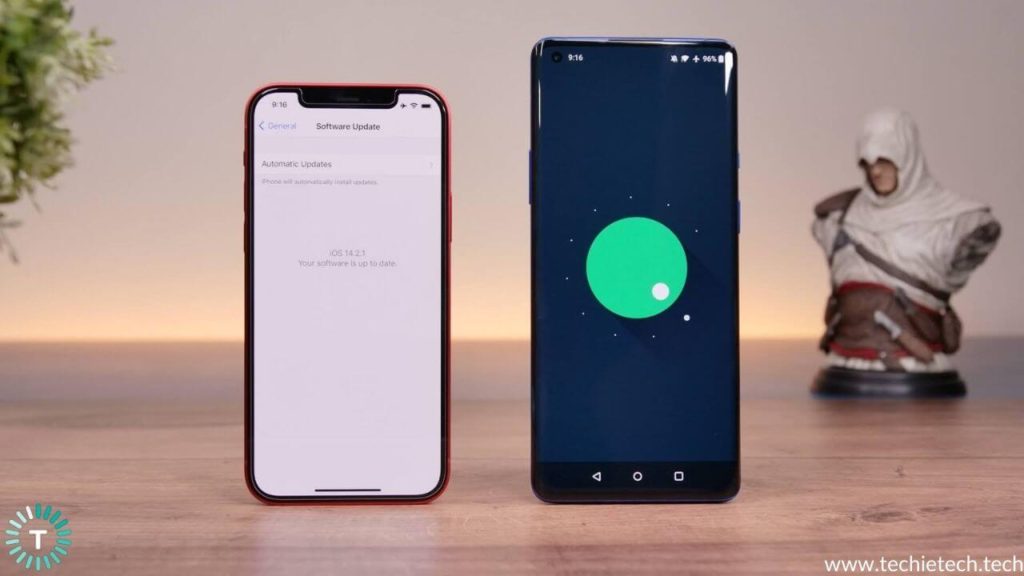 Even the software experience is excellent here. Whether you like iOS or Android is your personal preference but whichever you like, be assured that you are going to get a largely bug-free, stable and smooth usage experience. It's crazy how much both iOS and Android have matured over the years and as a user of both, it's hard even for me to pick a winner. No matter which one you pick here, rest assured that you will get a very refined and smooth software experience.
Software Updates
But there is still a rough edge here and that is software updates. Apple is virtually unbeatable here. No matter which iPhone model you have, be it the latest one or a 3 year old one, every iPhone gets the update the same day. So the iPhone 7 will get the latest iOS 14 the same day as the iPhone 12. OnePlus does not do it that way. In fact, the OnePlus 7 Pro released last year, which was OnePlus' most expensive phone at the time, is still awaiting the Android 11 update that the OnePlus 8 Pro received 2 months ago. And this software update timeline is only going to get more delayed as newer phones are released and given higher priority. 
Also read: Best Accessories for iPhone 12
iPhone 12 vs OnePlus 8 Pro: Camera Comparison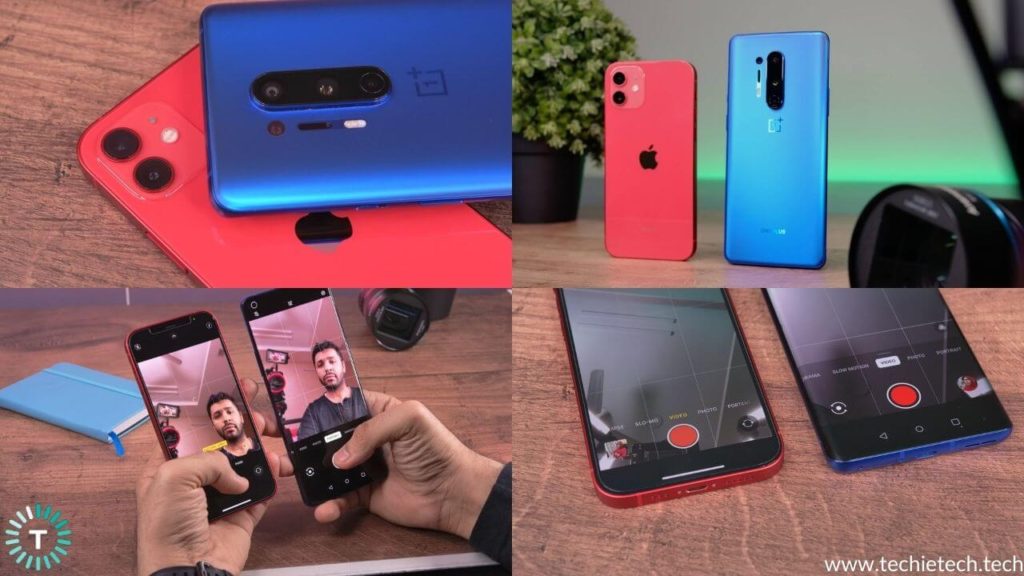 Let's talk about the cameras now. In terms of sheer number of cameras, the OnePlus 8 Pro is a step ahead of the iPhone 12 with a quad camera setup on the rear. Apart from the high-resolution primary and ultra-wide cameras, the OnePlus 8 Pro also sports a telephoto and color filter camera. On the other hand, the iPhone 12 has a dual-camera setup on the rear with 12MP primary and ultra wide sensors only.
Photos:
Both devices shoot pictures with rich details and high dynamic range with the primary camera. In terms of image quality, the pictures shot on the iPhone 12 have more natural colors with an incredible amount of details. On the other hand, the pictures shot on the OnePlus 8 Pro are somewhat oversaturated and have a contrasty look with warmer tones.  

The iPhone 12 has a wider ultra-wide camera than the OnePlus 8 Pro. Even though the latter has a 48MP sensor, the iPhone 12's 12MP takes sharper ultra-wide pictures with high dynamic range and rich details.

OnePlus 8 Pro has a dedicated 8MP 3x telephoto lens which takes above average stills. The iPhone 12 does not have a dedicated telephoto camera but does a decent job with 2x digitally zoomed-in stills.

Both devices take pretty good selfies but the iPhone 12 has the upper hand with more accurate and consistent skin tones.

When it comes to shooting portraits, the iPhone 12 is the clear winner. Portraits shot on the iPhone 12 have more details and better subject separation as compared to the pictures shot on the OnePlus 8 Pro.

Low light performance is good on both smartphones. Pictures are well-lit with low noise. iPhone 12 supports night mode across all its cameras, even the front-facing one, and it only works on 2 rear cameras on the OnePlus 8 Pro.
 Videos:
Both devices can shoot in 4K@60fps from the rear camera. The iPhone 12's front camera can also shoot in 4K@60fps while the 8 Pro's front camera tops at FullHD@30fps.

Even though the 8 Pro shoots high-quality videos in almost all lighting conditions, the iPhone is still the king when it comes to shooting videos on a smartphone. 

Moreover, the iPhone 12 can shoot, edit & playback Dolby Vision HDR videos in 4K with stunning image stabilization while the OnePlus 8 Pro sometimes drops frames while shooting in 4K HDR mode. 
Despite the fact that the OnePlus 8 Pro has more cameras with high-resolution sensors and a feature-rich camera app, the iPhone 12 simply delivers better results. To sum this up, if you're looking for a smartphone that shoots great photos & videos every time you press the shutter button, the iPhone 12 is the right choice for you. If you're someone who is looking for a feature-rich smartphone camera on the Android camp, the OnePlus 8 Pro is a solid choice. 
iPhone 12 vs OnePlus 8 Pro: Battery Life Comparison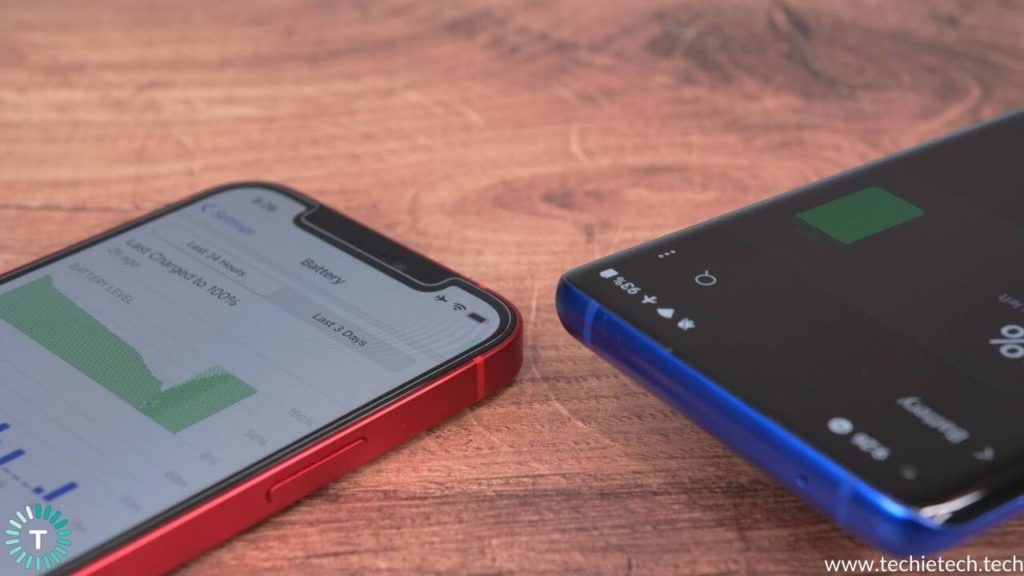 When it comes to battery life, the OnePlus 8 Pro, when I first got it, gave great battery life. Easy one and a half day of use with 5.5 to 6 hours of SOT. After the Oxygen OS 11 update, I am getting a day's worth of use with around 5 hours of SOT which is in-line with what I am getting right now with the iPhone 12. One thing to note though is that while the iPhone drains battery slightly faster than the OnePlus 8 Pro during usage, it's standby battery drain is practically nothing. So if you're on your phone the whole day, the OnePlus 8 Pro could potentially last longer. Not by a lot though.

I have to talk about charging too because there are a few significant points here. Both phones support fast wireless charging with first party accessories. Both support fast wired charging although the OnePlus tech is faster. Lastly, the OnePlus 8 Pro comes with the fast charging Power Brick in the box while the iPhone 12 comes with a cable only. Remember to factor that into the pricing when you go out to buy this phone. 
Also read: Best Fast Chargers for iPhone 12
iPhone 12 vs OnePlus 8 Pro: Call Quality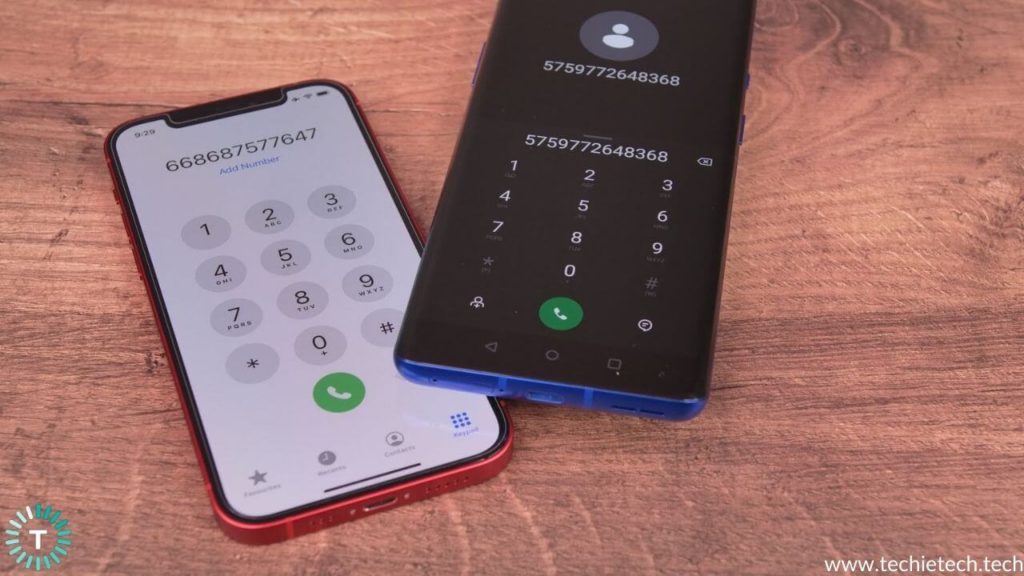 Phone call quality has actually been better for me on the iPhone 12. The earpiece sounds clearer and even the receiver on the other side confirmed I sounded better when using the iPhone 12. On the flip side, the iPhone has this delay when switching between VoLTE and VoWIFI while the OnePlus 8 Pro does it instantly. Not a huge negative but a minor annoyance.
Conclusion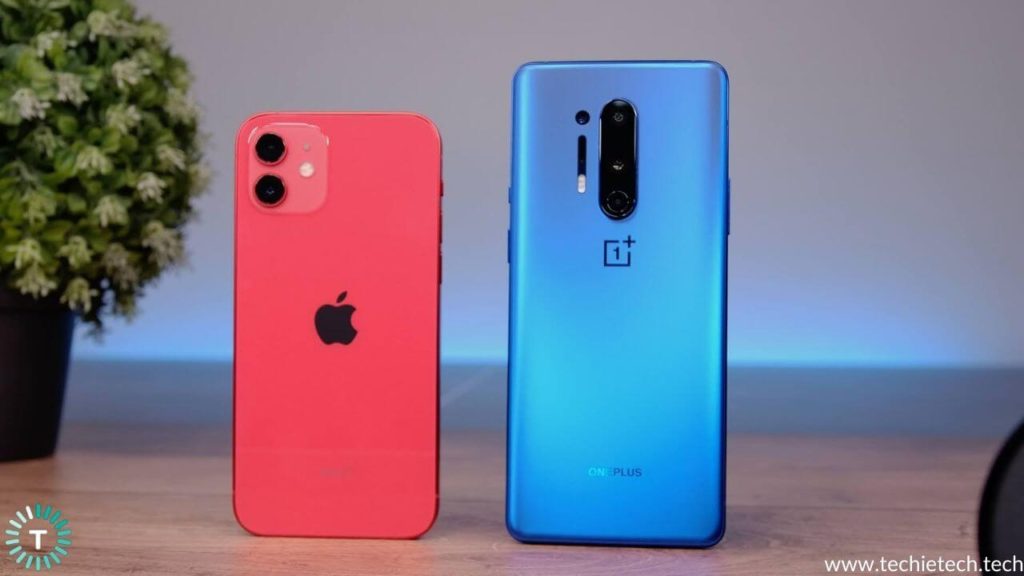 To conclude, should you buy the iPhone 12 or the OnePlus 8 Pro. It is actually a comparison between Android and iOS here because I sincerely believe that both these phones are some of the best devices of their respective software platforms. As a user of both these phones, it is really hard for me to pick out a clear winner. But it is really easy for me to tell you that no matter which phone you end up buying, you will get one of the best smartphones that money can buy today. 
Check iPhone 12 price:
Amazon (US): https://amzn.to/3er6cwK 
Amazon (India): https://amzn.to/3eqlQst 
Amazon (UK): https://amzn.to/3p0iP72 
Check OnePlus 8 Pro price:
Amazon (US): https://amzn.to/3eHAqeN 
Amazon (India): https://amzn.to/32jle3G 
Amazon (UK): https://amzn.to/3814fpV