The wait is over, folks! In their latest 'Unleashed' event, Apple has unveiled the new 14 inch MacBook Pro. MacBook is easy to use and has incredible capabilities which allow users to navigate their way through innovative ideas. It has a user experience that is unrivaled and can be used to create apps, movies, and music that move you and so much more. The new MacBook is completely reimagined. This time, Apple has outdone itself and launched two brand new chips for the MacBook Pro- M1 Pro and M1 Max
M1 Pro
The new M1 Pro is a breakthrough, Apple has scaled up M1's architecture and has created an extremely powerful chip. The chip has been restructured to enable the SoC to scale which has doubled the memory interface. The M1 Pro delivers up to 200 gigabytes per second of memory bandwidth. It also offers a 10-core CPU with eight performance cores and two efficiency cores, as well as a 16-core GPU with 2,048 execution units. In comparison, the M1 from last year was an eight-core chip (4 performance and 4 power efficiency cores) with eight GPU cores.
At its peak, the M1 Pro uses 70% less power than a PC laptop with a discrete GPU. With configuration options up to 32GB, the new chip also supports more RAM. The M1 Pro has 33.7 billion transistors in total, which is roughly twice as many as the
M1. Apple claims that the new 14" and the 16" Macbook Pro share more or less the same capabilities. Even with lower fan speeds, advanced thermal systems move 50% more air. The fans never turn on for the many tasks that you do every day, thanks to the efficiency of Apple silicon.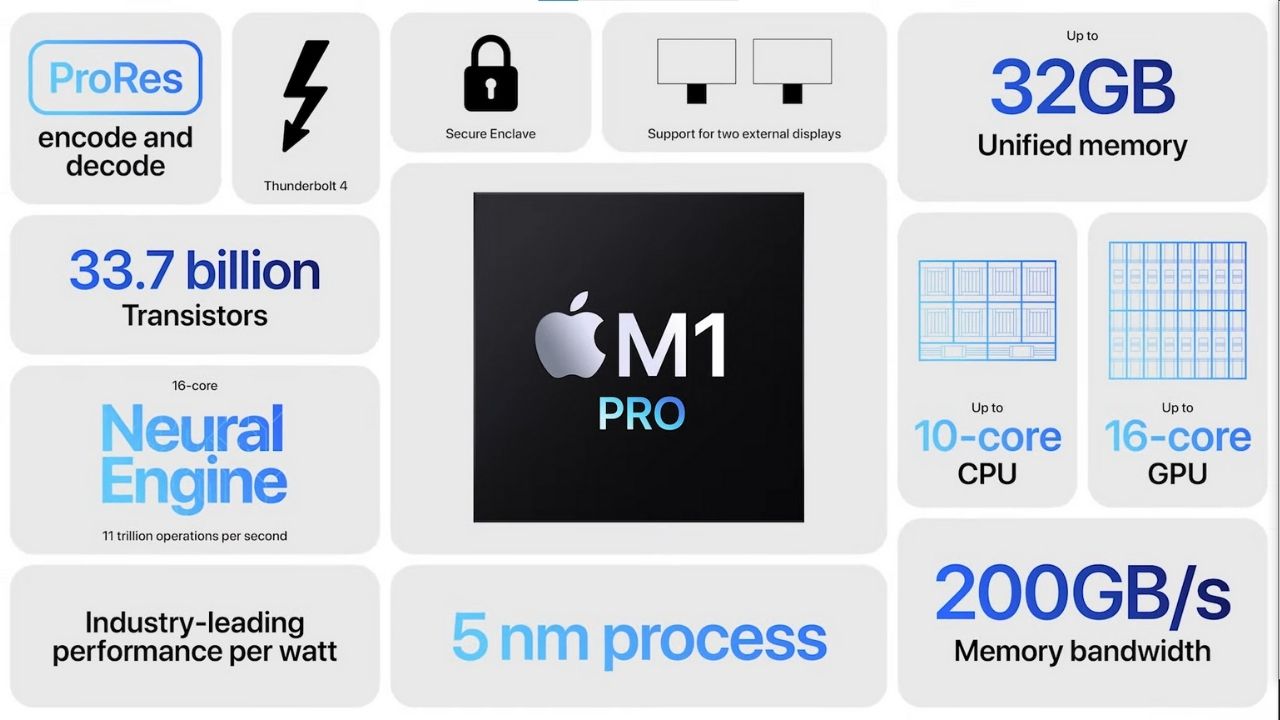 You get all this in 3.5 lbs and 15.5mm in the brand new 14" MacBook Pro. So, Let's take a look at its specifications!
Display
The 14-inch MacBook Pro has been completely redesigned, and thanks to the notch, the bezels have been significantly reduced. The side bezels are 3.5mm thick, which is 24% thinner than before, and the top bezel is 60 percent thinner, the screen has a 14.2-inch usable area, with a resolution of 3024 x 1964 and a total of 5.9 million pixels. The
macOS menu bar now wraps around the camera, and the beloved dark mode of the Mac users, makes it look a lot better!  It also supports ProMotion technology with up to 120 Hz refresh rates. The notch in the display has an improved camera with a 1080p camera along with a larger image sensor and a wider aperture, which allows the camera to deliver two times better low‑light performance. 
Apple has revisited the past and has removed the Touch bar which is replaced by their classic black physical keys, bringing back the ease of mechanical keys. It includes Spotlight, Siri, Dictation, and Do Not Disturb keyboard shortcuts. Touch ID also has a new tactile ring that guides your finger to unlock your Mac quickly, easily, and securely. The new Macbook Pro also comes with Liquid Retina XDR and a million-to-one contrast ratio. The display is factory calibrated which provides for HDR color grading and high-quality design, photography, and print production reference modes.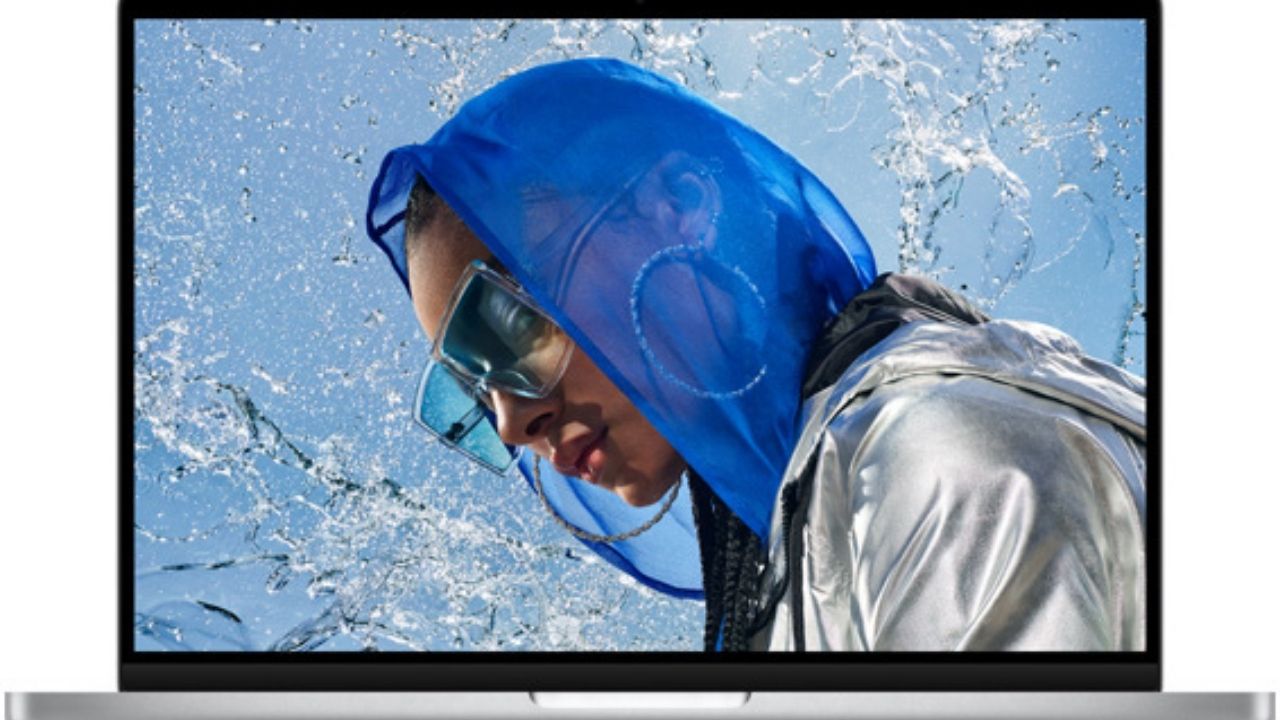 Also Read: Touch ID not working on MacBook? Here are 10 ways to fix it
Connectivity
Having an abundance of ports can surely make your life easier and that's exactly what Apple has done by adding, quite a lot of ports to the new MacBook Pro. On one side you get an HDMI port, Thunderbolt 4 which can connect to high-speed peripherals, and an SD card slot and on the other side, it is equipped with a headphone jack, two more Thunderbolt 4 ports, as well as MagSafe!
With an SDXC card reader, you can transfer photos and videos. You can also connect your MacBook to HDMI-enabled TVs or displays and listen with a 3.5 mm headphone jack that detects and adjusts for high-impedance headphones automatically at the same time, thanks to the abundance of ports in the all-new MacBook Pro. Three Thunderbolt 4 ports allow you to connect to high-speed peripherals or displays, and if that doesn't sound good already, you can charge quickly with the MagSafe 3 port's quick release! This is the most advanced connectivity ever on a MacBook.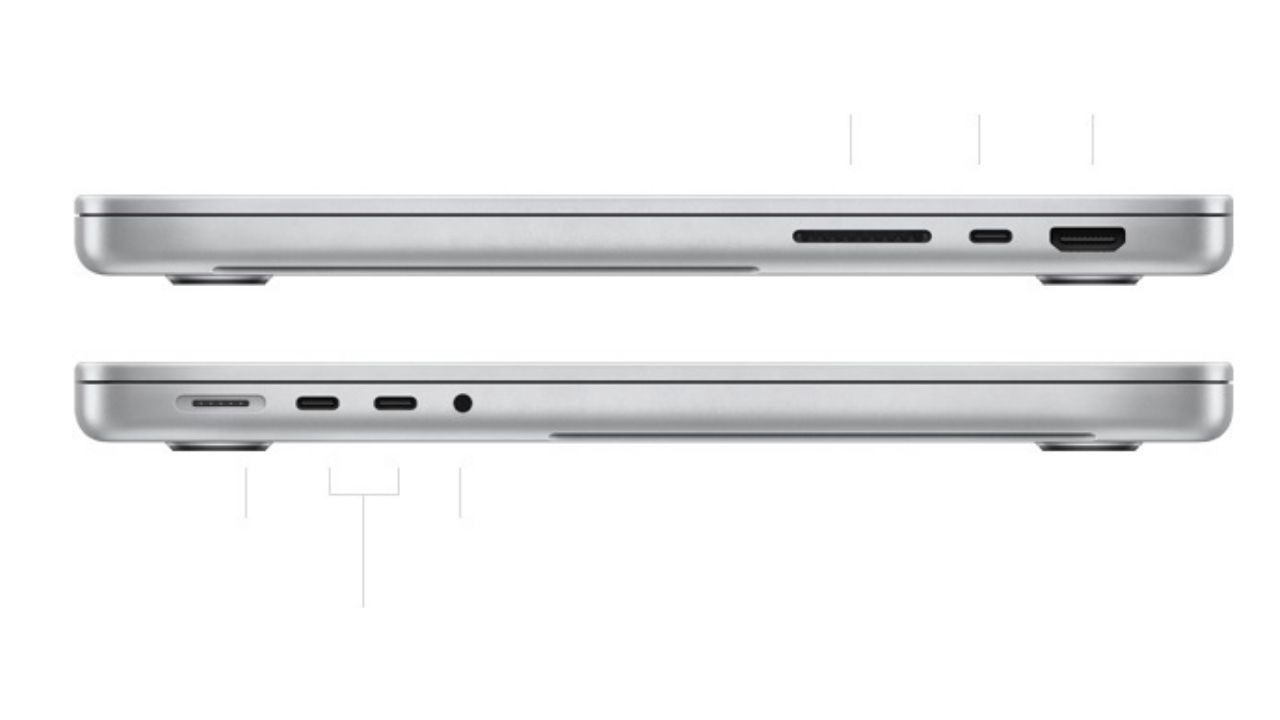 Performance
The 14" MacBook Pro has up to 3.7 times faster CPU performance and coupled with the M1 Pro it delivers up to nine times faster performance. The ML tasks have also taken a new level of efficiency, are up to 11 times faster in the new 14" MacBook Pro. The MacBook Pro has up to 32 GB of unified memory which allows users to get the best out of their experience with the new MacBook since it allows more memory for even the most demanding graphic tasks. In terms of Storage, the super-fast SSD's provide 7.4 GB/S of read speeds. The 14" MacBook Pro offers 17 hours of video playback whilst also supporting fast charge for the first time ever, which means it can charge up to 50% in just 30 minutes.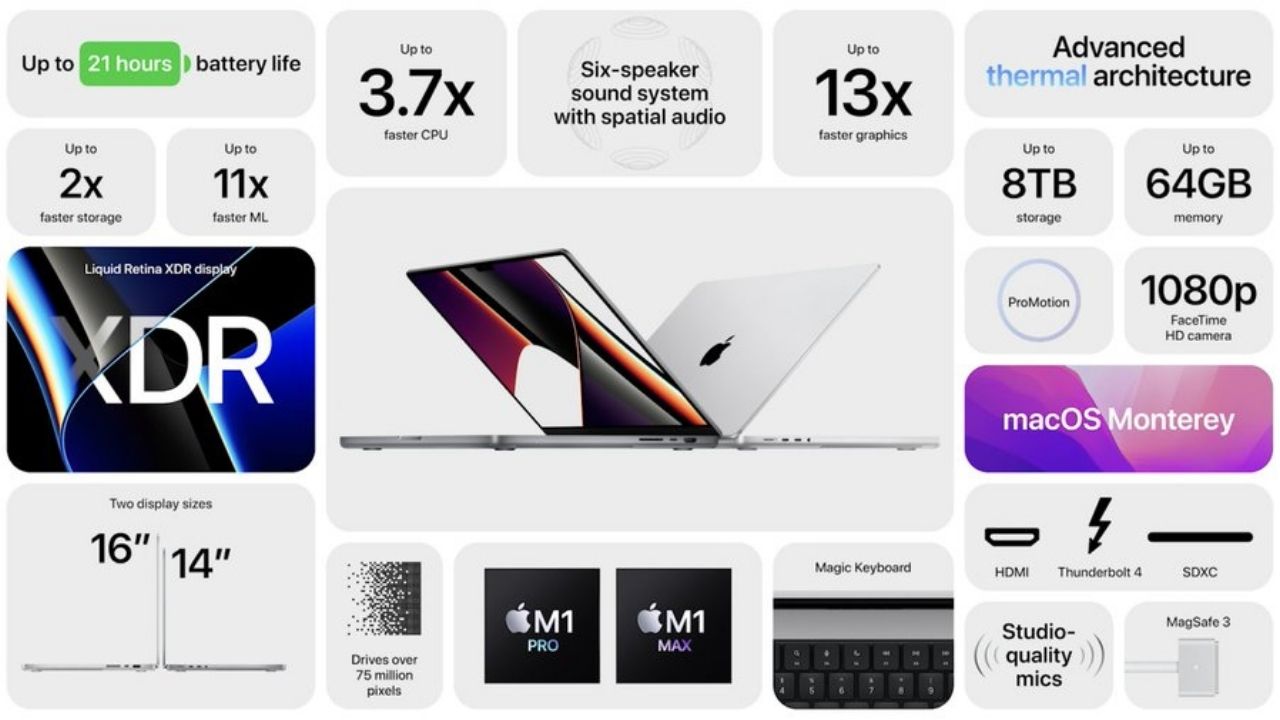 The all-new Macbook Pro is also configurable with the M1 Max chip and starts at $1,999 ($1,849 for education). It is available in the colors Space Grey and Silver.