Apple has introduced a new 13-inch MacBook Pro at its "One More Thing" event on November 10, 2020. We've already seen a 13-inch MacBook Pro launched in May this year, and now, here comes the Apple Silicon MacBook Pro that brings a host of new features and improvements. Despite no changes in the design, the new Macbook Pro has got an impressive jump in performance and battery life. One of the biggest changes in this latest MacBook Pro and the earlier model that was launched in May is the replacement of Intel processor by Apple's in-house chip, that's designed especially for Macs. Apple M1 chip together with the latest macOS Big Sur makes the new 13" MacBook Pro outrageously fast and powerful.
The company has been using its own processors on the iPhone, iPad, as well as Apple Watches. And now, the M1 chip becomes the first chip ever designed by Apple with an aim to completely transform the MacBook experience.
Apple says that its M1-powered MacBook Pro is a lot more powerful, fast, and even more "Pro" than the previous generation models. It's almost 3x faster than the best-selling Windows laptops and 2.8x faster than the previous generation MacBook Pro models. Let's get to know the details regarding this latest M1-powered MacBook Pro.
Besides MacBook Pro, Apple has also introduced MacBook Air 2020 and a Mac Mini at its November 2020 event.
MacBook Pro 2020 Specifications
MacBook Pro features a 13.3-inch Retina display with True Tone, P3 Wide Color Gamut support, and 500 nits of brightness for a more immersive and natural viewing experience. Plus, the bright LED backlighting delivers bright whites and deep blacks. Design-wise, it has got the same aluminum body with slim bezels, speakers on the side of the keyboard, and a large Force Touch Trackpad. There's a Magic Keyboard with a refined scissors switch mechanism that offers up to 1mm key travel for a comfortable typing experience. The top row is now replaced by Apple's Touch Bar.
The new MacBook Pro sports a 720p FaceTime HD camera with the latest Image Signal Processor in the M1 Chip that delivers sharper images and better details in shadow and highlights during video calls.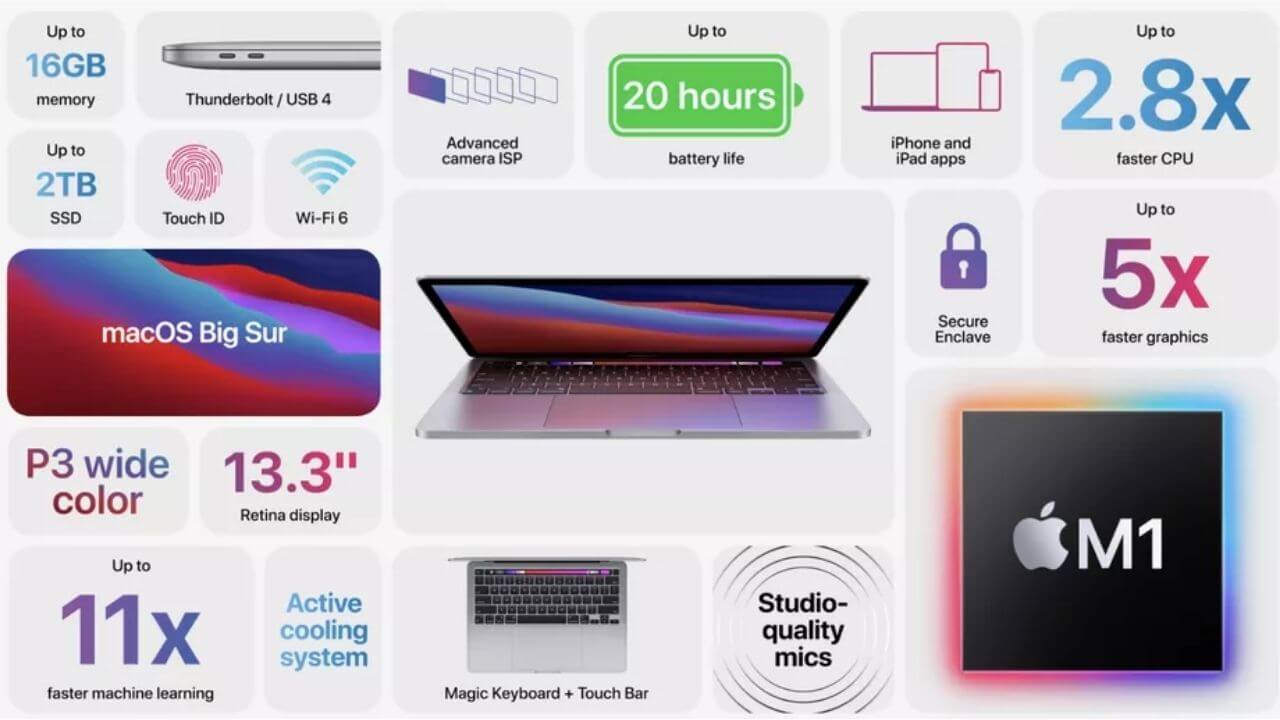 Apple's 5nm M1 Chip features an 8-core CPU with four high-performance cores, four high-efficiency cores, an integrated 8-core GPU for smooth graphics performance, and an advanced 16-core Neural Engine that ensures up to 11x faster ML-based features like voice recognition, image processing, and object detection. Also, the graphics are up to 5x faster and the SSD performance is doubled-up as compared to the previous models. All the applications that run on the Intel-based MacBooks will function seamlessly on the M1-powered Macs. Plus, the power-intensive applications like Final Cut Pro X and Logic X have been fully ported to work on the newer Apple silicon Macs. Also, it will be able to natively run the iOS and iPadOS apps too, thanks to the shared architecture.
Being the Pro model, the MacBook is equipped with studio-quality mics for ultra-clean recordings and calls. The machine delivers best-in-class security with the Secure Enclave in M1 and TouchID. It supports Dolby Atmos playback, Wi-Fi 6, Bluetooth 5.0, and has got two Thunderbolt 3/USB 4 ports for connecting external peripherals, including a 6K resolution display at 60Hz. Plus, there are stereo speakers with wide stereo sound support and a 3.5mm headphone jack.
The MacBook Air features a fanless design, whereas the Pro model has an active cooling system that can easily sustain heavy performance workloads while ensuring a quiet operation. It aims to deliver game-changing performance while editing high-resolution photos, compiling code, transcoding video, and more. In terms of battery, the Pro model packs a bigger battery with a 61-watts power supply as compared to the 30-watts in Air. Plus, there's a significant jump in battery life as well. Apple claims the latest MacBook Pro 2020 has the longest battery life ever on a Mac. It can deliver up to 17 hours of wireless web browsing and up to 20 hours of video playback.
MacBook Pro 2020: Price and Availability
The all-new MacBook Pro 2020 starts at $1,299 for 8GB RAM and 256GB SSD, with the maxed-out 16GB and 2TB SSD variant selling for $2,299. Just like the latest MacBook Air, users can opt for configurable options, including Final Cut Pro X and Logic Pro X to come pre-installed on their machines at $299.99 and $199.99 respectively. It's worth knowing that the 13-inch MacBook Pro (launched in May 2020) is also available in Intel options with i5 quad-core processor and Intel Iris Plus graphics starting at $1,799. The 16-inch MacBook Pro models are available with Intel processors only.
The M1-powered 13-inch MacBook Pro is already up for orders, and shipping will start from November 17, 2020.