Apple has recently launched a new range of MacBooks powered by an in-house M1 silicon chipset. And, MacBook Air 2020 is one of them. It looks exactly like the MacBook Air released earlier in 2020. The M1 powered MacBook Air 2020 comes with a 13.3-inch Retina display with a resolution of 2560×1600 pixels. As far as the battery life is concerned, Apple claims that it can last up to 18 hours of battery life, which is quite impressive for an ultrabook. This laptop supports Bluetooth 5.0 as well as the latest Wi-Fi 6.
The impressive M1-powered MacBook Air 2020 features 8GB RAM, 256GB SSD, and 7-core GPU. While the other variant with a larger 512GB SSD features 8-core. Not to forget, there's also a beefier variant available featuring 12GB of RAM and 2TB of storage space. To know more about the pricing, you can visit Amazon for the same.
Now that you know about the impressive M1 MacBook Air, it's time to check out all the compatible accessories. However, the availability of different accessories might be confusing and you could end up with a bad investment. We understand your concerns and have come up with this on the best accessories for the M1 MacBook Air 2020. Let's get started!
Note: We update our article from time-to-time to cover the latest products available in the market.
List of best Accessories for M1 MacBook Air 
Best Sleeves for M1 Macbook Air 
1. MOSISO Laptop Sleeve Bag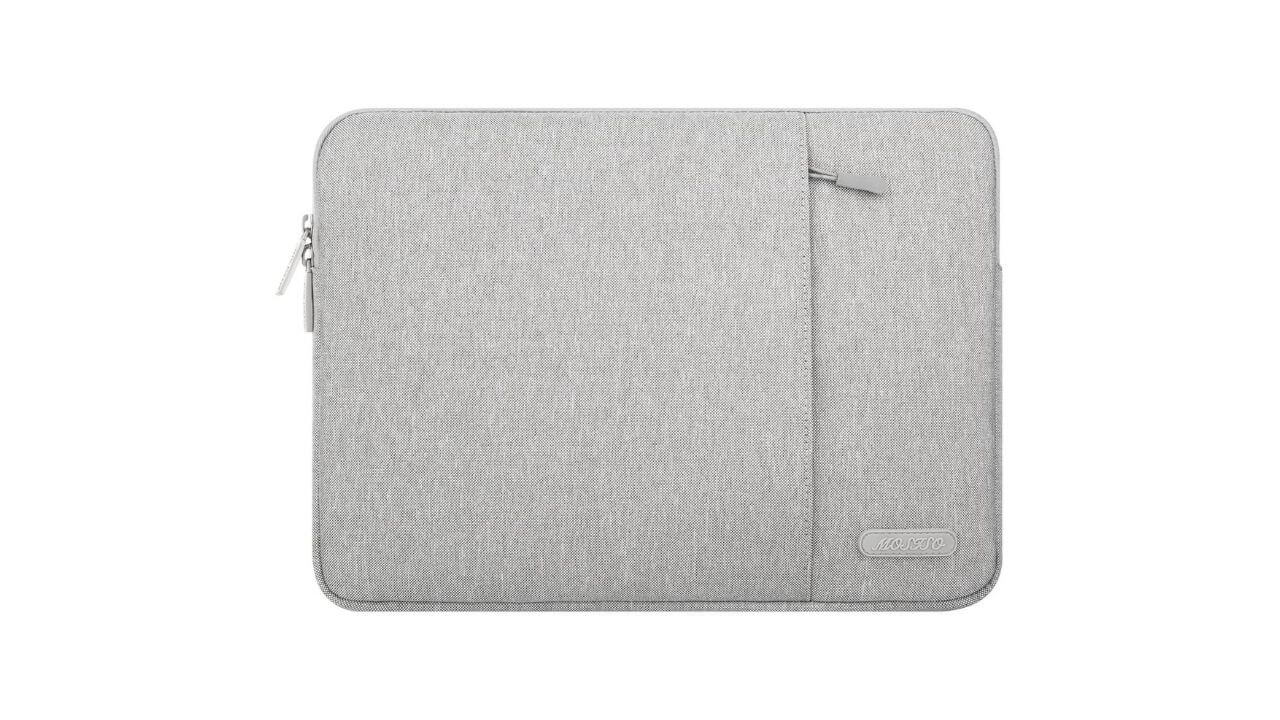 If you're looking for a budget-friendly laptop sleeve bag then you should grab this one from MOSISO. This MacBook Air sleeve bag is made of water repellent polyester materials and features a shock-absorbing sponge that protects your laptop from accidental damages. Not to forget, it also features a front vertical pocket that enables you to keep other essentials other than your MacBook Air 2020. MOSISO offers twenty-seven color options to choose from. 
Pros:
Affordable

Offered in various colors

Water-repellent and shock-absorbing material
Cons:
Shock protection is not up to the mark
2. RAINYEAR Shock Resistant Laptop Sleeve Case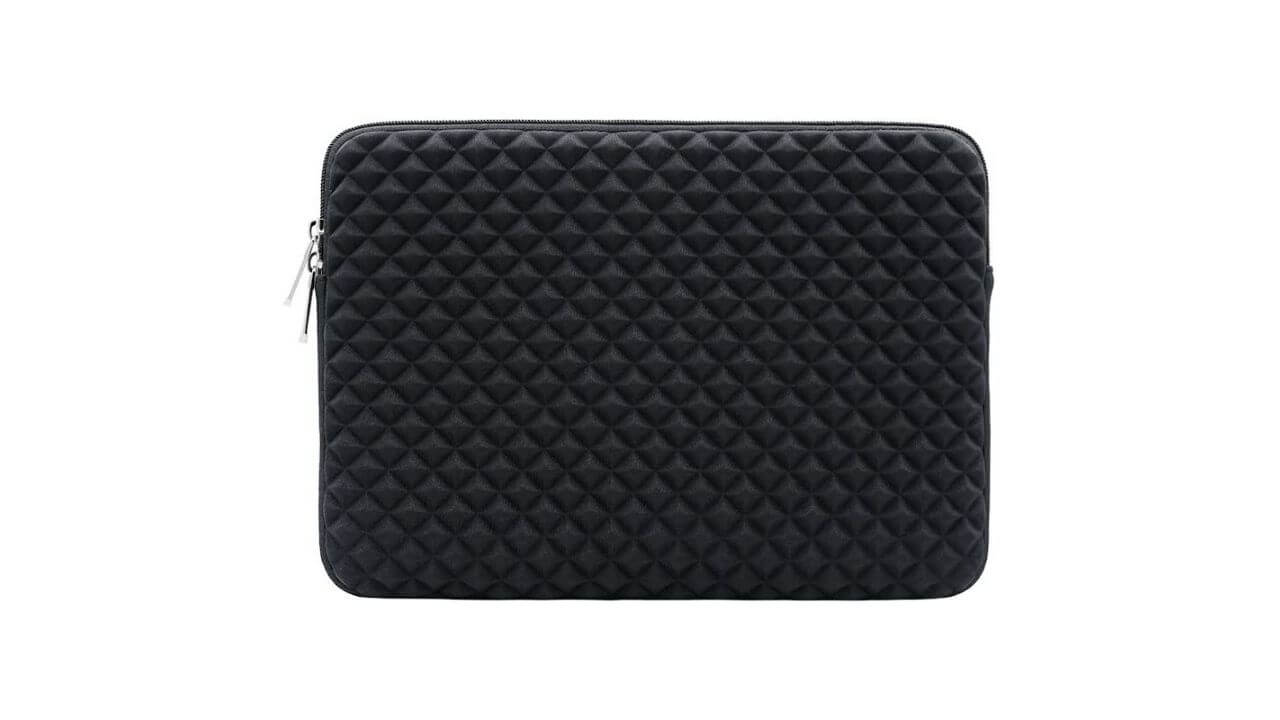 Here's another budget-friendly sleeve bag that will give multi-layer protection to the M1 MacBook Air 2020 against bumps, and shocks. It features a smooth padded layer inside the bag that can withstand scratches, whereas the smooth zippers ensure that the contents inside the bag don't fall off. Also, this RAINYEAR laptop sleeve case comes with a water-resistant padded neoprene. This sleeve is available in five different colors to match your style. 
Pros:
Water-resistant 

Available in five different colors

Durable and unique design

Budget-friendly
Cons:
3. Apple Leather Sleeve for MacBook Air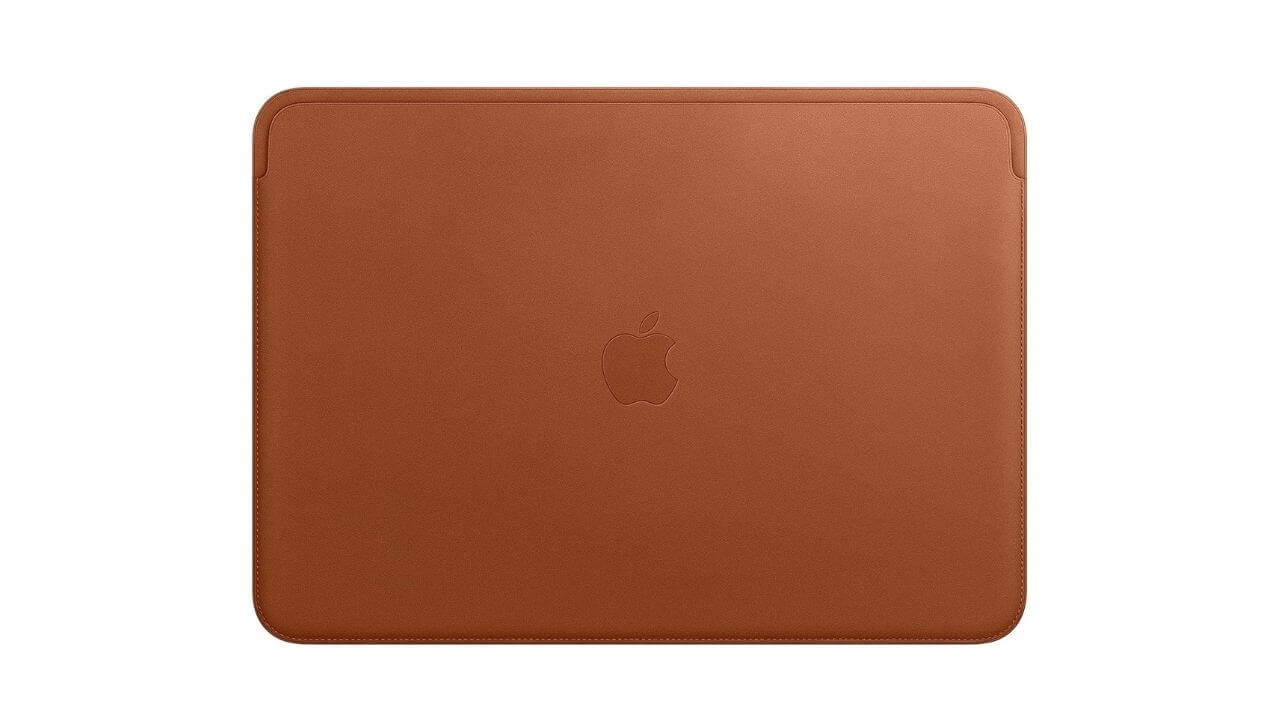 This official leather sleeve case from Apple is made from premium European leather. It protects your MacBook Air from everyday scratches and bumps. It is available in three different colors, midnight blue, saddle brown, and black. This leather sleeve is compatible not only with the MacBook Air 2020 but also with the
Pros:
Premium leather finish

Three colors available
Cons:
Best Laptop Cooler for M1 MacBook Air
1. Lamicall Portable Laptop Cooler Pad (Best Accessory for M1 MacBook Air)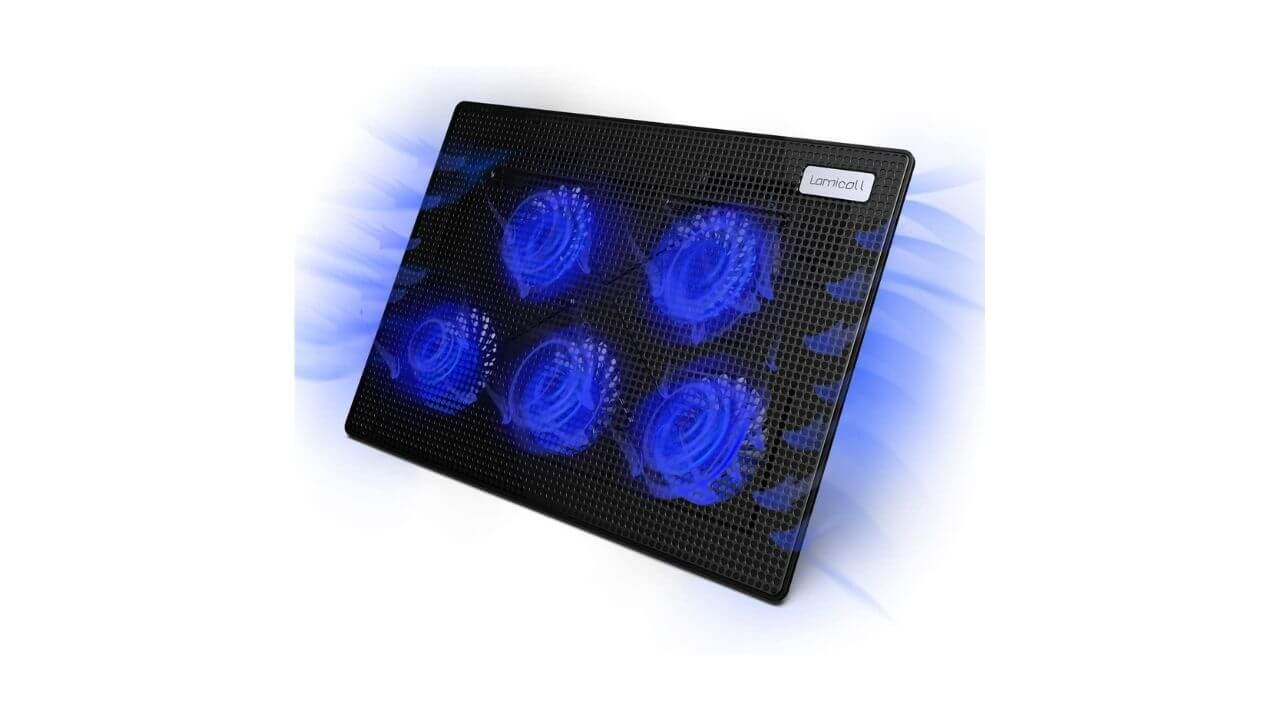 As you know that the new M1 MacBook Air doesn't have a cooling fan, it's recommended to get a laptop cooling pad to get the most out of your portable powerhouse. It'll allow you to get higher clock speeds for longer periods by increasing the airflow and heat dissipation. It features noise reduction technology so that the cooling fans won't irritate you while you work. It comes with 5 cooling fans that effectively dissipate the heat generated by your MacBook Air and avoids the M1 from throttling. It is slim and easy to carry, while the blue light lights up to indicate that cooling fans are working properly. It also comes with a couple of foldable feet on the bottom to adjust the height of the laptop for better usability & airflow. 
Pros:
Lightweight and maximum portability

Can be powered by an external power bank

Adjustable stand

Increases performance
Cons:
Uses USB-A port for connection
You can also check the newer model of the cooling pad from the same brand.
Also read: Deepcool N80 RGB Gaming Laptop Cooler Review
Best Ethernet Adapter for M1 Macbook Air
1. UNI USB-C Ethernet Adapter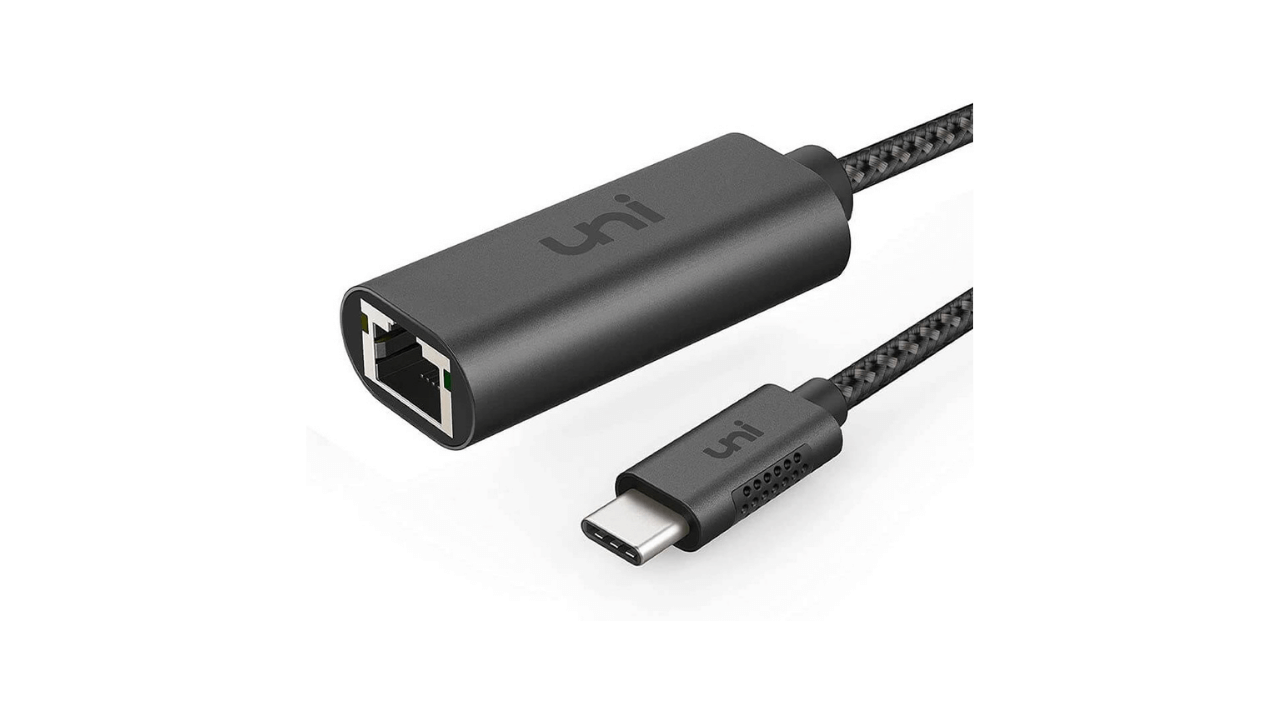 The UNI USB-C ethernet adapter is among the most portable ethernet adapters for the M1 MacBook Air. It features a compact design and is so light that you can carry it in your pocket as well. With this device, you don't have to bother with network settings and all. Overall, this cute little adapter does its work flawlessly by allowing access to the wired LAN network just by plugging the adapter into your M1 MacBook Air 2020. 
Pros:
Pocket-friendly design

Features braided cable

Supports speeds up to 1Gbps with Cat6 cable
Cons:
2. Belkin USB-C to Gigabit Ethernet Adapter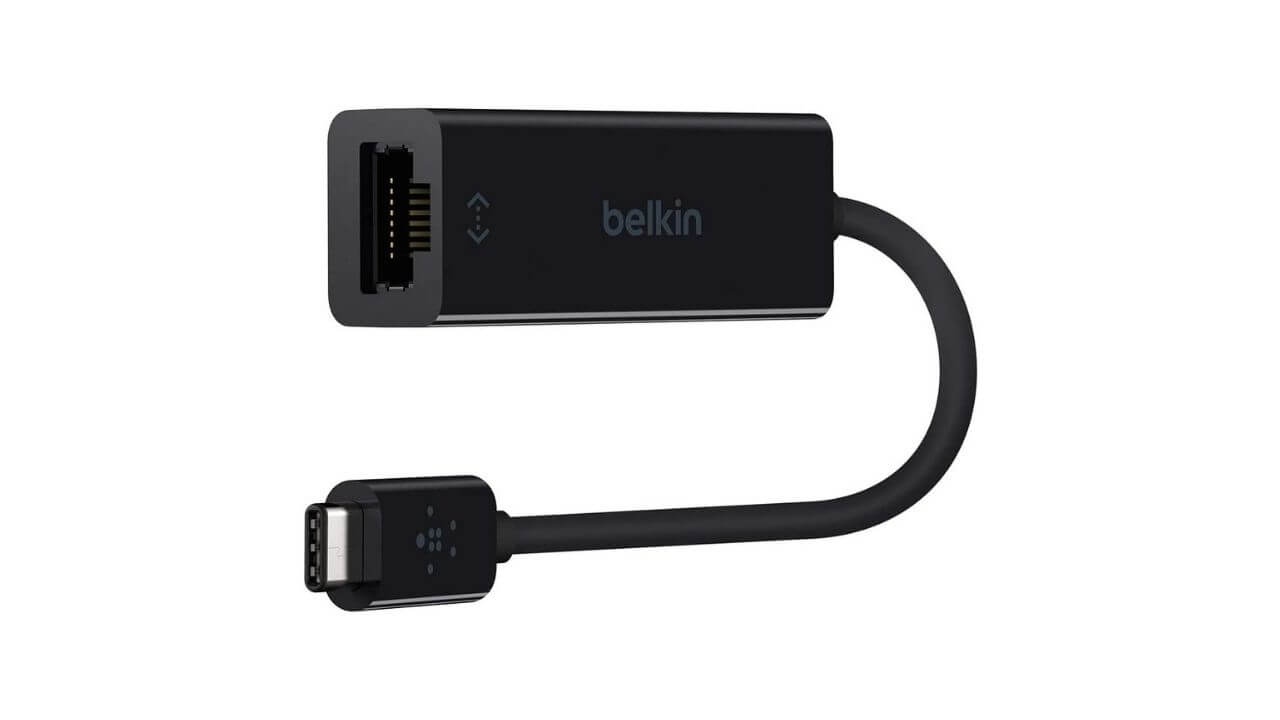 Here's a USB-C to ethernet adapter from Belkin that allows faster data transfer. If you like streaming heavy content and play online games this thing will act as a life-saver for you. The adapter comes with a 15cm/6-inch cable as well as a reversible USB-C connector that enables connection in any direction. You don't have to set up different connections to enjoy fast internet, just plug in the LAN cable and connect it to your MacBook Air, it's as simple as that. Besides all this, you will get a 2-year limited warranty from Belkin when you purchase this product. 
Pros:
Compact, and durable

Two years Belkin's warranty

Supports speeds up to 1Gbps
Cons:
Best HDMI Adapter for M1 Macbook Air
1. Apple USB-C Digital AV Multiport Adapter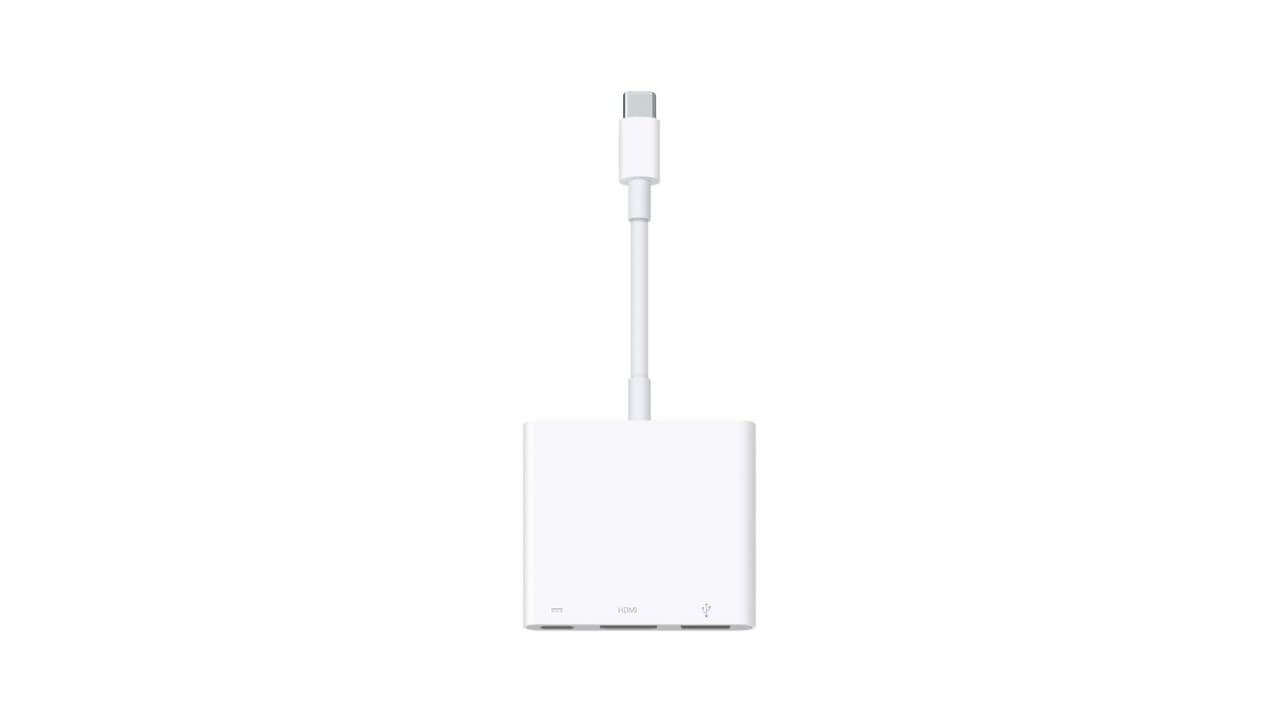 If you're a loyal Apple user, then you should go with this first-party multiport adapter. This USB C adapter is best to mirror the latest MacBook Air to any HDMI-enabled TV or other large displays. However, you will require an HDMI cable for the same. You can easily connect the charging cable to the USB-C port and easily charge the MacBook or iPad, etc.
Pros:
Compact design ensures maximum portability

Best for mirroring content
Cons:
Expensive

Durability issues
2. Anker USB-C to HDMI Adapter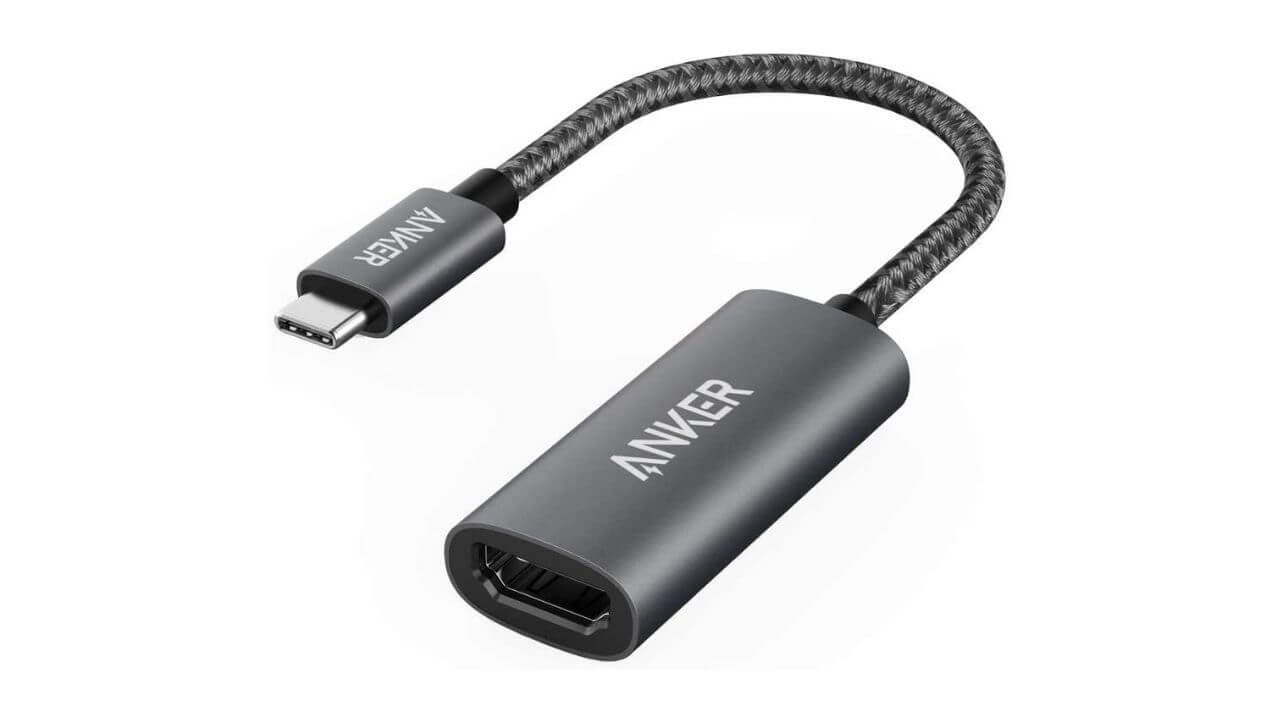 Here comes another great product from Anker that features a durable braided cable. This adapter features a lightweight aluminum casing that allows better heat dissipation. The plug-and-play feature makes it easy to mirror the screen of your devices to larger displays. It also features an HDMI port that allows 4K output. This HDMI adapter is backed by 18 months of worry-free customer service. No doubt this adapter made it in our list of the best HDMI adapters for MacBook Air.
Pros:
Lightweight design ensures maximum portability

Braided nylon cable ensures durability

18 months warranty

Better heat dissipation
Cons:
Also read: Best USB-C adapters for MacBook Air
Best USB-C Hub for M1 MacBook Air
1. Belkin USB-C Hub (Best USB Adapter for MacBook Air)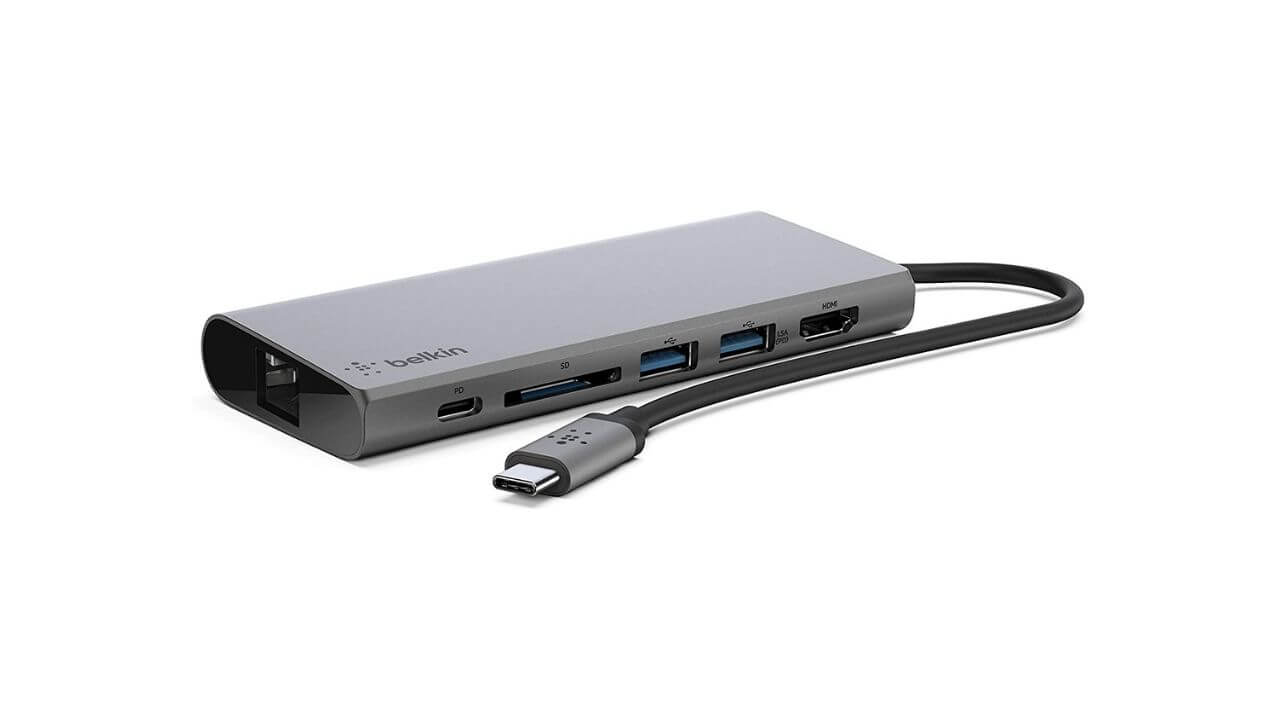 Are you looking for a reliable USB- C hub for your M1 powered MacBook Air? If yes, here's one from a market leader, Belkin. It features a compact and sturdy design that ensures maximum portability. You'll find six different ports: 1x ethernet port, 2x USB-A 3.01, 1x USB-C, 1x microSD card, and 1x HDMI port. Plus, this USB hub offers a decent 5Gbps data transfer speed between the connected devices. Besides all this, it is backed by Belkin's two-year warranty and is compatible with Windows USB-C devices. 
Pros:
Compact and sturdy look

Two-year warranty

Six different ports

Universal compatibility (including iPads)
Cons:
2. Purgo USB Hub Adapter Dongle for MacBook Air 2020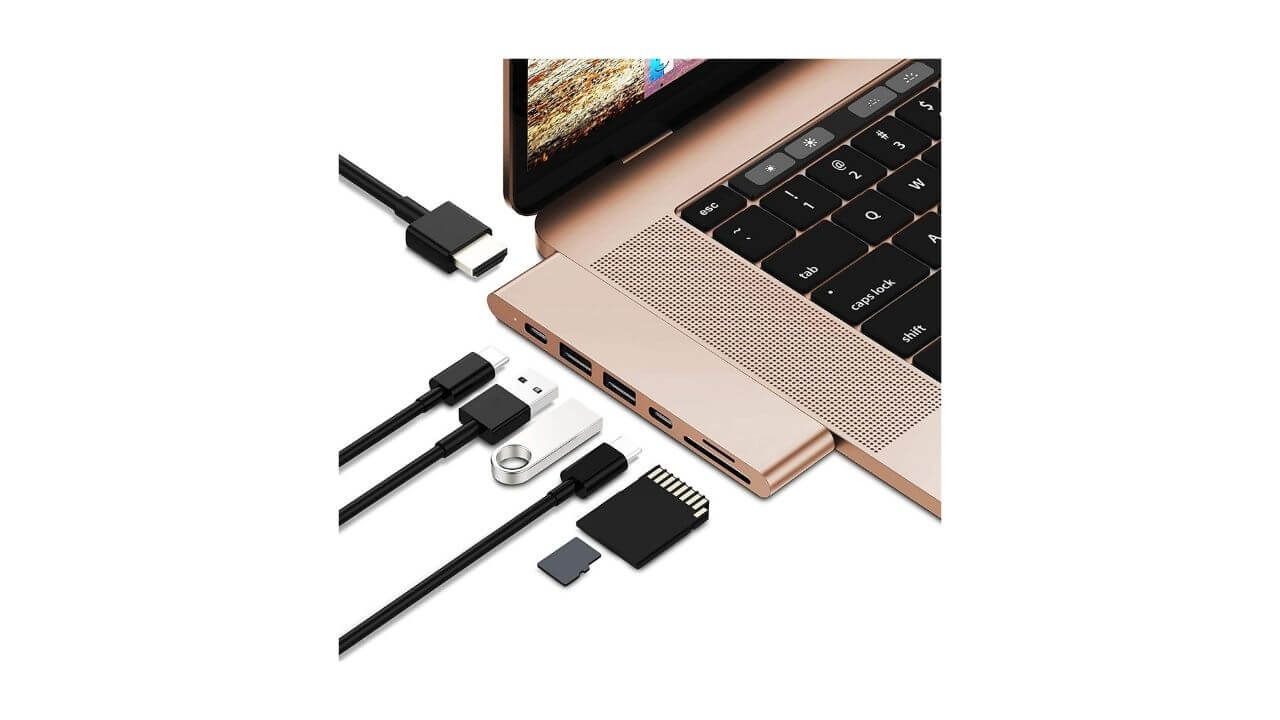 If you're looking for an affordable combination of HDMI and thunderbolt ports, then the Purgo USB hub is a must-buy for you. This MacBook Air USB C hub features seven different ports. And, the best thing is you can use all of them at the same time. The Thunderbolt 3 port can give a
maximum output of up to 100W. This USB hub features a lightweight and compact design that allows you to carry it anywhere when you travel. You don't have to get different accessories for different purposes, the Purgo USB hub is there for all your needs. Also, it is offered in three different colors. 
Pros:
Affordable price

Multi-purpose USB hub

Slim and compact design
Cons:
Overheating issue 

Takes up 2 ports at the same time
3. Satechi Aluminum USB-C Multiport Adapter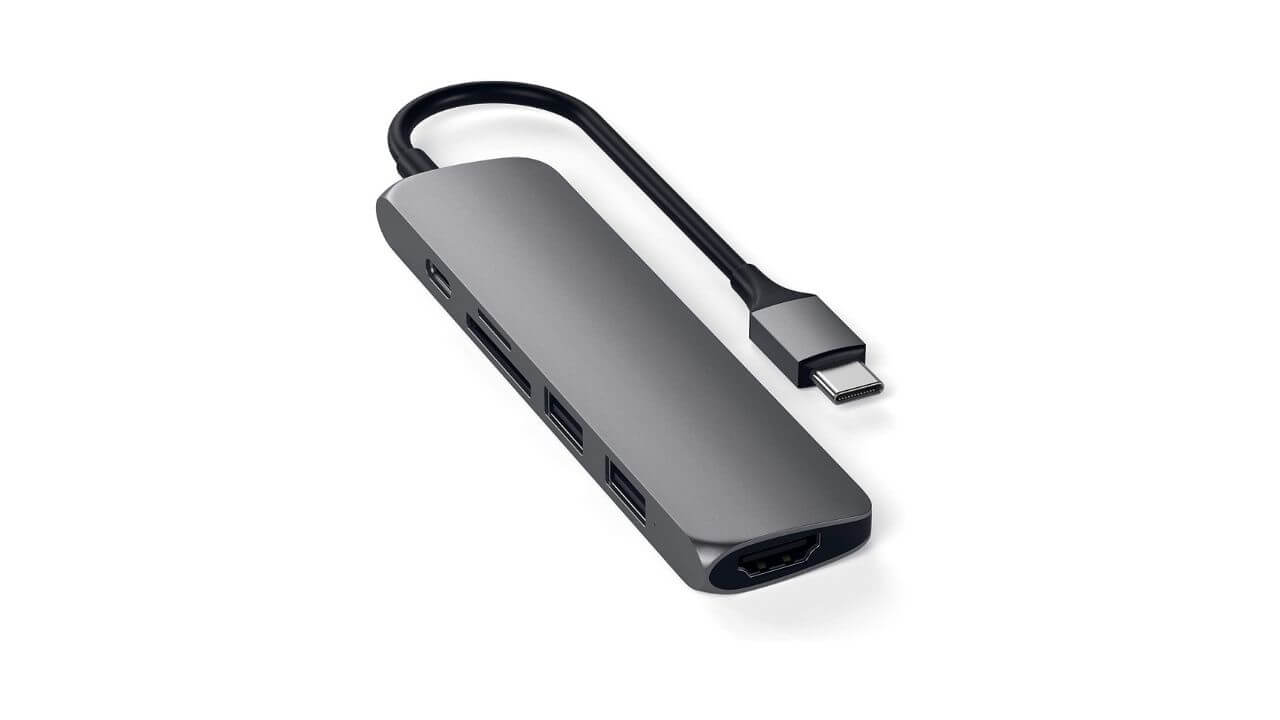 Here's a durable as well as a reliable USB-C adapter for the MacBook Air. This multiport USB hub features three different ports including USB-C PD (Power delivery), Gigabit Ethernet port as well as an HDMI port that supports 4K output. Not to forget, there's also a microSD card slot to easily transfer data from cameras. This Satechi adapter can be widely used with other Apple devices like iPad Pro and iPad Air with USB-C port. Besides all this, it comes with an impressive aluminum body that looks fancy and is available in three colors:
Gold, Silver, and Space Gray. 
Pros:
Good build quality

Beautiful aesthetics 

Compatible with various Apple devices
Cons:
Best Wireless Keyboards for M1 MacBook Air
1. Apple Magic Keyboard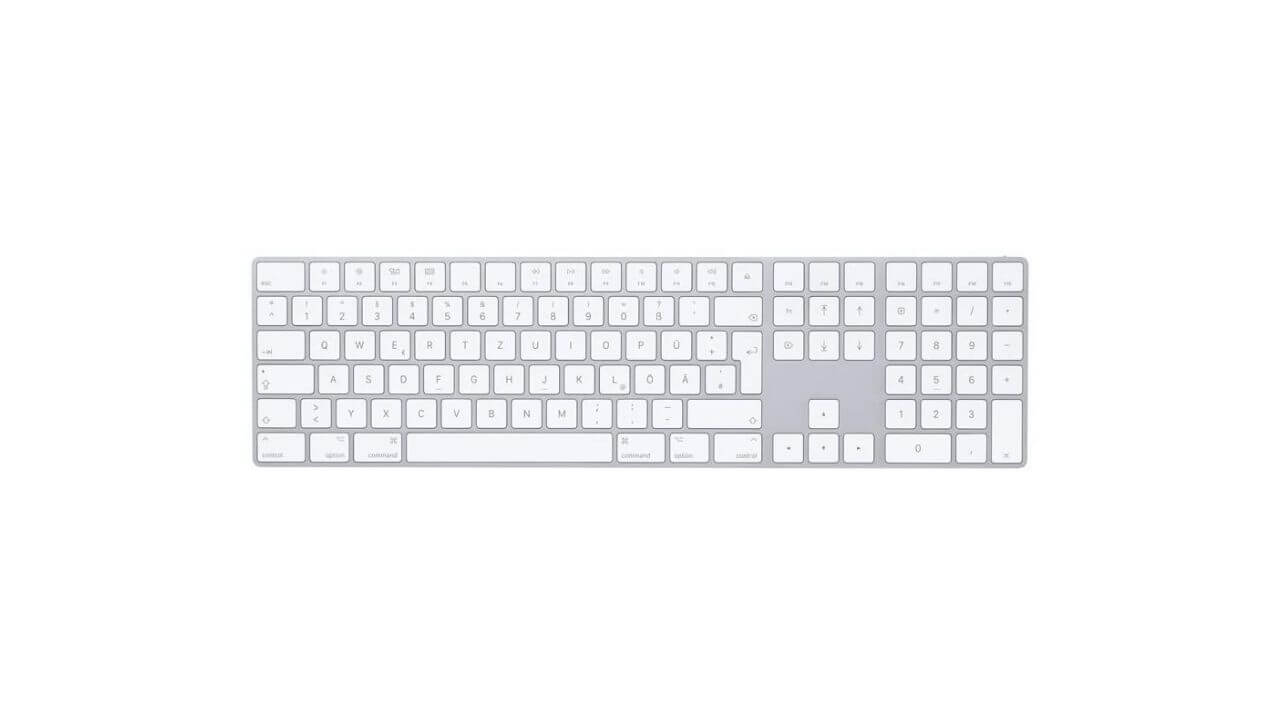 If you're looking for the best MacBook Air keyboard then nothing can beat Apple's Magic keyboard. This keyboard features a premium and ultra-sleek design that doesn't feel bulky when you hold it in your hand. It comes with a rechargeable battery and a numeric key. However, there's another model available for the same keyboard but without the numeric keys. If you're a writer or coder, you'd love the typing experience it offers. This keyboard is available in silver and black color. Not to forget, you can use Bluetooth to connect it to any MacBook so there's no need for a USB dongle. 
Pros:
10 hours long battery life

Premium design

Better typing experience

Works with iOS devices as well (iPhone/iPad)
Cons:
2. Macally Wireless Bluetooth Keyboard with Numeric Keypad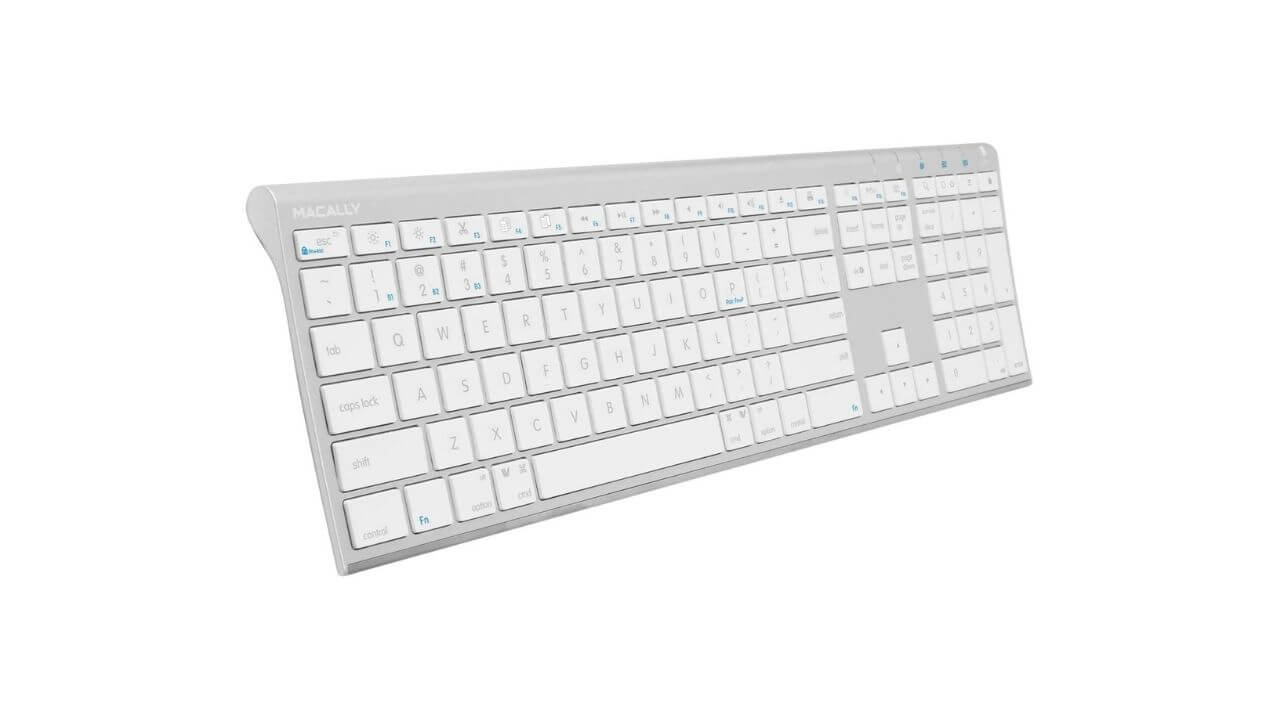 Here's an ultra-slim keyboard for MacBook Air that comes with a mere thickness of 15mm/0.59-inches. It comes with wireless Bluetooth connectivity features, while the rechargeable battery rules out the worry of swapping batteries. The brand claims that it can give up to 3-months of battery backup if it is used 3 hours daily. The scissor flexors that support the keycaps gives a quiet typing experience. Overall, it is one of the best wireless keyboards available in the market. 
Pros:
Ultra-thin and stylish design

Quiet typing experience

Rechargeable battery
Cons:
Single color option

Expensive than other alternatives
3. Logitech Keyboard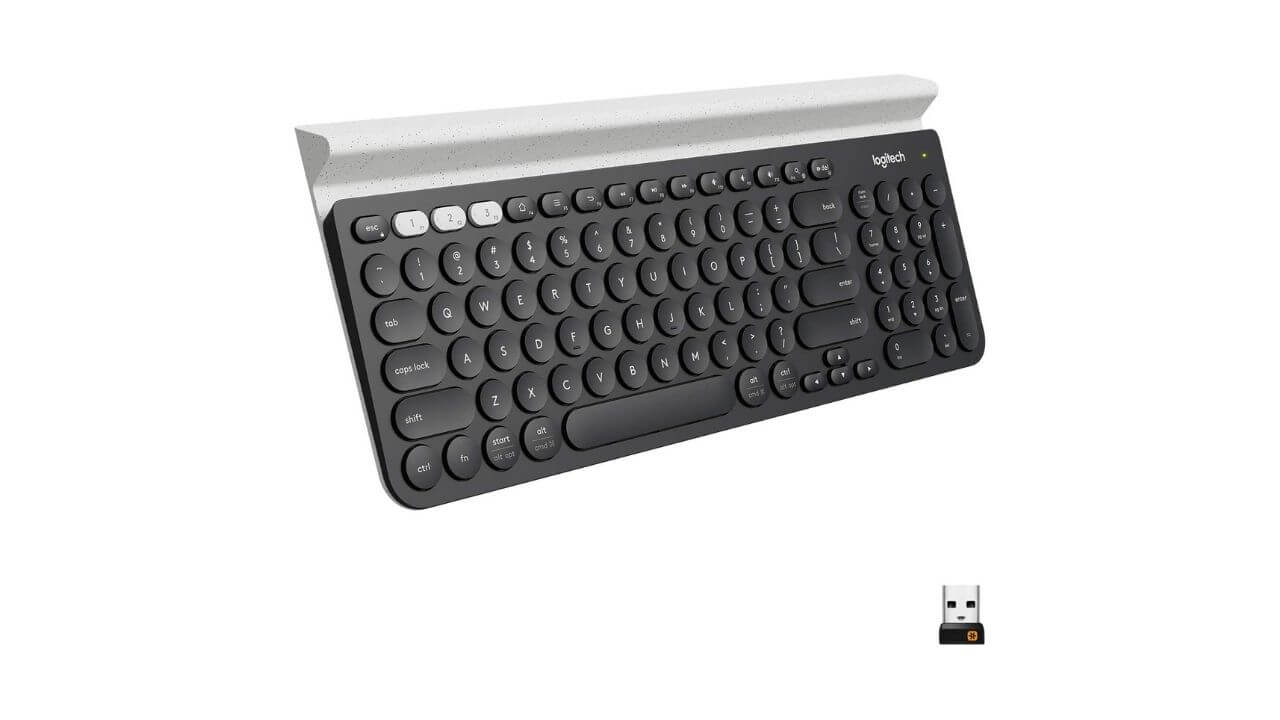 Are you looking for a wireless MacBook Air keyboard with good aesthetics? If you do, then grab this one from Logitech. The rounded key buttons across the keyboard give you the feel of typewriters. This keyboard enables you to type quietly and comfortably. Also, you will get a phone and tablet stand inbuilt with the keyboard. It features a familiar layout as well as shortcut keys to give a seamless typing experience. Not to forget it is universally compatible across different operating systems. You simply need to connect the Bluetooth and start typing, it is as simple as that. 
Pros:
Beautiful aesthetics

In-built phone and tablet stand

Real-time multi-device support
Cons:
Best Wireless Mouse for M1 MacBook Air 
1. Apple Magic Mouse 2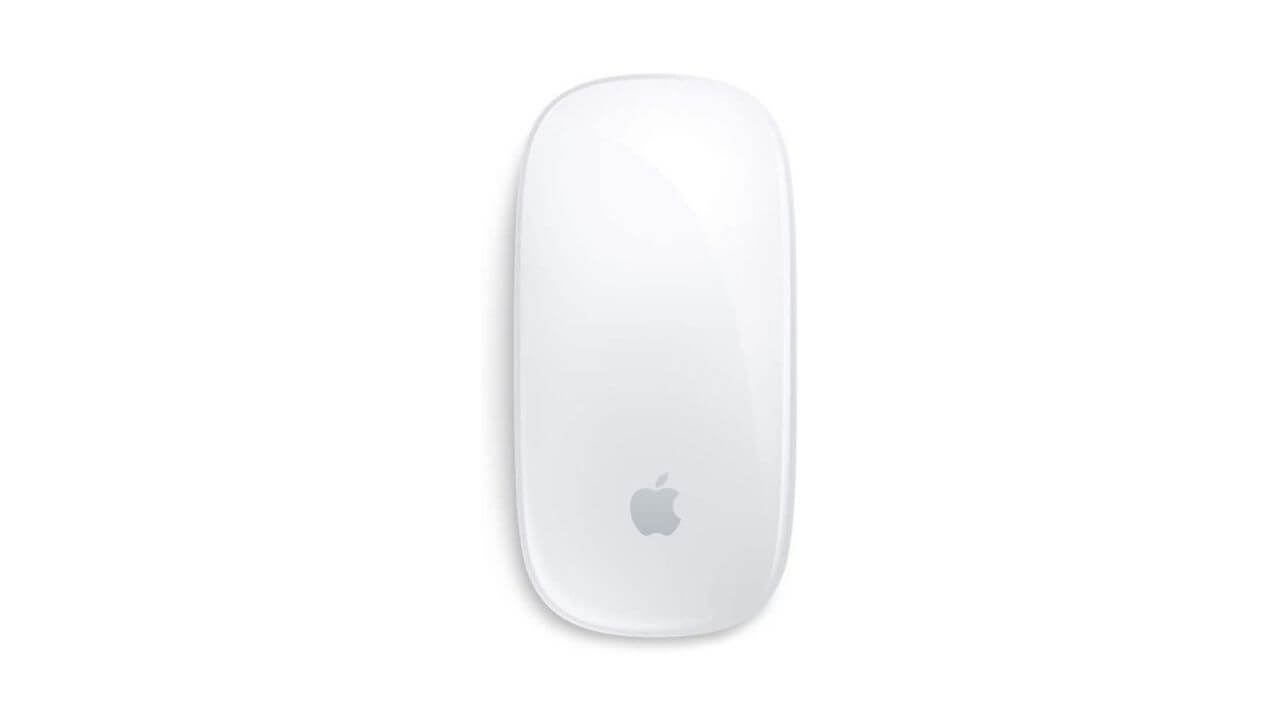 If you're looking for a premium wireless rechargeable mouse, then the Apple Magic Mouse 2 is what you should buy. It features a built-in battery, continuous shell, and has a parallel foot design that allows the mouse to move easily around the work desk or mousepad. Whereas, the multi-touch surface makes it easy to use different gestures to switch between web pages or any documents. It connects through Bluetooth and is super easy to use. You will find this mouse along with the lighting to USB cable in the box. The Apple Magic Mouse 2 is available in space gray and silver colors.
Pros:
In-built battery 

Lightweight and sleek design

Comes with a Lightning to USB Cable

Supports gestures 
Cons:
Expensive

Can't use the mouse while charging
Also read: Best Wireless Mouse for Macbook Air
2. Jelly Comb 2.4G Wireless Mouse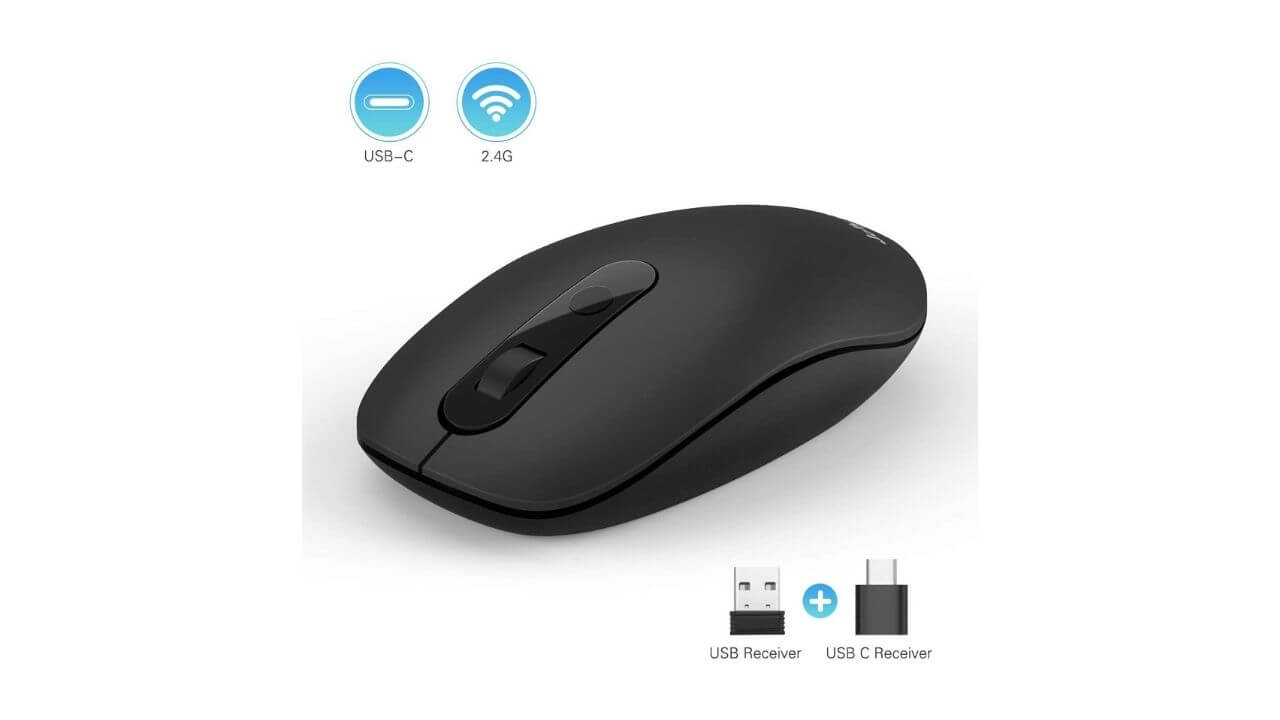 Here's a budget-friendly mouse for MacBook Air that comes with wide compatibility. It is quite easy to use, you just have to plug the receiver on the laptop and start working, it's that simple. While you travel, you can keep the receiver in the allotted storage section. Also, you can adjust the sensitivity of the mouse easily and use it on different surfaces. Besides everything else, this budget-friendly mouse comes with a 1-year warranty. 
Pros:
Budget-friendly

Quiet clicks

12-month warranty

Sensitivity adjusting feature
Cons:
Best Screen Protectors for M1 MacBook Air 
1. Supershieldz Matte Screen Protector for MacBook Air (3-Pack)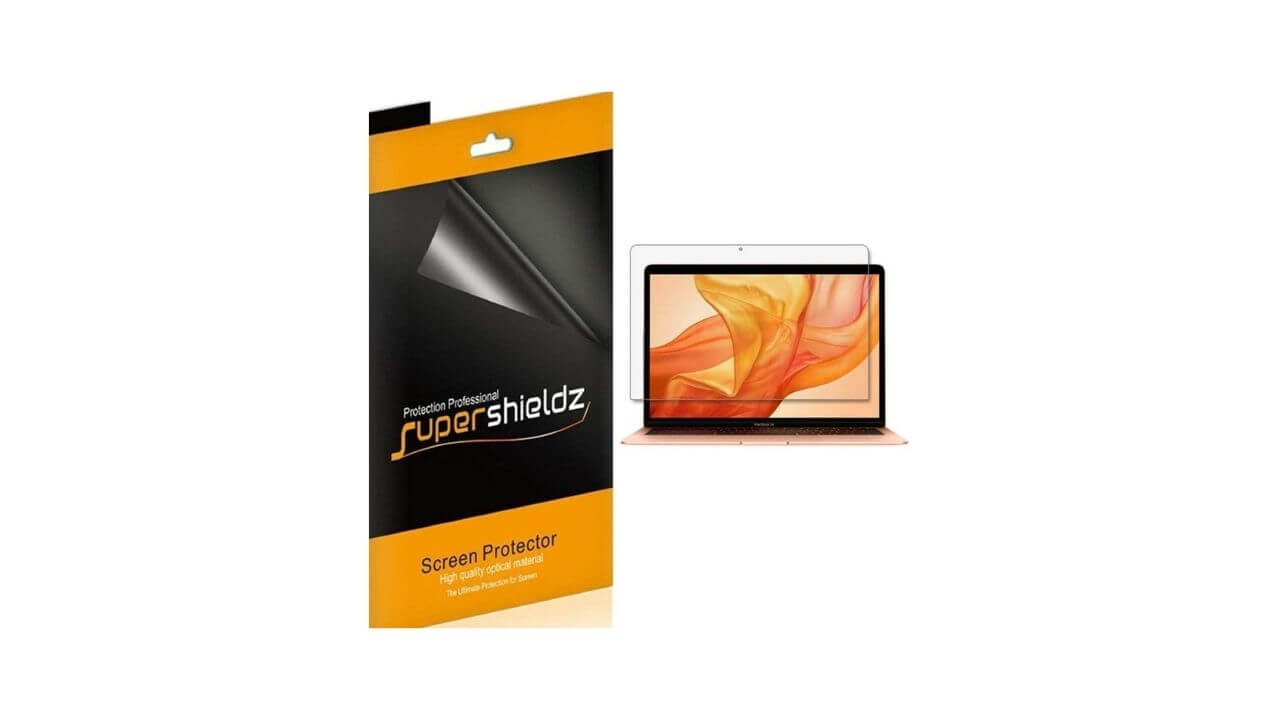 If you work in a dusty environment then a good screen protector for your MacBook is recommended. This three-pack matte screen protector from Supershieldz comes with anti-glare and fingerprint resistant features. This screen protector for the M1 MacBook Air is made from high-grade Japanese polyethylene film. In short, this screen protector can give effective protection to the retina display. 
Pros:
Anti-glare and finger-print resistant feature

Includes three screen protector in the pack

Affordable
Cons:
2. FORTIO Blue Light Filter Screen Protector (2-Pack)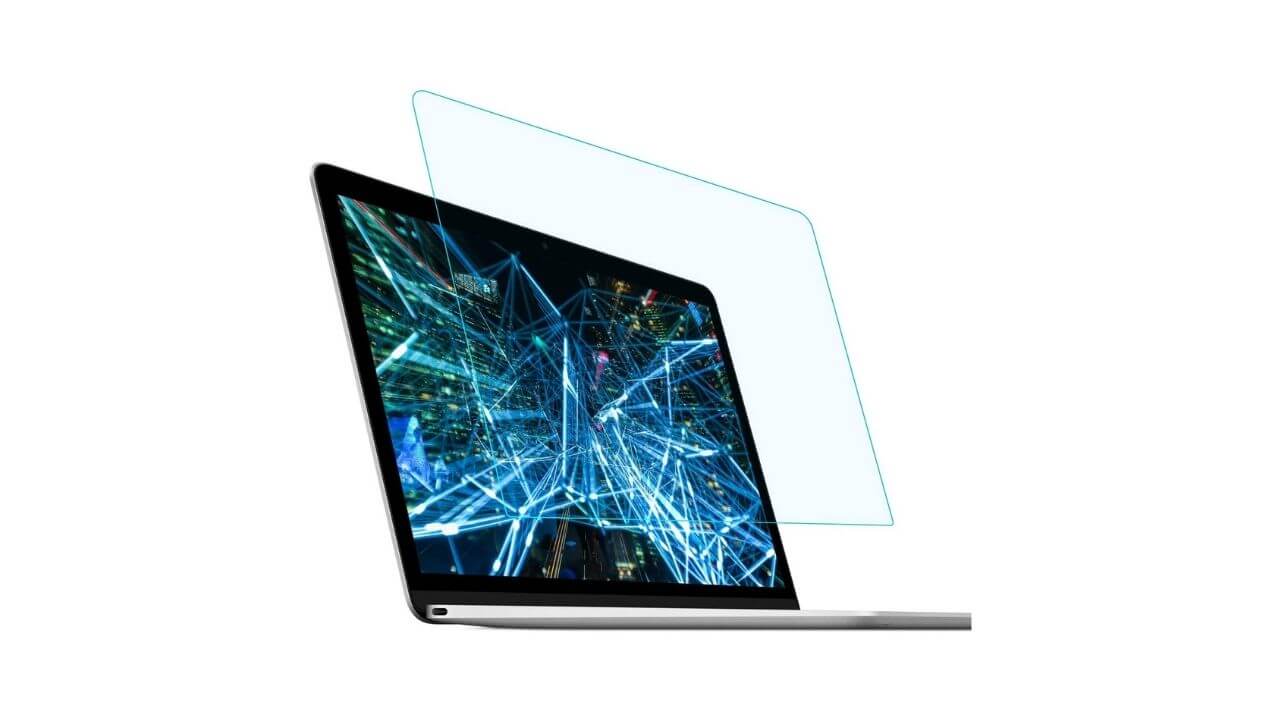 If you are looking for a screen protector with an anti-blue light filter, then here's one from FORTIO. This MacBook Air screen protector comes with an anti-glare, UV, radiation protection feature that prevents uneasiness to your eyes while you work for a long time on your MacBook. This is a must-buy product for those who spend most of their time in front of the laptop. You will find a cleaning cloth and two screen protectors in the pack. 
Pros:
Blue light filter

Includes cleaning cloth 

Anti-scratch feature
Cons:
Expensive than other alternatives
Best External Storage Devices for M1 MacBook Air
1. Sandisk External SSD (1TB)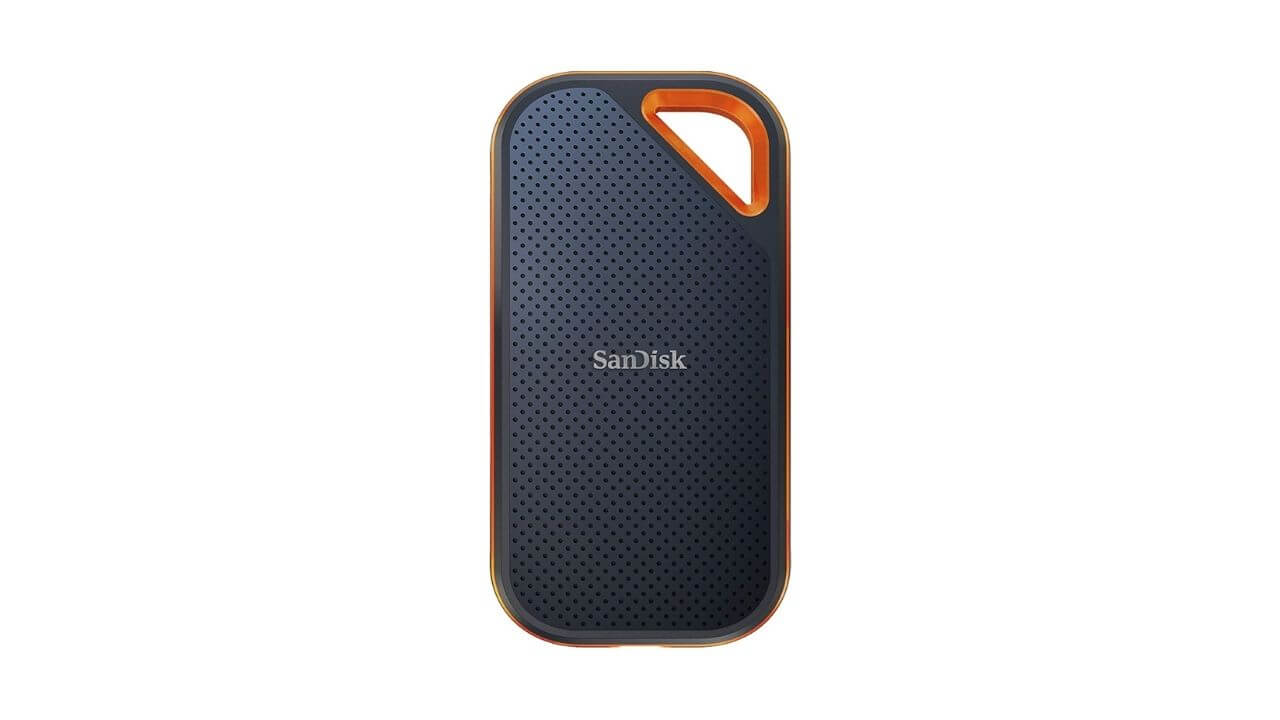 If you feel that the storage in the new MacBook Air 2020 is not enough or way too expensive, then the portable SSD from Sandisk can be a lifesaver. This
external SSD comes with a five-year warranty. As far as durability is concerned, it can survive a 2-meter drop, while an IP55 rating suggests that it is water-resistant as well. Also, you will get USB-C and USB-A cables for MacBooks and PC. Best of all, you can get up to 2000MBps data transfer speed with the in-built Thunderbolt 3 ports on your MacBook. 
Pros:
5 years of manufacturer warranty

Drop tested and water-resistant

Up to 2000MBps of data transfer speeds

Password protection feature
Cons:
2. Lacie External HDD (2TB)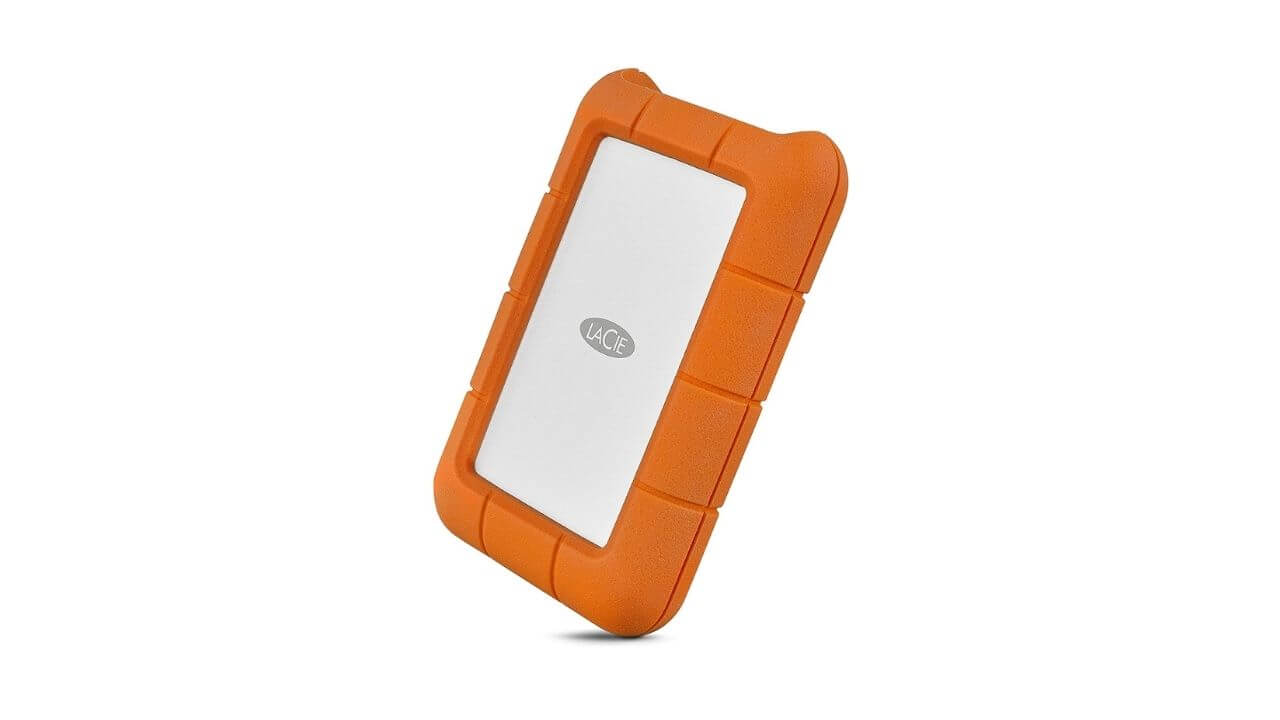 Here's a portable hard disk drive from Lacie with a rugged exterior body. You can transfer data as high as 130MBps with the help of a Type-C cable. The rugged wrap around body protects the hard drive from dust, debris, and accidental damages. It is worth mentioning that this product is water-resistant. Also, it comes with a one-month membership of Adobe Creative Cloud Apps and a three-year limited warranty and data recovery services. You can grab this portable SSD in five different storage options: 1GB, 2GB, 4GB, 5GB, and 8TB. 
Pros:
Durable

3 years warranty and rescue data recovery services

Wide compatibility
Cons:
Relatively expensive given the data transfer rate
If you're looking for a more value for money external hard drive for your MacBook Air, make sure to check out the following recommendations:
3. Samsung EVO SSD (1TB)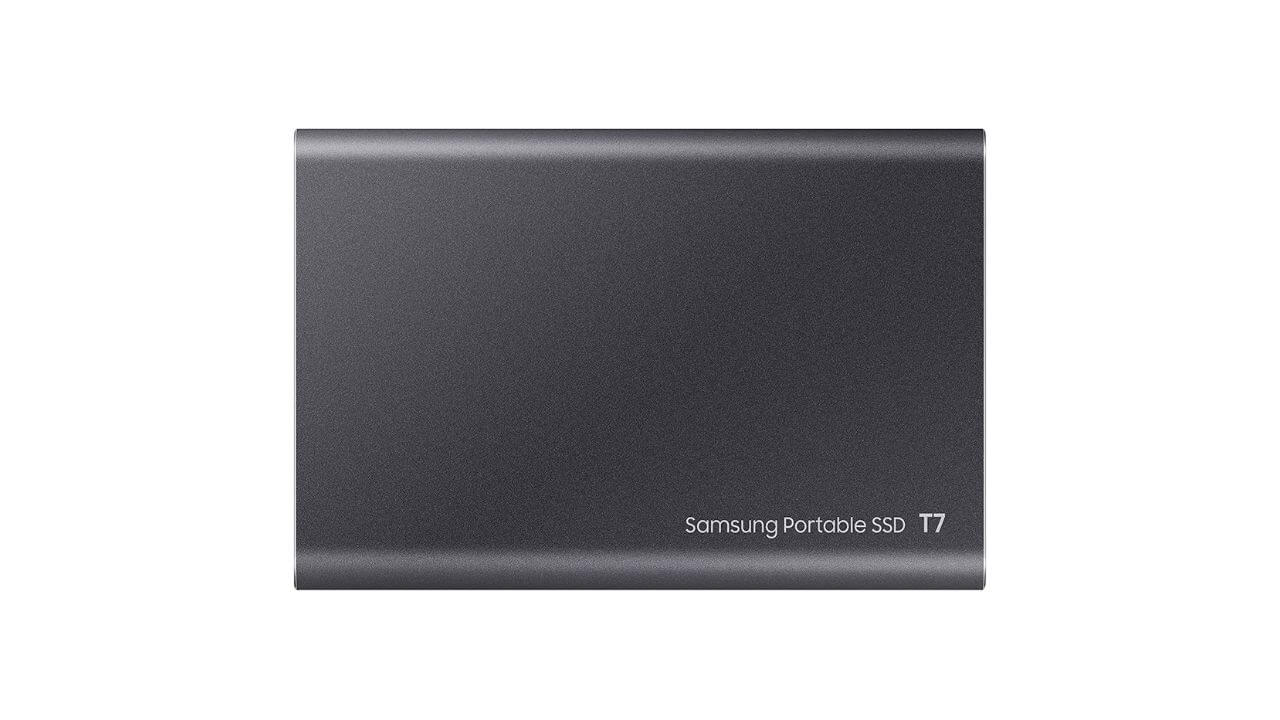 Here's a lightweight and portable SSD from Samsung that can give up to 1050MBps data transfer speed. It comes with a solid durable exterior body that can resist shocks and protects the SSD from a 6ft. drop as well. It features dynamic thermal guard technology that deals with overheating problems during data transfer. Not to forget this SSD comes with a password protection feature as the other reliable portable SSDs. You can grab this SSD in two other storage options: 500Gb and 2TB.
Pros:
Portable

Shock-resistant Design

Features advanced heat-control technology
Cons:
Note: There is a faster variant available for this product. 
Best Charging Accessories for M1 MacBook Air
1. AUKEY 60W PD USB-C Charger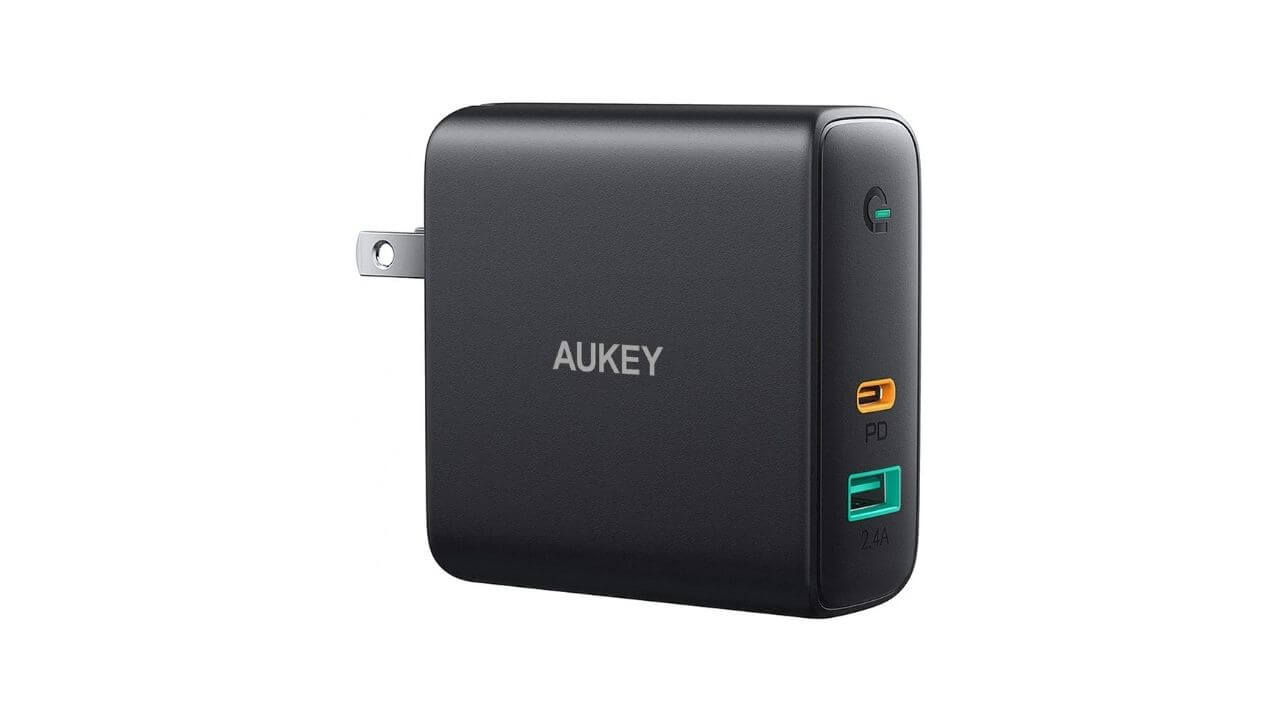 Here's a powerful charger from AUKEY for MacBook Air 2020. This particular charger features GaN technology that offers optimized charging output for the M1 MacBook Air. This comes with a unique design and a foldable plug that ensures maximum portability. To ensure maximum safety AUKEY has incorporated prevention against excessive current, overheating, and overcharging. Best of all you can charge multiple devices at one go. 
Pros:
Better charging efficiency with GaN technology

Multi-device charging

LED indicator

Can fast charge USB-C smartphones 
Cons:
Relatively bigger in size 
2. JSAUX USB-C to USB-C Cable (Best Braided USB-C Cable for MacBook Air 2020)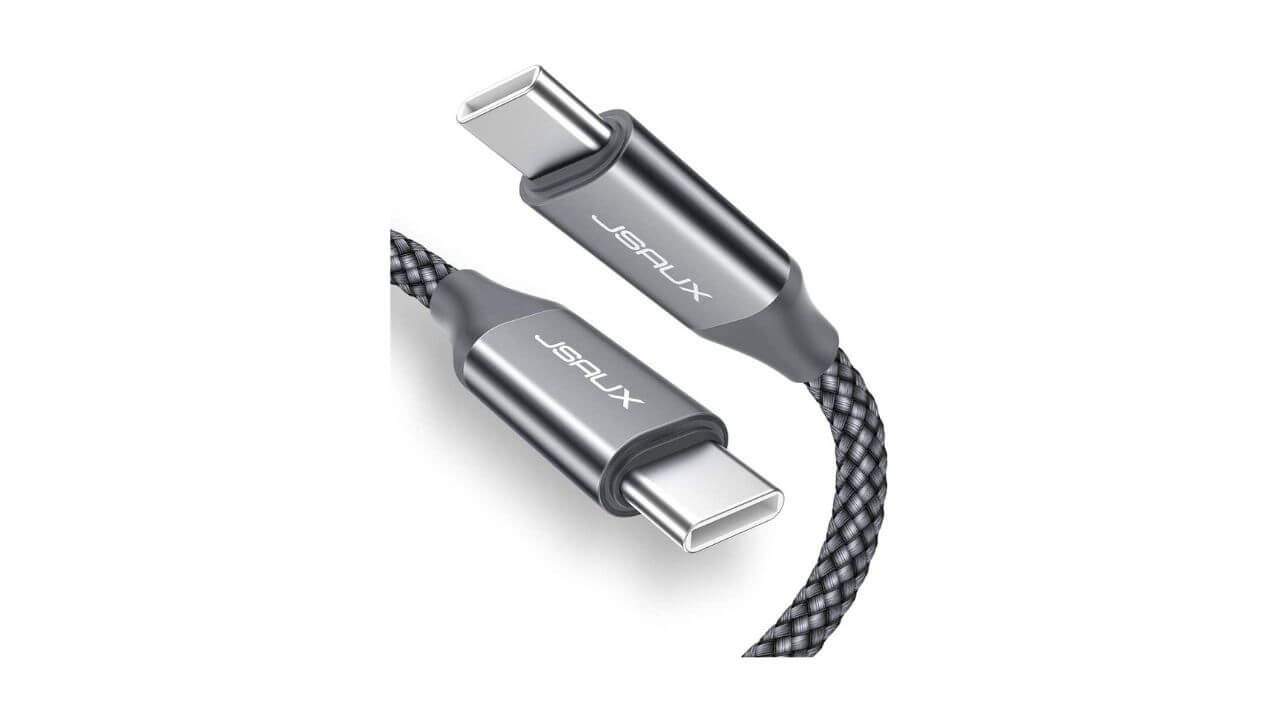 If you're looking for a budget-friendly braided USB-C cable, then this one from JSAUX is simply unbeatable. It is made from high-quality two-shade nylon that gives maximum protection to the cable, while 20000 bend tests suggest that it's highly durable too. Not to forget, this durable cable comes with an 18-months warranty. Make sure to get your hands on this cable by clicking the link below. 
Pros:
Made from durable nylon

Many color options

18 months warranty
Cons:
Doesn't support video output
3. ELECJET PowerPie 20000mAh Laptop Power Bank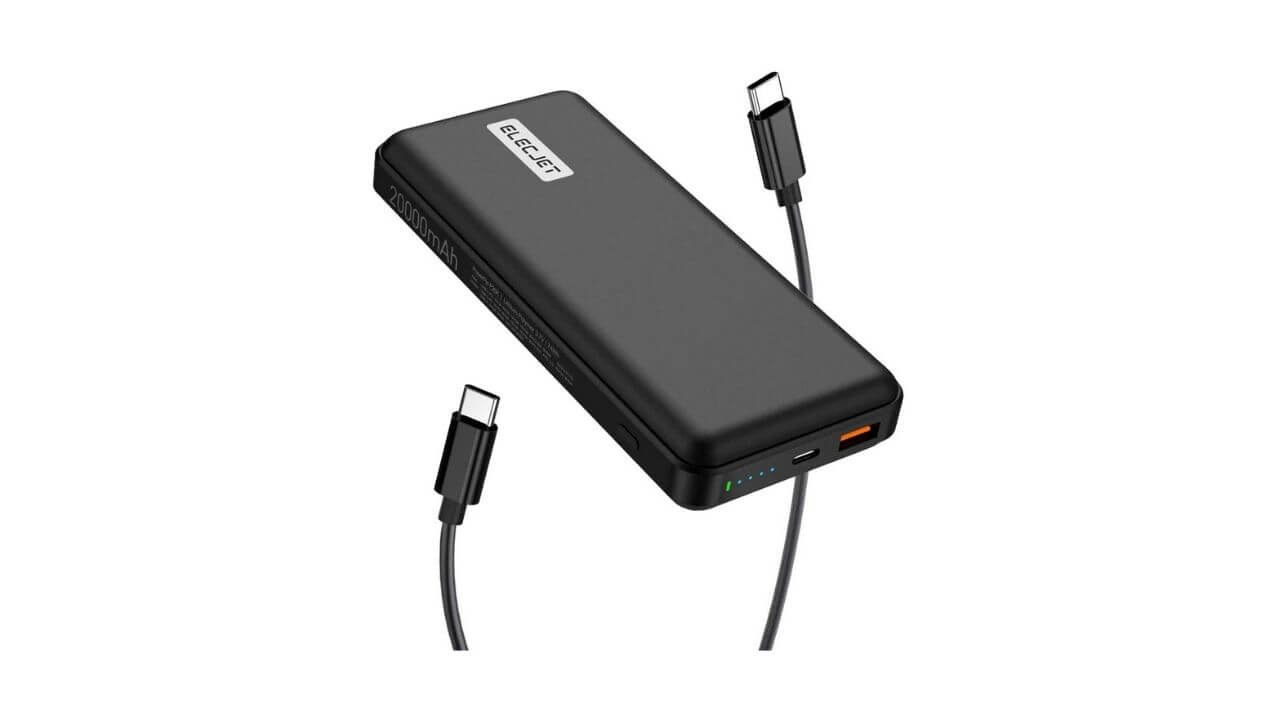 Are you worried about charging your latest MacBook Air while traveling? Here's a powerful laptop power bank from ELECJET for the same. It comes with 45W PD that ensures that your MacBook is charging rapidly. It features a pocket-friendly design and padded outer shell to give a good grip to the surface it is kept on. You will get a power book, a 3.3ft USB-C cable, a microfiber pouch to carry a power bank as well as a guarantee card with 24*7 customer support. 
Pros:
Supports fast charging

Includes USB-C cable and carrying pouch

Works as a regular power bank  
Cons:
With that, we have come to the end of this roundup on the best accessories for the M1-powered MacBook Air in 2021. If you find some of them useful, let us know through the comment section below.