LG has entered the competition with Samsung in the "Lifestyle" TV category. The Korean tech giant's two new launches, The Easel, and Posé are the newest additions to the company's pricey Objet range. Before we learn more about these super expensive TVs, let's find out what is a lifestyle TV and how is it different from a regular TV.
What is a lifestyle TV?
Television technology has evolved to fit our way of living well over the years, bringing us fantastic image quality, the largest and brightest of displays, Wi-Fi connectivity, high refresh rate support for gaming, and more.
Simply put, unlike a regular premium TV which looks good only when the display is turned on, a lifestyle TV looks good even when it is off. Lifestyle TVs have totally different build and design approaches with subtle colors to match the modern decor. It's a fast-emerging TV category that encompasses more innovative and state-of-the-art technologies than what the industry leaders have used in the past.
Also read; LG Display's Media Chair offers a glimpse into the future of curved OLED TVs
LG's 2022 Lifestyle TVs: Posé and Easel 
The latest addition to the Lifestyle TV market is LG's Posé and Easel as part of their Objet collection. When you see LG Posé or Easel at first, you will not think of them as a TV. Instead, you will see them as easels, a stand that painters use to showcase their paintings.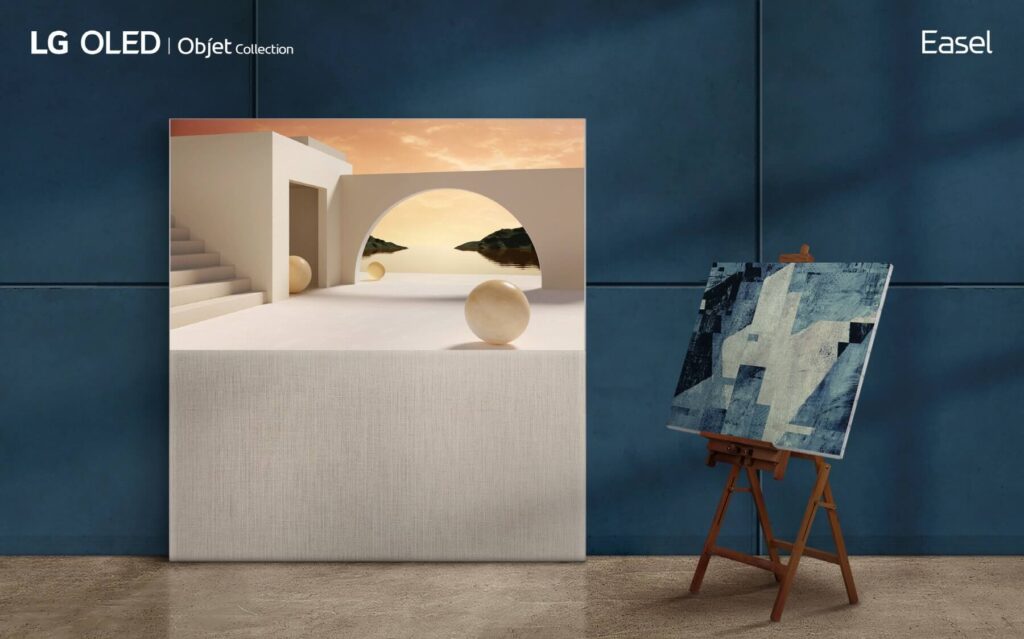 LG Easel has a moveable fabric cover that covers the screen, giving the display an even easel-like appearance when it is switched off. LG partnered with Moooi, a Dutch lifestyle company, to create these captivating TVs. Both these lifestyle TVs are powered by LG's signature OLED Evo technology that was previously seen in the company's best-selling premium models. This indicates that not only will they look good in all lighting setups but they will not be cheap.
Also read:- Updated: Best TV Stands in 2022 [Buying Guide]
The Posé is the smallest of the two new LG lifestyle TVs and is expected to be less expensive and slimmer, just like Samsung's Serif lifestyle TV. However, let's compare it to LG's biggest competitor, "
The Frame". The Frame is a feature-packed affordable lifestyle TV by Samsung. It offers a Gallery Mode that makes it look like you're looking at a framed picture, hence the name The Frame TV. Based on the early press announcements, LG's new lineup will offer a Gallery mode similar to The Frame's picture mode.
The LG Posé features slightly rounded edges and a relaxing, subdued beige tone that makes it look like a bespoke furniture piece or art object. Posé's remarkable elegance can be appreciated from any vantage point because it's visually pleasing from all angles and its design blends well with any décor.
Thanks to an in-built cable management system that minimizes cords and clutter while fostering a clean and tidy area at all times.
The pricing of these LifestyleTVs has not yet been announced; we will have to wait for the event for LG to launch its high-end Posé and Easel Lifestyle TV.
Both of LG's new lifestyle TVs are going to be launched during the Milan Design Week at Salone del Tessuti,  between June 7 to June 12, 2022.
Don't miss:- Best OLED TVs for PS5 in 2022