The much-awaited Apple event, WWDC 2022 had a great start on 6th June with a much-needed software update for all Apple device users. The Cupertino tech giant announced macOS Ventura along with a bunch of new products like iOS 16, iPadOS, an all-new MacBook Air powered by the M2 chip, and much more. This update will improve the user experience on macOS with more robust ways to share and collaborate across the Apple ecosystem.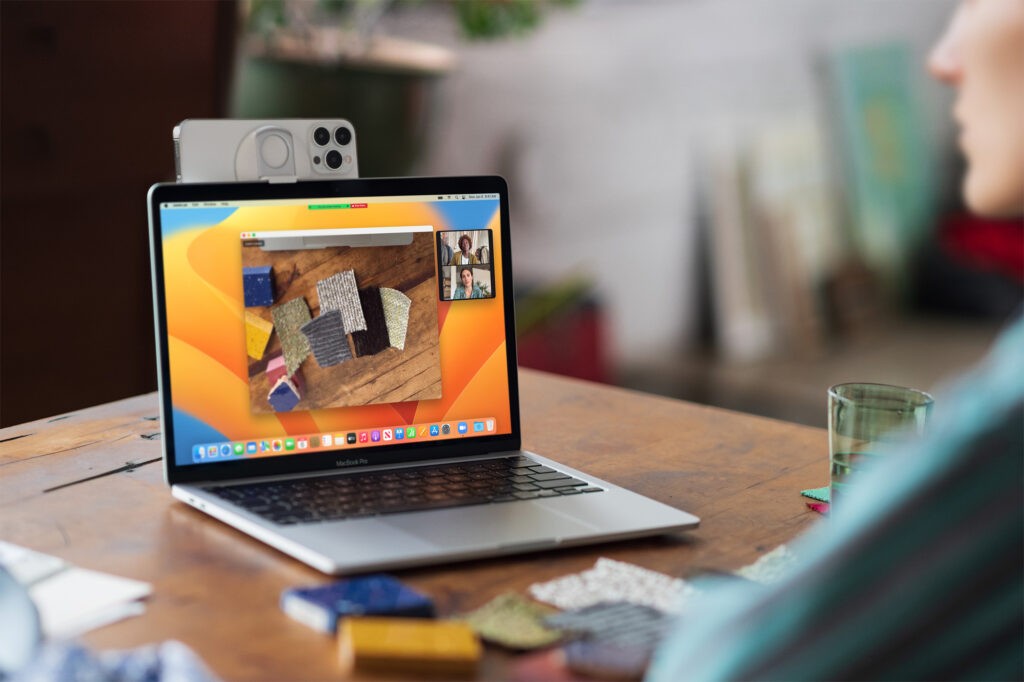 The New macOS Update: macOS Ventura
macOS Ventura is the latest version that was announced for the Macs at WWDC 2022. The updates bring a lot of benefits to the plate for all iOS and Mac users. 
If you are a Mac user, and you have found working with Mac and other Apple devices challenging or cumbersome. Well, then this new update will bridge the gap between all Apple devices to make your macOS experience buttery smooth. 
So let's learn more about the best macOS Ventura features. 
Top
Features of macOS Ventura
1. New Wallpapers 
If you are bored with your previous macOS Monterey wallpapers, you would be happy to know that the 2022 macOS update has new wallpapers. It consists of a blue background and an abstract figure in orange tones. Furthermore, it comes with light and dark mode support, which changes the wallpaper's color tones to dark blue and red, respectively.
Also read: Best Monitors for M1 Mac mini in 2022
2. Stage Manager
This macOS Ventura feature will mechanically help you sort multiple opened apps on your device. All your opened apps will be placed on the left side of the screen, and the one you are using will stay in the center. This will allow you to work on the primary app with one-click access to other background apps. Users can also move apps from the dock & desktop to create app sets for efficient workflow.
You can activate this feature directly from the Control Centre to increase your productivity with less distraction. Please note, that the Stage Manager also works on M1-powered iPads. 
Also read: MacBook Pro Touch Bar not working? Here are 10 ways to fix it
3. Passkeys
Moving away from the outmoded way of using passwords, Apple added a new Passkey function that allows users to log in to websites using Face ID or Touch ID rather than a password. This feature will safeguard your account from website leaks and phishing attacks by giving you password-free sign-in.
According to Apple, Passkeys are substantially more secure than passwords because Passkeys are end-to-end encrypted and never leave your device, unlike regular passwords. 
Also read: Best Thunderbolt/USB-C Adapters for M1 iPad Pro in 2022
4. Tab sharing in Safari
Planning a trip or a project with your team or friends? This new macOS Ventura feature will make group research a breeze. With the Shared Tab groups feature, you will be able to share a group of tabs with your friends, family or colleagues and collaborate in real-time. For this, you must go to the Safari menu bar and share the tabs you use with your friends. 
Also read: Best SSDs for the M1 iMac in 2021
5. Improved Spotlight Search 
This new feature Spotlight has been improved and can now search text recognized from images. Furthermore, you can even search for things like objects, locations, scenes & more in macOS Ventura. You will also be able to see a quick preview of a file that you found in the Spotlight. This will help you save a lot of time and the hassle of opening files manually.
Also read: Best USB Adapters and Hubs for M1 Mac mini in 2022
6. Facetime with a new feature
The macOS Ventura builds on Apple's Continuity feature, which allows you to work and enjoy media seamlessly across your Apple devices. Facetime has gotten a much-needed accessibility upgrade this year. As you move your iPhone close to your Mac, it would "hand-off" an ongoing FaceTime call from your iPhone to your Mac without disconnecting the call. You can easily hand off ongoing Facetime calls from your iPhones, and iPads to your Mac and vice versa. 
Also read: Best External Monitors for 14-inch and 16-inch  MacBook Pro
7. New Mail features
The upgraded Apple Mail brings a new undo sent mail feature. This macOS Ventura feature will allow users to recall an email right after the moment they have sent it. The Mail app can now automatically detect if there should have been an attachment in a ready-to-be-sent email. If you click the send button without the attachment, you will get a pop-up reminding you of the attachment. 
You will also find the option for "schedule send" and "follow-up" features in the 2022 macOS update. The above-mentioned features are also available on iPadOS 16 as well as on iOS 16.
Also read: Best Father's Day Tech Gifts for Dad in 2022
8. Recall and edit Messages. 
macOS Ventura allows you to edit the message you have sent. Furthermore, you can also recall a sent message within 15 minutes of sending it. Users can also use SharePlay on the Messages app across devices running iOS 16 or iPadOS 16.
Devices compatible with macOS Ventura
This 2022 macOS Ventura will be supported on the following Mac devices:-
Mac Studio

iMac Pro

iMac (2017 or later)

Mac Pro (2019 or later)

MacBook Pro (2017 or later)

MacBook Air (2018 or later)

MacBook (2017 and later)

Mac mini (2018 or later)
How to download macOS Ventura
If you want to download macOS Ventura, then you should know that it is currently available as a developer preview. Developer previews are not very stable and have a lot of bugs that could result in issues like overheating. We recommend either waiting for the public beta release in July or installing it on a secondary device to test out new features. 
Apple has also reported that the final version of macOS Ventura will be available to download for all compatible devices by the end of this year. 
Also read: Best USB-C Adapters for 14" and 16" MacBook Pro in 2021