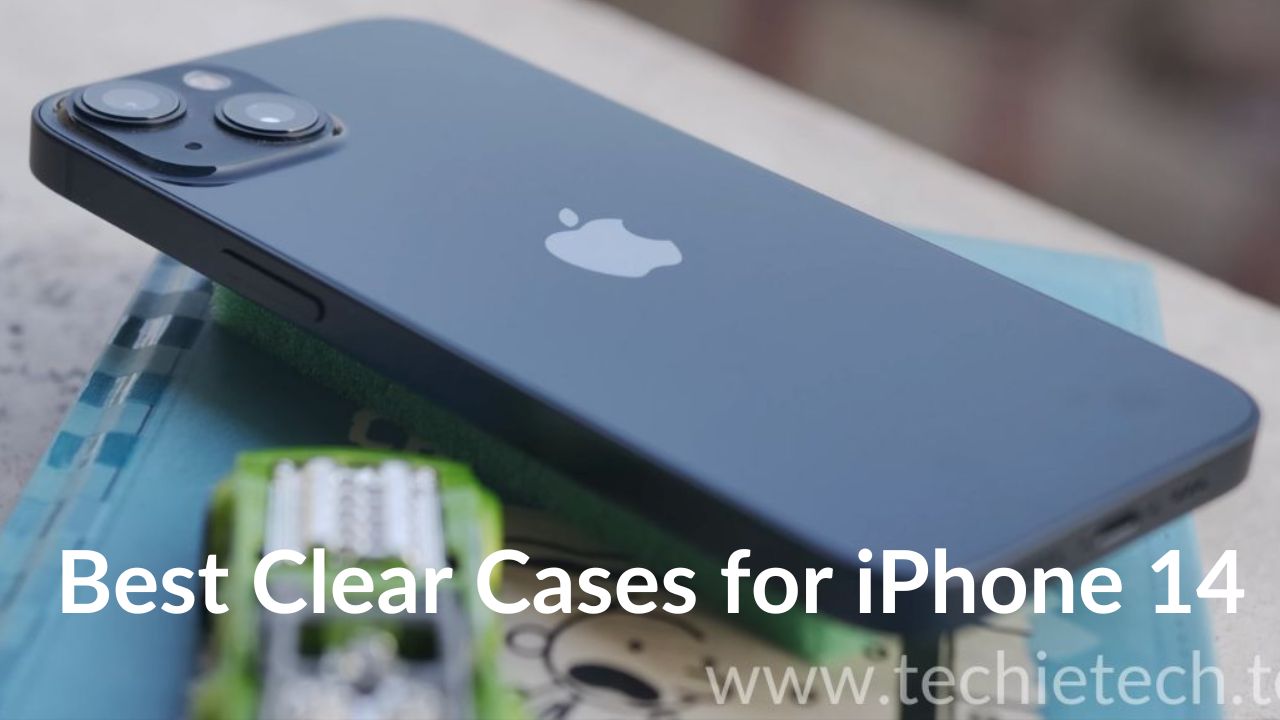 iPhone 14 series has launched! With that, we have seen some amazing iPhones in different sizes and with different features. Apple has launched 4 different iPhones this year- iPhone 14, iPhone 14 Plus, iPhone 14 Pro, and iPhone 14 Pro Max. In this article, we will cover the base model of the iPhone which is the most affordable of all 4 iPhones. With a 6.1-inch Super-Retina XDR display, upgraded A15 Bionic Chip, and dual camera setup this is by no means a cheap iPhone. If you break your phone accidentally, you have to spend hundreds of dollars to repair it and we don't want that. 
We all know the pain when you have to spend extra bucks just to get your favorite color of iPhone 14 and then end up putting an ugly-looking case on it. Clear cases are the ultimate solution to this problem. If you are someone who likes protection without compromising on looks, clear cases are the best way to do that. Here we have rounded up the best clear cases for iPhone 14 so you can flaunt your iPhone while protecting it.
You can pick from the slim case, hardback cases, hybrid cases, and even super protective clear cases for iPhone 14 considering the level of protection you need for your iPhone 14. 
With so many identical clear cases available in the market, it can be quite confusing to pick a decent one. We have simplified the work for you after spending hours of testing and researching clear cases, we have rounded up the top clear cases that you should buy for iPhone 14. To help you narrow down the choices we have taken into account personal experience, brand value, online reviews, product compatibility, after-sales support, and extra features. 
We are anticipating that you are going to buy iPhone 14 or you have already bought iPhone 14. Here are some roundups that you will find helpful while shopping for iPhone 14 accessories. 
Best Clear Cases for iPhone 14 [2023 Edition]
1. Spigen Liquid Crystal Clear Case
Lightweight Slim Clear Case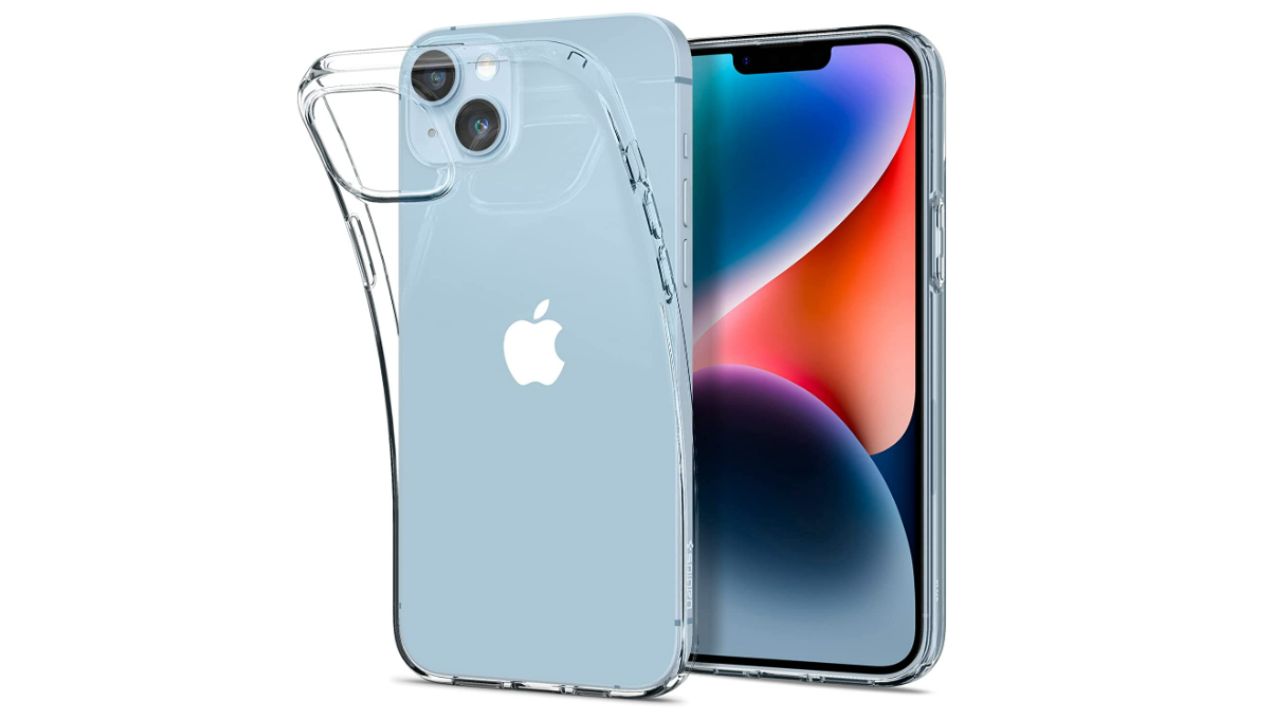 While transparent cases might vary based on the material used, this is a clear TPU case with no extras. It's your standard transparent case for the iPhone 14, which is flexible and fits snuggly around the device. The sleek design means that you will not feel any increased thickness when using the phone. It is, however, shiny, so expect fingerprints to pile like a crime scene.
We wouldn't suggest this case if you frequently drop your phone. The Spigen Liquid Crystal case can guard against scratches and scuffs, but we're sure it won't holds up against drops. Furthermore, because it is entirely composed of TPU, it will inevitably become yellow over time. If you are looking for a slim basic TPU case, then go for this one, or, if you want some protection from minimal drops as well then buy a Spigen Ultra Hybrid Clear Case with a kickstand for iPhone 14 (our personal recommendation).  You can also check out the glossy clear case with MagSafe and a frosted matte clear case for better grip. 
Reasons to Buy:
Raised bezels for sufficient protection

Super-slim profile

Brand Assurance
Where it falls short:
Attracts fingerprints

Not the best protective clear case
Also read: Best Clear Cases for iPhone 14 Pro Max
2. i-Blason Ares Clear Case
360 Degree Protection for your iPhone 14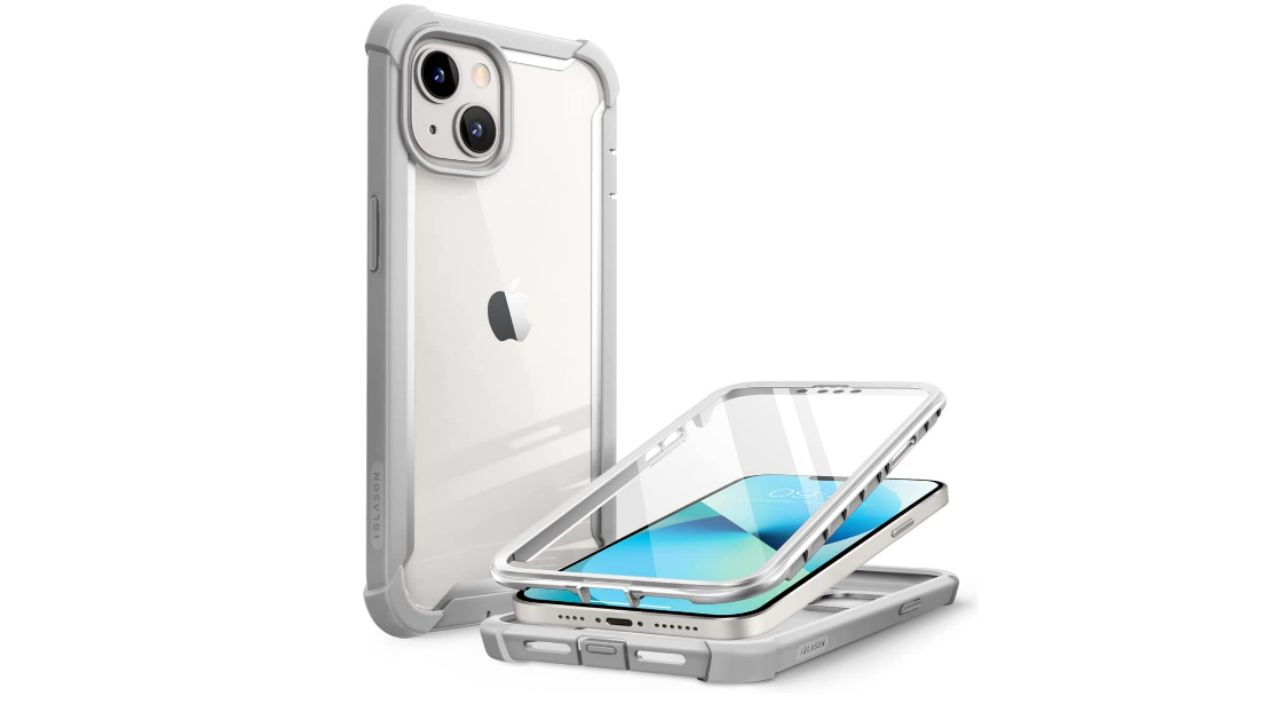 There aren't many clear rugged bumper cases, but this one from i-Blason sticks out. The polycarbonate back accentuates your phone, while a strong TPU surrounds the sides to reduce impact. A single glance at the edges reveals how protective this case is.  It's a transparent case with an integrated screen protector, so you won't need to purchase one separately. Needless to say, a protective clear case like this adds a lot of heft, which may make the phone slightly heavy to use for extended periods. The precise cutouts and tactile buttons across the cover ensure the smooth functioning of your iPhone 14.
The majority of the reviews are positive, and they don't complain about the extra weight and thickness because that's the price you pay for world-class protection. This case is available in 7 attractive colors that match your iPhone 14.
Reasons to Buy:
Front and back protection

Raised camera and display bezels for scratch protection

Compatible with wireless chargers

Value for money
Where it falls short:
Also read: How to Turn ON/OFF Always ON Display in iPhone 14 Pro
3 Otterbox Symmetry Clear Case
One Of The Most Reliable Protective Clear Cases For iPhone 14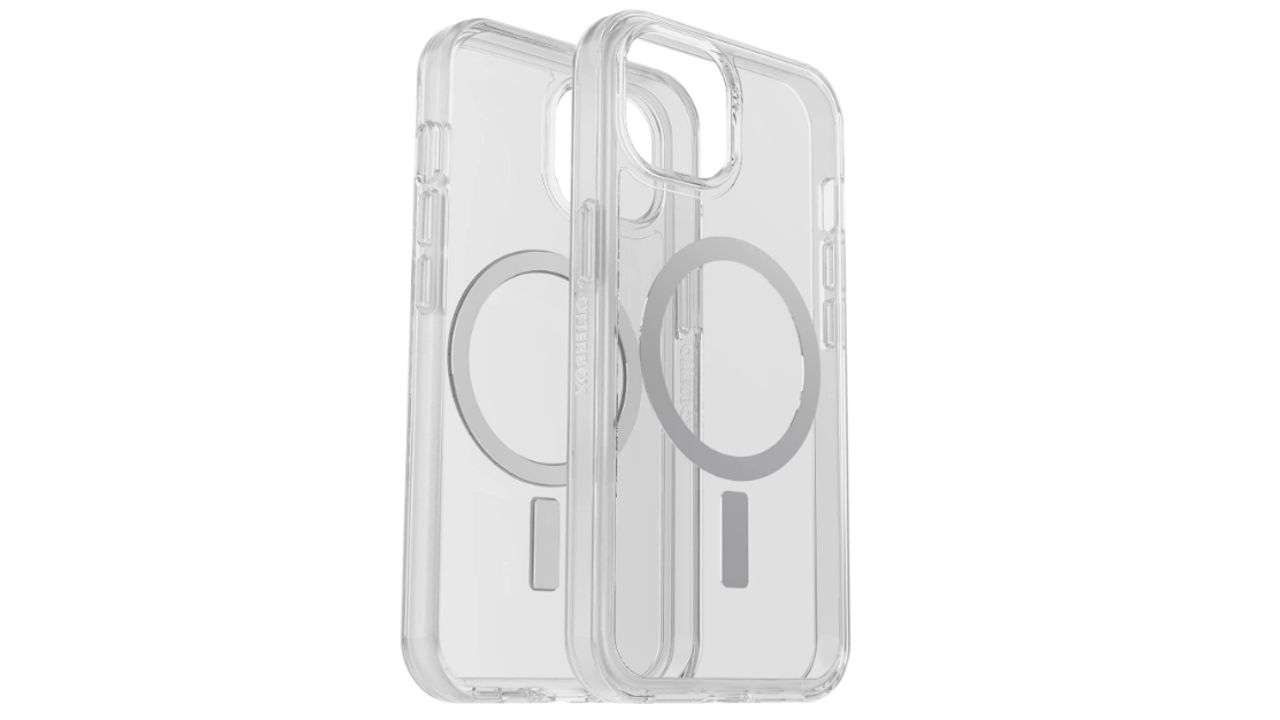 Otterbox is famous for its durable and tough cases, so this is an excellent choice if you want the utmost protection for your iPhone. Aside from the solid protection, another reason to purchase this case is the shortage of transparent protective cases for iPhone 14 with MagSafe compatibility. If you're searching for this particular use, this is a clear case you should check out. Otterbox states that this case was made with more than 50% recyclable plastic. So, if you are concerned about the environment, you will be impressed by the overall build quality.
The one-piece design is extremely thin for a comfortable fit. The leading iPhone accessory brand claims the case will withstand three times the number of drop tests required by military standards. It also has raised edges around the screen and camera and works with MagSafe and wireless charging.  This rugged clear case for iPhone 14 is compatible with Otterbox screen protectors if you want that extra layer of protection on the front. 
If you're looking for a bulky rugged clear case you can also look for the DefenderXT series for iPhone 14.
Reasons to Buy:
Slim yet sturdy clear case

Limited lifetime warranty

Survives 3 times more drops from military grade standard

Comes in a clear glitter and translucent black variant as well

MagSafe compatible
Where it falls short:
Doesn't have an anti-yellow coating
Also read: Top Cases for the Most Expensive iPhone – The iPhone 14 Pro Max
4. Apple Clear MagSafe Case
One of the Most Recommended iPhone 14 Clear MagSafe Cases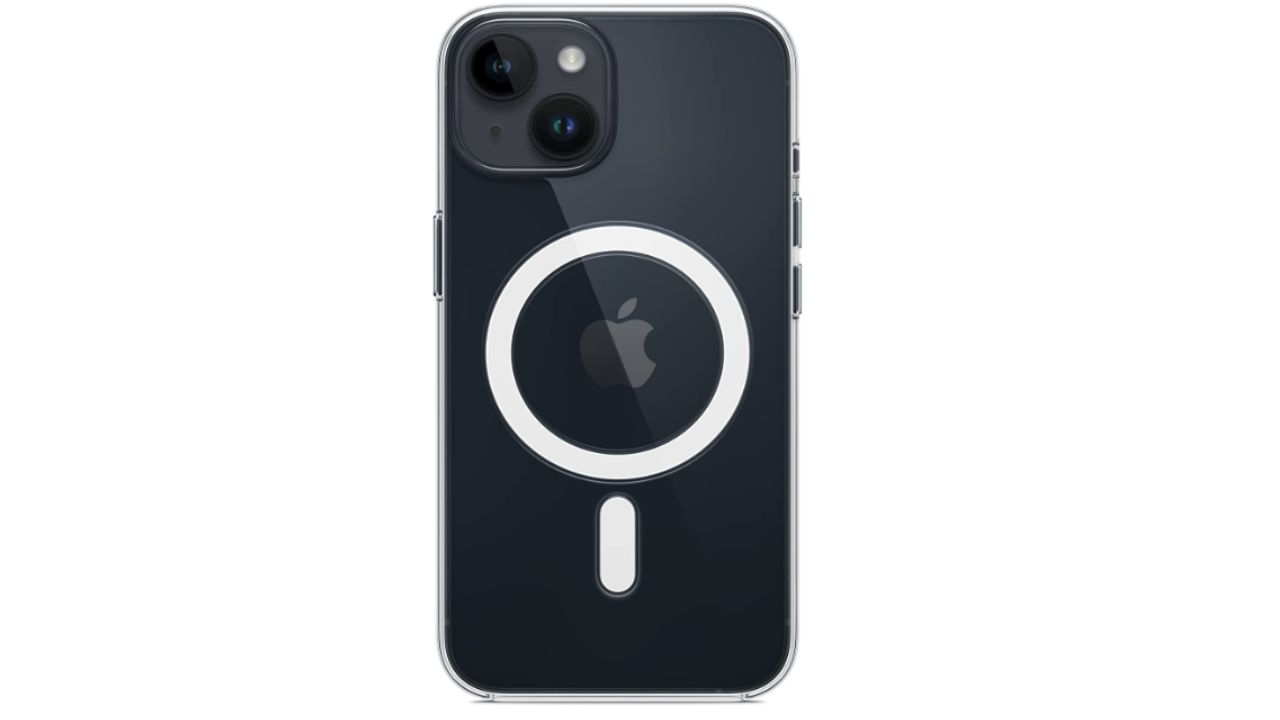 Manufactured by Apple for Apple! If you wish to keep things first-party, Apple's Clear Case is the finest choice. It's lightweight, so it won't make your new iPhone 14 awkward for everyday use. The Apple transparent case is decent , but not as fantastic as the asking price suggests. Because it's rather thick, it should provide adequate protection for your iPhone 14 Pro Max. the biggest advantage of this clear case is it won't turn yellow that easily as compared to other third-party clear cases for iPhone 14. The white MagSafe ring on the rear allows you to attach accessories like wallets and power packs. 
Aside from the higher cost, another disadvantage of this case is that it is not the toughest clear case available and can easily take damage upon heavy drops. If you often drop your phone, or simply take your phone case on and off often the corners may snap. This is not the case for people who frequently change their iPhone cases. 
Reasons to Buy:
Fits perfectly 

MagSafe is compatible with accessories and charging

Doesn't turn yellow easily
Where it falls short:
No bumper protection

Very expensive
Also read: Best Wireless and MagSafe Chargers for iPhone 14 Series
5. Raptic Shield clear case
Good Looks and Good Protection in One Package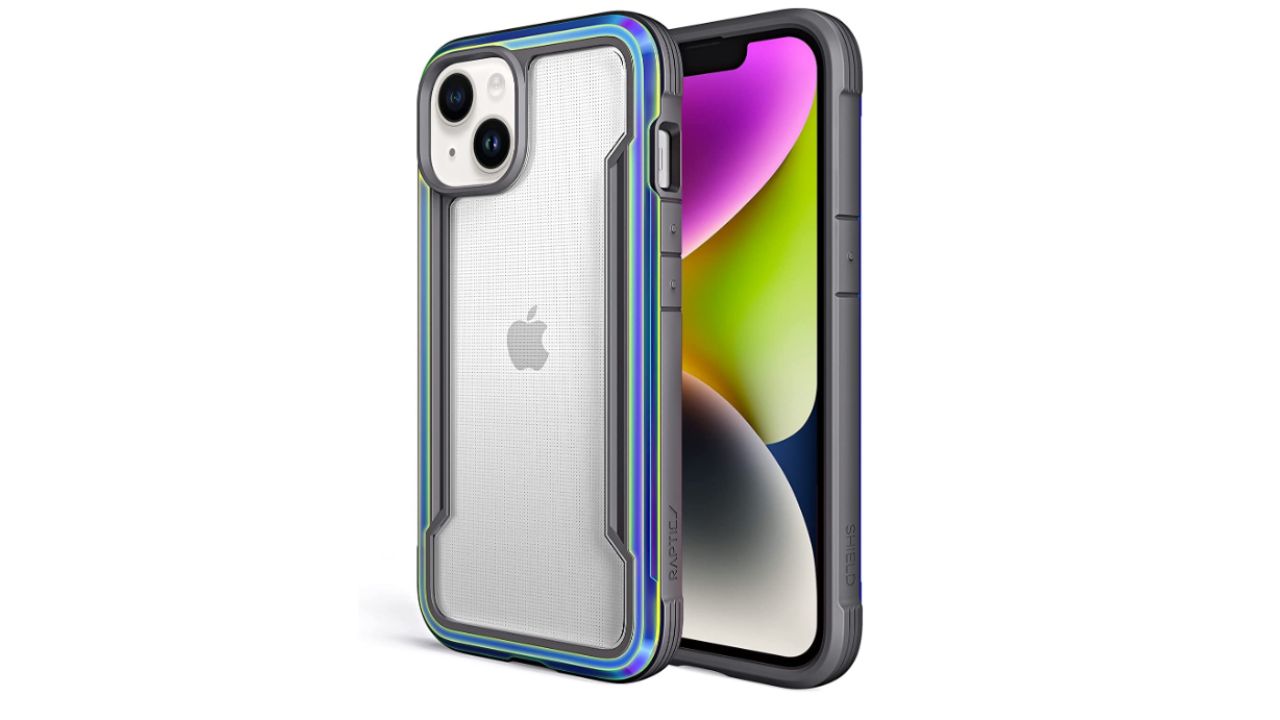 The Raptic Shield clear case is one of the most sturdy and good in-hand feel clear cases to protect your iPhone 14. This transparent protective case is military-grade certified, ensuring maximum protection against accidental damages like drops from up to 10ft, knocks, fumbles, and shocks. This iPhone 14 clear case features raised lips to protect the screen and a triple-rear camera. The wraparound bumper shockproof edges do a good job of protecting the bright display from scratches and breaking if you tend to drop your phone from the kitchen countertop or workstation table.  The case comes in 3 different colors to choose from. 
Reasons to Buy:
Military-grade drop protection

Compatible with MagSafe charger

Precise cutouts and raised bezels

Good in-hand feel
Where it falls short:
No pronounced buttons make it difficult to press
Also read:  Best iPhone 14 Pro Accessories you should Buy now
6. ESR Air Armour MagSafe Clear Case
One of the Most Reliable Protective iPhone 14 Clear Cases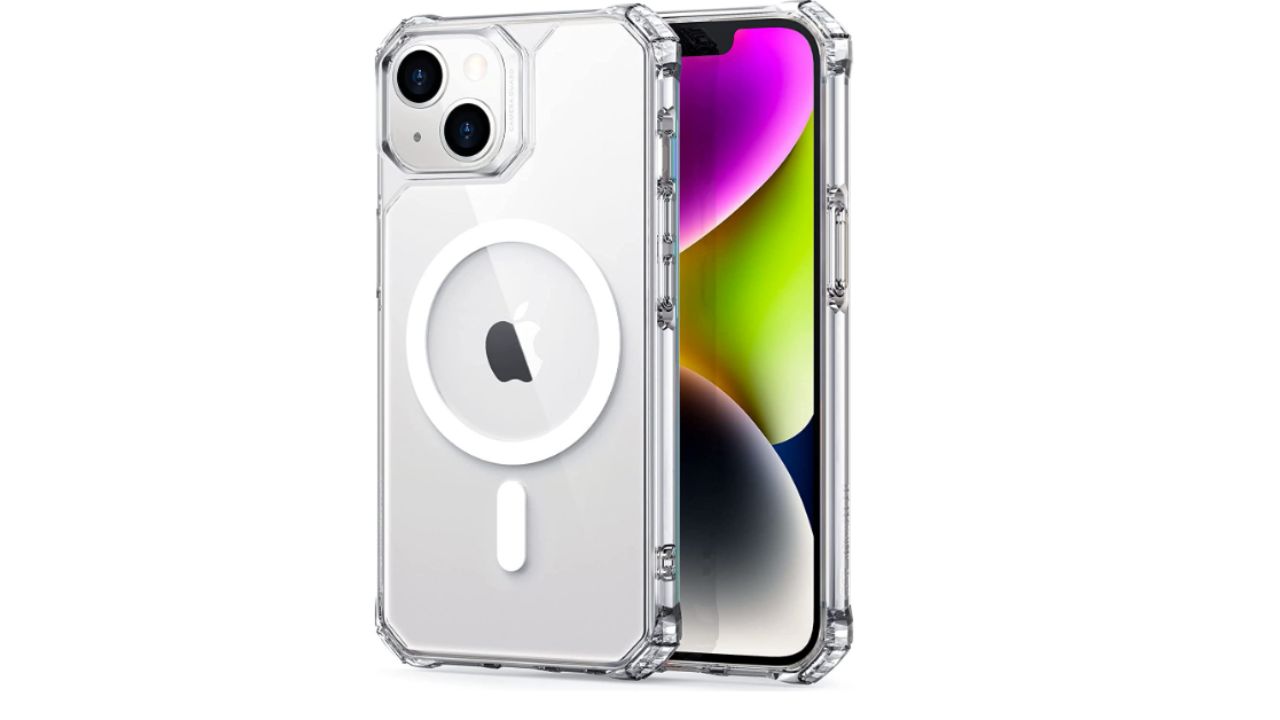 Are you looking for a crystal transparent iPhone 14 case that comes with military-grade protection? Just get the ESR Air Armor clear case for iPhone 14. This basic yet durable transparent back cover is constructed of a hardback, flexible frame, and Air Guard corners, which provide military-grade protection for your iPhone anytime it is subjected to a harsh impact. This case is drop-tested and guarantees endurance against stubborn scratches that might affect the overall appearance of your treasured iPhone 14. Apart from that, the crystal clear transparent hardback highlights the flat glossy back appearance and beautiful colors. The raised lips included in this cover protect the screen and camera bump from tough scratches. If you don't have MagSafe chargers and accessories there's also a regular (non-mag) variant of this clear case for iPhone 14.
If you like to watch movies and shows or attend meetings or video calls from your iPhone 14 Pro- there's also a kickstand clear case for iPhone 14.  You can also buy a hybrid clear case for iPhone 14 or a slim clear case for iPhone 14 from ESR.
Reasons to Buy:
Affordable case with military-grade protection

Air Guard corners for shock absorption

Scratch and shock-proof

Comes in 3 clear models
Where it falls short:
MagSafe only works well with chargers, not all accessories.
Also read: Best Cases to Buy for iPhone 14 Plus
7. LK Clear Case
The All-in-one Package for iPhone 14 (Clear Case + Tempered Screen Guard + Lens Protector)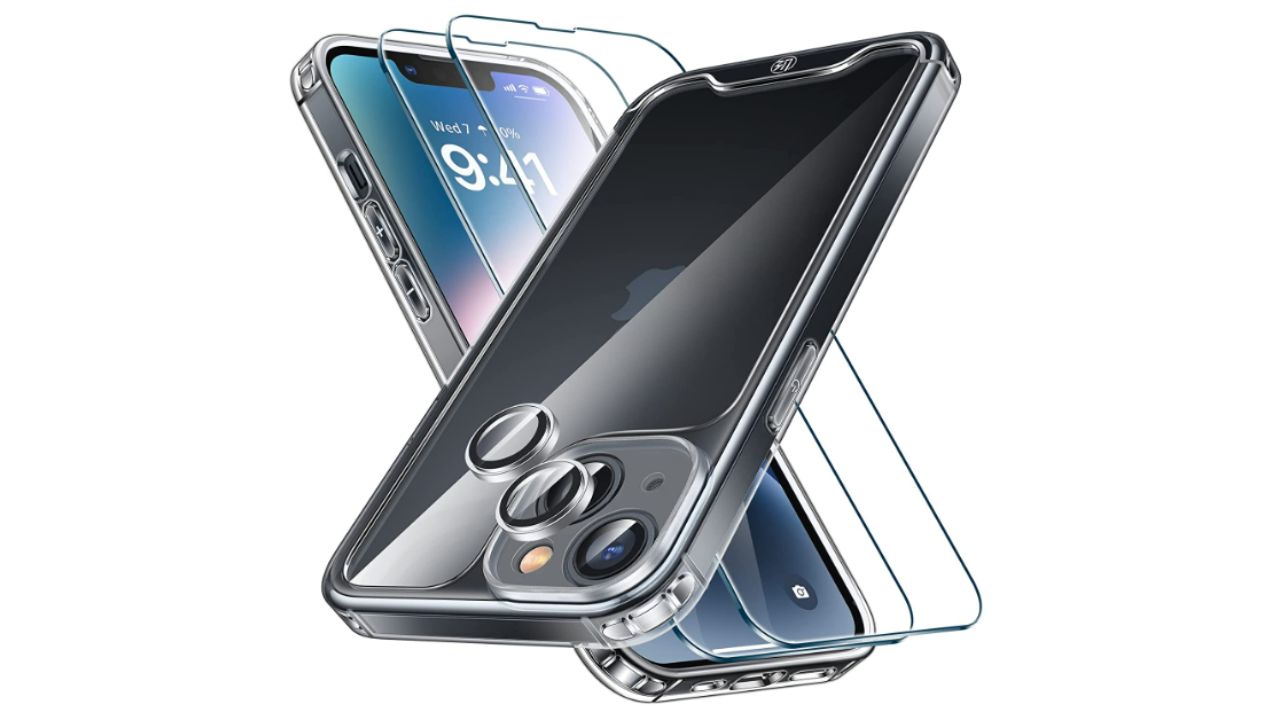 This transparent cover is ideal for those looking for a low-cost clear case for their iPhone 14. This case is constructed of an ultra-slim TPU bumper and a tough Polycarbonate shell to protect your phone from daily bumps and drops. It has a thin and clear design. In addition, shock-absorbing bumpers on the edges safeguard your iPhone from accidental drops and shocks. Furthermore, the bundle contains three tempered glass with a hardness of 9H, which will be useful in safeguarding the retina display. There is also one pack of camera lens protectors giving your iPhone 14 clear 360-degree protection.
Reasons to Buy:
360-degree protection

Affordable yet sturdy

Includes screen protectors and camera lens protectors
Where it falls short:
Camer lens protectors require precision for installation
Also read:  Best Lock Screen Widgets for iOS 16
8. SUPCASE Unicorn Beetle Clear Case
One Of The Best iPhone 14 Clear Cases With Incredible In-Hand Feel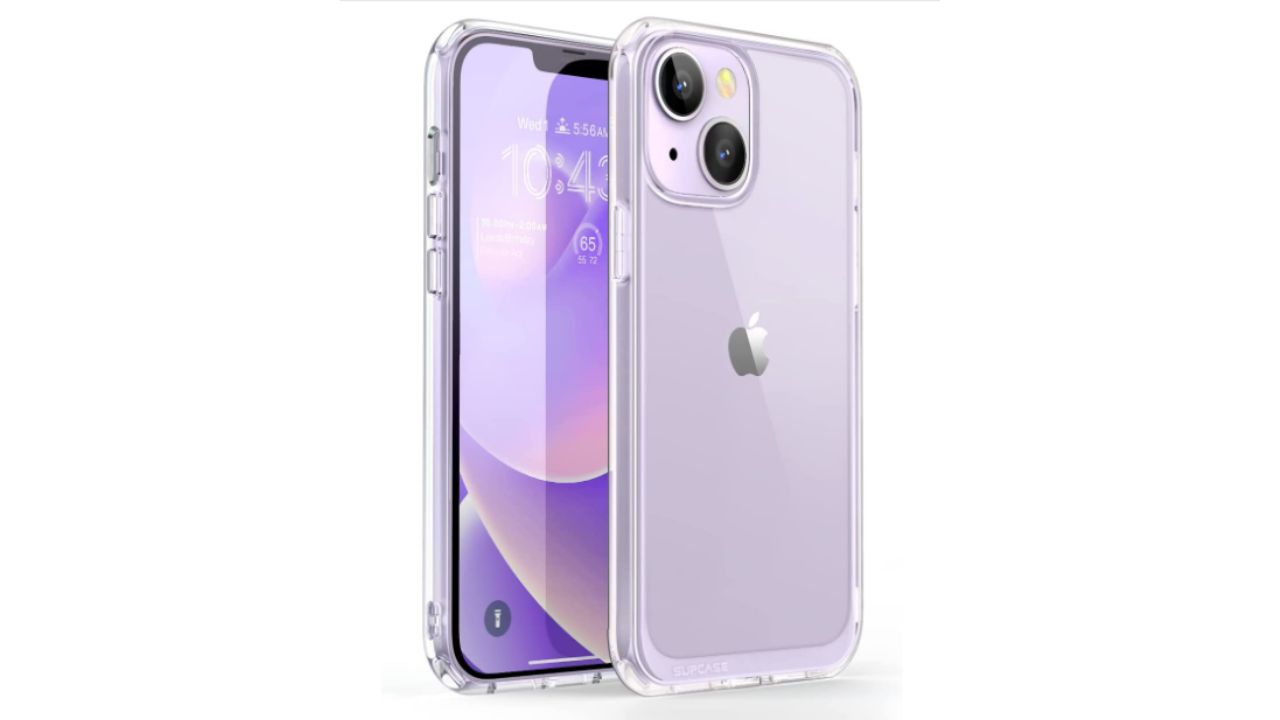 SUPCASE is known for providing superior protection and this clear case for iPhone 14  is no exception. This transparent iPhone 14 cover is built of durable PC materials that will protect your phone from minor bumps. You'll find shockproof edges for greater shock protection of the iPhone 14, which may come in useful if you drop your phone on a hard surface. Not to mention that it has raised lips to provide great scratch-proof protection for your smartphone. This s;im but robust protective transparent case allows you to show off the iPhone 14's back design and color. Overall, this is a budget-friendly clear case that comes in 7 attractive colors to choose from.
Reasons to Buy:
Slim clear case with amazing protection

Comes in 7 different colors

Military-grade protection with scratch resistance and raised bezels
Where it falls short:
Also read: iPhone 14 Battery Revealed: the Good, the Bad, and the Ugly
9. Torras Crystel Clear case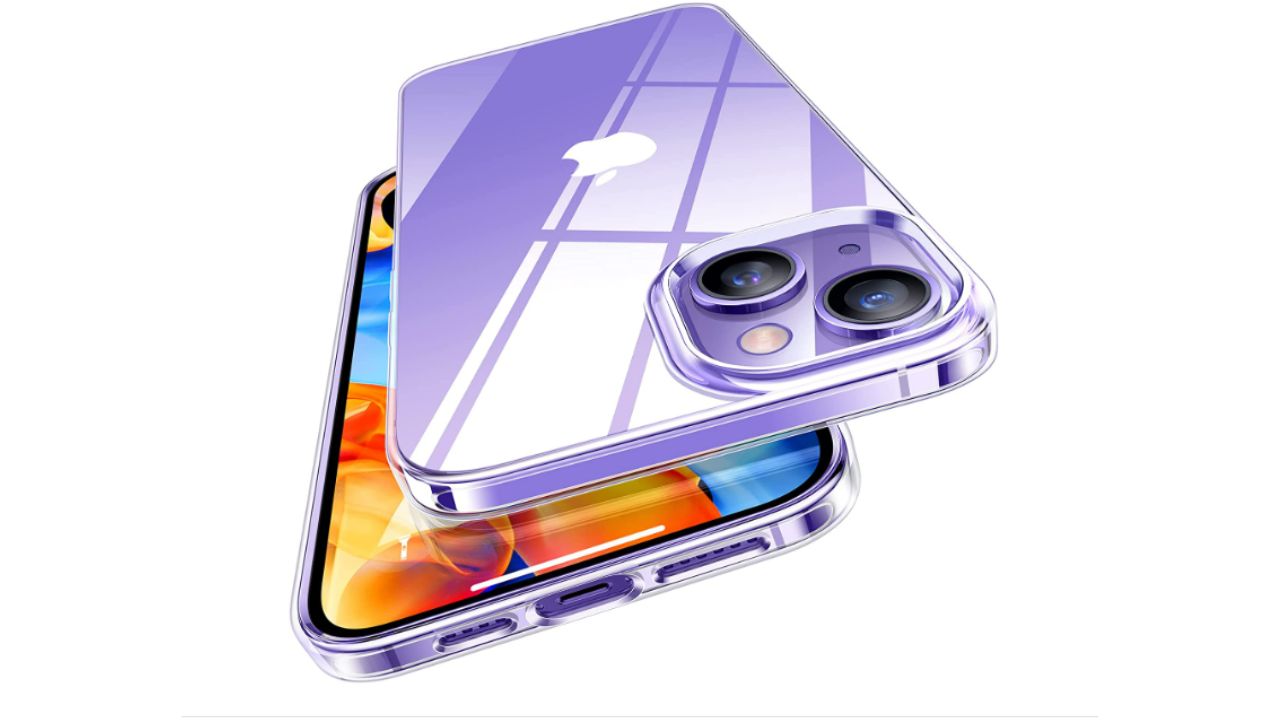 The TORRAS crystal clear case is composed of silicon and TPU which provides enough protection for the iPhone 14. It is one of the thinnest transparent cases available on the market. This TORRAS case is composed of anti-yellowing materials and is one of the most lightweight clear cases for iPhone 14. The raised bezels are useful for preventing scratches on the display and camera. It also works with all MagSafe accessories (except the super sticky feature) and has a limited lifetime guarantee. 
Reasons to Buy:
8-ft drop protection

Scratch protection and shock resistance

Lightweight 

Super easy to install and remove
Where it falls short:
The case might turn yellow over time
Also read:  Best Apps to Download for Your New iPhone  
10. Goospery Clear Case 
iPhone 14 Clear Wallet Case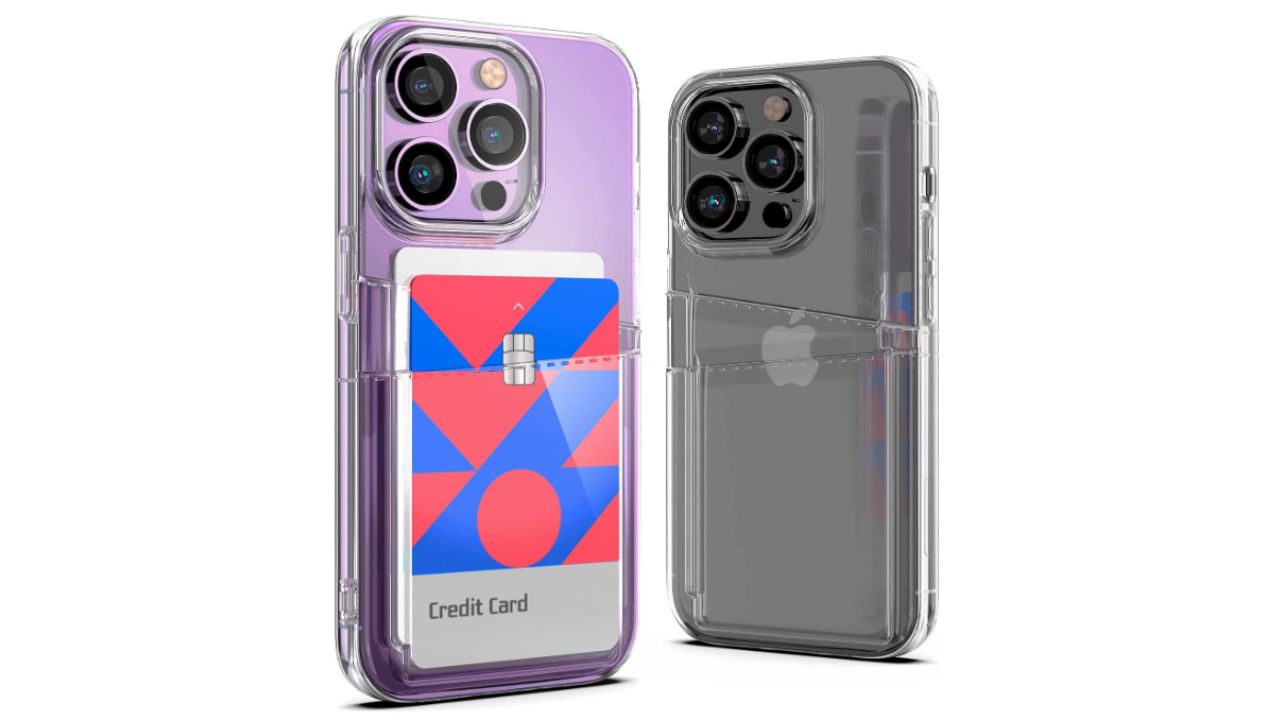 If you're looking for a decent protective clear case with card slots then this is the case for you. We all know the annoying moment in subways or checkout lines where you have to check for your card and it is lost in your bag. This functional iPhone 14 clear case will save you from embarrassment by storing your metro cards, credit, debit cards, or any other ID you use daily. Although, we recommend adding your cards to Apple Wallet. This case is focused on utility then protection, so you will not get drop protection but it will save your iPhone 14 from scratches. 
Reasons to Buy:
Functional clear case with 2 card slots

Decent protection
Where it falls short:
Also read:  What is Action Mode on iPhone 14 and How to use it
11. JeTech Clear Case
Best Value for Money Clear Case for iPhone 14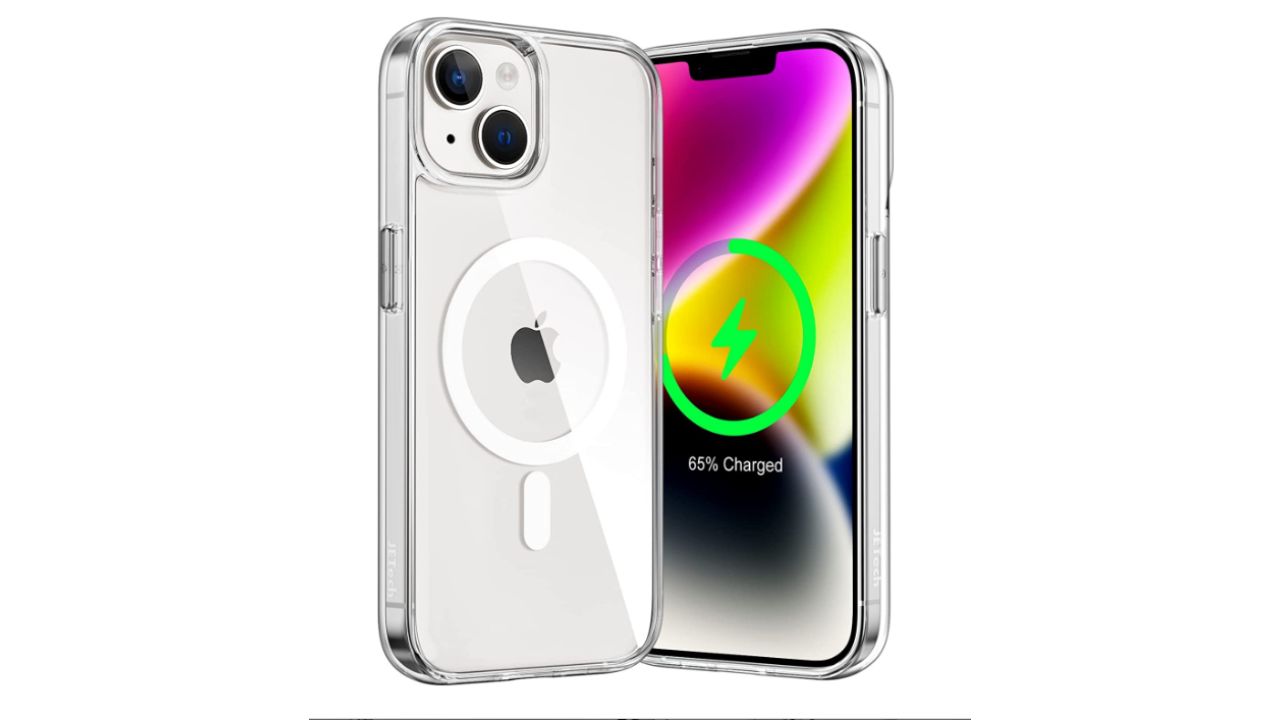 If you're searching for a budget-friendly clear cover for iPhone 14,  grab this one from JETech right away. This low-cost shockproof clear iPhone 14 case is a combination of TPU and PC materials to provide long-lasting protection against accidental damage. This clear transparent cover has an excellent grip and will be useful for people who do their texting and gaming before bed.
The case's lightweight and thin design make traveling with it on public transportation a snap. For scratch-proof protection, there are raised bezels surrounding the display and the camera bump of your iPhone. When the iPhone is dropped on hard floors, each corner has distinct shock absorption to prevent damage to the corners. Trust us, this clear case is worth every penny.
If you're looking for all-around protection, there's also a clear case with a 2-pack of screen protectors and lens protectors.
Reasons to Buy:
MagSafe compatible

Affordable option with solid protection

Better shock absorption due to bumpers

Raised bezels for extra protection
Where it falls short:
Not the most protective clear case
Another budget-friendly clear case for iPhone 14 that you can check out is from Elago. It is a hybrid clear case that will protect your iPhone 14 from any scuffs and damages. 
Also read: Best Lock Screen Widgets for iPhone [iOS16]
12. Case Mate BLOX clear case
iPhone 14 Clear Case with boxy finish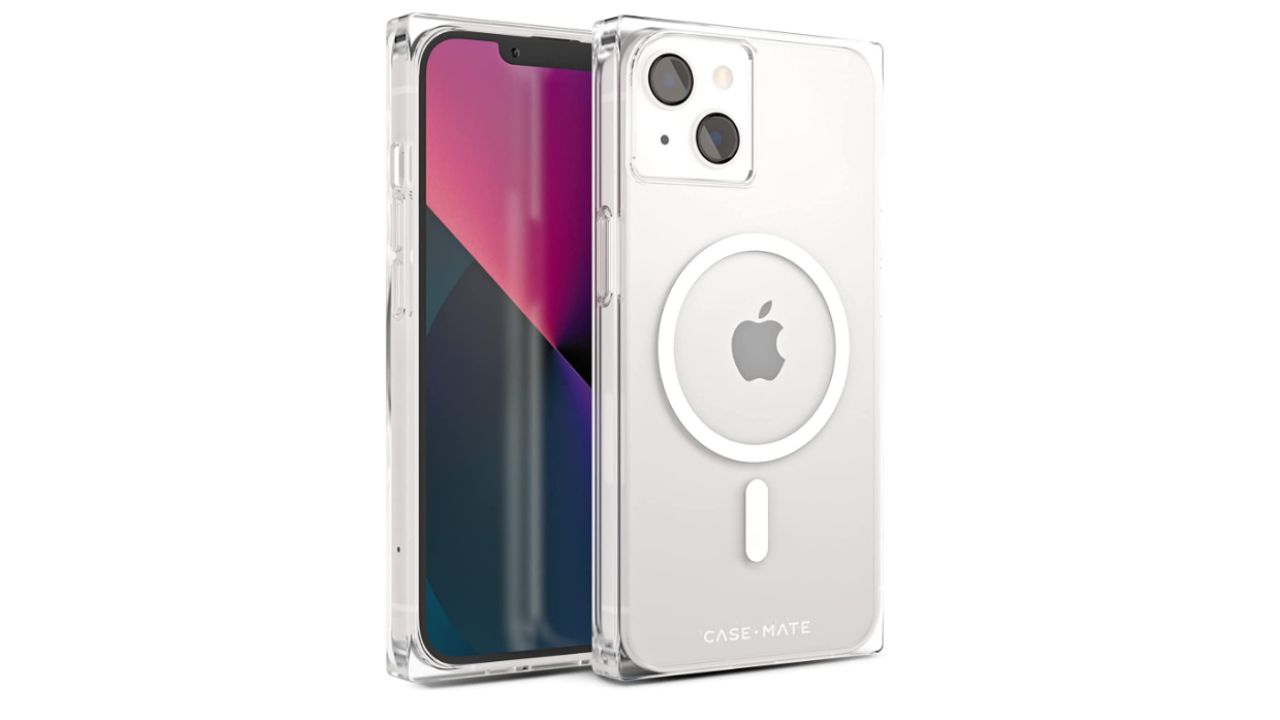 You're bored with the round edges of iPhones? Grab this cuboid shape case that will make your iPhone look sharp and edgy. If you're someone who is switching from Android to iOS the round edges of the iPhone will feel odd in hand at first and this case will make it easy to get accustomed to your brand-new iPhone. If you want a clear iPhone 14 case that works with all chargers, including MagSafe chargers, Case-Mate has you covered. Pun Intended. This model is specifically designed to work with MagSafe chargers and accessories, thanks to its built-in magnets. But it also has a slew of other features, including a soft-touch precision fit, 10-foot drop protection, and built-in antimicrobial case technology. We like that it's made with plant-based materials, and we especially love that it comes with a lifetime warranty. If you don't want a regular-looking clear case you can also buy the
rainbow-colored clear case for iPhone 14.
Reasons to Buy:
Rectangular outlook with shockproof corners

Lifetime warranty

Comes in 7 colors

5mm raised edges with shock-absorbing bumpers
Where it falls short:
Not the most appealing design
Also read: Does iPhone 14 Charge Faster than iPhone 13
13. Poetic Guardian Rugged Clear Case
Rugged Protection with Good Looks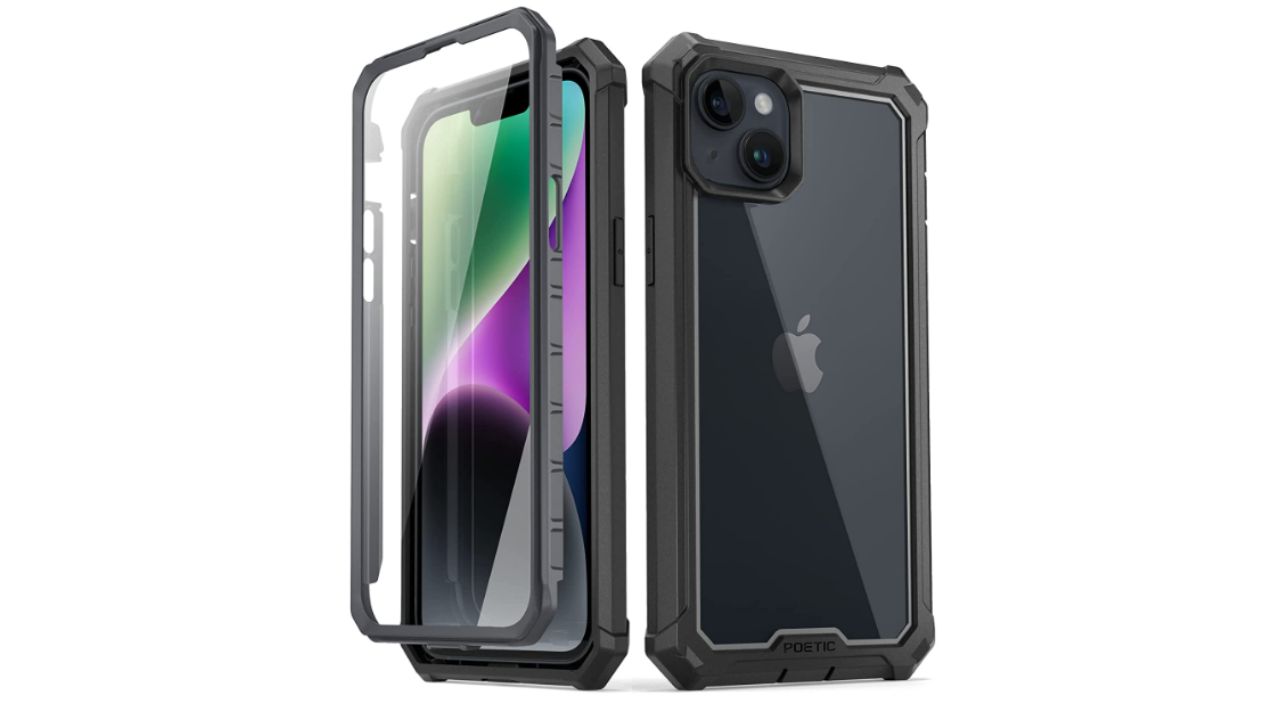 If your friends refer to you as Butterfingers, this case is for you! A thin clear case may not be enough to keep your iPhone's back or screen from shattering. This Poetic Guardian case protects your iPhone 14 from all sides, ensuring optimum protection in the instance of an accident. All while maintaining a clear back to see the phone's original color.
Another advantage of this case is that it comes with a screen protector that is attached to the frame on the front. While there is no doubt that this case provides excellent protection, you must also consider the additional heft it adds to your phone. If you don't mind adding a lot of thickness and weight, go ahead with this case. This rugged clear case comes in 5 attractive colors to match your iPhone 14.
Reasons to Buy:
Built-in screen protector

5mm raised edges for amazing shock protection

Compatible with MagSafe

Raised bezels around the camera and display

Shock-absorbing TPU bumper with military-grade protection
Where it falls short:
Not compatible with third-party wireless chargers
Also read: Apple Ditched these phones after the launch of iPhone 14
14. Caseology Skyfall Clear Case
Minimal Design. Maximum Grip.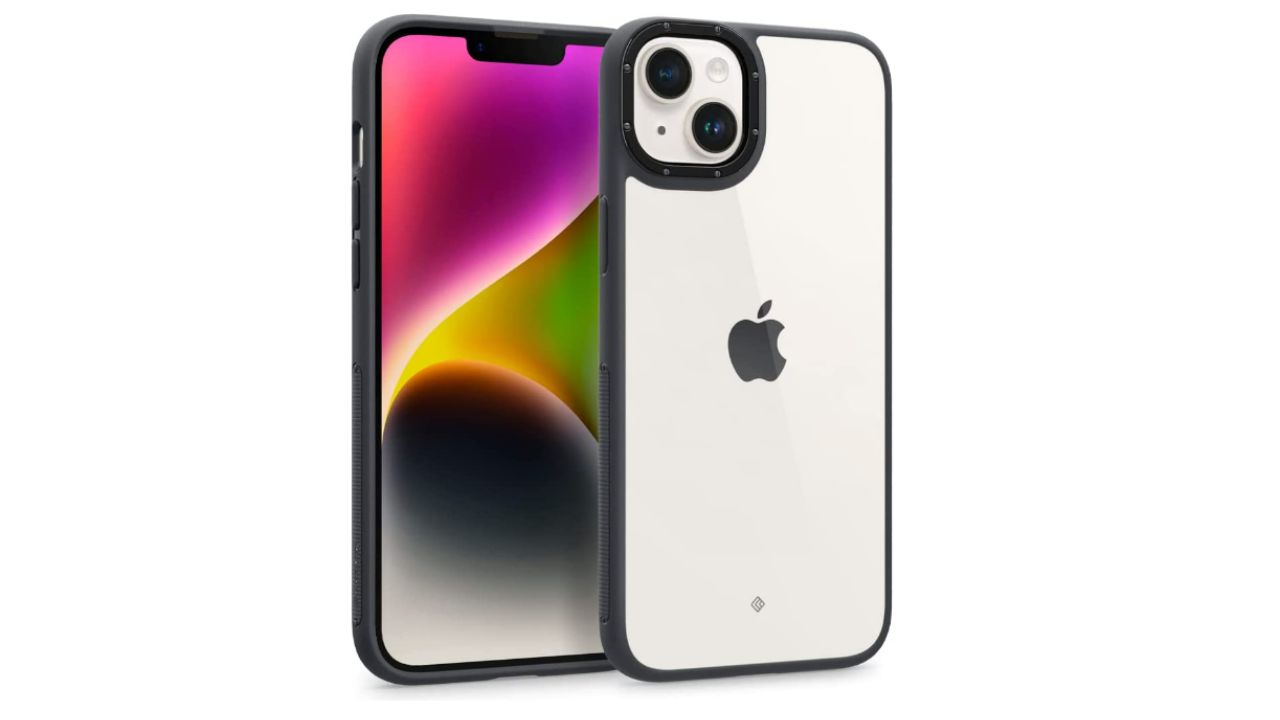 The Caseology clear case for iPhone 14 is a thin case with colored edges to prevent yellowing. Despite its slim profile, the glass back is protected from breaking by a polycarbonate rear plate. If you don't want a bland-looking clear case then go for this one as the colored edges will give a more aesthetic look to your iPhone 14. However, this iPhone 14 clear case is not just about looks, you'll also get amazing drop protection from any accidental damages. The raised lips and enhanced buttons will allow easy tactile feedback and scratch resistance. This case comes in 3 attractive colors to choose from. 
Reasons to Buy:
Attractive design

Textured corners for better grip

It comes in 3 colors
Where it falls short:
Not compatible with third-party MagSafe chargers and accessories
Also read: Best Wireless Chargers for iPhone 13 Series
15. Totallee Clear Case for iPhone 14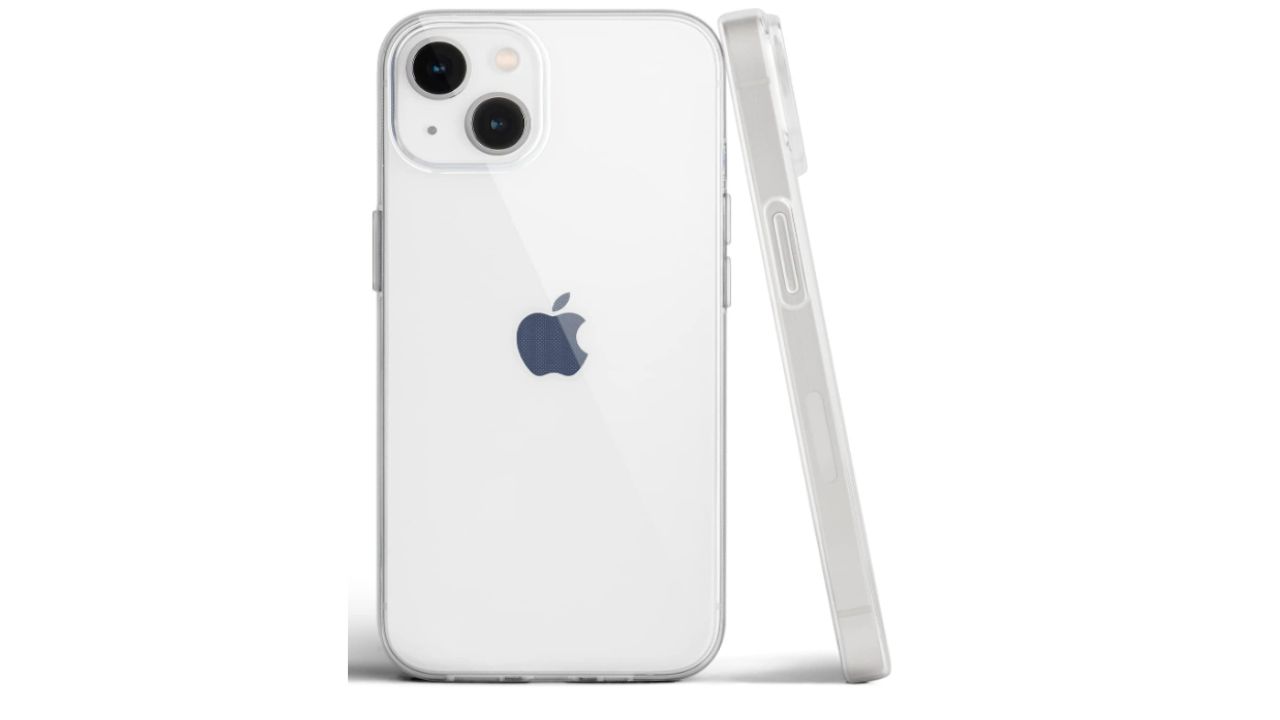 If you're used to the grippy silicone feel and don't want a hard clear case for iPhone 14 this is for you. Totallee sells some of the thinnest iPhone covers available. Although the TPU material offers some protection against daily minor bumps, it is not military-grade. At 0.32 inches (8mm), this Totallee case is slimmer than the majority of the other selections on our list. It's also free of any branding logos and comes with a 30-day money-back guarantee.
If you like how your iPhone feels in your hand, this is the best option for you. It will not affect the feel of your iPhone in your hand and will keep Apple's design aesthetics. This case comes in two different clear variants – a hard clear case, and a frosted clear case. However, the $39 price tag is way too much for a slim clear case and you can easily find more affordable options from JeTech and LK but this is one of the slimmest cases you could find for iPhone 14.
Reasons to Buy:
Ultra-thin profile

30-day money-back guarantee with a 2-year replacement warranty

Raised bezels for scratch protection
Where it falls short:
Expands overtime

Not compatible with MagSafe
Also read: Best Cases for iPhone 14 You can Buy
16. Temdan Waterproof Clear Case 
A waterproof clear case for iPhone 14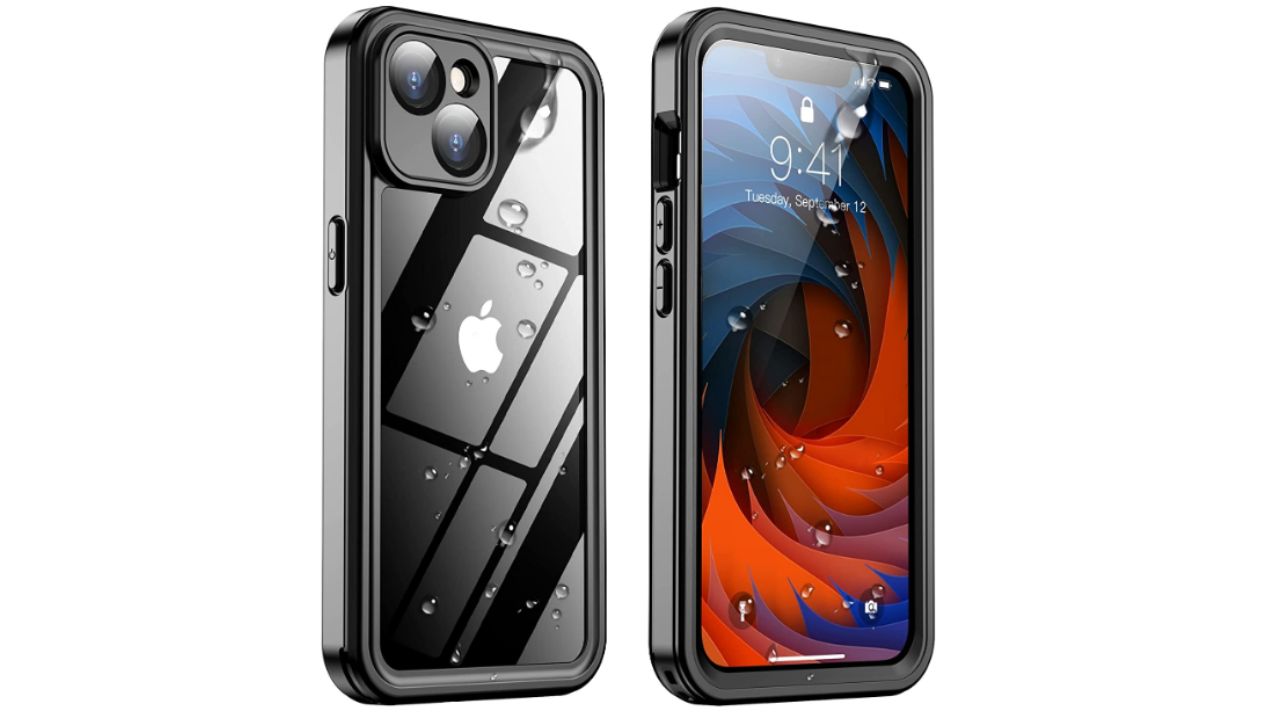 This Temdan waterproof clear case for iPhone 14 is something you should consider if you're a water baby. It's not see-through due to its opaque border, but this waterproof iPhone 14 case has a clear back. The IP68 certification means it can survive being under 6.6 feet of water for up to 30 minutes. It also has a built-in screen protector to prevent cracks as well as a snap-on design that exceeds military standards for drops. Despite all of that, you still have full access to your speakers, buttons, sensors, and cameras. This waterproof iPhone 14 clear case is a great option for swimmers and divers. The case comes with MIL-STD108G which means it is tested for 14-foot drop. The screen and camera lens protector come with 9H hardness which ensures overall protection of your iPhone.
Reasons to Buy: 
Comes with a screen and camera lens protector

IP68 certification (Waterproof)

Enhanced buttons for easy feedback underwater 
Where it falls short: 
Some users reported muffled voice 
Also read: How to shoot 48MP ProRAW and HEIC Photos on iPhone 14 Pro and iPhone 14 Pro Max 
17. Casetify Impact Printed Clear Case 
Beautiful Printed Cases for iPhone 14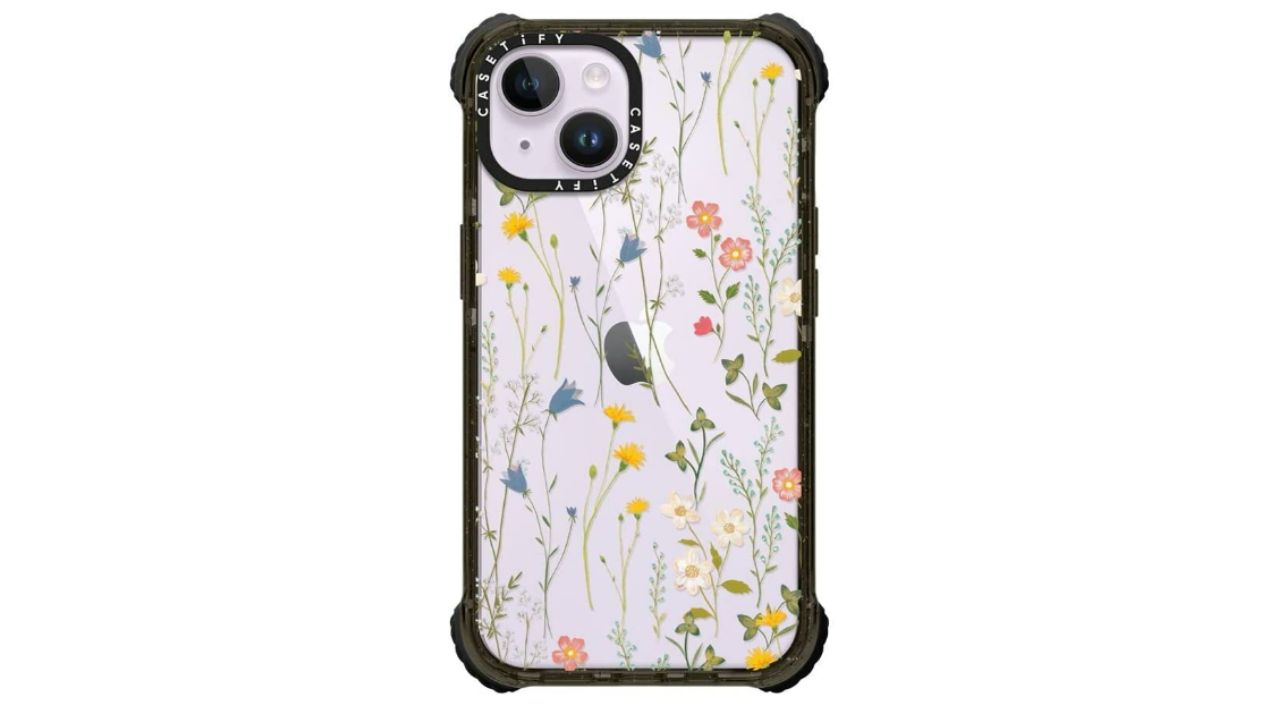 Love the look of vintage botanical art prints? Then you'll love this clear phone case, which is so pretty you could almost hang it on the wall with all your other artwork. With a slightly opaque, matte backing, this happy floral clear case by Casetify gives your iPhone 14 phone a slightly textural feel. If you are tired of boring clear cases you can check out the Ultra Impact printed clear cases from Casetify. These printed clear cases for iPhone 14 not only serve looks but durability as well. You can choose different prints that suit your aesthetic. Not only this case is pretty you'll also get up to 11.5ft drop protection with raised bezels and enhanced corners to give durable protection to your iPhone's display and camera bump.
Reasons to buy: 
Printed cases that offer durability 

Comes in a lot of prints

Military-grade protection

Raised bezels and corners 
Where it falls short: 
Also read: Best Tips and Tricks for iMessages 
How to Clean a Clear Case
Wondering how to clean a clear phone case? While some transparent phone cases begin to yellow after time, most of those available today have technology that prevents yellowing. Even so, your clear case is going to need to be cleaned every once in a while to keep it looking like new.
Here are step-by-step instructions on how to easily clean your phone case with dish soap:
Combine warm water and a few drops of dish soap in a medium-sized bowl.

Remove your case from your phone and use soapy water and an old toothbrush to gently scrub it.

Dip your case into the soapy water as you scrub to continuously rinse it.

Once your case is squeaky clean, rinse it under a stream of clean water to remove any residue.

Use a microfiber cloth to towel it dry and then let it sit out until all moisture has evaporated.

Once you're sure it is completely dry, put your case back on your phone and enjoy!
That's it for now! We have included cases for different use cases so you can easily pick clear instances according to your requirements. Let us know in the comments which clear case you're buying for iPhone 14
 PS: As more clear cases will come out eventually, this list will increase so stay tuned!