The OnePlus 9. How do you characterise it? A compromised and yet more affordable version of the OnePlus 9 Pro or a separate, independent project with proper research and development of its own, aimed to compete in a different price bracket? Or maybe a bit of both? I have been using the OnePlus 9 as my daily driver for more than a month now and let's discuss how it fared in my long term usage. If you look at the OnePlus 9 from OnePlus' perspective, it is a tricky device to design. You have to strike the perfect balance of features and compromises. We want the phone to be feature loaded enough to get potential OnePlus 9R buyers to spend more and get the OnePlus 9. At the same time, I want it compromised enough to make sure that potential OnePlus 9 Pro buyers do not think about saving some money and getting the OnePlus 9 instead. Somehow, OnePlus has done a complicated yet commendable job. The OnePlus 9 is a fantastic phone. However, it's tricky position leads to some weird awkwardness. And it begins with the build quality.
OnePlus 9 Review: Build Quality and Design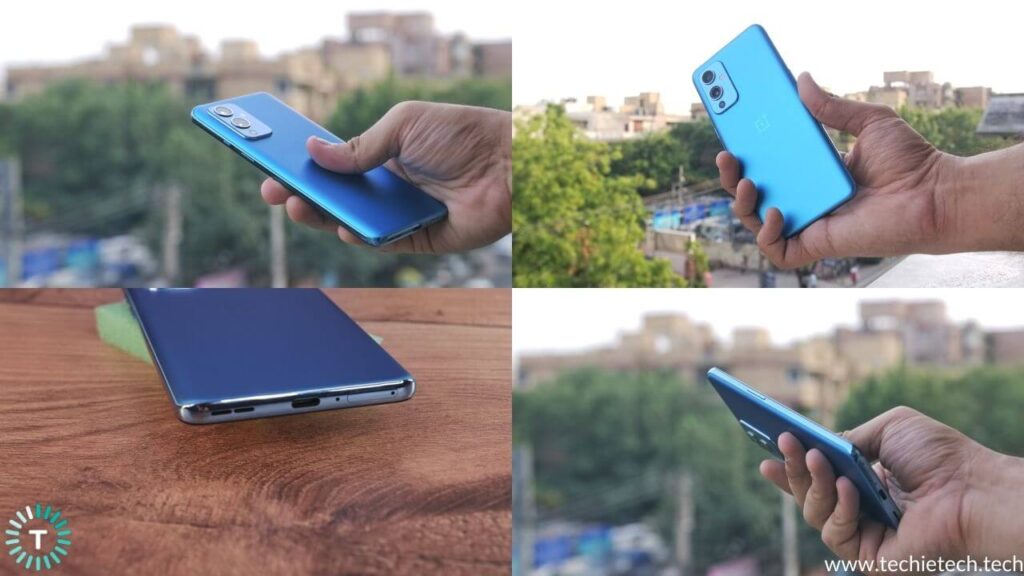 The OnePlus 9, like most modern flagships, has a sheet of Gorilla Glass 5 on the front and back. The front glass atop the display is completely flat, which I absolutely love. The back glass has a subtle curve to it, which helps improve the grip and overall ergonomics. It even has this nice satin-like texture on the back glass which feels and looks great, further helping in mitigating gross fingerprints.
The awkwardness around the build quality begins with what's between the glass sheets. A glossy plastic frame. Now, now I know what you're thinking. Plastic is fine if you use a case anyway, plastic is not even that bad, most users might not even notice it etc etc. Well, I hear you and you're correct too. But the thing which confuses me is that the OnePlus 9 Pro and the OnePlus 9R both use aluminium frames. 
On one hand, the OnePlus 9 Pro is more expensive so it uses the more premium material which makes complete sense. However, the OnePlus 9R is cheaper and it also uses aluminium. So, is plastic actually superior to aluminium since the plastic OnePlus 9 is placed higher than the aluminium 9R or is plastic actually inferior since the aluminium OnePlus 9 Pro is supposed to be more premium than the OnePlus 9? I guess only OnePlus can tell. 
But in a vacuum, the plastic frame is mostly a non-issue if you, like most people, will use a case. I imagine it will dent and scratch more easily since it is a softer material but I guess we will know about long term durability in the long term. A case would definitely be recommended for all sorts of users and you should definitely check out our favorite OnePlus 9 Cases to pick one for yourself.
But overall, I think the OnePlus 9 is built very well. The design language overall is very standard with the camera island to the top left and a OnePlus logo in the middle. It looks pleasant and discrete but it definitely does not stand out. 
OnePlus 9 Review: Display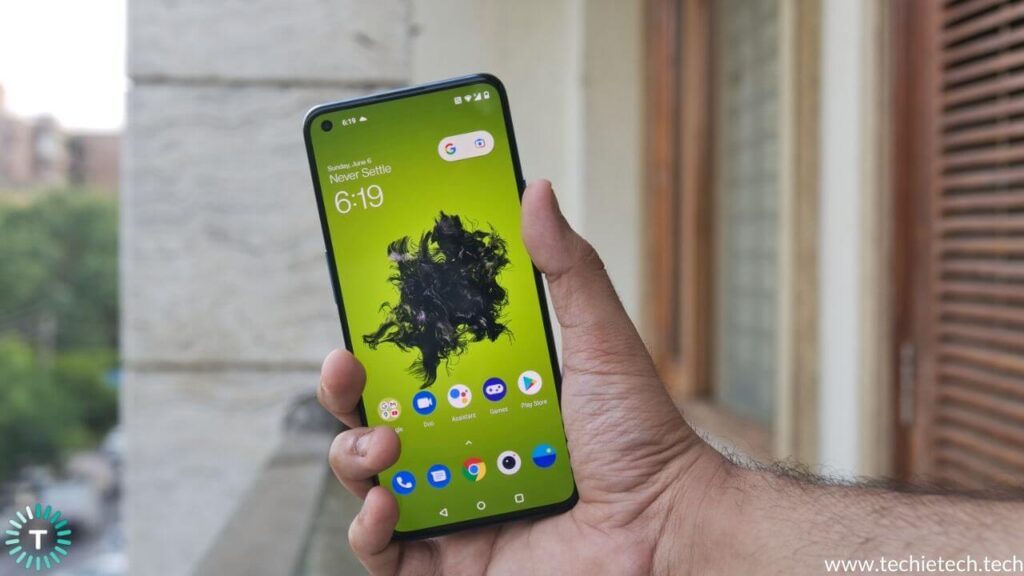 Now, let's talk about one of my favourite parts of this phone. The display. The OnePlus 9 has a crisp Full HD+ resolution, a smooth 120 Hz refresh rate and it is a pleasure to use. The colours truly pop out and look beautiful, the text is sharp enough and the overall vibrance and saturation can be adjusted easily to perfectly suit your needs.

However, do note that this display is a minor step down from the excellent display of more premium flagships like the OnePlus 9 Pro or the Galaxy S21 but unless you're constantly comparing them side by side, I don't think it will be a problem.
Another thing which I truly love about the display is that it's flat. Flat displays are just such a relief to have after using curved panels. They make the phone easier to grip, easier to use one handed and mitigate all accidental touches and unwanted glare. I love the functionality that comes with flat displays and the OnePlus 9 definitely ticks that box for me. 
OnePlus 9 Review: Performance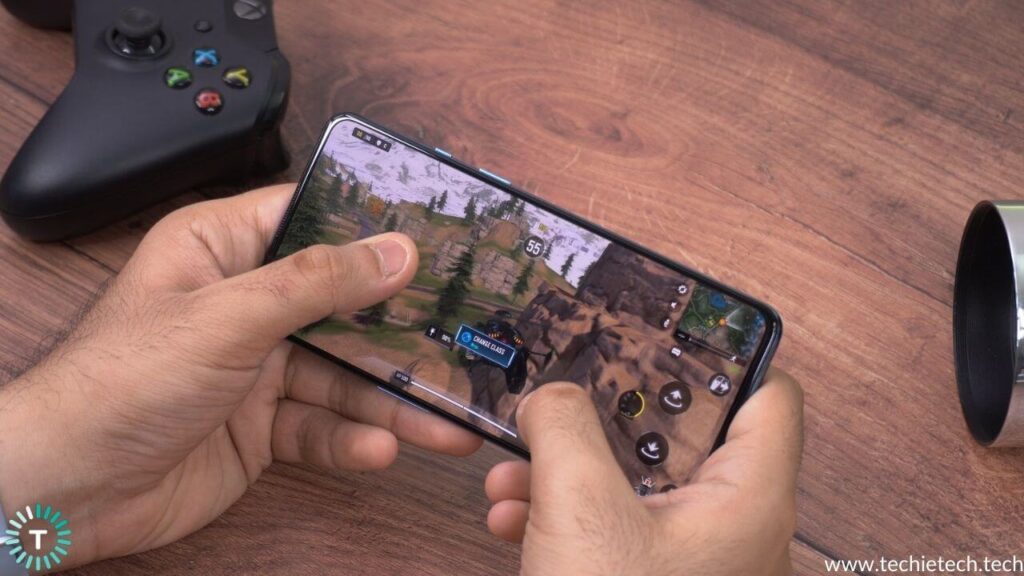 Another box that the OnePlus 9 will definitely tick for everyone is the performance box. In traditional OnePlus fashion, the OnePlus 9 carries top shelf components like the Snapdragon 888 CPU and combines it with the fast and fluid Oxygen OS to give you possibly the best performance you can get on an Android phone.  Be it your day to day social media or video watching or something intense like gaming, the OnePlus 9 conquers it all like a champ. An interesting thing that I noted was that the OnePlus 9 also does not heat up as much as the OnePlus 9 Pro. 
Now, this could be because I used the OnePlus 9 after I was done with the OnePlus 9 Pro so maybe an update had fixed the problem for both phones by then. But whatever it is, the OnePlus 9 is a top performer and definitely one of my top recommendations if you want an Android phone that runs smooth and stays that way for many, many years. 
OnePlus 9 Review: Software Updates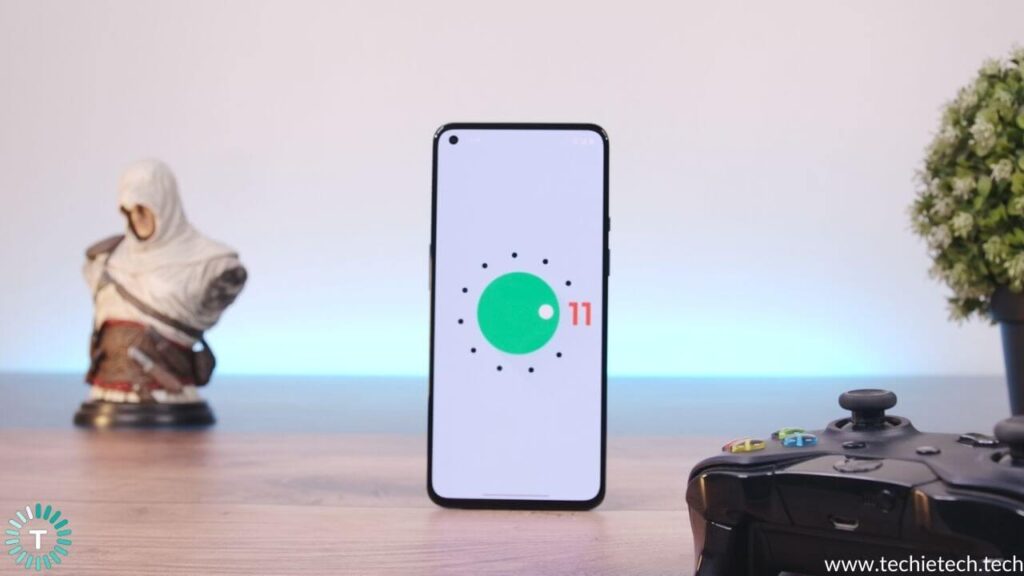 Talking of many, many years let's talk about future software updates. This is a tricky thing to talk about because OnePlus has kind of made a mess. Remember, the OnePlus 7 Pro and 7T? Excellent phones for the time, still great today. However, while the newer OnePlus 8 Pro received the Android 11 update in October, the OnePlus 7 series had to wait an additional 6 months for Android 11, an update which turned out to be insanely buggy. It's a little funny that the OnePlus 7 got its Android 11 update at the same time that Google started pushing out betas for
Android 12. That's very, very late for a phone that was the most expensive device from OnePlus at launch. Now, I hope OnePlus will improve this and it won't happen with the OnePlus 9 but until we actually see the improvements happen, be a little skeptical of the software update situation. 
OnePlus 9 Review: OxygenOS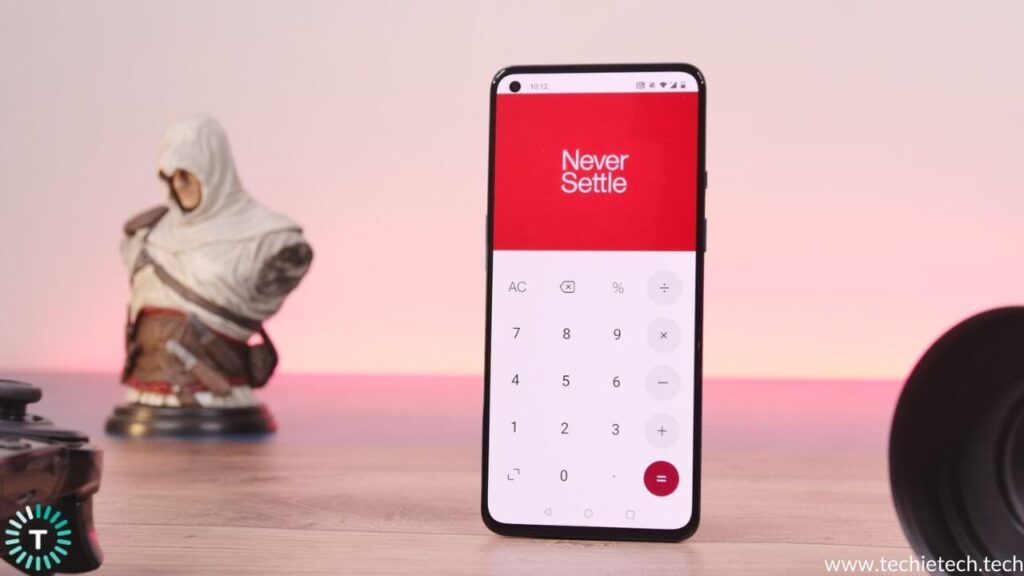 Now, while the software update situation is dirty, the software itself is clean. Oxygen OS is one of my favourite skins on Android for 2 main reasons. Practically zero bloatware and blazing fast performance. With Oxygen OS, you get a very clean, snappy and easy to use version of Android which invites you to customise and play around with it. The UI elements are all mature and sophisticated and everything works really well. Oxygen OS is one of the biggest advantages of any OnePlus device and definitely a big factor behind the success of OnePlus smartphones. 
Also read: Best Widgets for Android Homescreen
OnePlus 9 Camera Review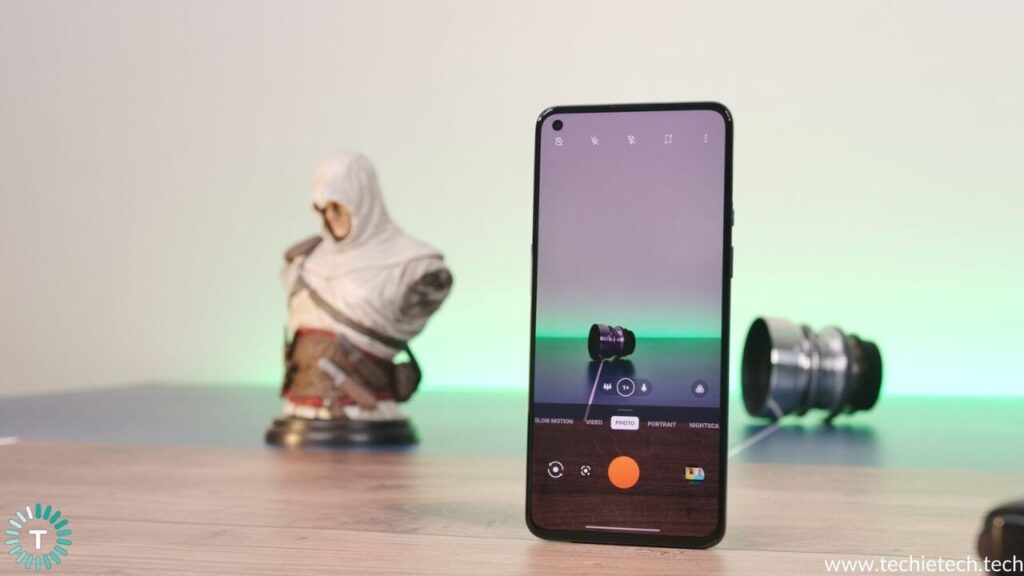 When it comes to optics, the OnePlus 9 sports a 48MP f1.8 primary sensor with no OIS, a 50MP f2.2 ultrawide and a 2MP monochrome camera. This year, OnePlus has collaborated with Hasselblad which is the leading manufacturer of high end medium format cameras. Despite that, most of the camera hardware is the same from last year and Hasselblad has only contributed to the color calibration aspect of the OnePlus 9 series. Let's find out how the OnePlus 9 performs in real life.
Photos:
The primary camera performance of the OnePlus 9 is good. It captures less contrasty pictures with accurate colors especially when it comes to skin tones. The pictures have high dynamic range and an overall cooler tone. 

Before we move on to the ultrawide camera, let's address the

awkward

elephant in the room, the lack of OIS on the primary camera. It might sound like it's not a big deal for some people but it makes a lot of difference. The lack of OIS is clearly visible when you zoom in. The pictures shot even in fairly lit conditions are noisy and lack sharpness. What makes this even more

awkward

is the fact that all OnePlus flagships have had OIS since the OnePlus 6 series. Even the OnePlus Nord which retails for half the price of the OnePlus 9 has OIS on the primary camera. Therefore, make sure to factor this in before making your final decision.

Moving on to the ultrawide camera, it does an excellent job at capturing stills with accurate colors, less fringing and less artefacts.

The OnePlus 9 does not have a telephoto camera but offers 2x digital zoom which delivers average pictures with good colors.

Taking portraits and selfies is where you can see how Hasselblad's color calibration fares out. The skin tones and highlight recovery is amazing which delivers pictures with accurate skin tones.

Low light performance is respectable with low noise. But, sometimes the lack of OIS can be seen when shooting in Nightscape mode.

The Monochrome camera is pretty much the same as that on the 8T and does not deliver anything that can be replicated in photo editing.
Videos:
The OnePlus 9 has got an impressive upgrade both in the video resolution and video quality department.

It can now shoot videos in up to 8K@30fps from both the primary and ultrawide cameras on the rear. On the flip side, the front camera still tops at FullHD@30fps.

When it comes to the video quality, the OnePlus 9 shoots videos with rich details, high dynamic range and accurate colors. 

One major factor to consider is again the lack of OIS. There are noticeable jitters when you're walking and shooting a video with the OnePlus 9. 
The OnePlus 9 captures good pictures and videos with accurate colors. It will be a respectable choice for a casual user who just wants to snap and share. But, the lack of OIS makes it a bad choice especially when compared to cameras in competing smartphones.
OnePlus 9 Review: Battery Life and Charging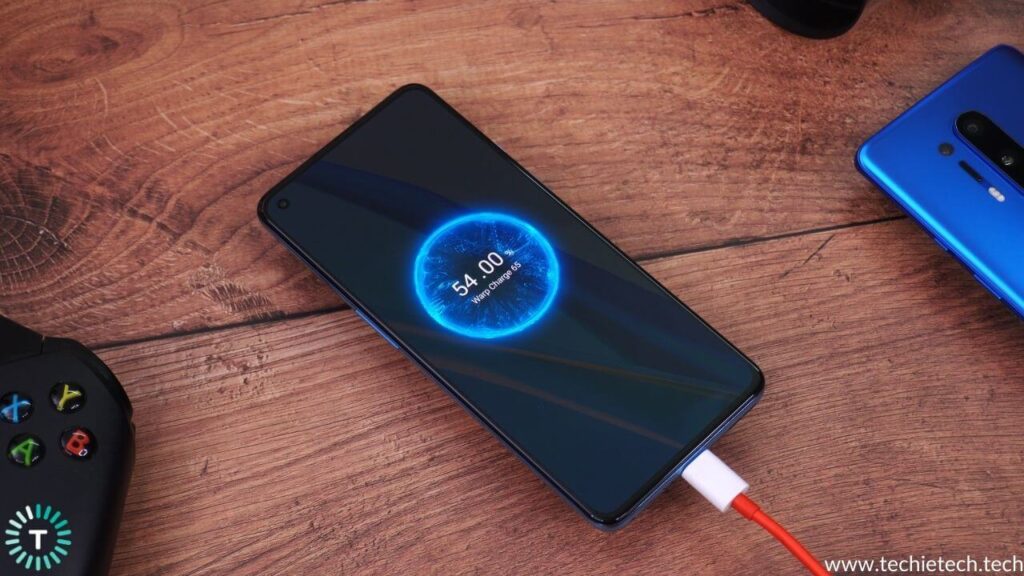 Battery Life on the OnePlus 9 is actually pretty decent. It gets me around 5 to 5 and a half hours of SoT with my mid to heavy use which is basically a full day's endurance. The OnePlus 9 probably won't last an average user 2 full days but most users will be able to get a full day's battery life.
What's interesting here is not the battery but the charging. The OnePlus 9 packs OnePlus' Warp Charge 65 which is just insanely fast. It charges your phone 0 to 100 in around 30 minutes. It is just insane to even look at the battery percentage go up so quickly. However, a word of advice from my experience. See, I personally use slow USB charging when I'm not in a rush because it preserves the battery health. I would highly recommend it to all the viewers if you want your phone to last as long as possible. USB charge when home and Warp Charge when in a rush. Works pretty well.

The global version of the OnePlus 9 also supports 15 W wireless charging while the Indian and Chinese version do not. Also, you get the adapter in the box which is a very nice thing to have while it lasts. 
OnePlus 9 Review: Miscellaneous
The fingerprint sensor is fast, accurate and as good as it gets. It is situated a bit too low for my liking but nothing you won't get used to. 

The call quality is great with good signal holding capacity and seamless transition from VoLTE to Voice over WiFi. A significant improvement over the OnePlus 8 series. 

The stereo speakers are great and sound very full. They do not distort at all at high volumes which I really like. 
OnePlus 9 Review: Conclusion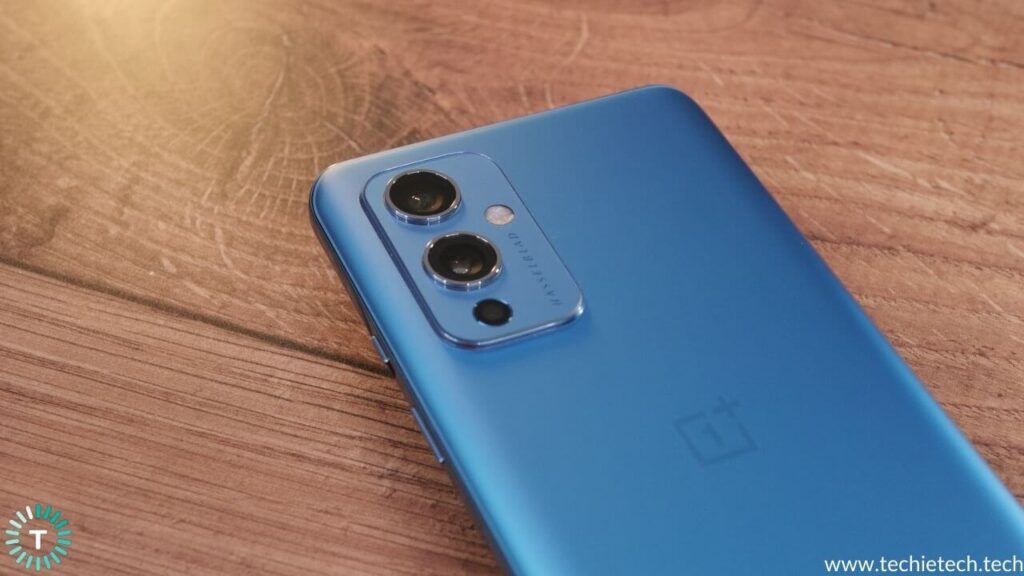 Now, for the conclusion. The OnePlus 9- a great phone which is almost perfect apart from a few awkward choices. Do they ruin the phone in any way, whatsoever? No, absolutely not. But do they just make you sit back and wonder just why is OnePlus even doing this? Yes, absolutely.
But despite all that, the OnePlus 9 has proved to be a solid phone and if you want a phone with clean software, top performance, a great display and decent cameras, the OnePlus 9 is the phone to get. Or the OnePlus 9R. Or the OnePlus 9 Pro. Or the OnePlus 8T. Wow, is this awkward?
Check OnePlus 9 Price on:
Amazon (US): https://amzn.to/3uSElMO 
Amazon (India): https://amzn.to/3fSCvaj 
Amazon (UK): https://amzn.to/3ppzyB3