For centuries, Android loyalists have dreamed of a mythical smartphone, a smartphone which ticks all the necessary boxes, runs on bloat free software and doesn't cost an arm and a leg. Many came, many tried, most failed. Even Google, the birth giver of Android, has tried and tried with their Nexus and then the Pixel lineup, failing to create the perfect smartphone. We have a new player now. OnePlus just entered the game.
OnePlus is notoriously famous for slaying competing flagships by giving an almost similar experience at a fraction of the price. While this fraction has been growing larger and larger every year, there was still a substantial gap between the two price points. Until now. OnePlus just announced the OnePlus 7 Pro, their most expensive smartphone yet, starting from 660 USD or Rs 48,990. This price puts it neck to neck with competitors like iPhone XR and the Galaxy S10. The honest fact is that the OnePlus 7 Pro isn't meant to compete with these phones. It's meant to compete with the $1000+ oligarchs of the smartphone world, the iPhone XS Max, the Pixel 3 XL and the Galaxy S10 Plus. It might be hard to figure out once, but once you do, it quickly becomes clear that the OnePlus 7 Pro is indeed a budget product. This time, it is a proper budget flagship instead of a budget mid ranger which can compete with flagships.
The team over at OnePlus told us that to design the OnePlus 7 Pro, they kidnapped hundreds and hundreds of Android enthusiasts and forced them to sketch their image of a perfect Android smartphone. Here's what they could conjure:
Best in class processor
At least 6-8 GB RAM
Faster Storage
Amazing, bezel-less, notch-less Display
Stock, bloat-free Android
A Great Camera Experience
Great battery life with fast charging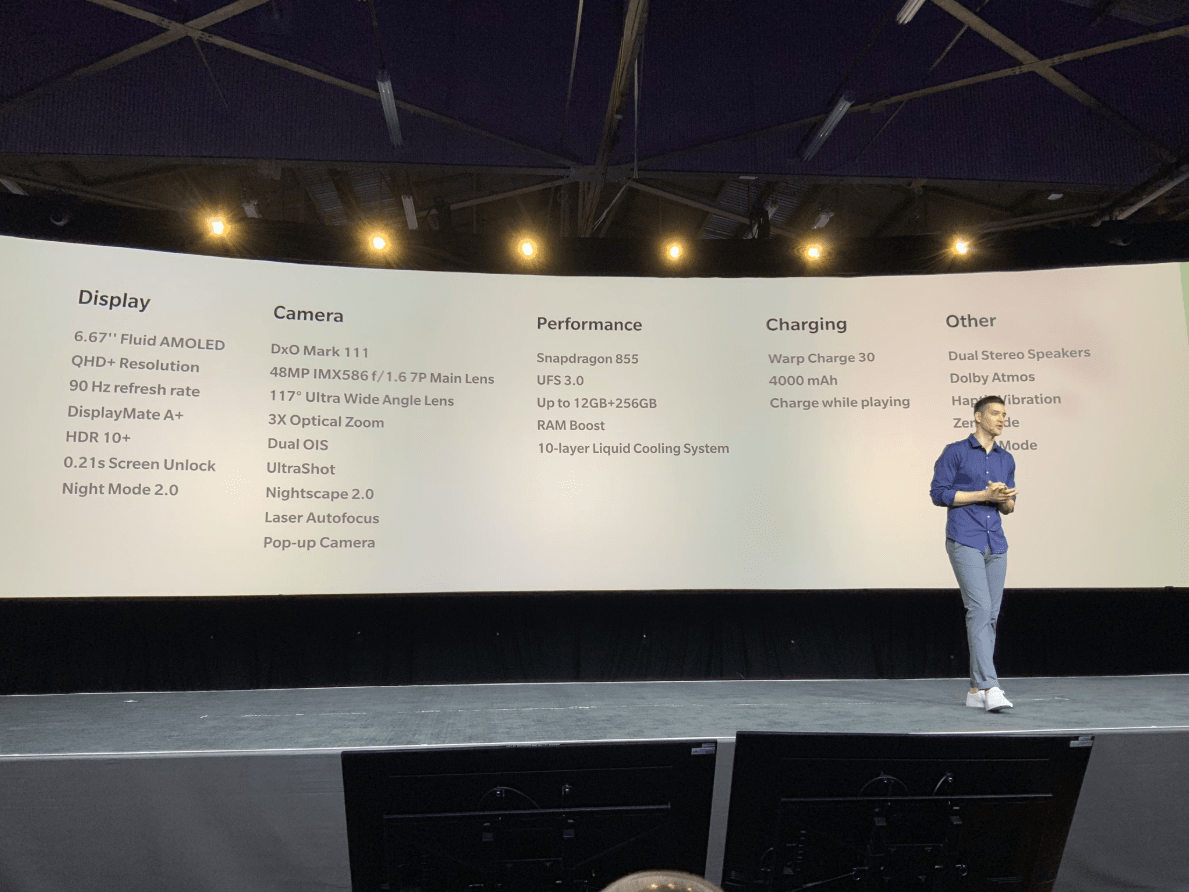 Well, did OnePlus deliver? Yes, they absolutely did. The OnePlus 7 Pro is by far, one of the most promising and exciting smartphones to have come out in years. Everybody can include oodles of RAM and the latest processor, but UFS 3.0 storage, found on the thrice as expensive Galaxy Fold, is a welcome addition. Samsung has been killing it with their display colours and brightness, but OnePlus went a step further and put in a 90Hz panel. What this means is that the screen will refresh 90 times every second, instead of the standard 60. Basically, animations will be smooth AF.
Software? Oxygen OS. If stock Android purists can enjoy any other flavour of Android, it is this one. Loads of customisability options, hardly any lag and prompt software updates. It even looks and feels a lot like Stock Android, with only a few non intrusive OnePlus applications on top.
The phone features a 4000 mAh battery. Reviews suggest that the OnePlus 7 Pro is sadly no battery champ, decidedly due to the power hungry 90 Hz display. To overcome this, OnePlus is planning a software update which will dynamically adjust the refresh rate to improve battery life. If you do run out of juice however, say hello to Warp Charge, the successor to OnePlus's dash charge. Supposedly, Warp Charge will charge your phone from 0 to 50% in 20 minutes. That is crazy.
Of course, like all fables, this might be too good to be true and it probably is. As the OnePlus 7 Pro gets in the hands of more and more users, issues are bound to crop out and more extensive testing will be done. Some users and reviewers have already started complaining about the large footprint of the device, larger than any OnePlus phone released before. It is also very heavy at 209 grams. There is no headphone jack and no wireless charging. Sins that were forgiven when the price point was considerably lower. We can't wait to get our hands on the OnePlus 7 Pro to test these claims out for ourselves.
But, what OnePlus has managed to achieve with the OnePlus 7 Pro is commendable. Launching a phone at this price point when your customer base is price sensitive is a bold move. Competing against mammoths like Apple, Samsung and Google in their playground is a bold move. But, as the wise, old owl says, Fortune favours the bold.