Galaxy S21 Ultra is among some of the finest releases that Samsung has made in the year 2021. This brilliant device features a huge 6.8″ AMOLED display that comes with a resolution of 1440 x 3200 pixels. Apart from all of these, the main highlight of this phone is the newly designed and elevated 108MP camera setup. It certainly is one heck of a device for the mobile photographers out there. As far as the performance of Galaxy S21 Ultra is concerned, you can choose from units with Exynos 2100 chipset or Snapdragon 888 chipset based on where you live and what's available around there. It is worth mentioning that this flagship device comes with 5G compatibility and Wi-Fi 6E support.  
Now that you have such a brilliant phone, you need to find some compatible accessories for it. To ease your task, we have tossed up some of the best compatible accessories for Samsung Galaxy S21 Ultra to buy in 2022 in this article. Make sure you read through the listing to choose some for yourself. 
Note: We update our article from time-to-time to cover the latest products available in the market. 
List of Best Samsung Galaxy S21 Ultra Accessories to buy right now in 2022
Best Samsung Galaxy S21 Ultra Cases
1. Spigen Rugged Armor S21 Ultra Case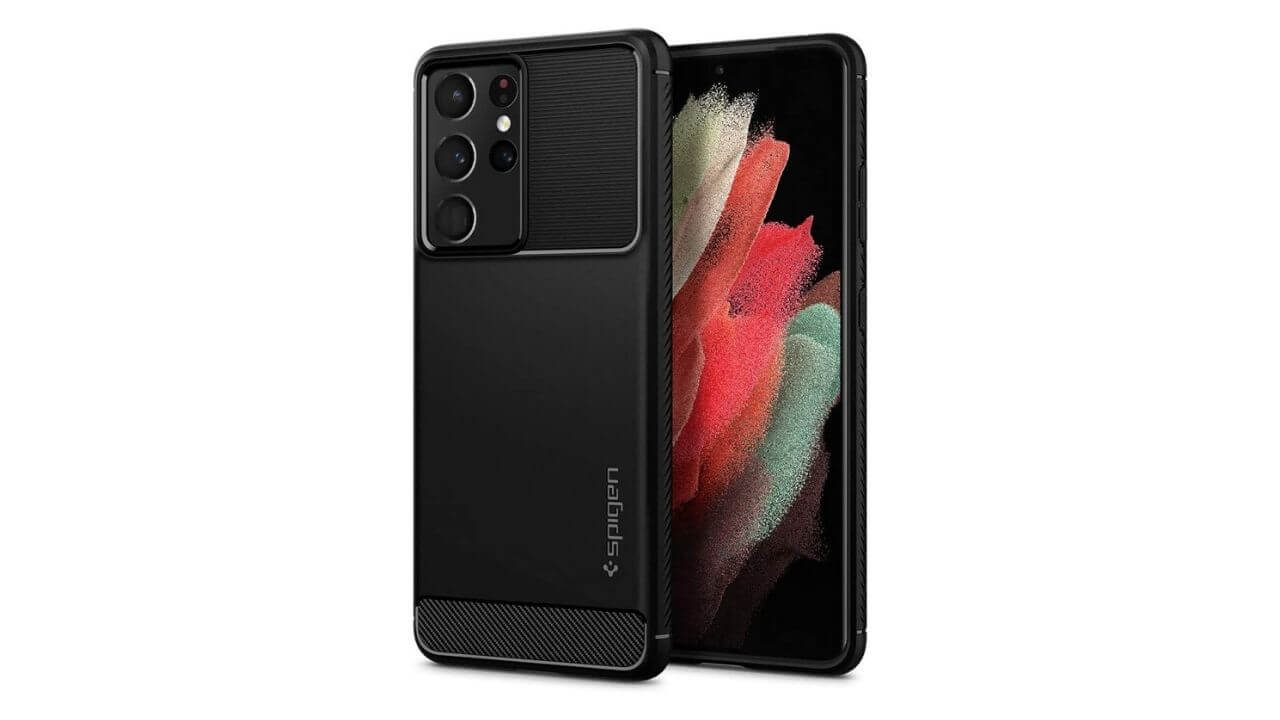 If you are a clumsy smartphone user, the Spigen rugged case for Galaxy S21 Ultra would certainly come in handy for you. Made from TPU and carbon fiber, this case offers
the best possible shockproof protection whenever your device encounters an impact. There's a raised lip that can help protect the redefining 108MP camera setup from getting scratches. The Air Cushion Technology incorporated in this case gives an extra bit of protection from heavy shocks. Not to forget, there're tactile buttons that certainly offer a better press and click response. Have a look at this product from the link given below.  
2. Ringke Fusion-X Military Grade Case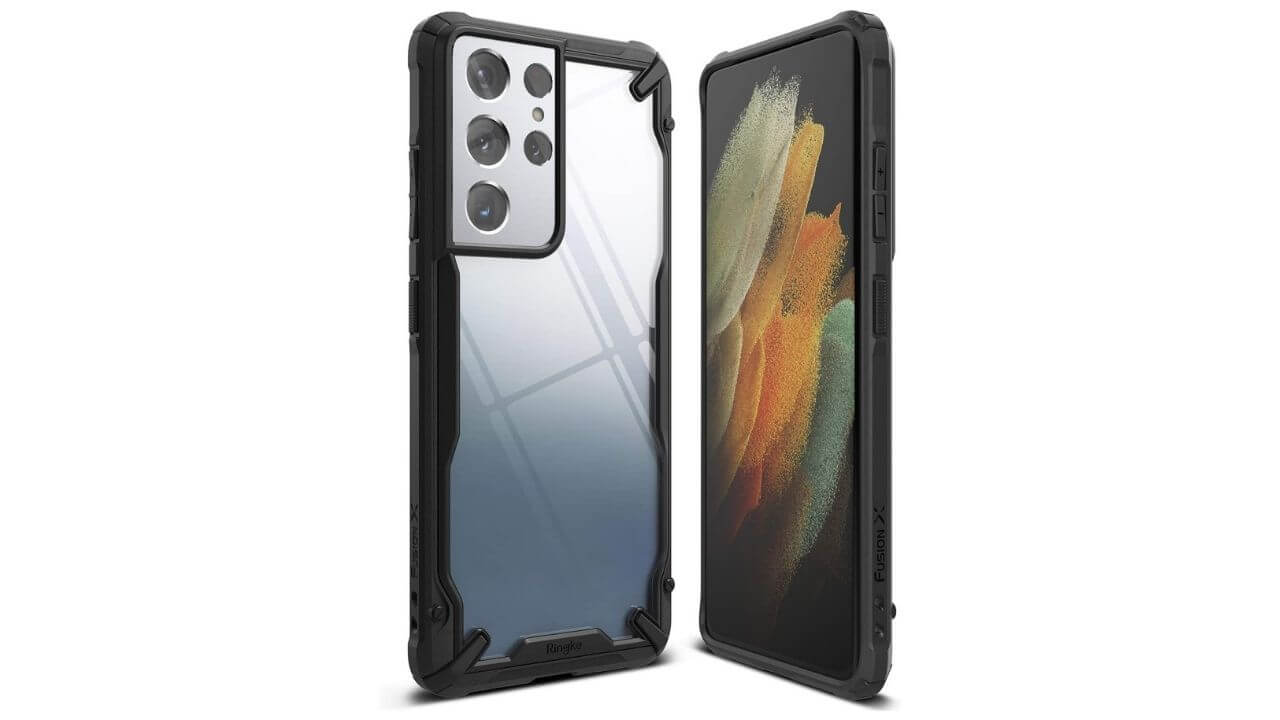 Presenting you another reliable heavy-duty case for Samsung S21 Ultra. This military-grade case from Ringke features quite a unique design that you may not have seen before. It is made from PC and TPU material to offer good protection to the S21 Ultra. This case comes with a transparent look that enables showcasing the vibrant color and branding logo of Samsung. On the side of the case, you'll find rugged textures that allow a handy grip when you're holding the device. All thanks to raised bezels, the big AMOLED display and camera setup are protected by annoying scratches. It is worth mentioning that this case comes with full support for wireless charging and is compatible with most screen protectors available in the market. 
3. Ghostek Waterproof Case for Galaxy S21 Ultra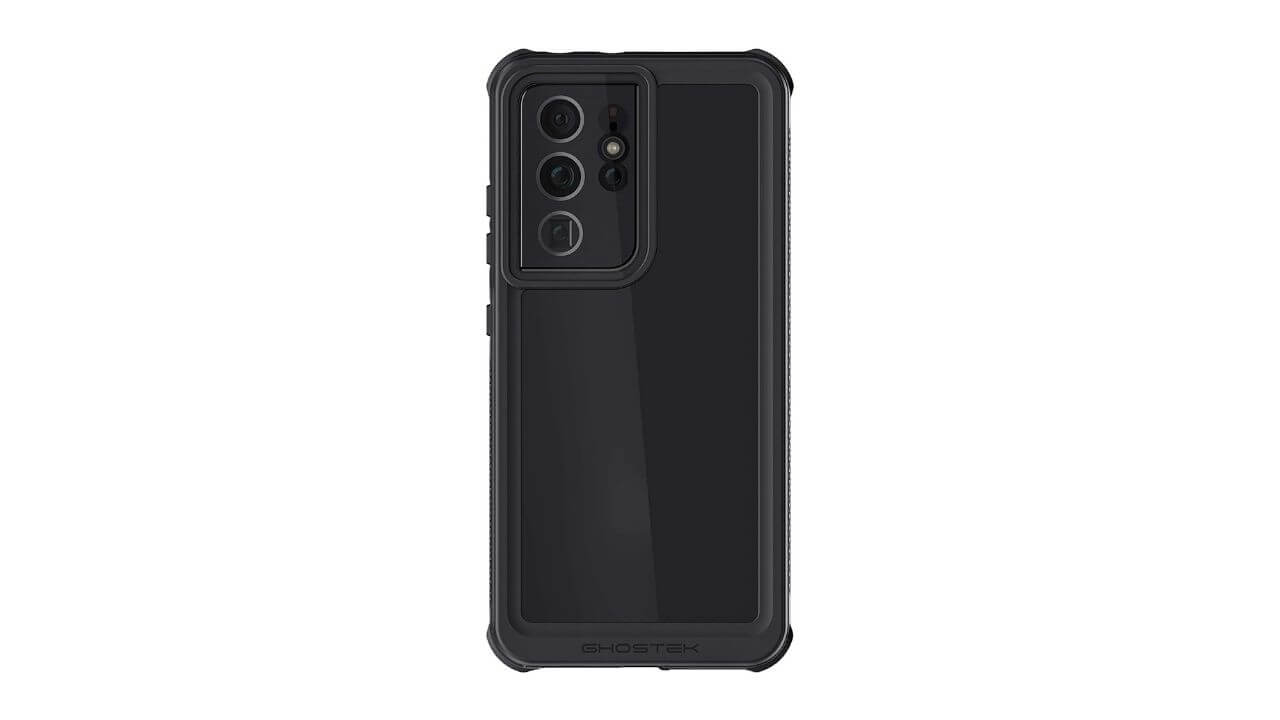 If you work around a waterbody or indulge in underwater adventurous activities, the Ghostek Waterproof case is a lifesaver for you. It features a watertight sealed shell that gives protection underwater for an hour up to 20 feet. Also, if you are searching for a tough case, this one should be on the buying list. You will find
raised lips around the camera and display area for better protection from scratches from daily wear and tear. The military-grade certification that comes with this case ensures reliable protection from bumps, drops, fumbles, and heavy shocks. Overall, it is a perfect buying option for someone who is looking to protect the device from accidental damages due to loose handling. 
Note: The brand claims that this case can withstand a drop from 12 feet in height. 
4. ESR Kickstand case for Samsung Galaxy S21 Ultra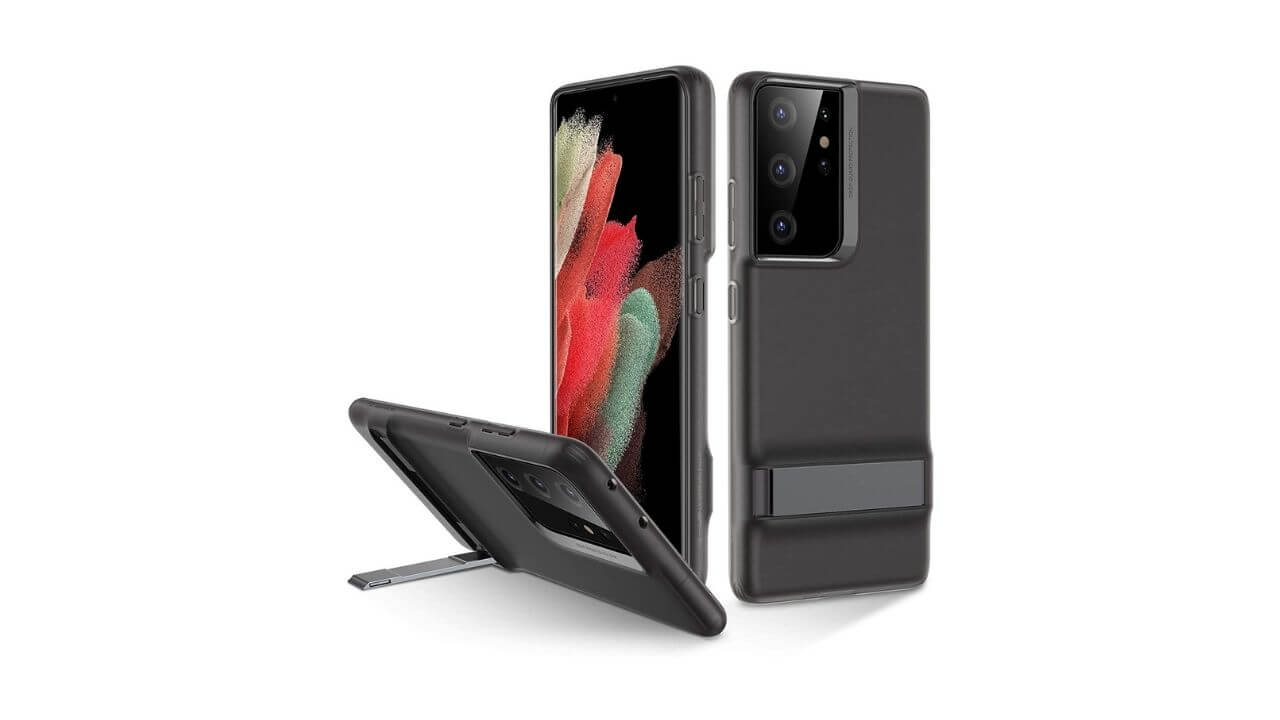 Here's another solid case from ESR that guarantees you the best possible protection from all kinds of accidental damages. The body of this case is designed with a flexible polymer material that is comparatively more effective than the plastic material when it comes to protection. There's an in-built kickstand that eases your tension of holding phones in hand while you are using the safest video calling apps or watching your favorite Netflix series. There're precise cutouts across all the ports and speaker grill. Overall it's a sturdy case that protects your Galaxy S21 Ultra with an investment of few dollars. 
5. OtterBox Defender Series Case for S21 Ultra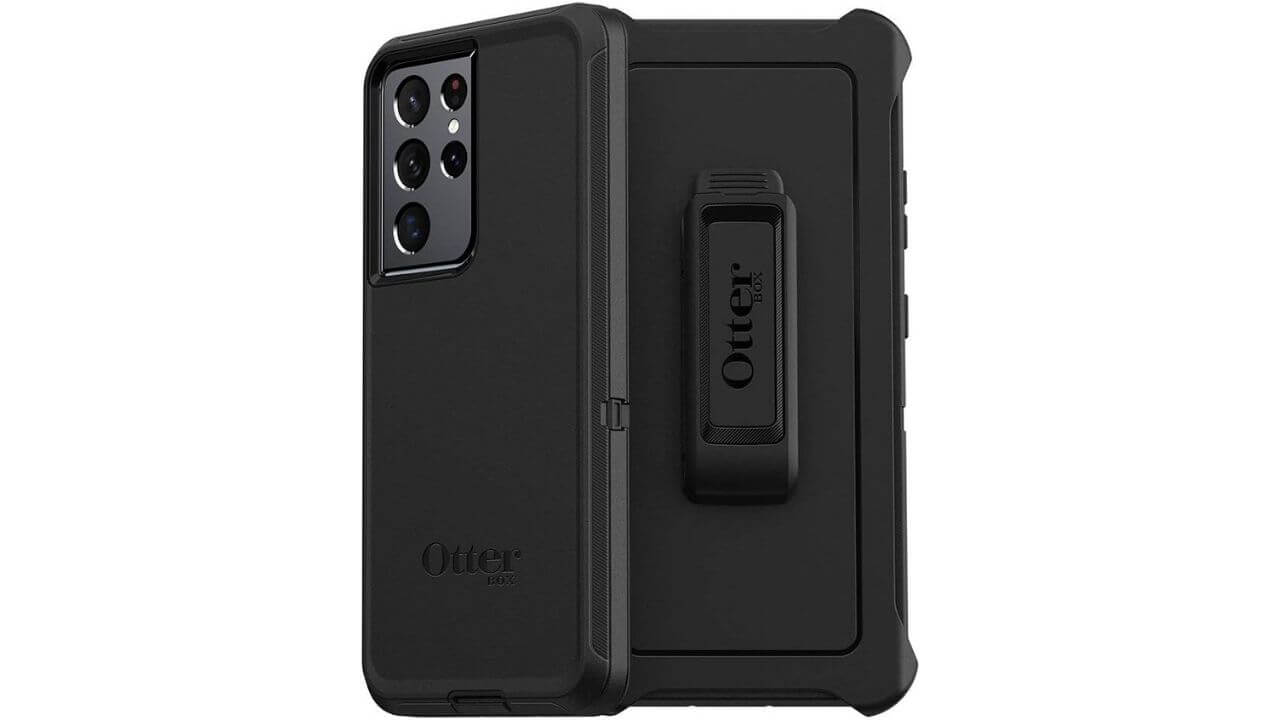 OtterBox is one of the most reliable mobile protection brands that offers rugged cases for Galaxy S21 Ultra and many other phones across various platforms. Apart from an expensive price tag, there's nothing bad with all of their products. As far as the OtterBox Defender Series S21 Ultra rugged case is concerned, this one comes with
military-grade certification to ensure best possible protection to the Samsungs's 2021  flagship smartphone. This brand grabs a few more points for its sustainable approach as this rugged case is made from 50% recycled plastics. Talking about the design, the multilayer look offers an extra bit of protection to the Galaxy S21 Ultra from any kind of damages such as drops, bumps, shocks, etc. Moreover, it features a built-in kickstand that offers hands-free movie watching and video calling experience. Let's not forget, this OtterBox case for Galaxy S21 Ultra is
compatible with Qi wireless chargers out there in the market. 
Best Galaxy S21 Ultra Screen Protectors 
1. Spigen Neoflex S21 Ultra Screen Protector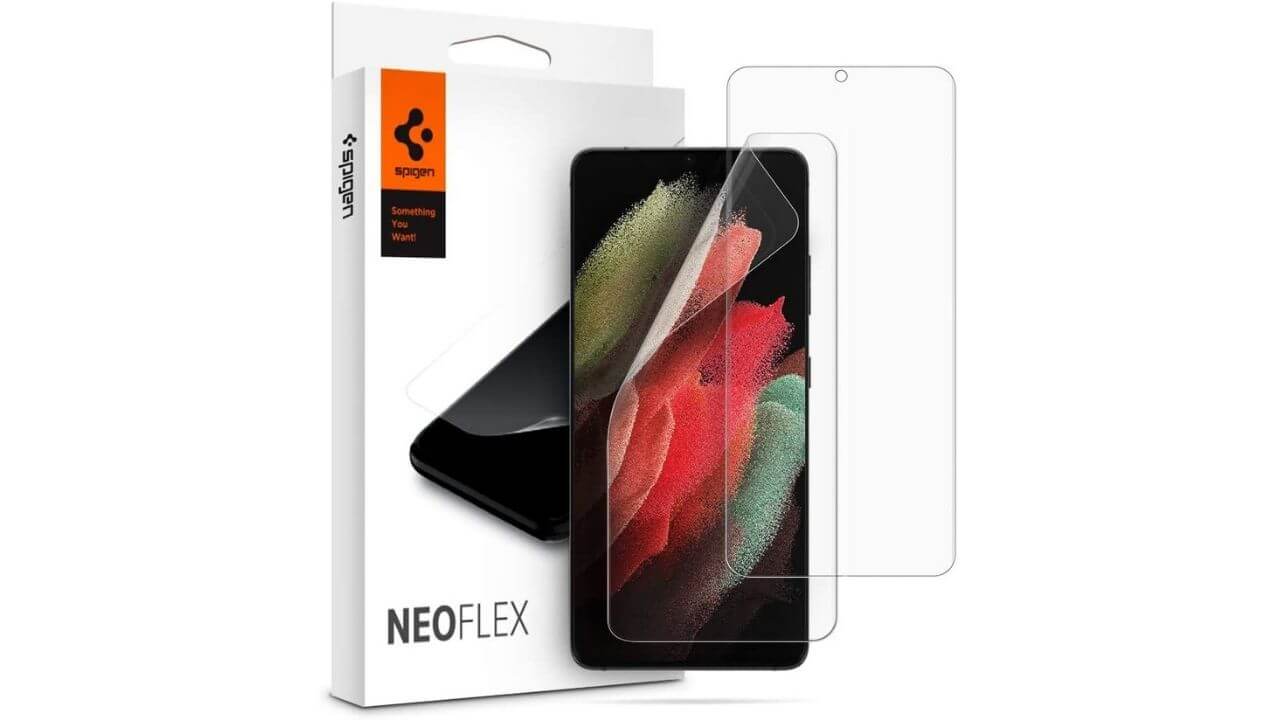 First, we have the Spigen Neoflex screen protector which is durable and affordable at the same time. This Galaxy S21 screen protector comes with edge-to-edge coverage to offer the best possible protection for the slightly curved 6.8-inch display. If you are someone who is looking for a reliable screen protector for Samsung S21 Ultra, this one is perfectly suitable.
The Spigen Neoflex S21 Ultra tempered glass features a better adhesive that allows bubble-free installation. As far as the protection is concerned, this screen protector keeps the display of S21 Ultra safe by offering better protection from annoying scratches and fumbles. Best of all, this Galaxy S21 Ultra screen protector is compatible with every Spigen case out there in the market. Spigen  recommends using the instruction manual for hassle-free installation of the Spigen Neoflex S21 Ultra screen protector.
1. EGV Tempered Glass Screen Protector for S21 Ultra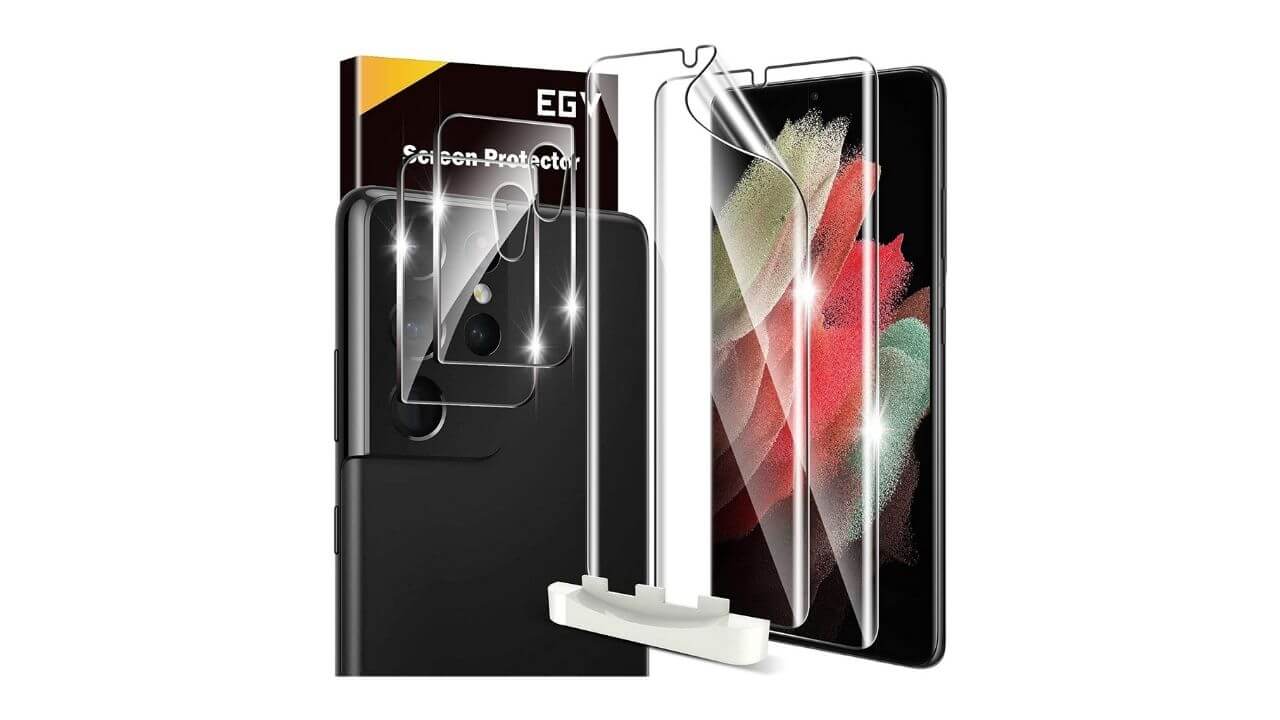 The EGV screen protector for Galaxy S21 Ultra is probably the best one that you would find in the online marketplace. You will get
2 pieces of the screen protector and camera protectors with this pack. This screen protector from EGV comes with a 9H hardness property which ensures that it protects the dynamic AMOLED display of the Galaxy S21 Ultra from scrapes, scratches, or cracks. All thanks to the frame guide, the whole installation process is pretty easy and doesn't take much time. It is worth mentioning that the screen protector is compatible with all the Galaxy S21 Ultra cases available in the market. 
2. IQ Shield Screen Protector for Samsung Galaxy S21 Ultra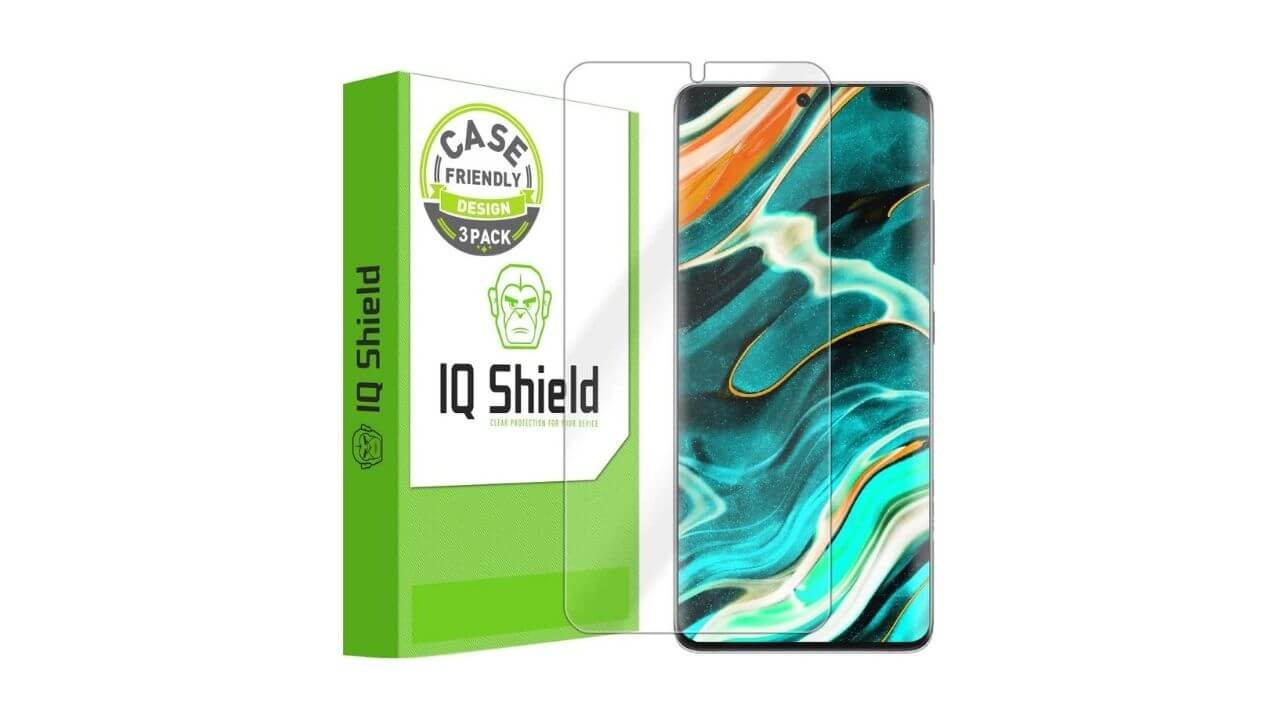 Here comes the super affordable and probably the best S21 Ultra screen protector from IQShield. The anti-bubble feature ensures hassle-free installation of this screen protector. It is made from non-yellowing and highly durable material for the utmost protection of the brilliant S21 Ultra display. The crystal clear look of the tempered glass screen protector offers an original viewing experience with almost 99.99% clarity. Above everything, this screen protector is backed by IQShield's limited lifetime warranty.
3. ESR Liquid Skin Galaxy S21 Ultra Screen Protector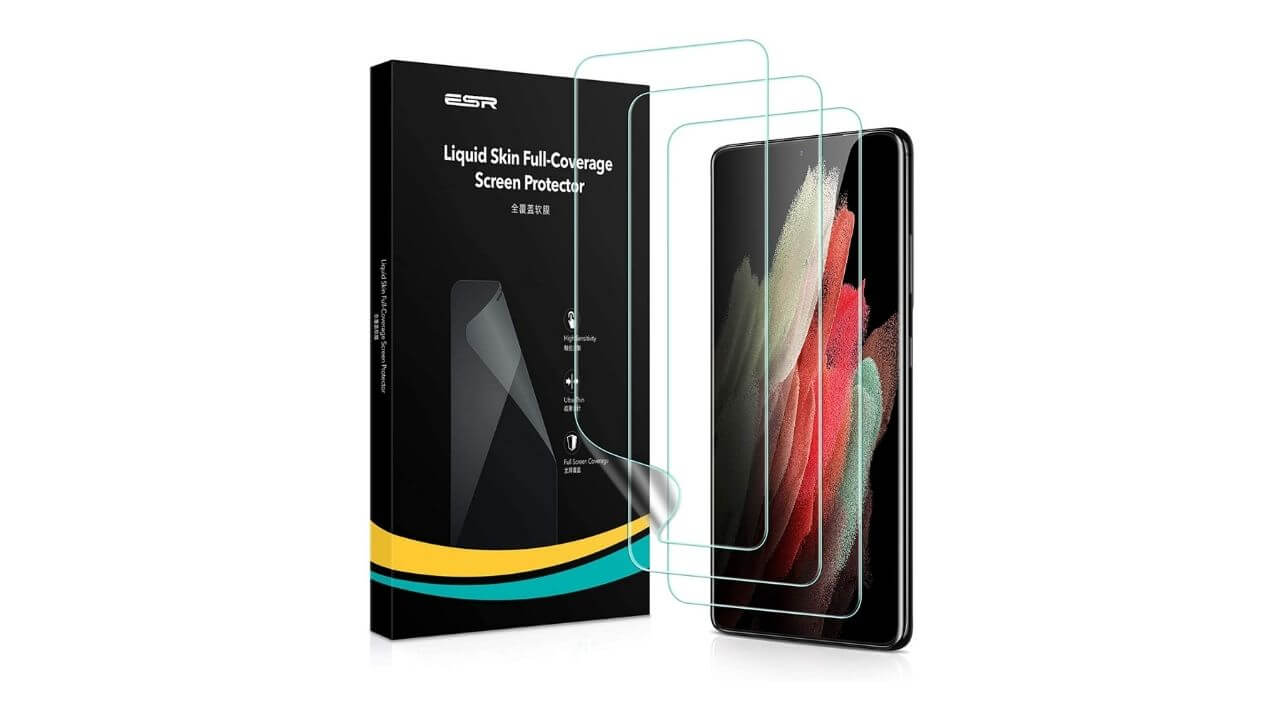 The ESR liquid skin screen protector is something that you want to install as soon as you unbox the new Galaxy S21 Ultra. It is probably the thinnest, yet some of the best protective film that protects the display of Samsung Galaxy S21 Ultra. The self-healing technology wipes off any bubbles or minor scratches on the surface of the screen protector in some days. Also, the crystal clear design of this film screen protector offers original clarity whenever you watch something on your phone. It should be noted that this screen protector is fully compatible with the ultrasonic in-display fingerprint sensor.
Note: This is not a glass screen protector.
4. TAURI Screen Protector for Galaxy S21 Ultra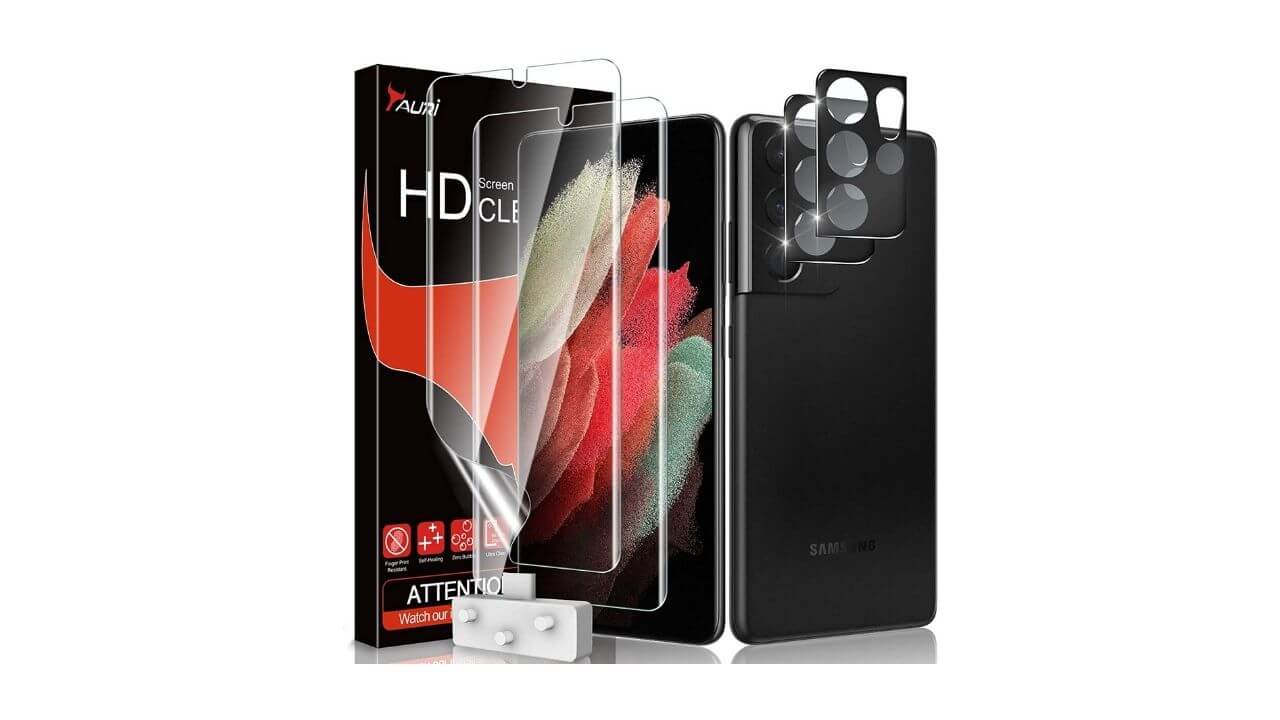 This S21 Ultra screen protector is made from TPU materials that offer a decent amount of protection to the screen of the said phone. It offers smooth and high-touch sensitivity for a better unlocking experience with the help of fingerprint sensors. The flexible design of this glass screen protector gives edge-to-edge coverage and protection to the beautiful AMOLED display of the Galaxy S21 Ultra. Above all, you get three different screen protectors under $10. So, go for it. 
Note: You'll also get a pair of camera lens protectors for Samsung Galaxy S21 Ultra with this pack.
Best Wireless Chargers for Samsung Galaxy S21 Ultra 
1. Samsung Duo-pad Wireless Charger for Galaxy S21 Ultra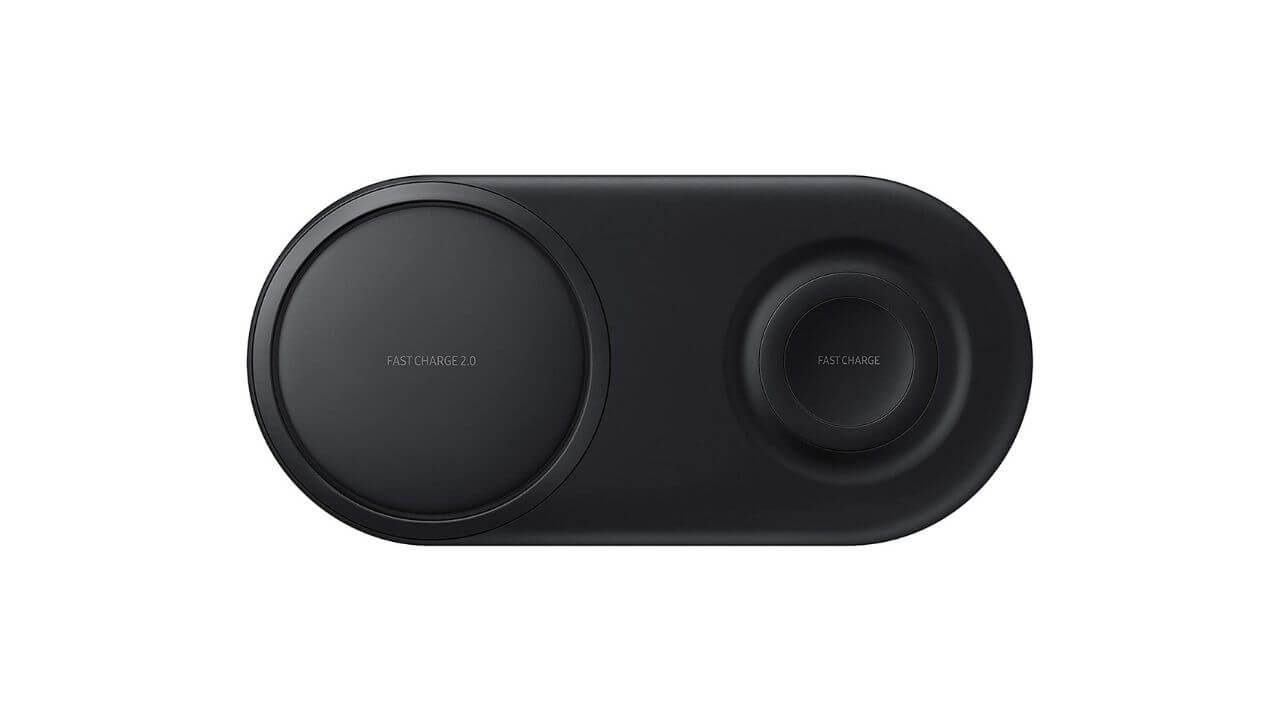 If you are searching for a wireless charger that could charge multiple devices at one go, this is the best you can get from the market. Yes, the Samsung duo-pad charger is one of the best wireless chargers for Samsung Galaxy S21 Ultra. You will find two different charging pads, one with Fast charge 2.0 compatibility and the other compatible with Fast charge compatibility. This Samsung wireless charger is compatible with almost all Qi-enabled devices that support wireless charging. 
The in-built safeguard technology protects devices from overcharging and overheating problems on Galaxy S21 Ultra. Not to forget, this piece is backed by Samsung's one-year warranty. Without a doubt, it is a go-to product for someone looking for S21 Ultra wireless chargers. 
2. Spigen Convertible 15W Wireless Charger for Samsung S21 Ultra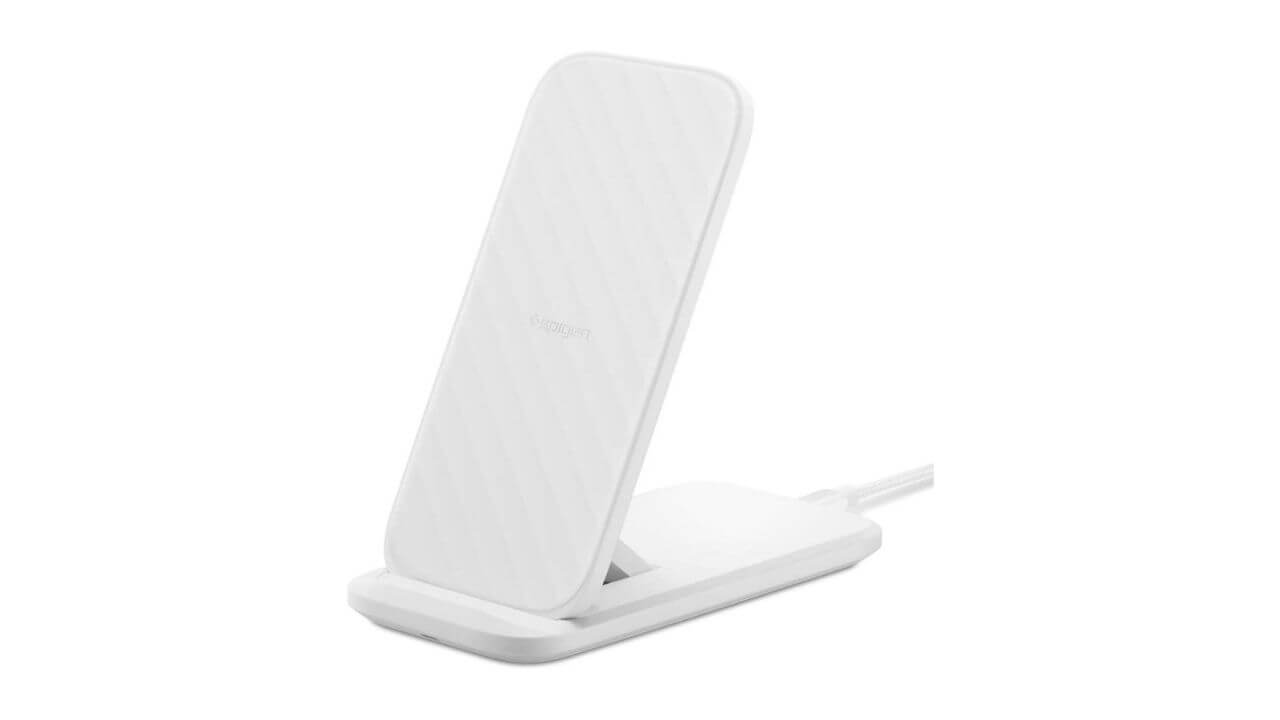 This is probably the first wireless charger from Spigen that I can say is worth buying. The best part of buying the
Galaxy S21 Ultra wireless charger is that you can adjust it accordingly (you can convert it into a stand or a flat pad). There's a low-light LED that indicates the charging status of your device. 
Having said all this, One thing I want to mention here is that it offers decent charging speed which is not fast at all (as claimed by the brand). Remember, decent charging speeds are good for the overall battery health of a smartphone when we talk about the bigger picture. Thus, it won't harm you if you invest in this wireless charger.
3. KKM 15W Galaxy S21 Ultra Wireless Charger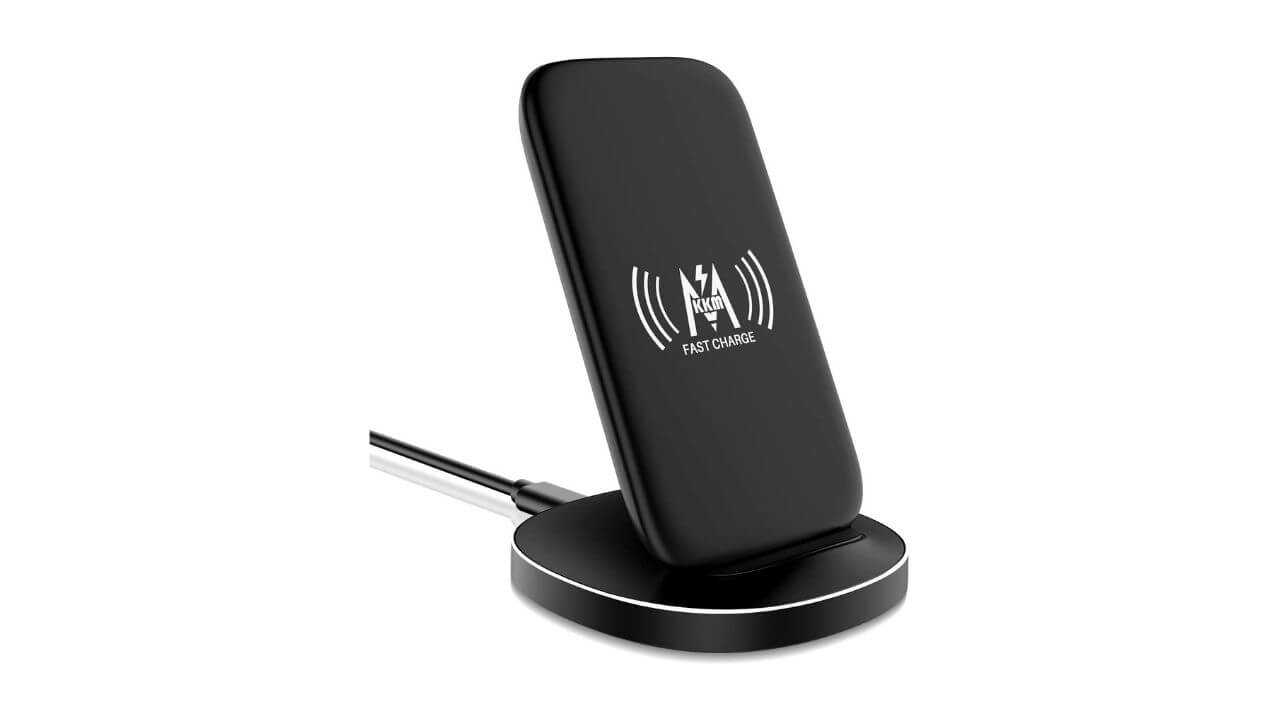 Here's another reliable option if you are looking for a wireless charger to charge your Galaxy S21 Ultra smartphone. The KKM wireless charger comes with two coil designs that enable charging your Samsung Galaxy phone vertically or horizontally. This wireless charging stand is lashed with various safeguarding technologies to protect you or your device from any mishappenings. An additional layer of security is added by the fire-resistant ABS materials used in the making of this charger. Remember, this wireless charger for Samsung S21 Ultra is backed by an 18-month warranty, just in case you've any problem with it. 
4. Anker Powerwave Galaxy S21 Ultra Wireless Charger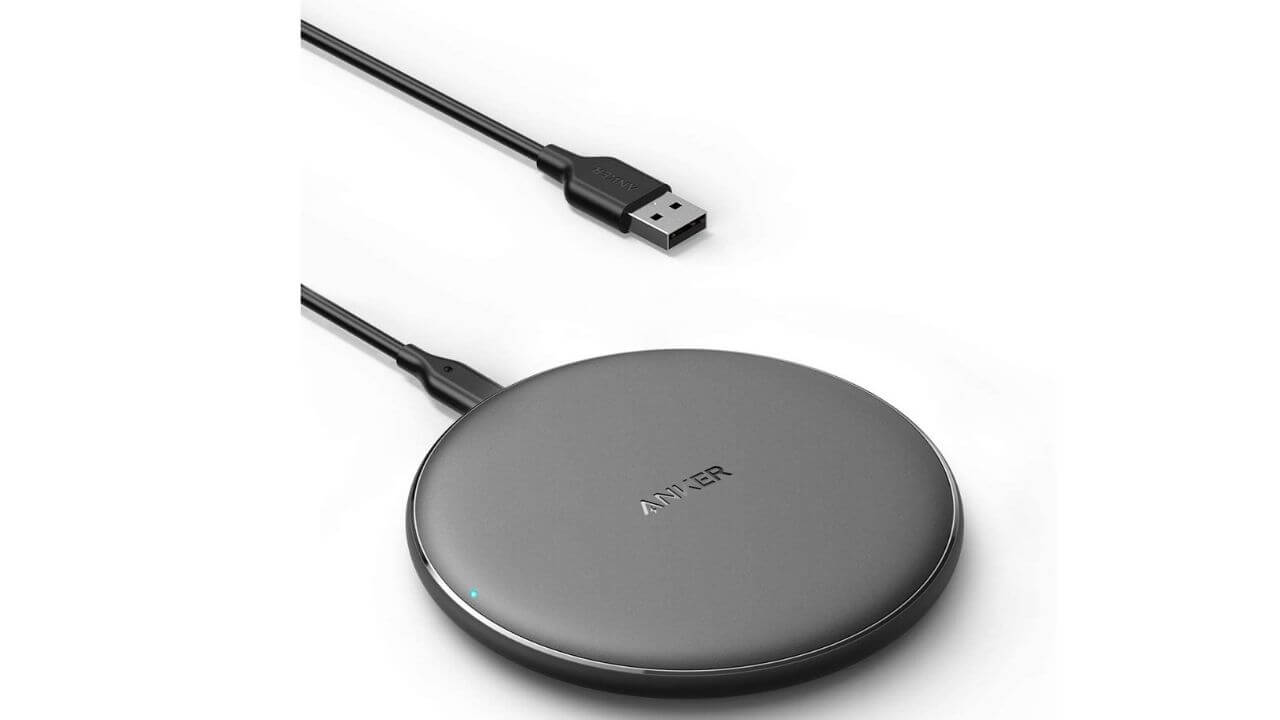 If you're looking for a budget-friendly wireless charger for Galaxy S21 Ultra in 2022, we recommend choosing this one. This Anker wireless charger is recognized for its unbeatable price and reliability  it offers to the Galaxy S21 Ultra users . The Anker Powerwave wireless charging pad delivers a maximum power output of 10W to charge your Galaxy S21 Ultra. Even though it charges your Galaxy S21 Ultra at a slower speed, it has its own benefit when it comes to battery health. You should understand that slow charging offers longevity to battery health. Also, it is
compatible with different iPhones, Airpods, Galaxy Buds, and other wireless charging compatible smartphones. Not to forget, this case offers through case charging features for cases up to 5mm thickness. Besides, this wireless charger comes with a micro USB cable which is 4 feet in length. Moreover, this S21 wireless charger is backed by 18-months post-purchase warranty and is available in three different colors. 
Honorable mentions for Best Wireless Chargers for the Galaxy S21 Ultra:
Best Fast Chargers for Galaxy S21 Ultra 
1. Samsung 25W Fast Charger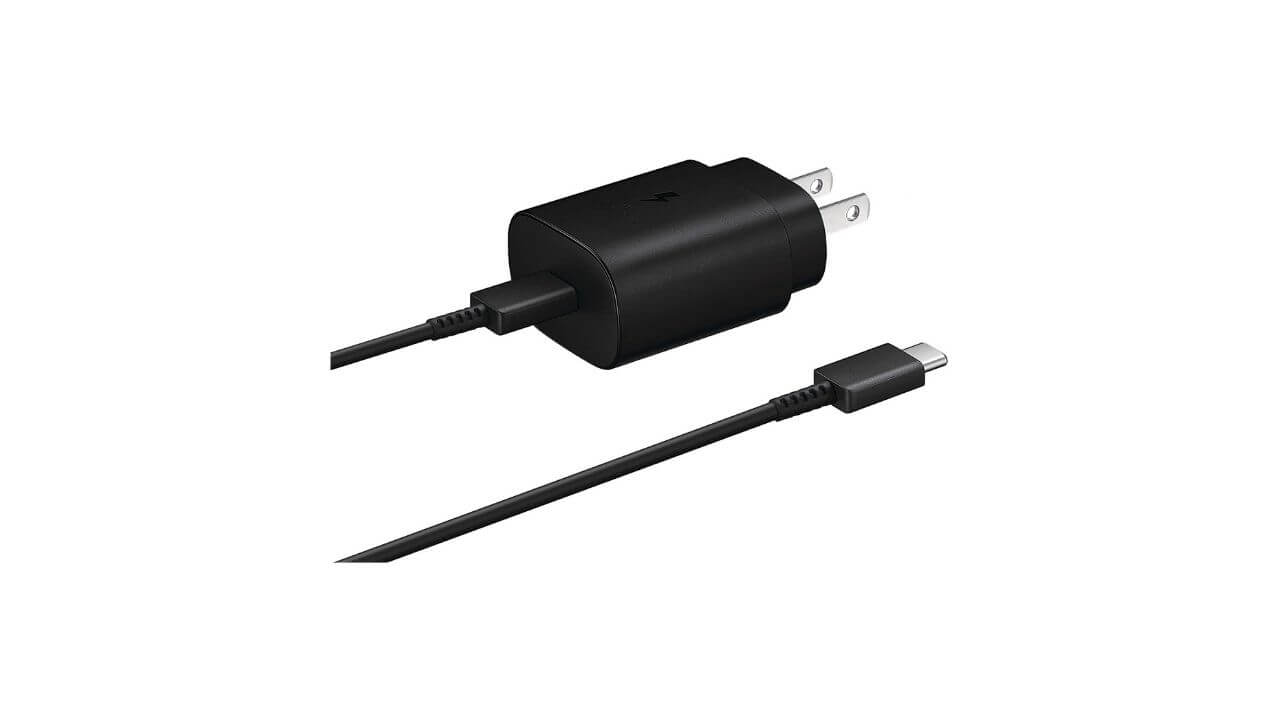 Since Samsung is not offering an in-box charger for Galaxy S21 Ultra, it's important that you find one to charge this brilliant device. If you're searching for a first-party option, nothing can beat this 25W Samsung USB-C charger.  This Galaxy S21 Ultra-fast charger comes with a 3ft. long charging cord that also offers decent data transfer speed. Let's not forget that this Samsung charger comes with support for Super Fast charging. You are allowed to choose from two different colors: Black and White. Apart from all this, you will get a year warranty when you buy this charger. 
You can also choose from 15W and 45W variants to charge other compatible devices. 
2. AUKEY Minima Fast Charger for Galaxy S21 Ultra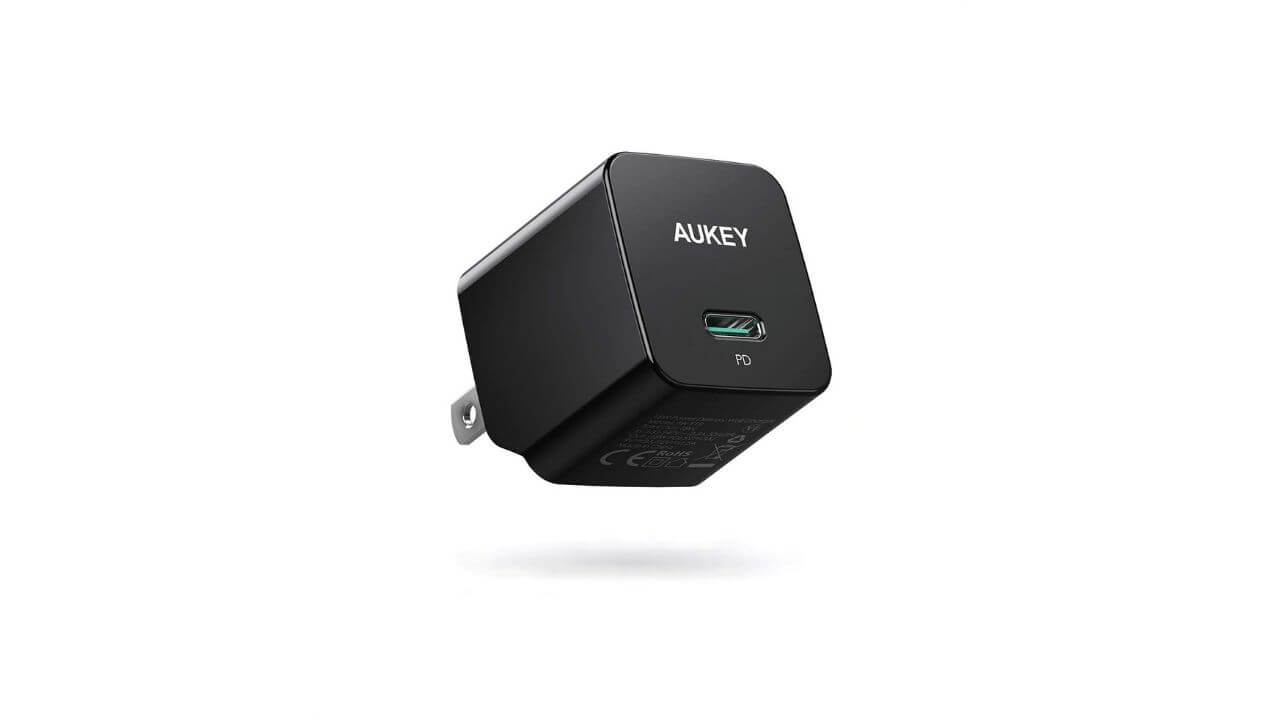 If you're a regular traveler, then this compact S21 Ultra charger from Aukey should be your first choice. Its minimalist design is something that you'd love. It comes with foldable plugs which fit in a small space such as your pant pocket. This little charger offers a 20W fast charging through the PD port for compatible devices such as Galaxy S21 Ultra. Its universal compatibility feature lets you charge various Samsung Galaxy devices with ease. And, it is
budget-friendly too. Overall, it is a well-built charger that efficiently juices the Galaxy S21 Ultra. 
3. TT&C 25W Galaxy S21 Ultra Fast Charger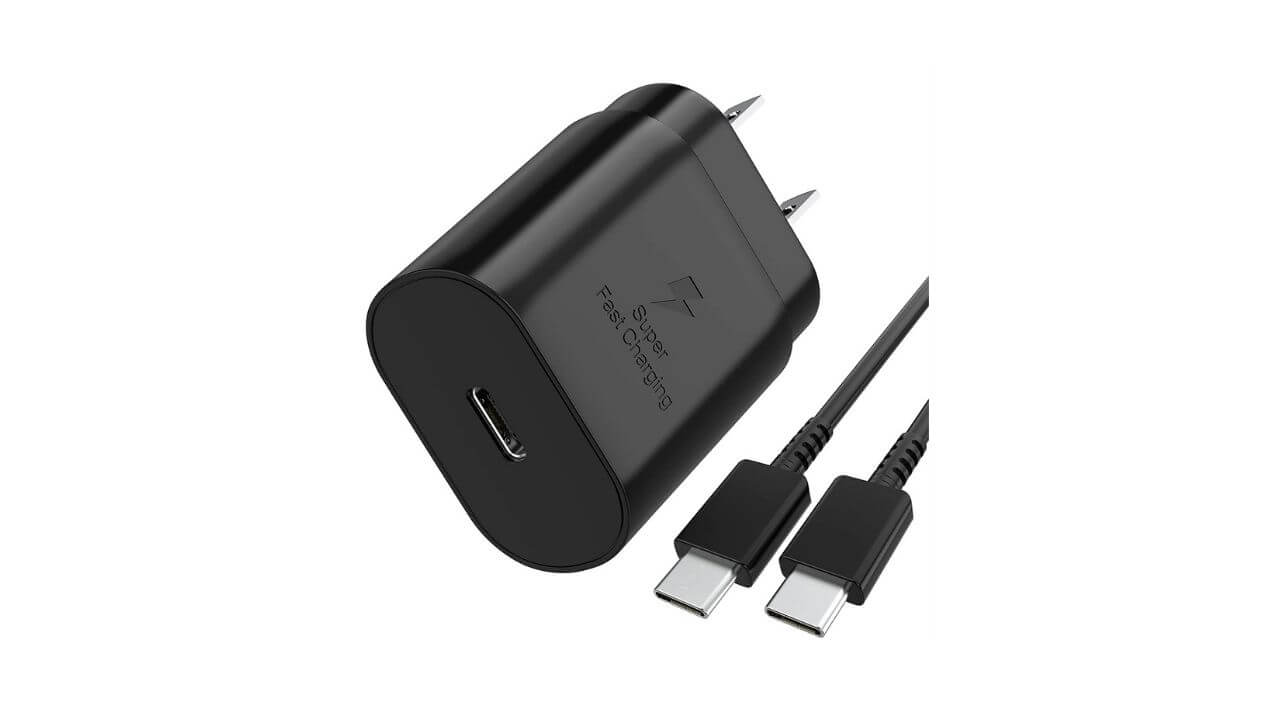 Here's another option that will fulfill your hunt for fast chargers for Galaxy S21 Ultra. This wall charger features a USB-C port with PD 3.0 that offers a 25W charge for compatible devices. It comes with a lightweight design that ensures maximum portability whenever you're traveling. The TT&C fast charger is equipped with multiple safety features that protect your device from overload, over-current, short-circuit, and overheating problems. Not only it charges the S21 Ultra, but all other compatible smartphones with USB-C ports. You'll also get a 5ft. long USB-C to USB-C charging cable. Not to forget, this fast charger from TT&C comes with a year warranty.
4. FetchPower Fast Charger for Samsung S21 Ultra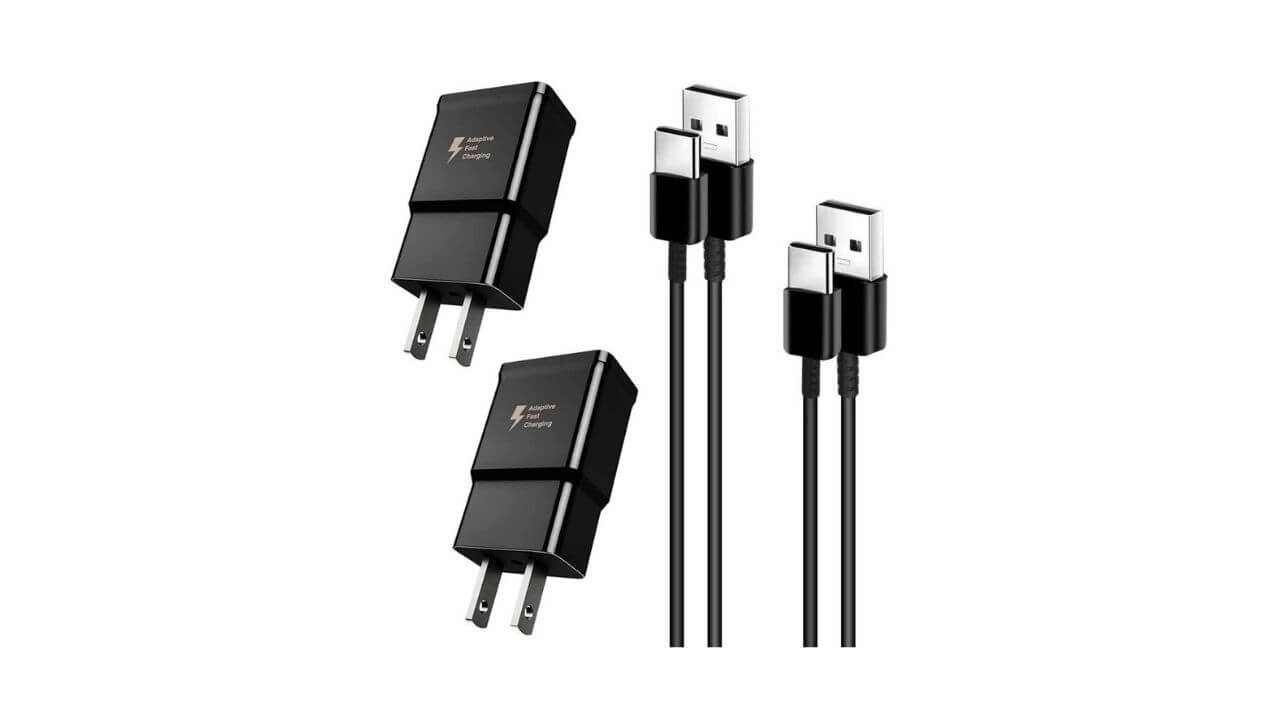 Now, we bring to you the fast charger kit for Galaxy S21 Ultra from FetchPower. At a price less than $15, you
get two adapters and a pair of USB-A to USB-C charging chords. What more can you ask? This charger features multiple in-built safeguarding features and intelligent IC that protects devices from getting damaged due to different issues like over-current, overheating problems, and much more. This charger automatically shuts off function when a short-circuit happens. Besides all this, you can use this charger to charge multiple devices such as Galaxy Note 10 Plus, Galaxy S20 FE 5G, and many more. 
Best Car Chargers for Samsung Galaxy S21 Ultra
1. Meagoes 2-port USB-C Car Charger for S21 Ultra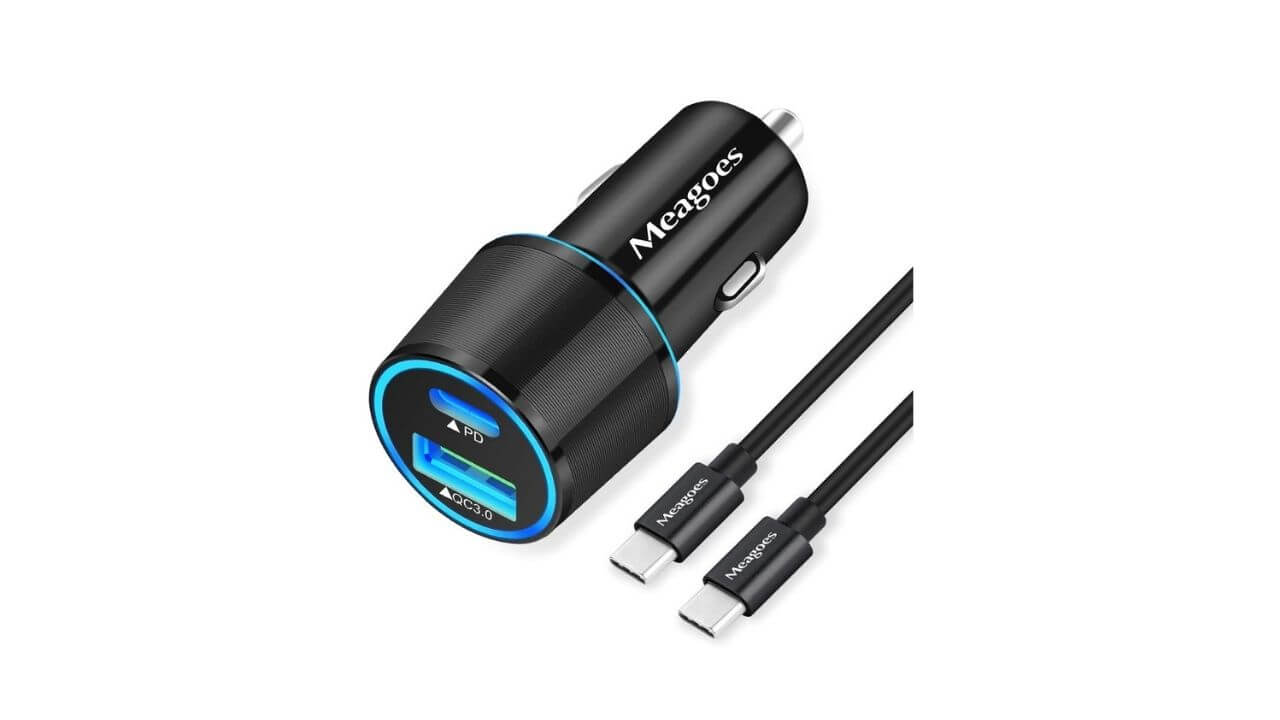 Here we have for you the dual-port car charger for Galaxy S21 Ultra from Meagoes that goes well with the interior of your car. You can rapidly charge the Samsung Galaxy phone with the help of a Power Delivery port that offers 18W fast charging. The universal compatibility of this car charger allows charging various devices. Best of all, you can charge multiple devices with the dual-port Meagoes car charger. 
As far as safety is concerned, the Meagoes charger features intelligent circuit designs that offer better protection from different issues such as over-current, short circuit, etc. It is worth mentioning that you get an 18-month hassle-free post-purchase warranty, and a 3.3 ft. USB-C to USB-C charging cable with this car charger. 
2. MANINAM USB-C Galaxy S21 Ultra Car Charger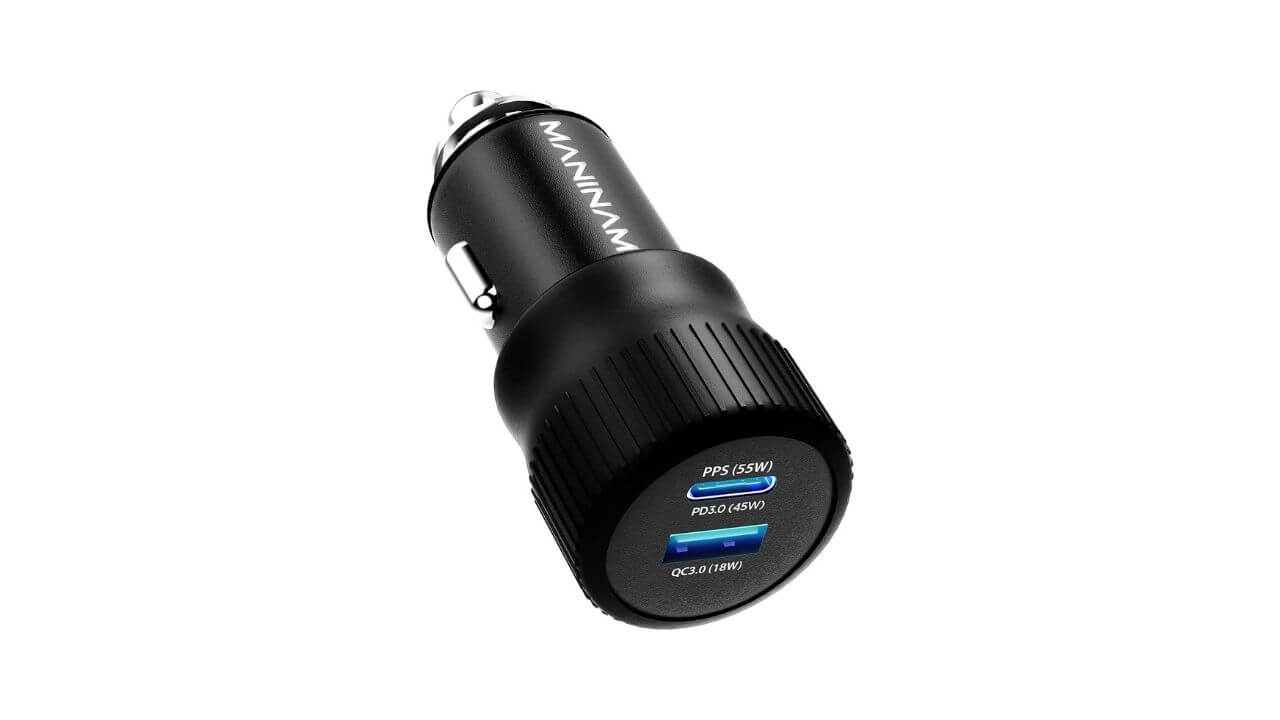 If you are searching for a compact and well-built car charger for the impressive Samsung Galaxy S21 Ultra, we would recommend this one from MANINAM. You can charge two devices simultaneously without sharing the wattage. Also, the heat dissipation features work well and prevent overheating problems on Galaxy S21 Ultra while charging. The package includes USB-A to USB-C charging cable that has some decent transfer speed too. This product is backed with 90 days money-back guarantee and lifetime replacement warranty. For a car charger, I feel the price is somewhat on the higher side, but the charging experience it offers is phenomenal. 
Best Wireless Headphones for Galaxy S21 Ultra
1. COWIN Bluetooth Wireless Headphone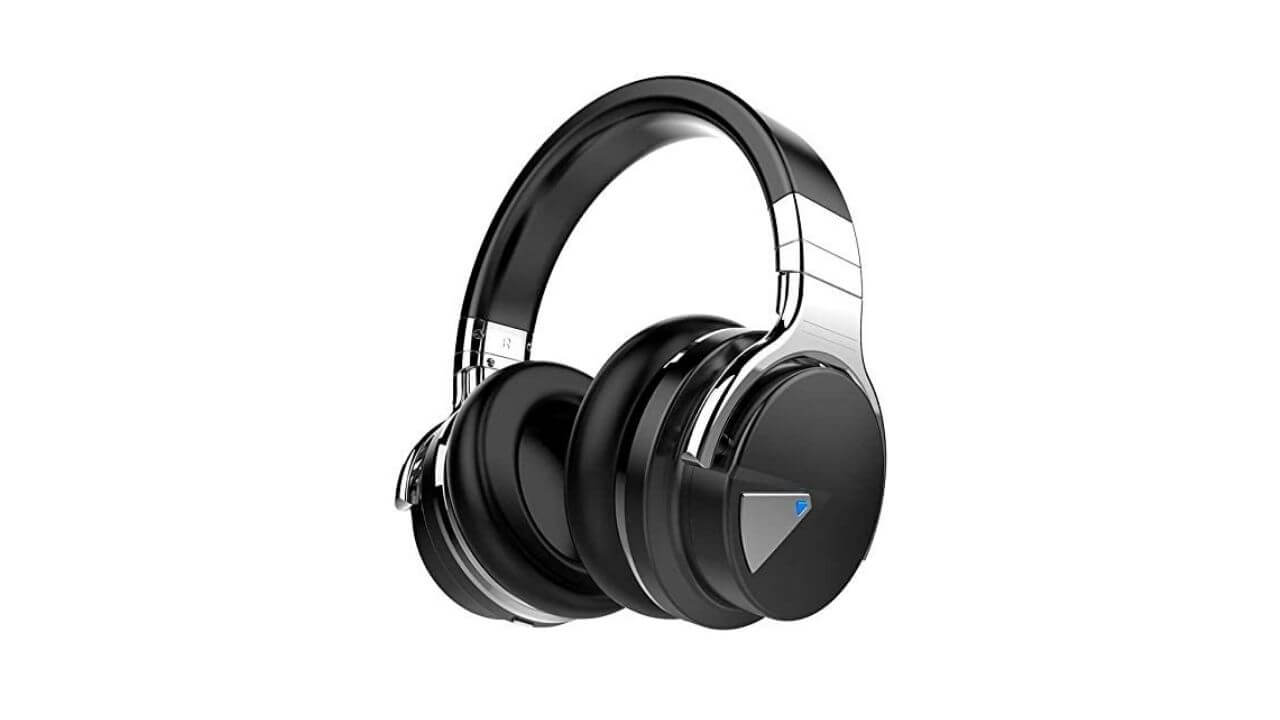 If you're searching for some good third-party headphones, the first one that comes to my mind is this one from COWIN. It comes with
active noise cancellation technology which ensures you're enjoying everything playing in the headphone and not the noisy surrounding. It is best to use when you're in a crowded place like a bus, traffic, train, etc. There's a top-notch in-built microphone that supports a hands-free calling experience. The earpads and earcups presented on this headphone offer the best possible comfort even if you wear them for a long time. 
The brand claims that it can offer 30 hours of playtime once charged at Bluetooth mode. For better customer service, COWIN has backed this Bluetooth headphone for Galaxy S21 Ultra with an 18-month warranty. 
2. AUKEY Wireless Earbuds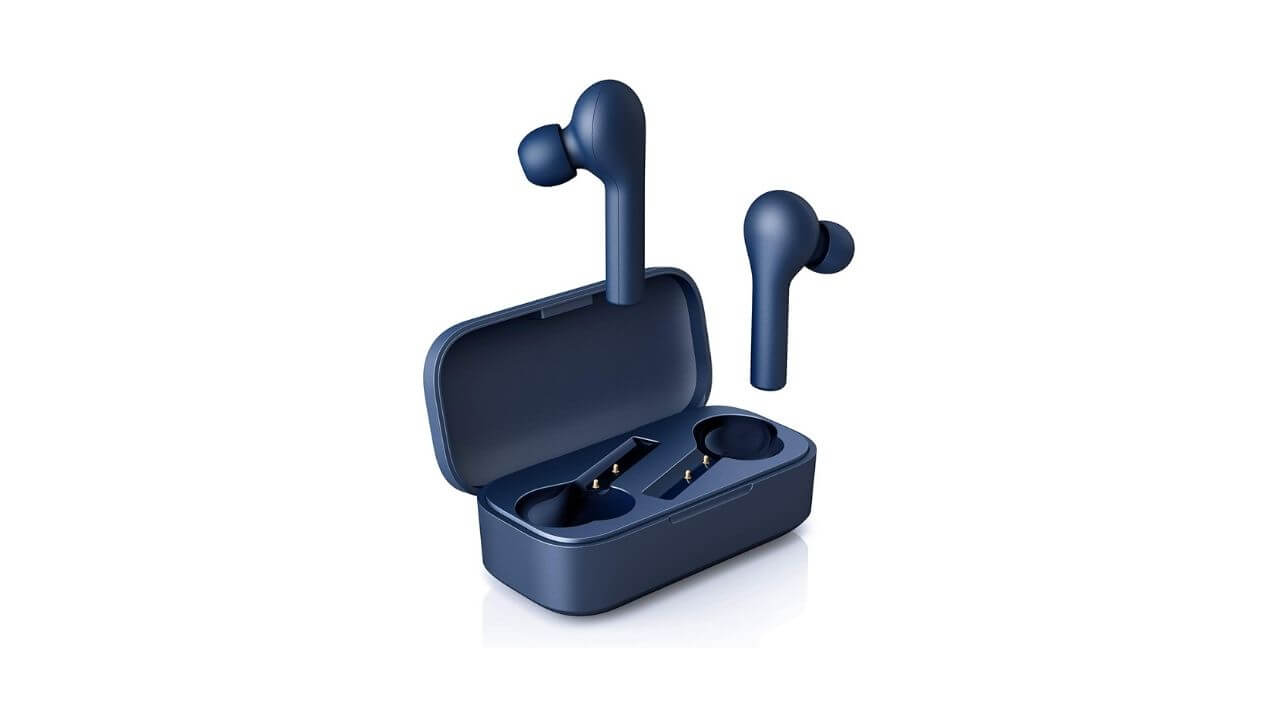 If you are an earbud lover, this one from AUKEY must be on your buying list. It features a crisp and minimalist design that fits well in your ear. The AUKEY wireless earbuds offer superior sound quality that would woo any music lover. Once paired, these earbuds automatically pair with your Samsung Galaxy phone (when it is in the range) as soon as you take them out of the charging case. 
You can control music and calls all through the touch panel presented on the earbuds. As far as battery life is concerned, the AUKEY earbuds offer 5 hours of playback time on a single charge. The package also includes three pairs of Ear-Tips (S/M/L), a micro-USB cable, and necessary paper works. 
3. Samsung Galaxy Buds Live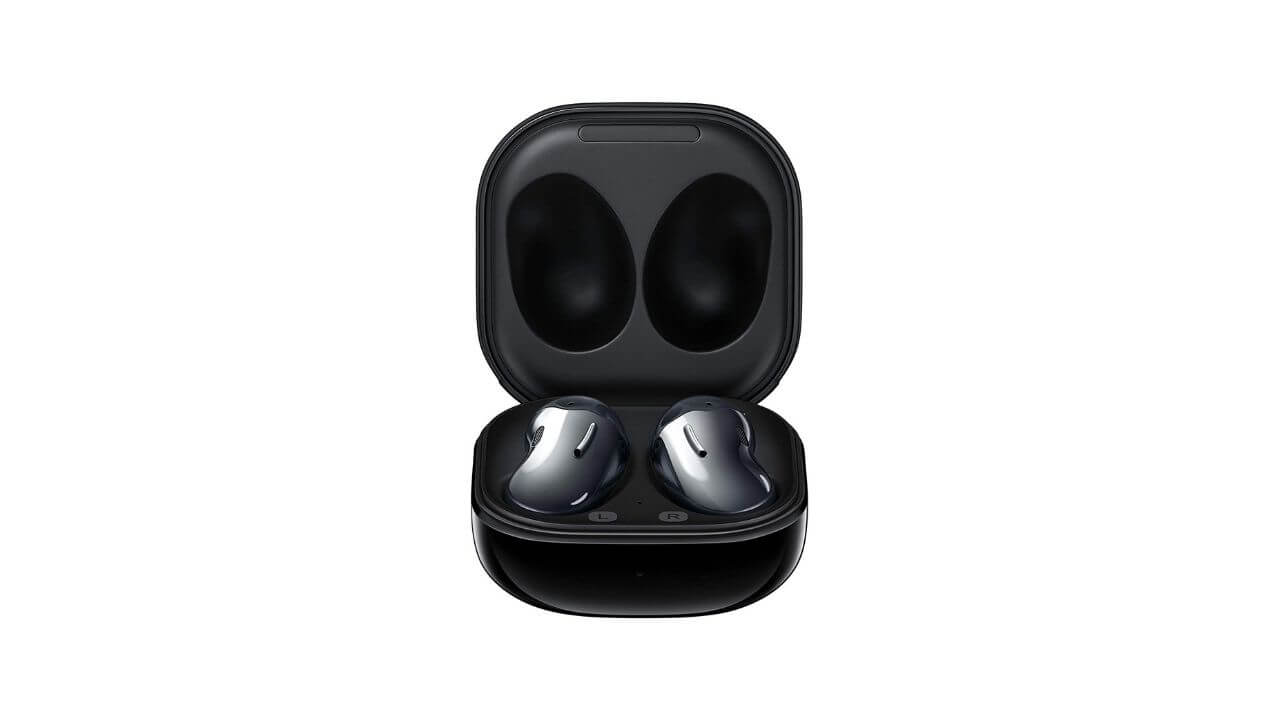 Are you a loyal Samsung fan? If yes, here we have for you the Samsung Galaxy Buds Live. If you are in search of an official music accessory, this one should be on your shopping list. These premium wireless earbuds feature an ergonomic design that delivers top-class sound quality. It resembles the size of a big bean that sits comfortably in your ear without hurting them.  This piece comes with active noise cancellation technology to offer you the best sound by reducing background noise when you're in traffic or public space. This wireless earbud for Galaxy S21 Ultra is available in Mystic Black, Mystic Red, Mystic White, and Mystic Bronze color. Also, you'll get a wireless charging case with this pack. 
4. Samsung Galaxy Buds Pro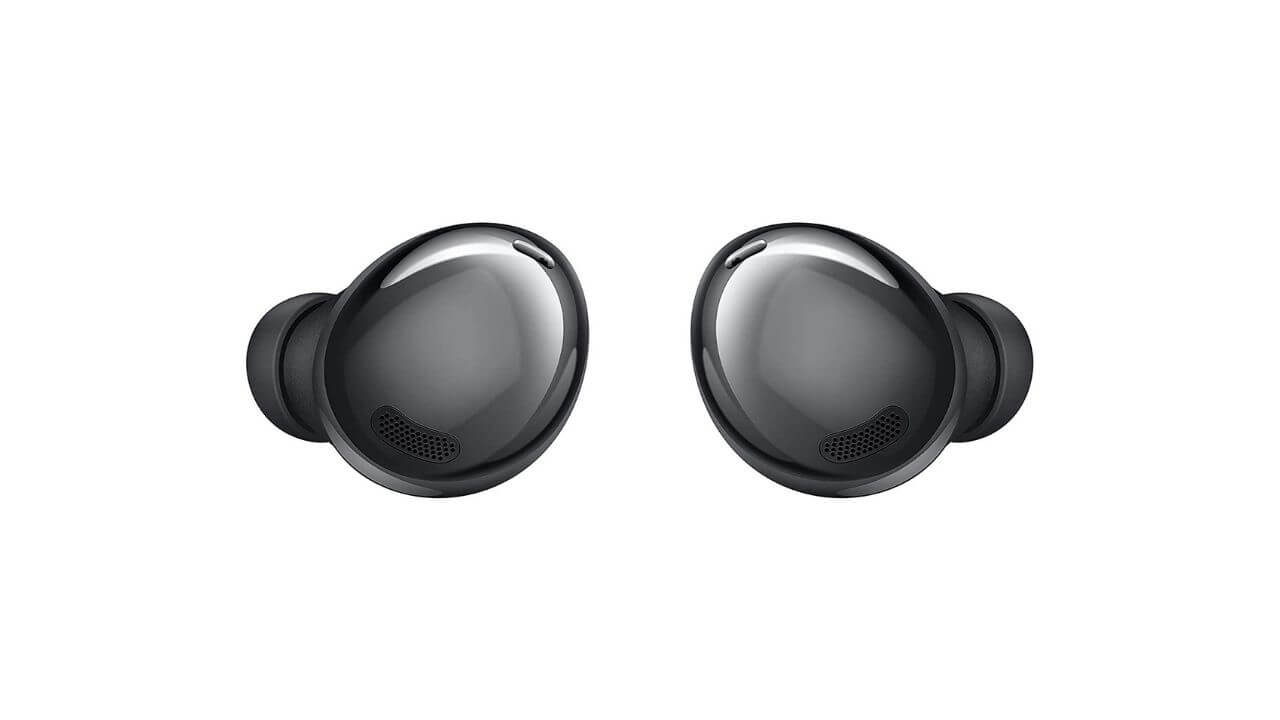 If you are looking for something else, here's Galaxy Buds Pro and Galaxy Buds Plus for you. The intelligent active noise cancellation technology allows enjoying your music when you're outside in a noisy area. This technology cuts back all the background noise and offers enough high-quality sound. The IPX7 rating comes in handy protecting it from sweat when you're working out in a gym/your home. Not only that, it can fully function even after you immerse it 3 feet deep under the water for half an hour. All thanks to the touch and tap control feature, you can switch your playlist or attend calls without reaching your phone in the pocket. Even though it's an expensive option, I believe you'd go for it just because you are a Samsung lover. 
Best Gaming Accessories for Galaxy S21 Ultra 
1. SteelSeries Stratus Duo Wireless Game Controller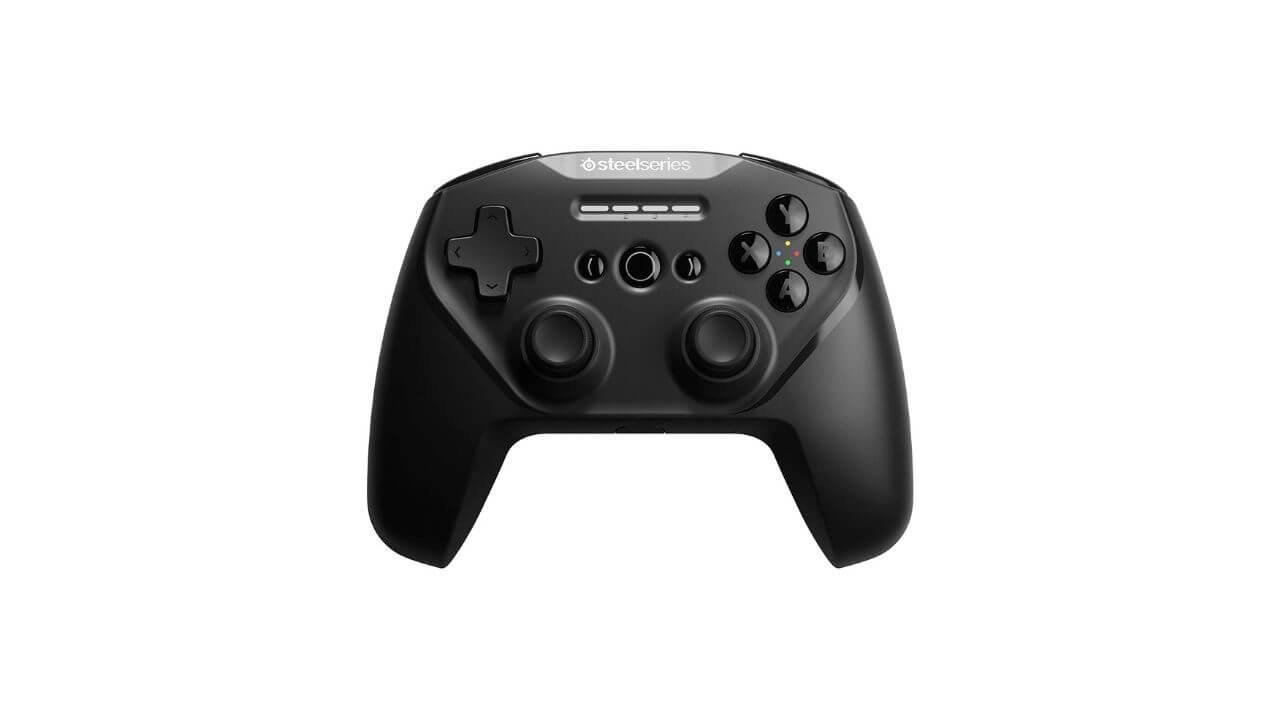 If you are a mobile gamer and looking for a Game controller for Galaxy S21 Ultra, we recommend investing in this one from SteelSeries. This game controller features an ergonomic design and easy-to-click manual joysticks that offer great grip while you're playing some heavy action games. The SteelSeries Stratus Duo game controller works with a rechargeable battery that can offer 20 hours of playtime. Remember, this game controller works flawlessly on PCs as well. 
2. Razer Kishi Game Controller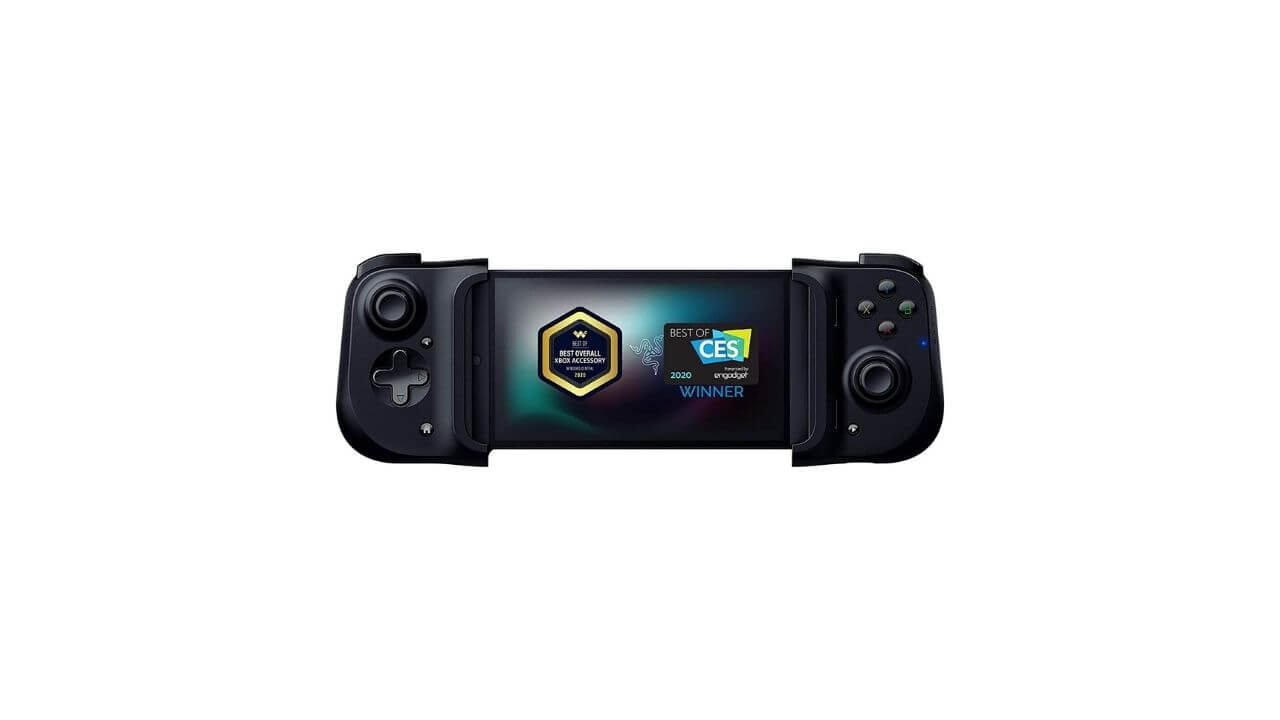 This universal game controller from Razer offers console-level gaming control on your phone wherever you go. You'll find easy-to-click analog thumb sticks for better accuracy and control while you're playing your favorite mobile games. Unlike Bluetooth controllers, the Razer Kishi Game controller offers a latency-free gaming experience. There's a USB-C charging port for pass-through charging so that you never run out of battery while gaming. The comfortable hand grip and stretchable design rule out the worry of dropping your phone during intense sessions of gaming. If you are a mobile gamer, this one should be on your buying list. 
3. UGREEN U-Shaped USB-C Gaming Cable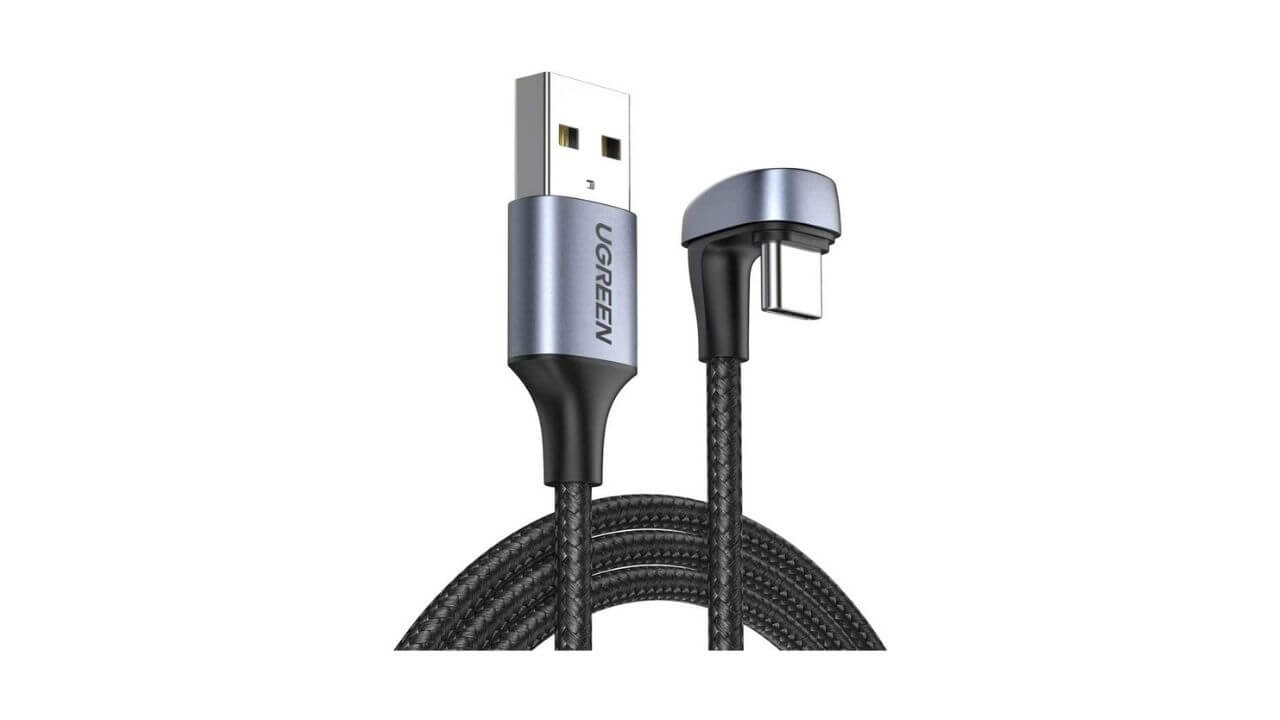 The UGREEN U-shaped cable is probably the most useful accessory for all the mobile gamers out there. The U-shaped cables are more useful when you're charging your phone and playing games, reading e-books, or watching movies. This cable
supports Quick charge 4.0 and 3.0. It is made from Nylon braided cable that ensures durability and a longer lifespan of the cable. This charging cable from UGREEN is compatible across various smartphone brands with USB-C charging ports. 
Best Galaxy S21 Ultra accessories for Photography/Vlogging
1. JOBY Gorillapod Stand (Must-have for photography enthusiasts or vloggers)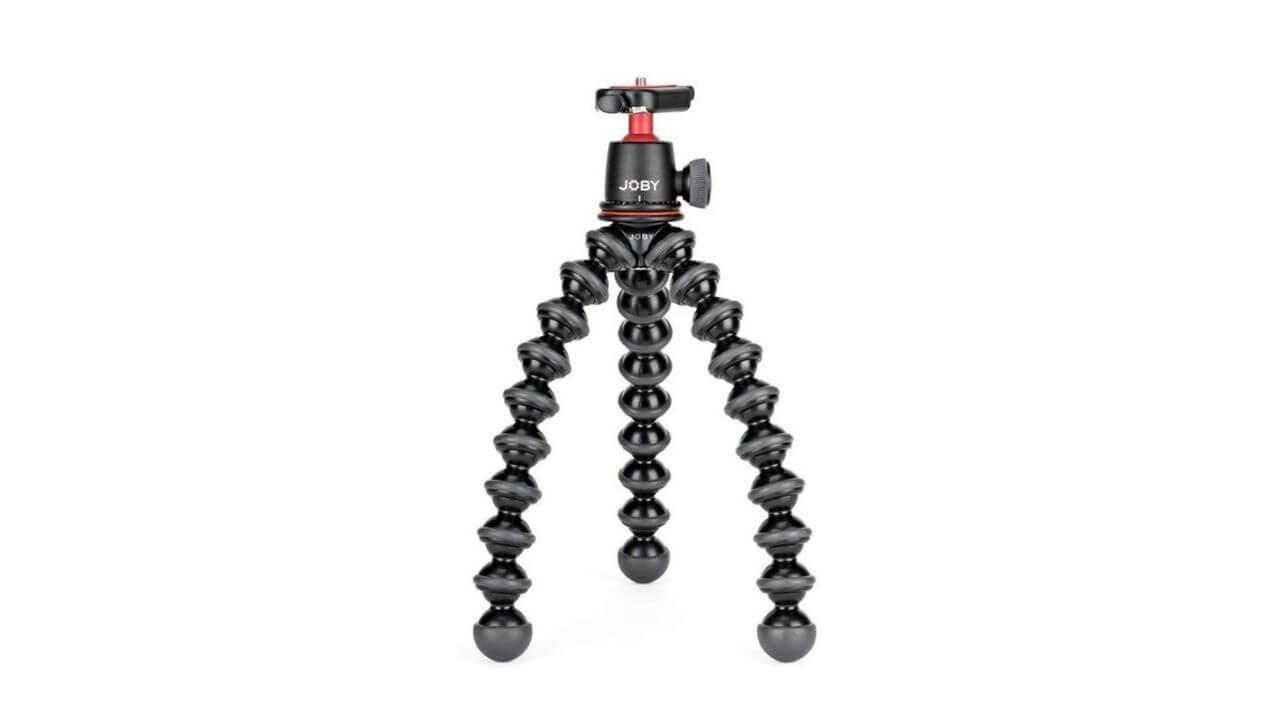 The JOBY Gorillapod Stand is a must-have accessory for someone passionate about filmmaking, photography, and vlogging. The popular bendable legs are useful to grip around a pole or a tree when you're shooting around the streets or in nature. It can also be used as a solid selfie stick, all you need to do is attach your phone and start clicking pictures grabbing this GorillaPod by its leg. It allows mounting different accessories such as lights, mics, all weighing up to 3 kgs. Make sure to check out the product from the link below. 
2. Lamicall Ring Light Stand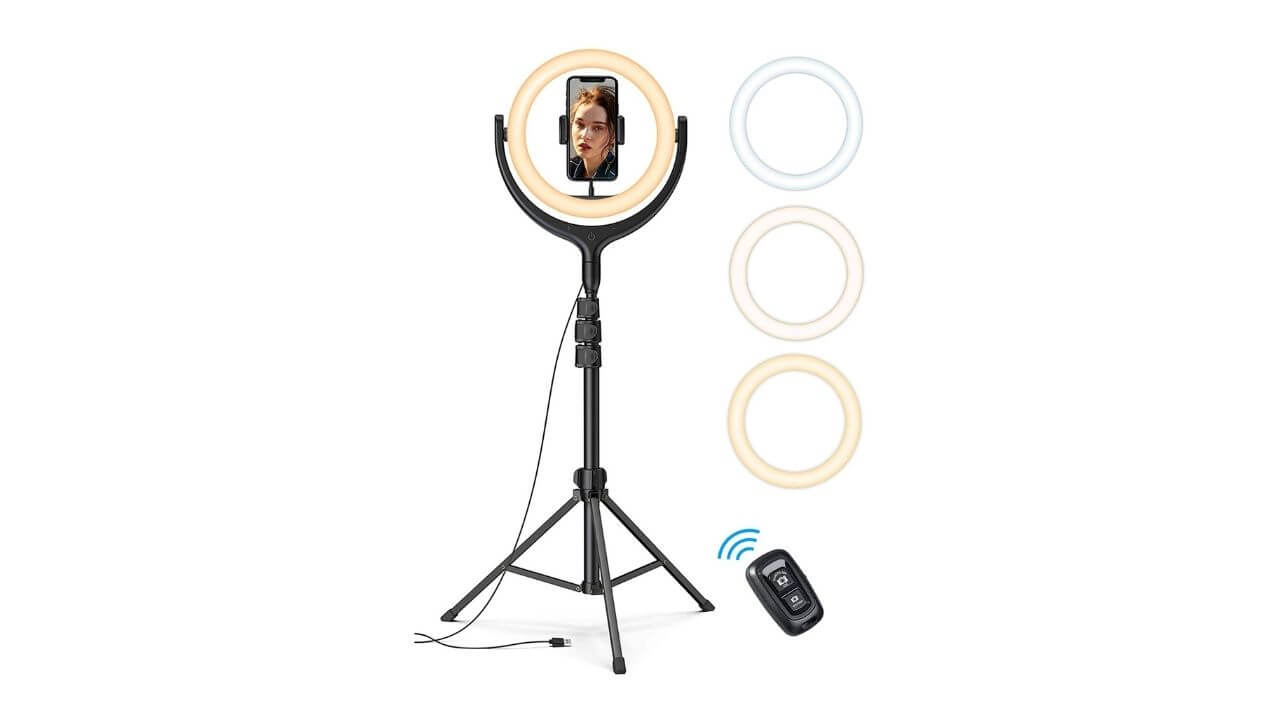 Here's something that a rising social media influencer would need. Yes, we are talking about the ring lights that you generally see on the Instagram reels. It is an important accessory for vloggers as it fixes the lighting problem for the videos they're creating. This light stand comes with ten levels of adjustable brightness. The adjustable design of the stand helps to take some awesome selfies when you're standing. This ring light has an adjustable phone holder and comes with various safety features that prevent over-current, overvoltage, and short-circuit problems. 
3. Neewer Plastic Phone Stabilizer (Best accessory for video makers)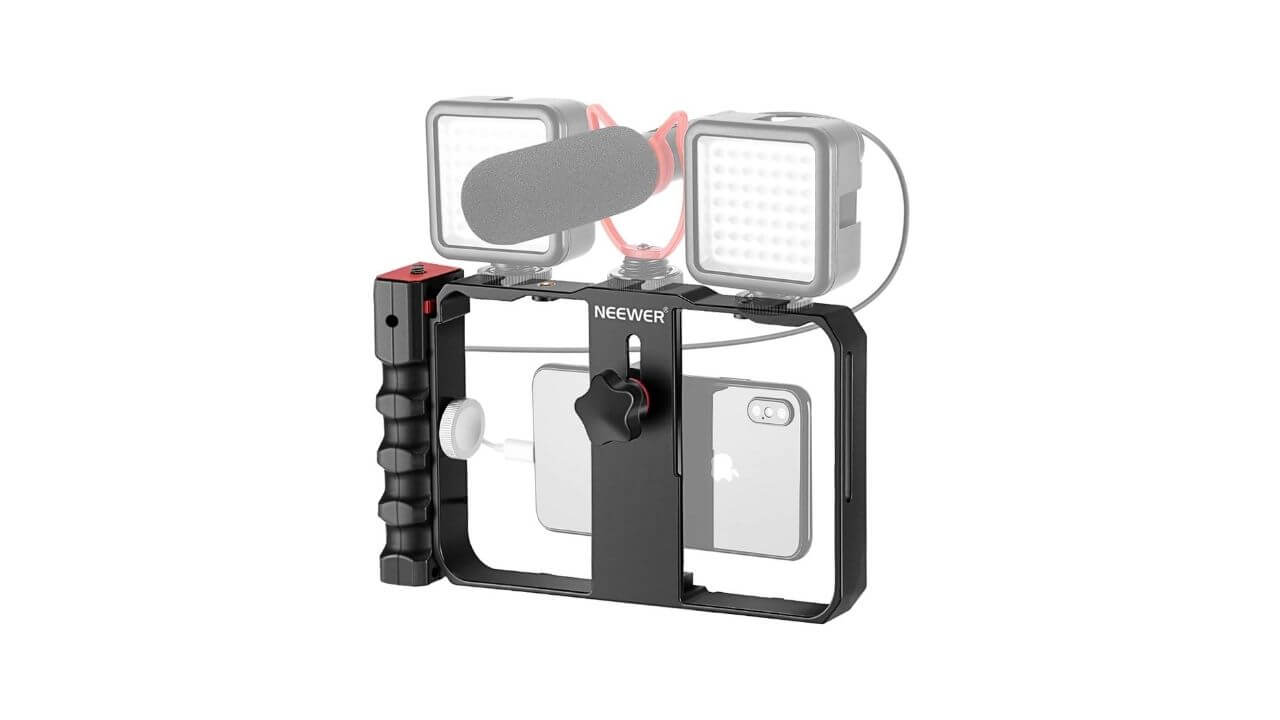 If you are involved in mobile film or video-making projects, you might require a video stabilizer. If you couldn't find one, here we have for you the plastic phone stabilizer from Neewer. It is a
professional video rig that comes with a durable and strong build. There are two standard cold shoes for mounting additional accessories above the rig. It is easily adjustable and has a lightweight design that ensures maximum portability whenever you go outdoors to shoot. 
4. Galaxy Thin Case with (M)Force & M-series Lenses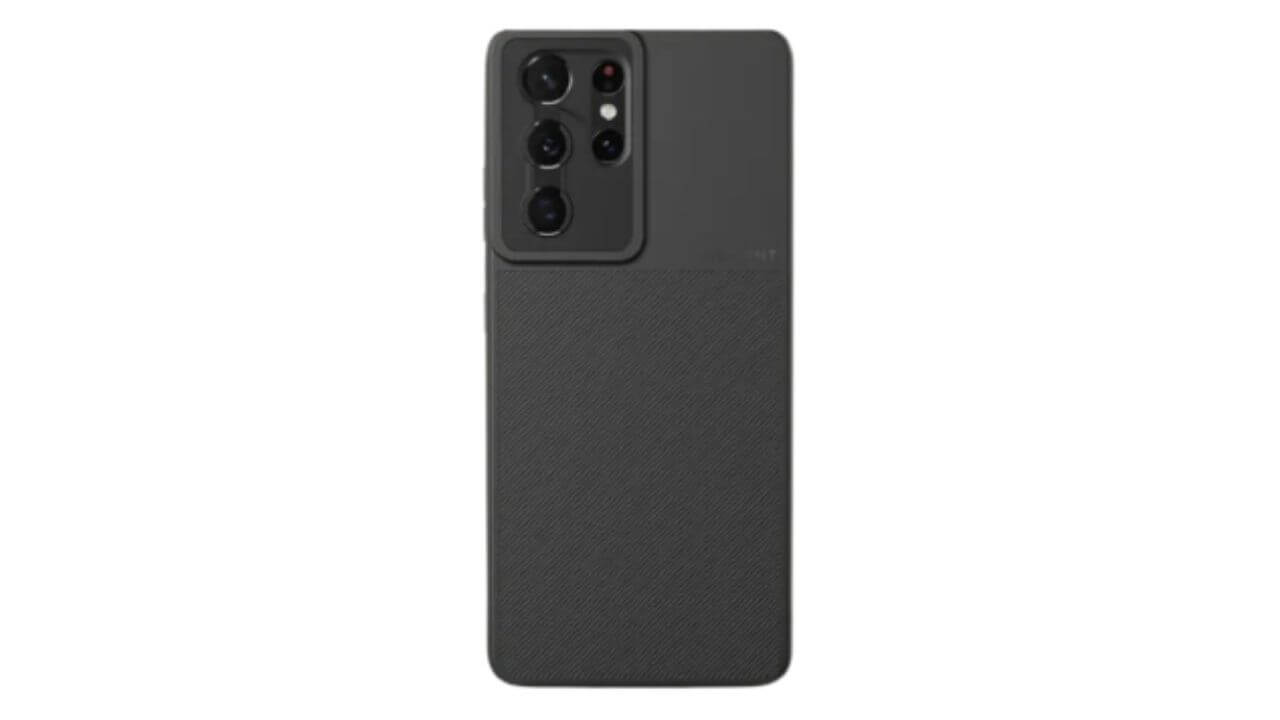 The Moment thin case is made from a mixture of polycarbonate and Bio-TPU materials that are compatible with Moment (M)Force Magnetic Mounts. The superior design and build on this case protect the device from heavy drop protection. You'll also find strap attachment for a one-handed shooting experience. The camera setup has precise cuts and features a built-in lens mount that eases the range of M series lenses. Overall, it is the best photography accessory for Samsung Galaxy S21 Ultra. 
Check Price on Moment Store (Thin case with (M)Force)
Check Price on Moment Store (M-series Lenses)
That's all for this roundup on the best accessories for Galaxy S21 Ultra in 2022. We hope you choose one from the above list. Also, make sure to check out our roundup on the best accessories for Galaxy S21.